This vegan Healthy Twice-Baked Potatoes recipe is so much healthier that traditional twice-baked potatoes. It's dairy-free, oil-free, gluten-free—and includes high-fiber cannellini beans.
One thing I enjoy the most about this blog is the challenge of creating healthy, vegan versions of dishes we all love. You know, the ones that are yummy and comforting—but not even remotely healthy. When everything goes right, I end up with a dish no one would ever guess was vegan or good for them. Healthy Twice-Baked Potatoes—made smooth and creamy with Easy Cheese Sauce and cannellini beans—is that kind of recipe.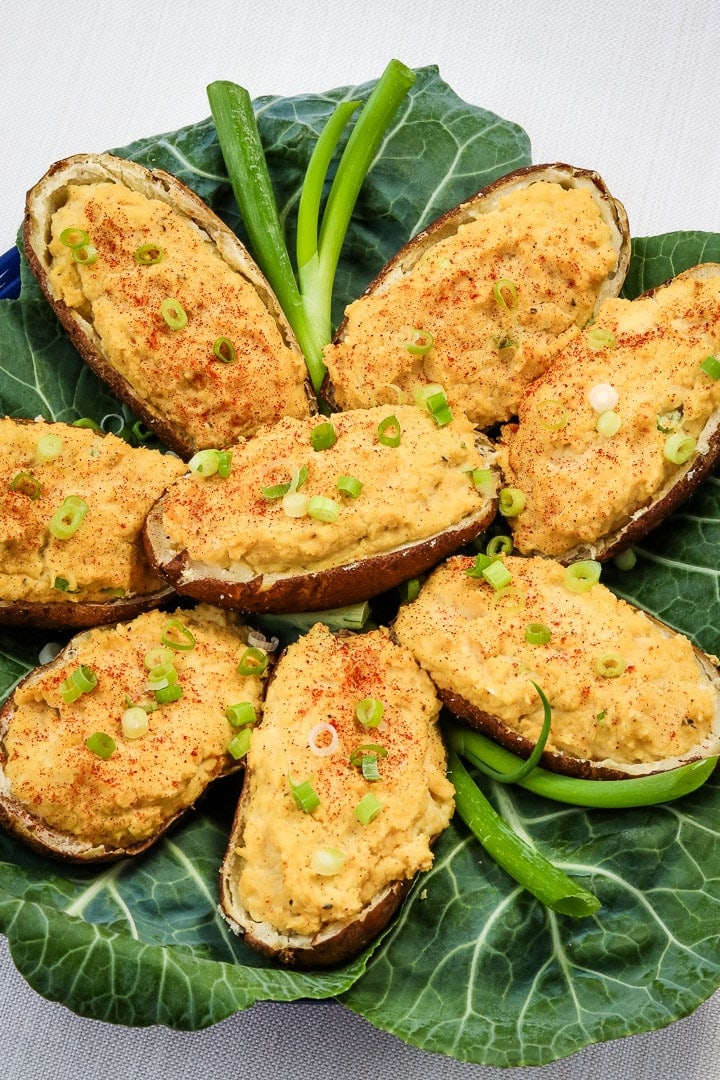 What makes this healthy twice-baked potato recipe so much healthier?
The classic, non-vegan version of this side dish typically contains LOADS of butter, cheese, sour cream and usually, bacon. Sure, there's plenty of flavor, but it comes with about a metric ton of highly saturated animal fat. What a rotten thing to do to something as nutritious as a potato!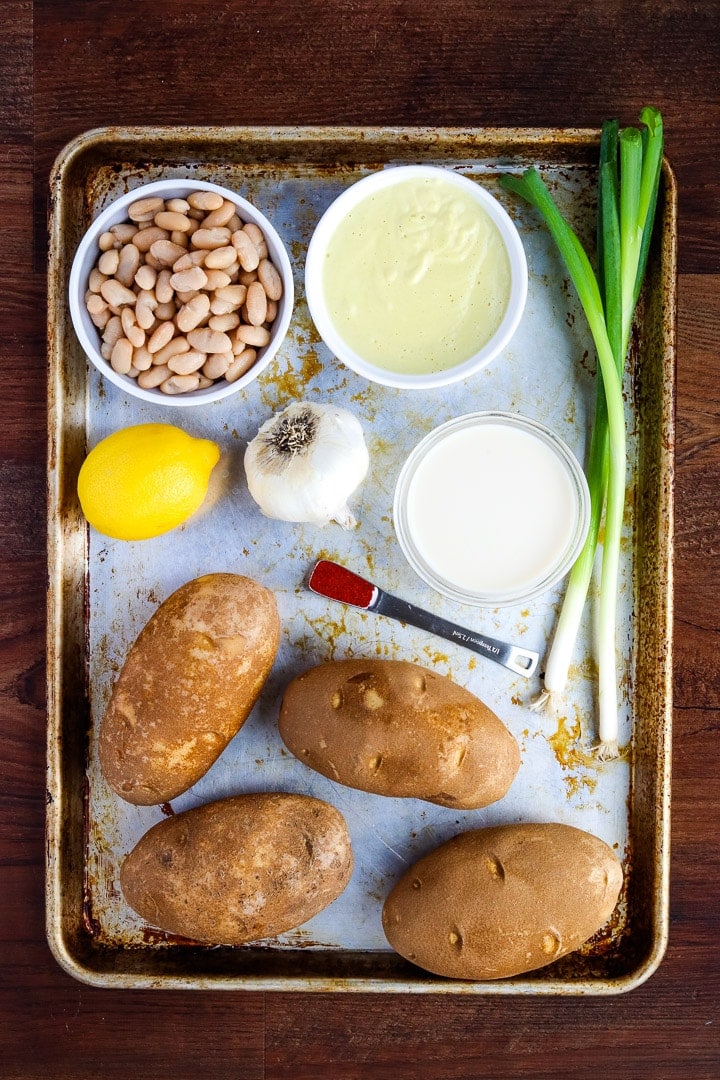 So what makes this healthy vegan twice-baked potato recipe SO dang healthy? First, it has no processed ingredients like 'fake cheese.' It's fine with me if you enjoy processed, store-bought vegan cheese, but I personally don't care for it. For this recipe, I use a ½ recipe of my 10-minute Vegan Easy Cheezy Sauce.
Second, since it's vegan, it's completely dairy-free, of course. (You're welcome, Elsie.) This makes it a great option for anyone who wants or needs to avoid dairy.
Third, for an extra boost of nutrition, I incorporate high-fiber cannellini beans into the mix. (No worries—no one will ever know unless you tell them.) The beans are pureed together with garlic and lemon to create sort of a tangy, creamy stand-in for sour cream.
Fourth, smoked paprika is a healthy way to mimic the smokiness of bacon. Some goes into the potato mixture, and a little more gets sprinkled on top for a pretty garnish. Nice smoky flavor, and nobody dies.
The result is smooth, creamy, cheesy, smoky, garlicky, vegan—and much healthier twiced-baked potatoes! (Note: a diet heavy in potatoes is not recommended, and some people should probably choose other veggies. Read this article to learn about why potatoes may or may not be a good option for you and your family.)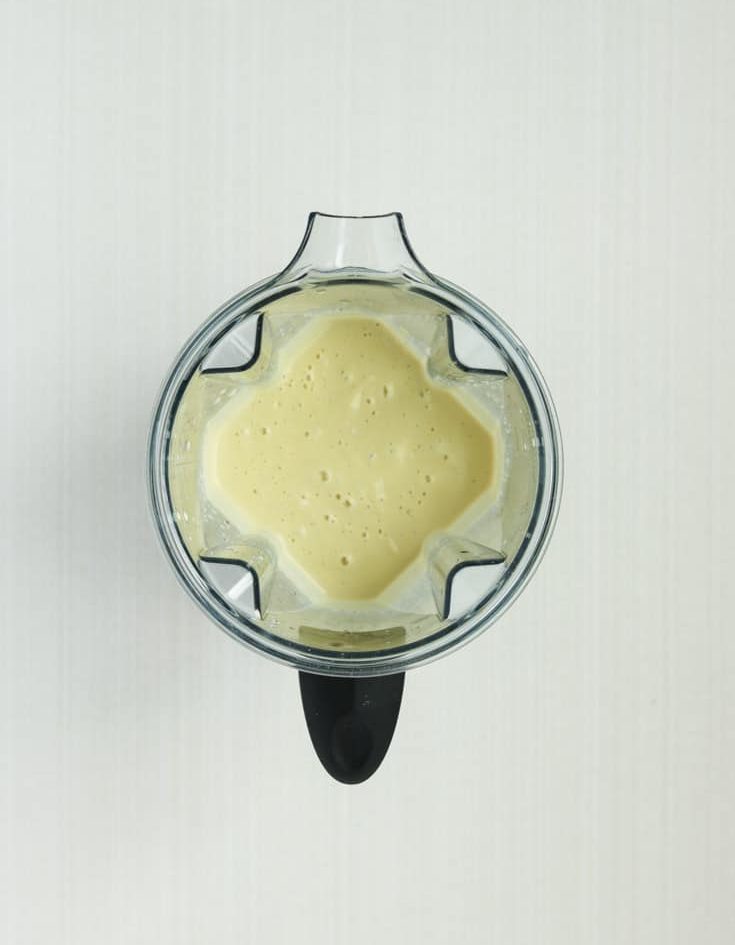 How to Make Vegan Twice-Baked Potatoes
Twice-baked potatoes are pretty much like making a really yummy mashed potato recipe, then stuffing those potatoes back into their shells. Except we don't boil our potatoes, we bake them. And we hang on to those potato skins.
The first--and longest--step is baking the potatoes. You want them well done, with nice crispy skins. Even though baking potatoes takes a long time, about an hour, I don't recommend doing this step ahead. Potato skins can get soft and too moist in the fridge, so better to bake them the day of.
While your potatoes are baking, you can start on the creamy sauce you're going to blend into those potatoes. In a traditional recipe, this would be your cheese, sour cream, milk, butter, etc. In this healthy vegan recipe we're going to use plant milk, some cannellini beans, and a homemade cashew cheese sauce. Or substitute my Chickpea Cheese Sauce for a nut free/low fat alternative, or my Vegan Cheddar Cheese Sauce if desired.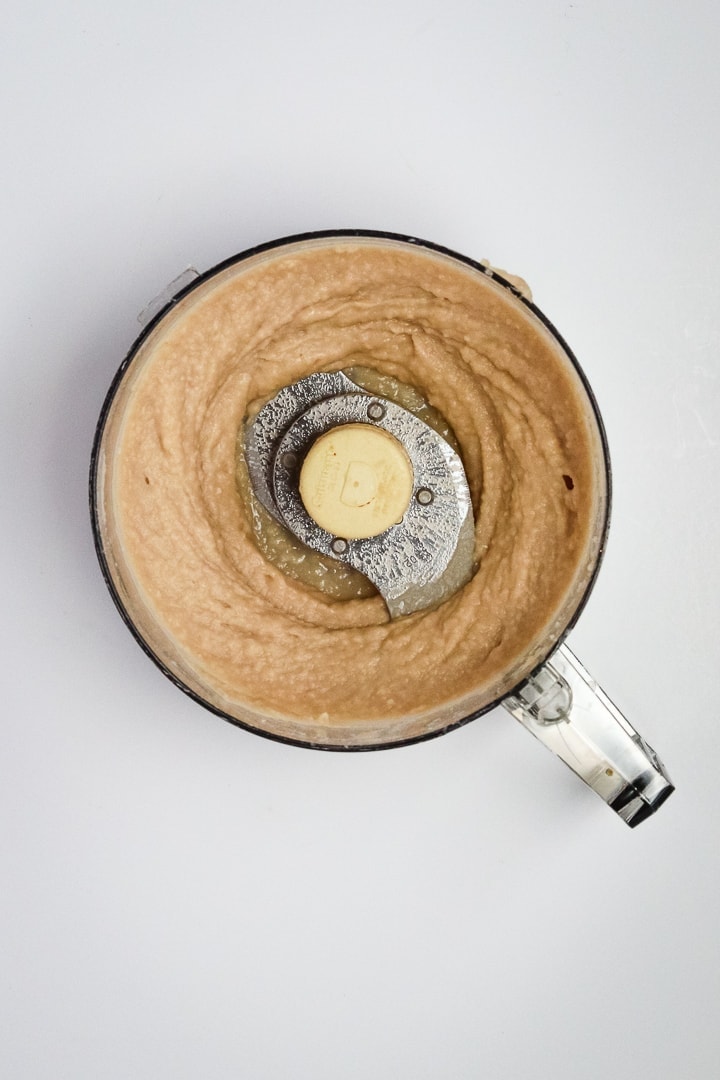 Once the potatoes have baked and cooled, it's time to carefully scoop out those shells. You don't want to tear them! The key is to leave enough potato in the bottom so you don't pierce the skin and so that they remain in nice, firm bowl shape.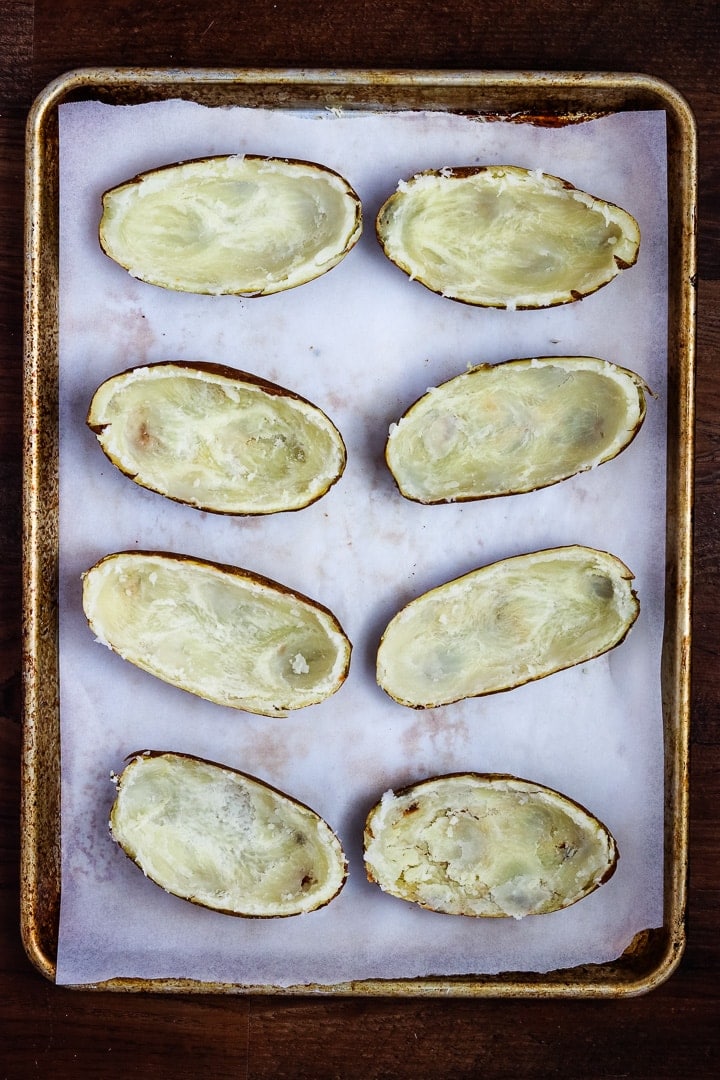 You can mash your potatoes by hand with a potato masher or a large fork; however you usually do your mashed potatoes. But I like to use my potato ricer. Nothing compares to the smooth, creamy texture you get with this handy little extruder. For me, it's an essential tool in the kitchen.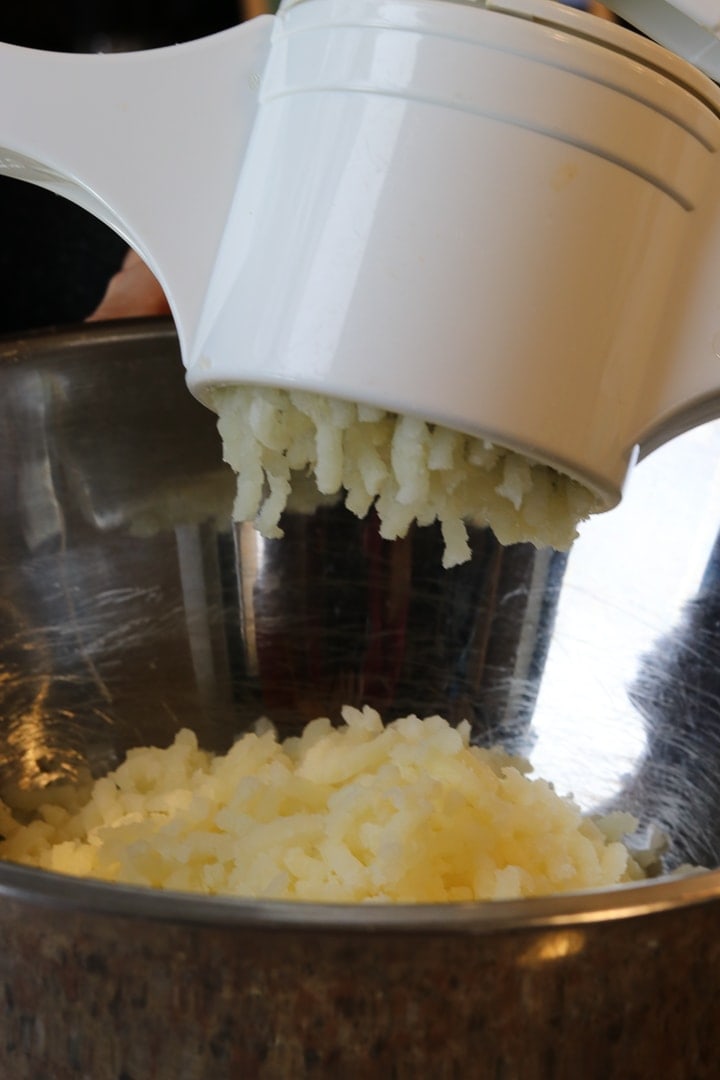 Then, we simply mix our our creamy, cheesy sauce into our mashed potatoes and give it a good stir. But not too much, or the potatoes will get gooey, just like with mashed potatoes.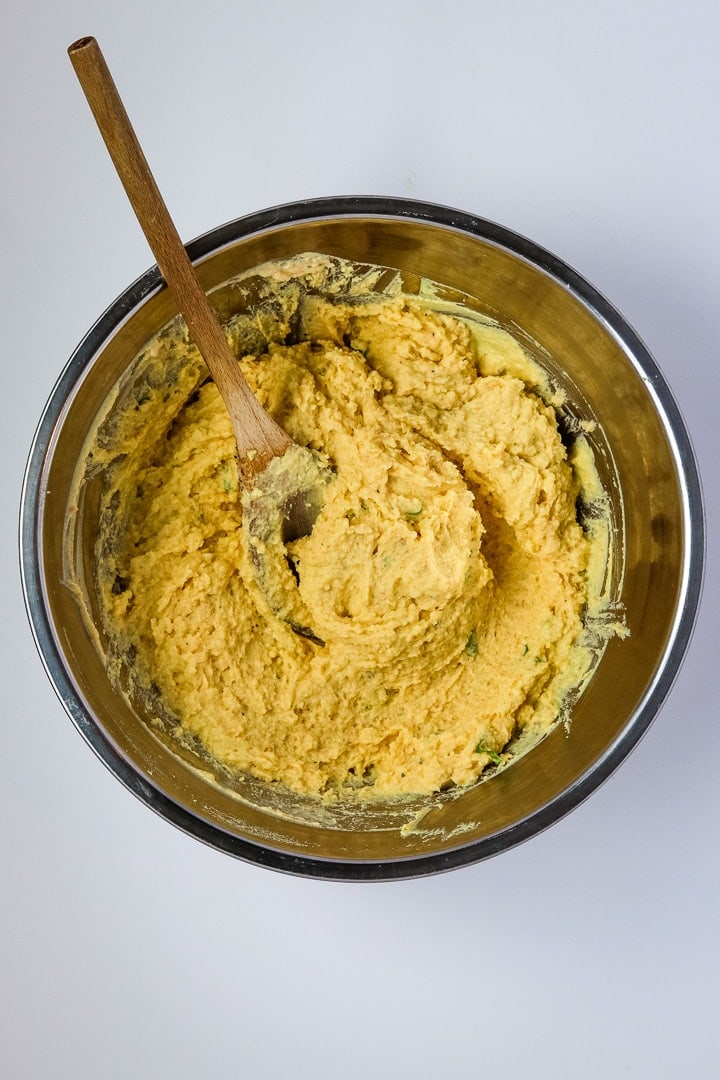 Finally, you fill your shells until heaping with potato and sauce mixture, and bake just long enough to heat through.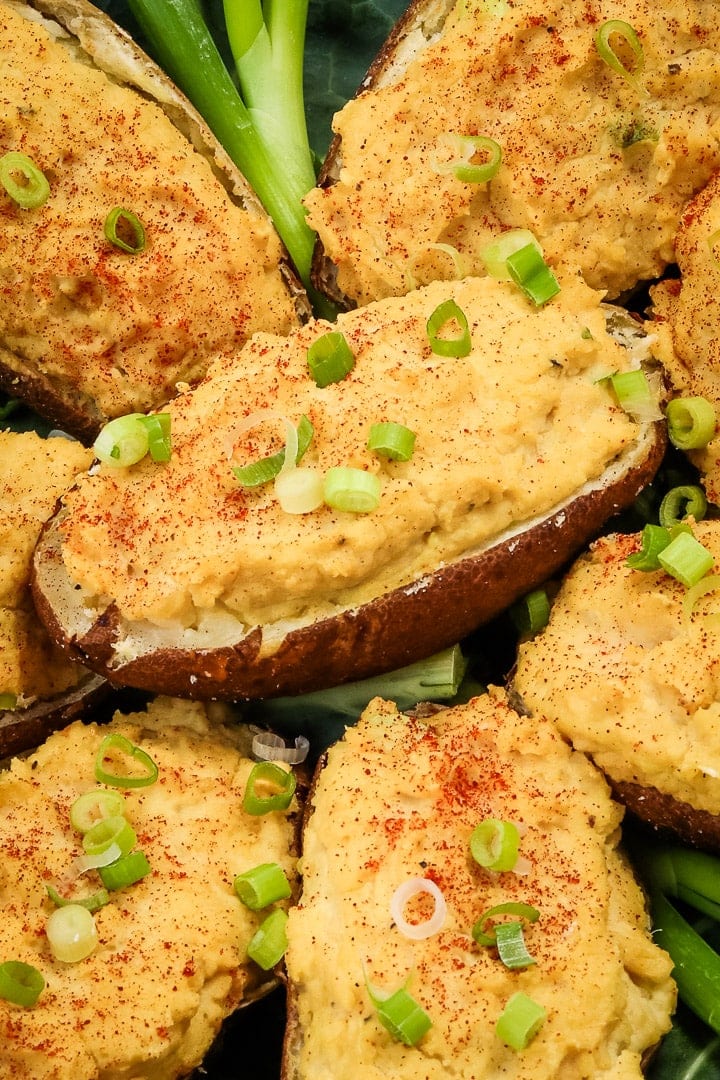 Why I Love this Baked Potato Recipe
I can't say these healthy twice-baked potatoes are fast and easy. They take about the same time and effort as the traditional dish. Sure, in this recipe we have to whip up our own cheese sauce and puree beans in a food processor. But at least vegans don't have any messy bacon to cook and clean up after, so I think it's about a wash.
But when you take the first bite, I think you'll agree they're SO worth the effort! These healthy twice-baked potatoes freeze well too, so you can make a batch ahead, then re-heat and serve when you have company or on busy weeknights. In fact, we love to eat them with a side of Easy Vegan Collard Greens and call it dinner.
This dish is delicious enough to please everyone at the table, and it won't give you that awful, why-the-heck-did-I-eat-that feeling!
If you like this healthy, potato-forward recipe, you might also like my Wisconsin Vegan Beer Cheese Soup, Creamy Potato Salad, Whiskey Maple Glazed Sweet Potatoes, Oil Free Sweet Potato Fries, or 20-Minute Vegan Lentil Shepherd's Pie.
I LOVE hearing from you! It would make my day if you'd be so kind as to:
Thanks and happy, whole-food cooking!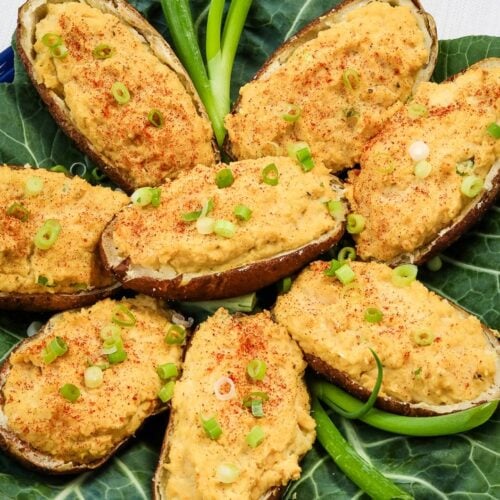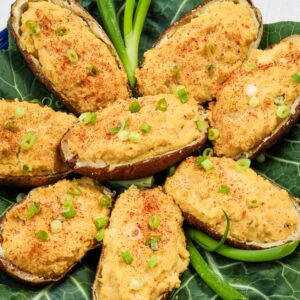 Healthy Twice-Baked Potatoes (Vegan)
Delicious, Healthy Twice-Baked Potatoes have no dairy, oil, gluten, or processed ingredients. Plus, this recipe includes 1 ¾ cups of high-fiber cannellini beans!
Print
Pin
Rate
Ingredients
4

large baking potatoes

such as Russets

1 15

ounce

can cannellini beans

drained and rinsed (about 1 ¾ cups)

4

cloves

garlic

peeled and smashed

2

tablespoons

lemon juice

about 1 lemon

¾

cup

plain non-dairy milk

1 ½

cup

Easy Cheezy Sauce

about ½ recipe, or more for topping - see notes. (Or substitute my nut free/low fat chickpea cheese sauce or my vegan cheddar cheese sauce.)

2

green onions

diced

½

teaspoon

smoked paprika

plus more for garnish

Sea salt and freshly ground pepper

to taste
Instructions
Preheat the oven to 400 degrees F.

Scrub the potatoes clean. For a crispy, lightly salted skin, rub the potatoes with a small amount of water and course sea salt before baking.

Place the potatoes directly on the oven rack, and bake for 1 hour, or until tender. (Test them by poking a fork along one side where you'll cut them in half. It will insert easily if the potatoes are done.)

In a food processor, combine the cannellini beans, garlic and lemon juice. Process until smooth and creamy.

In a large mixing bowl, add the Vegan Easy Cheezy Sauce, pureed cannellini beans, non-dairy milk, ½ teaspoon of smoked paprika (and vegan butter if desired). Stir to combine.

When the potatoes are finished, remove them from the oven, and lower the heat to 350 degrees. Allow them to cool for a few minutes.

Cut each potato in half lengthwise and scoop out the potato, making a shell (see notes). Set the potato shells aside on a baking sheet.

For perfectly smooth potatoes, I like to use a potato ricer. Or, you can gently mash them in a medium mixing bowl. Add the riced/mashed potatoes and ½ of the green onions to the large mixing bowl with other ingredients. Stir well until everything is combined, but don't over mix. Add sea salt and freshly ground black pepper to taste.

Fill the potato shells with the mixture until heaping full. Spread the potatoes out evenly on a baking sheet and bake at 350 degrees until heated through, about 15 to 20 minutes.

Remove from the oven. Garnish with smoked paprika and the remaining diced green onion.
Notes
To make the potato shells, place one potato at a time on a cutting board and grasp with an oven mitt or clean kitchen towel if still very hot. With a sharp knife, cut each potato in half lengthwise. (You may need to poke the sharp end of your knife into the potato to get started. You want a nice, clean cut.) With a soup spoon, scoop out the insides of each potato half into a mixing bowl, being careful not to tear the shell. Leave a small layer of potato next to the skin for support (see photo).
If you made the full Easy Cheezy Sauce recipe and want extra cheezy potatoes, you can spoon extra sauce on top of each potato before adding the smoked paprika and onions. Extra sauce is especially good when re-heating leftovers.
Nutrition (approximate)
Calories:
229
kcal
|
Carbohydrates:
34
g
|
Protein:
9
g
|
Fat:
7
g
|
Saturated Fat:
1
g
|
Sodium:
243
mg
|
Potassium:
605
mg
|
Fiber:
4
g
|
Sugar:
1
g
|
Vitamin A:
140
IU
|
Vitamin C:
8.8
mg
|
Calcium:
87
mg
|
Iron:
3.5
mg