Okay, my recipe today is admittedly quite simple. So simple, I hesitated to even put in on the blog. But, hey, sometimes a few simple ingredients are all it takes to make something really tasty. And these Scallion Cashew Cheese Vegan Quesadillas are coming in handy this winter, as we eat bowl after bowl (after bowl!) of soup.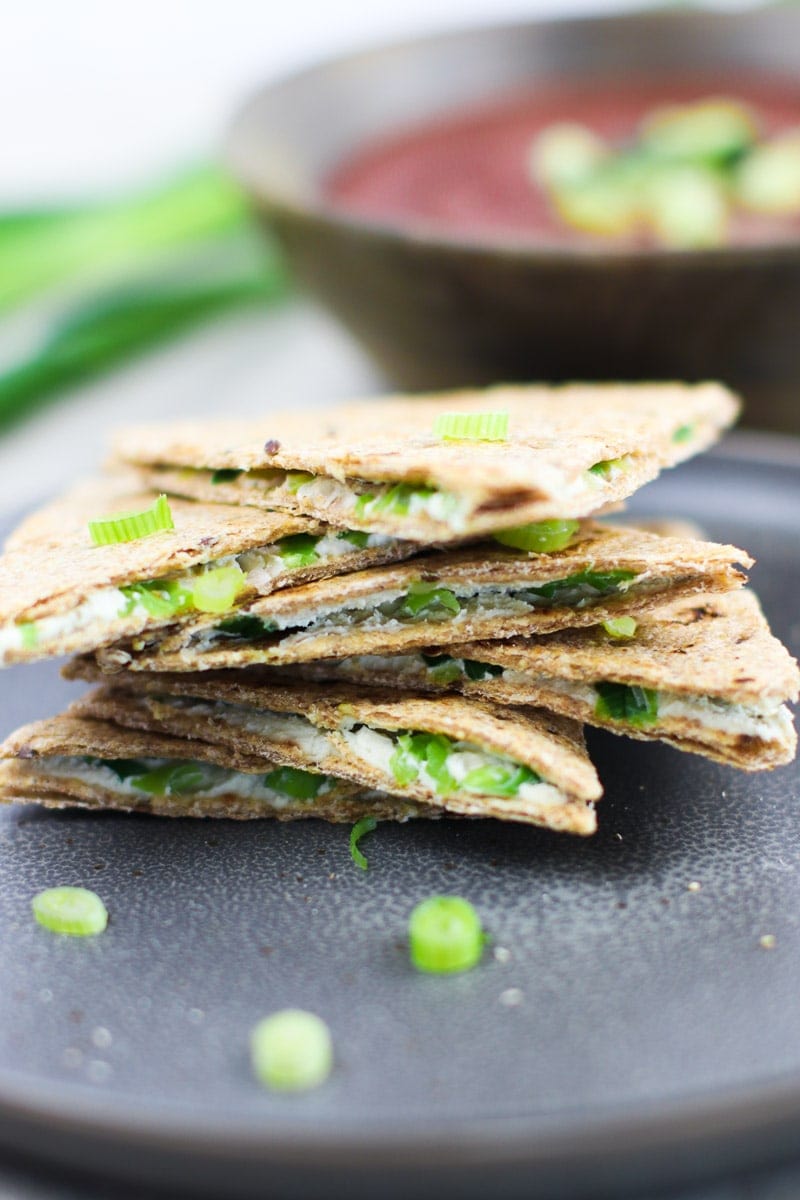 What to eat with vegan soup?
I don't know quite what it is about soup, but I love making it and I love eating it. Maybe it's because I can take just about anything from the pantry and/or fridge and turn it into a yummy, satisfying meal. (I made a scrumptious soup out of onions, beets and celery the other day.) Or maybe it's because in the winter, I'm just not a big fan of salads.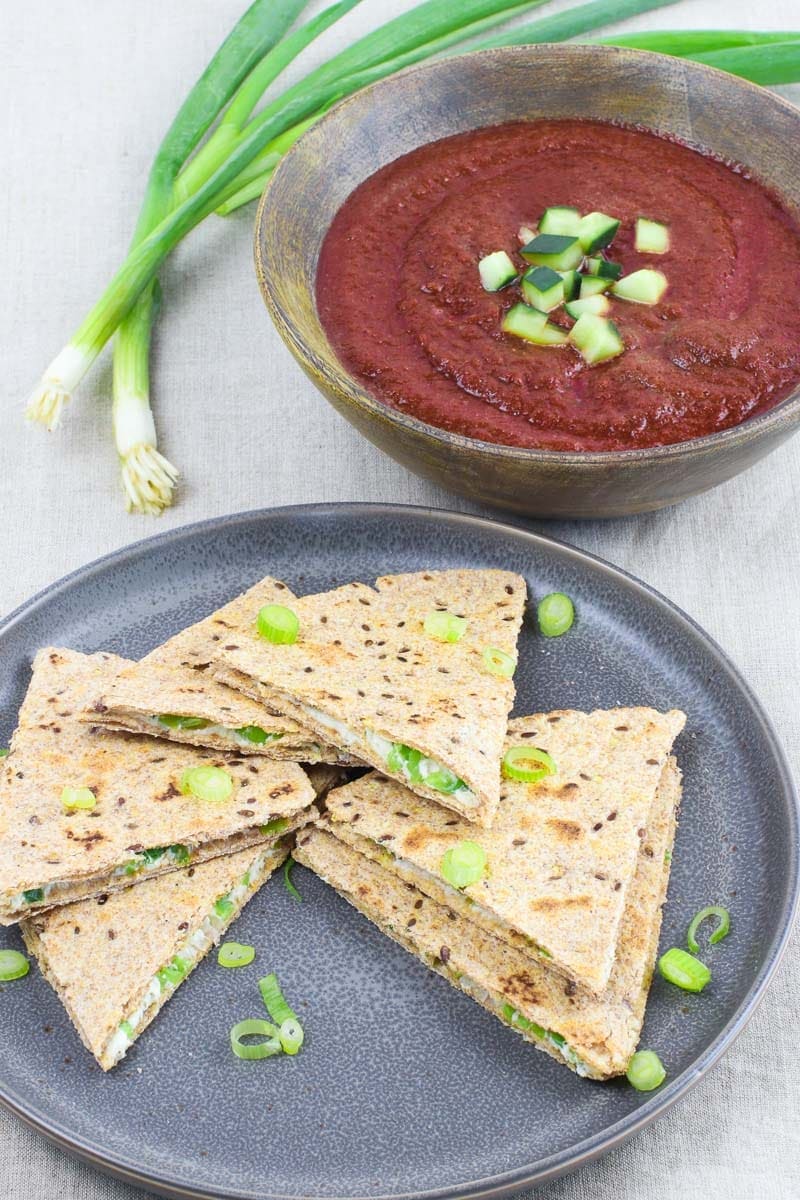 But when the soups are lighter, like my 'Everything' Vegan Gazpacho, we often find ourselves hungry a couple of hours after dinner. This can easily launch us into the 'snacking danger zone,'  where we're overeating right before bedtime. This left me wanting something a little more substantial than a bit of bread or a salad to go with our soup.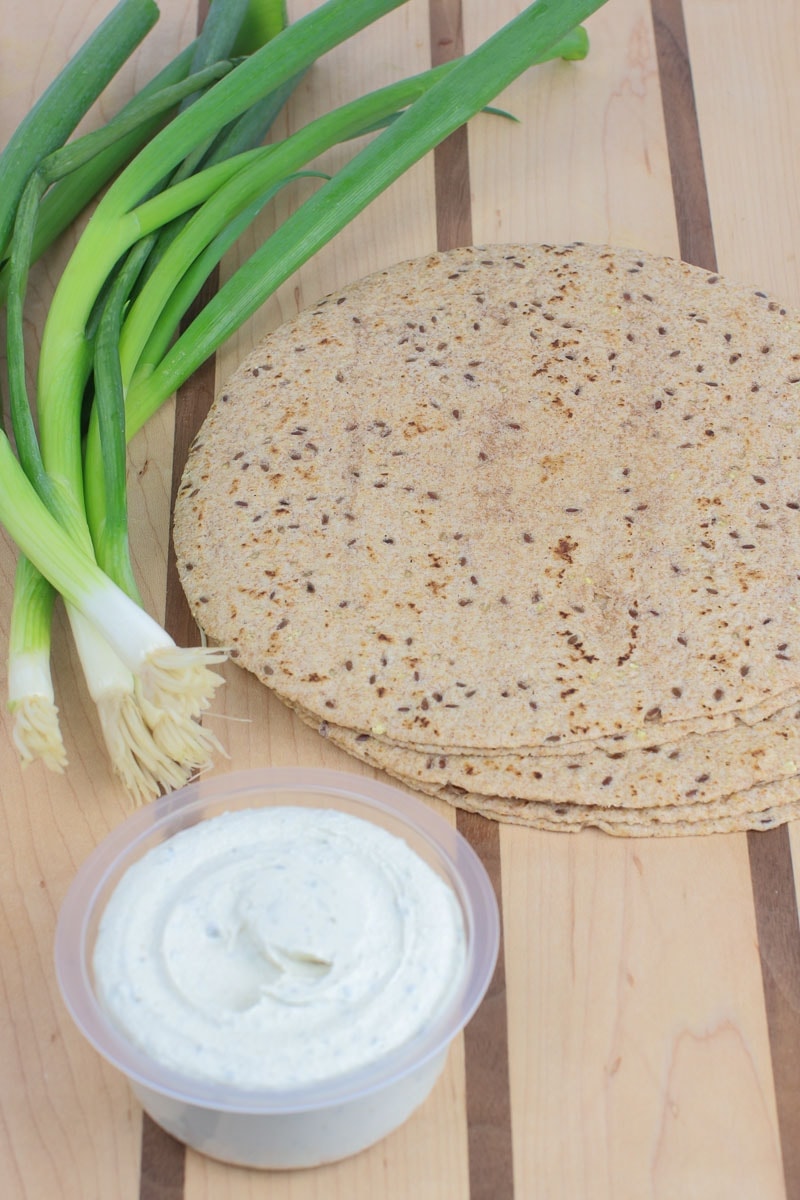 A bit like Scallion Pancakes, but Lighter
Another reason these Scallion Cashew Cheese Vegan Quesadillas jumped into my head—completely unrelated to soup—is my love of Vietnamese scallion pancakes. I adore their thin, doughy layers full of scallions. I don't love all of the oil they're made with, however, especially now that I've eliminated almost all oil from my diet. In fact, I'm finding I can no longer enjoy them at all. These easy vegan quesadillas do the trick when I'm craving those doughy-oniony flavors.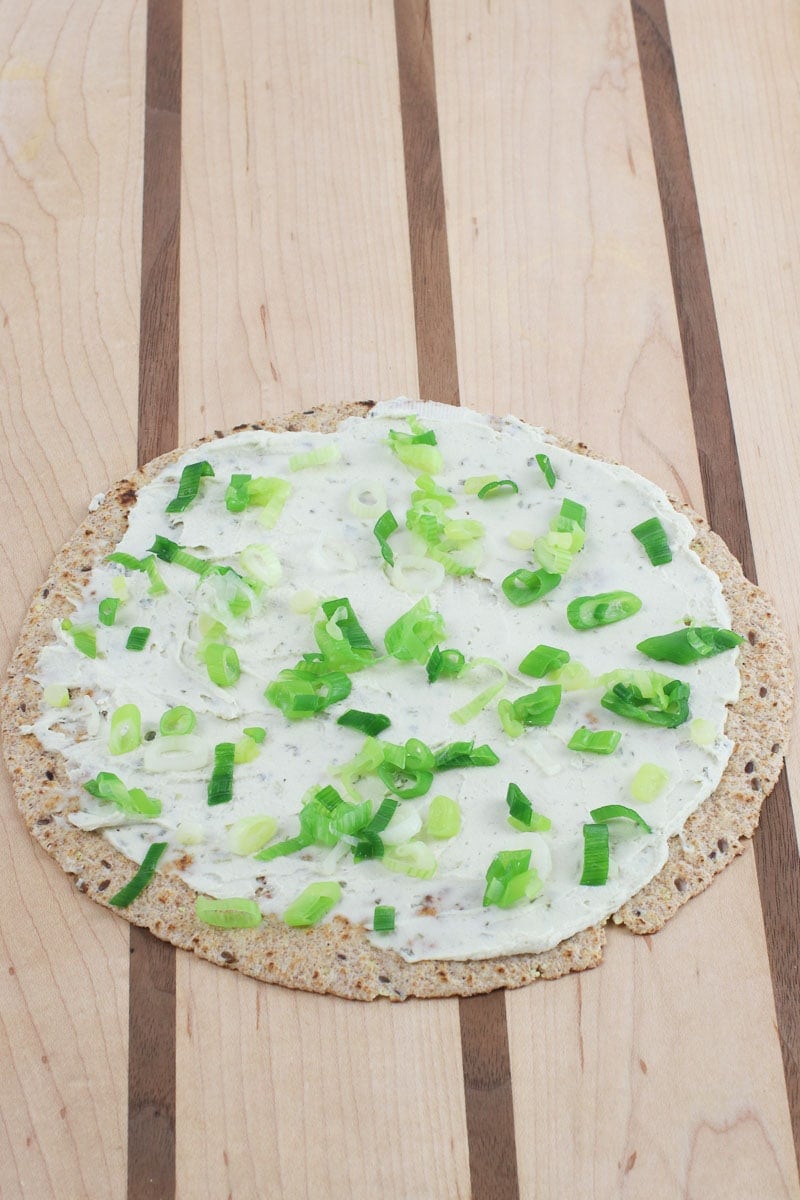 So, simple as they may be, I decided I had to share these simple, yet wonderfully crisp and 'cheesy' Scallion Cashew Cheese Vegan Quesadillas. I like to make mine with Treeline Cheese and healthy, oil free Food For Life 'Ezekial' sprouted whole grain tortillas, but you could use regular vegan cream cheese and just about any kind of tortilla you like.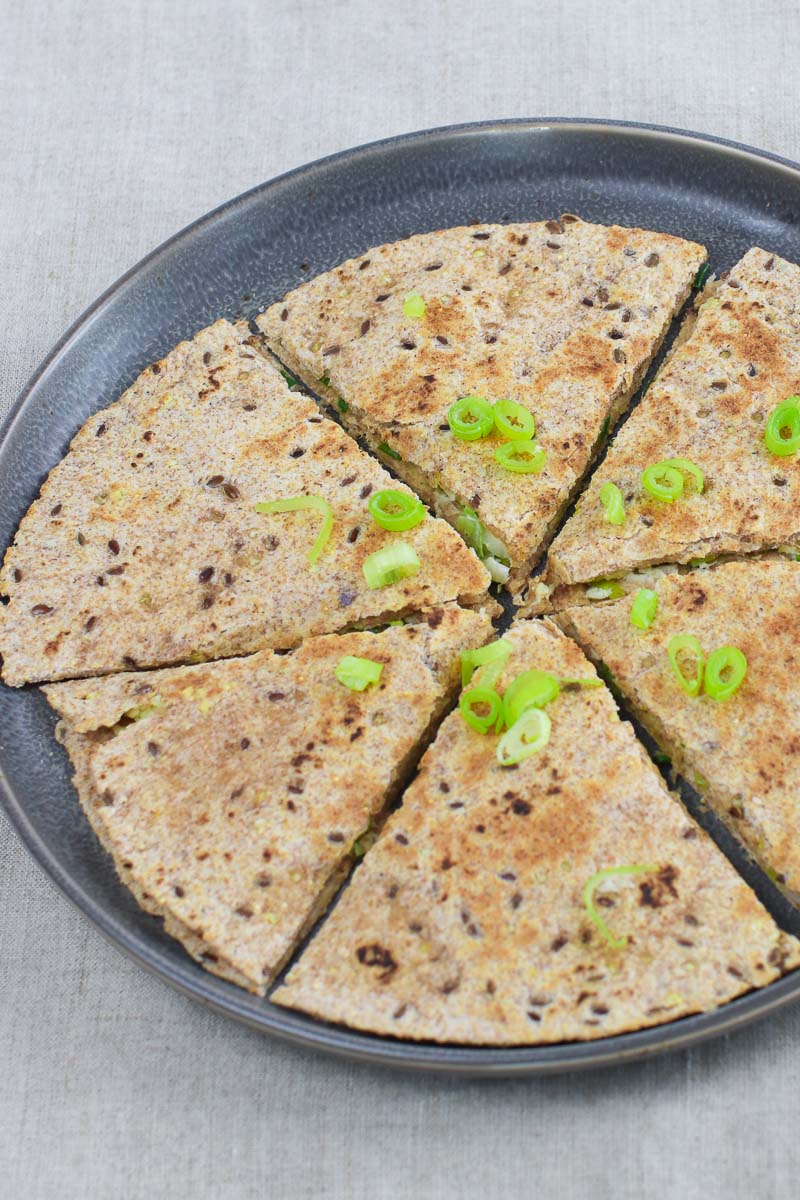 Could you jazz them up with some sauteed garlic, sriracha sauce or any number of other flavorful add-ins? Of course! On the other hand, we can all use a few 3-ingredient recipes in our back pockets.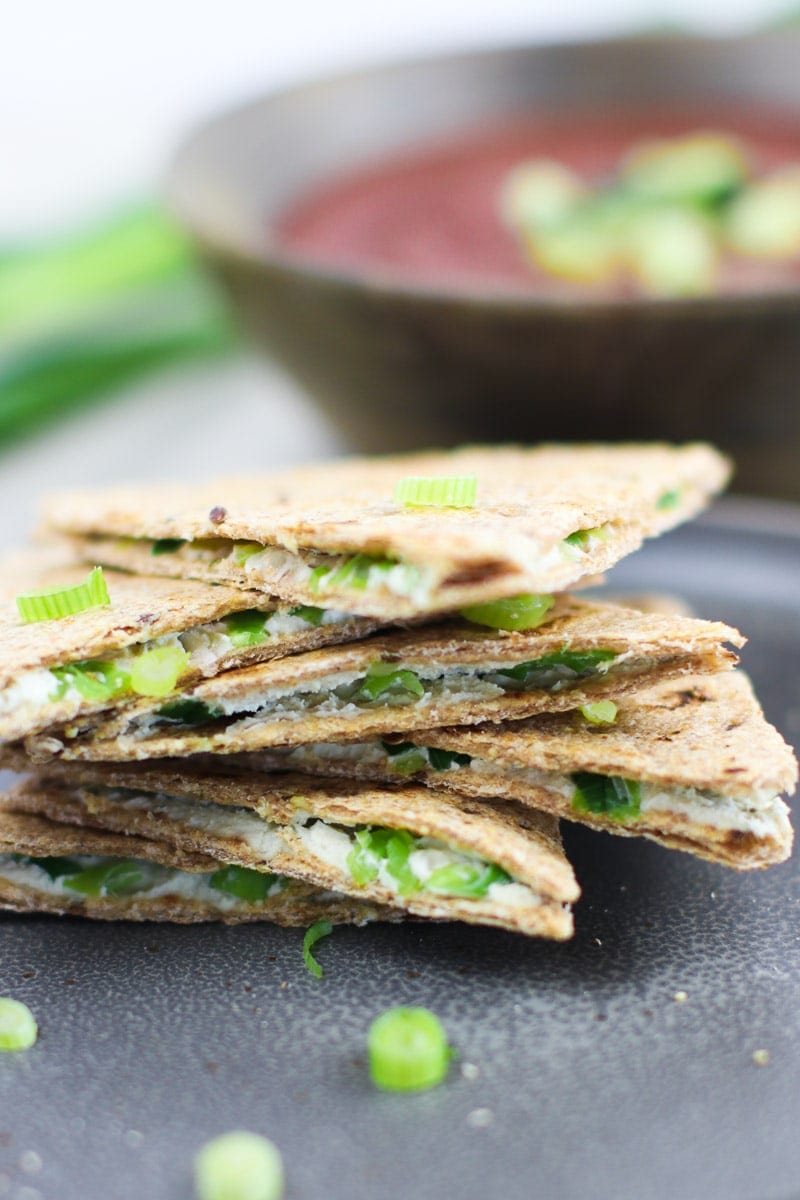 If you like this Scallion Cashew Cheese Vegan Quesadillas recipe, you may also like: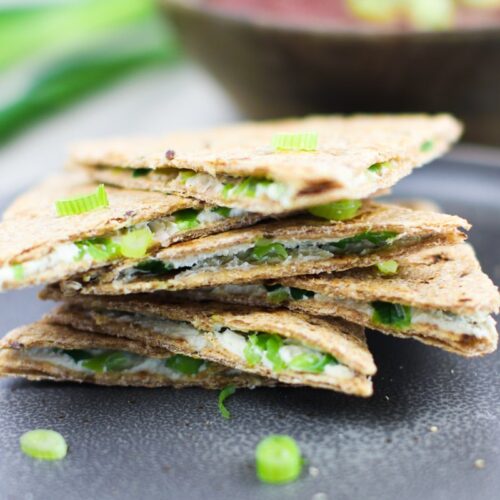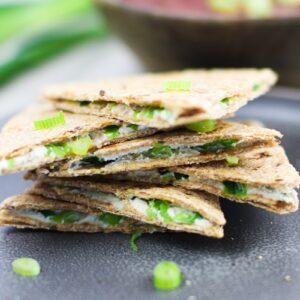 Scallion Cashew Cheese Vegan Quesadillas
3-ingredient, healthy vegan quesadillas made with cashew cheese and scallions. A bit like Vietnames scallion pancakces--without the oil! Gluten-free option.
Print
Pin
Rate
Ingredients
6

'healthy' tortillas

about 6-7 inches in diameter (I recommend oil-free multi-grain tortillas, use GF if desired)

1

bunch scallions

thinly diced (about 3-6 scallions, or 1-2 per quesadilla-see notes )

1 6-

ounce

package vegan cream cheese or other nut cheese

I used Treeline Scallion flavor-see notes

Optional: a few pinches of garlic powder and/or onion powder

Sea salt and freshly ground black pepper

to taste
Instructions
Heat one tablespoon of water in a saute pan on medium heat. Add the green onions and saute 2-3 minutes, until just soft but still bright green. Remove the onions from pan, and set aside. (NOTE: You can skip this step if you prefer your green onions raw.)

Lay out 3 of the tortillas, and spread about 3 tablespoons of nut cheese over each one, stopping just short of the edges. Top each tortilla with ⅓ of the onions. Sprinkle with a pinch of garlic powder, and add sea salt and freshly ground black pepper to taste. Then, top each one with the remaining tortillas to form your quesadilla.

Dry out the pan if needed, and place it back on the stove over medium heat. Heat each quesadilla for about 2-3 minutes per side, or until golden brown and crisp.

Remove to a cutting board, and cut into wedges with a pizza cutter or large chef's knife.
Notes
You can use a little green onion or a lot, depending on your preferences. I like a lot as it adds moisture, flavor and texture without adding more fat.
If you'd prefer to make your cashew cheese from scratch, my Easy Cheezy Sauce will work in this recipe. Just make the thick version of the sauce, then cook it down a little in a saute pan over medium heat, stirring continually, until it thickens to a spreadable consistency.
Nutrition
Calories:
231
kcal
|
Carbohydrates:
26
g
|
Protein:
6
g
|
Fat:
12
g
|
Saturated Fat:
1.5
g
|
Sodium:
414
mg
|
Potassium:
5
mg
|
Fiber:
5
g
|
Sugar:
3
g
|
Vitamin A:
20
IU
|
Vitamin C:
0.4
mg
|
Calcium:
103
mg
|
Iron:
1.5
mg