This vegan Lemony Lentil Turnip Chowder is light and hearty (yep, I think soup can be both light and hearty!), and a tangy, tasty way to pack nutritional variety into your diet. Since 'soups on' in half an hour plus change, this chowder makes a quick, easy and truly satisfying weeknight meal.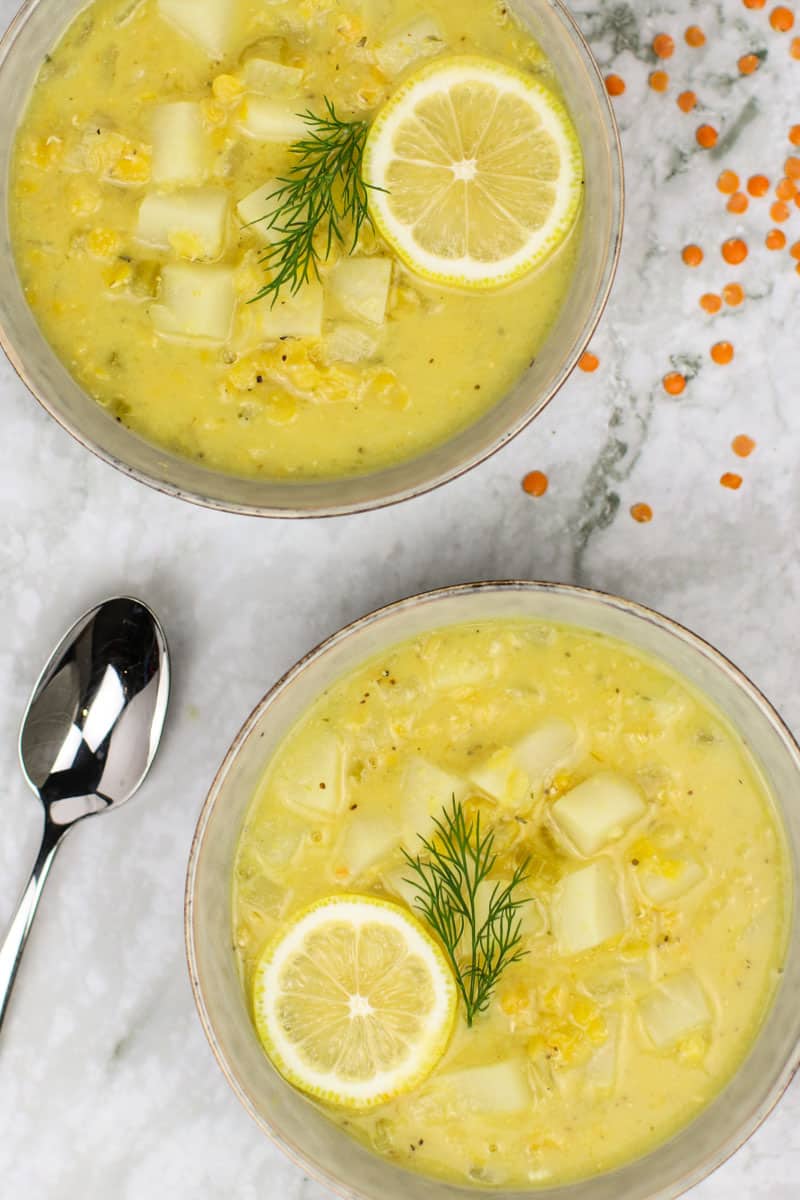 Why I Love this Vegan Lemony Lentil Turnip Chowder
This vegan lemony lentil turnip chowder is quite similar to one of my favorite summertime recipes, Lemony Sweet Corn Chowder. In both chowders, the tanginess of lemon and fresh grassiness of the dill come together in a bright explosion of flavor. But when fresh sweet corn is out of season, this lentil turnip chowder recipe is my lemony chowder go-to.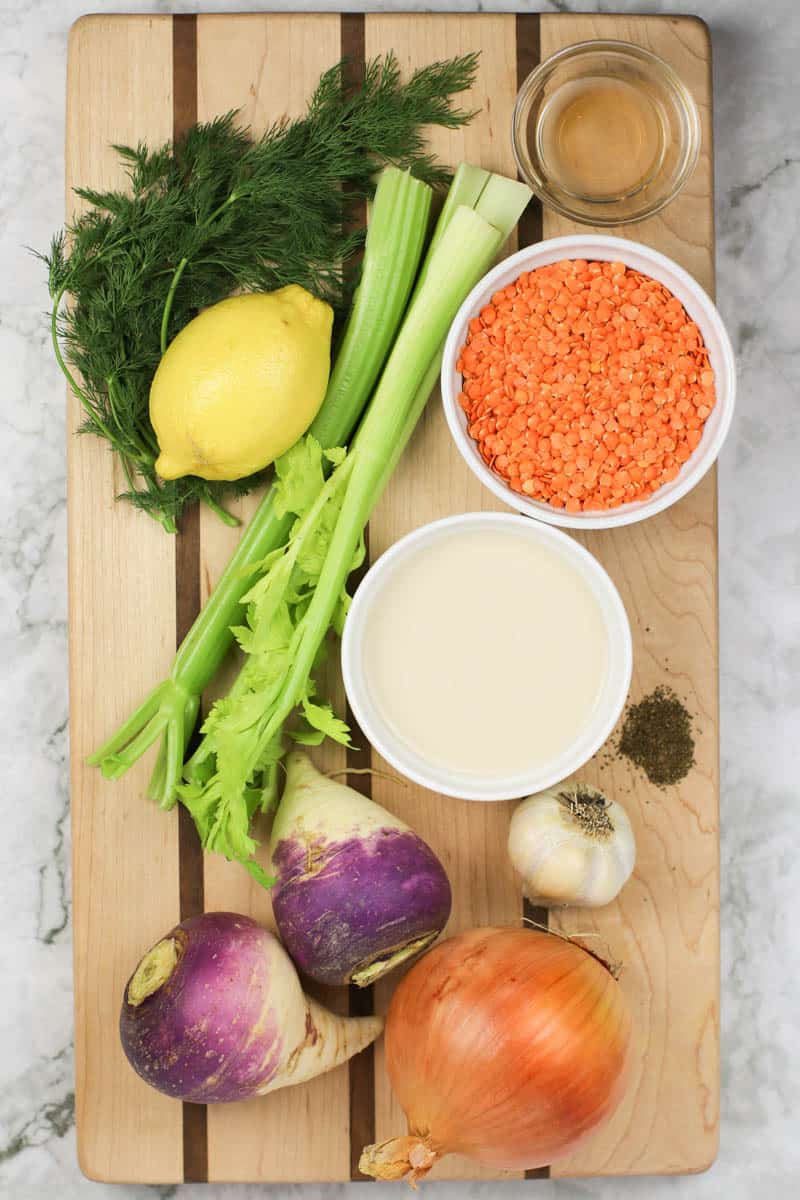 In this recipe, we mix things up a little by using turnips rather than the traditional potatoes one typically expects in a chowder. I love turnips for their slightly bitter, almost radish-like flavor. I also consider it a bonus whenever I can incorporate ingredients from the produce aisle other than my old faves. (Hello, potatoes!)
That's because fruits and vegetables have unique nutritional profiles that offer different health benefits--and would you believe, our bodies are actually built with specific receptors for specific fruits and veggies? So yes, diversity in our diet matters.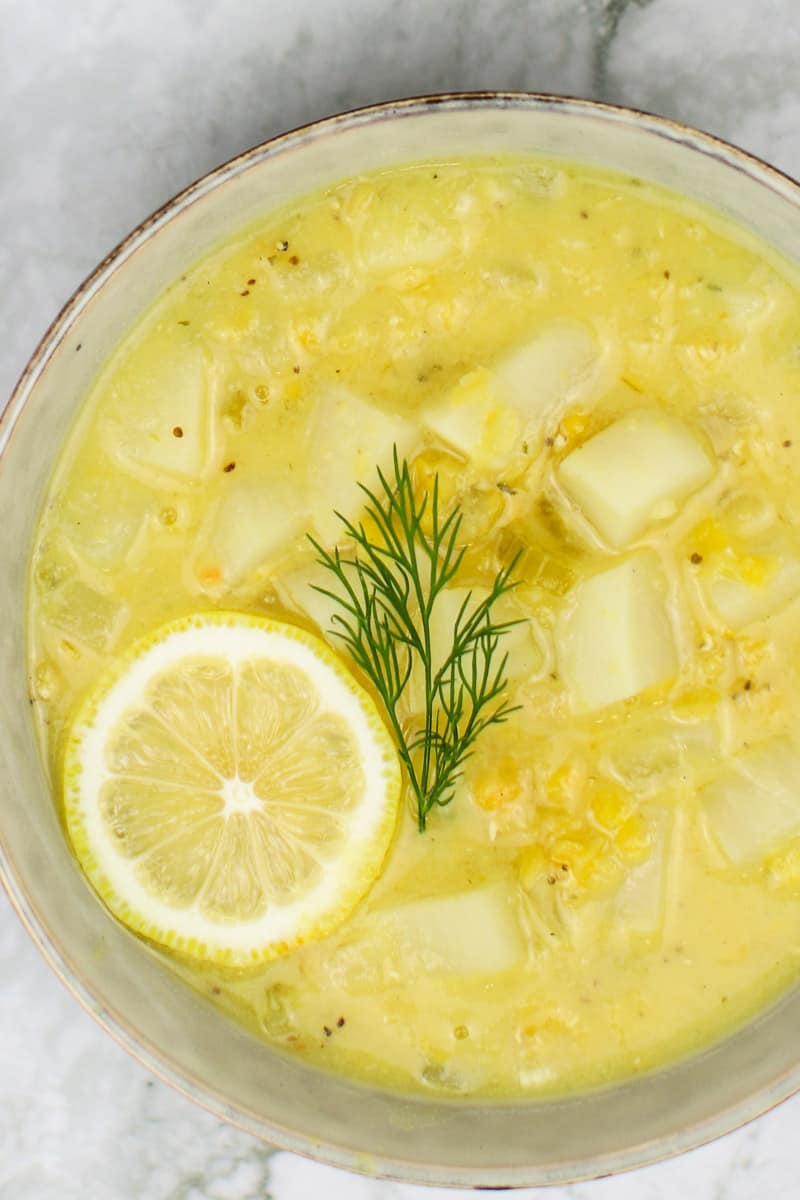 I also just can't get enough lentils (and chickpeas) lately, ever since I watched this short video on NutritionFacts.org. Compared to other beans and legumes, lentils pack some serious nutritional punch. So I'm making and effort to include more of them in our black-bean dominated diet (black bean burritos, smashed black beans & avocado toast--I even put black beans in our brownies!)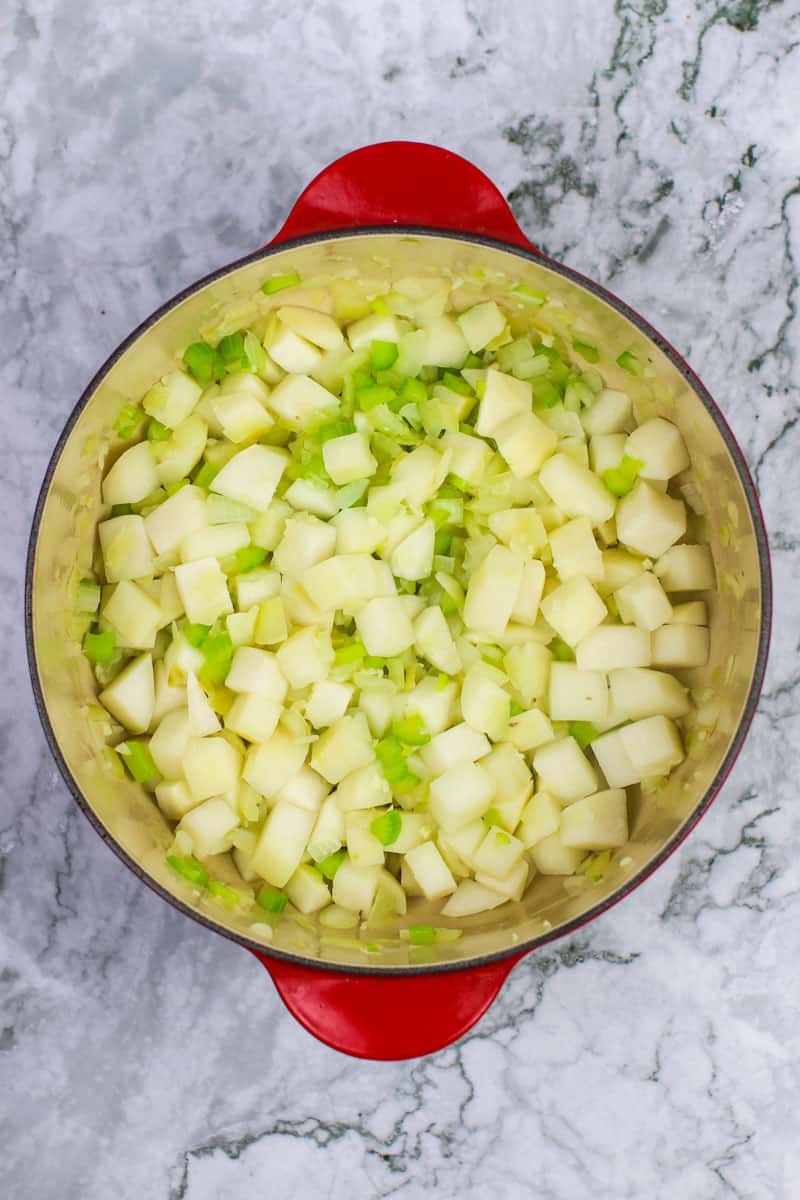 How to Make Vegan Lemony Lentil Turnip Chowder
If you're a multi-tasker like me, you'll appreciate that you can do your prep in steps. For example, while the onions, garlic and celery are sautéing, you have time to dice your turnips and rise your lentils. Then, while the turnips and lentils are cooking, you can get out the blender, chop your dill, and squeeze and zest your lemon. And before you know it, soups on!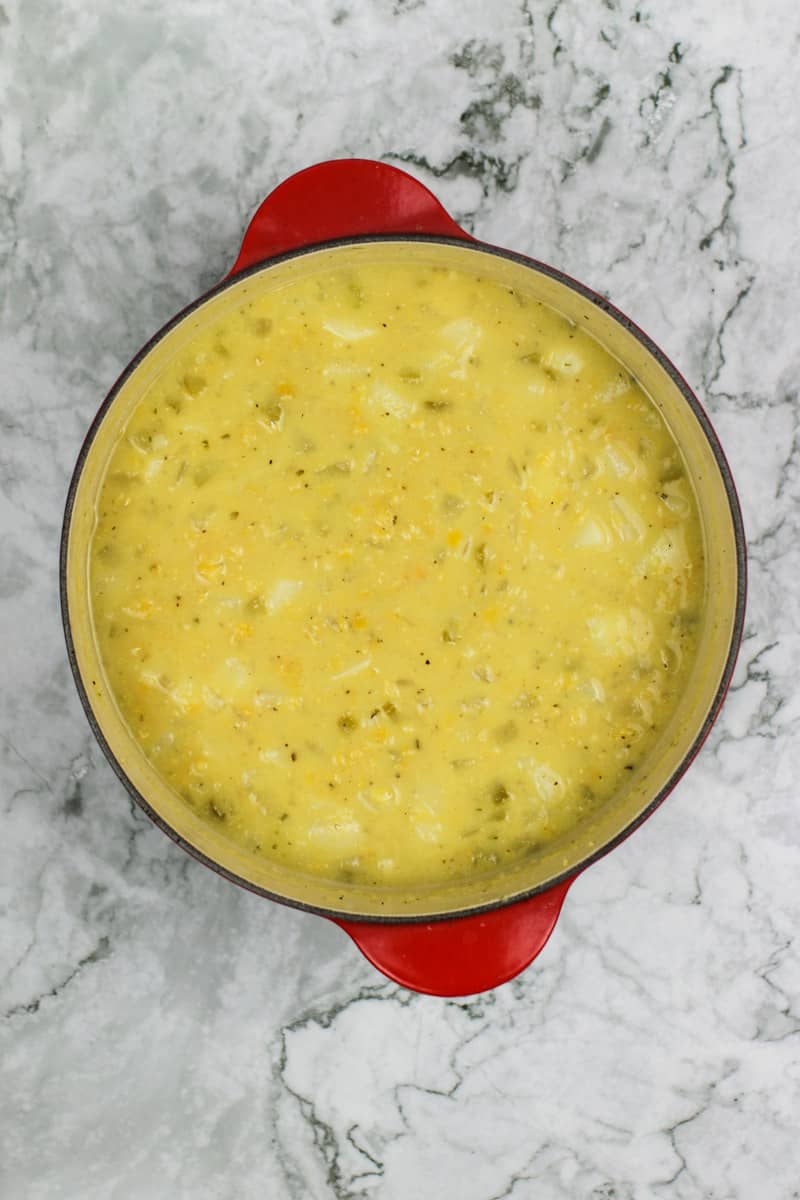 I use red lentils in this vegan lemony lentil turnip chowder recipe because they cook fast (about the same time it takes for the diced turnips), so everything is ready together. While it's never a good idea to add salt or acid to lentils or beans before they cook (see recipe notes), red lentils are SO forgiving!
If you forget and salt your onions or add the lemon juice too soon (yup, I have), this soup still cooks up right on time. Just be careful not to boil or over cook red lentils, as they'll start to get mushy and fall apart quickly. Not a deal-breaker, but maybe not the prettiest in your bowl.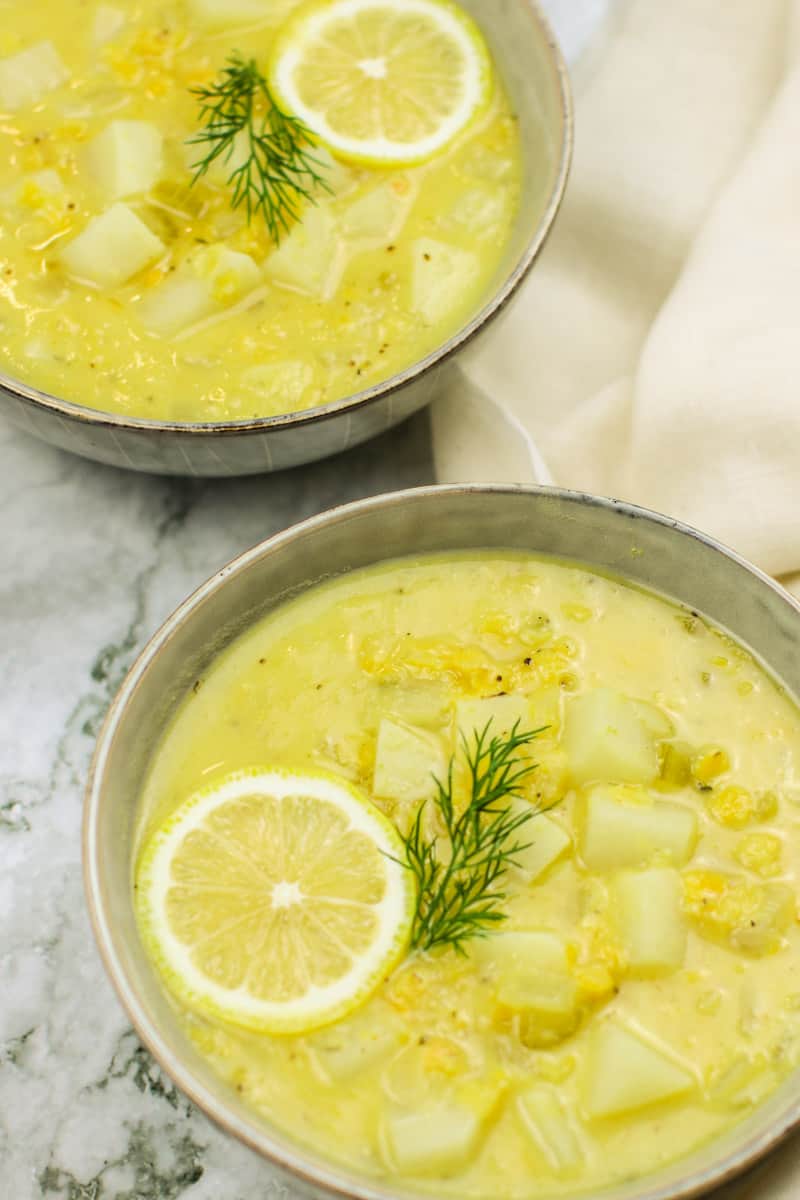 We may not be able to find fresh sweet corn year 'round, but this vegan lemony lentil turnip chowder is always in season.
Check out these other comforting soups: White Bean and Kale Soup, Vegan Broccoli Cheese Soup, Easy Gnocchi Soup, Spinach Soup with Ginger Broth and Red Lentil Dal Soup.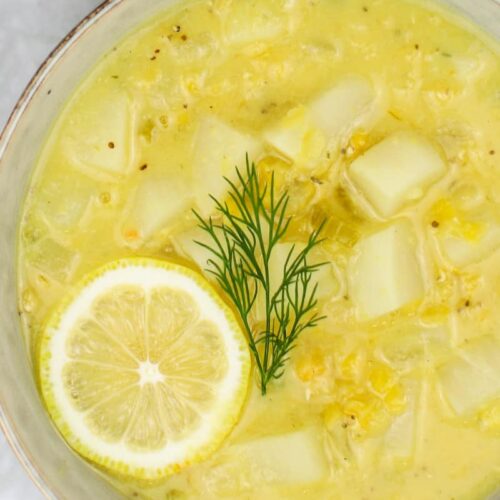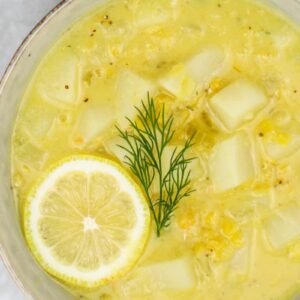 Lemony Lentil Turnip Chowder
Vegan Lemony Lentil Turnip Chowder is chock-full of spicy turnips and nutrition-packed lentils, with the classic, bright & tangy flavor combo of dill and lemon.
Print
Pin
Rate
Ingredients
1

onion

diced

2

cloves

garlic

minced

2

stalks celery

finely diced

1

pound

turnips

peeled and ½ inch diced (about 2 medium. For a thicker chowder, use 3 turnips)

1

cup

red lentils

¼

teaspoon

celery seed

(optional)

¼

cup

loosely packed fresh dill

chopped (+ more for garnish)

3

cups

prepared vegan bouillon such as Vogue Instant Vegetarian Chicken Base-Low Sodium

or homemade vegetable stock

1 13.5

ounce

can light coconut milk

(or sub plant milk - see notes)

1

lemon

juiced and zested (about 2 tablespoons of juice)

Sea salt and freshly ground black pepper to taste
Instructions
Heat 1 tablespoon of water in a large pot or Dutch oven over medium heat. Add the onion, garlic and celery, and cook for 5 minutes or until soft. (Don't add salt yet-see notes.)

Add the turnips, lentils and celery seed (if using), and mix well until everything is coated and hot.

Add the prepared bouillon (or stock) and coconut milk (or plant milk), and heat until it almost begins to boil. Then reduce the heat, cover and simmer until the turnips and lentils are tender, 15-20 minutes.

Add the lemon zest and juice.

Ladle 3 cups of the soup into a blender and blend on medium speed until just creamy, being careful to allow steam to escape. Don't over blend. Add the blended soup back to the pot. Add the chopped dill, season with salt and pepper to taste, and stir.

Garnish with a few sprigs of fresh dill if desired.
Notes
If you want to avoid saturated fat, you can replace the light coconut milk  with plant milk. But if you do occasionally include light coconut milk in your diet, it adds a nice flavor to this soup.
I never add salt or acid (lemon, tomatoes, etc.) to beans or lentil until they're fully cooked, as this can keep them from cooking. Red lentils are more forgiving, but some lentils will take a very long time if you forget to wait.
Nutrition (approximate)
Calories:
201
kcal
|
Carbohydrates:
30
g
|
Protein:
8
g
|
Fat:
4
g
|
Saturated Fat:
3
g
|
Sodium:
578
mg
|
Potassium:
496
mg
|
Fiber:
11
g
|
Sugar:
5
g
|
Vitamin A:
415
IU
|
Vitamin C:
30
mg
|
Calcium:
54
mg
|
Iron:
2.8
mg