A low calorie, vegan red pepper pesto sauce that's oil free, dairy free, nut free, gluten free--but SO full of flavor. Ready in 5-minutes, this light & healthy pesto is amazing on pasta, pizza, sandwiches and more.
If you like my green pesto sauce (based on your comments, I know a lot of you do!) then I think you're gonna love this red pesto recipe too.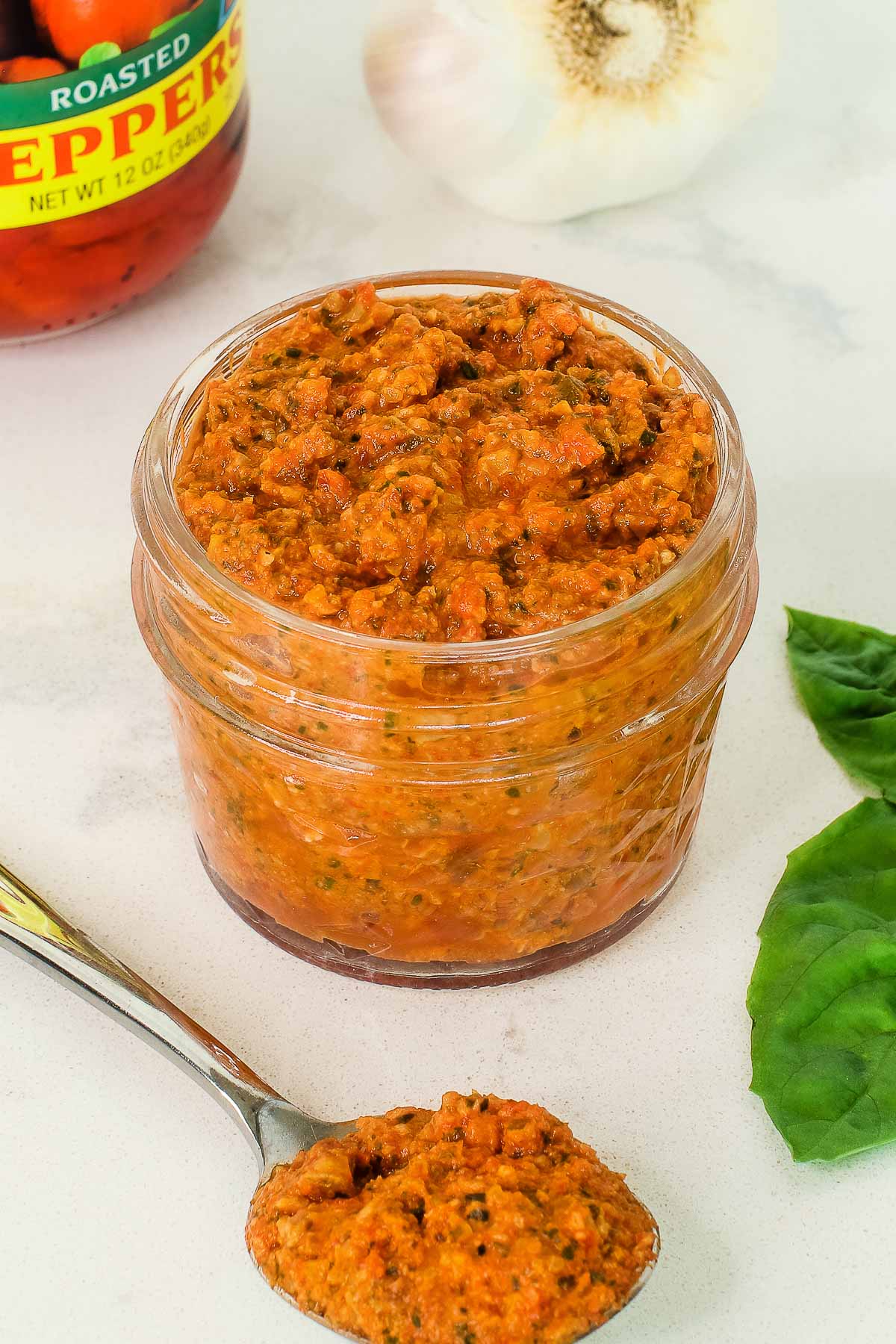 Jump to:
What is red pesto?
Red pesto is an Italian sauce typically made with roasted red peppers (like this recipe) or sun-dried tomatoes. It may have basil, but in lesser amounts than traditional pesto.
However, unlike traditional red or green pesto, this recipe is made without cheese, nuts, or the olive oil for a lower fat, healthier sauce. In fact, this version has only about 80 calories per serving. It's also a red pesto without sun-dried tomatoes, which is a common version. Though you can certainly use them if you like!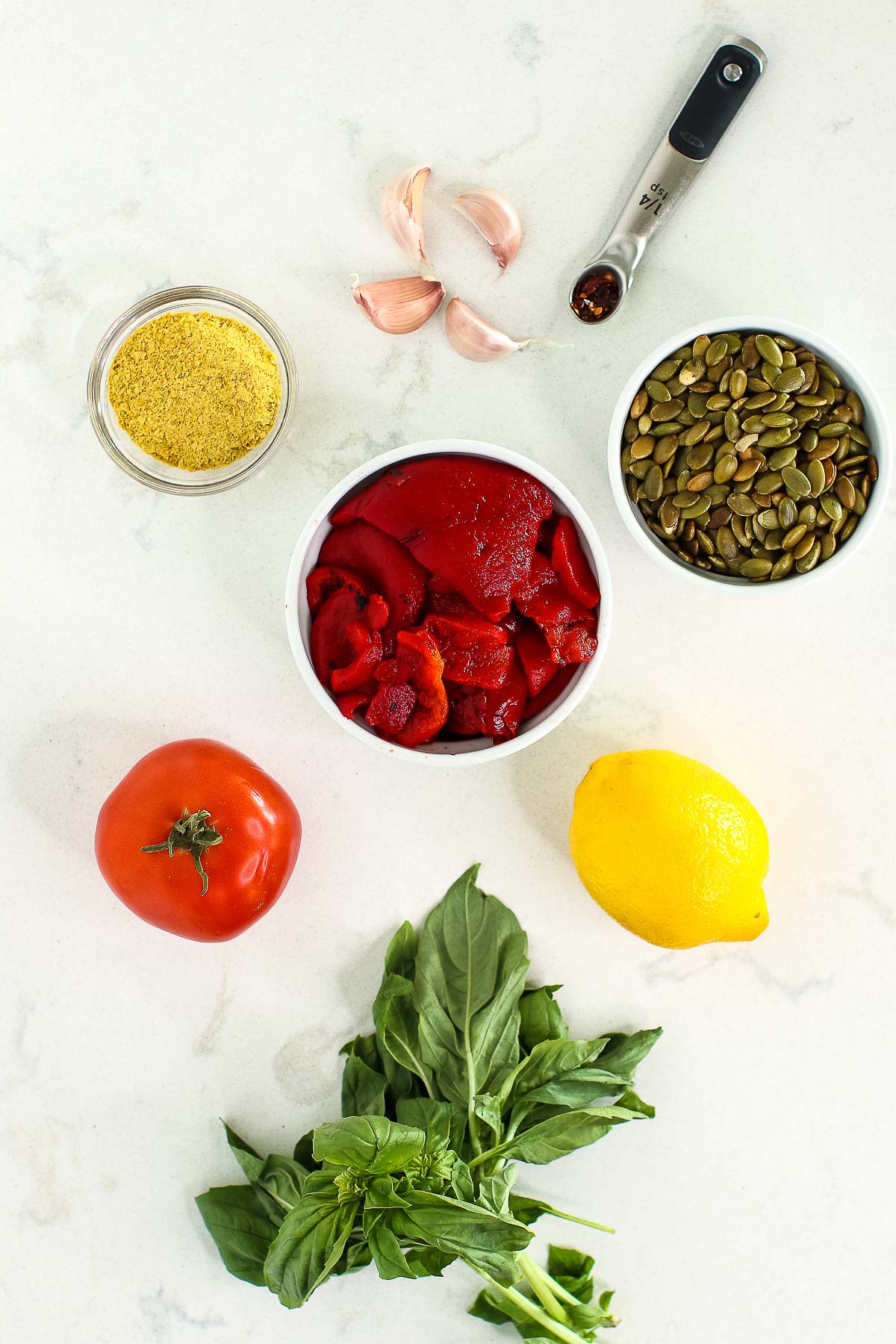 Ingredients
Roasted red peppers
Basil
Garlic
Pepitas
Tomato
Lemon
Nutritional yeast
Crushed red pepper flakes
How to make vegan red pesto
There's really only one step to make this easy pesto sauce! But I've included some pics to show you how to get a nice chunky pesto in your food processor. Of course, you can do this in a blender too, but the texture will come out a bit creamier.
If you're making pesto pasta, be sure to see the recipe card at the bottom of this page for tips to make it perfectly.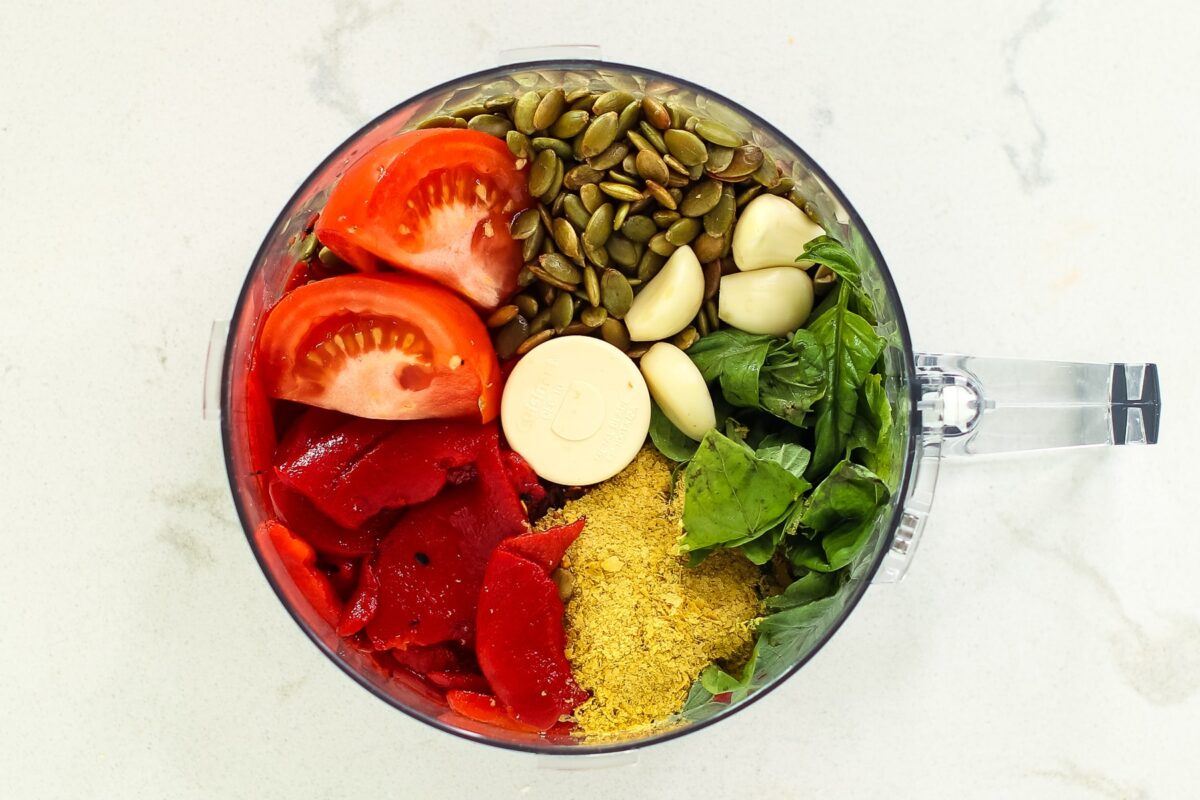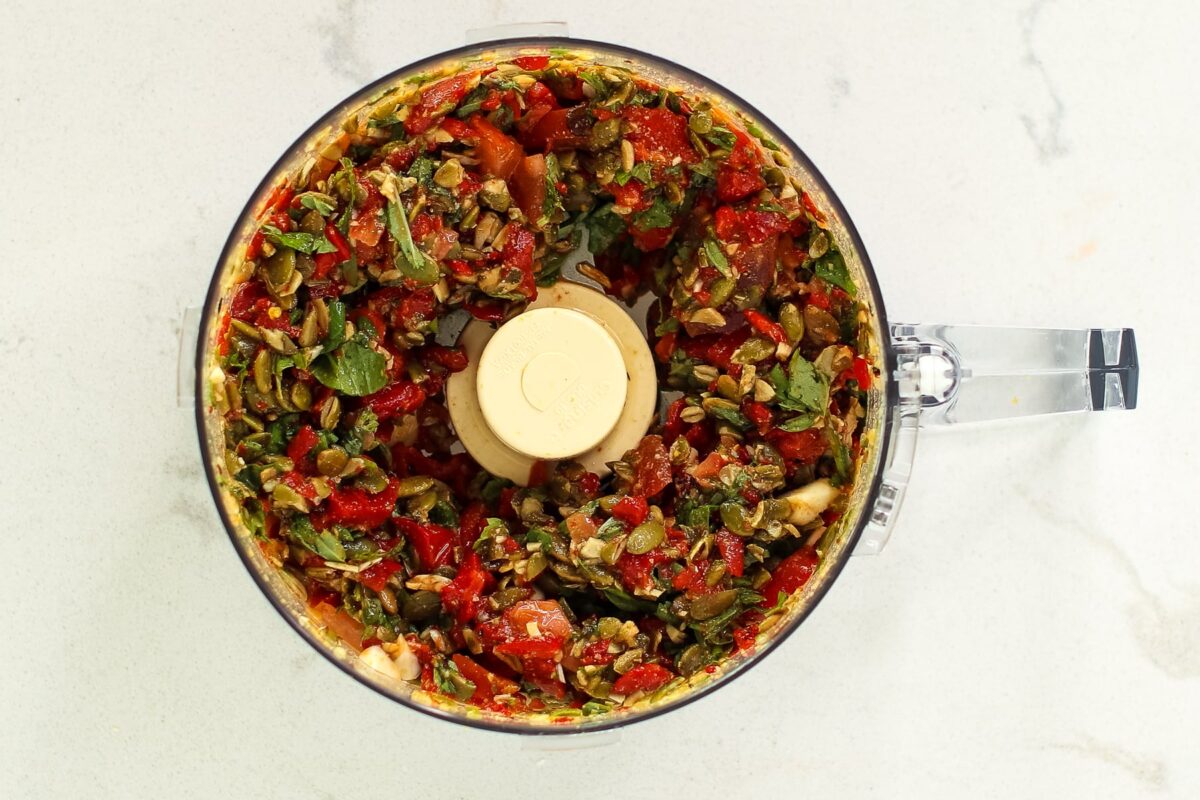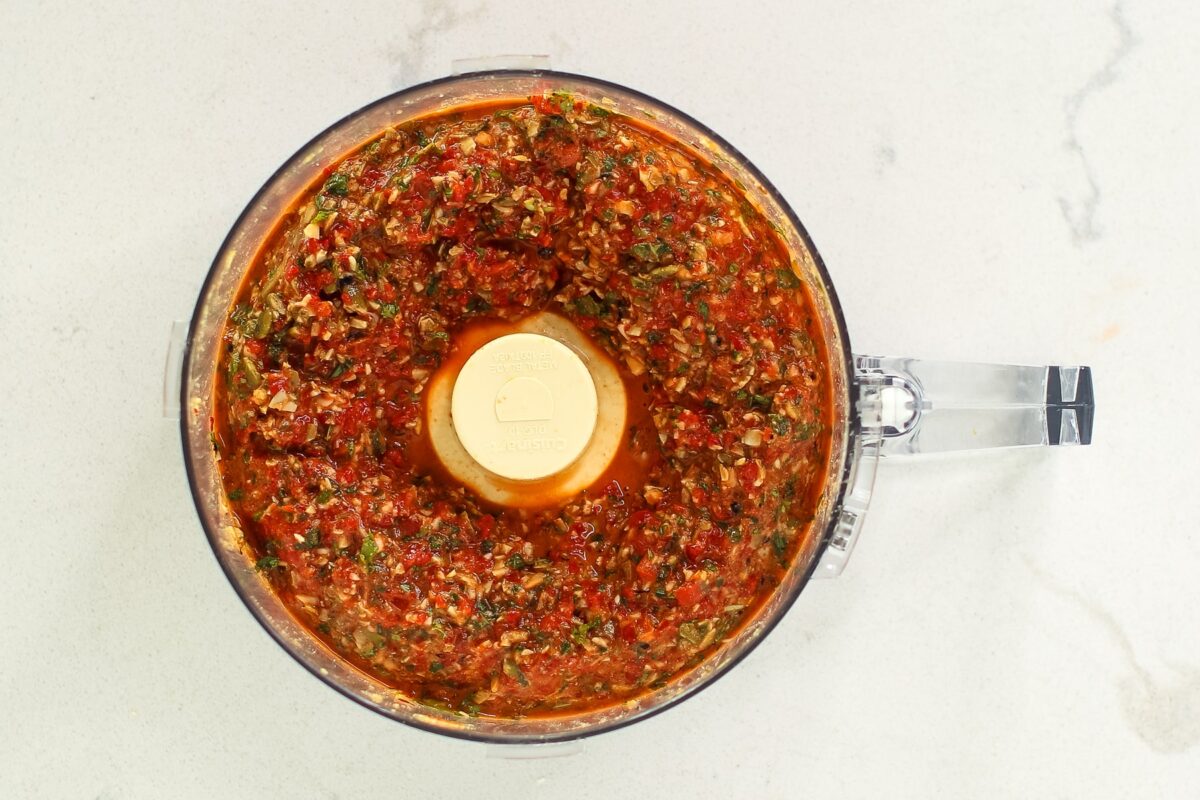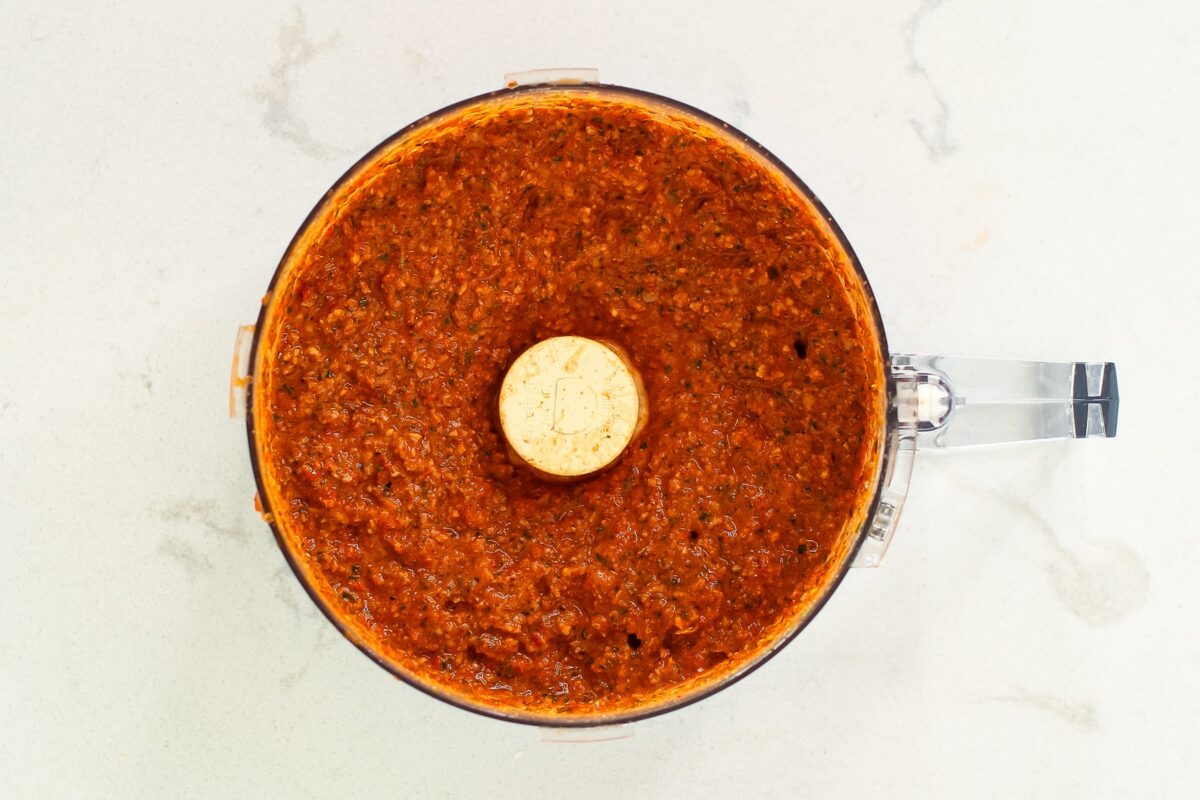 How to cook pesto (and pesto pasta)
Pesto doesn't really need to be cooked per se, but rather just gently heated. If adding to pasta, I like to:
1) reserve some of the pasta cooking water,
2) add the pesto to pasta pot (after the pasta has been drained) and warm on low heat, then
3) add the pasta to the pot and stir until the pasta is completely coated.
Add reserved pasta water a little at a time to thin and get the pasta coated if necessary.
Substitutions & Variations
Roasted peppers.

You can roast your own peppers instead of using jarred. You need about 12 ounces when finished, which is about 2 large peppers. I like to cut them in half and roast them at 450 Fahrenheit for about 30 minutes or until very soft, flipping halfway through.
You can substitute an equal amount of sun dried tomatoes if you prefer. To keep it oil free, buy dry packaged rather than in oil and rehydrate them before adding them to the recipe.
Hot peppers--toss a couple small hot peppers in for a hot & spicy red pesto!

Pepitas.

This nut free recipe is lower in fat, but you can certainly add nuts of your choice to make a more traditional pesto, such as pine nuts, or even walnuts, almonds, etc. Avoid nuts that get creamy like cashews though, or you won't get a chunky sauce.
Instead of pumpkin seeds (pepitas), you can also use sunflower seeds.

Basil. This herb is a very traditional pesto ingredient, so I like to include it. But you can swap a green like spinach, or even another herb like cilantro.
Tomato. Some people simply add water to their oil free peso recipe to help thin things out into a nice, saucy texture. But for me, water seems to make things taste...watery! So I like to include a bit of fresh tomato instead. But I think a couple of tablespoons of vegetable broth would work in a pinch, or even a table spoon or two of canned tomatoes.
Nutritional yeast. You don't absolutely have to include this, but I feel that it helps counter the slightly bitter taste roasted red peppers tend to have and the acid in this recipe. So I recommend it unless you absolutely can't find it or dislike it.
Garlic. Fresh garlic is a key ingredient in any pesto recipe, but you could get away with jarred garlic paste, frozen garlic or even a teaspoon of garlic powder in a pinch. But if you skip the garlic altogether, it isn't really pesto in my book.
Red pepper flakes. Not absolutely needed, but add a nice touch of heat. But a hot pepper or two can also do the trick or a pinch of cayenne.
How to use roasted red pepper pesto
A quick & easy lunch or dinner
Pasta (like fettucine, linguini, tortellini). Toss well with your favorite WFPB pasta.
Gnocchi
Pizza. I like to mix about half pesto and sauce together.
Tomato soup. Add it to your soups to ramp up the flavor.
As a spread. Spoon it onto bread, toast, or in a wrap sandwich.
Whole grains. Make a tasty "pesto quinoa" or other grain of your choice.
Italian recipes. Elevate your favorite dishes like risotto, vegan Parmesan, or lasagna by adding some pesto to the sauce.
Sauces
Red pepper pesto is absolutely fantastic on its own. Or, you can make a huge variety of other sauces just by adding this pesto.
Creamy red pepper sauce. Add this pesto to a cashew sauce, alfredo sauce, or even vegan yogurt.
Vegan 'meat' sauce. Add this pesto to your favorite bolognese sauce for an extra rich and garlicky flavor.
Marinara sauce. Elevate a basic tomato sauce with extra flavor and texture.
Condiments
This versatile sauce is a superstar when it comes to elevating your everyday condiments. I like to use an ice cube tray to freeze it into cubes, then use it later to make:
Appetizers
Spread on small pieces of toasted bread for crostini or bruschetta
Mix with some chopped black or green olives and little lemon juice for a quick tapenade
Mix with diced roasted eggplant, olives or capers for a super simple eggplant dip (caponata)
Roasted red pepper hummus - just stir in into your favorite oil free hummus recipe,
Stir it into some vegan / wfpbno cream cheese for festive veggie dip
Give the gift of pesto!
Make several batches and spoon them into cute jars for a hostess gift or homemade Holiday gift.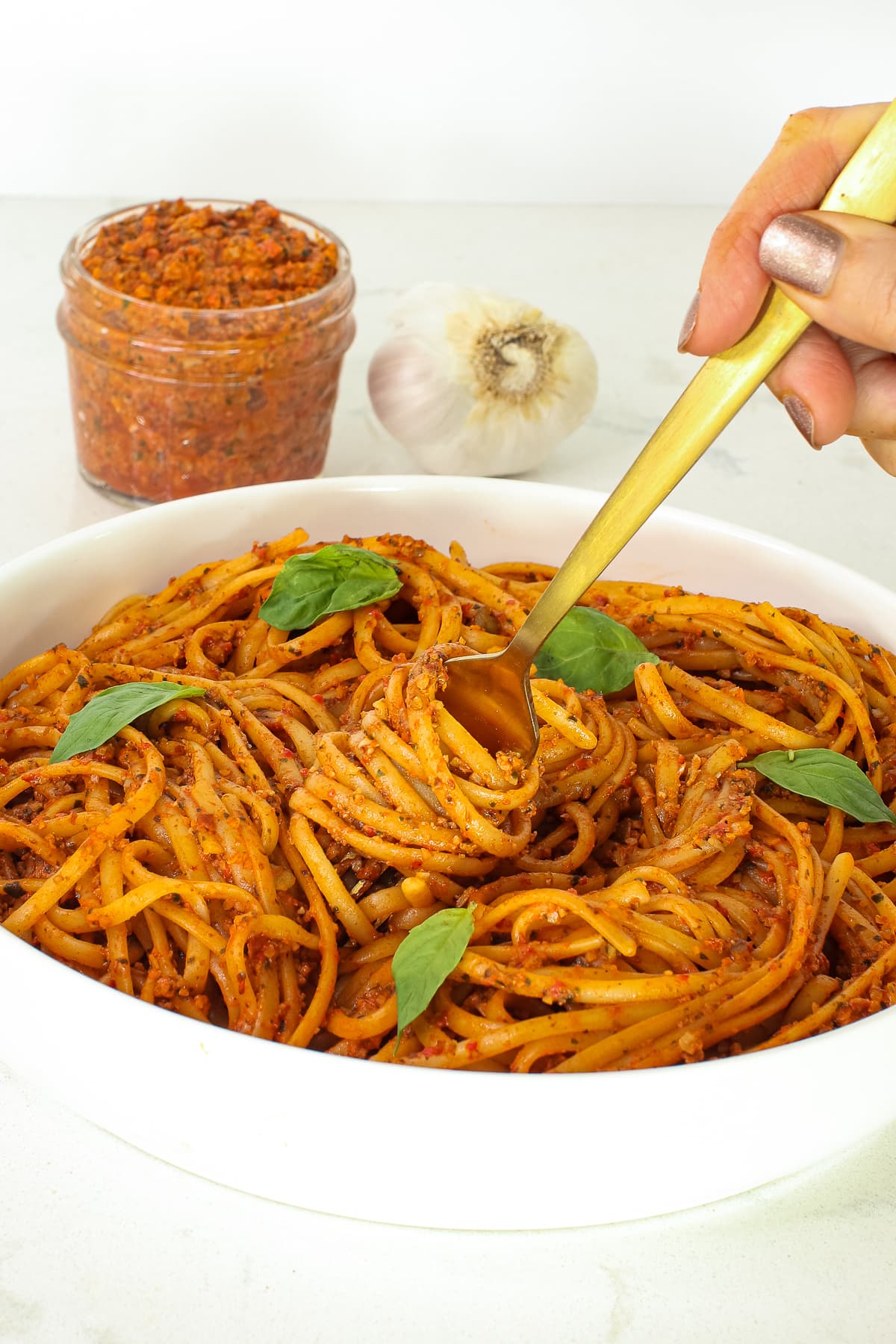 FAQs
What is red pesto made of?
Traditionally, red pesto if made of roasted red peppers or sundried tomatoes, with Parmesan cheese, olive oil, basil and garlic. This healthier, low calorie recipe skips the cheese, the nuts and the oil.
Is red pesto healthy?
Because it's traditionally made with dairy and oil, pesto is typically high in fat and not very healthy. This healthier pesto is much lower in both fat and calories.
Is red pesto vegetarian or vegan?
Pesto is vegetarian, but not vegan because it usually contains cheese. This recipe is, of course, both!
Can red pesto be eaten cold?
Yes! It's delicious as a spread on sandwiches or as a cold veggie dip.
How much pesto should you use with pasta?
About ¼ cup to ⅓ cup of pesto per 2 ounces of dried pasta (about 1 cup cooked pasta), depending upon how saucy you like it.
How to cook pesto perfectly?
Gently. Use low heat to keep the pesto from drying out and getting too thick.
How to store pesto?
You can keep this pesto in an airtight container in the refrigerator for 3-4 days, or freeze for 3 months. It's great frozen in small cubes to add to other recipes!
Happy, whole food plant-based cooking, y'all!
-Elizabeth xo
I LOVE hearing from you! Connect with me on Facebook, Instagram or Pinterest, or drop me a note in the comments.
📖 Recipe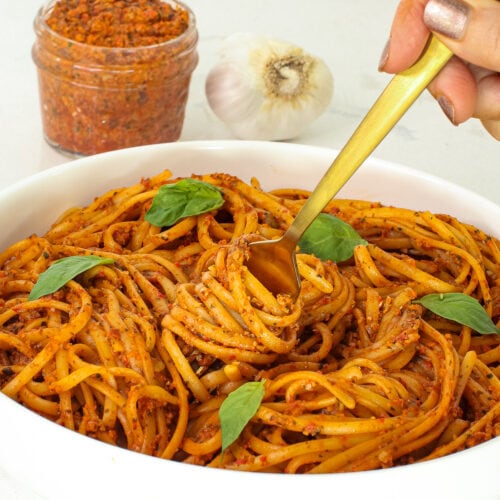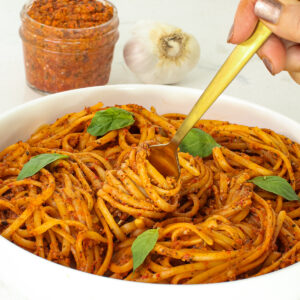 Vegan Red Pepper Pesto (Oil Free)
This Vegan Red Pepper Pesto is: oil-free, nut-free, dairy-free, gluten-free, and budget friendly. Ready in just 5 minutes, and your food processor (or blender) does all the work! WFPB recipe.
Print
Save
Saved!
Pin
Rate
Servings:
7
4 Tablespoon servings
Equipment
Food processor or blender
Ingredients
1

12 ounce jar

roasted red peppers

whole or strips, in water, drained

½

cup

basil leaves

½

medium tomato

quartered

4

cloves

garlic

1

lemon

juiced (about 2 tablespoons)

1

cup

organic raw pepita pumpkin seeds

(pepitas, see notes)

2

tablespoon

nutritional yeast

⅛

teaspoon

crushed red pepper flakes

+/-

Sea salt and freshly ground back pepper

to taste
Optional: For Red Pepper Pasta
Instructions
In a food processor (or blender on low speed), add the red peppers, basil leaves, tomato, garlic, nutritional yeast, lemon juice, and crushed red pepper flakes. Process until just blended and reduced in volume.

Add the pepitas and and process until blended but still chunky, stopping to scrape down the sides as needed. If it's not as thick as you'd like, add in a little more pepitas. (See notes.)

Season with sea salt freshly ground black pepper to taste.
To Make Pesto Pasta
Bring a large pot of water to boiling on high heat. Add about 12 ounces of pasta and cook according to directions. Before draining, reserve a cup of the pasta water. Toss the hot, drained pasta and pesto together in the pot over low heat until the pasta is evenly coated with sauce. Add reserved water a little at a time if needed to thin out the sauce and help coat the pasta.
Notes
Nutritional information shown above for sauce only.
Pepitas don't have shells and are only found in certain types of pumpkins. Don't substitute pumpkins seeds in their shells for this recipe! Raw seeds work well here, but I've also used tamari roasted seeds, which are delicious!
Food processor or blender. I've made this recipe in both the food processor and the blender. I like this sauce chunky, and the food processor is a better option for that. It takes a little longer, up to a minute or so. If you use the blender, process on low to keep the sauce chunky, if desired.
How to store. You can store this pesto in the refrigerator for 4-5 days, or in the freezer for about 3 months.
Substitutions & Variations. Please see the article above.
Nutrition (approximate)
Serving:
4
Tablespoons
|
Calories:
77
kcal
|
Carbohydrates:
6
g
|
Protein:
5
g
|
Fat:
5
g
|
Saturated Fat:
1
g
|
Polyunsaturated Fat:
2
g
|
Monounsaturated Fat:
2
g
|
Trans Fat:
1
g
|
Sodium:
139
mg
|
Potassium:
243
mg
|
Fiber:
2
g
|
Sugar:
1
g
|
Vitamin A:
432
IU
|
Vitamin C:
33
mg
|
Calcium:
35
mg
|
Iron:
2
mg