Okay guys, here's another super quick & easy, healthy, go-to recipe. Easy Vegan Oil-free Pesto is: fast (just 5 minutes), easy (your blender/food processor does the work for you), oil-free, nut-free, dairy-free, gluten-free friendly—and it won't crush your budget. (Don't you hate leaving the grocery store with that 'what the heck did I just buy' feeling?!)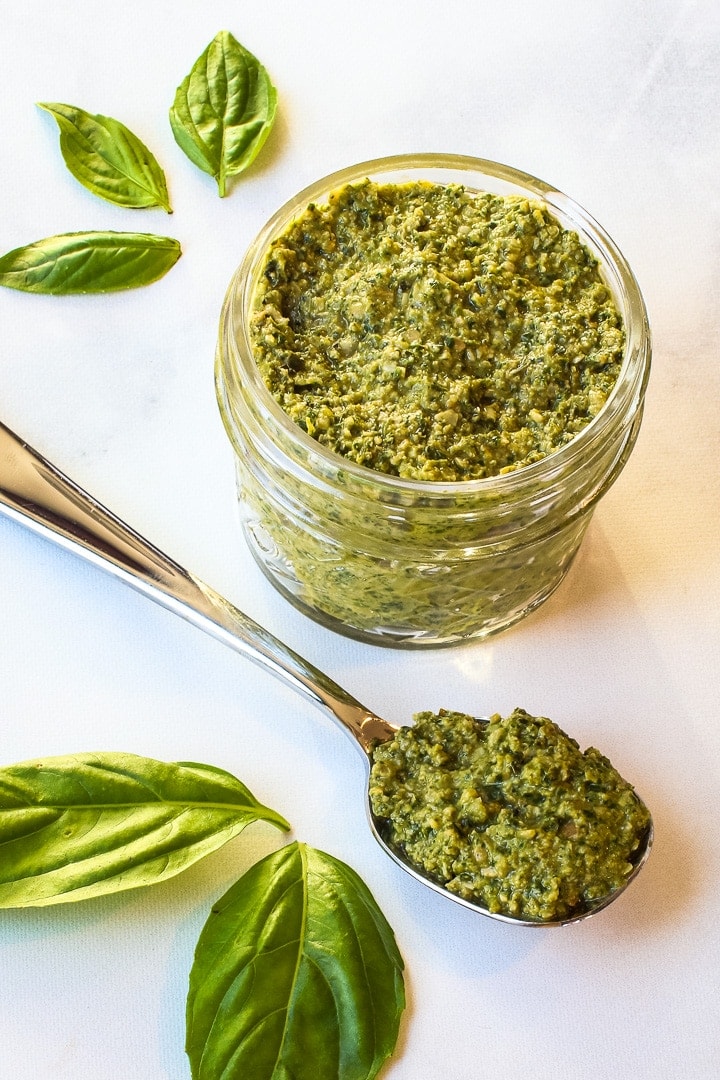 Why isn't pesto vegan?
I LOVE pesto and it really sucks that when you go out to eat or buy pre-made pesto, it's pretty much always made with parmesan cheese. So for us vegans, this rules out a lot of dishes we could otherwise enjoy. So to get my rich and creamy pesto fix, I make my own at home. I have a few different ways of making pesto, but I wanted to share this easy vegan oil-free pesto recipe with you because it's the fastest, healthiest and cheapest one in my arsenal!

I love that this delicious pesto is:
dairy-free
oil-free
nut-free (for those who are allergic)
nutritional yeast-free (for those who can't eat it)
SO much lower in fat than traditional pesto!
How to make oil free vegan pesto
Not only is most pesto made with cheese, it's also full of oil, which most of us on a whole food plant-based diet avoid due to oil's damaging impact on artery function (video).
But, when you skip the oil, you need to replace its moisture. If you try just adding water, it ends up tasting watered down. (Duh right? Well I tried it and it doesn't really work.) Yet, I didn't want to add more fat, because while some fat in our diets is fine, too much is decidedly not.
My solution? I added a couple tablespoons of lemon juice and threw in a whole tomato. I figured, quite a few recipes that call for pesto also tend to call for tomatoes (pasta, pizza, sandwiches, etc), so why not?! I think it works great, but of course I'd really love to know what YOU think!
How to make budget friendly pesto
In summer in Wisconsin, it's easy to find loads of inexpensive basil at the farmer's markets. But the rest of the year, this common herb can get pretty pricey. Ditto for pine nuts, all the time.
To keep the healthfulness and flavor high—but the cost low—I use a blend of basil plus another light leafy green like baby spinach, arugula or baby kale. And as a sub for those delicious but spendy pine nuts, I use cheaper and healthy pepita seeds—a definite plus if you're dealing with nut allergies.
You should be able to buy organic raw pepita seeds for less than the cost of most nuts. I've even made this with roasted tamari pepitas from my local co-op, which is extra delish.
What to eat with Easy Oil Free Vegan Pesto
Pasta is probably the first thing that comes to mind when most people think of pesto. I love it tossed with spaghetti, maybe with some fresh cherry tomatoes and basil thrown in. Or with some roasted vegetables like in my Pepita Pasta with Roasted Veggies recipe.
And it's great slathered on a sandwich, too. But perhaps my all-time favorite way to eat pesto--and the one I pined for when I first became a vegan--is on a piping hot, thin-crust pesto pizza. With this chunky, tasty pesto recipe at hand, I'm not missing a thing.
If you like this oil & nut free recipe, you might also like my Oil Free Vegan Mayonnaise, Oil Free Hummus, Oil Free Spicy Hummus, Oil Free Baba Ganoush, Chickpea Cheese Sauce, or Chickpea Alfredo Sauce.
I LOVE hearing from you! It would make my day if you'd be so kind as to:
Rate this recipe and/or leave a comment. (Under the recipe picture or below the recipe.)
Thanks and happy, whole-food cooking!
📖 Recipe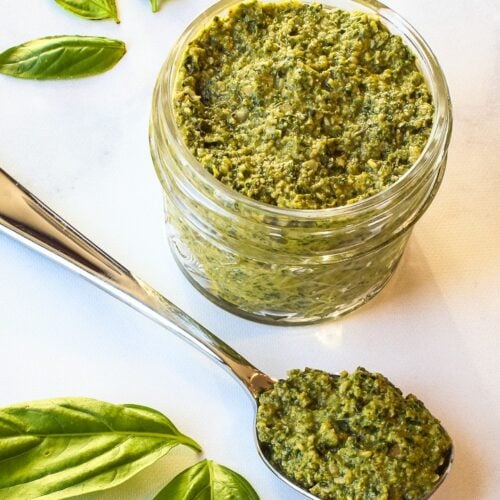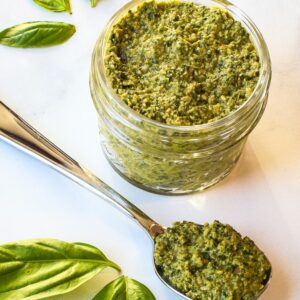 Easy Vegan Oil-Free Pesto
Easy Vegan Oil-free Pesto is: fast (just 5 minutes), easy (your blender/food processor does the work), oil-free, nut-free, dairy-free, gluten-free—and it won't crush your budget.
Print
Save
Saved!
Pin
Rate
Servings:
6
4 Tablespoon servings
Ingredients
2

cups

basil leaves

2

cups

baby spinach

(or other 'light' leafy green like arugula or baby kale)

1

medium tomato

quartered (see notes)

4

cloves

garlic

1

lemon

juiced (about 2 tablespoons)

1

cup

organic raw pepita pumpkin seeds

see notes

Sea salt and freshly ground back pepper

to taste
Instructions
In a food processor (or blender on low speed), add the basil leaves, baby spinach (or other greens), tomato, garlic and lemon juice. Process until just blended and reduced in volume.

Add the pepitas and and process until blended but still chunky, stopping to scrape down the sides as needed. (See notes.)

Season with sea salt freshly ground black pepper to taste.
Notes
If your tomato has a lot of liquid, you may want to drain away some of it or add a little tomato at a time so the sauce isn't too watery. Also, you can add more pepitas or a tablespoon or two of nutritional yeast if needed, to thicken.
Pepitas don't have shells and are only found in certain types of pumpkins. Don't substitute pumpkins seeds in their shells for this recipe! Raw seeds work well here, but I've also used tamari roasted seeds, which are delicious!
I've made this recipe in both the food processor and the blender. I like this sauce chunky, and the food processor is a better option for that. It takes a little longer, up to a minute or so. If you use the blender, process on low to keep the sauce chunky, if desired.
You can store this pesto in the refrigerator for up to a week, or in the freezer for about 3 months.
Check out my Oil Free Vegan Green Pesto, too!
Nutrition (approximate)
Serving:
4
Tablespoons
|
Calories:
76
kcal
|
Carbohydrates:
5
g
|
Protein:
4
g
|
Fat:
5
g
|
Saturated Fat:
1
g
|
Polyunsaturated Fat:
2
g
|
Monounsaturated Fat:
2
g
|
Sodium:
11
mg
|
Potassium:
247
mg
|
Fiber:
2
g
|
Sugar:
1
g
|
Vitamin A:
1536
IU
|
Vitamin C:
17
mg
|
Calcium:
39
mg
|
Iron:
2
mg