Where I live, cheese is practically a religion. Wisconsinites worship its creamy, salty, stinky yumminess like they worship beer and the Green Bay Packers. In fact, the first thing to come out of someone's mouth when I tell them I'm vegan is typically, "I could NEVER give up cheese!" I suppose now, I could reply, "Well, thank the vegan gods for Almond Ricotta!"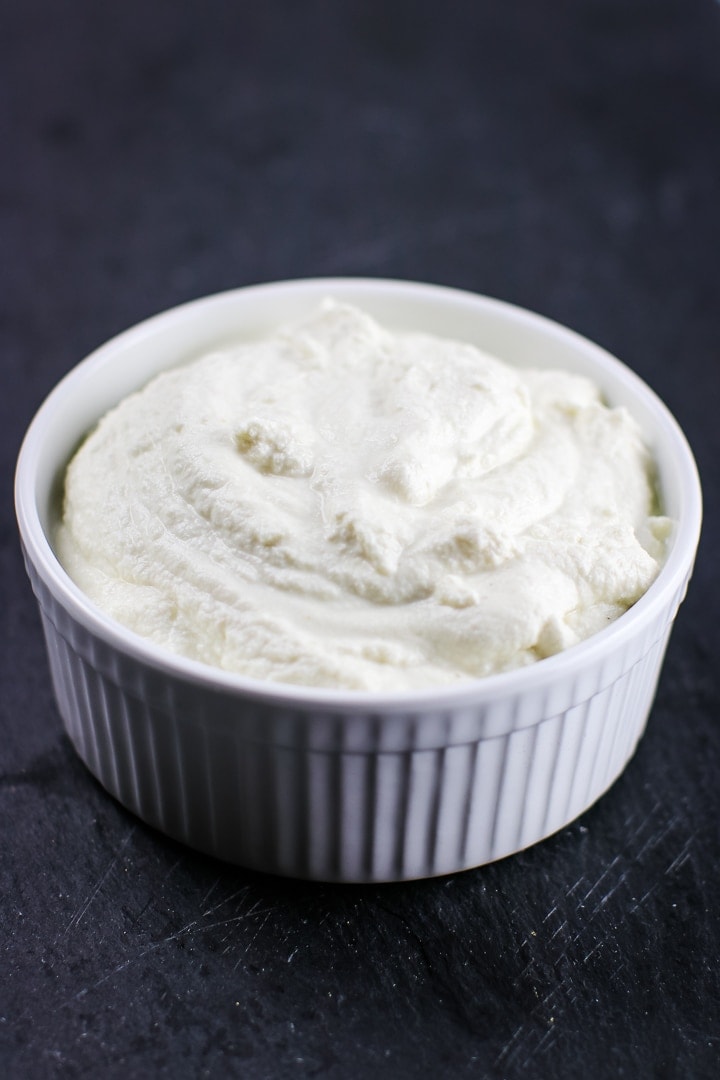 Like their cousins the mighty cashews, almonds can be a satisfying stand-in for "real cheese" in a healthy plant-based diet. This super convincing vegan almond ricotta cheese works great in recipes--or all on its own. I use it in veggie lasagna and pizza, or dolloped on top of pasta. But perhaps my favorite way to eat this ricotta is simply spread over crackers or raw veggies. (See below.)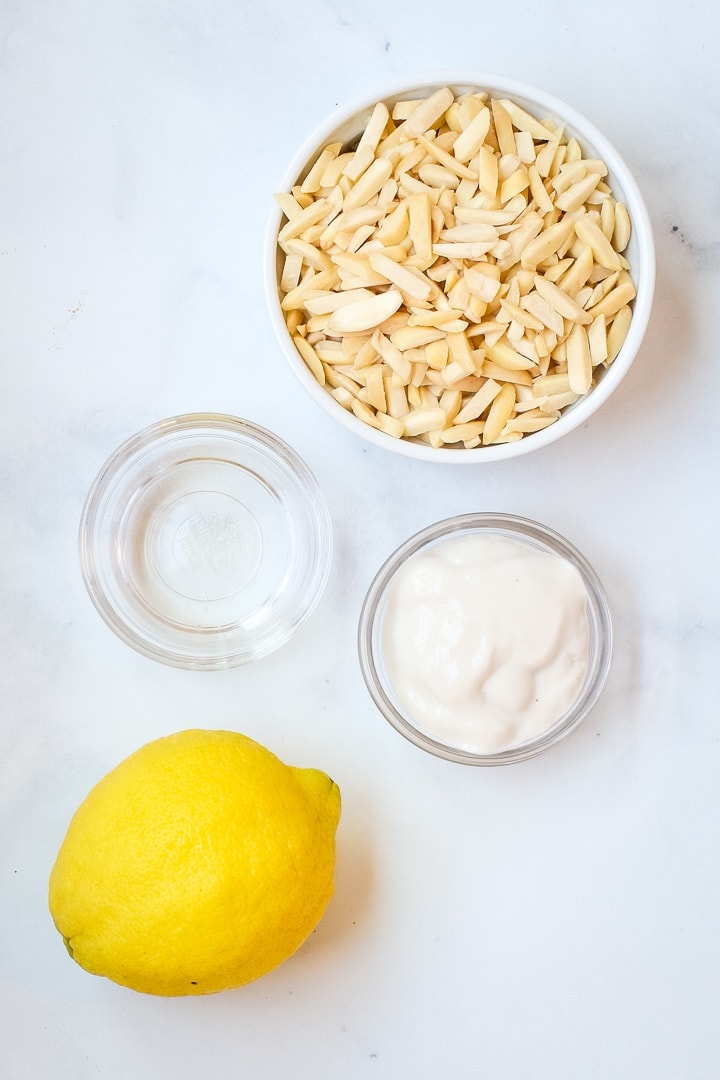 Why I Love This Vegan Ricotta Cheese Recipe
This almond ricotta's super-smooth, magically creamy texture comes from soaking the almonds overnight and then blending them at a high speed. (No surprise to you seasoned vegan cooks, I'm sure.) It gets its nice, fresh tang from a complement of vinegar, lemon and yogurt. I'm telling you friends, this ricotta is truly amazing!
And just like the real thing, it's plenty versatile, working equally well in savory or sweet dishes. Its flavor is so neutral, it just kind of goes with the flow and complements other flavors without taking over.
Like in the pizza pictured here, where it valances the bright, garlicky pesto and tangy tomatoes beautifully. I mean cheesiness pizza is perfectly fine, but pizza topped with almond ricotta cheese is next-level.
It's also amazing on my roasted squash white pizza.
Or here, in these elegant tomato chia jam and almond ricotta cheese canapés. Just whip up a batch of almond ricotta and tomato jam the day before, and these gorgeous and drool-worthy appetizers will be ready for your guests in no time at all on party day.
Almond ricotta can even be sweetened to create a fluffy, creamy dessert filling like I did in these amazing Baked Tortilla Vegan Cannolis.
How to Make Vegan Almond Cheese
In a pinch, it's possible to make this almond ricotta recipe in a food processor, but I don't recommend it. It will still get smooth, but I find that little, chewy bits of nut will remain, even if you soak the almonds in boiling water and then overnight.
So if you want a truly convincing ricotta, I'd stick with the blender. You do have to be patient, processing it in batches and being careful not to bog down your blender, but the final result will be OH SO worth it. Let me know if you agree!
Can you freeze almond ricotta cheese?
Absolutely! It will keep in the fridge for up to a week--just give things a stir if it starts to separate. I've frozen this cheese for up to 3 months with great results. I recommend making a ginormous batch so you always have some creamy cheesy goodness at the ready.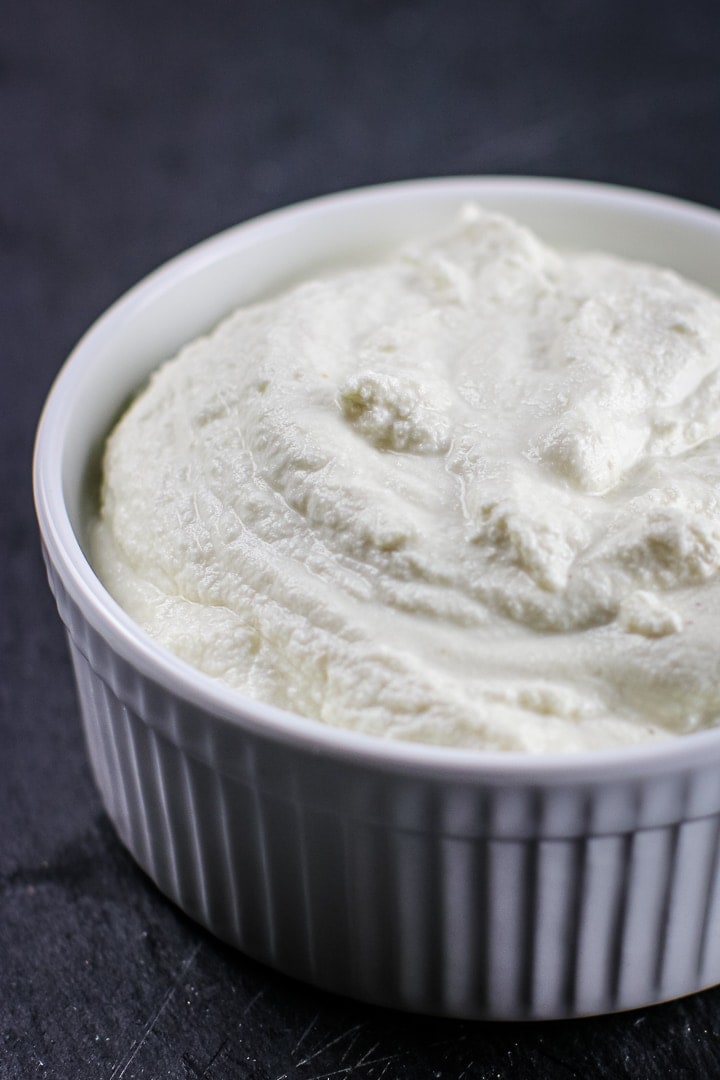 If you like this whole food plant-based recipe, you might also like my Chickpea Cheese Sauce, Vegan Easy Cheezy Sauce, Vegan Cheddar Cheese Sauce, 5-Minute Vegan Chickpea Alfredo Sauce, or Vegan Oil Free Mayonnaise.
I LOVE hearing from you! It would make my day if you'd be so kind as to:
Rate this recipe and/or leave a comment if you make it. (Under the recipe picture or below the recipe.)
Thanks bunches and happy, whole-food cooking!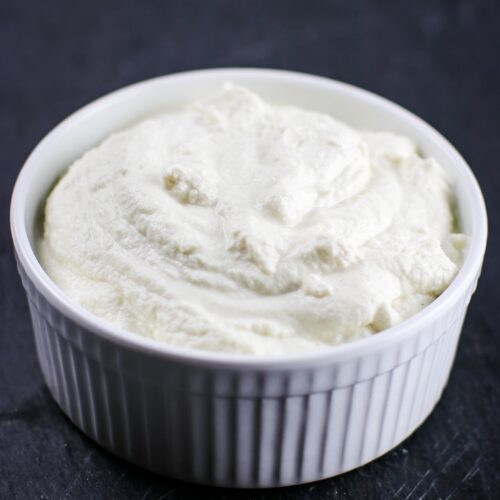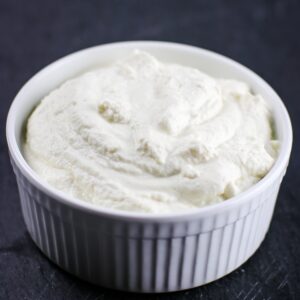 Almond Ricotta
A vegan almond ricotta cheese that's as light, creamy and slightly tangy as the real thing. Just 4 ingredients and 10 minutes! WFPB, gluten free.
Print
Pin
Rate
Ingredients
2

cups

slivered almonds,

covered in boiling water, then left to soak overnight

¾

cups

water

¼

cup

vegan plain unsweetened yogurt

(Something tangy. I like cashew yogurt for this recipe)

1 ½

tablespoons

white vinegar

2

tablespoons

lemon juice

1

teaspoon

salt
Instructions
Add the water, yogurt, vinegar, lemon juice, and salt to a high speed blender, like a Vitamix. Blend for a few seconds.

Drain and rinse the almonds. (SEE NOTES) Add the almonds to the blender ⅓ at a time and process on high speed. As you add more almonds and the mixture gets thicker, start on lower speeds and gradually increase the blender speed as the mixture becomes creamier. Add small amounts of water and yogurt to thin if needed. The ricotta will thicken up some in the refrigerator.

After blending, add more salt, vinegar or lemon to taste.
Notes
If you don't have a powerful blender, try grinding up your almonds in a food processor before adding them to the blender.
The ricotta will thicken up after it sits in the fridge. I usually make it the day before using it in a recipe, or make it first and place it in the fridge while I'm doing other recipe steps.
Store for 5-7 days in the refrigerator, and up to 3 months in the freezer. (It freezes well.)
Nutrition (approximate)
Calories:
129
kcal
|
Carbohydrates:
5
g
|
Protein:
4
g
|
Fat:
10
g
|
Sodium:
118
mg
|
Potassium:
152
mg
|
Fiber:
2
g
|
Sugar:
1
g
|
Vitamin C:
1.9
mg
|
Calcium:
65
mg
|
Iron:
0.8
mg
This recipe was inspired by an almond ricotta squash pizza I ate at True Food Kitchen.