A mouthwatering Vegan Zucchini Lasagna recipe made with unprocessed, whole food plant-based ingredients. Easy-to-follow, step-by-step instructions and photos make this one a snap.
There's a joke in small Midwest communities: 'There's not much crime around here, but someone might break in and leave a few zucchinis in your fridge.' ? If you've been gifted with zucchinis, I say turn them into this truly awesome Vegan Zucchini Lasagna. It's packed with almond ricotta cheese, spinach and fresh basil.The only I thing I can think of that could possibly make this dish any better would be to top it with my amazing Mushroom Walnut Bolognese sauce. Or maybe layer in a little green pesto or red pesto. I'm definitely trying that next time. But for this recipe, we're going with an easy tomato sauce.

Why I Love this Vegan Lasagna Recipe
A few weeks back, we brought this vegetable lasagna to a kick-off-the-university-semester potluck a few weeks ago. Not that Hemant's faculty colleagues are hard to please, but they gobbled this up. No one cared that it was vegan. I'm not sure anyone even noticed.
The flavors here are rich, full, fresh and balanced: tangy tomato sauce, pungent garlic, anise-flavored basil, and a vegan almond ricotta cheese that's so damn delicious, it doesn't register as anything but that.
And while I dig pasta as much as the next girl, it's easy to overdo the whole noodle thing. Even compliant pastas made with brown rice, lentils, chickpeas, etc. are still processed, albeit minimally. So I love the fact that the noodles here are  zucchini—a healthy whole plant food. Meaning this recipe is created from all unprocessed ingredients.
Do you have to make this vegan lasagna with zucchini? No. You could easily swap it out for more traditional (compliant) pasta if you prefer. Do you have to use spinach? No. So many fillings would work well here. It's easy to customize this lasagna as you like.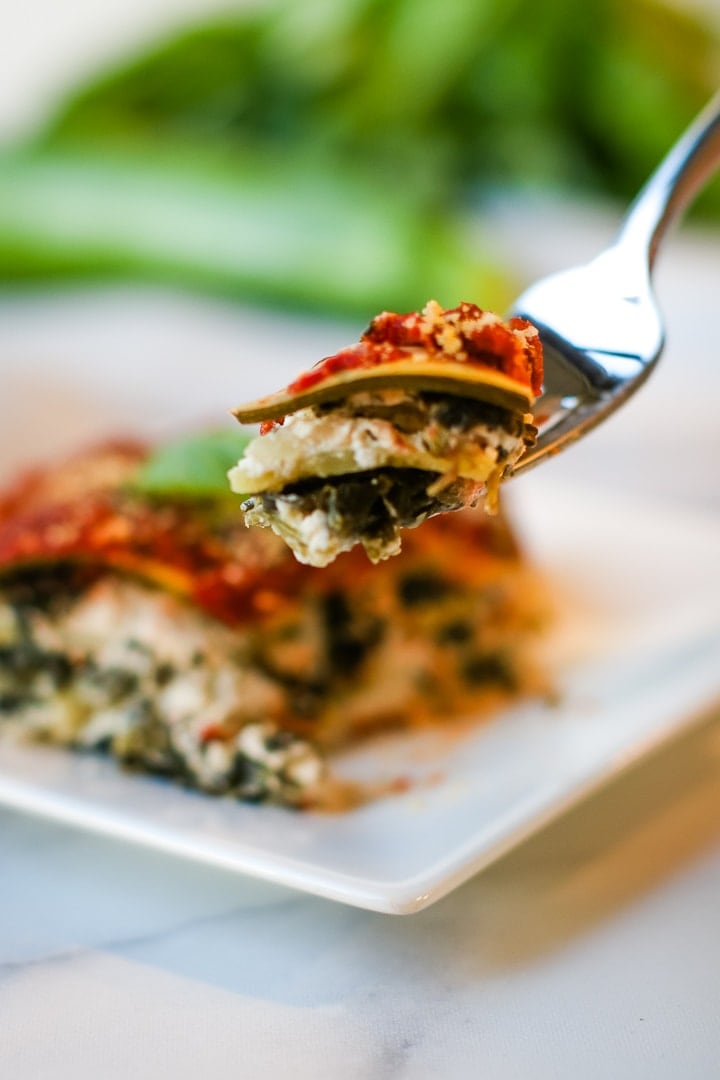 Vegan Spinach Lasagna…or Mix it Up
I chose a mixture of spinach and basil for this recipe for a couple of reasons. First, spinach cooks up fast, and tends to be a crowd pleaser as a lasagna filling. (At least with adults.) And loading this lasagna up with fresh basil really puts it over the top. It's dreamy paired with almond ricotta. Just dreamy.
But you could easily mix it up here. Sauteed mushrooms would be amazing. You could use extra zucchini or add summer squash. And, I could definitely imagine this lasagna with some thinly sliced, roasted fall veggies like acorn squash and caramelized onions. Since you cook the veggies ahead of time, no matter what you choose, the basic methods should still work here. The possibilities are practically endless.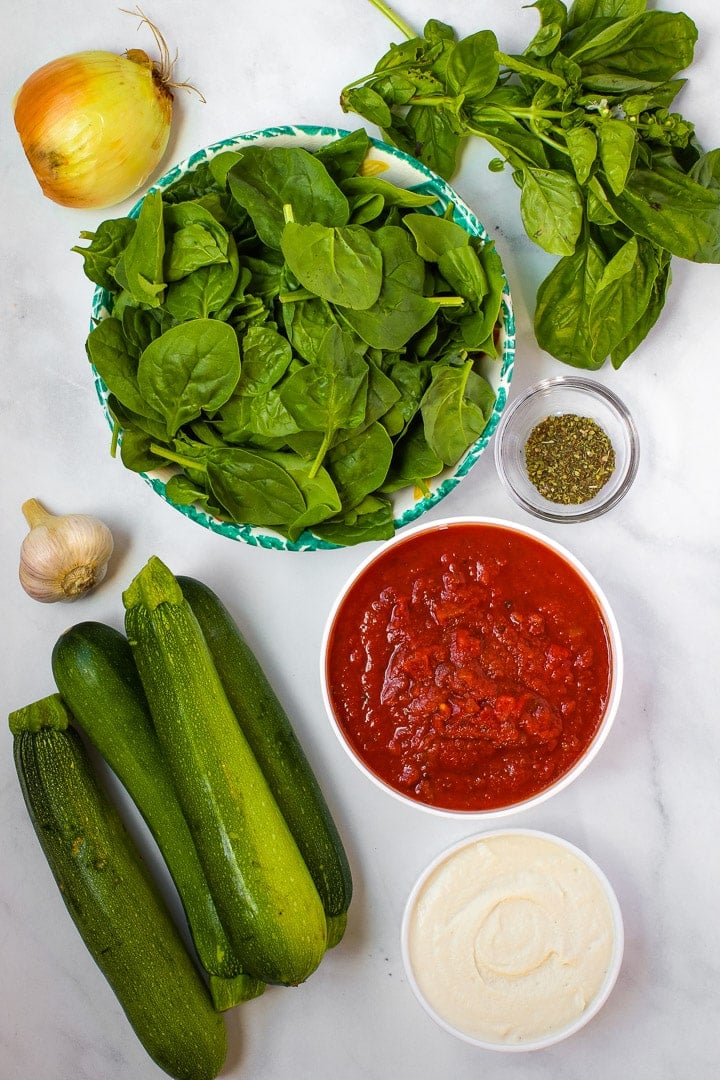 How to Make Vegan Zucchini Lasagna: Step by Step
If you've ever made lasagna, this is exactly the same process. Except you need to make your own 'noodles' from zucchini. I understand this can be done with a knife, but for very even, very thin slices (this recipe calls for ⅛") I'd definitely recommend a mandoline. Not only does it make these zucchini noodles a breeze, the ability to slice our veggies with ease and precision opens the door to innumerous creative possibilities.
You can buy whole food, plant-based compliant pasta sauce and ricotta cheese these days (see recipe notes), which is a great option if you need to speed things up. Of course, I think homemade always tastes better. If you're making your own sauce and ricotta, you'll want to do that first.
Once you've soaked your almonds, my vegan ricotta recipe takes only 5 minutes in the blender. My easy tomato sauce recipe requires only a few minutes of prep in the beginning and blending at the end, with most of the time being hands-off cooking in the Instant Pot or simmering on the stovetop.
Then, you'll get to work on your veggie filling. Spinach and basil will cook in about 10 minutes—even faster if you use frozen spinach. Once your sauce, ricotta and veggie filling are ready, you're ready to put it all together.
Follow these photos and step-by-step instructions for details on how to make this zucchini lasagna recipe:
That wasn't so bad, was it? And the result? You'll be hard pressed to find a dish as scrumptiously delicious—vegan or not.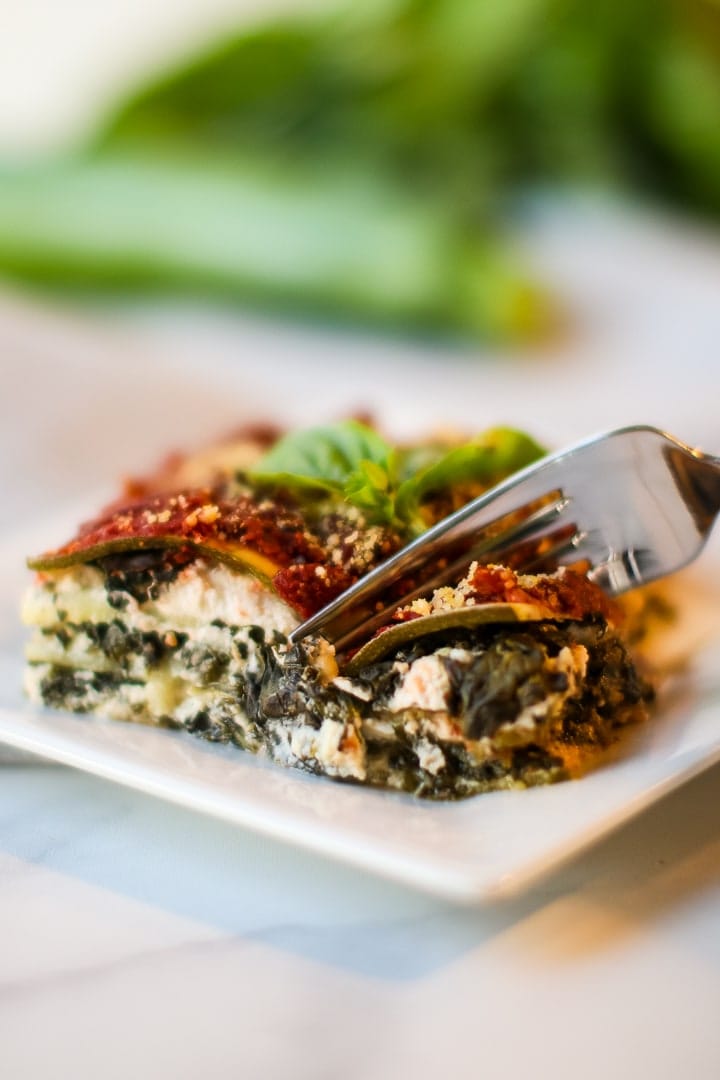 If you like this whole food plant-based recipe, you might like my Roasted Eggplant Tomato Stacks, Mushroom Walnut Bolognese Sauce, 5-Minute Vegan Alfredo Sauce, Chickpea Cheese Sauce, Vegan Carbonara,  and Roasted Vegetable with Pesto Pasta.
I LOVE hearing from you! It would make my day if you'd be so kind as to:
Rate this recipe and/or leave a comment if you make it. (Under the recipe picture or below the recipe.) 
Thanks bunches and happy, whole-food cooking!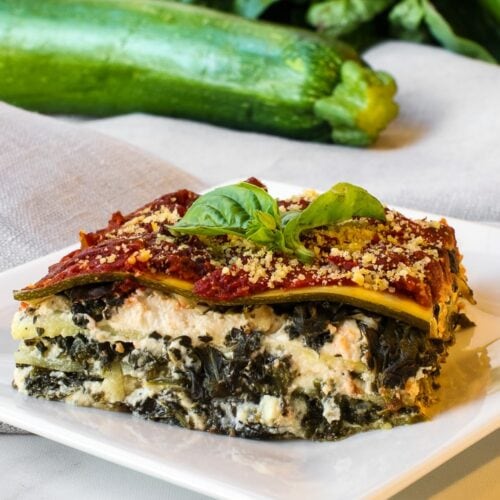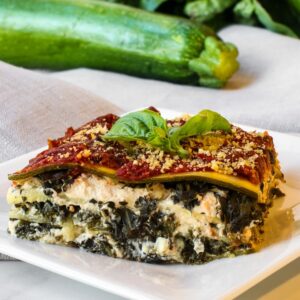 Vegan Zucchini Lasagna
A mouthwatering Vegan Zucchini Lasagna recipe made with unprocessed, whole food plant-based ingredients. Easy-to-follow, step-by-step instructions and photos make this one a snap.
Print
Pin
Rate
Ingredients
1

recipe Easy Instant Pot Tomato Sauce

about 3 cups. Or use your favorite compliant tomato sauce (see notes)

1

recipe Almond Ricotta

about 2 cups. Or use your favorite compliant vegan ricotta cheese (see notes)

3-4

medium zucchini

ends trimmed off, then cut lengthwise into ⅛ inch slices (see notes)

2

pounds

of fresh baby spinach leaves, chopped

Or sub 1 ½ 10-ounce packages frozen spinach

2

cups

fresh basil leaves, chopped

plus more for serving if desired, see notes

½

yellow onion

finely diced

4

cloves

garlic

3

teaspoons

Italian seasonings
Instructions
If making your own almond ricotta and tomato sauce, do this first.

Preheat the oven to 375 degrees Fahrenheit.

Heat about a tablespoon of water in a large skillet over medium heat. Add the onion and saute for 5 minutes or until soft. Add the garlic and saute for 2 minutes or until soft.

Add the spinach and saute until almost cooked, about 5-7 minutes. Add the basil and saute another 2-3 minutes. Divide roughly into thirds in the pan, and set aside.

To a 9 x 13 baking dish, add about ½ cup of tomato sauce and spread it around the bottom of the dish to coat.

Place your first layer of zucchini slices over the tomato sauce on the bottom of the dish, overlapping them just a little.

Dollop ⅓ of the ricotta over the zucchini, and spread evenly. Sprinkle with 1 teaspoon of Italian seasonings.

Using your hands or a clean towel, squeeze out any excess liquid from the spinach and basil. Then, gently place ⅓ of the spinach & basil mixture evenly over the ricotta.

Top the spinach & basil with another layer of zucchini and repeat 2 more times. Finish with a final (4th) layer of zucchini.

Pour the rest of the tomato sauce over the lasagna and spread it out evenly over the dish.

Cover and bake at 375 degrees Fahrenheit for 45 minutes. Remvove the cover and bake another 10 minutes, or until the lasagna is hot and bubbly throughout and the zucchini is fork tender.

Allow the lasagna to rest for 10-15 minutes. Top with Vegan parmesan and more basil, if desired.
Notes
To store: cover tightly and store in the refrigerator for up to 5 days, or in the freezer for up to 3 months.  WFPB compliant tomato sauce & ricotta cheese: For best results, I recommend making these yourself, and I've included 2 of my easy recipes for these ingredients. The tomato sauce is an Instant Pot version, but you could just as easily make in on the stove top. However, you could could buy these ingredients at the store to save time, if you can find them. Kite Hill makes a  compliant almond ricotta cheese, and Engine 2 makes a compliant tomato sauce, for example.  To slice your zucchini: I highly recommend using a mandoline for this recipe, but you can get the job done with patience and a very sharp knife. If you can't get your zucchini slices ⅛ thick with a knife, just cut them a bit thicker and cook the recipe a little longer, until the zucchini is fort tender.  To speed things up: The fastest way to make this lasagna is to use store bought tomato sauce and almond ricotta. Or I like to use previously made frozen homemade ingredients for more involved recipes like this one. I definitely want to try this lasagna with my mushroom walnut bolognese for example, so the next time I make that sauce, I'll make a double batch and freeze half for this lasagna later. Frozen spinach is also faster than fresh. However, a tip to save chopping time for fresh spinach is to cook down whole leaves in the microwave or a pot on the stove, then just cut them up with a fork and butter knife. And of course the mandoline makes slicing the zucchini very fast. You can also generally buy diced onion and peeled garlic at the grocery store. I don't do this often, but when I have a recipe with a lot of steps, sometimes this can be a big help. 
Nutrition (approximate)
Calories:
273
kcal
|
Carbohydrates:
21
g
|
Protein:
12
g
|
Fat:
18
g
|
Saturated Fat:
1
g
|
Sodium:
173
mg
|
Potassium:
567
mg
|
Fiber:
2
g
|
Sugar:
3
g
|
Vitamin A:
7384
IU
|
Vitamin C:
38
mg
|
Calcium:
94
mg
|
Iron:
2
mg