This Roasted Vegetable Pasta combines chewy, satisfying pasta with the rich, full flavors of roasted veggies. Toss it all together in some oil-free vegan pesto and you've got a delicious, healthy plant-based dinner in no time flat.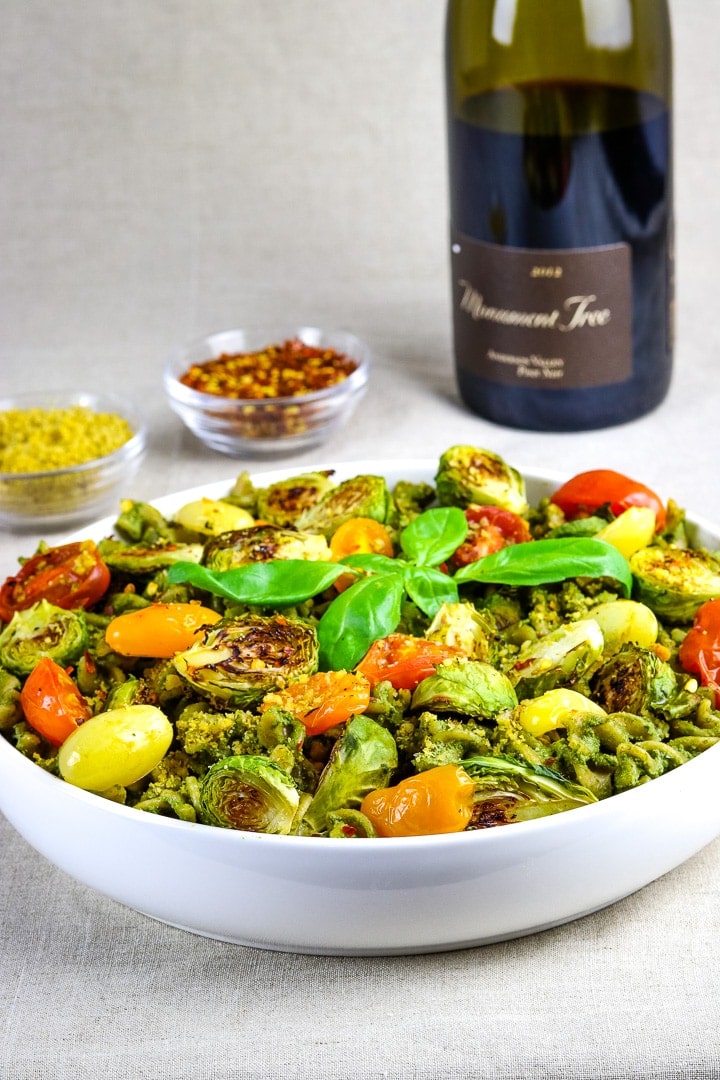 This page has been updated.
Pesto pasta is one of the quickest, easiest meals you can pull together, and this recipe is no exception. Just whip up a 5-minute batch of vegan oil free pepita pesto, toss some cherry tomatoes & brussels sprouts in the oven, and boil your pasta. That's it--dinner's on the table in about half an hour. Let's break it down, step by step.

How to Make Roasted Vegetable Pasta with Pesto
I like to make my pesto first if I'm not in a hurry. That way I can set it aside and let the flavors marry a little while I'm cooking the rest of the food. But to speed things up, it's fine to get your veggies cooking first and then make your pesto.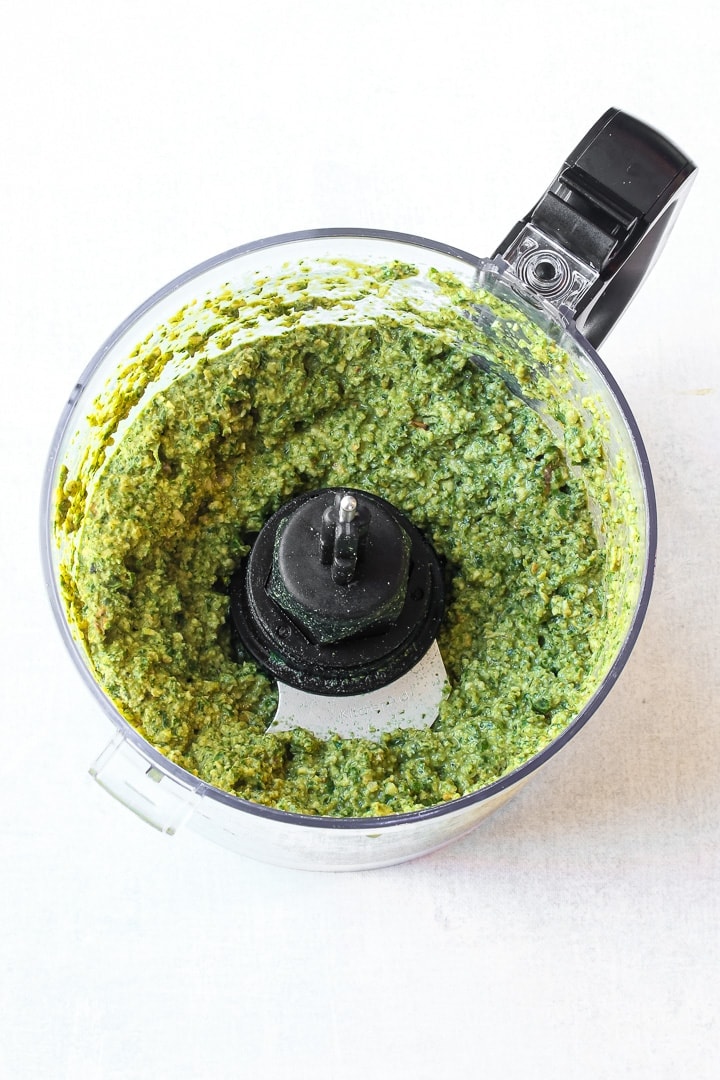 If you have a favorite pesto recipe, or a store-bought pesto you like, you can use that. For this recipe, I like my Easy Vegan Oil Free Pesto. I get great comments on this pesto from people following vegan and WFPB diets, and omnivores too. This pesto has great texture and flavor, with none of the unhealthy stuff in traditional pesto.
It's made with pepitas, so it's nut free and lower in calories than traditional pesto. And as the name says, it has no oil and it's vegan. Plus, it uses both basil and spinach, so it's easy on the budget. (Where I live, basil can get pricey, especially in the winter months.)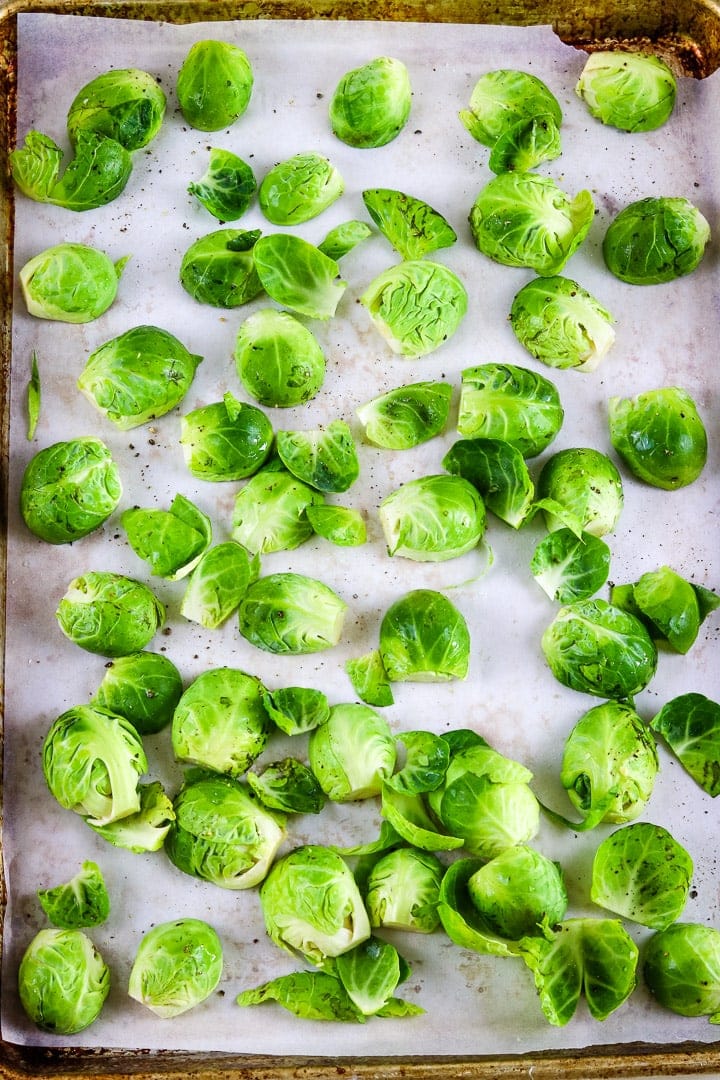 Finally, I cook my pasta. When everything's ready, you just toss it all together in a large mixing bowl and serve. I like to eat this with my homemade vegan parmesan cheese and crushed red pepper flakes, and maybe some ribbons of basil if I have any left over from making the pesto.
How to Customize Your Pesto Pasta with Roasted Veggies
This recipe is also super versatile. If the kiddos don't care for brussels sprouts, skip them and either double your tomatoes or add another roastable veggie like quick-cooking asparagus. This is also a great option if you're in a hurry, since it cuts about 15 minutes off your cooking time.
Want to up the nutritional value? Toss in 1½ cups (1 can) of cooked white beans into the pasta along with your pesto, and/or replace the pasta with a whole-grain like quinoa or bulgur.
If you're really adventurous, you could even have a go at making your own homemade pasta! I haven't tried this yet, but it's definitely on my bucket list. 🙂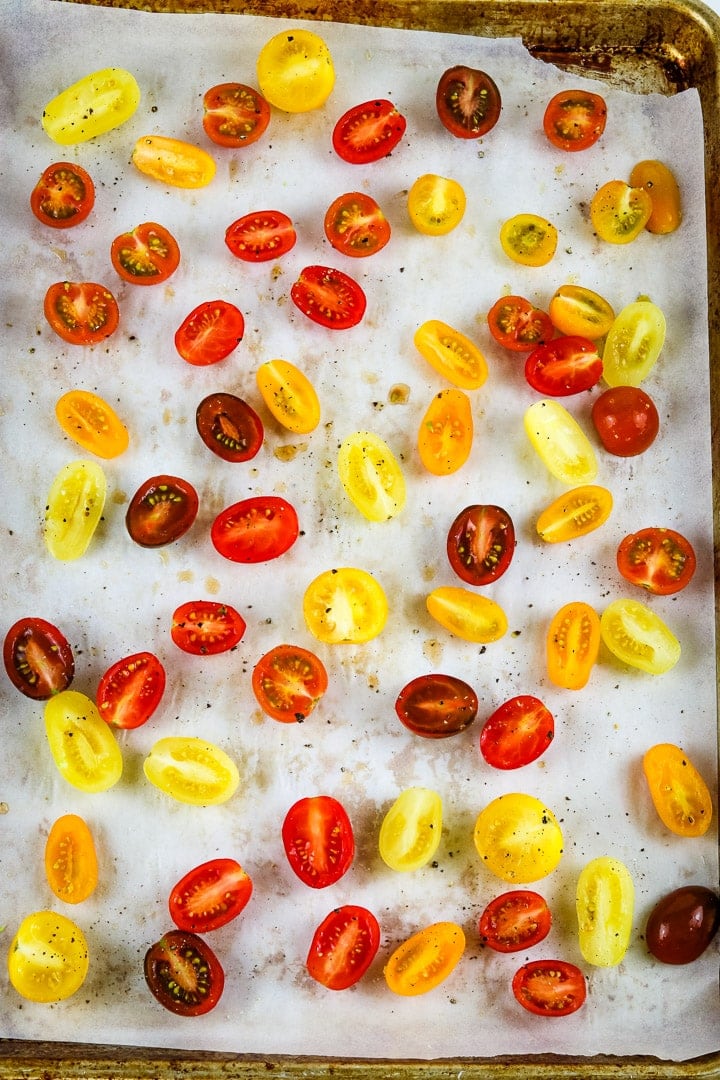 Roasted Vegetable and Pasta Salad
These roasted veggies and pasta work just as well together cold as they do hot! Just chill and serve. This recipe would rock as a pesto pasta salad with the addition of some kalamata olives, thinly sliced red onion and a bit fresh basil on top.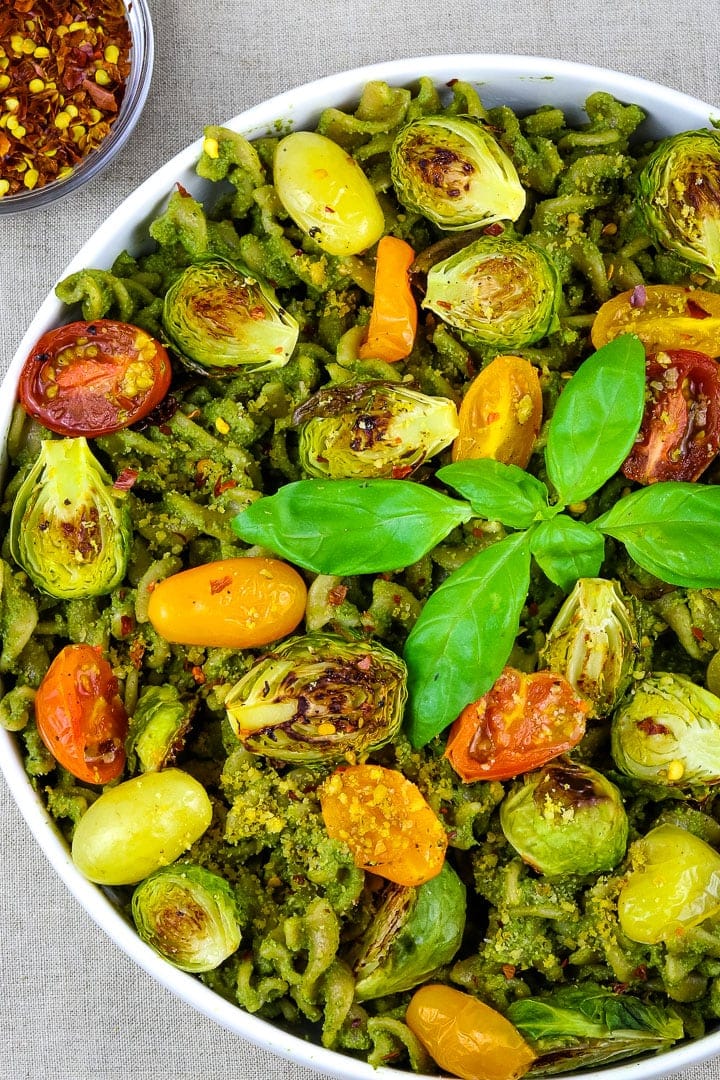 Embracing The Joy of Plant-Based Cooking
These days, I make an effort to mindfully enjoy the process of cooking. This uncomplicated roasted vegetable pasta recipe is one of those meals where I can turn on some relaxing music, pour a small glass of pinot, chat with Hemant about his day (if I can get him to close his laptop!) and feel good that I'm making REAL FOOD to nourish our bodies.
I'll admit, there was a time when I resented having to cook dinner every night, and it could really stress me out. But after Hemant and I committed to this healthier, plant-based lifestyle, I made a conscious decision to prioritize food in my life.
They say we're all given the same number of hours in a day. So true! I DO understand that some of us have more demands on our time than others. But for most of us, a healthy lifestyle really does come down to making food (and exercise!) a priority. Let's face it, we all spend plenty of time on activities that don't give us back nearly so much value. (Hello, Netflix!)
If you've found ways to mindfully enjoy cooking I'd love to hear about them!
If you like this healthy vegan pasta recipe, you might also like my my Chickpea Cheese Sauce, 5-Minute Vegan Alfredo Sauce, Vegan Mushroom Walnut Bolognese, and Vegan Carbonara.
I LOVE hearing from you! It would make my day if you'd be so kind as to:
Rate this recipe and/or leave a comment. (Under the recipe picture or below the recipe.)
Thanks and happy, whole-food cooking!
📖 Recipe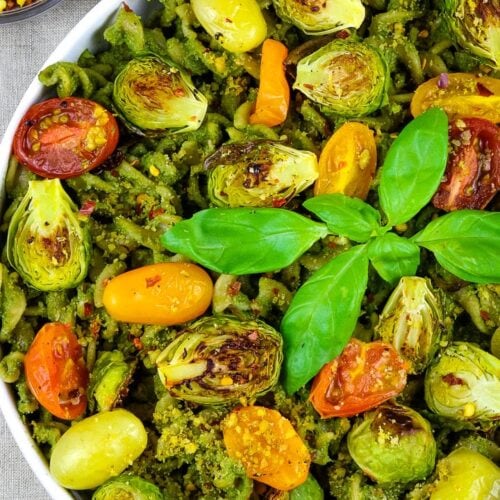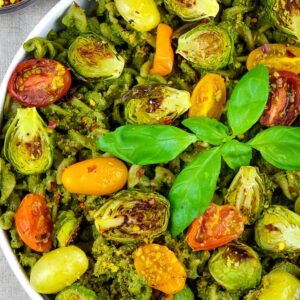 Roasted Vegetable Pasta
Roasted Vegetable Pasta combines chewy, satisfying pasta with the rich, full flavors of roasted veggies tossed together in an oil-free pesto sauce.
Print
Save
Saved!
Pin
Rate
Ingredients
1

recipe

Easy Vegan Oil-Free Pesto

(reserve some basil for garnish, if desired)

16

ounces

curly pasta

(like whole wheat, brown rice, chickpea, etc. GF if desired. About 4 cups of cooked pasta)

1

pound

cherry tomatoes,

sliced in half

1

pound

brussels sprouts,

ends trimmed and sliced in half

2

teaspoons

balsamic vinegar

Optional: top with chopped basil, crushed red pepper flakes and vegan parmesan.
Instructions
Preheat oven to 400.

Season the sliced brussel sprouts by tossing gently in a medium bowl with salt and pepper. Remove and do the same with the sliced tomatoes.

Line a baking sheet with parchment paper, and spread out the brussel sprouts, cut side down. Place in the oven and set the timer for 12-15 minutes. (Cooking time will vary depending on the size of your brussel sprouts.)

Line a second baking sheet with parchment paper, and spread out the tomatoes, cut side up. When the timer goes off for the brussel sprouts, place the tomatoes in the oven. Remove the brussel sprouts and turn them over, then place them back in the oven with the tomatoes, and cook both together for another 15 minutes or until the the vegetables are browned and the brussel sprouts are just tender.

Cook the pasta, drain, and return it to the pan. Toss the pesto and pasta together over low heat, just enough to warm through.

Place the cooked brussel sprouts and tomatoes in a medium bowl, and gently toss together with the balsamic vinegar.

To assemble, place the pesto pasta in serving dishes, and top with the tomatoes and brussel sprouts. (You could simply toss it all together, but I think it looks prettier this way, and the tomatoes won't get mushy.)

If desired, garnish with reserved basil, crushed red pepper flakes and cashew parmesan.
Notes
To make it faster: Get your veggies roasting first, then make your pesto sauce (if making your own) and cook your pasta. To save even more time, swap the brussels sprouts for quicker cooking asparagus (15 minutes) or more cherry tomatoes. To make it your own: Change up the veggies to whatever you like best! Just make sure to choose ingredients that cook together at the same temperature and be mindful of any variations in cooking times. To make it pasta salad: Chill it! You can also add ingredients like kalamata olives, slivered red onions and ribbons of fresh basil.
Nutrition (approximate)
Calories:
289
kcal
|
Carbohydrates:
50
g
|
Protein:
14
g
|
Fat:
5
g
|
Saturated Fat:
1
g
|
Sodium:
33
mg
|
Potassium:
651
mg
|
Fiber:
3
g
|
Sugar:
4
g
|
Vitamin A:
728
IU
|
Vitamin C:
77
mg
|
Calcium:
56
mg
|
Iron:
10
mg