A simple, healthier Vegan Enchilada Casserole Recipe with creamy layers of spreadable vegan nut cheese inside. Store-bought & homemade ingredient options. Oil free, WFPB, gluten free.
We know beans and greens are super good for us, right? In fact, we should be eating them every. single. day. I can't think of a more delicious way to get the job done than this creamy, saucy, black bean and spinach enchilada bake.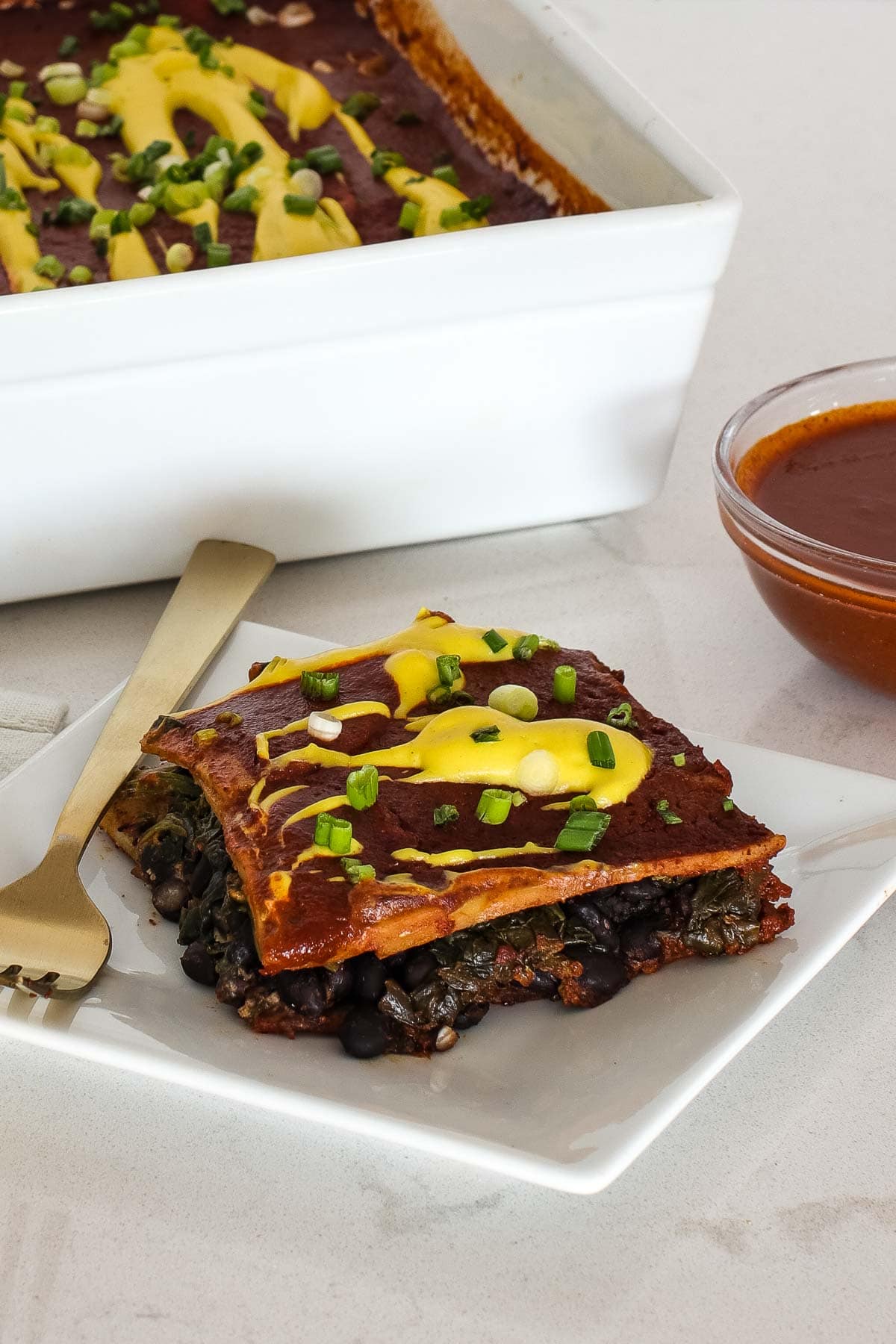 Jump to:
What makes this enchilada bake SO fantastic?
I think you're going to love this recipe, because whether you want an 100% homemade version, or prefer to use all store-bought, prepared ingredients, I've got you covered. Either way, I've got plenty of recommendations to keep this dish oil free and easy.
It's easy to think of this Mexican vegan casserole as a basic recipe you can easily customize to call your own. Got leftover cooked veggies or grains to use up? Toss them in. Prefer a green enchilada sauce? Go for it! Have your own favorite vegan cheese? Bring in on! Love tofu in everything. Yep, you got this.
Plus, I don't know anyone who doesn't love Mexican-inspired recipes. (You might appreciate my Breakfast Casserole and Healthy Chile Relleno recipes if you feel the same.)
Ingredients
Corn tortillas
Black beans
Spinach (or kale)
Enchilada sauce
Spreadable nut cheese
Green onions
Optional-vegan cashew cheese sauce
For this recipe, I used these oil free ingredients: Frontera Red Enchilada Sauce, Kite Hill Cream Cheese, and La Tortilla Factory Corn Tortillas, homemade black beans and frozen spinach.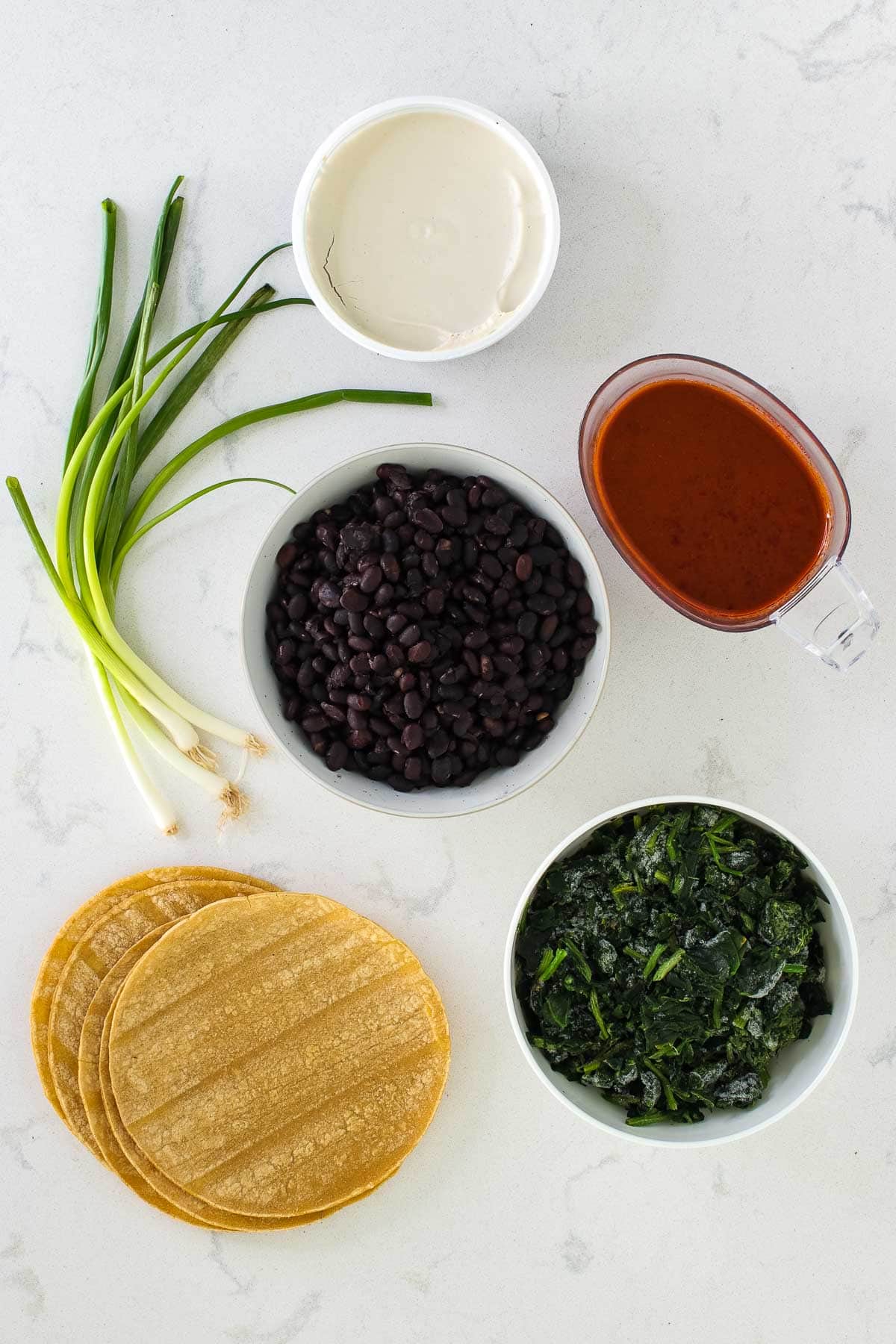 How to make vegan enchilada casserole
For a simple red enchilada casserole that's meatless and dairy free, this recipe uses a creamy layer of nut cheese spread on the bottom layer of tortillas. Then, layers of black beans and cooked spinach (or kale) are added for a simple, yet high fiber, super nutritious filling.
Finally, the casserole is topped with a second layer of tortillas, then drenched in luscious red enchilada sauce. For an extra cheesy enchilada bake, you can drizzle some vegan cashew cheese sauce on the top. Garnish with sliced green onions and serve!
This recipe is: healthy, oil free, gluten free, dairy free, and can even be made without cheese for a very low fat enchilada casserole.
Step-by-Step Instructions
Please also see the full recipe at the bottom of this page.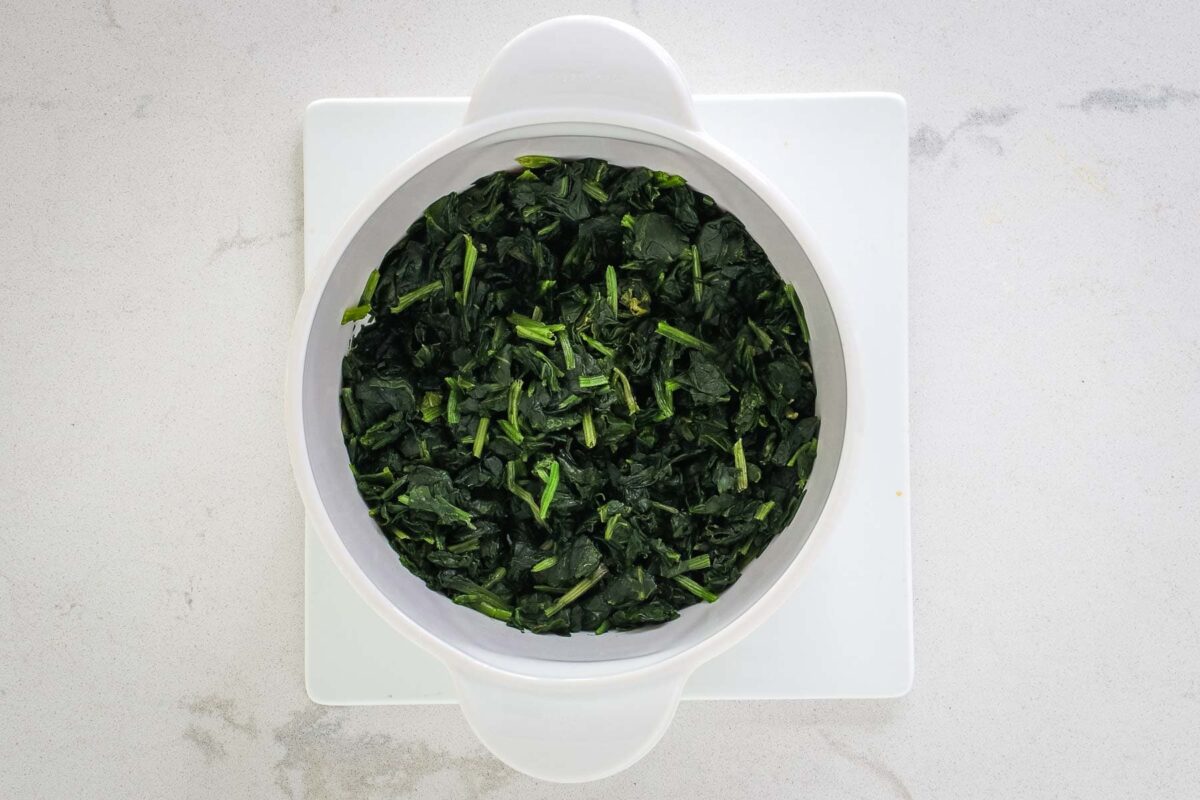 Step 1. Cook the spinach or kale in the microwave.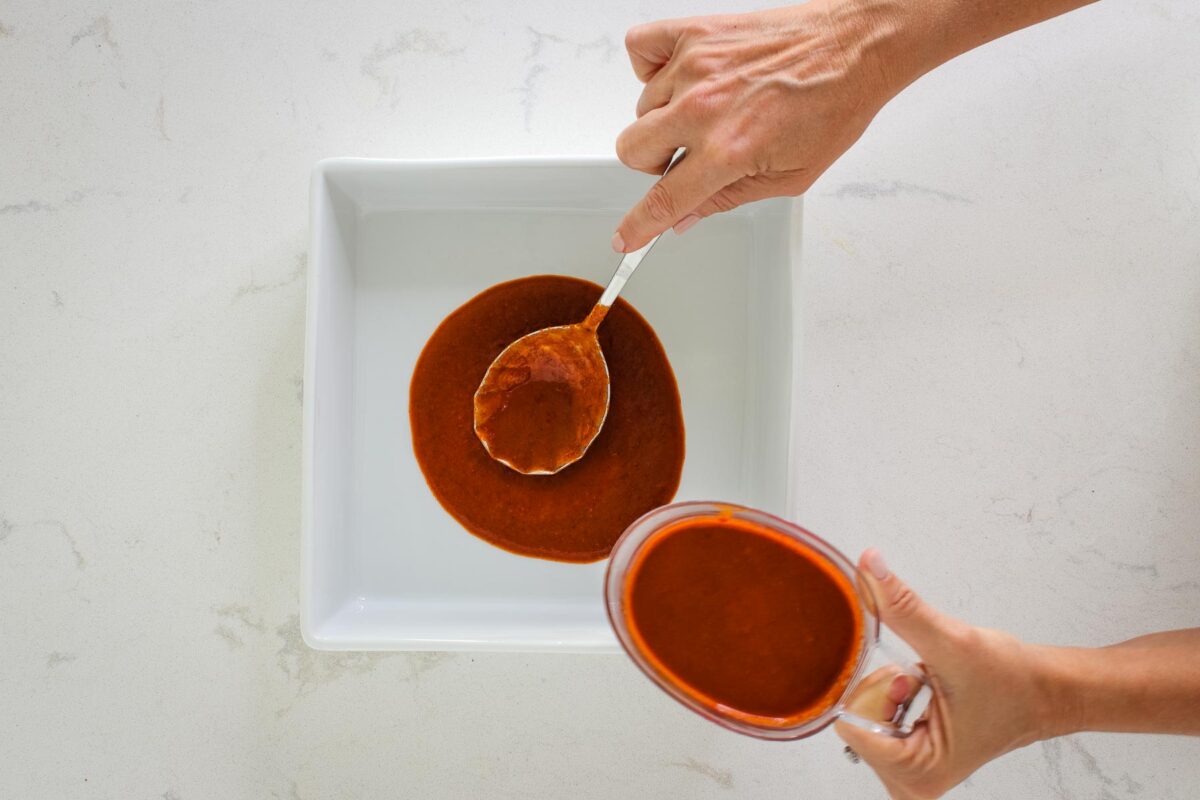 Step 2. Spoon enchilada sauce into the baking dish...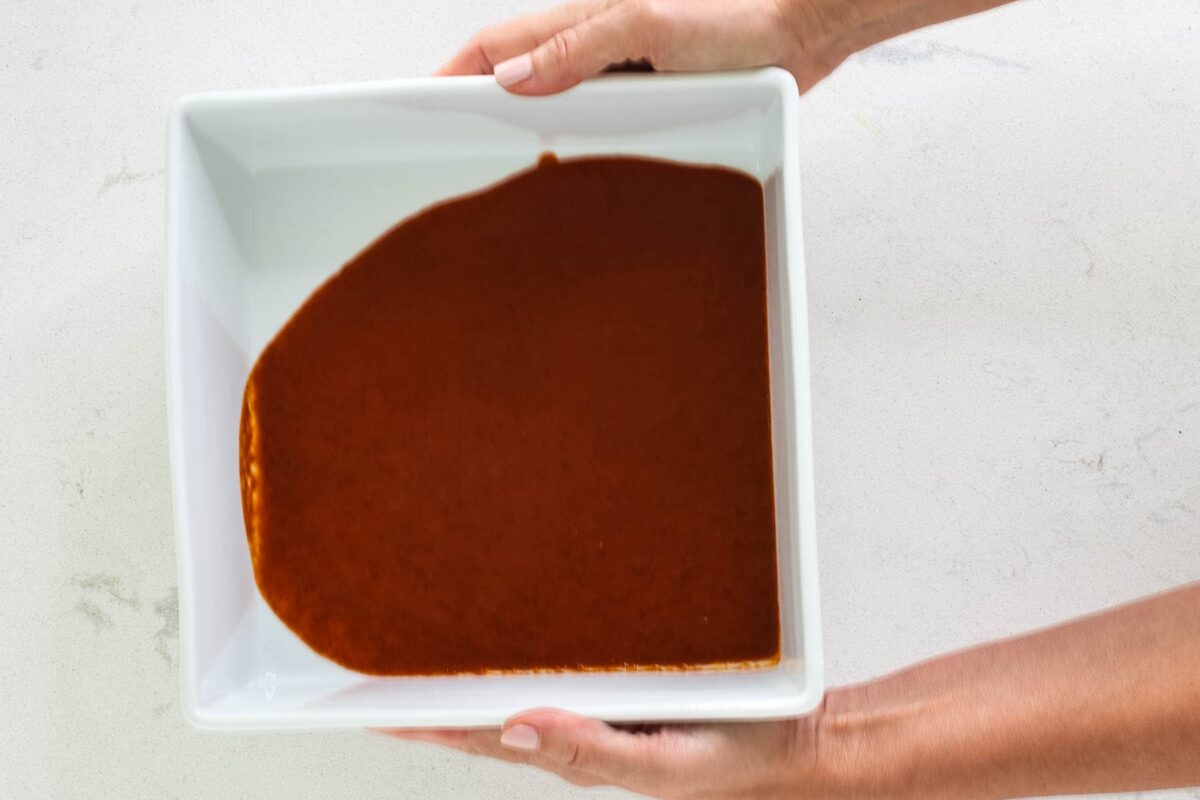 ...then shake and gently rotate the to evenly distribute the sauce.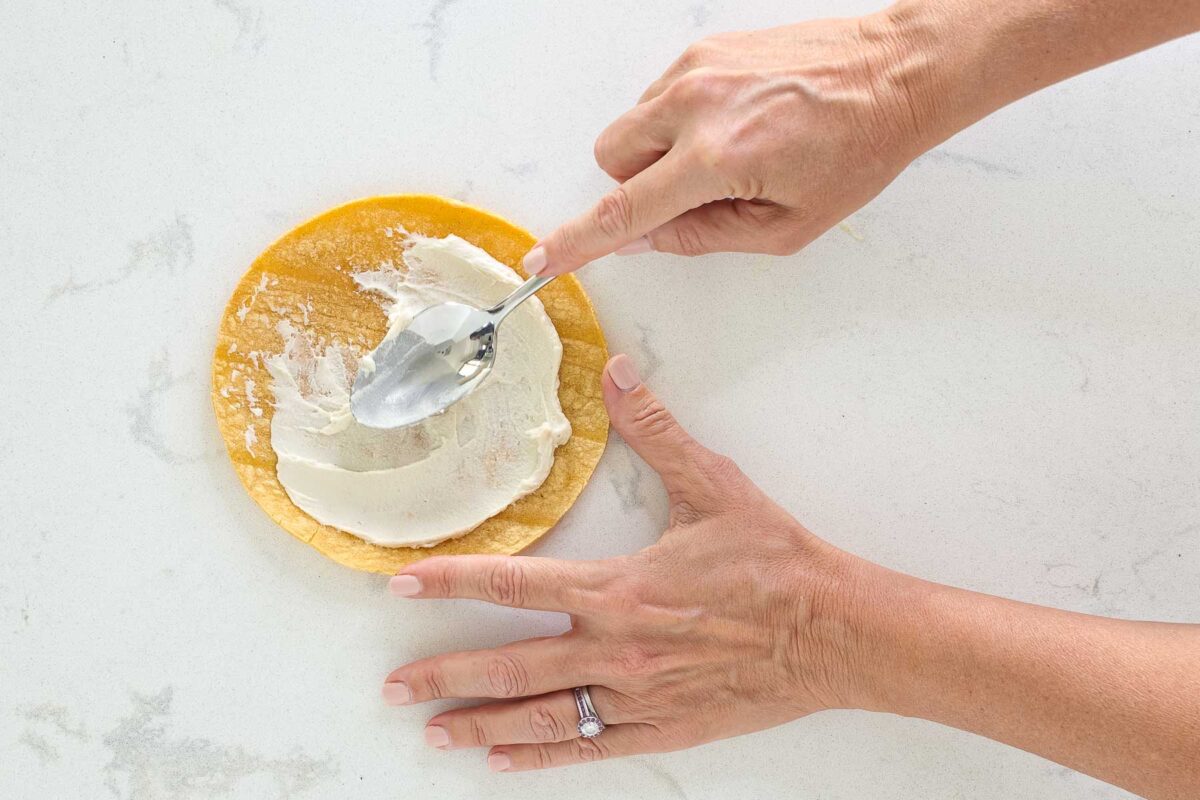 Step 3. Spread vegan nut cheese (oil free) cheese evenly over the tortillas...
...then cut into pieces to fit into your baking dish.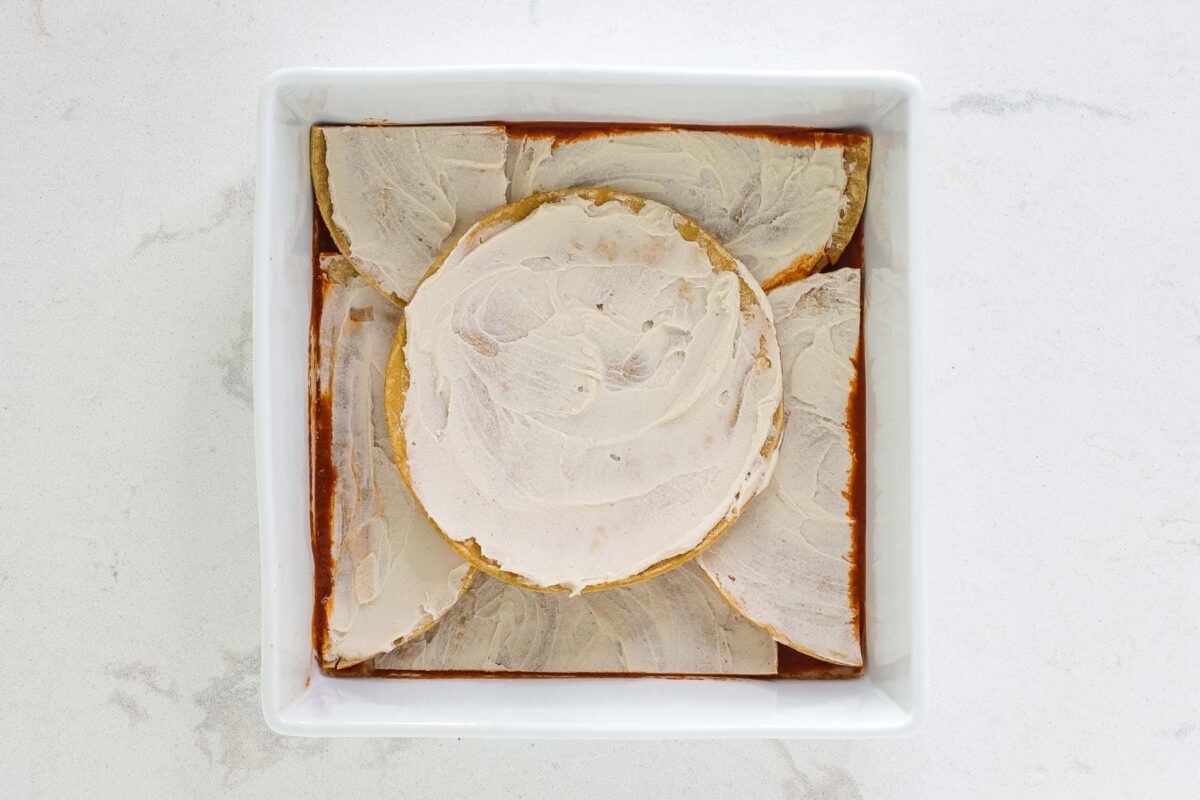 Step 4. Arrange the tortillas in the baking dish in a single layer. (Some overlap is fine.)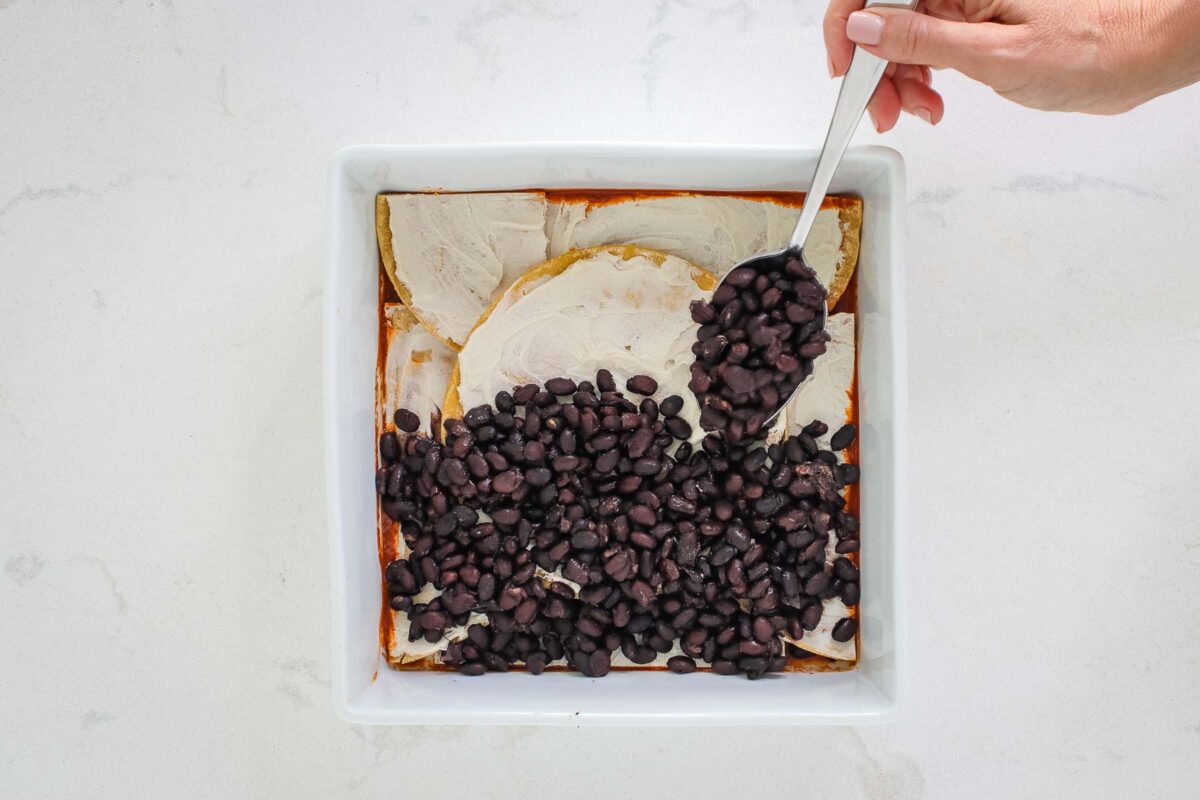 Step 5. Spoon the beans evenly over the tortillas.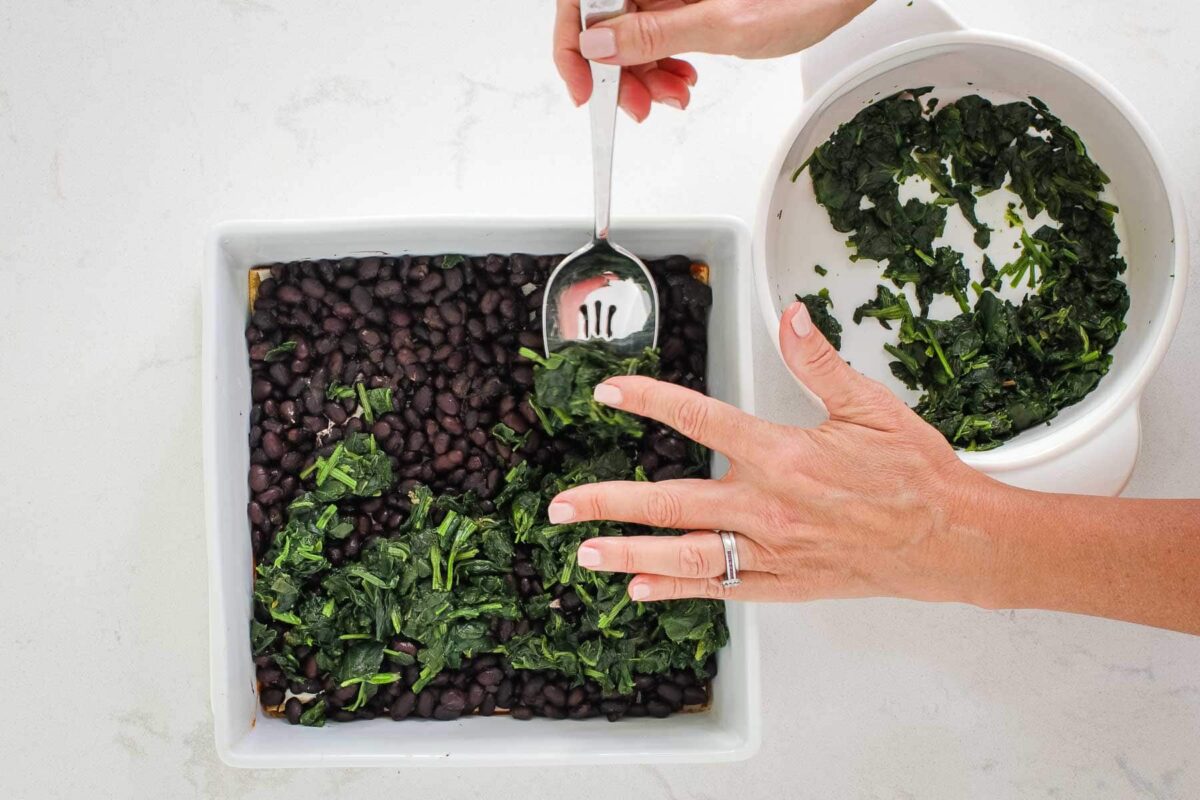 Step 6. Spoon the spinach or kale evenly over the beans.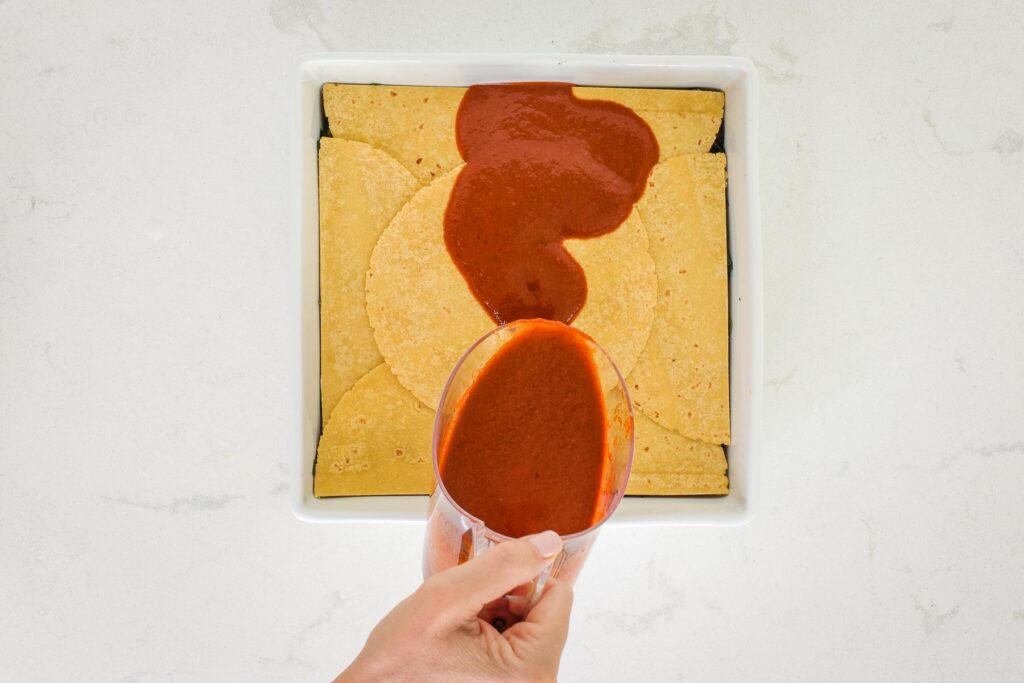 Step 7. Add another layer of tortillas to the top, pour the rest of the enchilada sauce over the top, cover and bake.
Helpful Tips
Substitutions & Variations
Fillings
Enchilada Sauce (no oil)
Tortillas
I love corn tortillas, but you can use pretty much any tortillas in this recipe. Gluten free, grain free cassava tortillas, whole wheat flour tortillas (not GF), or whole sprouted grain tortillas would all be good options.
Cheese
Extra cheesy or without cheese. You can use more cheese than the recipe calls for, or less--or even none at all--if you want to lower the fat content. We love this recipe topped with my homemade vegan cheese sauce, or this cheddar sauce would be amazing as well.
Spreadable cheese to layer inside your casserole. It's easy to find nut cheese without oil at the stores these days. You could also spread a layer of almond ricotta inside instead of the store bought cheese, or tofu ricotta if you want a nut-free enchilada casserole.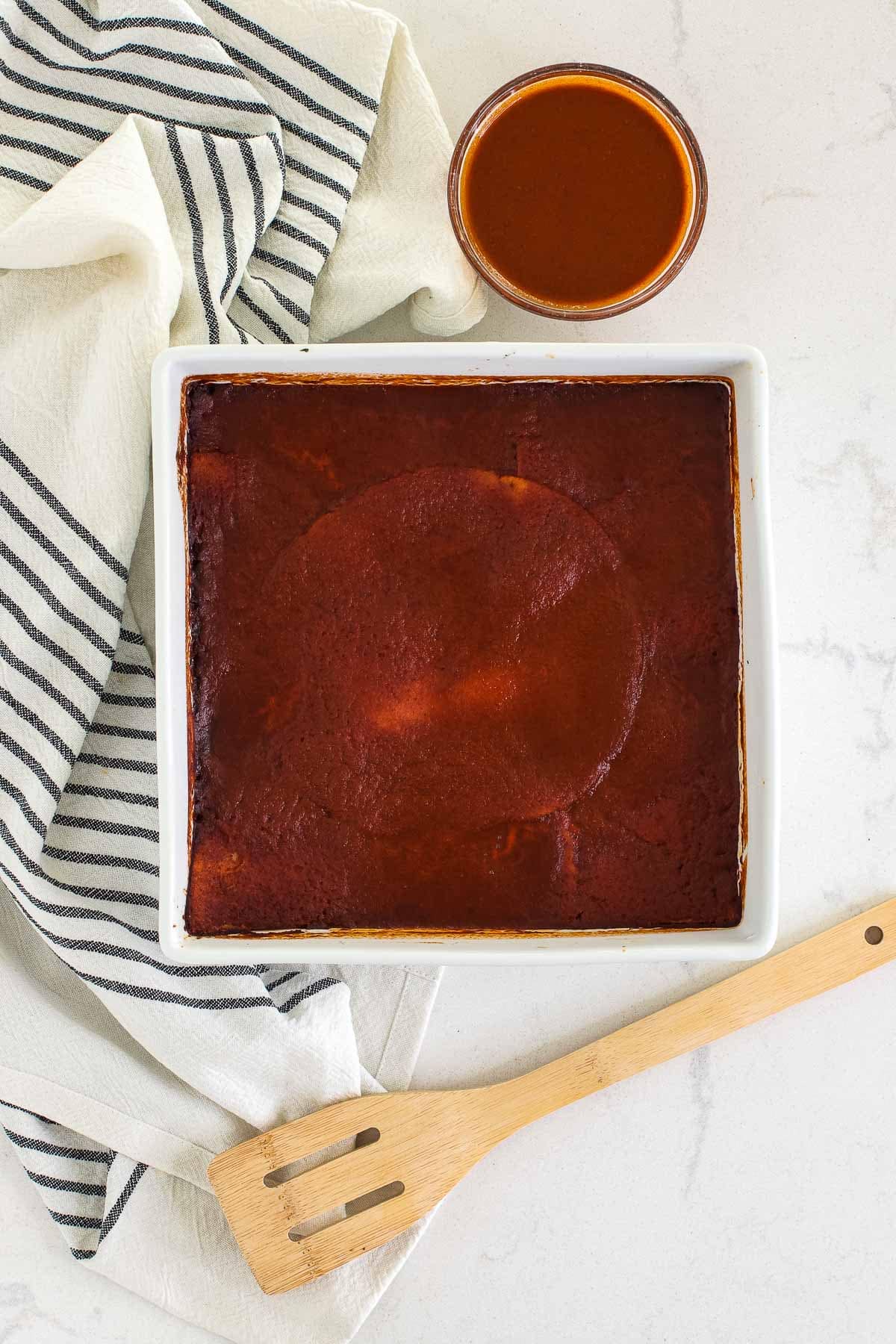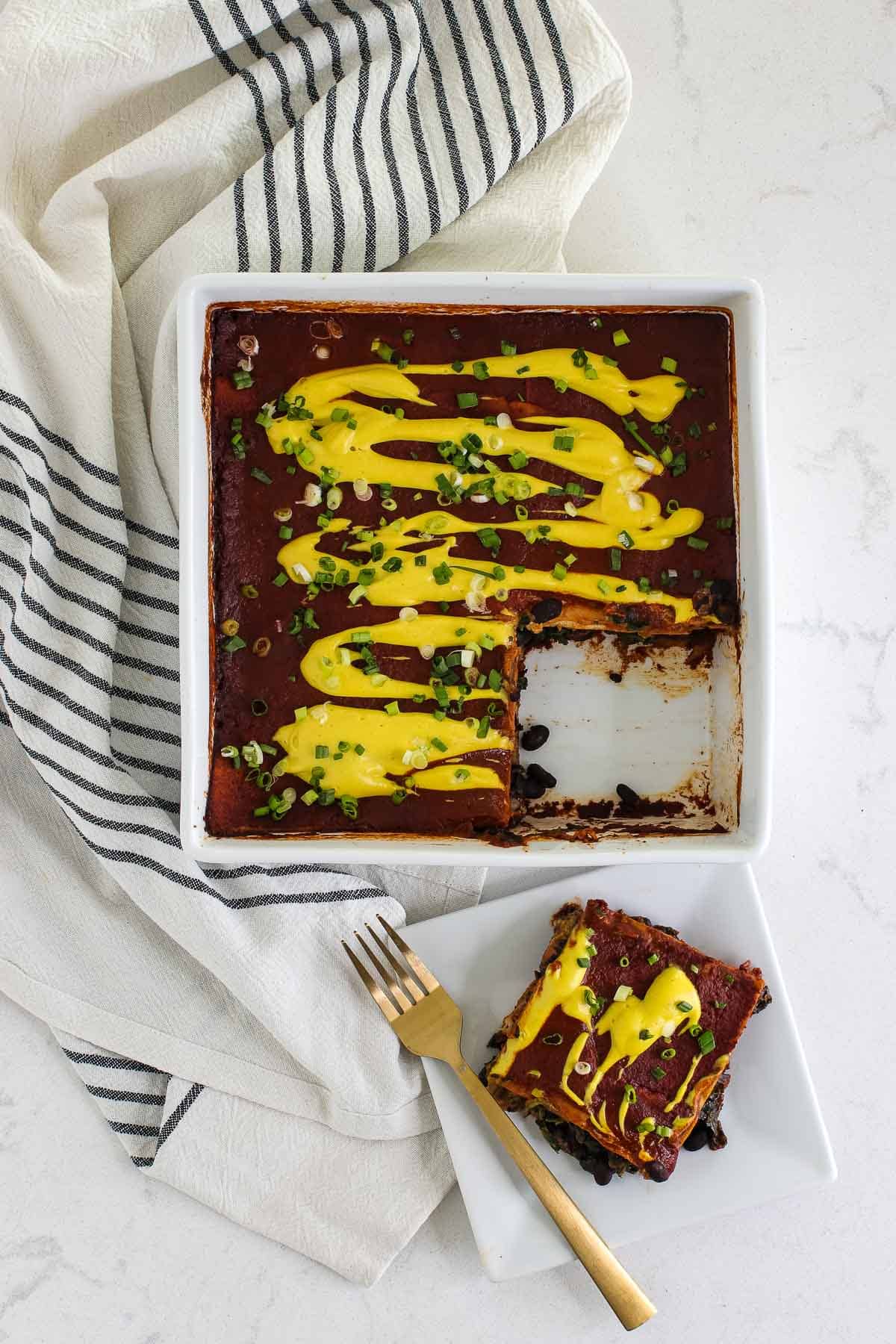 Variation Ideas
Happy, whole food plant-based cooking, y'all!
-Elizabeth xo
I LOVE hearing from you! Connect with me on Facebook, Instagram or Pinterest, or drop me a note in the comments.
📖 Recipe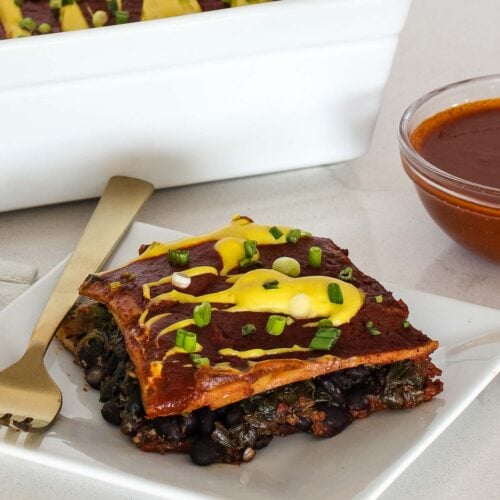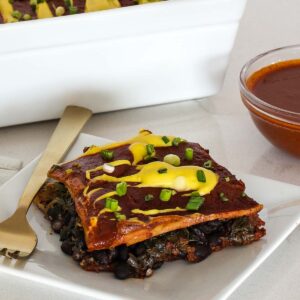 Easiest Vegan Enchilada Casserole
A simple, healthier Vegan Enchilada Casserole Recipe with creamy layers of nut cheese, black beans and spinach. Store-bought and homemade ingredient options. Oil free, WFPB, gluten free.
Print
Save
Saved!
Pin
Rate
Equipment
8 x 8 or 9 x 9 baking dish
Ingredients
7

whole

corn tortillas

oil free brand like La Tortilla Factory

3

ounces

nut cream cheese

oil free brand like Kite Hill

1.5 cups

enchilada sauce about ¾ths recipe, or store bought oil free. (see notes)

2

cups

cooked black beans

drained. Or 1 ¼ can low sodium.

8

ounces

frozen spinach

or kale. (About 1 ¼ cup cooked. Or, substitute about 1 ¼ pound fresh.)

2

green onions
Instructions
Preheat the oven to 375% Fahrenheit.

Place the spinach in a microwave safe dish, cover, and cook for about 4 minutes or until tender. (Kale may take a bit longer). Drain, and pat dry with a clean towel or paper towels.

Ladle ¼ cup of the enchilada sauce in the bottom of the baking dish. Gently rotate and shake the dish to evenly distribute the sauce.

Spread a thin layer of spreadable nut cheese on half the tortillas. (See notes.) Cut them to fit in the bottom of the dish, and arrange evenly in a single layer. Overlapping a little is fine.

Spoon the black beans evenly over the tortillas in the baking dish.

Spoon the spinach evenly over the beans.

Add a second layer of tortillas on the top as you did for the bottom. Pour the remaining sauce over the dish. It should be very liquid, but you should still be able to see a bit of the tortillas on top.

Cover the casserole, and place on the middle rack of the oven. Bake at 375 degrees Fahrhenheit, or until hot and bubbly. If adding cheese sauce to the top, do it in the last 10 minutes of baking.

Garnish with sliced green onions and serve.
Notes
Nutrition information shown is approximate and DOES NOT INCLUDE optional cheese sauce topping.
Please
Cheese sauce on top variation. I personally like this version the best. But it does add a bit of labor and more fat to the recipe.
Spreadable cheese. You can use none at all, or you can coat both the top and bottom layer of tortillas with cheese for a creamier casserole. Be sure to place the tortillas cheese-side down if you use more for the top tortillas.
Using greens. Make sure you drain your spinach, kale or other greens and pat dry.
Leftover enchilada sauce or cheese. Some recipes or packages may give you more sauce than you need. I like to reserve any extra sauce and serve it on the side with the casserole. It's also great to pour over leftovers, especially if they get a little dry.
Store bought or homemade ingredients. You can find oil free enchilada sauce, nut cheese, etc. in most stores or online. But for the lowest fat, healthiest, and lowest sodium version, make as much of the the recipe from scratch as possible.
To spread the nut cheese. Bring it to room temperature for easier spreading. This is especially helpful if you want to use just a little bit of cheese for less fat.
Nutrition (approximate)
Calories:
209
kcal
|
Carbohydrates:
74
g
|
Protein:
21
g
|
Fat:
7
g
|
Saturated Fat:
1
g
|
Polyunsaturated Fat:
1
g
|
Monounsaturated Fat:
1
g
|
Trans Fat:
1
g
|
Cholesterol:
1
mg
|
Sodium:
121
mg
|
Potassium:
473
mg
|
Fiber:
8
g
|
Sugar:
1
g
|
Vitamin A:
4643
IU
|
Vitamin C:
3
mg
|
Calcium:
177
mg
|
Iron:
2
mg