Vegan Pumpkin Chili Molé combines hints of chocolate, spice, sweetness and pumpkin for a mellow yet incredibly flavorful chili.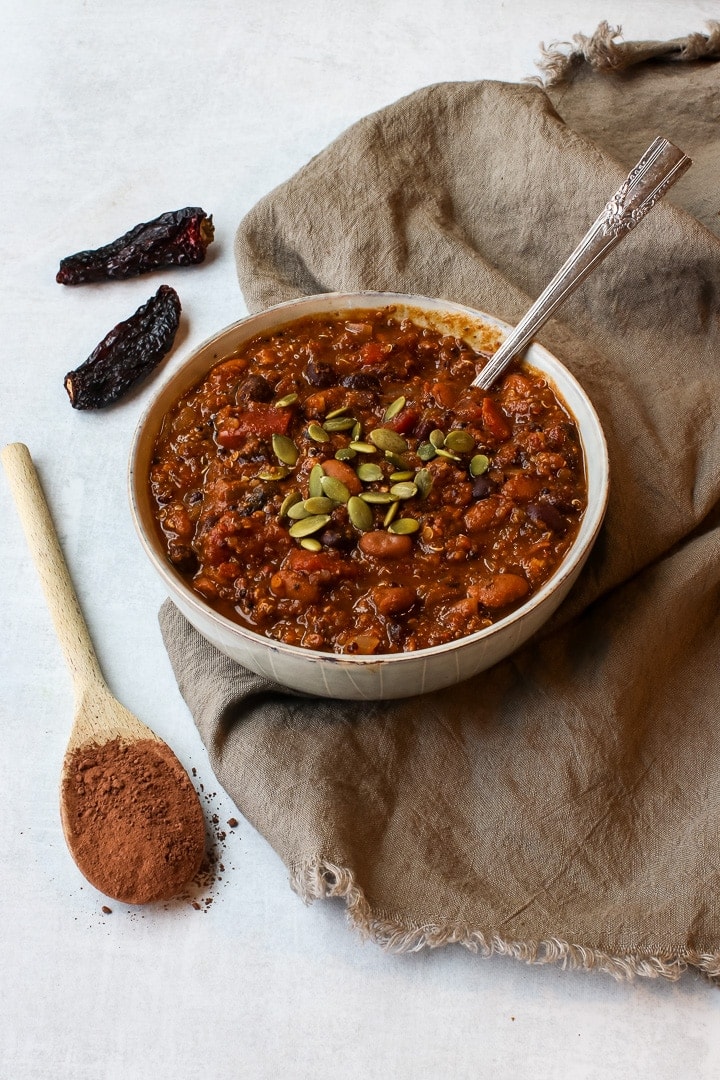 Healthy Midwestern Girl Goes Southwest!
I try to keep this blog focused on the food without boring you TOO much with the happenings in my little world. That said, I wanted to let you know that Hemant and I just bought a home in Arizona, in a gorgeous area surrounded by mountains and wilderness Northeast of the Phoenix/Scottsdale area. We've affectionately named her 'Chez Shah West.' 🙂
We'll be dividing our time between Wisconsin and Arizona for the next few years, and will eventually settle down in Arizona. Will I change the name of the blog? NO WAY! You can take the girl out of the Midwest, but you can't take the Midwest out of the girl. My heart with always be in the Midwest—but I won't have to freeze in the winter anymore, which I'm more than ready for.
Here we are in our new kitchen. I can't wait to cook up some great new recipes for you with all of this extra space! I couldn't think of a better way to celebrate our new digs that with a celebration of Mexican cooking—this AH-mazing mole-style chili.

Why I Love this Vegan Pumpkin Chili Molé
At Chez Shah, we adore both chili and mole (pronounced 'mol-ay'), so this recipe is destined to become a go-to. The addition of pumpkin makes it extra thick and healthy, and quinoa gives it some added protein and a satisfyingly chewy texture.
This is a balanced and mellow chili. The flavors—chocolate, spice, sweetness, and of course pumpkin—are fairly subtle. Even though this chili has as much spice as any recipe, I think the pumpkin neutralizes it just a bit.
If you like heat, you can add a little cayenne pepper, but I've intentionally left this recipe mild for those who don't appreciate really spicy foods. (For a bolder chili, with deep flavors of chocolate + coffee + heat, try my Best Damn Vegan Chili—or the Instant Pot version.)
That said, if you're a huge mole fan and want to up the mole flavor profile, in the recipe notes I recommend increasing the mole paste by 50% or so. This paste is seriously so good, I have a hard time not eating it by the spoonful right out of the food processor!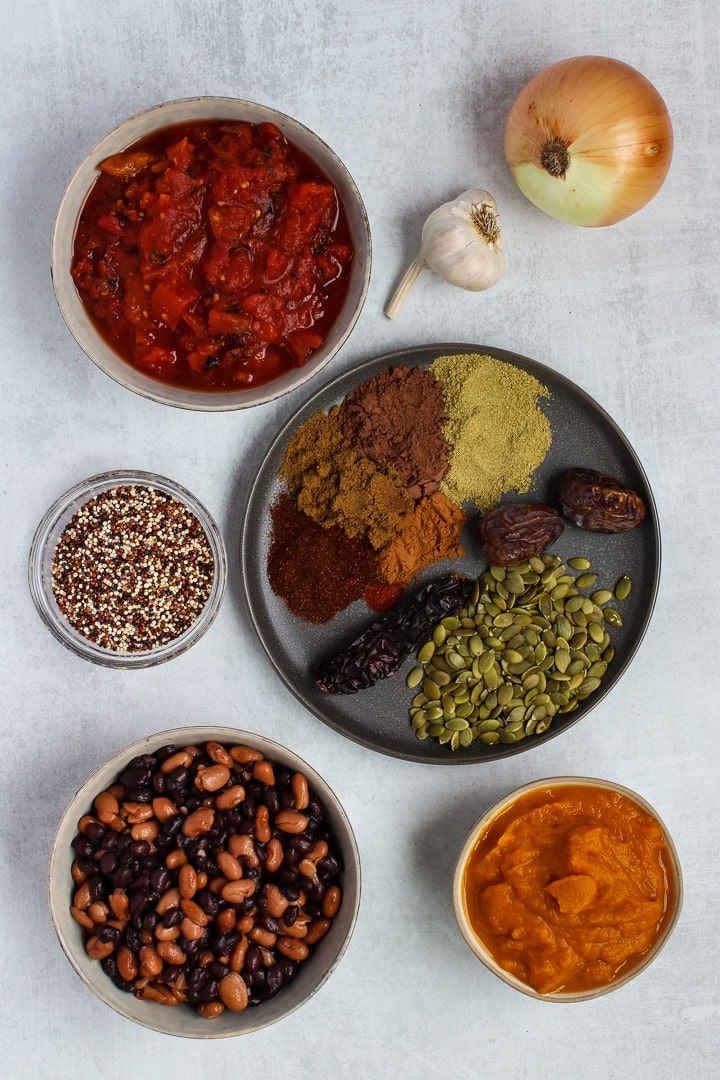 How to Make Vegan / Vegetarian Pumpkin Chili
This pumpkin chili recipe is a lot like other chilis, where we saute some onion and garlic, add our spices, add tomatoes and beans, and simmer.
The difference here is: 1) We make a mole paste, which becomes the vehicle for all of our spicy, chocolatey flavors. 2) We add pumpkin puree—obviously! And 3) we add uncooked quinoa toward the end, for added texture and protein.
The recipe calls for canned ingredients to keep it quicker and simpler for folks who need that option. But of course, feel free to substitute homemade cooked beans, tomatoes and pumpkin puree if you're up for making your own. I personally prefer to make my own beans—there's no match for the flavor and texture—but if you do use canned, look for no-salt added.
Step-by-step instructions:
Why Put Pumpkin in Chili?
Sweet pumpkin dishes are classic—like Pumpkin Bread with Chocolate Chips or Pumpkin Spice Pudding (my easy pumpkin dessert because I'm usually too lazy to bake a pumpkin pie). But I find pumpkin works just as well in savory dishes—like this Pumpkin Pasta Sauce, and this deliciously satisfying pumpkin chili.
Aside from the fact that pumpkin and other squashes are quintessential Fall foods (you can barely get through the grocery store at this time of year without tripping over them!), they're chock full of nutritional benefits.
Pumpkin is a low calorie food that's high in nutrients, making it a great whole food to include in your diet, especially if you're watching your calories. Plus, it's loaded with immune-system boosting vitamins A and C, as well as carotenoids shown to help reduce certain cancers. Read more about the health benefits of pumpkin.
What is Molé?
Molé is one of my favorite Mexican flavors. It can be made in a variety of different ways, depending on the the region of Mexico it's from and the family recipe. It's not uncommon for families to gather and spend days making molé sauce together!
The versions I like best combine the spiciness of chili peppers, the deep, earthy flavor of chocolate, a hint of sweetness from dried fruit, and richness from nuts or seeds.
For this vegan pumpkin chili recipe, the thick mole paste is made from dates, cocao powder, chilis, pepitas and traditional spices like cinnamon and cumin. Along with the pumpkin, the molé paste thickens the chili while lending a rich, earthy flavor.
In fact, the mole works SO well in this chili, I can't wait to experiment with it in other dishes. Stay tuned!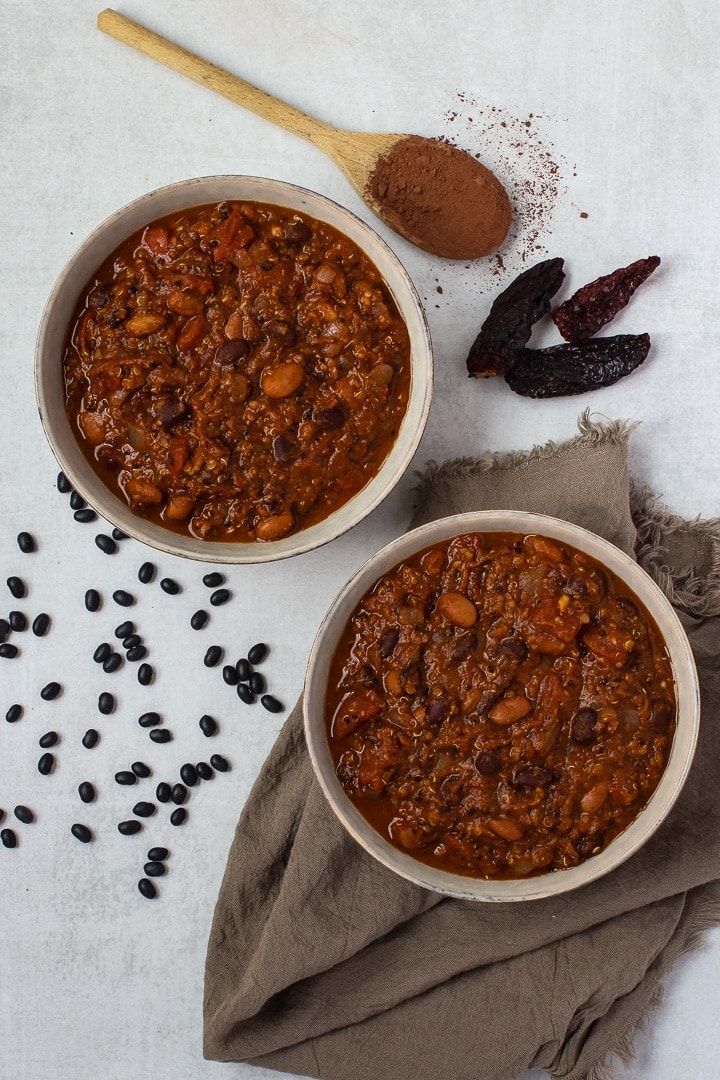 I LOVE hearing from you! It would make my day if you'd be so kind as to:
Rate this recipe and/or leave a comment if you make it. (Under the recipe picture or below the recipe.)
Thanks bunches and happy, whole-food cooking!
If you like this whole food plant-based recipe, you might also like my Best Damn Vegan Chili, Best Damn Instant Pot Vegan Chili, and Sweet Potato Peanut Stew. Or try these other fan favorites: Chickpea Cheese Sauce, Vegan Spinach Pizza Rolls, Mushroom Walnut Bolognese Sauce, Healthy Vegan Chile Relleno, Healthy Twice-Baked Potatoes, Easy Vegan Oil Free Pesto and Vegan Oil Free Mayonnaise.
📖 Recipe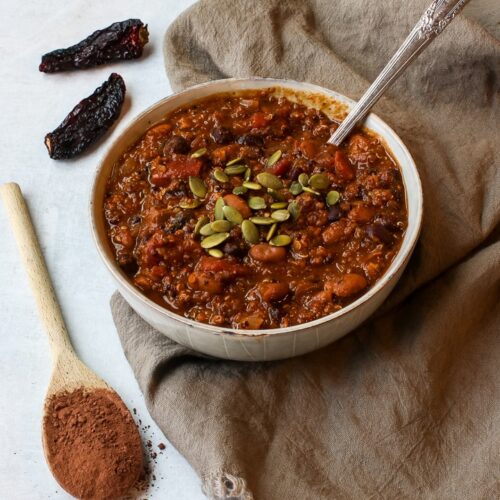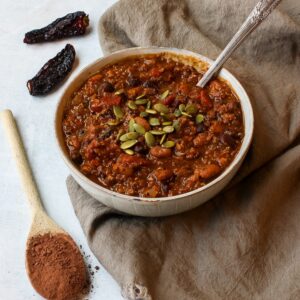 Vegan Pumpkin Chili Molé
Vegan Pumpkin Chili Molé combines hints of chocolate, spice, sweetness and pumpkin for a mellow yet incredibly flavorful chili.
Print
Save
Saved!
Pin
Rate
Ingredients
For the Molé Paste (See Notes)
1

tablespoon

ground cumin

1

tablespoon

ground fennel

1

tablespoon

unsweetened cocoa or cacao powder

2

teaspoons

ancho chili powder

1

teaspoon

ground cinnamon

2

Medjool dates

pitted and chopped

1

dried chipotle pepper

seeded and chopped

¼

cup

pepita seeds

raw or roasted usalted (plus more for garnish, if desired)

Optional: ¼ to ½ teaspoon cayenne pepper

(for heat)
For the Chili
1

yellow onion

diced

6

cloves

garlic

minced

28

ounce

can diced fire roasted tomatoes

LIQUID RESERVED

15

ounce

can pumpkin puree

NOT pumpkin pie filling. Or 2 cups homemade puree

15

ounce

can pinto beans, drained and rinsed

look for no-salt added. Or 1 ¾ cups cooked beans

15

ounce

can black beans, drained and rinsed

look for no-salt added. Or 1 ¾ cups cooked beans

2 ½

cups

water

¾

cup

uncooked quinoa, rinsed

(I used tri-color quinoa)

Sea salt to taste
Instructions
To Make the Molé Paste
Cut the dried chipotle chile in half, remove seeds, and chop into small dice. Place in a small dish with enough water to cover, and microwave on high for 1 minute. Set aside and let continue to soften in the hot water.

Add the chopped dates to a small dish with about 1 tablespoon of water, and microwave on high for 30 seconds.

To a food processor, add the dry mole ingredients (pepita seeds, cumin, fennel, cocoa powder, chili powder and cinnamon (and cayenne, if usuing) and process until well combined and the pepitas are ground. Add dates and chipotle pepper pieces (reserve the liquid, if desired) and process. Add liquid (either water or the reserved chipotle liquid) about a teaspoon at a time until the mixture is soft enough to blend well, but thick enought to form a very thick paste.
To Make the Chili
In a large pan or Dutch oven, heat about a tablespoon of water on medium high heat, add the diced onion and a pinch of salt, and saute for 5 minutes or until the onion is tender. Add the garlic and saute for 2 minutes. Add water a little at a time if things begin to stick.

Add the mole paste to the pan, stir well to combine, and cook 1-2 minutes.

Add the diced tomatoes and their liquid to the pan, and deglaze (loosen and scrape up any brown bits). Add the pumpkin, beans, and water, and stir.

Bring the chili to a boil, then reduce heat to a simmer, cover and cook for 30 minutes.

Add the quinoa, cover, and simmer until the quinoa is thoroughly cooked, about 25 more minutes.

The chili will thicken a bit as it rests. But if desired, you can thicken it more by sautéing a few minutes on medium heat. Add sea salt to taste and serve.

Garnish with pepita seeds, if desired.
Notes
Molé Flavor: This is a balanced and mellow chili, with subtle mole flavors. If you absolutely love mole and really want this flavor to stand out, I recommend increasing the paste by about 50%.
Nutrition (approximate)
Serving:
1
cup
|
Calories:
294
kcal
|
Carbohydrates:
55
g
|
Protein:
15
g
|
Fat:
3
g
|
Saturated Fat:
1
g
|
Sodium:
173
mg
|
Potassium:
752
mg
|
Fiber:
15
g
|
Sugar:
9
g
|
Vitamin A:
8836
IU
|
Vitamin C:
6
mg
|
Calcium:
123
mg
|
Iron:
5
mg