A simple, Thai-inspired butternut squash and chickpea curry with creamy lite coconut milk. This stew is hearty, healthy, satisfying. Fresh herbs and a squeeze of lime bring out the bright, bold flavors in this dish.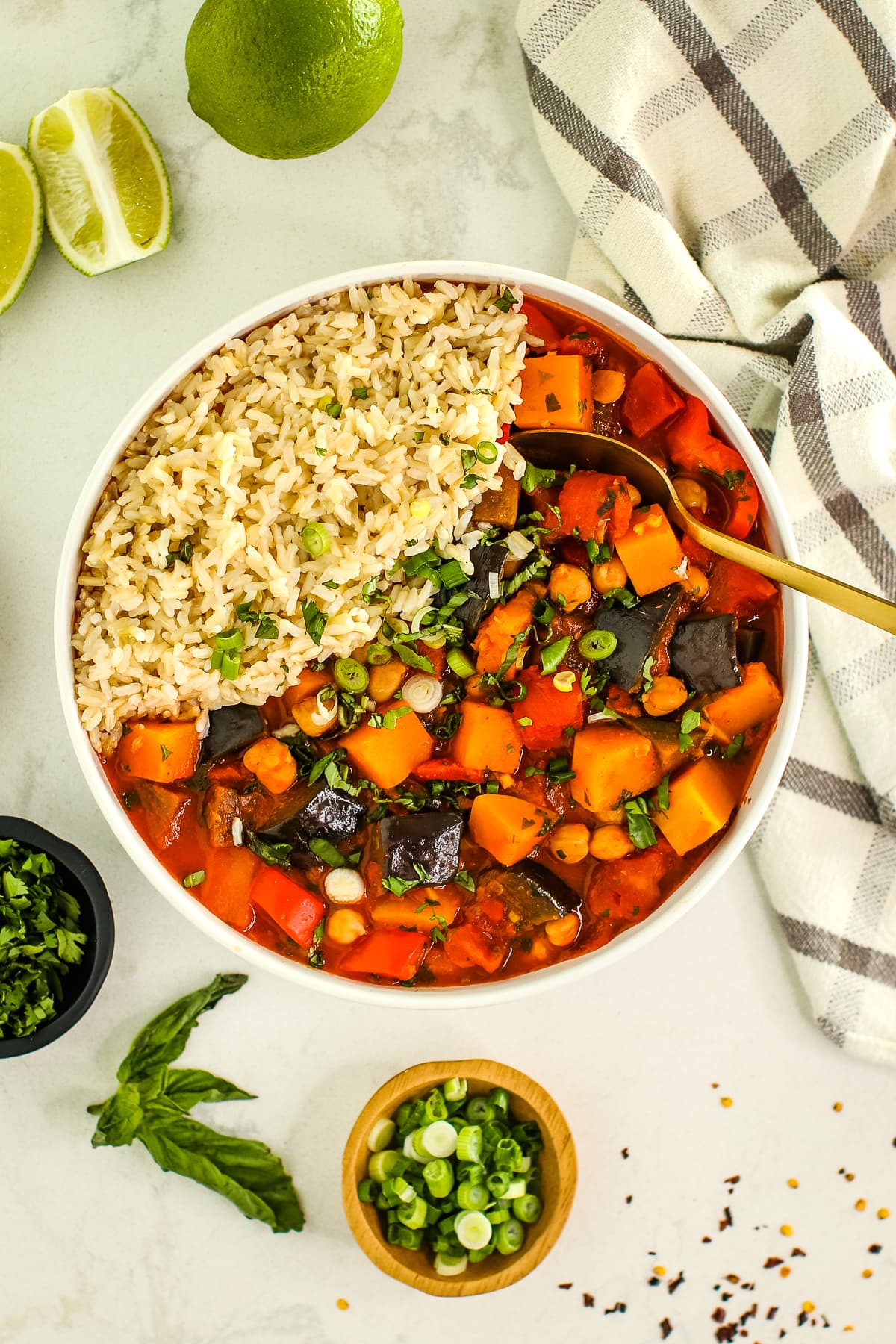 Why I love to make this curry
First, I just love making curry! From my Indian-style curry spinach and potatoes and chana masala to my lentils and rice curry in 1 pot, I can't get enough of everything curry.
This curry is one of those dishes I just can't stop eating, it's so tasty. The tomatoes and the lime here give the recipe enough acid to keep the squash, eggplant and coconut milk from feeling too heavy.
Plus, it's just so dang versatile!!!
Don't have butternut squash? You can substitute acorn squash, kobocha squash or sweet potatoes instead. Don't care for eggplant—or can't find a good one at the store? Cauliflower works great here too. Just keep your main veggies to about 4 cups each, and you'll be good to go.
Need to avoid all saturated fats? Skip the coconut milk—it will still be delicious.
Prefer to make an Indian butternut squash curry rather than a Thai style curry? No problem, just sub curry powder for the curry paste. Honestly, I think it would be hard to go wrong here.
I've made this a number of times for guests, and everyone reaches for seconds.
Jump to: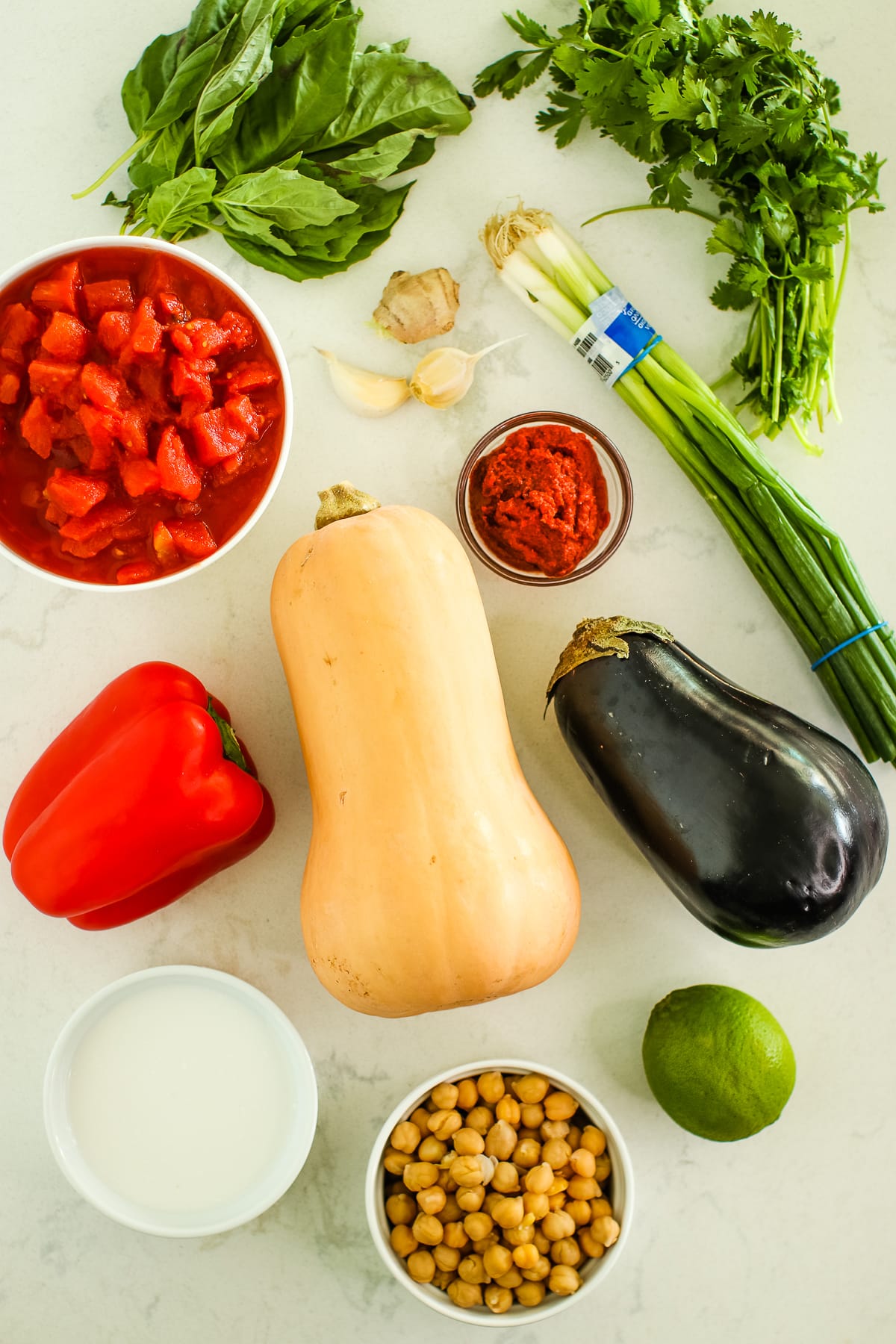 Ingredients
Butternut Squash
Eggplant
Red Bell Pepper
Chickpeas
Tomatoes
Lite Coconut Milk
Red Thai Curry Paste
Green Onions
Basil
Cilantro
Lime
Equipment
Large, sharp knife (to cut the squash)
Large pot
Mixing bowl
Whisk
How to cut butternut squash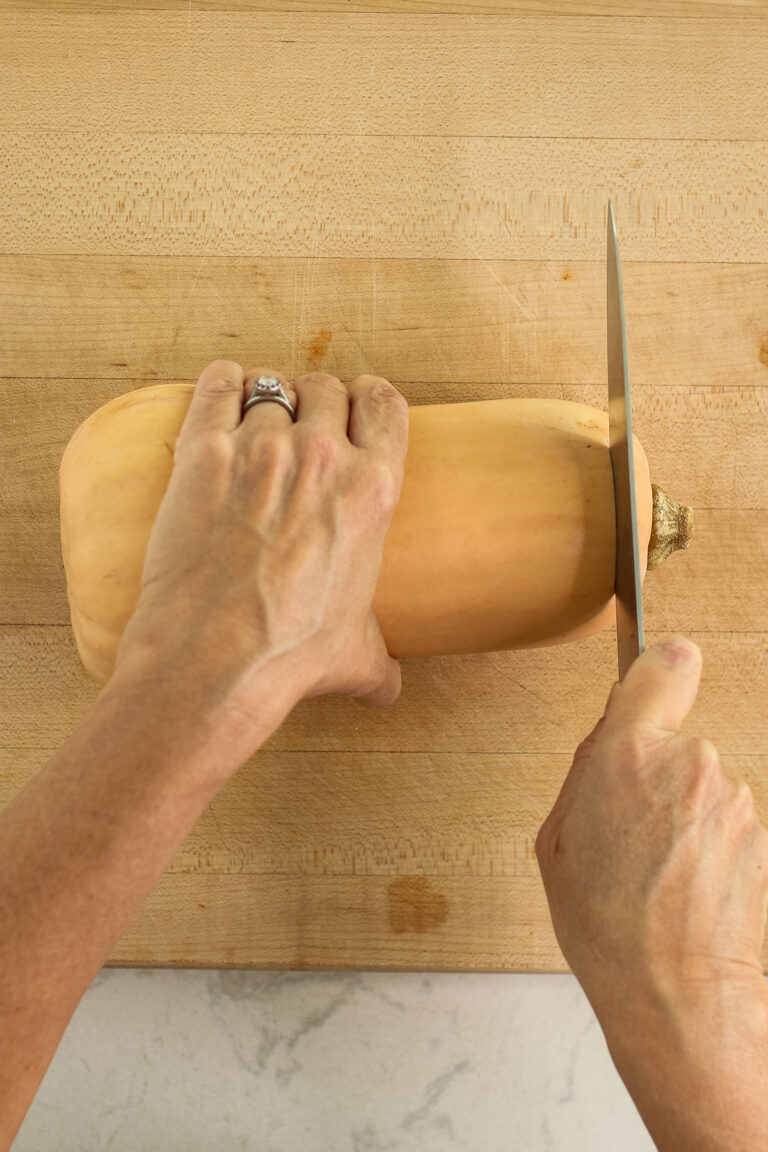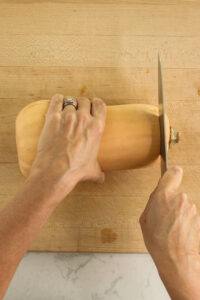 Tip: Squash can be hard and difficult to cut. Be sure your knife is sharp, and when cutting, use caution and be sure to tuck your fingers out of the way of the knife blade.
Step-by-step instructions for making this recipe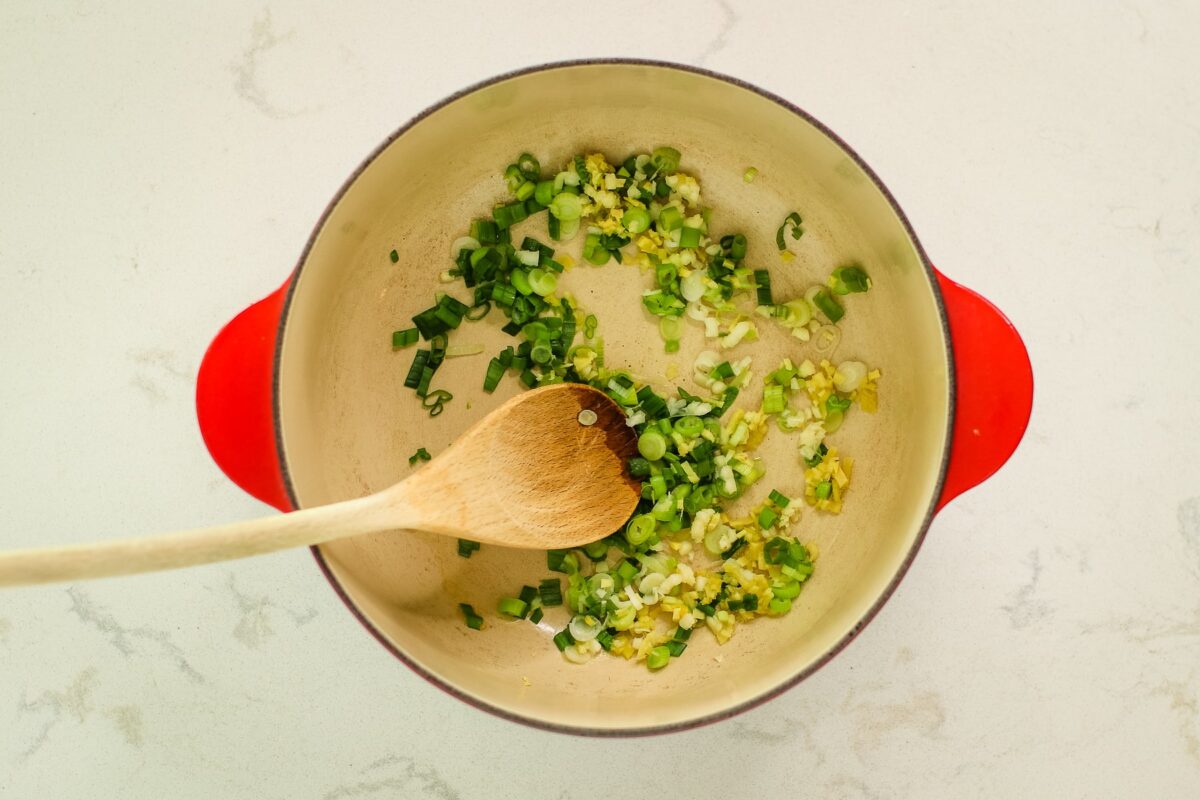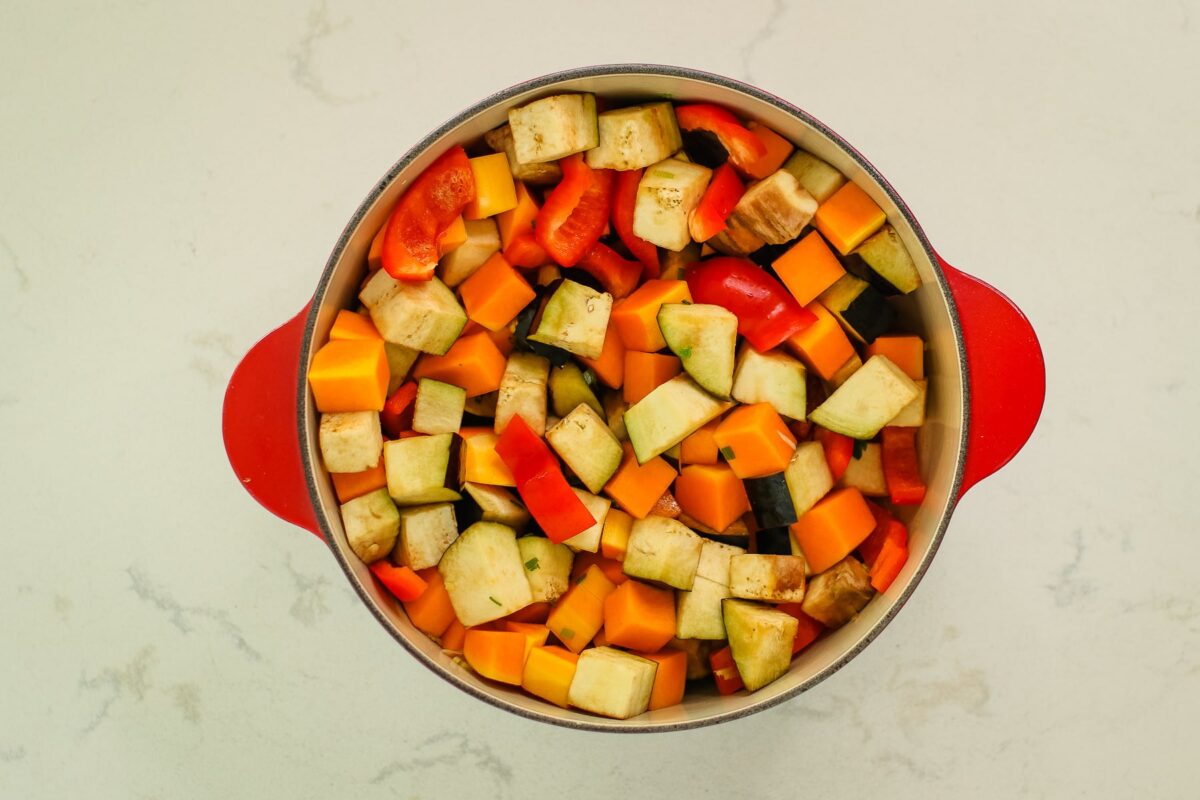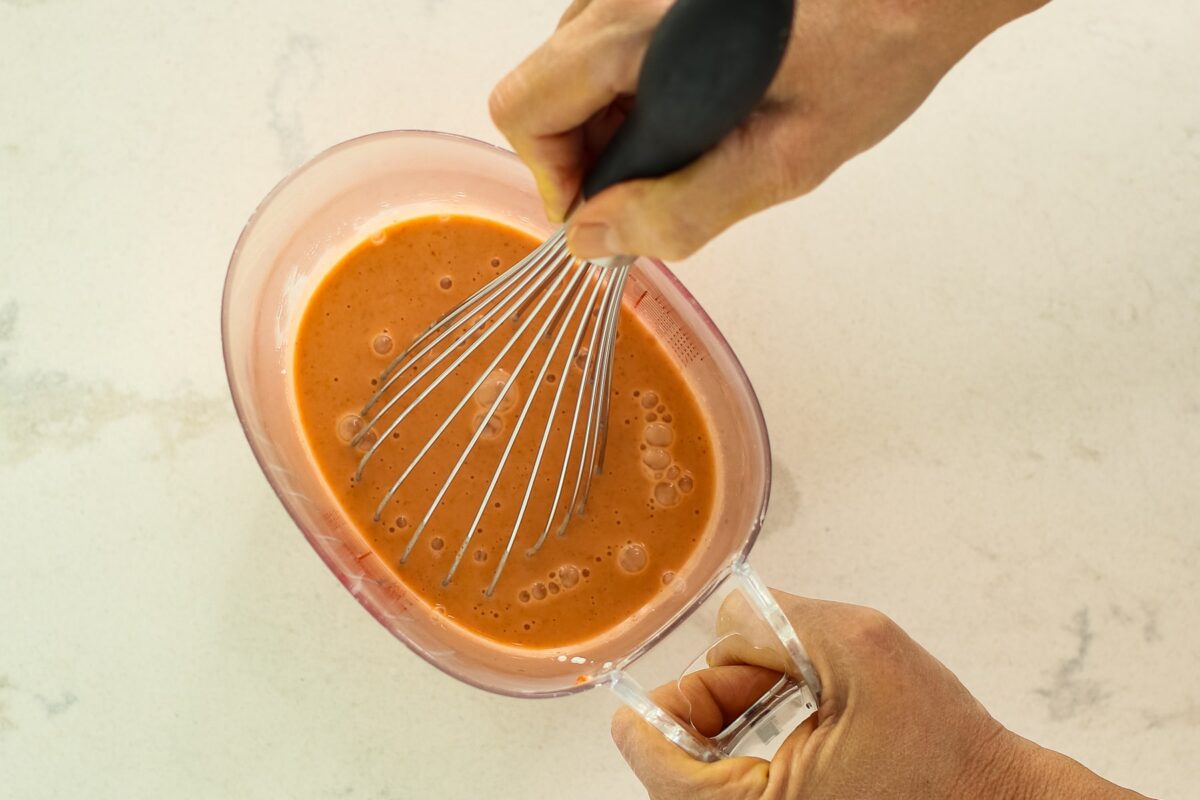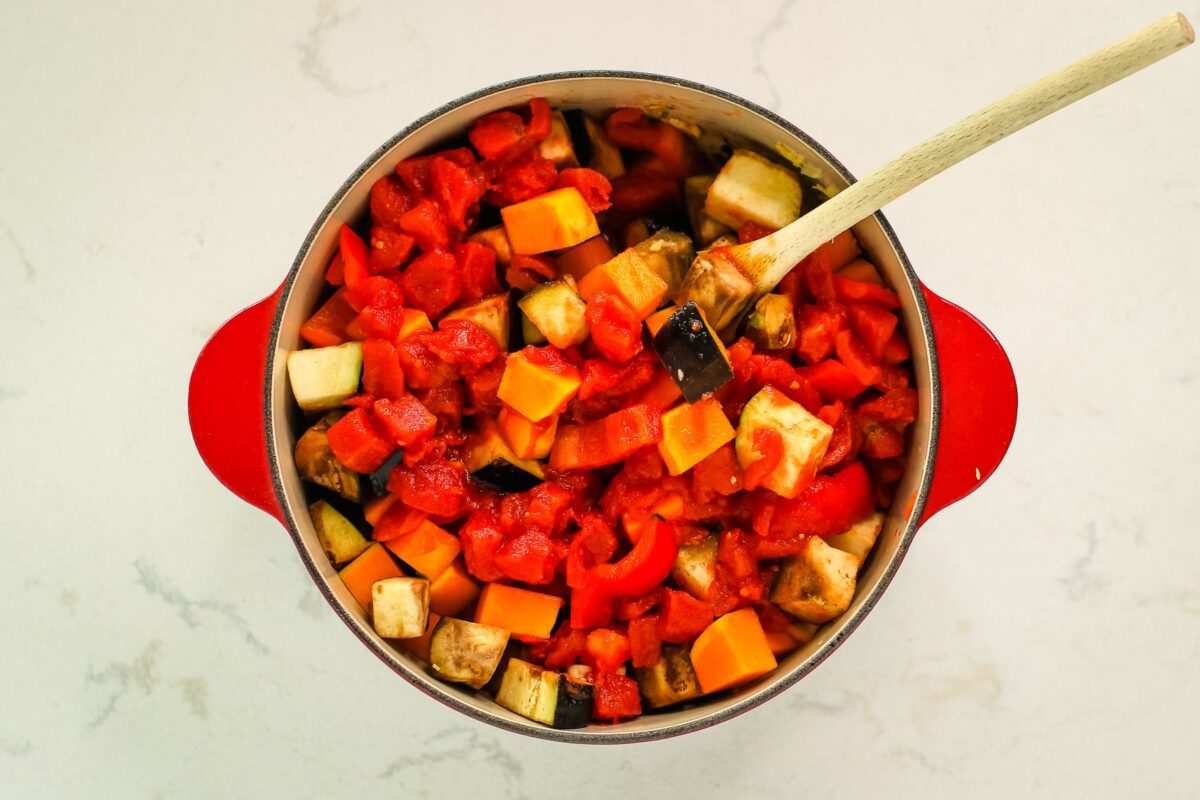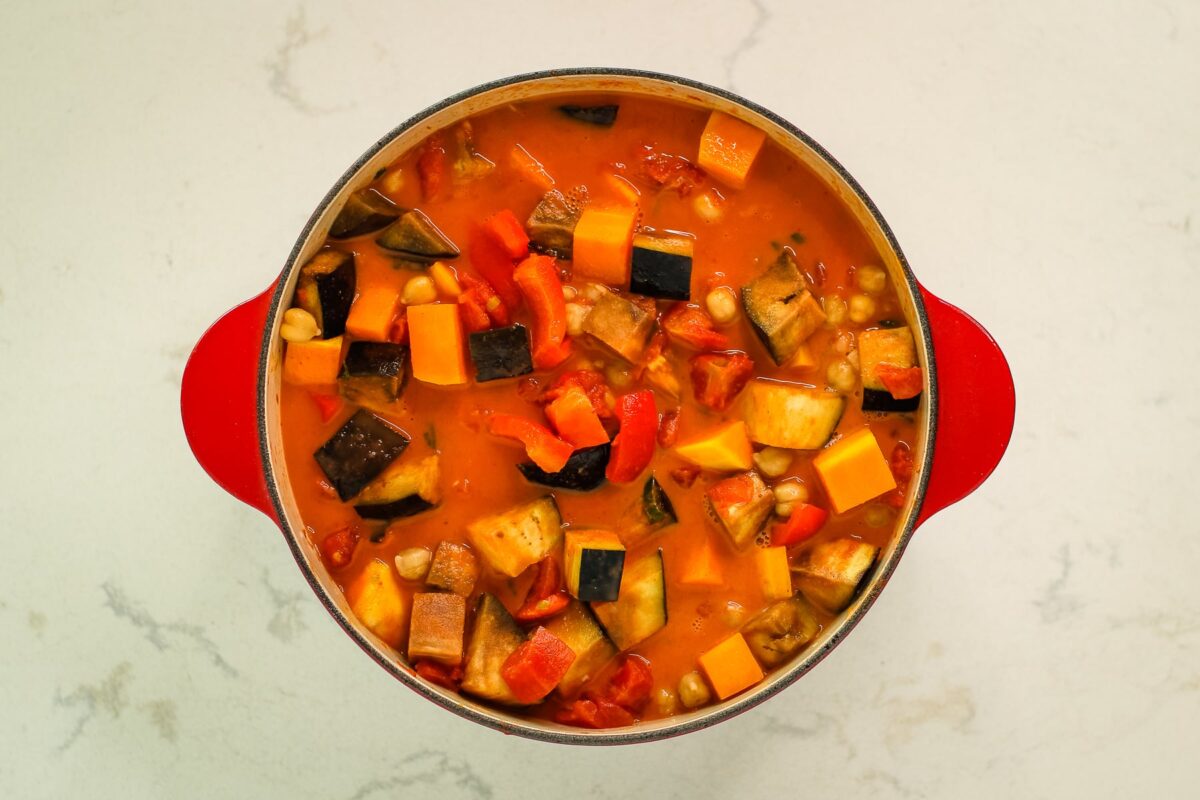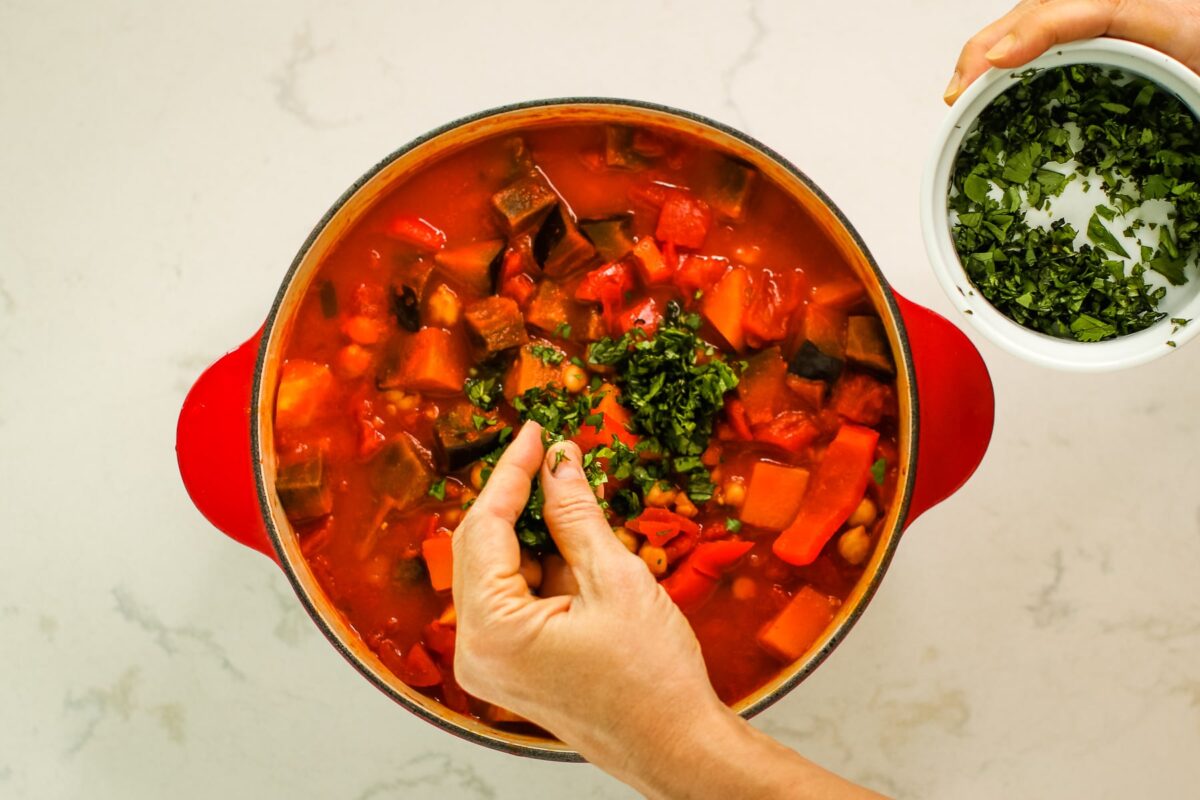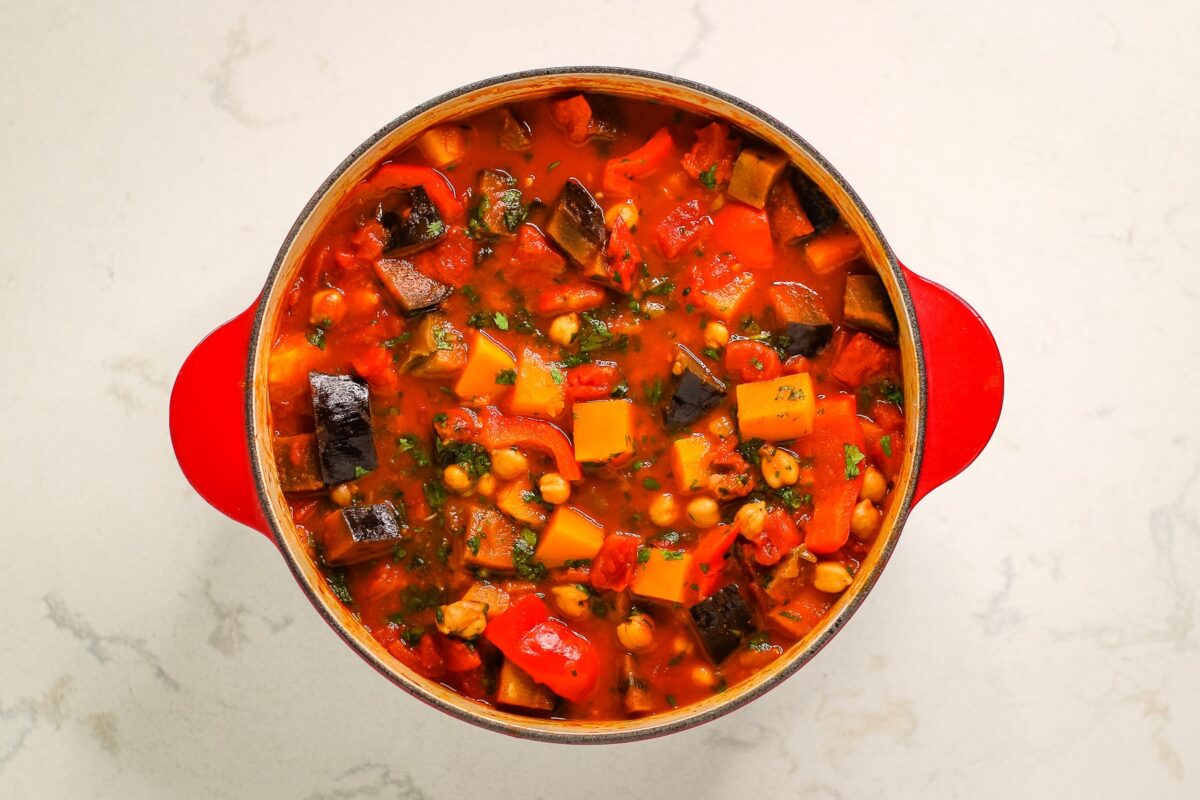 Substitutions and variations
Butternut Squash. Any time of firm, fleshy (winter) squash like acorn or kobocha work well. Or, you can substitute root vegetables like sweet potatoes, Yukon Gold potatoes, or carrots. You need about 4 cups.
Eggplant. Cauliflower is a great swap for the eggplant. Green beans, fennel, or more bell peppers would work nicely as well. Make sure you have about 4 cups.
Lite Coconut Milk. You could use full fat, but I never do because I think the lite stuff is healthier and gives just a bit of richness. But you can use plant milk, broth instead. You can whisk in a couple tablespoons of almond butter, sunflower butter, tahini or similar, if you want to add back in a bit of richness.
Canned Diced Tomatoes. You can use about 2 pounds of fresh instead, but you may need to add ¼ or more of liquid (water or broth) if the vegetables aren't completely immersed in liquid in the pot.
Red Thai Curry Paste. I like this ingredient because it's low in additives, and gives a mild curry flavor. For an Indian-style curry variation, you could swap a tablespoon (+/- depending on how hot it is) for the paste.
Green Onion. Any onion will work for the sauteeing (but might take a bit longer to soften), but I recommend green onion for the garnish.
Fresh Basil & Cilantro. I don't recommend skipping the fresh herbs, as they really do give this dish a big, fresh flavor boost. But it would be fine to use all cilantro or all basil in a pinch.
Fresh Lime. Not absolutely needed, but definitely recommended.
Heat. This is a very tame curry, so if you like a little heat, feel free to add in a bit of cayenne pepper, slice up some jalepeños or toss in some crushed red pepper flakes.
Frozen Vegetables. I haven't tried it, but I believe you could swap out some frozen veggies here with a good result. I could see this being one of those very quick weeknight meals with frozen mixed vegetables and pantry ingredients!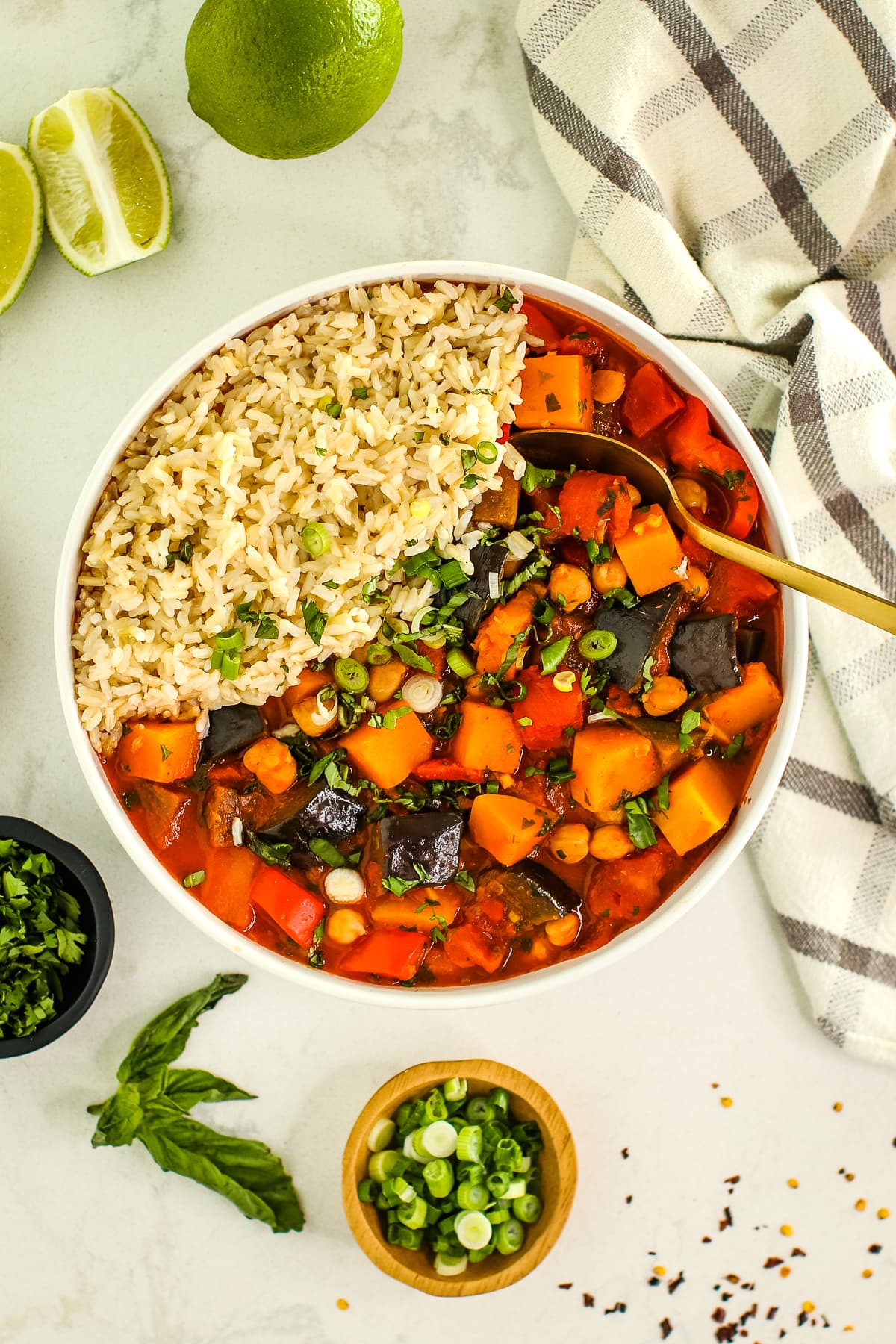 How to select a ripe butternut squash – 3 easy steps
Examine it: It should have a uniform beige color, matte (not shiny) skin, and be free of dents and bruises.
Pick it up: It should feel heavy.
Thump it: It should sound hollow.
Is this curry healthy?
Butternut squash and eggplant are both healthy veggies suitable for most people on most diets.
In particular, butternut squash is high in fiber and low in calories, so it's satisfying and diet-friendly. The cooked tomatoes in this recipe are also great to include in your diet on a regular basis, as they contain cancer-fighting phytochemicals.
I don't recommend peeling your eggplant, as many of the nutrients are found in the dark, purple skin. It gets plenty soft as it simmers!
While I like to use lite coconut milk from time to time, the recipe will have less saturated fat, and therefore be healthier, without it. You know your diet best, so make the recipe according to any restrictions you might have.
How to store it?
Store this curry in the refrigerator in an airtight container for 4-5 days.
Can you freeze it?
Freeze for up to 3 months. It will freeze well, though the squash might be a bit softer/mushier. This goes for any root vegetables you might choose to substitute as well.
How to serve it?
Serve this curry with brown basmati rice or any whole grain you like. And please, if you can help it, don't skip the fresh lime and herbs—dinner just won't be the same without it!
Happy, whole food plant-based cooking, y'all!
-Elizabeth xo
I LOVE hearing from you! Connect with me on Facebook, Instagram or Pinterest, or drop me a note in the comments.
📖 Recipe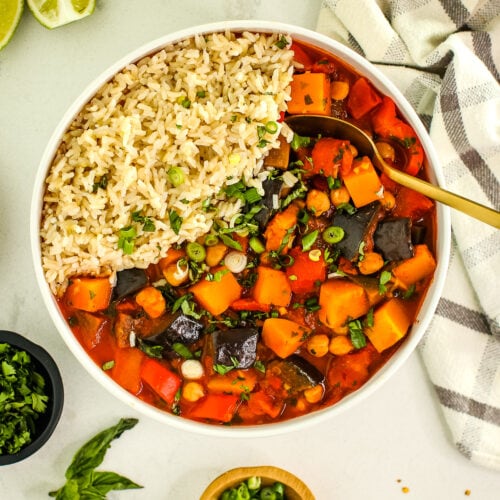 Butternut Squash and Chickpea Curry (Vegan + Oil Free)
A simple, Thai-inspired curry stew that's hearty, healthy and satisfying. Fresh herbs and a squeeze of lime bring out the bright, bold flavors in this dish.
Print
Save
Saved!
Pin
Rate
Ingredients
Ingredients
1

bunch green onions, thinly sliced

divided into half

2

cloves

garlic

1

tablespoon

minced fresh ginger

½

butternut squash, 1-inch diced

about 4 cups, see notes

1

eggplant, 1-inch diced

about 4 cups

1

large red bell pepper, diced into ½ inch x 2 -inch strips

about 2 cups

1 28-

ounce

can diced tomatoes

liquid reserved (or about 2 pounds fresh tomatoes, diced)

1 13.5-

ounce

can lite coconut milk

about 1 ¾ cups. Or substitute 1 ¾ cups plant milk + 2 tablespoons of almond butter or tahini, see notes

3

rounded tablespoons red Thai curry paste

Or, substitute 1 tablespoon of Indian curry powder, see notes

15

ounce

can low sodium chickpeas, drained and rinsed

¼

cup

chopped basil leaves, chopped

divided into half

¼

cup

chopped cilantro, chopped

divided into half

Sea salt, to taste

Optional but recommended: 1 lime

cut into 6 wedges

Optional: For extra heat

add ½ teaspoon cayenne pepper or 1 jalapeño pepper, seeds removed and cut into rings

Optional: Serve with brown rice or the whole grain of your choice.
Instructions
Instructions
Heat about a tablespoon of water in a Dutch oven or large pot. Saute half the green onion, the garlic and the ginger over medium heat until softened and fragrant, about2 minutes. Add more water if things begin to stick.

Add a couple more tablespoons of water to the pot, and scrape up any brown bits. Then add the squash, cauliflower and red pepper to the pot, stir well, and saute until the vegetables are just beginning to soften, about 5 minutes. Stir occasionally, and add more water if things begin to stick.

While the vegetables are sauteeing, add the curry paste and the coconut milk to a n a medium mixing bowl, and whisk together. Taste, and add more curry paste and/or cayenne pepper for more heat, if desired. Add the coconut milk and curry paste mixture and the chickpeas to the pot.

Add the diced tomatoes and their liquid to the pot, and stir to loosen up any brown bits.

Then add the coconut milk and curry mixture, and the chickpeas, to the pot. Stir to combine.

Simmer on low heat, partially covered, until the vegetables are tender), about 20-25 more minutes. (The sauce will not be thick, but see notes if you like a thicker sauce.)

Stir in half the basil and cilantro.

Before serving, add a squeeze of lime to each bowl. Then garnish each bowl with some of the reserved the green onion, basil and cilantro.
Notes
For thicker stew. You can let the pot rest, covered for 1--15 minutes, and the stew will thicken a bit. Or, simply mash up some of the squash and cauliflower together with some of the liquid and add it back into the pot. A potato masher, food processor or blender all work well. For an Indian style curry. Substitute about 1 tablespoon of Indian curry powder --hot or mild--for the Thai curry paste. Leftover squash. If you don't want leftover squash, you can use all squash and skip the cauliflower, or freeze the other half of the squash. I've found one butternut squash is about 8 cups diced, which works perfectly to make this recipe twice or a double batch. For lower sodium. Use curry powder instead of curry paste, and make sure to use low sodium chickpeas and tomatoes. Cocounut milk. If you'd prefer not to use coconut milk, you can substitute plant milk or broth. For added richness, you can stir a tablespoon or two of almond butter or tahini into either one. For extra heat. Add up to ½ teaspoon of cayenne to the coconut/curry mixture, or add jalepeño slices or crushed red pepper flakes at the end. Substitutions. (See the article above for a full exploration of substations and variations). Eggplant works well in this dish, and goes well with squash. The butternut squash can be replaced with acorn squash, sweet potatoes, or even Yukon Gold potatoes or carrots with good results. I haven't swapped the fresh veggies with frozen, but I think this could be a winner--especially on super-busy weeknights.
Nutrition (approximate)
Calories:
200
kcal
|
Carbohydrates:
31
g
|
Protein:
6
g
|
Fat:
6
g
|
Saturated Fat:
5
g
|
Polyunsaturated Fat:
1
g
|
Monounsaturated Fat:
1
g
|
Sodium:
456
mg
|
Potassium:
817
mg
|
Fiber:
9
g
|
Sugar:
8
g
|
Vitamin A:
7650
IU
|
Vitamin C:
54
mg
|
Calcium:
112
mg
|
Iron:
3
mg