When Hemant and I became vegan, this 1-Pot Curried Lentils and Rice recipe was one of the very first dishes I created. Two years later, it's still a favorite at our house, because in just one pot, it packs SO much of the good stuff in a whole-food, plant-based diet—like beneficial garlic and onion, high-fiber lentils, whole-grain brown rice, and antioxidant-rich green leafy vegetables. And it's really, really delicious.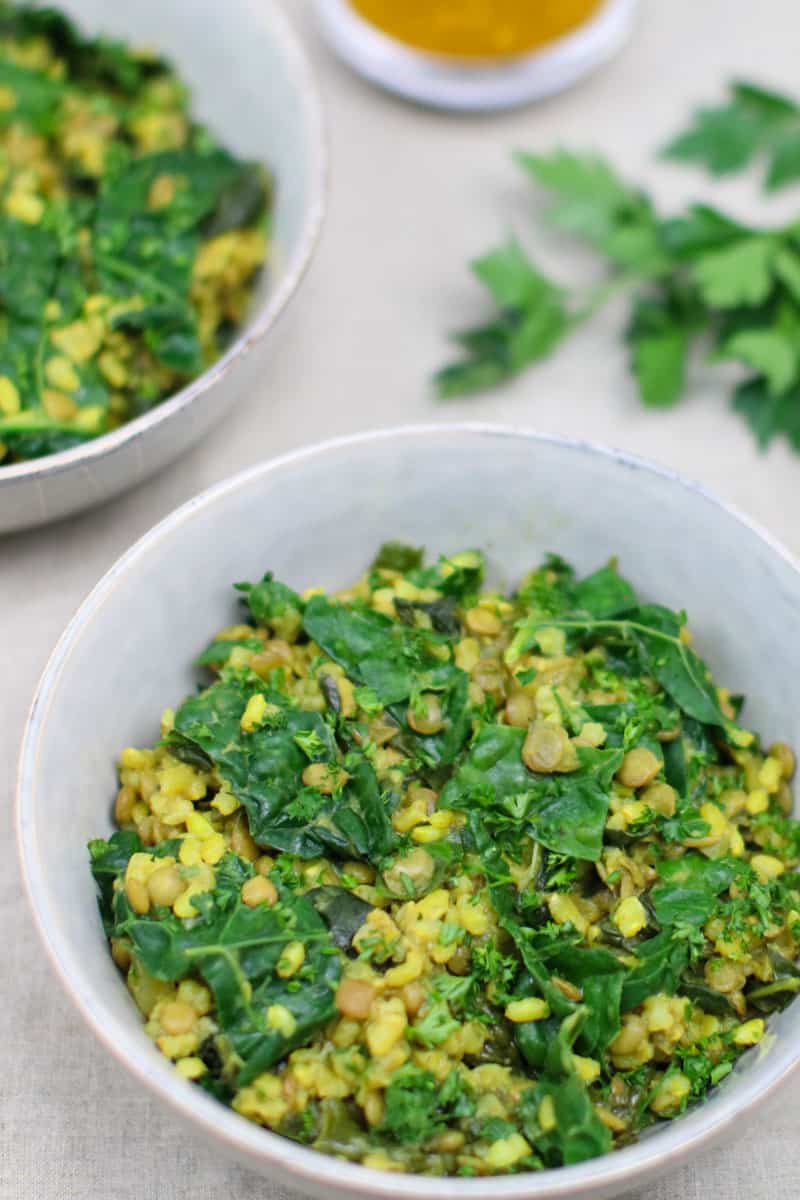 This 1-pot curried lentils and rice Recipe (and the 'protein combining myth')
When I first made this 1-pot curried lentils and rice recipe, I was glad to have a super tasty way for us to get a 'complete protein.' Because years ago, when I was vegetarian, I 'learned' that in order to get complete proteins, you have to combine beans or legumes with grains. Everyone knows that, right?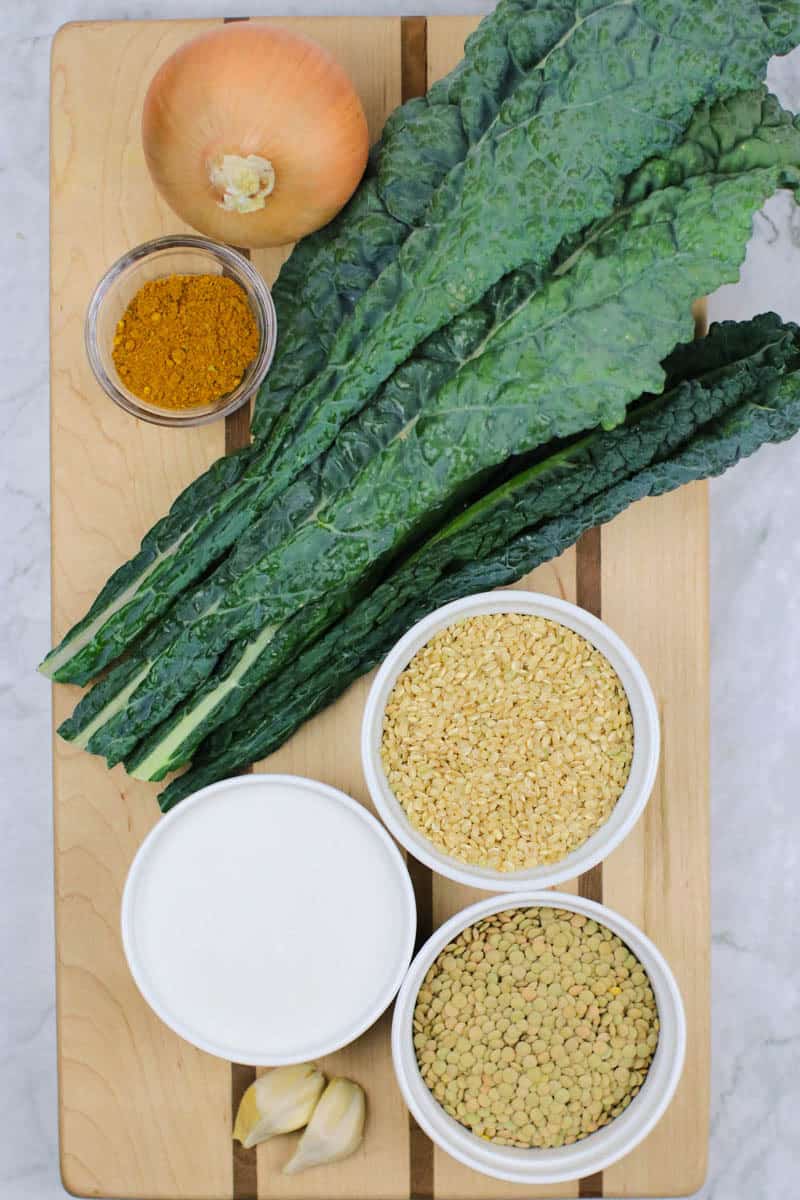 Turns out, that's wrong! While it's great that this vegan lentil curry dish also includes brown rice—because lentils and rice each offer unique health benefits besides protein—looks like folks promoting the 'protein combining myth' are, well, full of beans! Individually, beans, legumes and grains are already a complete protein source. Who knew?! And, holy wow vegans, what a relief!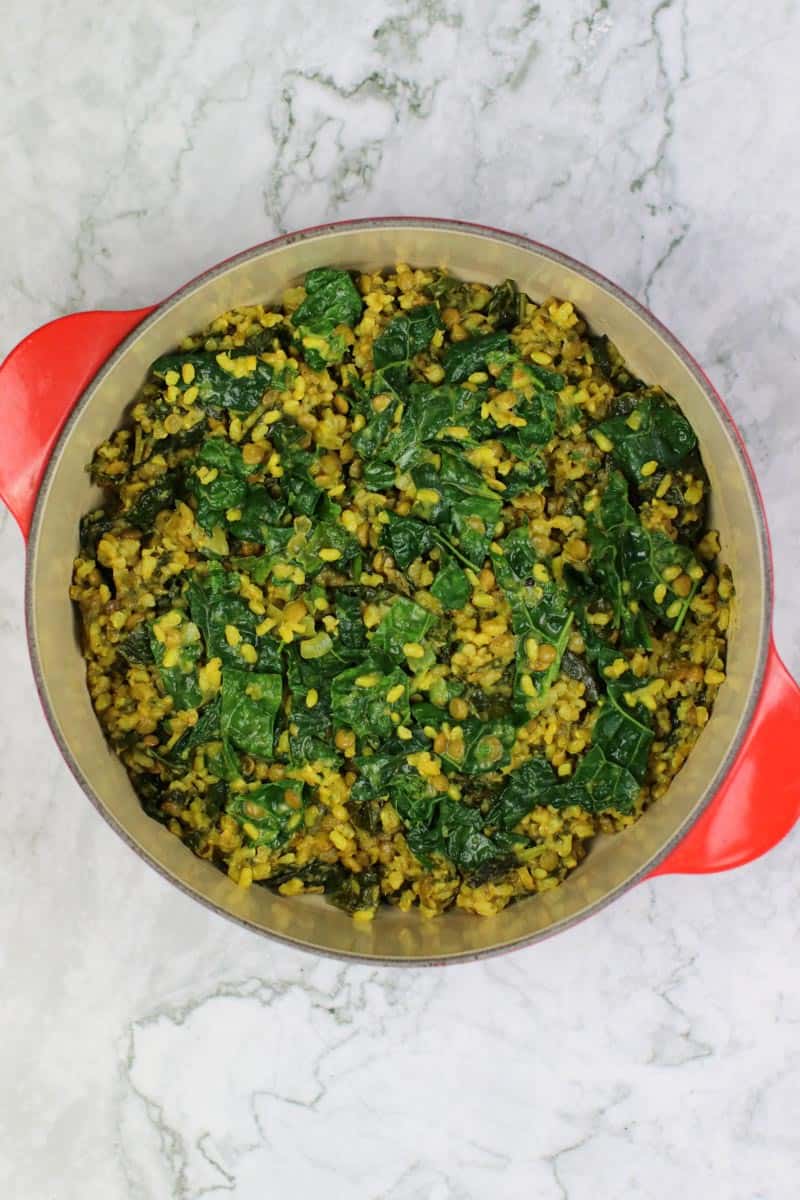 Kale or spinach work equally well in this recipe (SO many kale haters out there!), but I usually go for the kale. Why? Because not only does kale benefit the immune system, it's one of those veggies, like tomatoes (I know, tomatoes are actually a fruit!) that's even better for you when cooked. Great news for me, since I prefer my kale cooked anyway.
Of course you could skip the greens altogether and this 1-pot curried lentils and rice would still be perfectly wonderful. But why would you?! They're so gorgeous and good for you! Unless the fridge is empty and your stuck with what's in the pantry, go for the greens!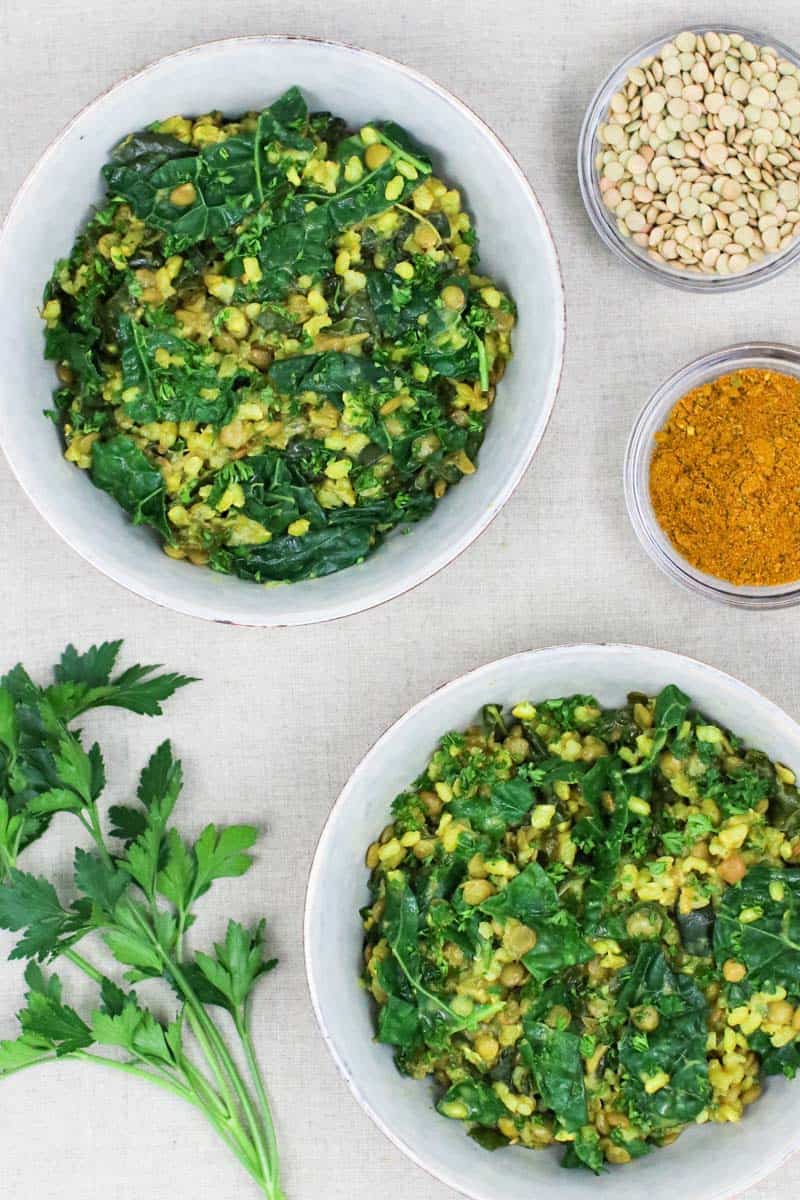 A Note About Saturated Fat
Hemant and I both have low 'bad' cholesterol, so I will occasionally (maybe once or twice a month) cook meals that include ingredients containing small amounts of plant-based saturated fats, like my sweet potato peanut stew or lemony lentil turnip chowder, just for the creamy texture they add.
Sorry for the buzz kill, but it's important to understand that any amount of saturated fat—even from plant-based sources—raises our bad cholesterol to some degree. So if you're working minimize or eliminate saturated fat in your diet, I'd recommend substituting 1 ¾ cups of plant milk. Plus, you can add a couple drops of coconut extract if you'd like. The texture won't be as creamy, but you'll still get the coconut flavor.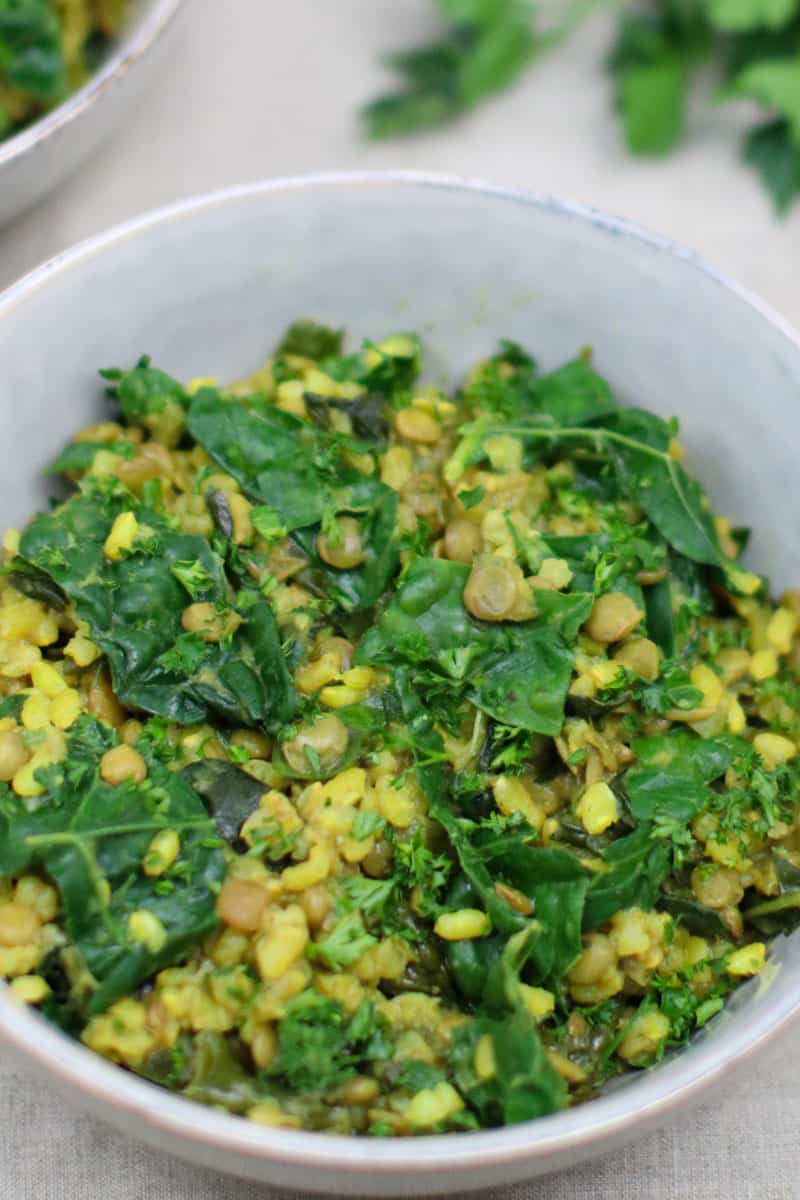 Kale, or spinach, or skip the greens altogether if you must. Coconut milk or no coconut milk. Just give this lovely 1-pot curried lentils and rice a go--I have a feeling you're gonna love it as much as we do.
If you like this whole food plant-based recipe, you might also like my Vegan Spanish Rice and Beans, Smoky Rice and Beans, Easy Coconut Lime Rice.
📖 Recipe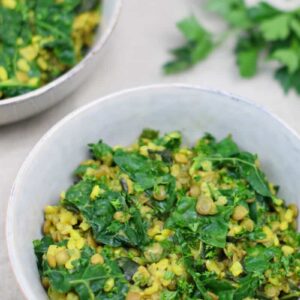 1-Pot Curried Lentils and Rice
An easy, 1-pot vegan lentil curry recipe made with healthy, whole-grain brown rice, antioxidant rich kale, plus sweet and creamy light coconut milk.
Print
Save
Saved!
Pin
Rate
Ingredients
1

yellow onion

diced

2

cloves

garlic

minced

2

teaspoons

yellow curry powder

or more, to taste

⅔

cup

brown or green lentils

rinsed

1

cup

short grain brown rice

1 13.5

oz

can light coconut milk

or sub 1 ¾ cups plant milk - see notes

1 ½

cups

water

½

pound

bunch of fresh kale or spinach

chopped (about 1 bunch - not baby kale/spinach)

½

teaspoon

sea salt

Optional: One cup chopped fresh parsley

¾ cup mixed in with the greens and ¼ on top for garnish
Instructions
Heat 1 tablespoon of water in a large pot or Dutch oven over medium heat. Add the onion with a pinch of salt and saute until translucent, about 5 minutes. Add the garlic and cook 2 minutes. Add a little water if things begin to stick.

Add the rice, lentils and curry powder. Stir well, and cook for 1 minute.

Add the water, coconut milk (or plant milk) and sea salt, and stir well. Heat everything to almost boiling, then reduce the heat and simmer, covered, for 30 minutes.

Add the kale/spinach (and parsley, if using - see notes), and mix everything together well, so that the greens are blended into with the hot rice and lentils and are beginning to wilt. Cover, and simmer for another 15 minutes or until the liquid is almost completely absorbed, the rice is cooked, and the kale/spinach is tender.

Remove from the heat and let rest, covered, for 5 minutes. The rice will absorb a little more liquid off the heat. Season with more sea salt, to taste, if needed.

Garnish with chopped fresh parsley, if desired.
Notes
• If you want to avoid saturated fat, you can replace the light coconut milk with plant milk. But if you do occasionally include light coconut milk in your diet, it adds a nice flavor to this dish.
• Depending on the size of your pot, you may need to add the kale/spinach about ¼ at a time. It will reduce in volume quickly as you stir it into the hot rice and lentils. Or, you can reduce the volume of kale/spinach before adding it to the pot by blanching it for a couple of minutes 1) in boiling water on the stove or 2) with about ¼ cup of water in a covered bowl in the microwave. Drain any remaining liquid before adding to the rice and lentils.
Nutrition (approximate)
Calories:
282
kcal
|
Carbohydrates:
46
g
|
Protein:
9
g
|
Fat:
5
g
|
Saturated Fat:
4
g
|
Sodium:
272
mg
|
Potassium:
515
mg
|
Fiber:
8
g
|
Sugar:
1
g
|
Vitamin A:
3775
IU
|
Vitamin C:
47.9
mg
|
Calcium:
91
mg
|
Iron:
3
mg