If you're a fan of vegan turnip recipes, look no further than this Lemony Lentil Turnip Chowder. It's creamy, lemony, and full of healthy ingredients.
If you've been searching for vegan or vegetarian turnip recipes--even if you've never tried turnips--I think you're gonna LOVE this soup. In fact, it's one of the most popular recipes on my site.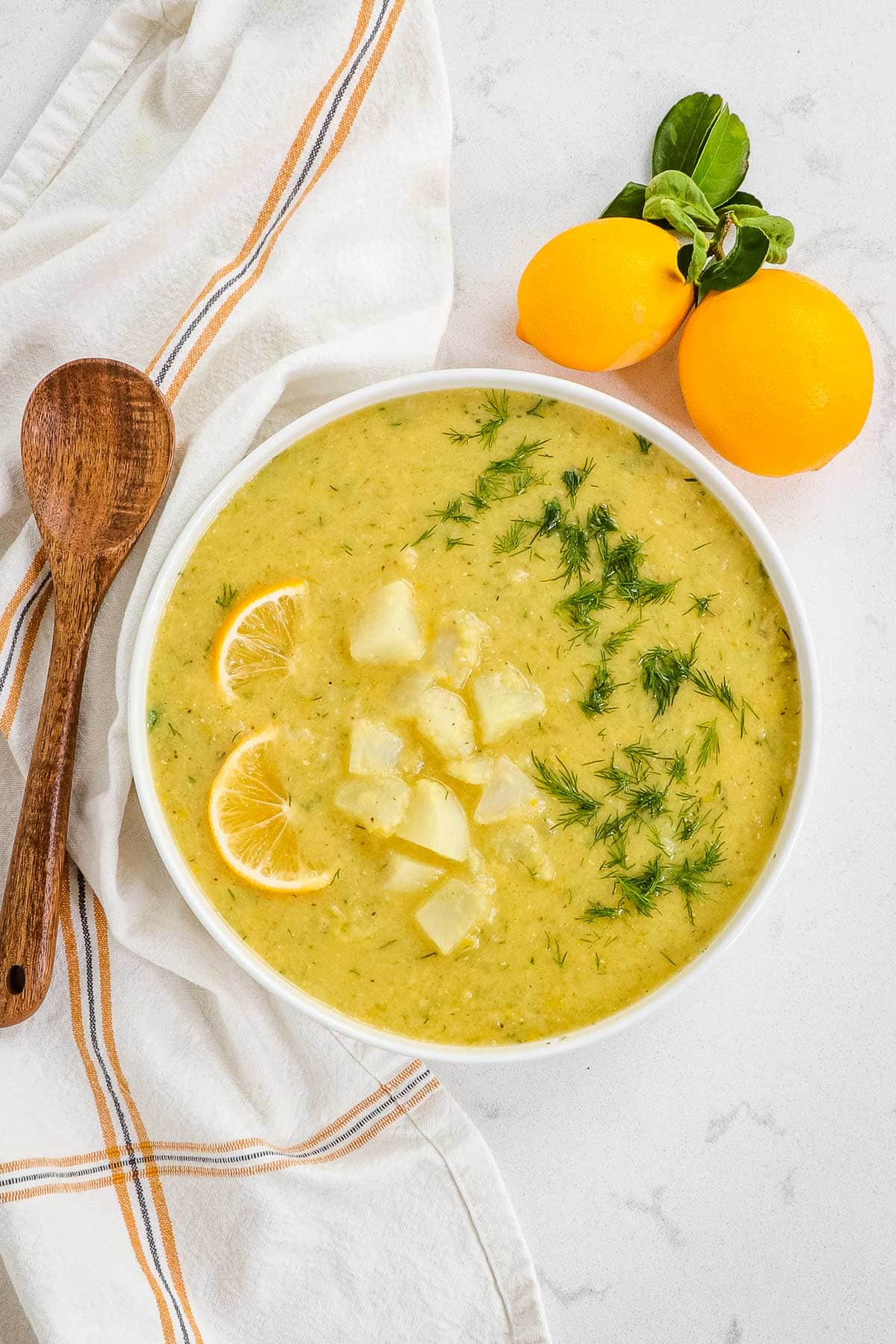 Jump to:
Why I love this simple vegan turnip soup
This chowder is made special by a tantalizing complement of tastes and textures.
Much like my lemony corn chowder, the tanginess of lemon and fresh grassiness of dill come together in a bright explosion of flavor in this soup.
A lite coconut milk + veggie broth base makes it creamy and just a bit rich.
And red lentils not only add fiber and nutrition, they cook up soft and yellow, which lends a thicker texture and lovely color to the recipe. (Check out my dal recipe for another golden-colored soup made with red lentils.)
Finally, the slight bite of the turnips (they taste a bit like a very mellow radish) add a perfect counter to the rich creaminess. YUMMY!!!
And of course, it's healthy. This recipe is dairy free, gluten free, and oil free. It does have a few grams of saturated fat from the coconut milk, but you can swap that out if you like.
Ingredients
turnips - I used white turnips, which are actually white and purple. Choose small to medium sized turnips for the best flavor.
red lentils
light coconut milk - or substitute plain, unsweetened plant milk
lemon - juice and zest
fresh dill - or use dried
yellow onion
garlic
celery
celery seed
vegetable broth - choose a light-colored broth with a mild flavor
pink Himalayan salt and freshly ground black pepper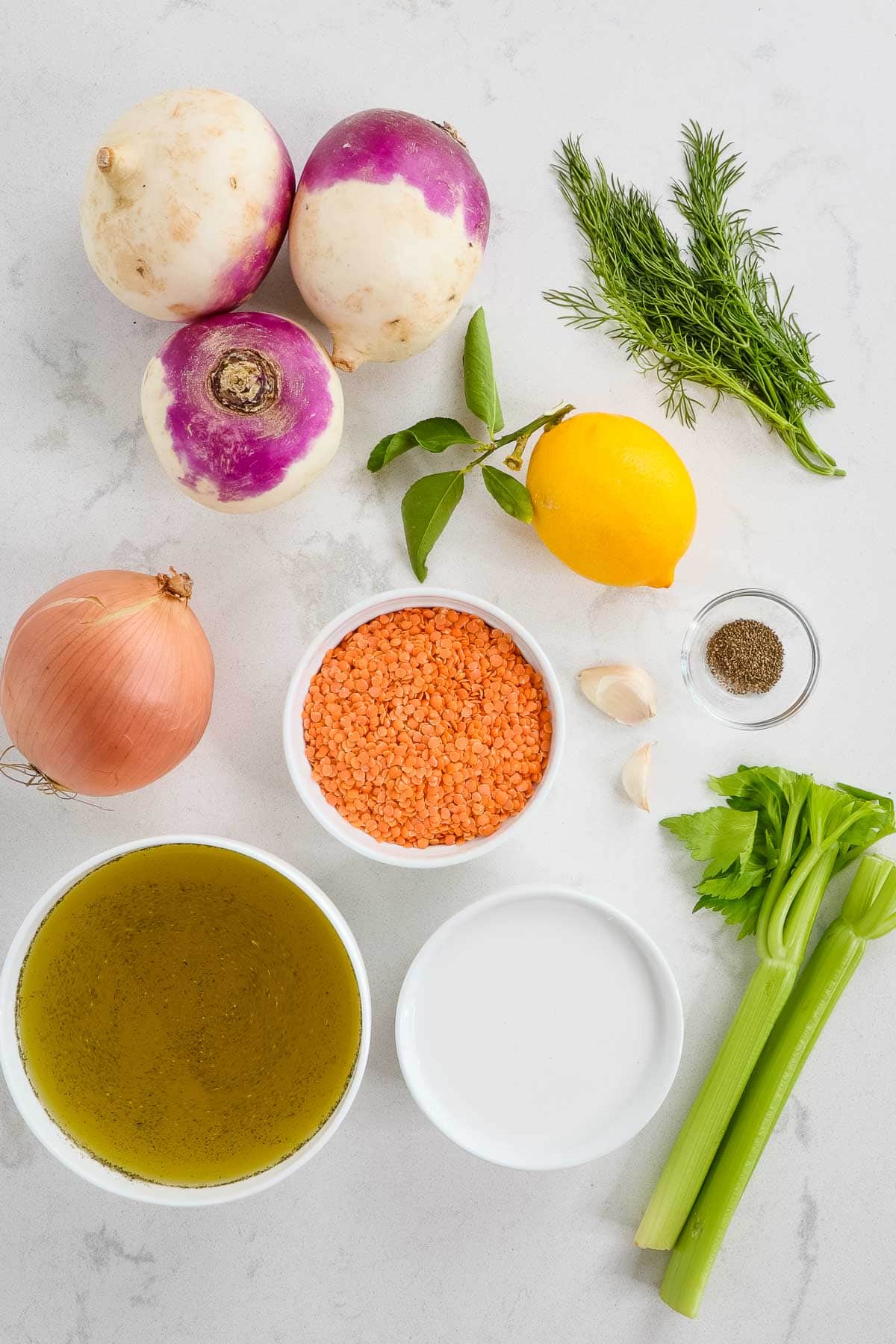 Why use turnips in this chowder?
Fruits and vegetables have unique nutritional profiles that offer different health benefits--and would you believe, our bodies are actually built with specific receptors for specific fruits and veggies? So yes, diversity in our diet matters!
So here, we mix things up a little by using turnips rather than the traditional potatoes one typically expects in a chowder.
I love turnips for their slightly bitter, almost radish-like flavor. I also consider it a bonus whenever I can incorporate ingredients from the produce aisle other than my old faves.
Step-by-step instructions
If you're a multi-tasker like me, you'll appreciate that you can do your prep in steps. For example, while the onions, garlic and celery are sautéing, you have time to dice your turnips and rinse your lentils.
Then, while the turnips and lentils are cooking, you can get out the blender, chop your dill, and squeeze and zest your lemon.
And before you know it, soups on!
Follow these photos and instructions to help make it great, every time. Please also see the full recipe card at the bottom of this page.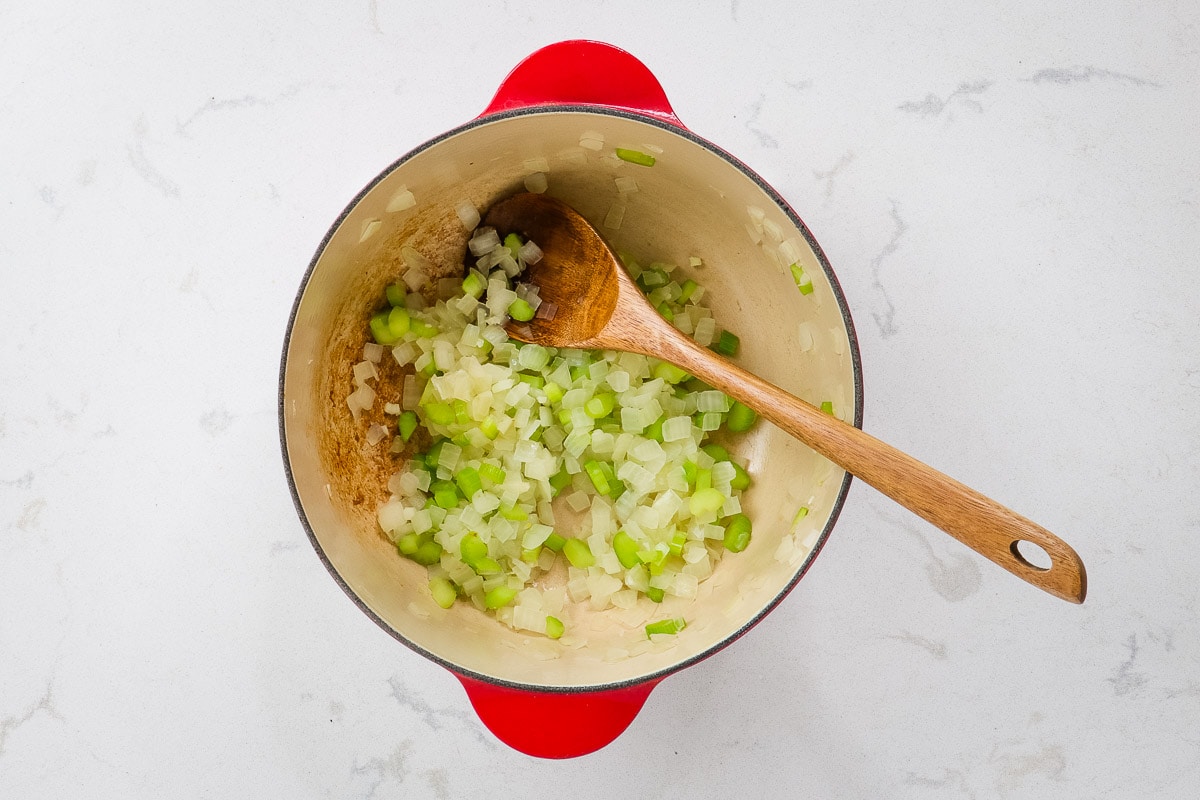 Step 1. Sauté the onion, garlic and celery.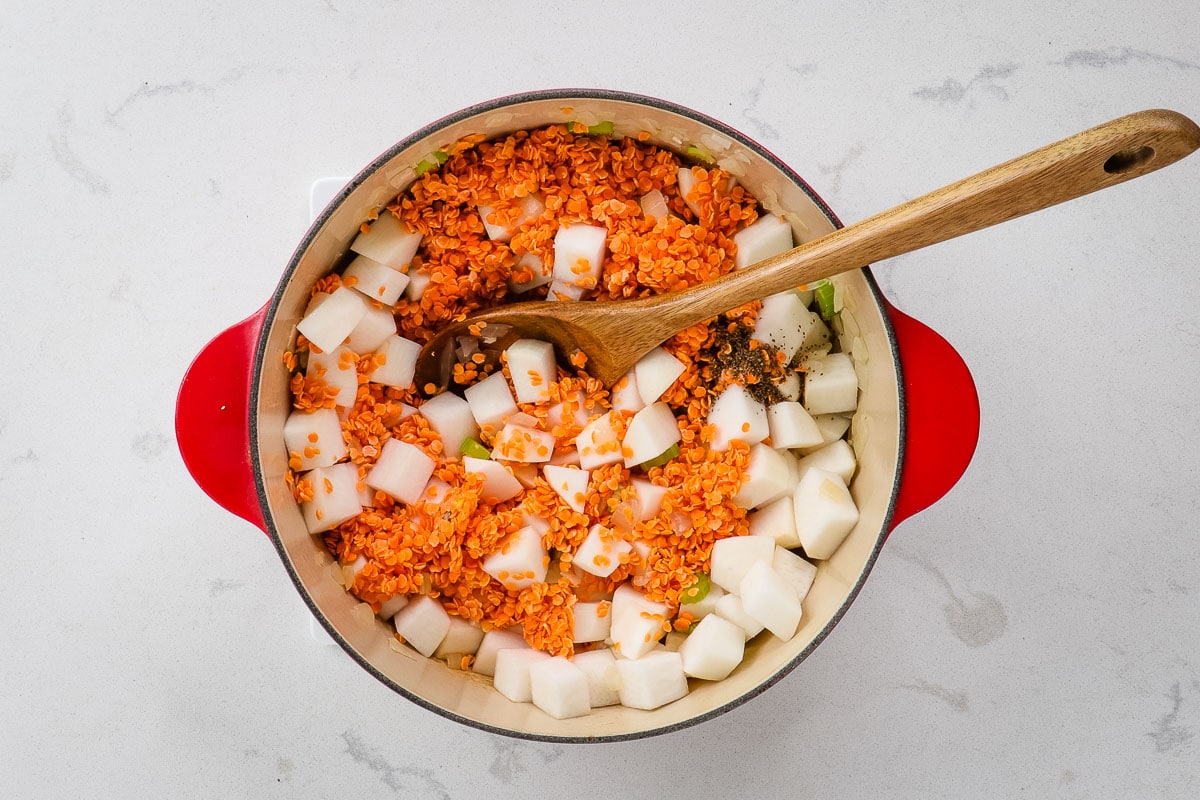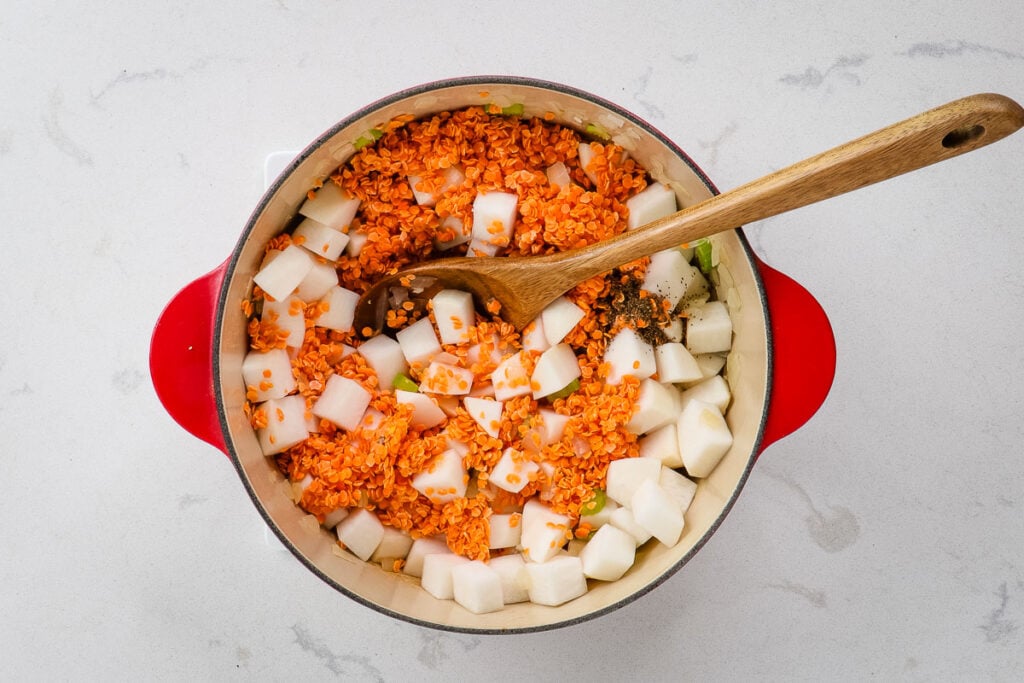 Step 2. Add the turnips, lentils and celery seed, and stir.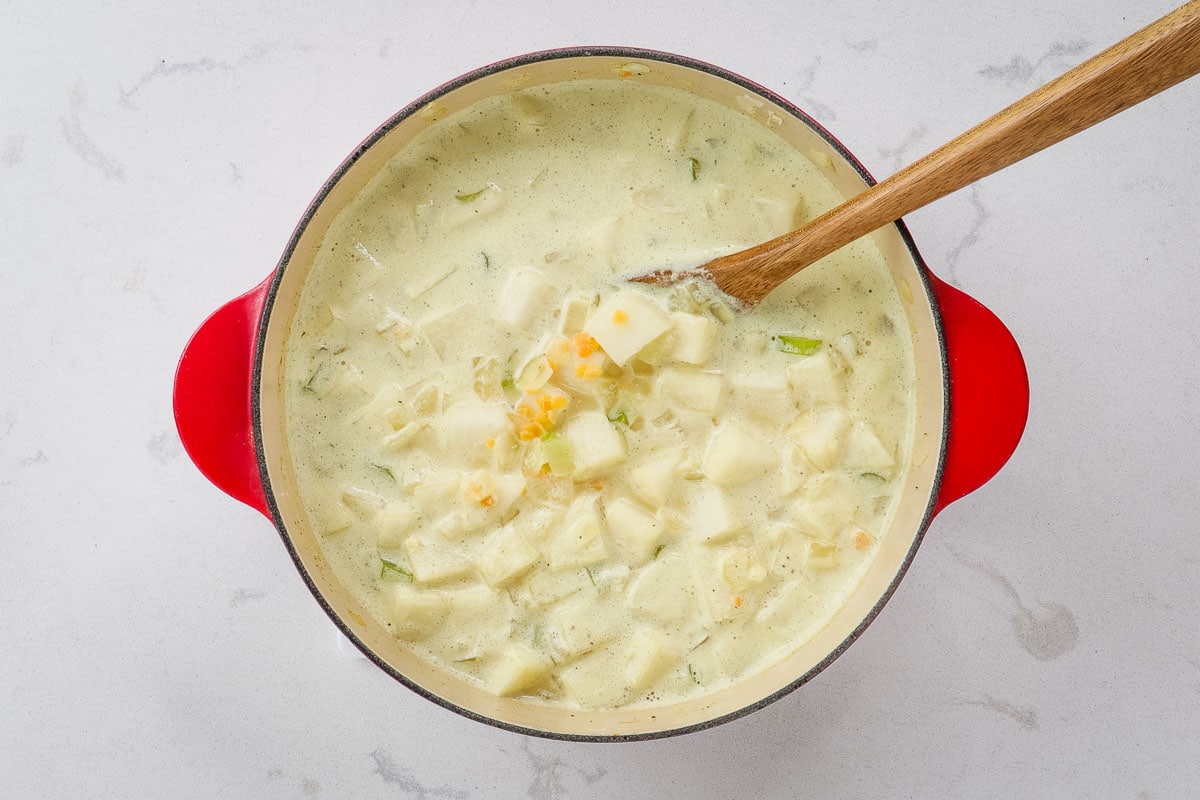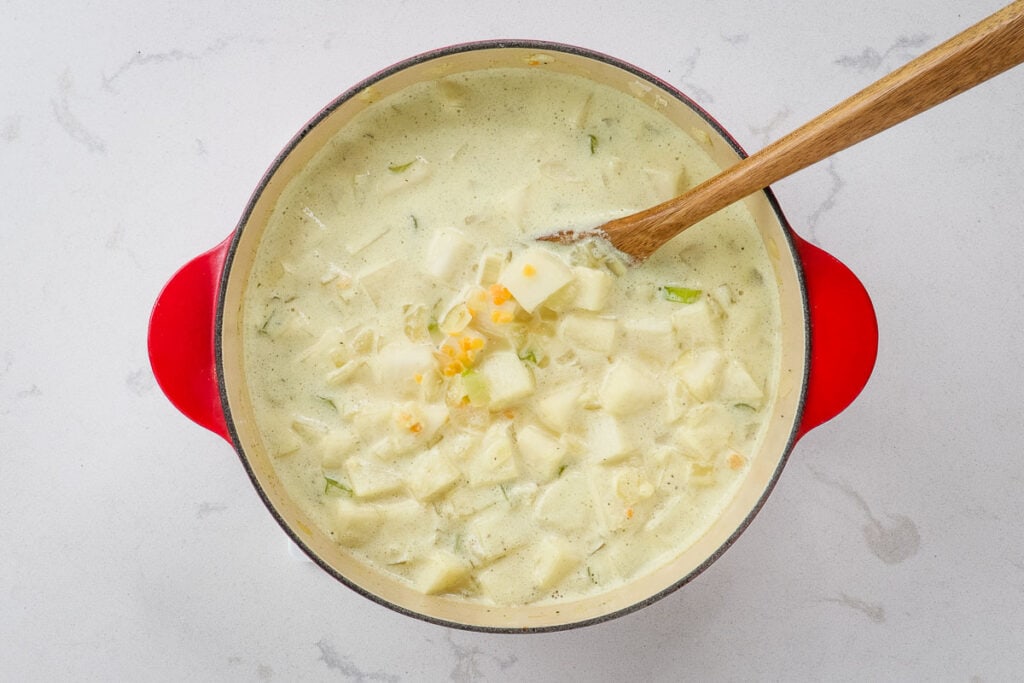 Step 3. Add the coconut milk and vegetable broth. Bring to a boil, then reduce to a simmer.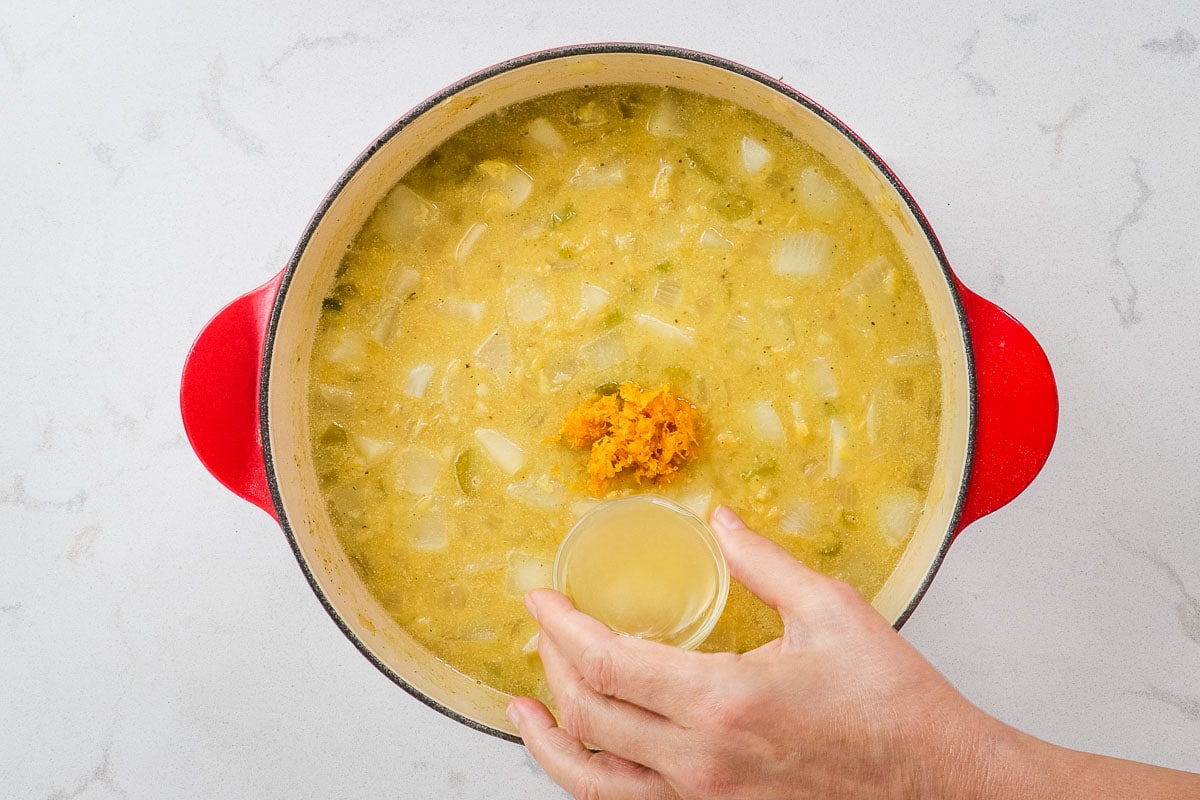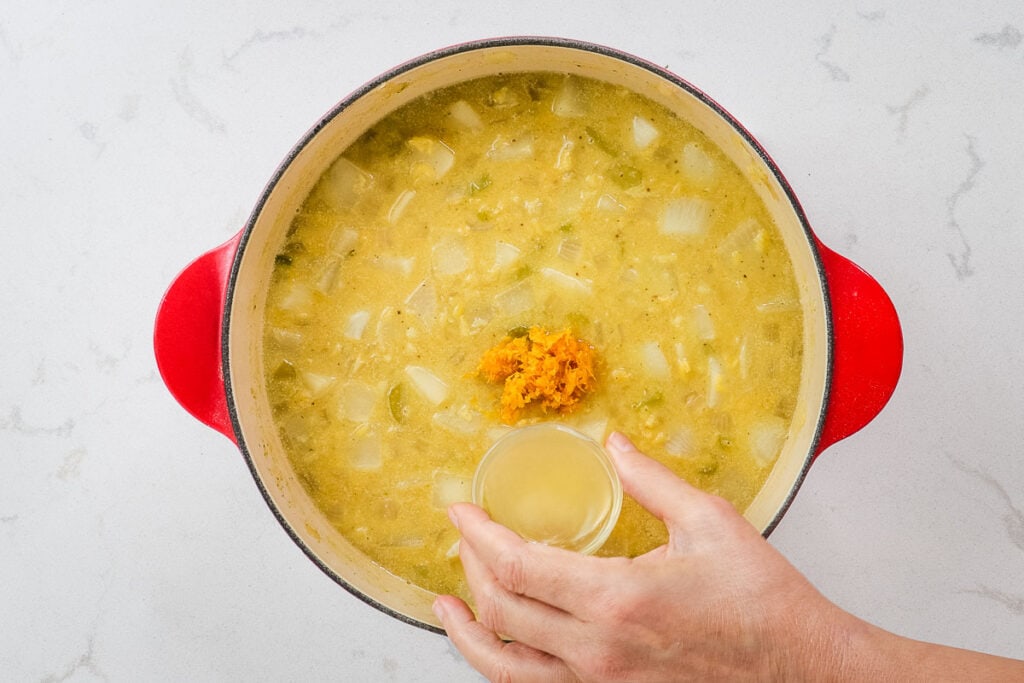 Step 4. Add the lemon zest and juice.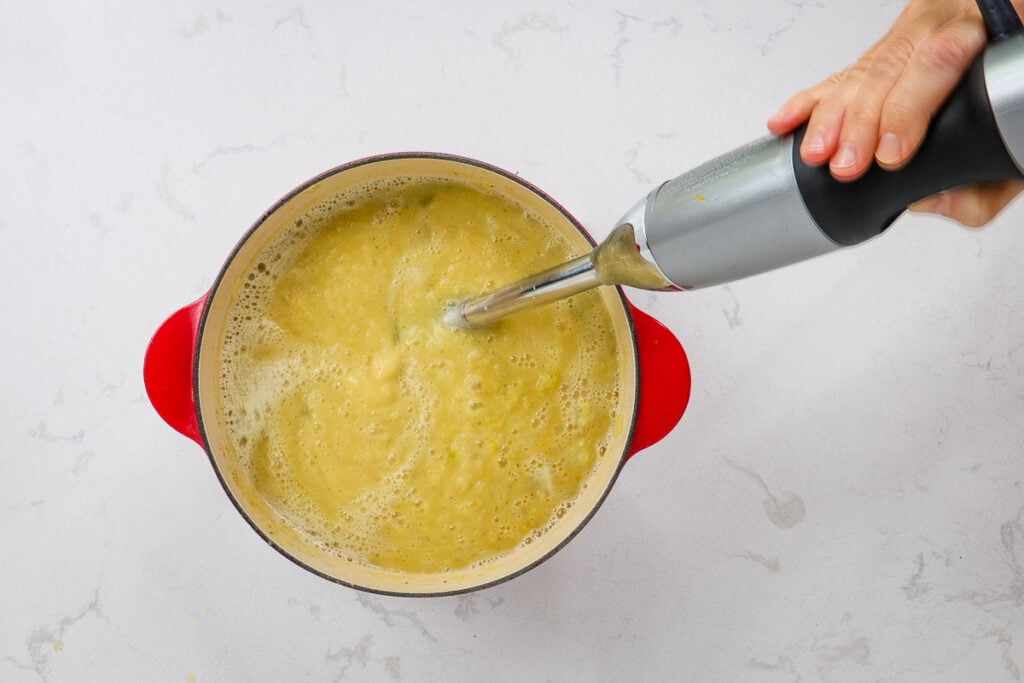 Step 5. Blend some of the soup in a blender, or use an immersion blender and blend in the pot.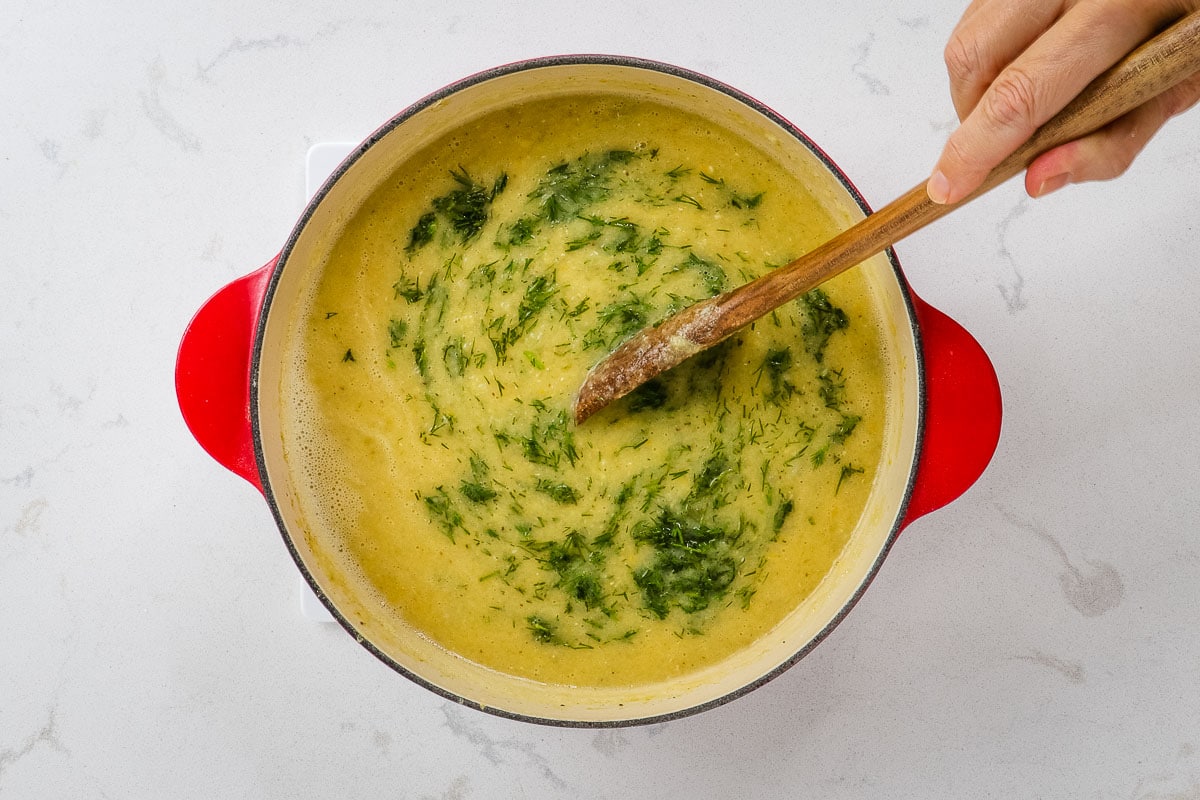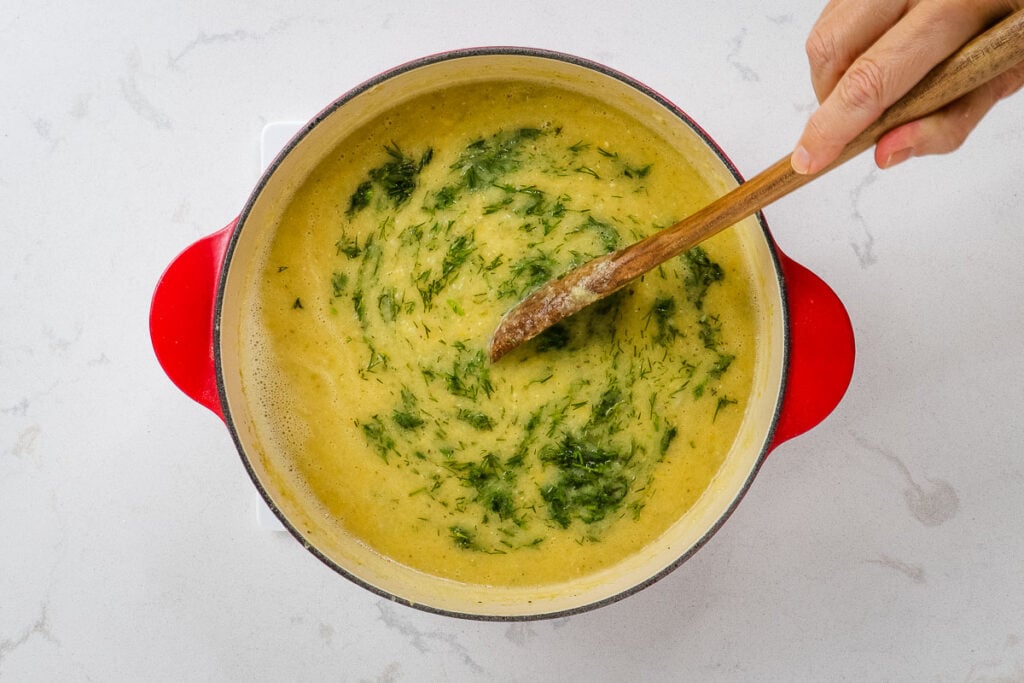 Step 6. Stir in the fresh dill and serve.
Pro tips
Immersion blender. For the quickest result with less clean up, use an immersion blender to process some--about half--of the soup until creamy, while leaving the rest chunky. To make sure you still have chunks of turnip (if desired), blend for only about 15-30 seconds.
Quality ingredients. Good ingredients are important in most recipes, but here, small to medium turnips that aren't too bitter or sharp, ripe lemons and the freshest dill you can find really pay off.
Taste your vegetable broth. Before making any soup with vegetable broth, taste it first to make sure you like the flavor. I find some packaged broths to be too strong or even a little bitter, especially when carrots are a main ingredient.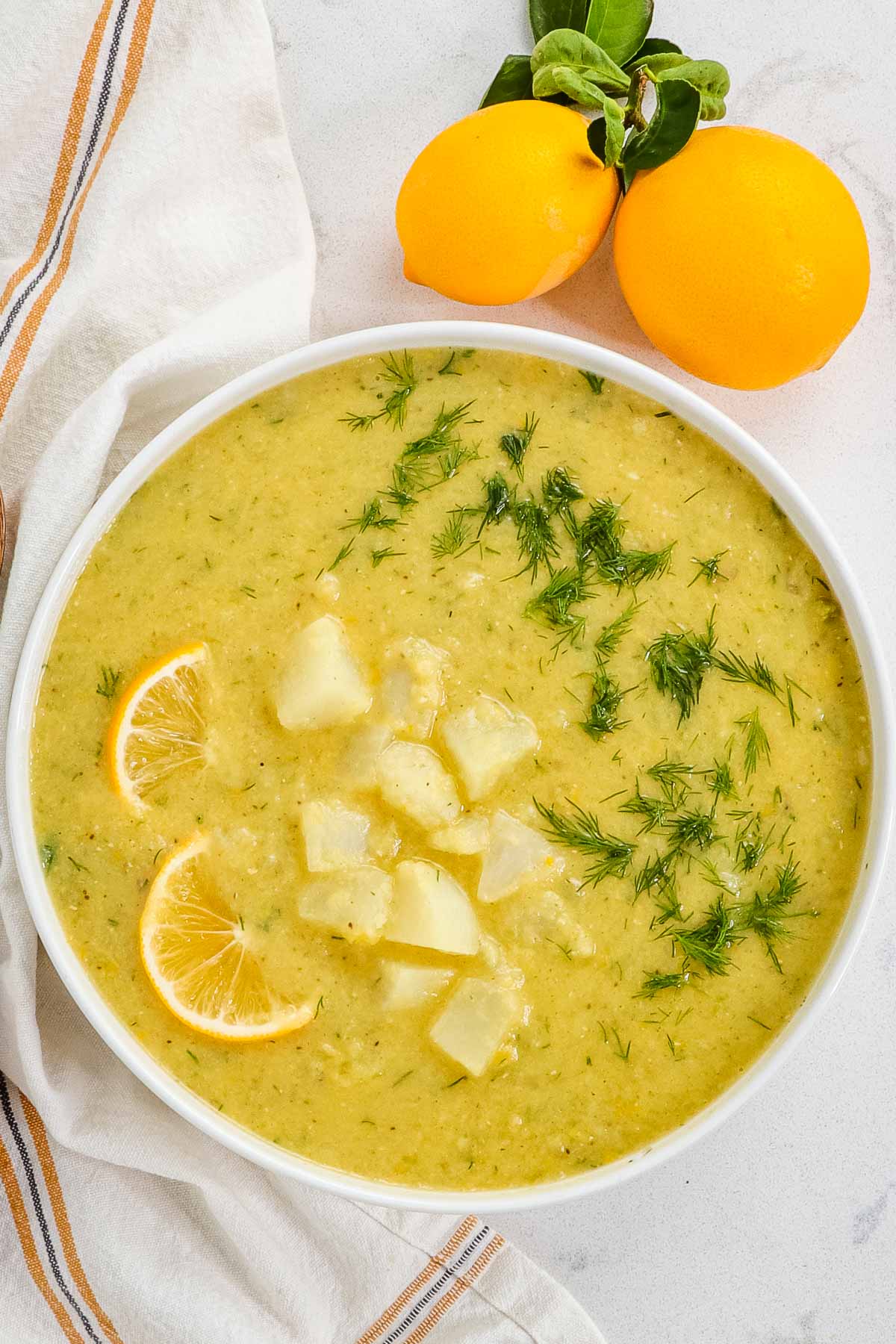 Substitutions and variations
Check out these ideas for ingredient substitutions, and creative ways to adapt this recipe to your liking. I haven't tried all of these myself, but please give them a try if you don't have everything you need on hand or just like to experiment.
Substitutions
Coconut milk. This is probably the most commonly substituted ingredient in this recipe, as some people need or desire to avoid all saturated fat. Plant milk works well, or just add more broth. You could also substitute some cashew cream (soaked cashews + broth processed in a high speed blender.
Turnips. I've used potatoes and they're great. Also, parsnips or celeriac would probably work well. You could try carrots, too.
Red lentils. I haven't tried this, but creamy white beans like cooked cannellini beans would likely work well here. (Make sure to use cooked, or you'll need to increase the liquid and the cooking time substantially if you use dried.) Yellow split peas might also work, but again, would require more liquid + longer cooking.
Onion. Leeks are a nice substitution in this soup.
Celery seed. I love the little extra zip in adds, but you can skip it or use a pinch of celery salt instead.
Variations
Turnip Leek Soup. As mentioned above, substitute leeks for the onion.
Carrot Turnip Soup. Add a couple of diced carrots for color and flavor.
Roasted Turnip Soup. For a deeper flavor, roast your diced turnips on a sheet pan at 400 degrees F for about 30-35 minutes, and add to the soup after the lentils are soft. You could roast your onion and garlic too, if you felt like it. I'd roast them in big pieces, then chop them up before adding them to the soup.
I like this chowder with a simple arugula salad. I think the peppery taste of arugula is the perfect complement to the slightly sharp turnips, the tangy lemon, and the creamy base.
You could also dollop on a spoonful of plant-based yogurt or almond ricotta cheese for even more creaminess.
For an even heartier soup, you could stir in some cooked whole grains like brown rice, farro, bulgar or barley.
FAQs
How do you cook turnips in soup?
Peel and dice them into bite sized pieces, then add them to your soup just like would potatoes. They have more fiber, so they need to cook slightly longer.
What do turnips taste like?
Turnips are somewhere between a potato and a radish in texture and flavor. They're a bit firmer and sharper than potato, with not quite as much bite as a radish.

They should not taste overly bitter, however. If so, you probably got your hands on a turnip that was too big or old.
How to store/freeze this recipe
Store this recipe in the refrigerator in an airtight container for 3-4 days. You can also freeze it for up to 3 months.
Happy, whole food plant-based cooking, y'all!
-Elizabeth xo
I LOVE hearing from you! Connect with me on Facebook, Instagram or Pinterest, or drop me a note in the comments.
More plant-based soups and stews
📖 Recipe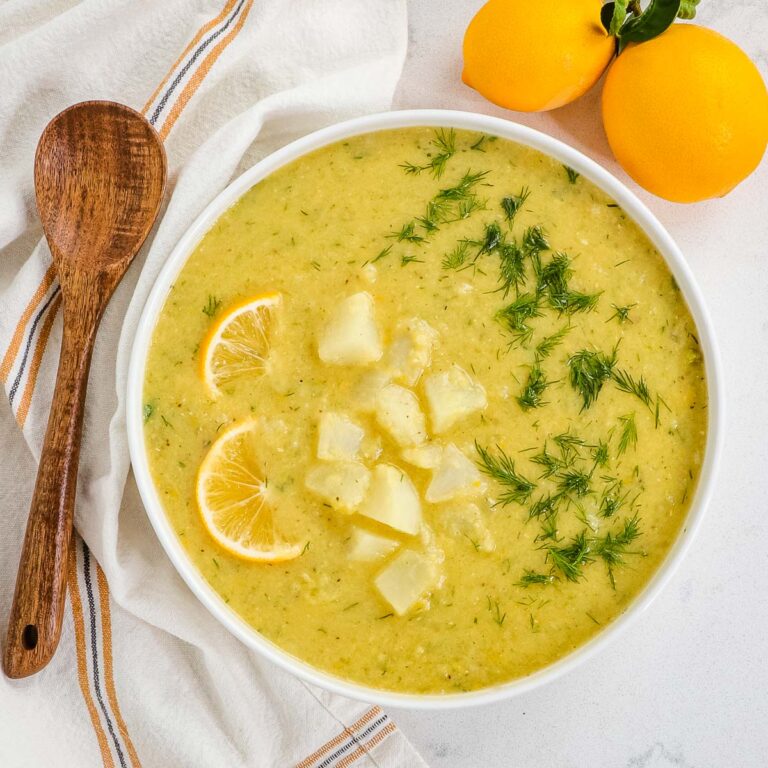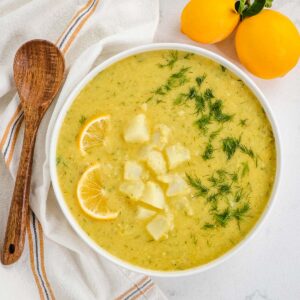 Lemony Lentil Turnip Chowder [Vegan]
Vegan Lemony Lentil Turnip Chowder is chock-full of spicy turnips and nutrition-packed lentils, with the classic, bright & tangy flavor combo of dill and lemon.
Print
Save
Saved!
Pin
Rate
Ingredients
1

onion

diced

2

cloves

garlic

minced

2

stalks celery

finely diced

1

pound

turnips

peeled and ½ inch diced (about 2 medium or 3 small turnips.)

1

cup

red lentils

¼

teaspoon

celery seed

¼

cup

loosely packed fresh dill

chopped (+ more for garnish, if desired)

3

cups

vegetable broth

1 13.5

ounce

can light coconut milk

(or sub plant milk if you need to avoid saturated fat - see notes)

2

tablespoon

lemon juice + zest of 1 lemon

about 1 lemon

pink Himalayan salt and freshly ground black pepper, to taste
Instructions
Heat 1 tablespoon of water in a large pot or Dutch oven over medium heat. Add the onion, garlic and celery, and sauté for 5 minutes or until soft.

Add the turnips, lentils and celery seed, and mix well until everything is coated and hot.

Add vegetable broth and coconut milk (or plant milk), and heat until it almost begins to boil. Then reduce the heat, cover and simmer until the turnips and lentils are tender, 15-20 minutes.

Add the lemon juice and zest.

Ladle 3 cups of the soup into a blender and blend on medium speed until just creamy, being careful to allow steam to escape. Don't over blend. Add the blended soup back to the pot. Or, use an immersion blender and blend half the soup in the pot-see notes.

Add the chopped dill, season with salt and pepper to taste, and stir.

Garnish with a few sprigs of fresh dill, if desired.
Notes
See the article above for more tips, substitutions and variations.
Saturated fat. If you want to avoid saturated fat, you can replace the light coconut milk with plant milk. But if you do occasionally include light coconut milk in your diet, it adds a nice flavor to this soup.
Blender. For the quickest result with less clean up, use an immersion blender to process some--about half--of the soup until creamy, while leaving the rest chunky. To make sure you still have chunks of turnip (if desired), blend for only about 15-30 seconds. But if you want to have complete control over how much soup gets blended, use a regular blender to blend half the soup.
Nutrition (approximate)
Calories:
201
kcal
|
Carbohydrates:
30
g
|
Protein:
8
g
|
Fat:
4
g
|
Saturated Fat:
3
g
|
Sodium:
578
mg
|
Potassium:
496
mg
|
Fiber:
11
g
|
Sugar:
5
g
|
Vitamin A:
415
IU
|
Vitamin C:
30
mg
|
Calcium:
54
mg
|
Iron:
2.8
mg