Red Lentil Dal Soup is a light and nutritious, 8-ingredient 30-minute meal you'll want to make over and over again.
My husband Hemant was born in India and grew up eating 'dal bhat' (a.k.a. lentils and rice), on a regular basis. His Mom, Usha, is a wonderful cook who makes a delicious yellow split pea dal. It's light and flavorful--nothing like the heavy Indian food you find a most U.S. restaurants.
While this is not her recipe, it's a super-simplified, oil-free version of the light yellow 'masoor dal' soup (red lentil dal soup) Hemant and I both love. If I were stranded on a dessert island and could choose only ONE dish to survive on, it would be this Red Lentil Dal Soup.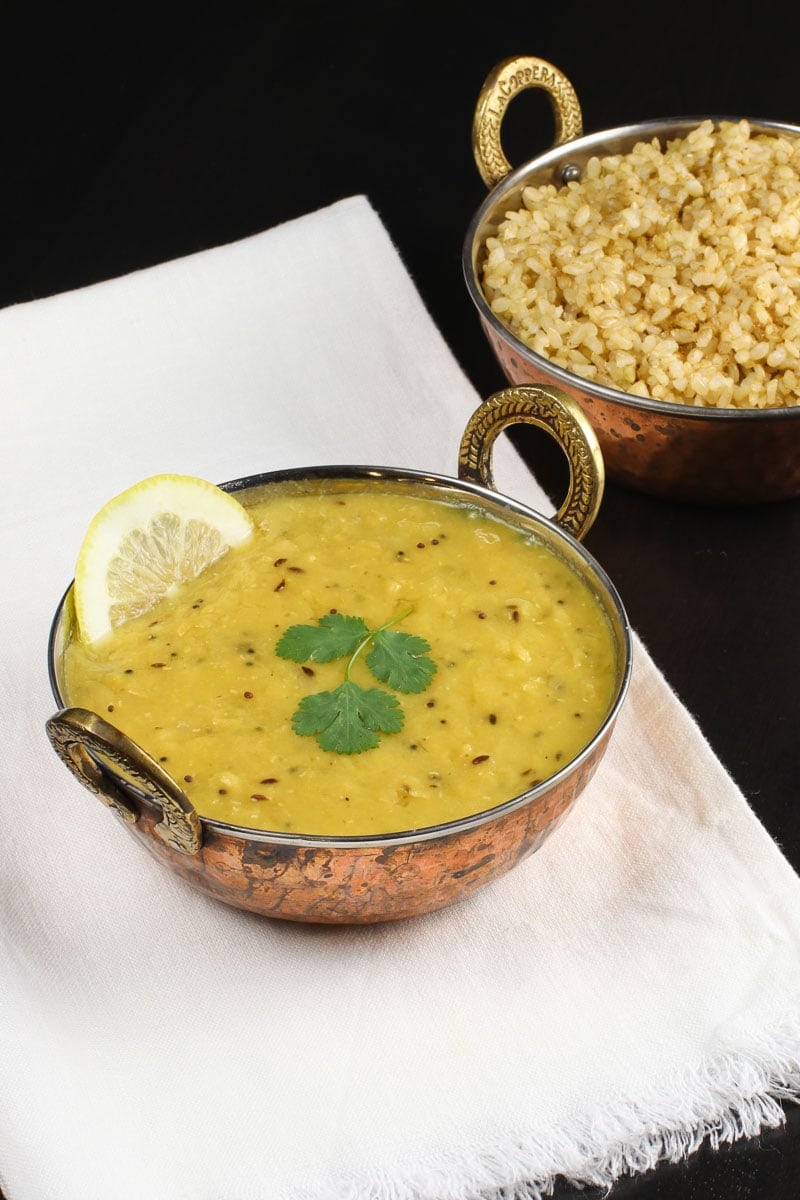 Just like my Instant Pot Chana Masala and Spinach Potato Curry recipes, this super-simplified, 8-ingredient version is meant to make this recipe approachable to anyone, whether you keep Indian spices in your pantry or not.
However, this dish is simply not the same without the tempered cumin and mustard seeds. They're worth investing in if you plan to make red lentil dal soup on a regular basis. And I think you will once you try it.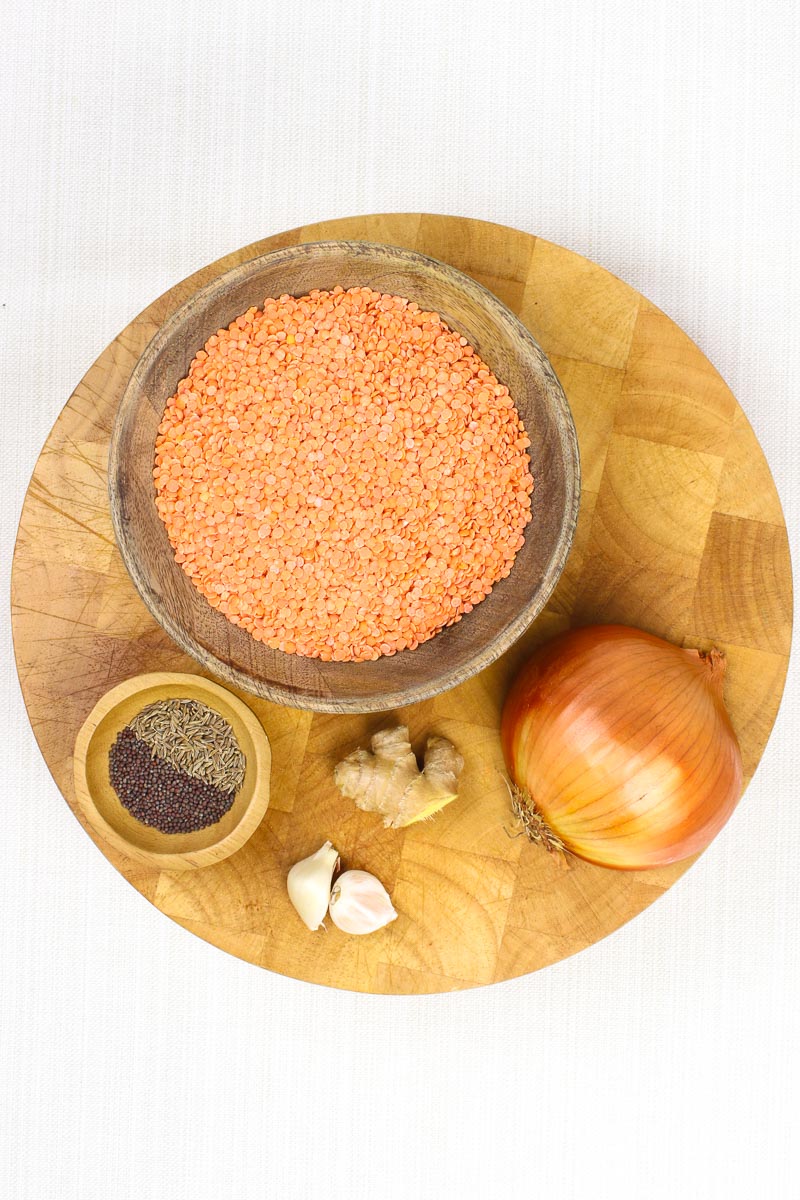 Why I Love this Red Lentil Dal Soup
I love this red lentil dal soup because it's so light and nutritious. In fact, lentils are one of the healthiest legumes you can eat, and red lentils are the healthiest lentil of all! So if you're going to eat one food over and over and over again, this dal soup is a great choice. Especially if you serve it with some healthy leafy green veggies.
In fact, red lentil dal soup is so incredibly versatile, I often toss spinach or kale right in the pot at the end and serve it with potatoes and rice. You can easily adjust its thickness by adding more or less water--so this red lentil dal can become a very thin, cleansing soup or a thick hearty stew.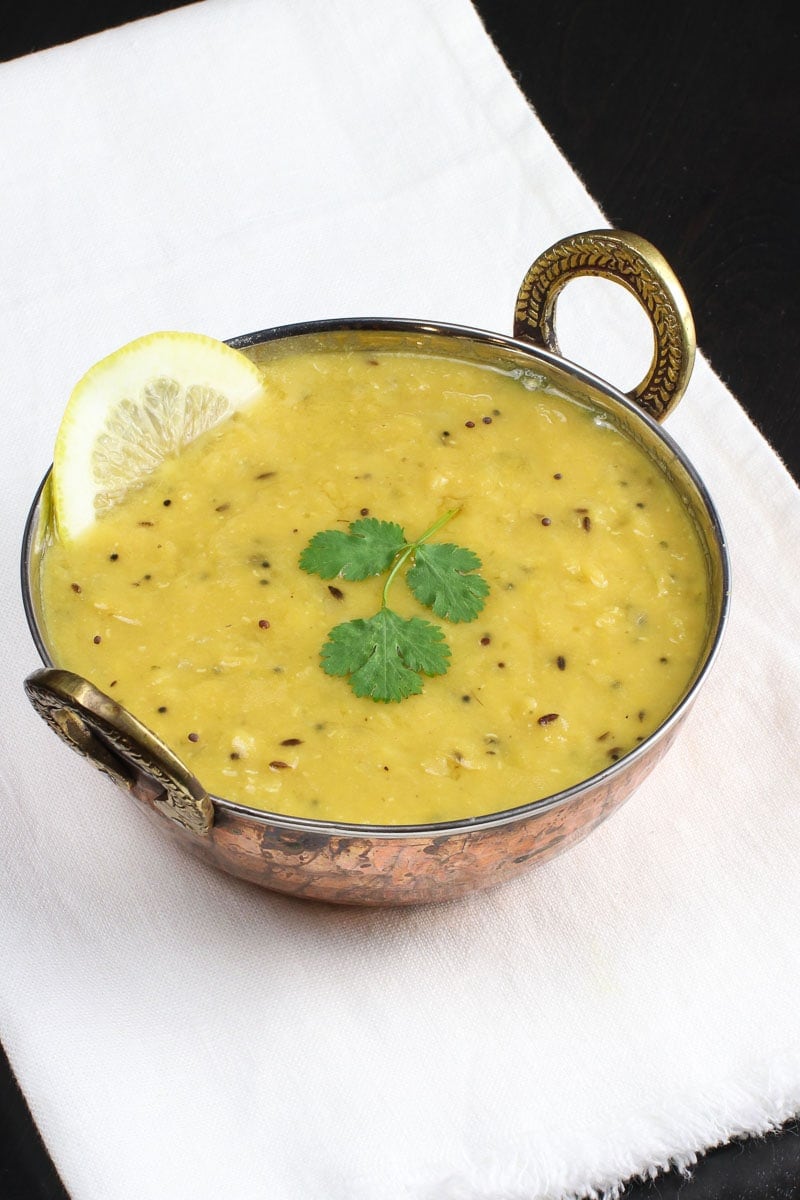 How to Make Red Lentil Dal Soup
There are two ways I know of to make dal. In one method, you cook ingredients like the onion, garlic and ginger separately and add them at the end. In this recipe, the dal is cooked like most traditional American style soups. You make the entire recipe in one pot, where you start by sauteing the the garlic, onion and ginger first, then add the lentils and liquid.
However, the cumin and mustard seeds will only fully release their flavors during tempering, so it's worth cooking them separately in a saute pan. In traditional Indian cooking, seeds are tempered in oil. But here at Chez-Shah we cook oil free. So we simply toast them in a dry pan as you would nuts or other seeds. (My job is to make the dal, and Hemant's job is to temper the spices.)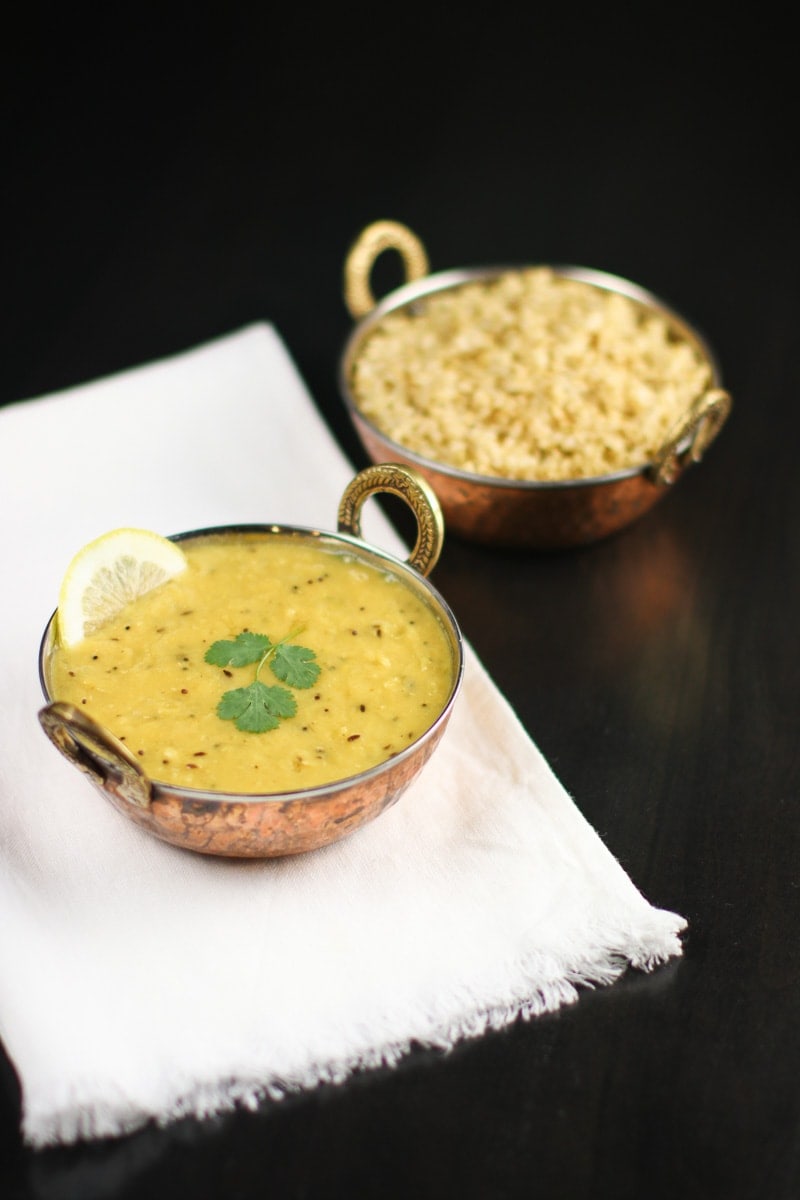 Another step I recommend is to blend about half of the soup before seasoning it. This dal cooks up pretty quickly, so the lentils don't completely break down and get mushy. It's okay to skip this step. But for me, it produces soup-texture perfection—a bit thick and creamy, a just little chunky. Heaven.
If you like this whole food plant-based recipe, you might also like:
📖 Recipe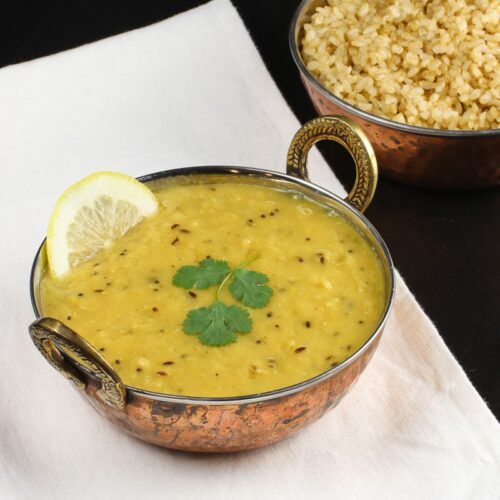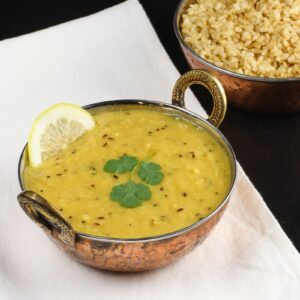 Red Lentil Dal Soup
Red Lentil Dal Soup is a light and nutritious, 8-ingredient 30-minute meal you'll want to make over and over again.
Print
Save
Saved!
Pin
Rate
Ingredients
½

large yellow onion

cut into 2 inch pieces

1

inch

knob ginger

peeled and quartered

2

large cloves garlic

peeled and smashed

1 ½

cups

red lentils

rinsed and sorted

4

cups

Vogue Cuisine Reduced Sodium Vegetarian (and vegan) Chicken Base

or other low sodium veggie stock

2

cups

water

1

teaspoon

cumin seeds

1

teaspoon

brown mustard seeds

Sea salt

to taste

½

large lemon

juiced

Optional Spices: ¼ teaspoon of cayenne pepper & turmeric, 1 teaspoon ground coriander

Optional Garnish: chopped cilantro leaves

Optional Accompaniment: brown rice and/or diced potatoes
Instructions
Place the onion, garlic, and ginger in a food processor, and process into a chunky pulp. (Or, finely dice the onion and mince the garlic and ginger by hand.)

In a large Dutch oven or pot, heat 1 tablespoon of water on medium heat. Add the onion , garlic and ginger, and saute for 5 minutes or until soft and fragrant. Add water a little at time if things begin to stick.

Add the lentils, and stir to heat through. Add the stock and water, turn the heat up to high, and bring to a boil. When just beginninng to boil, reduce the heat to medium low, cover, and simmer 12-15 minutes or until lentils are very soft.

While the lentils are simmering, temper the seeds. Heat a dry (no oil or water) saute pan on medium high heat. When hot, add the cumin seeds and brown mustard seeds. Heat for a few minutes until they pop and are fragrant, being careful not to burn them. (I cover the pan with splatter screen to prevent the seeds from popping out. )

When the lentils are cooked, blend about half of the dal in a blender (or use an immersion blender). Add the blended soup back to the pot. (This step is optional, but I recommend it.)

Add the tempered seeds and the fresh lemon juice to the pot, stir, add sea salt to taste, and serve.
Nutrition (approximate)
Calories:
176
kcal
|
Carbohydrates:
31
g
|
Protein:
11
g
|
Sodium:
634
mg
|
Potassium:
461
mg
|
Fiber:
14
g
|
Sugar:
2
g
|
Vitamin A:
350
IU
|
Vitamin C:
7.8
mg
|
Calcium:
37
mg
|
Iron:
3.7
mg