A simple, budget-friendly chickpea curry in a warming tomato-onion gravy. Just 8 ingredients and 10 minutes of active cooking time!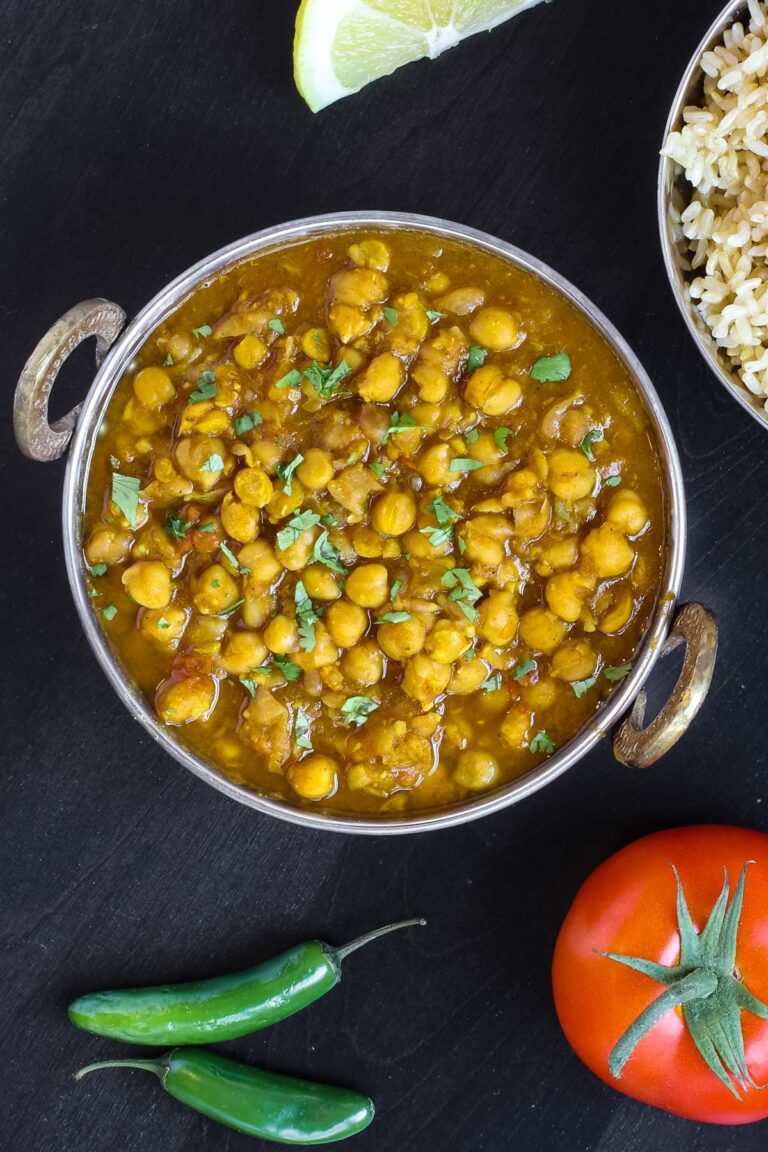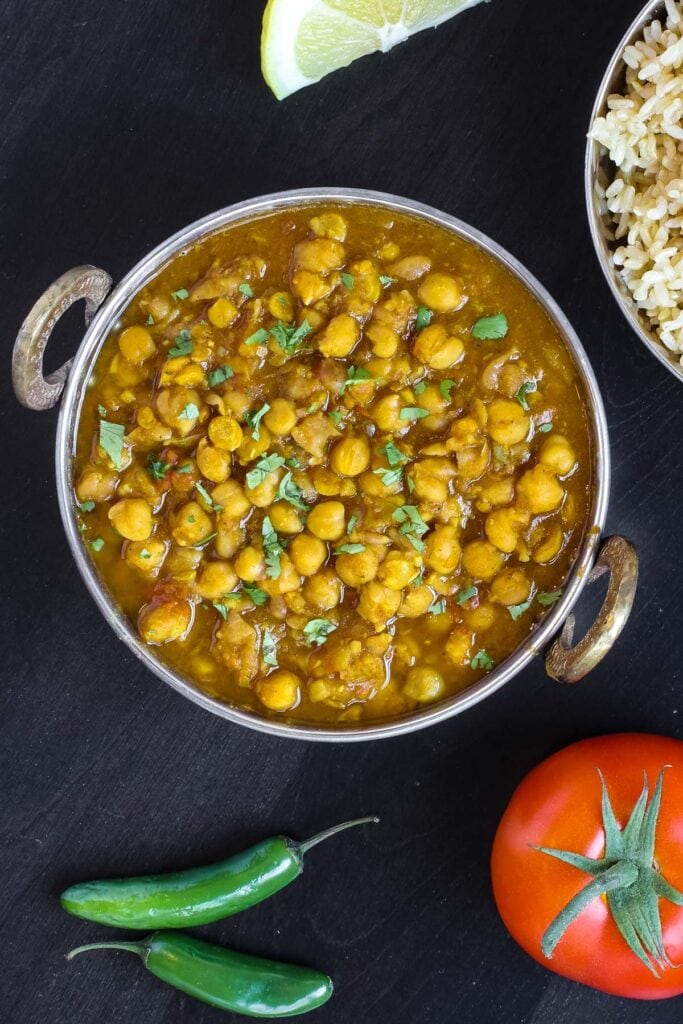 Why I Love this Instant Pot Curry
I love this vegan chickpea curry recipe because the Instant Pot makes it easy to use dried chickpeas. Canned chickpeas are a staple at our house. We use them in this Simple Chickpea Salad, Chickpea Cheese Sauce, 5-Minute Alfredo Sauce, —and eat them by the handful as snacks and salad toppers. I also used canned in my stovetop Butternut Squash and Chickpea Curry recipe.
But there's not much I love better than the creamy, soft texture of freshly cooked chickpeas. Unless it's a good curry. Here—we've got them both! Plus, cooking your own chickpeas from dried is about as budget friendly as it gets. (However, if you prefer to use cooked or canned, see the recipe notes for that substitution.)
Like my Red Lentil Dal recipe and my Spinach Potato Curry recipe, this may not be the most authentic Indian recipe out there. But it's quite simple, incorporating ingredients you should be able to find at your local grocery store.
What Makes this Instant Pot Chana Masala so Nutritious?
First, it's loaded with chickpeas, which along with lentils, are the healthiest of the legumes.
Second, all of the ingredients here are whole food, plant-based healthy, from the garlic, onion and ginger, to the cooked tomatoes, to the Indian spices.
If you're like me and you love chickpeas and curry, you can feel great about eating this meal All. The. Time.
How to Make this Easy Chana Masala in the Instant Pot
Like most Instant Pot recipes, this one's really easy, with mostly hands-off cooking. The prep takes only about 10 minutes, and the IP does the rest!
First, saute some diced onion, garlic, ginger and jalepeno pepper in the IP.
Second, stir in the spices.
Third, saute the chopped tomatoes.
Fourth, add the pre-soaked dried chickpeas and water, and let the IP do the rest. (Don't worry, I've got instructions for a quick pre-soak if you forget to soak your chickpeas the night before.)
Finally, serve with a little chopped cilantro and a squeeze of fresh lemon, if desire.
Expert Tips
Make sure you soak your chickpeas in plenty of water—they'll double in size when soaked. See the recipe notes for IP quick soak instructions if you forget to do this the night before.
It can be a bit tricky to control the saute temperature on the IP. I like to use the 'More' (high) setting, but you have to be careful the veggies don't burn. This is NOT the time to be hands off! Keep watching and stirring, and add a bit of water if things begin to stick.
I've found with the IP, it's best to stick to recipes as written. For example, I tried adding more tomatoes one night, and didn't get a good result. In my experience, the IP isn't quite as forgiving as cooking on the stove top since you can't adjust as you go, and don't see the result until the end.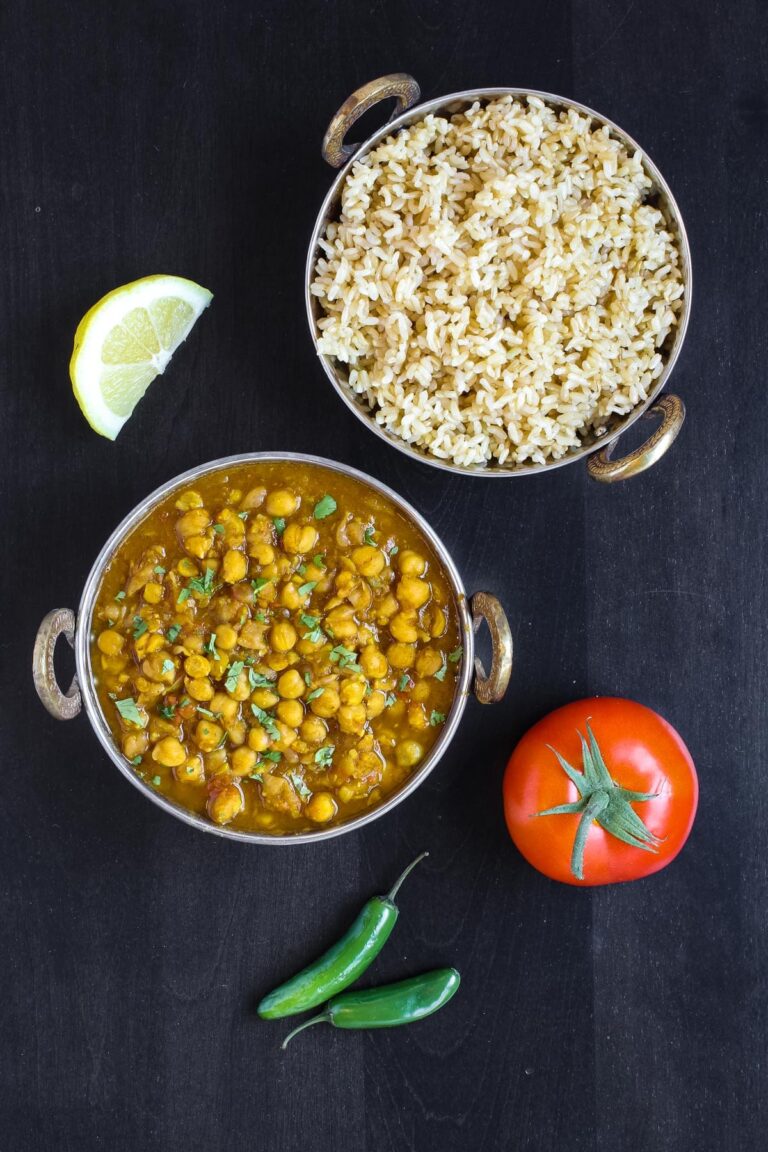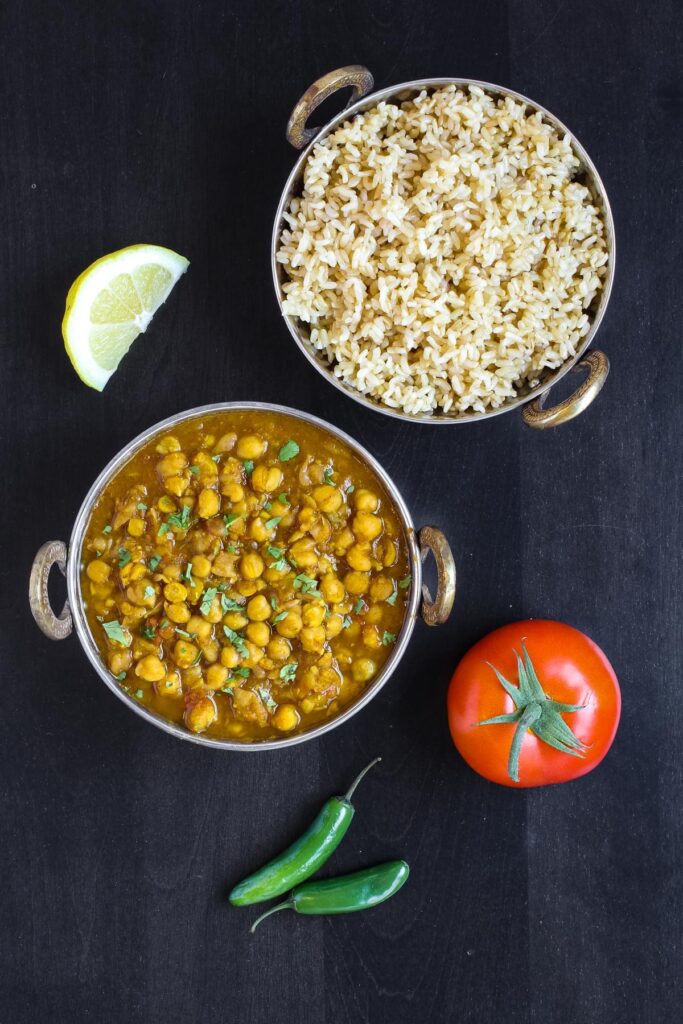 This chana masala Instant Pot recipe has quickly become one of those quick and easy, go-to favs at Chez Shah. I hope you love it as much as we do. Let me know what you think!
-Elizabeth xo
I LOVE hearing from you! Connect with me on Facebook, Instagram or Pinterest, or drop me a note in the comments.
📖 Recipe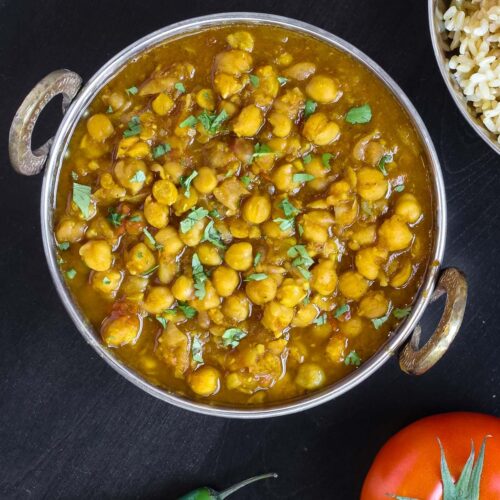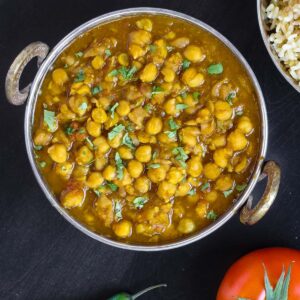 Instant Pot Chana Masala
A simple, budget-friendly chickpea curry in a warming tomato-onion gravy. Just 8 ingredients and 10 minutes of active cooking time.
Print
Save
Saved!
Pin
Rate
Ingredients
1

yellow onion

finely diced

2 inch

ginger knob

minced

3

cloves

garlic

smashed, peeled and minced

1

jalapeno pepper (or serrano chile)

seeded and finely diced

2

plum tomatos

cored and diced

1

tablespoon

Indian curry powder

(see notes)

1

teaspoon

garam masala

2

cups

dried chickpeas

covered in water and soaked overnight. Or substitute 2-15 ounce cans. (see notes)

2

cups

water

1

bay leaf

Sea salt to taste

Optional: 1-2 teaspoons amchur (ground mango) powder

(see notes)

Optional: Squeeze of lemon for serving

Optional: Chopped cilantro for serving
Instructions
Use the Saute feature of your Instant Pot, use the Adjust button to set the heat to More (high). Heat about a tablespoon of water, then add the onion and a pinch of salt and saute for 5 minutes. Add the garlic, ginger and jalepeno pepper and saute for 2 minutes. Add water a little at a time if things begin to stick.

Add the curry powder and garam masala. Stir to combine and cook for about 1 minute or until fragrant.

Add the tomatoes and saute until they're very soft and starting to fall apart, about 3-5 minutes.

Add the soaked chickpeas and water, and stir to combine. Add the bay leaf.

Turn off the Saute setting.

Close the Instant Pot lid, and make sure the steam release handle is in the Sealing position.

Cook on Manual (or Pressure Cook) mode for 30 minutes.

Allow the Instant Pot to do a Natural Release for 10 minutes. After 10 minutes, do a Quick Release--carefully move the steam release handle to the Venting position to release the additional steam until the float valve drops down. Press Cancel and open the lid.

The chana masala will thicken a bit as it rests. But if desired, you can thicken it more by sautéing a few minutes on medium heat. Add sea salt to taste.

Serve with a squeeze of lemon and chopped cilantro, if desired.
Notes
To soak dried chickpeas: Cover them in enough water so there are several of inches of water at the top of the bowl/container, and let them soak at least 8 hours or overnight. (I use 6 cups of water to 2 cups of chickpeas.) To quick soak chickpeas the Instant Pot. If you forget to soak your chickpeas, you can do a quick soak method right in the Instant Pot. Simply cover 2 cup of dried chickpeas with 6 cups of water and cook them in the Instant Pot for 2 minutes. Let the pressure release naturally for 10 minutes, then move the steam release valve to Venting to release any pressure. Rinse and drain the chickpeas, and now they're ready to cook as if they've been soaked overnight. To use canned/cooked chickpeas. Use 2-15 ounce cans of chickpeas, drained. Reduce water to ¾ cup. Cook on high pressure for 10 minutes, and do a quick release. Curry powder is not traditional in this dish, but has many of the same spices as most chana masala recipes. It's delicious in this dish--and a great short cut if you don't keep a selection of Indian spices on hand. To save time, you could process the onion in a food processor. While the onion is sauteing in the IP, process the ginger, garlic and green chili pepper in the food processor and add it to the sauteed onion. Amchur, or ground mango powder, is considered by many to be essential in an authentic chana masala recipe. I didn't include it because it may not be readily available for everyone. But please give it a try if you want to buy it online or at a local Indian grocery. If using, add it with the other spices.
Nutrition (approximate)
Calories:
267
kcal
|
Carbohydrates:
46
g
|
Protein:
14
g
|
Fat:
4
g
|
Saturated Fat:
1
g
|
Sodium:
24
mg
|
Potassium:
738
mg
|
Fiber:
13
g
|
Sugar:
9
g
|
Vitamin A:
421
IU
|
Vitamin C:
13
mg
|
Calcium:
88
mg
|
Iron:
5
mg