I've been on a bit of a chickpea kick lately. Ever since creating Chickpea Cheese Sauce (for you readers asking for a nut-free cheese sauce), I've been so excited by the possibilities. What other delicious, low fat, high fiber sauces might I whip up with the help of the mighty little chickpea? This 5-Minute Chickpea Alfredo Sauce is a luscious, much healthier alternative to the infamous cream sauce I always wanted to love, but couldn't.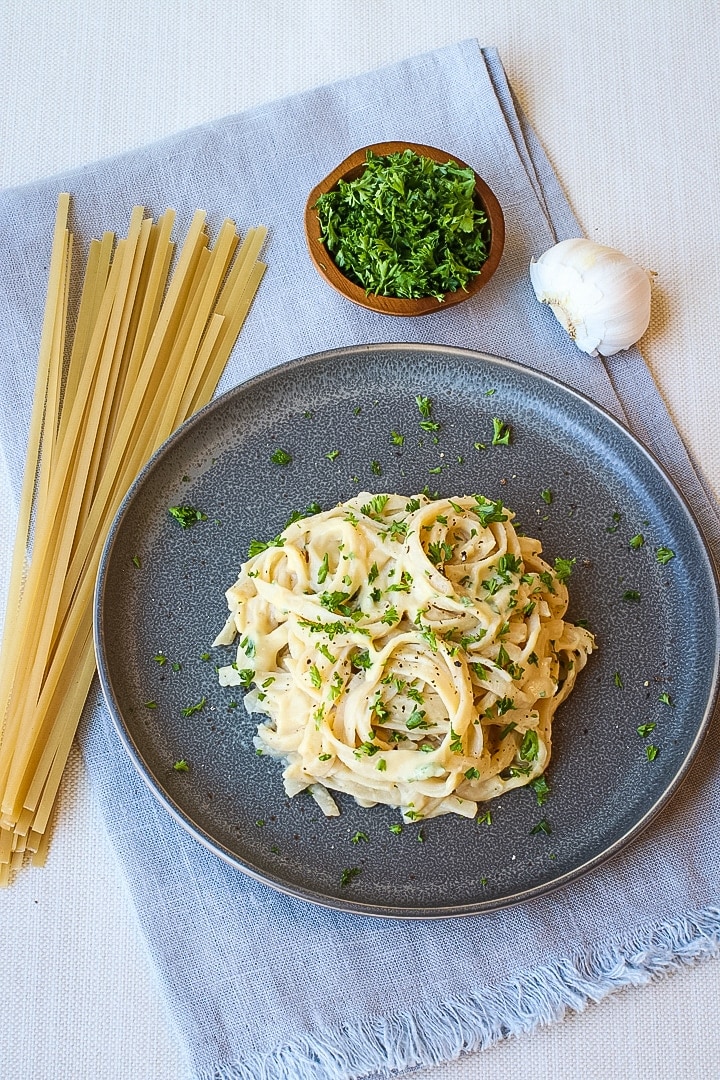 Why I love this Alfredo pasta sauce
I say 'infamous' because in the past, I've had a love-hate relationship with Alfredo sauce. I'd see it on a restaurant menu , but if I dared order it, I'd feel sick before I got halfway through my meal. My palate said yes, but my body said UMMM, THAT'S A HARD NO.
So, I'm loving this 5-minute vegan Alfredo sauce. Not only is it lightening quick to make, it's a delicious, satisfying alternative to the super-unhealthy traditional dish. This Alfredo leaves me feeling 'light' enough to take the dog on a long, post dinner walk--even if I eat a heaping portion.
There are plenty of vegan Alfredo sauces out there, so what makes this one different? I love the idea of using veggies to make Alfredo sauce (I've seen versions with cauliflower, potatoes, etc.), but this one requires practically no cooking.
And it's uber healthy since chickpeas--along with other beans and legumes--are life promoting foods we should be eating every single day. (In fact, according to Dr. Greger's Daily Dozen, we should get 3 servings.)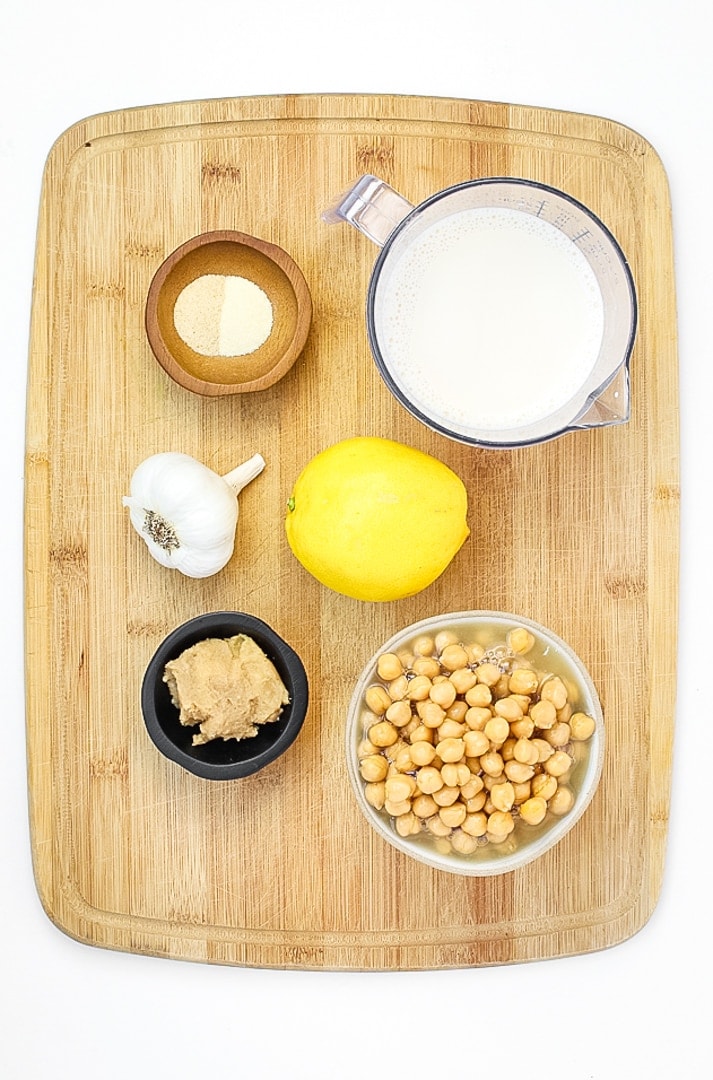 How to make Alfredo sauce with chickpeas
At just 5 minutes give or take to prepare, it's about the quickest dinner recipe I can imagine other than slapping some avocado and beans on toast. Your healthy, homemade sauce will be finished long before you can get your pasta water boiling.
You basically toss 7 ingredients into a blender, pulse for a couple of minutes until creamy, and pour it into a pan to gently cook the garlic a bit. In a pinch you could even skip this step and just throw the sauce from the blender right onto your pasta if you don't mind your garlic hot and raw. (Don't skip cooking if you make the white wine version—you need to cook off the alcohol.)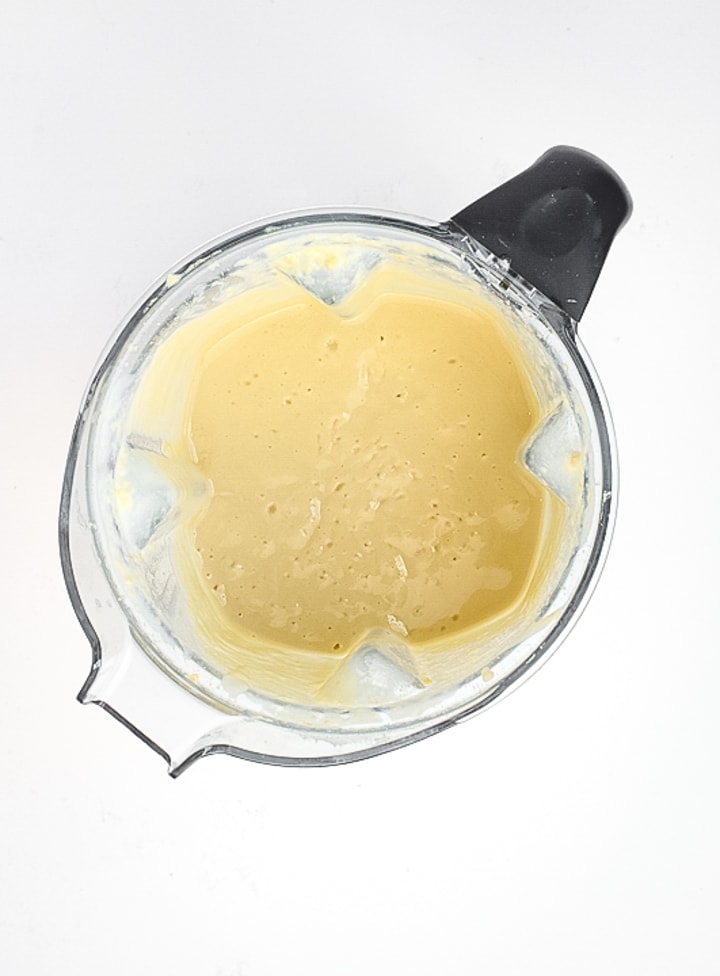 How to make vegan Alfredo pasta sauce with no cashews
A good cashew sauce is so welcome when you're vegan, unless of course you have a nut allergy or have to watch your fat intake closely. In that case, a low fat, nut free sauce like this one can feel like a gift from the heavens. And we should all be watching our overall fat intake. (I shoot for 10% max.)
Ever since I started making chickpea sauces, I find I'm eating fewer nut cheeses and nut sauces. I feel like I get that same creamy fix and a similar mouthfeel, in an even healthier way. Chickpea sauces are kind of becoming my 'every day' sauces.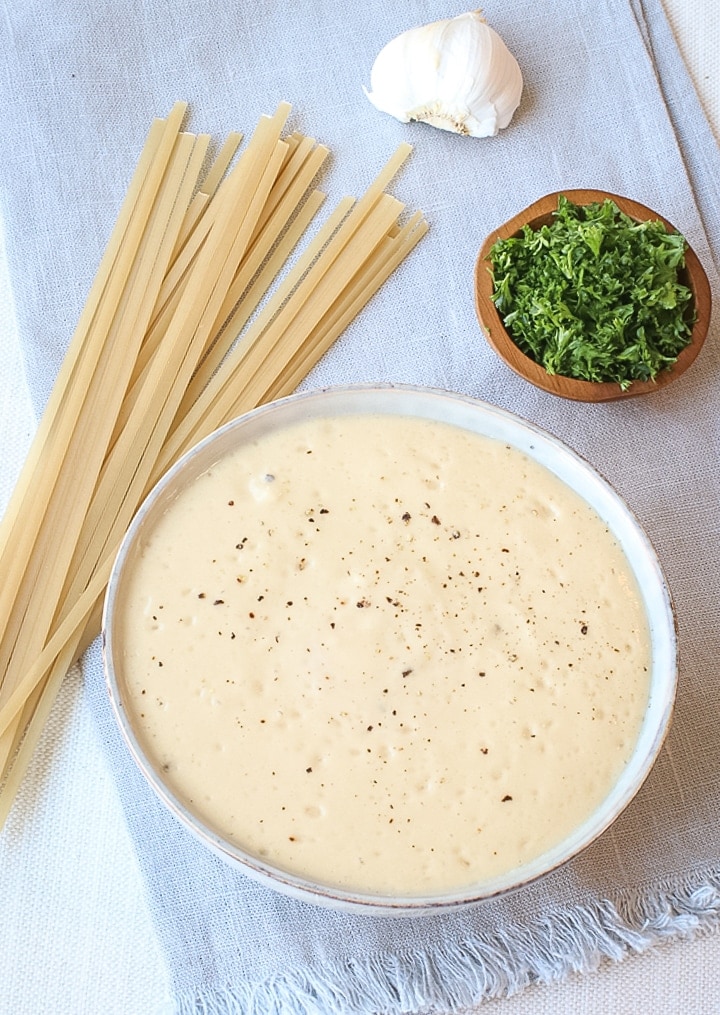 How to make vegan Alfredo sauce without nutritional yeast
While I dig nutritional yeast and use it in many of my recipes, I skipped it here. Some of you love it, but others are not fans or have allergies. Omitting the nutritional yeast in this recipe keeps the sauce closer in color to a traditional Alfredo sauce. Plus, I wanted to let the garlic really come through in this sauce, rather than give it a cheesy flavor.
What to eat with this sauce
This sauce would be wonderful over veggies like steamed broccoli or cauliflower, or a baked potato for example. I could see this creamy chickpea Alfredo sauce in a casserole or as a white sauce for a tasty vegan pizza, too.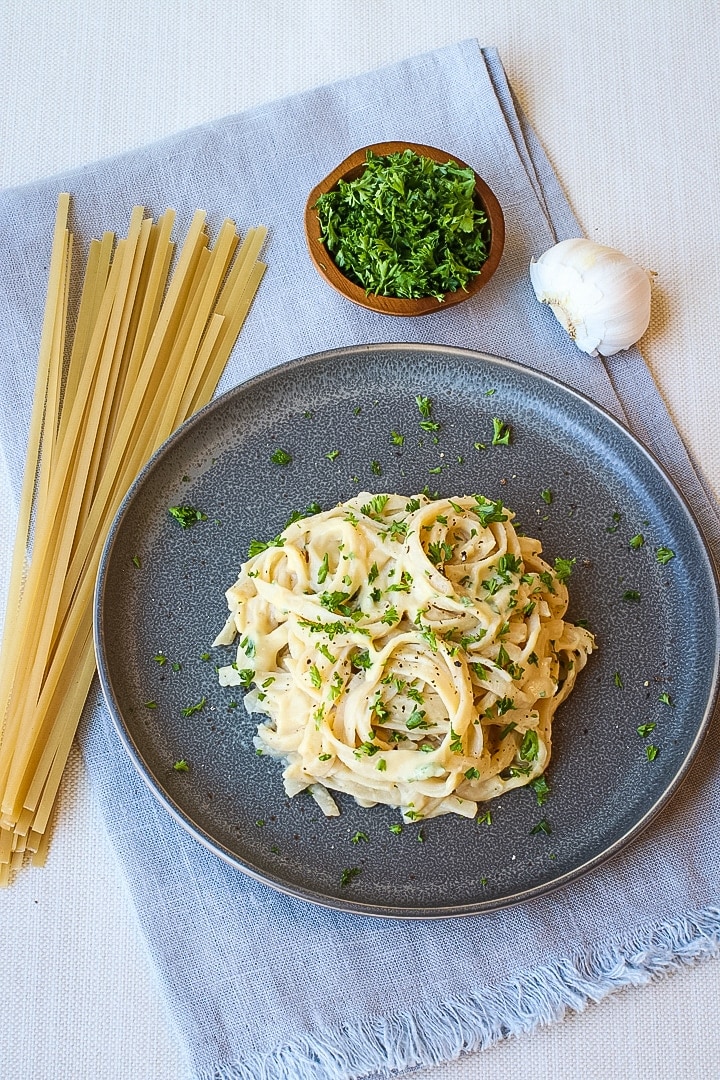 Of course, the obvious and traditional choice is pasta. I especially love a nice wide, flat fettuccine like a brown rice or lentil pasta. I like to top mine with lots of freshly ground black pepper, maybe a bit of Italian seasoning or parsley, and some crushed red pepper flakes.
More often that not, I'll toss several big handfuls of chopped greens into the pot, Florentine style. I can hardly think of an easier way to get your daily beans AND greens.
If you like this whole food plant-based recipe, you might also like: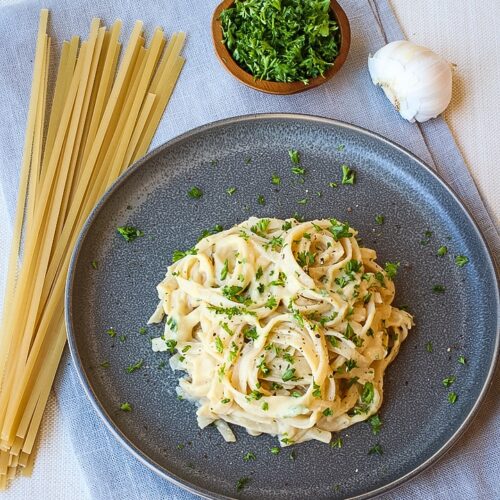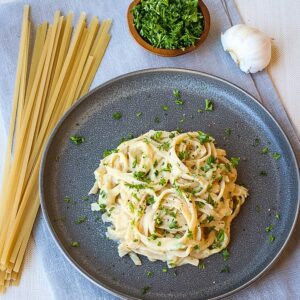 5-Minute Chickpea Alfredo Sauce
No-cashew chickpea vegan Alfredo Sauce recipe is ready 5 minutes with just 7 ingredients! Healthy, low fat, creamy, garlicky & delicious. Nut, oil & gluten free.
Print
Save
Saved!
Pin
Rate
Ingredients
2

cups

chickpeas

1 15 ounce can, drained & LIQUID RESERVED

1 ½

cups

plain unsweetened plant milk

adjust for desired thickness

2-4

cloves garlic

¼

cup

lemon juice

about 1 large lemon

2

tablespoons

white miso paste

½

teaspoons

garlic powder

½

teaspoons

onion powder

Pink Himalayan salt, to taste

Optional: 2-4 tablespoons nutritional yeast

Optional: substitute ½ cup vegan dry white wine for ½ cup of the plant milk
Instructions
Place all of the ingredients EXCEPT THE RESERVED CHICKPEA LIQUID in a high speed blender and process on high speed until thoroughly blended, about 20-30 seconds.

Add a little of the reserved chickpea liquid ('aquafaba') to thin the sauce if needed. Taste and adjust seasonings.

Gently cook the sauce for a few minutes to combine the flavors, cook the garlic, and cook off the alcohol if using wine.
Nutrition (approximate)
Calories:
96
kcal
|
Carbohydrates:
14
g
|
Protein:
6
g
|
Fat:
2
g
|
Saturated Fat:
1
g
|
Sodium:
179
mg
|
Potassium:
191
mg
|
Fiber:
4
g
|
Sugar:
3
g
|
Vitamin A:
105
IU
|
Vitamin C:
3.7
mg
|
Calcium:
80
mg
|
Iron:
1.5
mg