This hearty Vegan Mushroom Stroganoff is made with dried porcinis and fresh mushrooms, red wine and plant-based yogurt. It's simple, satisfying comfort food that's ready in about 30 minutes.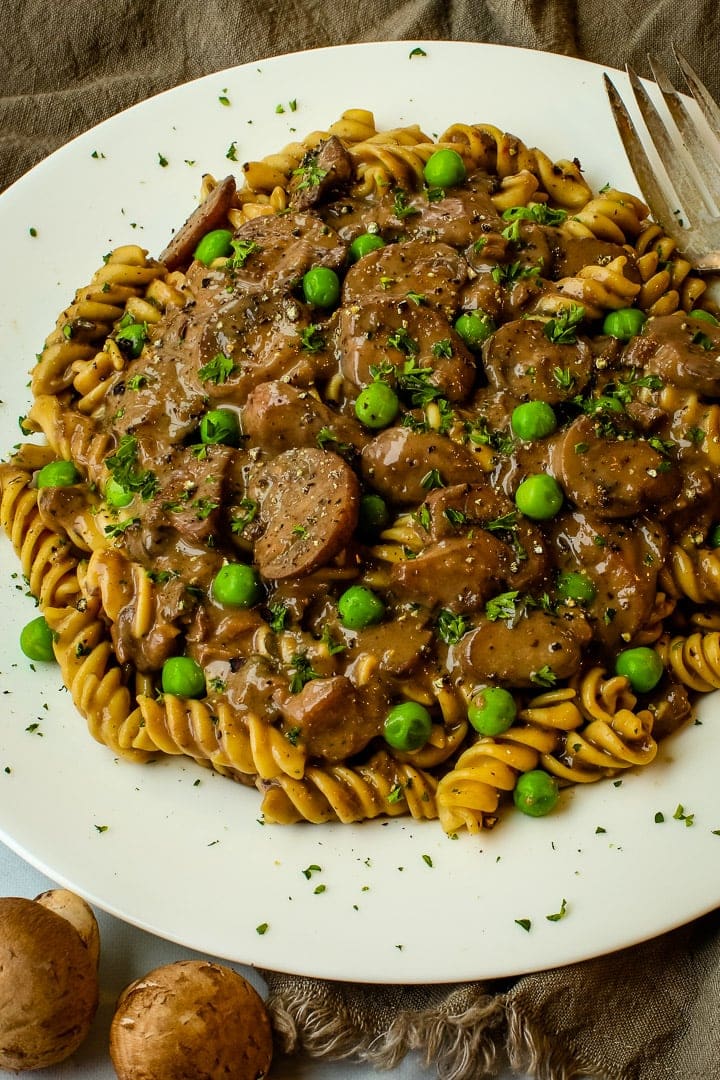 Why I Love Vegan Mushroom Stroganoff
I love this stroganoff recipe because even though it's hearty and full of flavor, it's not overly rich or high in fat like some stroganoff recipes can be.
Instead of a heavy 'cream' sauce, here we rely on red wine, dried porcinis and tangy plant-based yogurt to build flavor. (And no worries, just like my Vegan Porcini Mushroom Gravy recipe, you can skip the wine and use sherry vinegar instead.)
The result is a delectable, classic comfort food meal you can whip up in about half an hour. Perfect for weeknights, or any time you're craving a satisfying, mushrooms & noodles dinner.
What Makes this Stroganoff Recipe Healthier?
Not only are porcini mushrooms healthy, but cooked white mushrooms are some of the healthiest you can eat. (Of course, you can use any kind of fresh mushroom you like in this recipe, and it will taste great.)
And not only do we avoid dairy in this vegan / vegetarian mushroom stroganoff recipe, we avoid a lot of added fat, too. Because even vegan versions of this dish I've seen in restaurants have either been full of oil or relied on full fat coconut milk. So much so that I haven't been able to enjoy them. 🙁
With plant-based yogurt, we get the same creaminess this comfort food recipe is known for, without the heaviness or all that extra fat.
And I know, classic stroganoff doesn't have peas! But adding a little green to your plate is always a good thing. So we've got both peas and parsley, though you could also add a dark leafy green like spinach, kale or Swiss chard here too.
How to Make this Vegan Mushroom Stroganoff Recipe
Just like in my Vegan Porcini Mushroom Gravy Recipe, we reduce this sauce to make it thick and build flavor. And we use the reserved liquid from rehydrating dried porcini mushrooms, which has an intense umami flavor profile that takes this sauce to the next level.
Here's how we do it, step by step:
First, get started by cooking your pasta, rehydrate your porcini mushrooms, and thawing your frozen peas.
Second, saute the fresh mushrooms, garlic and shallots.
Third, chop up your porcinis, and save the liquid. Then, thicken the porcini liquid with miso paste and flour.
Fourth, deglaze your sautéed mushroom pan with red wine (or vinegar), add the dried porcinis, the thickened liquid, thyme and broth (I like this WFPB mushroom broth) to the sautéed mushrooms, and let the sauce simmer and reduce.
Finally, stir in the yogurt, add the peas and cook through, then toss it all together in the same pan with your cooked pasta. Top with a little fresh parsley and serve.
Expert Tips
Consistency: This sauce builds flavor by reducing. You want a thick sauce that clings to the pasta, but still plenty of sauce to coat all of your noodles.
If the sauce cooks to quickly and gets too thick, add a bit more broth. If it's still too thin, before you add the peas, cook it down a little longer.
Flavor: You can dial the mushroom flavor up or down by adding more yogurt or even a little plant milk.
Seasoning: This recipe tastes best with a generous amount of freshly ground black pepper and some fresh parsley. It shouldn't need much or any salt this way.
Pasta: Stroganoff is typically served with a wide egg noodle, and it's hard to find whole food plant-based compliant (whole wheat, brown rice, chickpea, etc.) noodles that are wide.
Any pasta will work in this recipe, but I prefer pastas here that help the sauce cling to the noodle like corkscrew, bowtie, etc.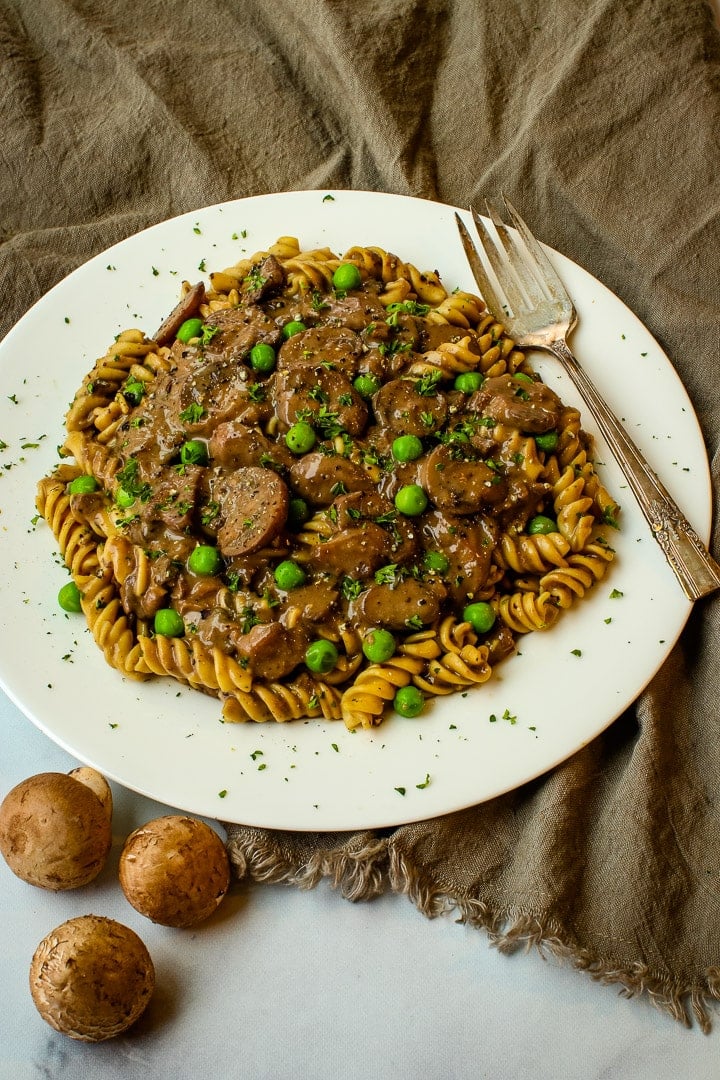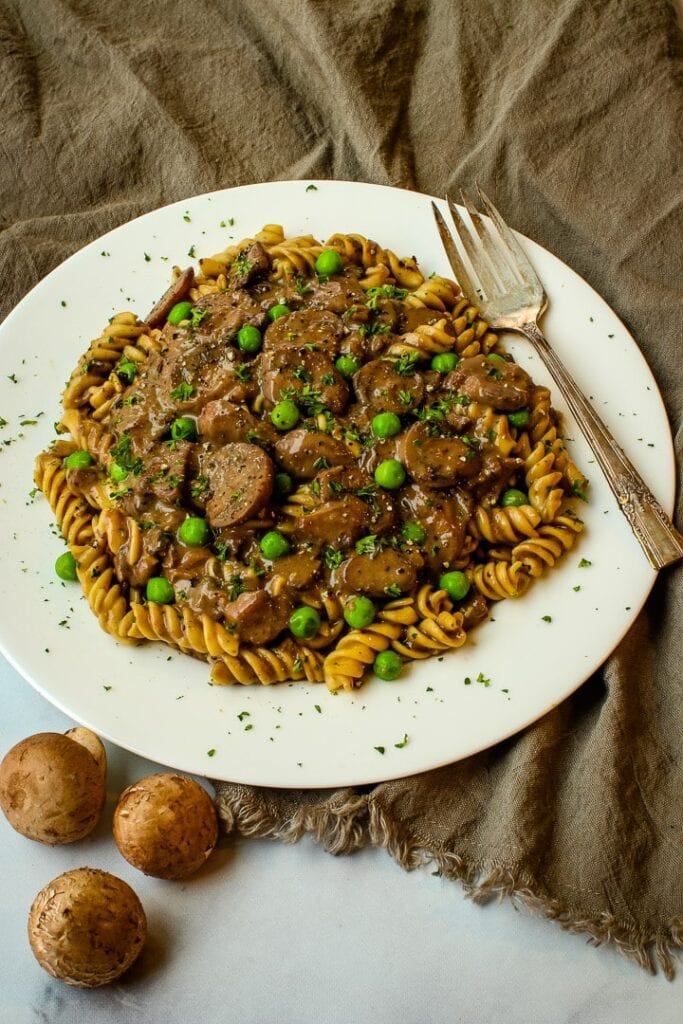 So next time you're hit with a major comfort food craving (which happens to me, like, pretty much all the time) give this mushroom stroganoff a try. I think you'e gonna love it.
-Elizabeth xo
I LOVE hearing from you! Connect with me on Facebook, Instagram or Pinterest, or drop me a note in the comments.
Love mushrooms? Check out these other healthy, plant-based mushroom recipes: vegan mushroom walnut bolognese sauce, best damn vegan chili, BBQ mushroom sandwich, kale mushroom bread pudding, and portobello mushroom burgers with cheddar sauce.
📖 Recipe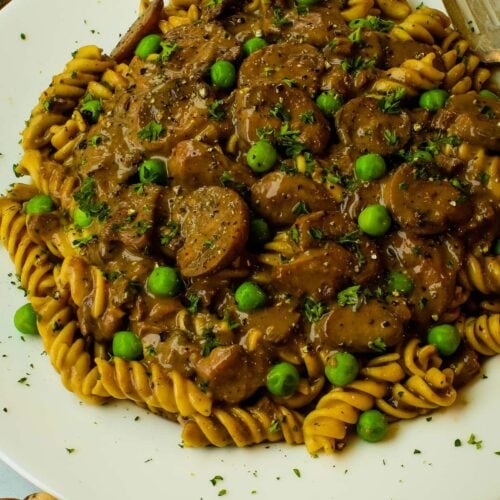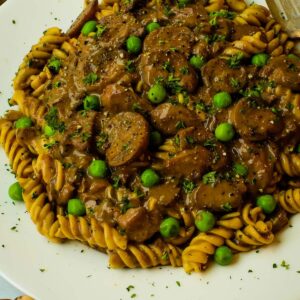 Ingredients
1

ounce

dried porcini mushrooms

⅓

cup

shallots

finely minced (about 2 shallots)

2

cloves

garlic

finely minced

2

cups

low sodium vegetable stock or broth

(I like homemade best)

¾

cup

dry red wine

divided into ½ cup + ¼ cup. Or substitute 2 tablespoons sherry or balsamic vinegar + ¾ cup extra broth

2

teaspoons

fresh thyme leaves

2

tablespoons

white miso paste

soy or chickpea miso, see notes

1

tablespoon

whole wheat flour

or other thickener like cornstarch, GF flour, mashed potato, etc.

Sea salt and freshly ground black pepper

to taste

1

pound

fresh mushrooms

thinly sliced

1

cup

plant-based yogurt

2

cups

frozen peas

thawed

¼

cup

parsley

12

ounces

whole wheat pasta

or chickpea, brown rice or other WFPB compliant pasta. GF if desired. See notes.
Instructions
Place the dried porcini mushroom in a small bowl and cover with 1 cup of hot (not boiling) water. Let sit 15 minutes.

Cook and drain the pasta.

Heat a little water or broth in a large skillet on medium high, and saute the shallots, garlic and sliced mushrooms until well browned and caramelized, about 8-10 minutes. Add more broth or water a little at a time as needed to keep things from sticking.

While the mushrooms are sauteeing, remove the porcini mushrooms from the bowl, reserving the liquid. Give them a gentle squeeze to release excess liquid. Chop the porcinis into a small dice and set aside.

Using a large spoon or small ladle, remove the reserved porcini liquid 1 spoonful at a time into another small bowl or measuring cup, being careful to leave the sediment at the bottom of the bowl behind. (Or strain using a coffee filter.) Add the miso and flour to the reserved liquid, and whisk together until the miso and flour are dissolved.

When the mushrooms are browned, add the wine (or the vinegar) to the pan, and deglaze (loosen up any brown bits). Add the vegetable broth, thickened porcini liquid, chopped porcinis pan and thyme to the pan, and simmer on medium heat until the sauce reduces and begins to thicken, about 15-20 minutes.

Add the yogurt to the pan, and stir to combine. Then add the peas and simmer for 3-5 minutes, or until the peas are cooked and the sauce is thick and creamy.

Add the cooked pasta to the pan and toss to combine. Season with cracked black pepper and sea salt to taste. Top with fresh parsley and serve.
Notes
Sodium: most of the sodium in this recipe comes from the miso, a healthier 'green light' source of sodium.
The miso paste acts as a healthy salt and thickener in this recipe. If you're allergic to soy, you may be able to find chickpea, brown rice or another type of miso.
Pasta. Stroganoff is typically served with a wide egg noodle. It's difficult to find wide noodles that are WFPB compliant, so I used curly pasta. But any pasta shape will do, though I prefer pastas that hold sauce well (bowtie, etc.) for this recipe.
To thicken your sauce, if you don't want to add flour, simply reduce the sauce longer until it reaches the desired consistency.
Cooking with wine is completely optional, but it lends a rich, acidic note to sauces that frankly takes them to the next level. In this recipe, I like to add some wine at the very end of cooking to enhance the wine flavor, but you can simply add it with the rest of the wine earlier in the recipe if you prefer.
Nutrition (approximate)
Calories:
348
kcal
|
Carbohydrates:
64
g
|
Protein:
17
g
|
Fat:
3
g
|
Saturated Fat:
1
g
|
Sodium:
253
mg
|
Potassium:
646
mg
|
Fiber:
5
g
|
Sugar:
7
g
|
Vitamin A:
612
IU
|
Vitamin C:
31
mg
|
Calcium:
101
mg
|
Iron:
4
mg