There's nothing quite as satisfying as sinking your teeth into a juicy burger on a chewy bun, loaded with grilled onion, lettuce and tomatoes--and cheese! I've had some burger disappointments lately (more on that later), so I just had to get in the kitchen and create a truly satisfying—yet healthy—whole food, plant-based, no oil burger recipe. Behold the Vegan Portobello Mushroom Burger with Cheddar Sauce.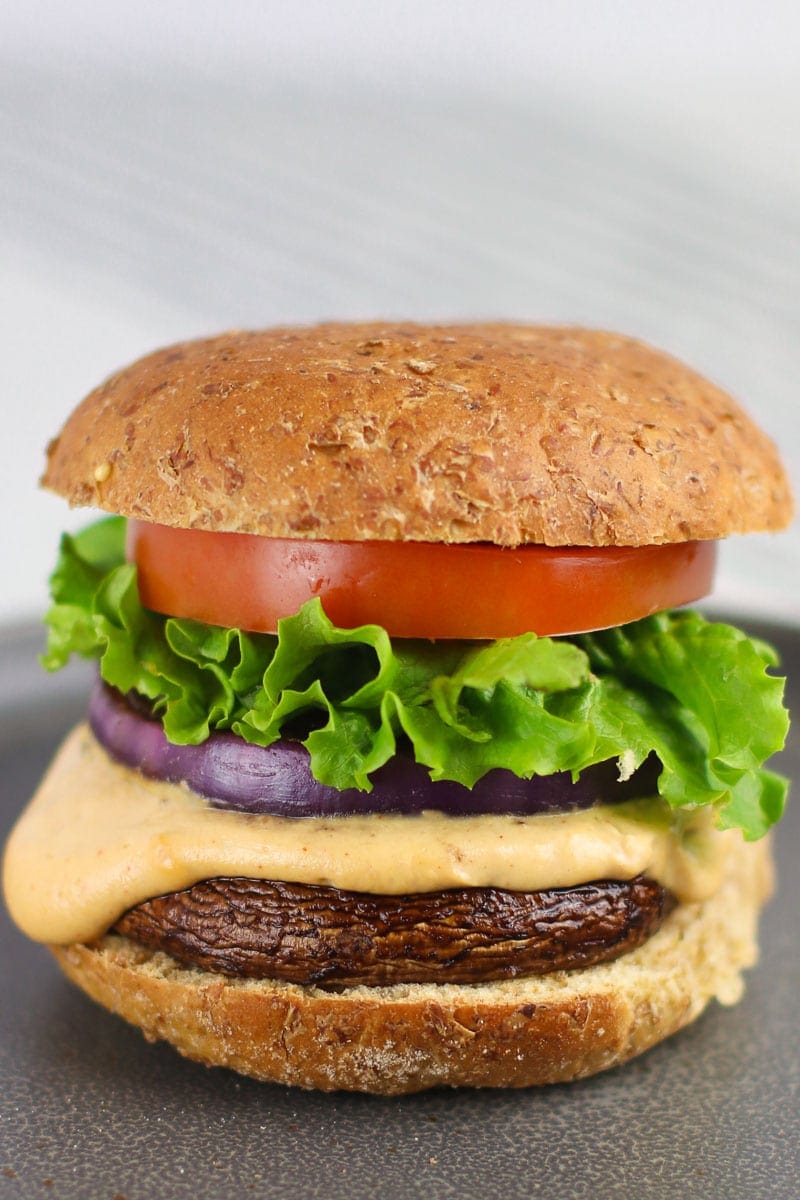 These vegan portobello mushroom burgers are marinated and broiled to juicy perfection, giving them a hearty, satisfying, intense umami flavor. And the cheddar sauce—it's TO DIE FOR! No kidding, if you've been missing cheese you simply must make this cheddar sauce. It's fast, easy and you'll want to eat it by the spoonful. Just be sure to grab a big handful of napkins!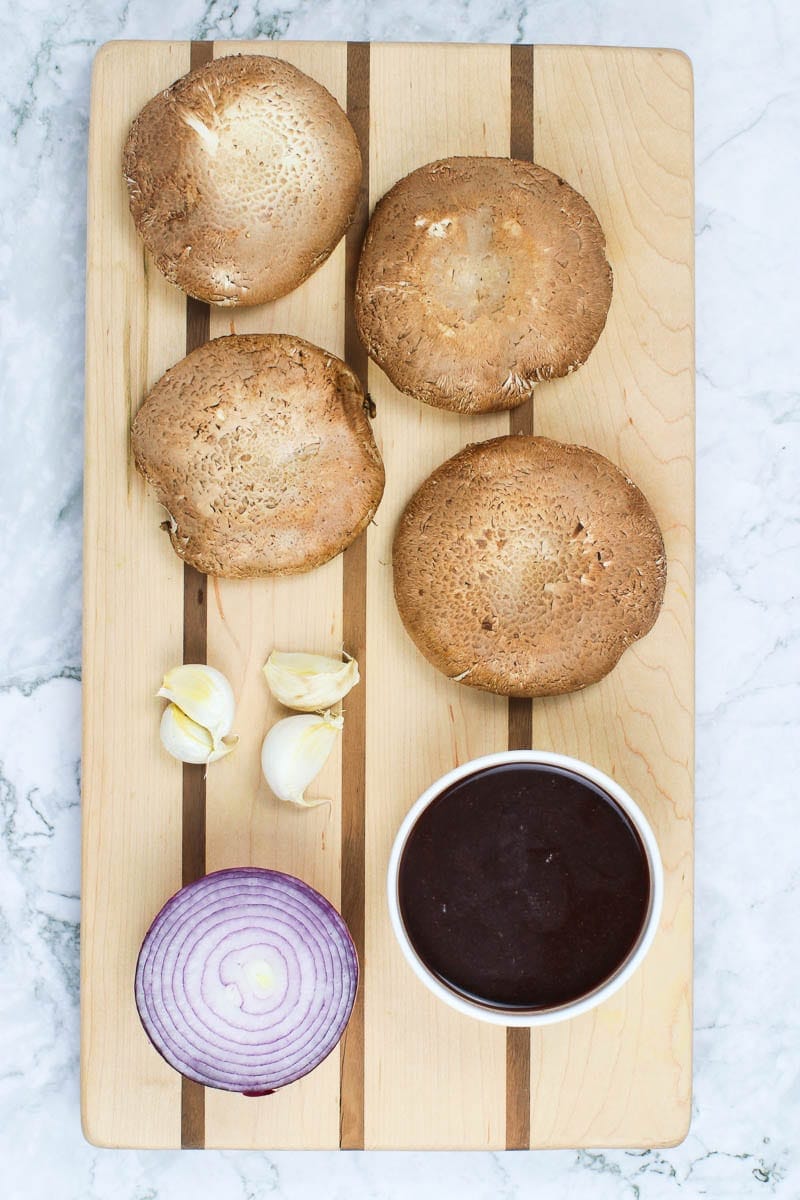 Bummer Burgers
So why have I been bummed about burgers lately? Like a lot of other vegans, I was excited to hear that some new vegan burgers, reported to taste amazingly close to the real deal, were hitting the market. I tried one a couple of months ago, and it was really good! I couldn't wait to eat more.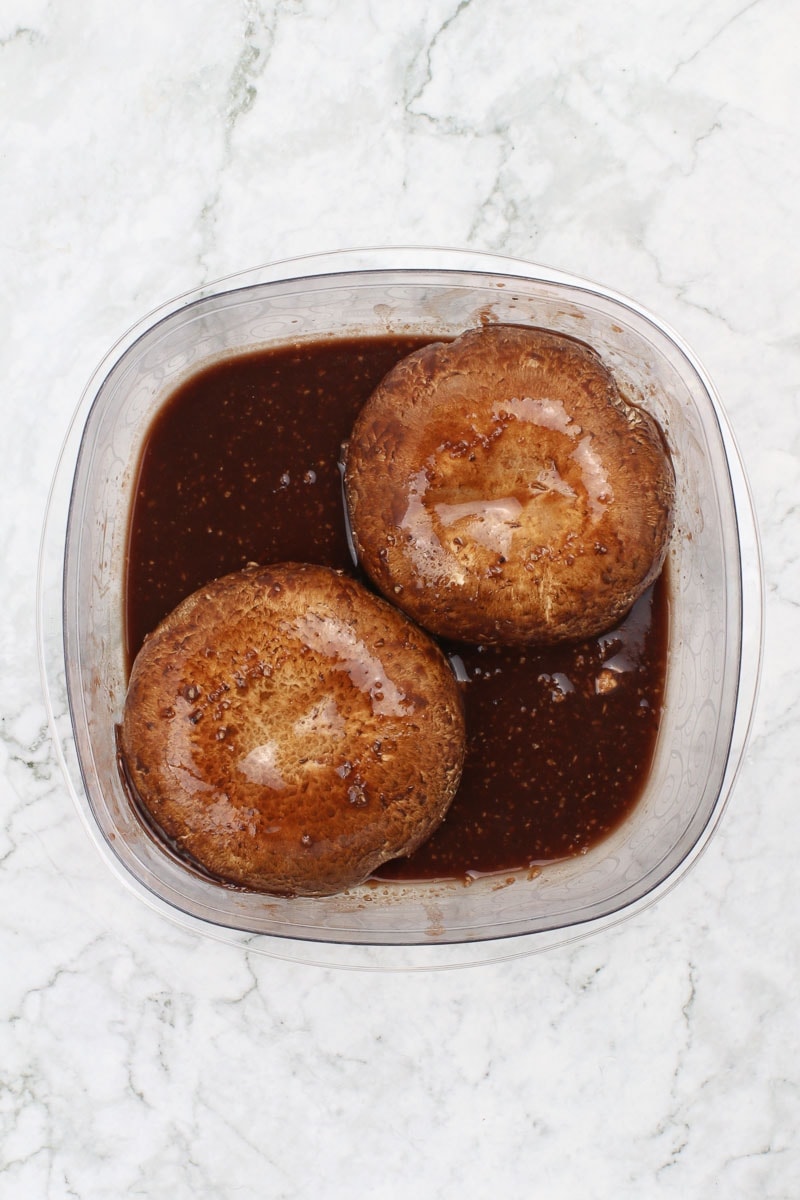 But then…I checked out their nutrition. Turns out, these new vegan burgers aren't a whole lot healthier than a traditional beef burger. Sure, they avoid cholesterol and disease-promoting animal protein, but they're high in saturated fat from coconut oil. Yet, great disappointments can inspire new discoveries, so I got to work on this Vegan Portobello Mushroom Burger with Cheddar Sauce recipe.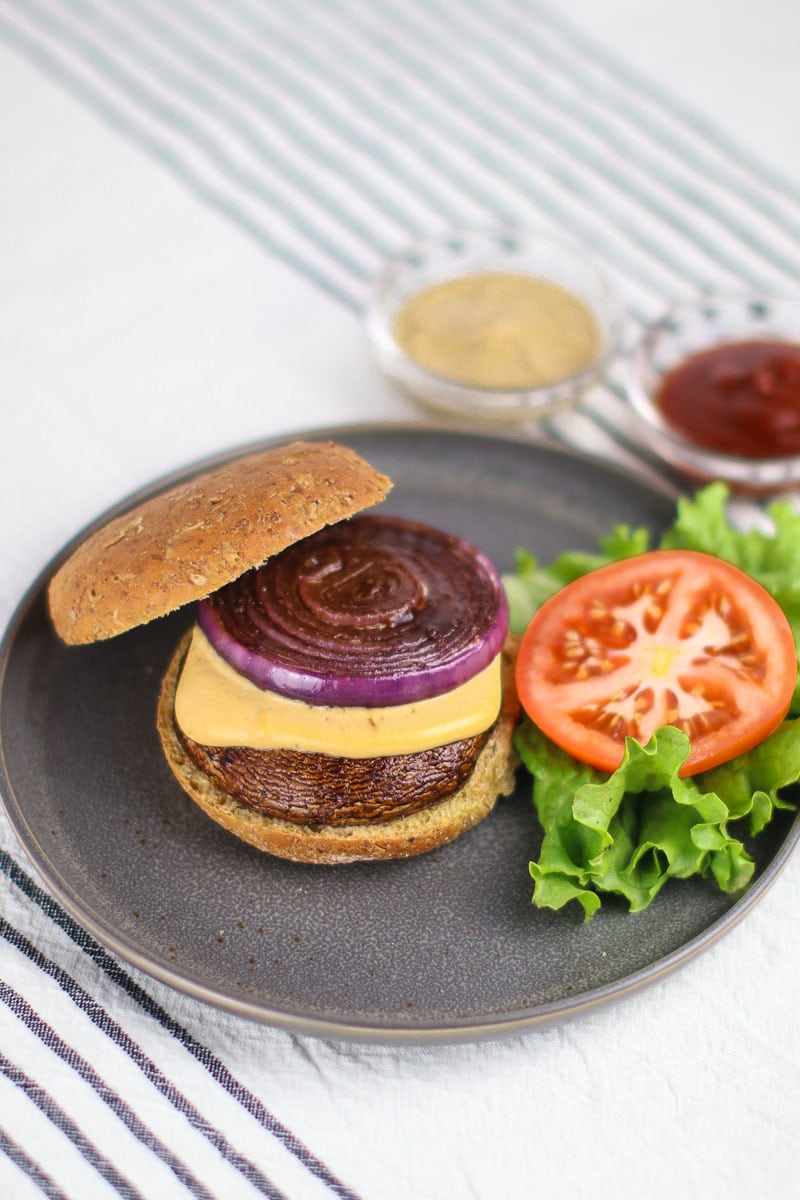 Vegan Portobello Mushroom Burger to the Rescue
It's important to note that when considering health, there's the matter of the poor cows! I get it—some people simply can't let go of their meat cravings, and these vegan burgers are a much-needed, humane alternative to killing and eating animals. I'm ALL for that!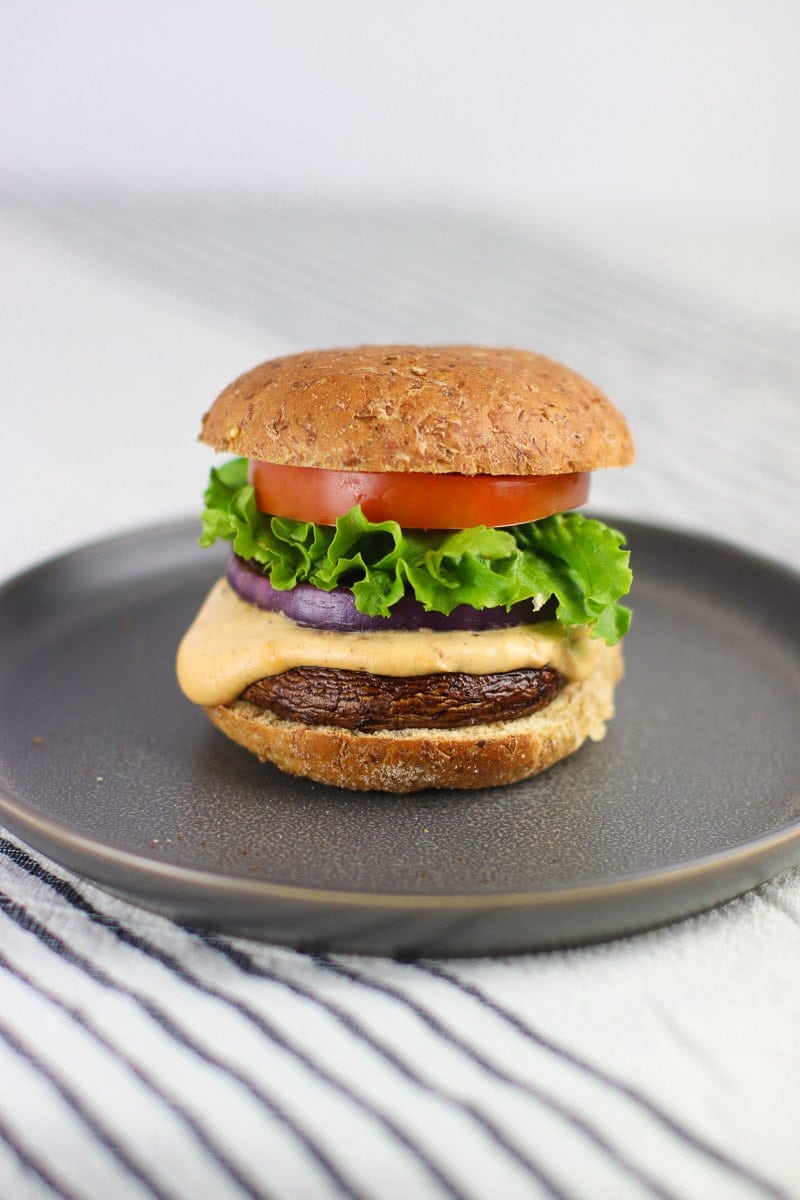 That said, being a proponent of a healthy, whole food, plant-based, no oil diet, I feel we'd all benefit from exploring some healthier alternatives to these alternatives—just like this Vegan Portobello Mushroom Burger with Cheddar Sauce—especially if we hope to enjoy them more than once in a blue moon.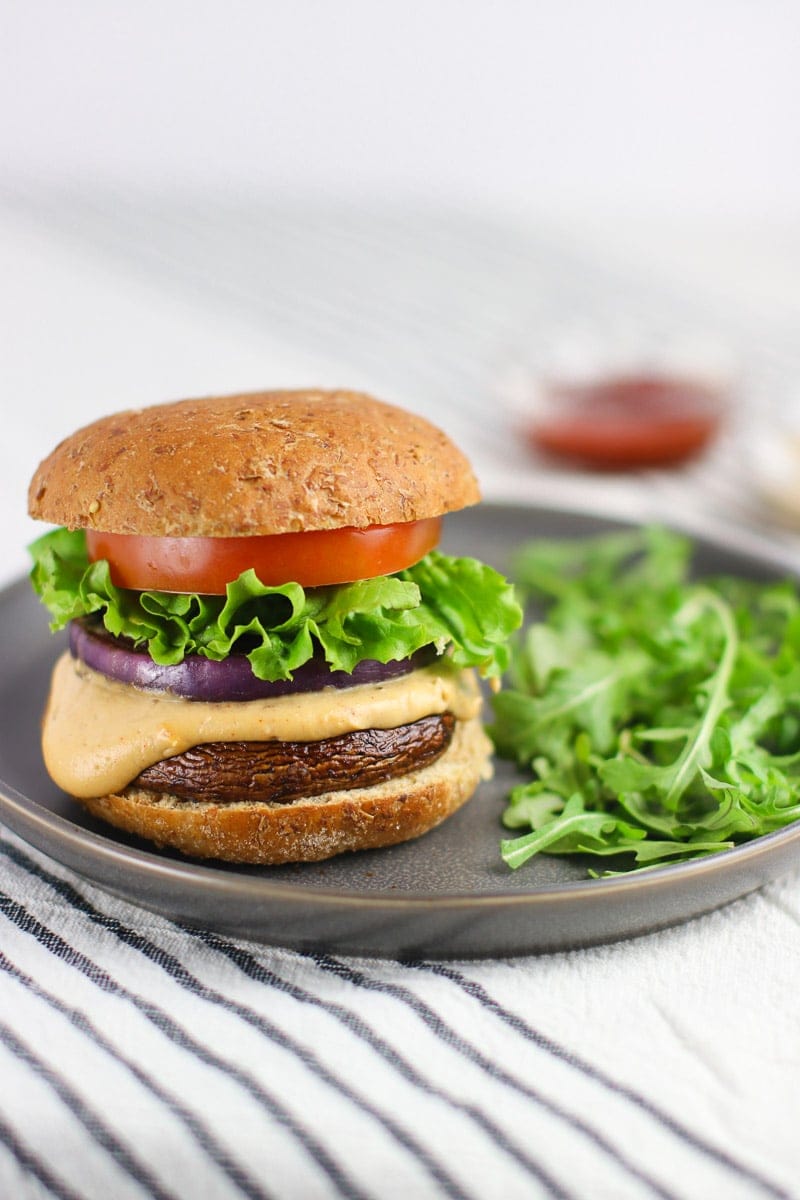 Long live the cows and the kind people who don't eat them!
If you like this whole food, plant-based, no oil recipe, you might also like:
📖 Recipe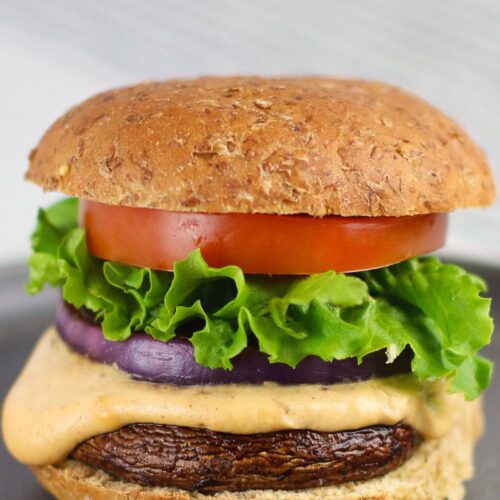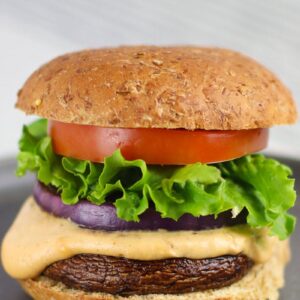 Vegan Portobello Mushroom Burger with Cheddar Sauce
Vegan Portobello Mushroom Burgers are marinated and broiled to juicy perfection for a hearty, satisfying, intensely umami flavor. And the cheddar sauce—it's TO DIE FOR.
Print
Save
Saved!
Pin
Rate
Ingredients
Cheddar Sauce (makes a double batch)
Other Ingredients
4

large portobello mushrooms

stemmed and cleaned

1

large red onion

cut into 4, ¼-inch thick slices

4

whole grain hamburger buns

GF if desired

Optional: toppings of choice like lettuce

tomato, etc.
Instructions
To make the marinade:
In a medium bowl or food processor, add the wine (or stock), soy sauce, balsamic vinegar, miso paste, and garlic, and whisk/blend well.

Place the mushrooms and onion slices in one (or more) shallow baking dishes or plastic food containers, and pour the marinade over them. (See notes.) Marinate the portobellos and onion slices for 30 minutes, turning over halfway through.
To make the cheddar sauce:
While the mushrooms and onions are marinating, make cheddar sauce. In a blender, combine the soaked cashews, veggie stock, apple cider vinegar, nutritional yeast, tomato paste, Worcestershire sauce, smoked paprika, salt, onion powder, garlic powder, and process on high until smooth and creamy.
To make the burgers
Set the oven to broil-HI, and position a rack about 4-5 inches from the flame. On a baking sheet or broiler pan, spread out the marinated mushrooms--top side up--and onions. Broil on high for 10 - 15 minutes (depending on the size of your mushrooms) or until cooked through and well browned. OR GRILL ON HIGH HEAT. Turn the mushrooms and onions over about half way through cooking. Spoon on a little leftover marinade after flipping, if desired. (See notes.)

Build your burger and enjoy. I like to turn my mushroom upside down--so that the it holds more of the cheese sauce!
Notes
If your mushrooms are large, you may have to use multiple dishes for marinating. Just be sure the dishes aren't too big, so that there's about ½ of liquid in the bottom of each dish.
You don't need any oil or a non-stick pan--the mushroom and onions won't stick.
You can broil the mushrooms for as little as 7 minutes (more if they're very large) and they'll be 'cooked.' However, I like the flavor of mushrooms when they're well done, I so recommend a longer cooking time.
Nutrition (approximate)
Serving:
1
burger
|
Calories:
412
kcal
|
Carbohydrates:
46
g
|
Protein:
15
g
|
Fat:
18
g
|
Saturated Fat:
3
g
|
Polyunsaturated Fat:
3
g
|
Monounsaturated Fat:
9
g
|
Trans Fat:
0.003
g
|
Sodium:
536
mg
|
Potassium:
879
mg
|
Fiber:
6
g
|
Sugar:
14
g
|
Vitamin A:
191
IU
|
Vitamin C:
4
mg
|
Calcium:
89
mg
|
Iron:
5
mg