The Ultimate Collection of Whole Food Plant-Based Vegan Sandwiches
There's nothing quite so simple or satisfying as a good sandwich. Whether it's veggies piled high between slices of sprouted grain bread, a vegan cheeseburger or a collard greens wrap, this droolworthy collection of WFPB vegan sandwiches has something for everyone.

How to make your vegan sandwich whole food plant-based compliant:
Make your own WFPB oil free mayo & other condiments. I've yet to find an oil free and egg free mayo at the store, but I have 2 mayo and 2 aioli recipes on the blog that are all WFPB compliant. You can use tofu for a low fat version, or there's also a version with cashews. Also, condiments like BBQ sauce and ketchup often include refined sugars, but it's easy to make your own.
Choose the right bread, wrap or bun. I like Food For Life's Ezekiel flourless sprouted bread. This company also makes oil free tortillas. Or skip the bread altogether and use a collard leaf like Renee from VEEG did!
Skip the oil. I chose recipes for this collection with no oil or where the oil can easily be eliminated.
Buy an oil free nut cheese or make your own. Treeline cheese and Kite Hill are good options. Or my Almond Ricotta recipe works great on sandwiches as a light, cheesy spread.
WFPB / Vegan Veggie Sandwiches
What to vegans eat on their sandwiches? Um, veggies! Sure, we might add a creamy element like hummus, nut cheese or a slather of vegan mayo. Because veggies need a little love sometimes, too.
Healthy Midwestern Girl – Mediterranean Veggie Sandwich
One Bite Vegan – Easy 6 Ingredient Hummus and Avocado Sandwich
Cadry's Kitchen – Vegan Bagel Sandwich with Hummus & Vegetables
VEEG – Green Veggie Sandwich with Cucumber, Sprouts & Avocado
My Quiet Kitchen – Roasted Vegetable Sandwich with Smoky Walnut Sauce
Seven Roses – Oven-Baked Celeriac Cutlets
Flavor the Moments – Ultimate Veggie Sandwich with Lemon Herb Cream Cheese
Vegan in the Freezer – Cauliflower Po Boy Sandwich
Healthy Midwestern Girl – Roasted Tomato Jam Crostini
Eggless, No-Tuna & No-Chicken: Chickpea Salad Sandwiches
No one likes to be left out of the fun. So why shouldn't vegans enjoy an egg salad, tuna salad or chicken salad sandwich—without the eggs, tuna or chicken, that is. And who needs 'em, when we've got the mighty, healthy and versatile chickpea at our disposal.
Healthy Midwestern Girl – Vegan Egg Salad
Dreena Burton – Chickpea Salad
Vegan Travel Eats – Curried Chickpea Salad Sandwiches
Vegan Yack Attack – Rosemary Chickpea Salad Sandwich
The Vegan 8 – Vegan Caesar Smashed Chickpea Sandwich
Karissa's Vegan Kitchen – Easy Vegan Turmeric Chickpea Salad Sandwich
Where You Get Your Protein – Apple-Walnut Chickpea Salad Sandwich
Vegan Heaven – Vegan Tuna Sandwich with Chickpeas
Eat With Clarity – Mashed Chickpea 'Tuna' Salad
Burgers & BBQ WFPB / Vegan Sandwiches
Meat lovers would likely turn up their noses at this collection of vegan burgers and barbecue sandwiches. But do we care? No we do not. We're too busy enjoying our WFPB vegan cheeseburgers, thank you very much.
Healthy Midwestern Girl – Portobello Mushroom Burger with Cheddar Sauce
This Healthy Kitchen – Vegan Chicken Burgers
Make It Dairy Free – The Ultimate Vegan Black Bean Burger
Broke Foodies – Tofu Burger with Carmelised Onions and Dijonnaise
Healthy Midwestern Girl – BBQ Oven-Roasted Mushroom Sandwich
Monkey & Me Kitchen Adventures – Vegan BBQ Lentil Sloppy Joes
BLT & Tofu Sandwiches
These sandwiches are for all you BLT lovers who'd never dream of eating bacon. And if you ever get tired of people asking you where you get your protein, just hand them one of these delicious tofu sandwiches. Discussion over.
My Darling Vegan – Vegan BLT with Avocado Mayo
Sharon Palmer – Sriracha Sesame Breakfast Tofu Sandwich
Healthy Happy Life – TTLA Sandwich (Whole Foods Copycat)
Tin and Thyme – Tofu Lettuce Tomato Sandwich
Sharon Palmer – Vegan BLTA Sandwich
WFPB / Vegan Wrap Sandwiches
Wraps—a.k.a. the 'fun' vegan sandwiches—really let the filling shine. They're incredibly versatile too. You can pack them in your lunch, take them on a picnic, or cut them into bite-sized segments for an easy party appetizer.
VEEG – Mango Cashew Collard Wrap
Yup It's Vegan – Thai Peanut Collard Wrap
Veggie Inspired – Veggie Wrap with Apples and Spicy Hummus
Healthy Midwestern Girl – Smoky Rice & Beans (Wrap)
No-Chickpea Salad Sandwiches
If you crave vegan egg/chicken/tuna salad sandwiches but want a break from chickpeas (I suppose it's possible), look no further. These sandwiches leave the vegan mayo in, but feature some pretty darn creative chickpea alternatives.
Strength and Sunshine – Easy Vegan Maine Lobster Rolls
Plant-Based Cooking – Hearty Tempeh Salad Sandwich
Very Vegan Gal – Vegan Tuna Salad (Made with Jackfruit, Not Chickpeas)
Veganosity – Vegan 'Tuna' Salad
A Virtual Vegan – White Bean & Artichoke Vegan Sandwich Filling
Easy Avocado + Protein Toasts
I could have easily made this entire collection all about the beloved avocado toast. (But I'll save that for another day.) Instead, we've got just a few easy avo toast recipes—all with added fiber and protein to balance out the fat in the avocados.
Veggie Society – Sweet Potato Avocado Tartine
Healthy Midwestern Girl – Avocado Pea Mash
What to Eat with your WFPB / Vegan Sandwich
No sandwich would be complete without your favorite side. For me, it's gotta be potato salad. And a nice side of greens. How about you? Leave a comment, I'd love to know!
Healthy Midwestern Girl – Creamy Potato Salad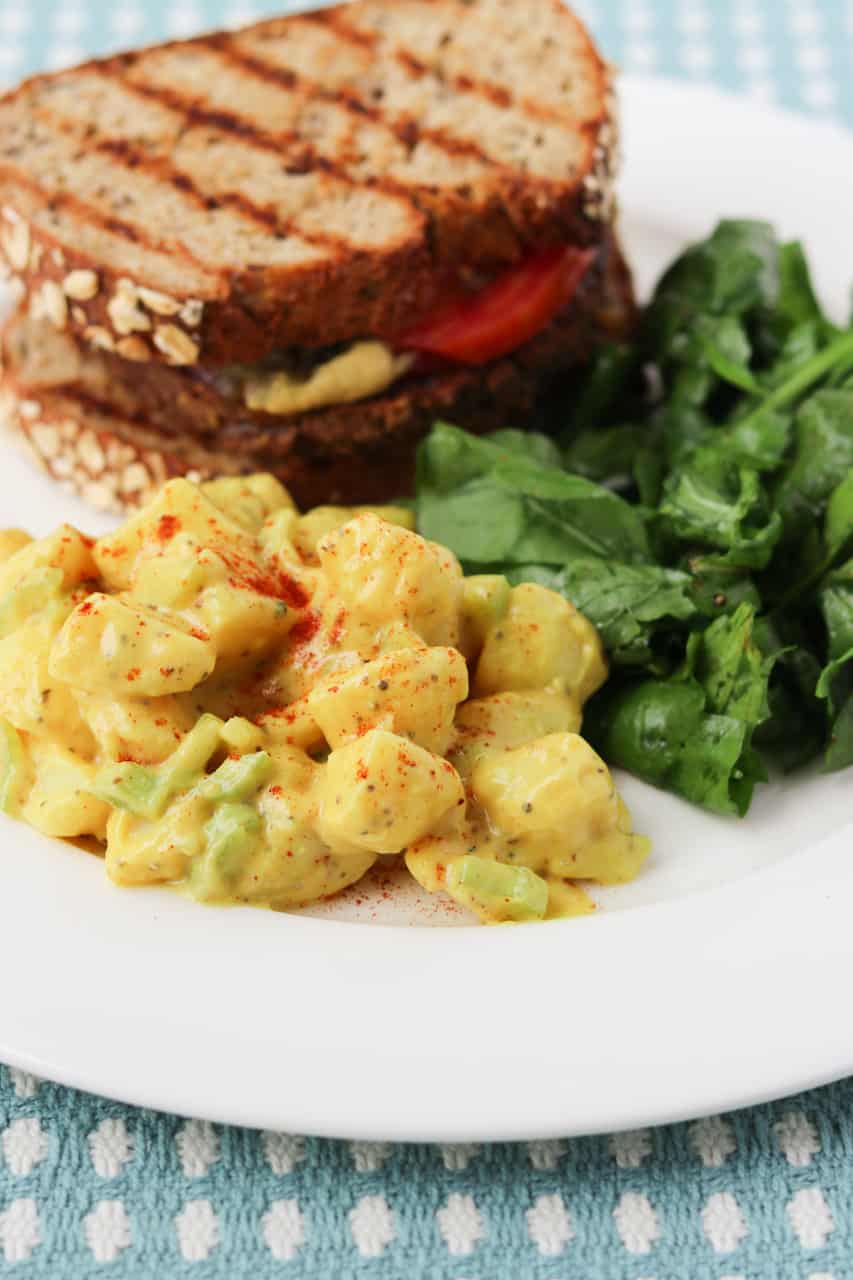 Healthy Midwestern Girl – Purple Cabbage Slaw
Healthy Midwestern Girl – Oil Free Za'atar Fries with Vegan Aioli
VEEG – Quick Pickle Cucumber Slices with Fresh Dill
📖 Recipe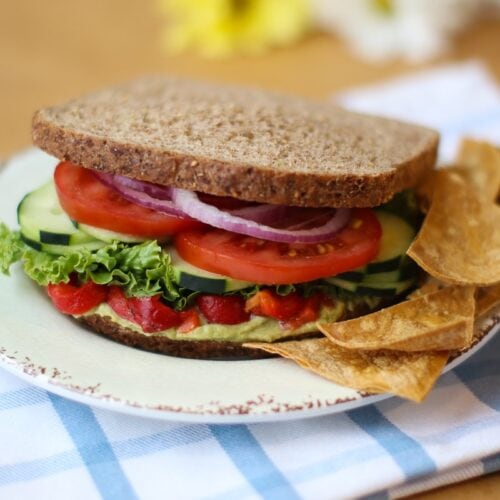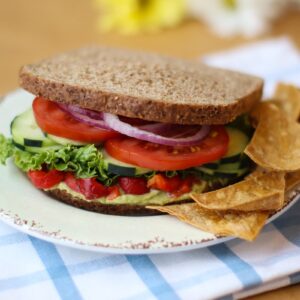 Mediterranean Veggie Sandwich
A healthier, vegan/WFPB take on the Panera Mediterranean sandwich. Fresh, crunchy, creamy & slightly spicy sandwich with 100% good-for-you ingredients.
Print
Save
Saved!
Pin
Rate
Ingredients
2

slices

whole grain bread

(gluten free if desired)

¼

cup

pickled sweet red peppers

store-bought or make your own, see notes

2-3

tablespoons

Oil-Free Jalapeno Hummus

2

lettuce leaves

2

slices tomato

4

thin slices red onion

6

thin slices cucumber

Optional: 1-2

tablespoons

Almond Ricotta
Oil-Free Jalapeno Cilantro Hummus
1 15

ounce

can chickpeas

LIQUID RESERVED, drained and rinsed (or 1 ½ cup well cooked chickpeas)

1-2

jalapenos

seeded and chopped

½

cup

cilantro leaves

chopped

¼

cup

mellow white miso

2-3

cloves

garlic

2

tablespoons

tahini

or more, to taste

2

tablespoons

lemon juice

plus zest of ½ lemon

2

teaspoons

cumin

Optional: ⅛ cup pine nuts
Pickled Sweet Red Peppers
1 12

ounce

jar roasted red peppers in water

¼

cup

rice vinegar

sugar free

2

teaspoons

pure maple syrup

or more, to taste

Pinch

of salt
Instructions
To make the Oil-Free Jalapeno Cilantro Hummus
Place all of the ingredients in a food processor, and process until completely blended and creamy, stopping occasionally to scrape down the sides. Thin with 1-2 tablespoons of reserved chickpea liquid ('aquafaba') as needed.
To make the Pickled Sweet Red Peppers
Strain out all of the liquid from the jar. Whisk the vinegar and maple syrup together. Pour into the jar over peppers. Close lid tightly and shake well. Refrigerate at least one hour, or preferably over night.
Notes
You may be able to find jarred sweet peppadew or other peppers in the store, but they often have added refined sugars. It's easy to make your own starting with jarred roasted red peppers. They won't taste as sweet, but I think they're great in this sandwich.
Nutrition (approximate)
Calories:
213
kcal
|
Carbohydrates:
33
g
|
Protein:
11
g
|
Fat:
3
g
|
Saturated Fat:
1
g
|
Sodium:
348
mg
|
Potassium:
502
mg
|
Fiber:
7
g
|
Sugar:
7
g
|
Vitamin A:
5170
IU
|
Vitamin C:
63.6
mg
|
Calcium:
88
mg
|
Iron:
2.5
mg