You head to the local pub for a pint of your favorite beer, and your only vegan menu options are sweet potato fries—or a salad. You go for the fries, of course (because, lets' face it, they're so much better with beer!), knowing full well just how bad they are for you. Later, you're filled with guilt and broken resolutions. Next time, skip the deep-fried pub grub and make your own Oil Free Za'atar Sweet Potato Fries at home.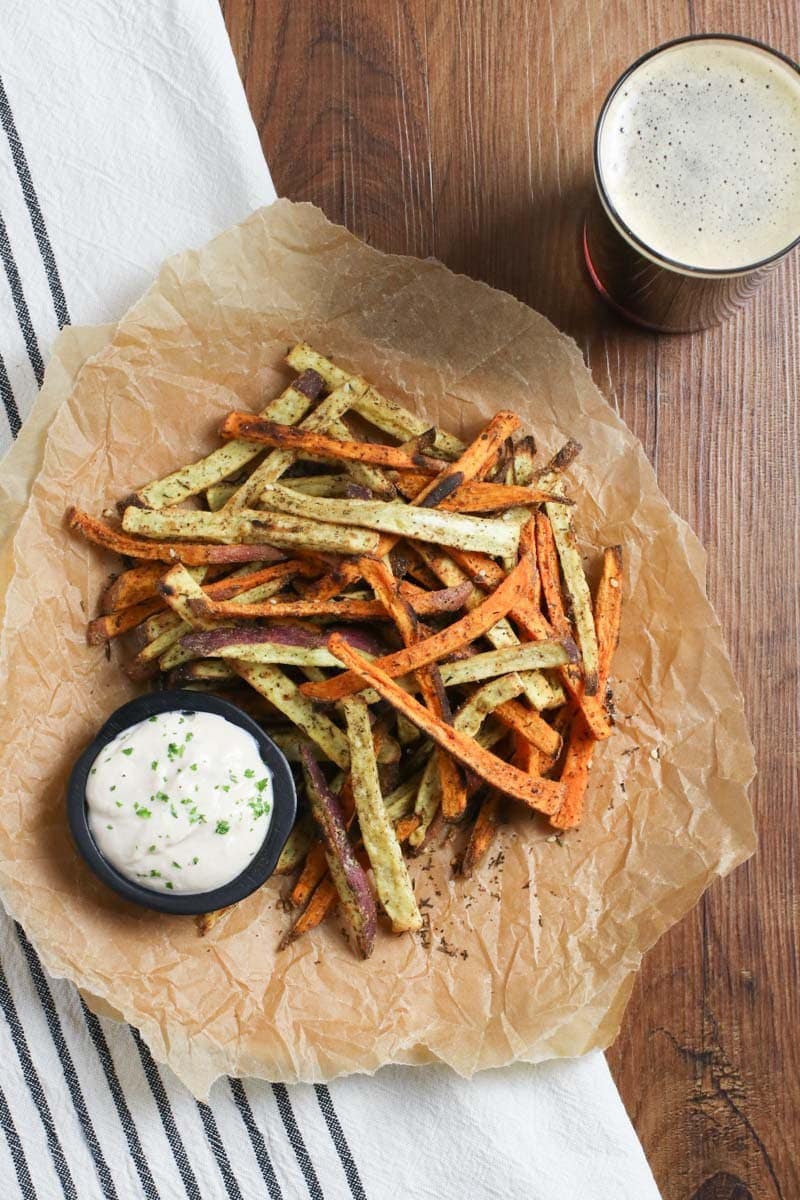 How to Make Oil Free Sweet Potato Fries
Over the last few months, I've been running a veritable oil free sweet potato fries test kitchen! Why? Because, without oil, it's not easy to produce crispy baked fries. This oil free sweet potato fries recipe--with za'atar seasoning and oil free aioli--is the result of about a dozen trial-and-error batches I cranked out.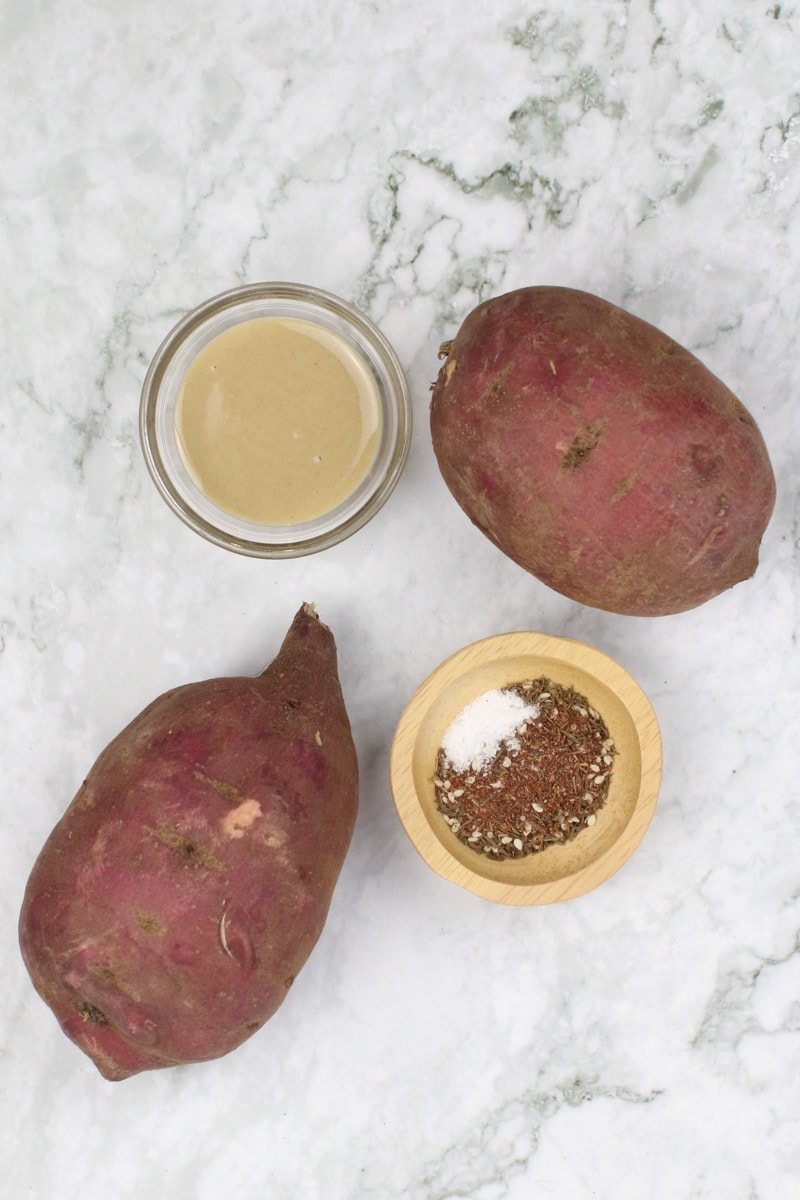 First, I tried coating them in cornstarch, and sure, they were a bit crispier, but without any oil, they retained an unappealing, dusty white coating. I tried another recipe tip and soaked them in water first. I didn't notice any difference.
I had success pre-salting them to draw out some of their water—this did seem to yield a slightly crispier fry. So I say if you've got the extra 30 minutes and the patience, go for it. But if you're hankering for a quicker oil free sweet potato fry fix, just crank up the oven to 425 degrees (Fahrenheit) and watch over the little darlings so they don't burn. (Yup, burned a few.)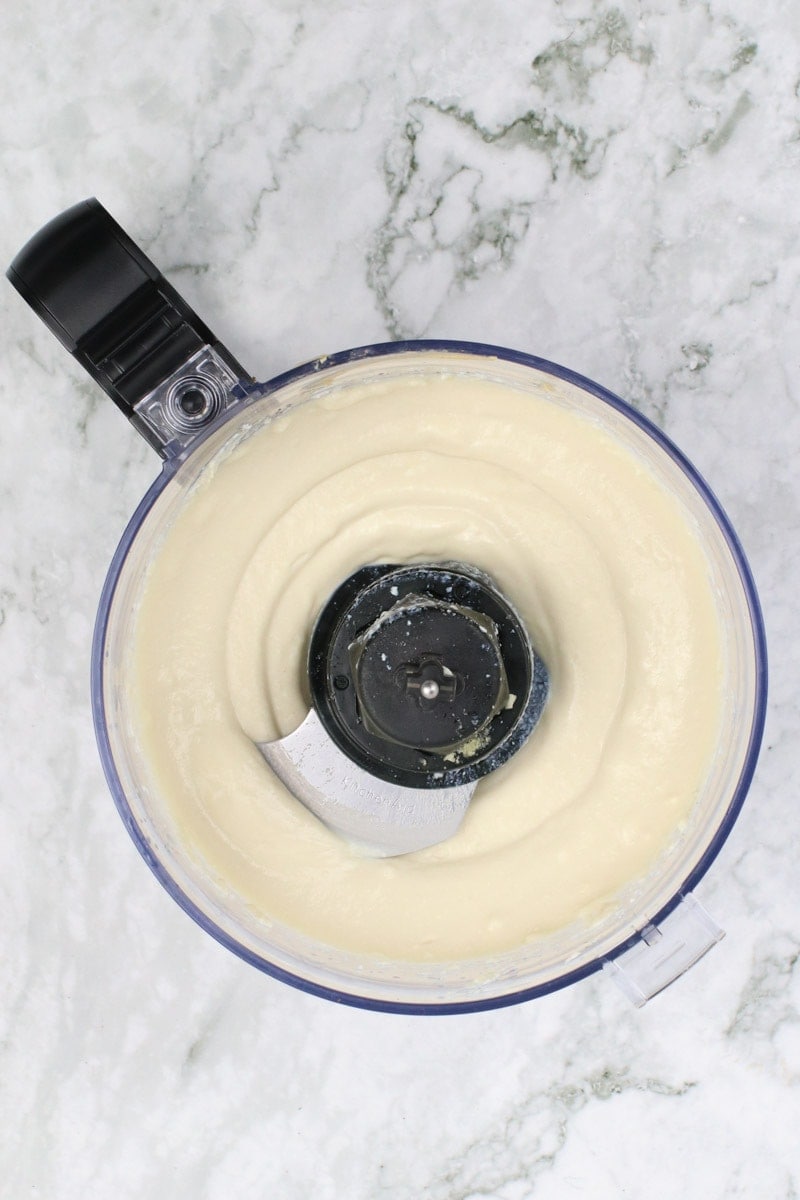 What I love about these oil free fries
I dig these fries because they're thin and a just bit crispy. I never fully replicated that deep-fried crispiness, but hey, they're pretty close--and astronomically healthier than pub fare. A few pinches of salt and a generous sprinkling of za'atar seasoning take them to the next level.
I suppose they could be even healthier if I cut them into thick wedges, since baking in general diminishes sweet potatoes' anti-oxidant properties (much of which are in the skin, so I leave that on). I may give that a go in the near future.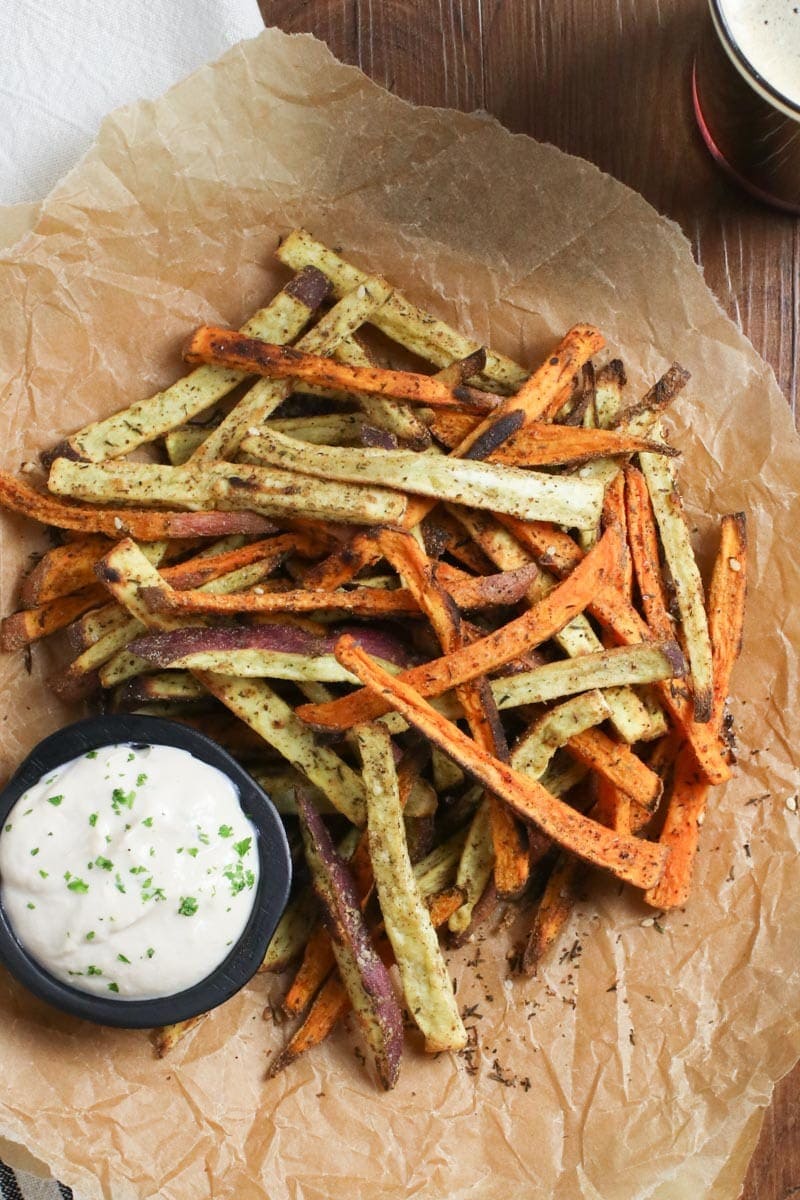 On the other hand, it's even healthier to boil your sweet potatoes, but that's not gonna help you much when you're jonesing for a batch of skinny, crispy-ish fries. When it comes to healthy, whole food plant-based eating, I'm with Dr. Greger (paraphrasing here): do whatever's going to get you to eat more veggies! Within reason, of course. Thin, baked fries, yes. Bacon poutine, no way. (Yes, that's a thing. ?)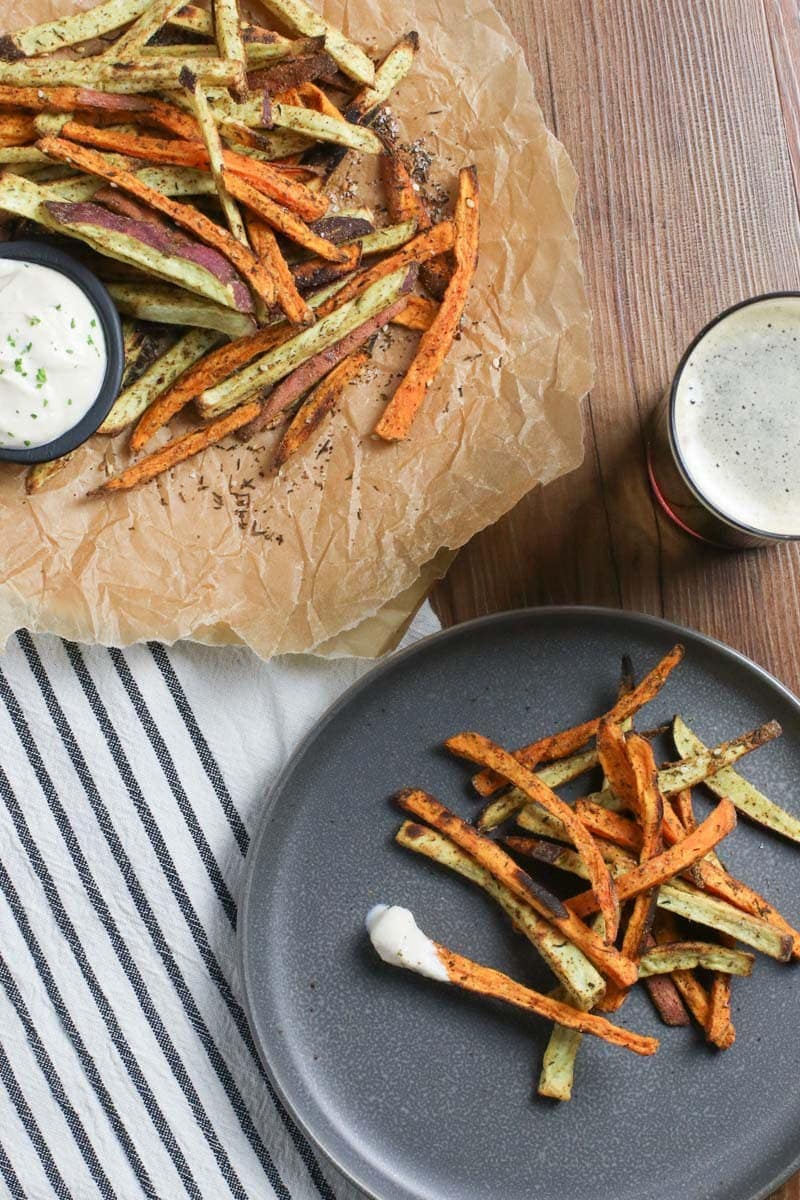 So boil them, mash them, and when you gotta have your healthy take on an otherwise pretty nasty snack, bake up a batch of these yummy oil free sweet potato fries. And don't skip the creamy, garlicky, oil free aioli.
📖 Recipe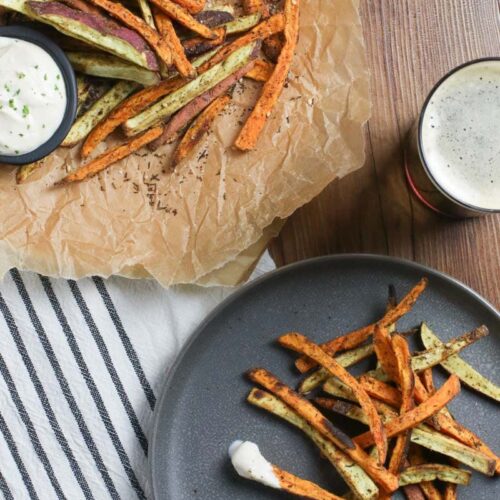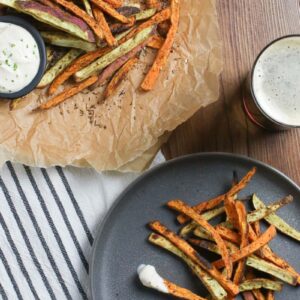 Oil Free Za'atar Sweet Potato Fries with Oil Free Vegan Aioli
Oil Free Sweet Potato Fries--with za'atar seasoning and an oil-free vegan garlic aioli dipping sauce--are golden brown, lightly crispy, healthy and delicious.
Print
Save
Saved!
Pin
Rate
Ingredients
For the Oil Free Sweet Potato Fries
2

large sweet potatoes

(about 1 ½ pounds)

1

tablespoon

tahini

1

tablespoon

za'atar seasoning

½

teaspoon

sea salt
Instructions
To make the Oil Free Sweet Potato Fries
Place racks in center of the oven. Preheat the oven to 425 degrees Fahrenheit (or 400 degree, see notes). Line two large baking sheets with parchment paper.

Cut the sweet potatoes into ¼ inch sticks. (Optional: salt and allow to rest for crispier fries - see notes.)

Place the sweet potato sticks in a large mixing bowl and drizzle with the tahini. Using your hands, toss the sweet potato sticks thoroughly with the tahini, rubbing it over all of the sticks until well coated. Sprinkle with the Za'atar seasoning and salt, and toss again until evenly coated.

Spread the sweet potato fries evenly over the baking sheets in a single layer. Bake at 425 degrees for 10 minutes, turn over, and bake for another 10 minutes, or until the fries are well browned and a bit crispy. Check occasionaly to make sure they're not getting too dark. (See notes)
To make the Oil Free Aioli
Place all of the ingredients in a food processor (or a blender, if making the cashew version), and process until smooth and creamy, about 1 minute. For the best flavor, allow to rest in the refrigerator for at least 30 minutes.
Notes
For slightly crispier fries, salt the sweet potato sticks, allow them to rest for 30 minutes, and pat them dry, before seasoning and cooking.
Cooking at 425 for 20 minutes results in well browned fries, but thin tips may become dark. If you prefer a lighter, less browned fry, cook at 400 degrees for 25-30 minutes, turning them over after 15 minutes. If choosing this method, I recommend drawing out water by salting the fries (see note above), otherwise, they don't brown well.
Kala namak, or Indian black salt, is optional but highly recommended. It has a mild sulfur flavor (like eggs) that makes the aioli taste more like 'real' mayonnaise.
Nutrition (approximate)
Calories:
91
kcal
|
Carbohydrates:
12
g
|
Protein:
4
g
|
Fat:
3
g
|
Sodium:
434
mg
|
Potassium:
270
mg
|
Fiber:
1
g
|
Sugar:
2
g
|
Vitamin A:
6150
IU
|
Vitamin C:
3.3
mg
|
Calcium:
38
mg
|
Iron:
0.9
mg