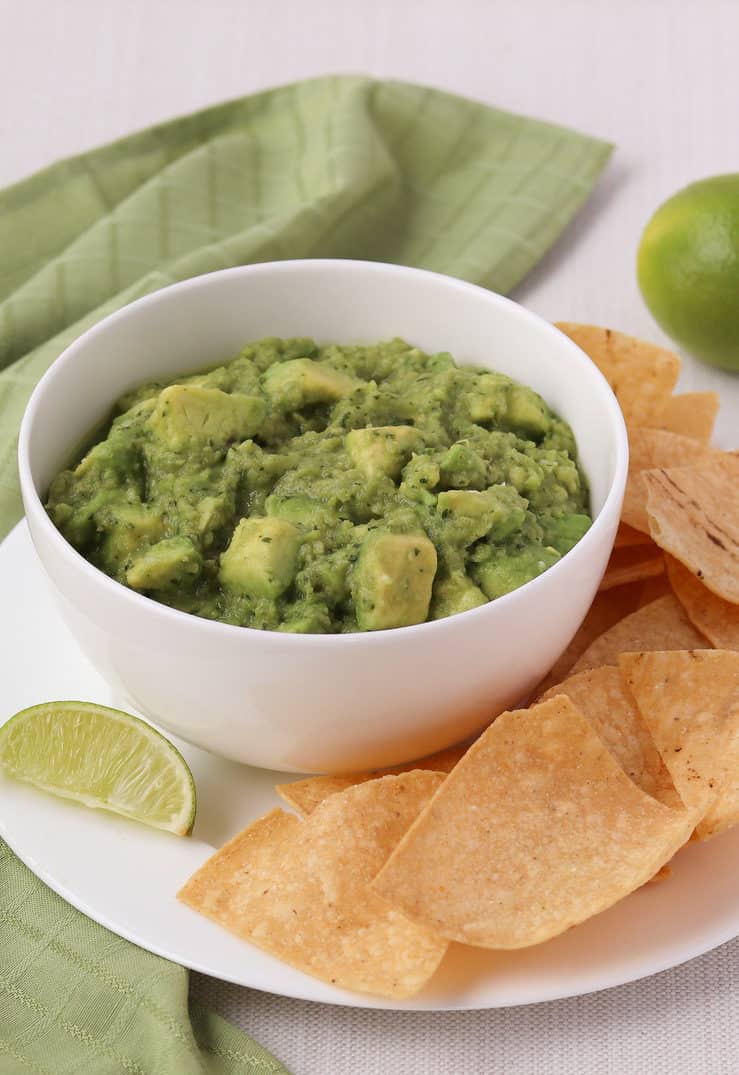 I have a complicated relationship with onions.
Cooked, they're no problem. But raw? I'm not a fan. Over the years, I've warmed up to thinly sliced green or red onions—I love the bite they add to a dish—but big chunks of raw onion overwhelm my palate. Besides, am I the only one who HATES that raw-onion-breath feeling that stays with you all day (and night)? My 'onion issues' are probably what inspired me to create Inside Out Guacamole.
In traditional guacamole recipes, you mash up your avocados,then add your diced ingredients like jalapeno, cilantro, garlic and—you got it—raw onion. In my version, I blend these ingredients together with fresh lime juice and seasonings to create a tangy dressing that I pour over avocado chunks. Then everything gets a vigorous stir and a very gentle mash (I use my potato masher) to make it creamy, but still good and chunky.
What about the onions, you ask? Blending them in the food processor releases their juices, which get blended with the lime juice, pickling everything a bit. This helps tone down the raw onion while you still get a nice bite. And the food processor helps marry all of the flavors together quickly, so this inside out guacamole is good to go right away.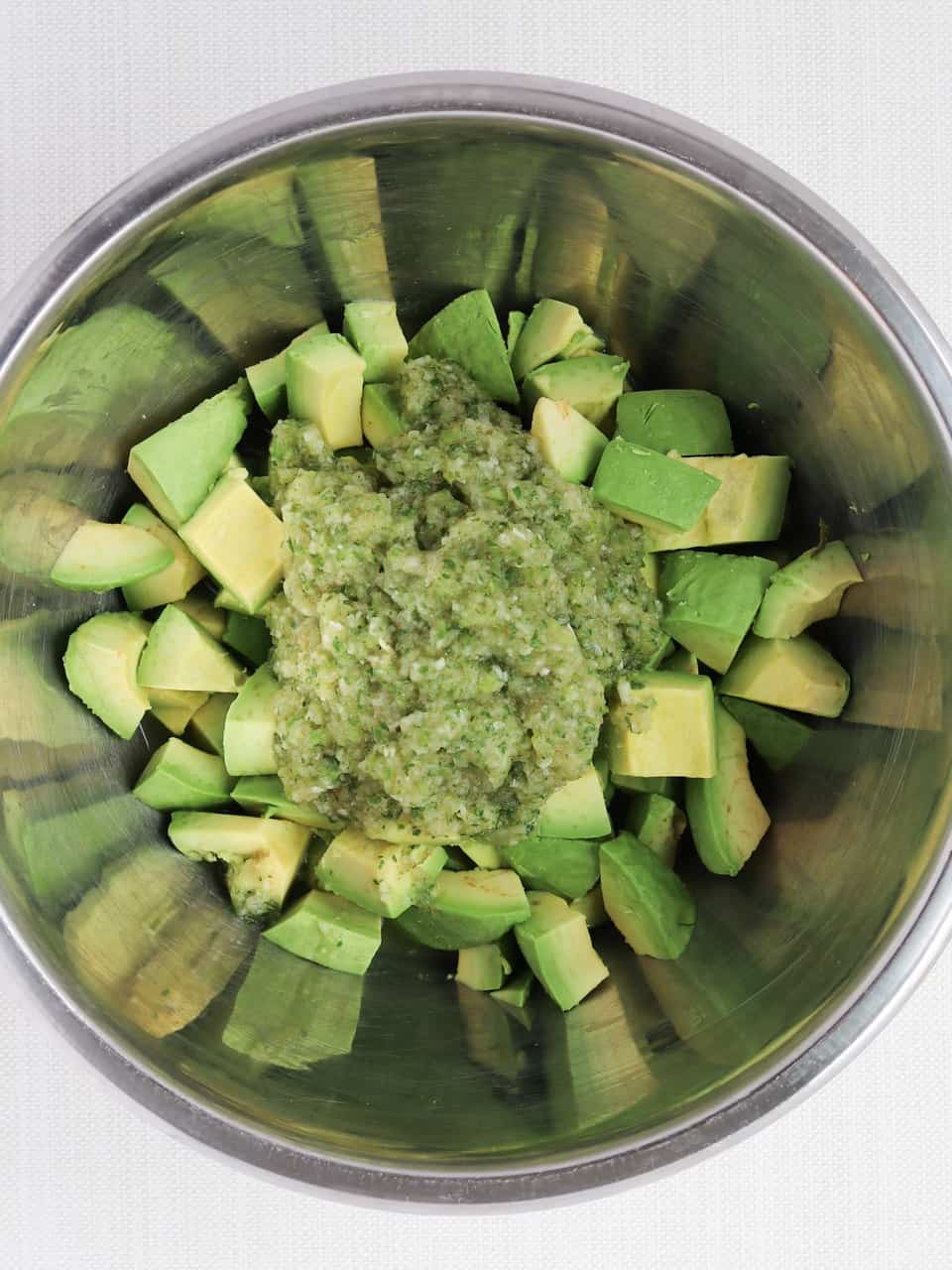 I've served inside out guacamole to guests more times than I can count, and the reaction is always the same: YUM!!! It tastes like regular guacamole—but different. And it must be good, because people eat it up like the government just announced a ration on avocados (or something).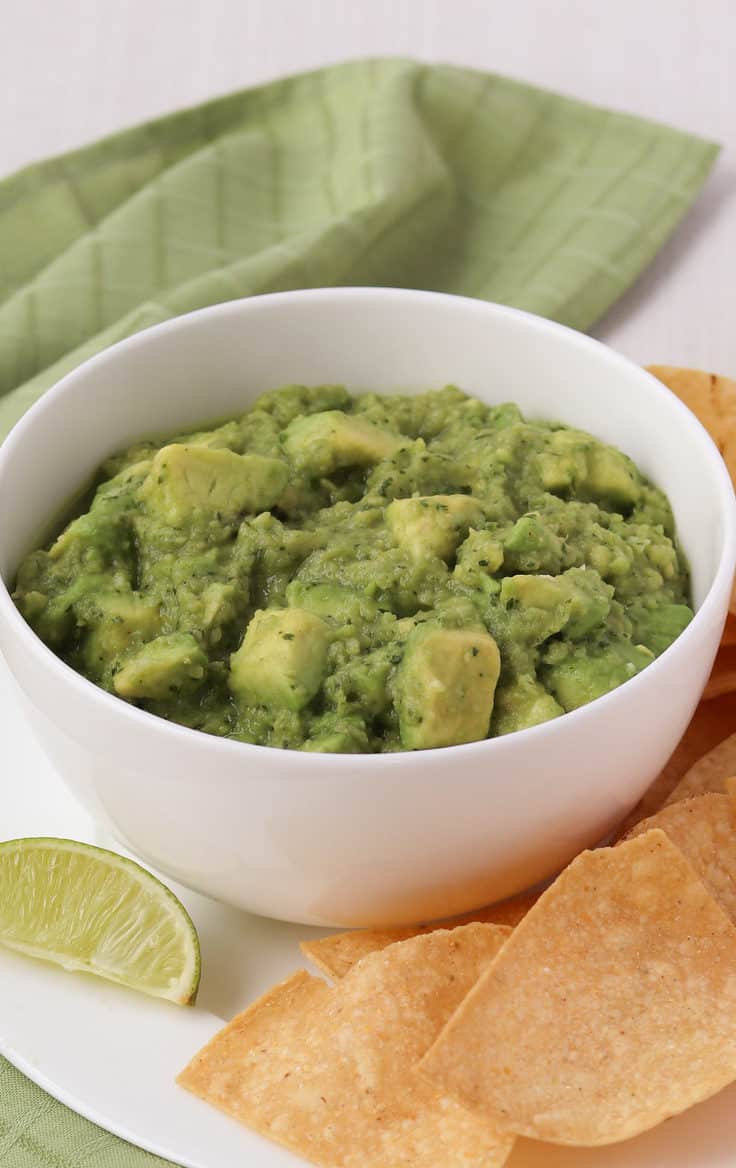 Inside out guacamole—is it a guacamole dip? An avocado salad? I don't know, but everybody loves it.
Inside Out Guacamole
Inside Out Guacamole is a new twist on an old favorite. Jalapeno, cilantro, onion, garlic and lime juice get blended to create a tangy dressing for big, creamy chunks of avocado.
Ingredients
3

ripe avocados (medium or large)

1 inch diced

1/2

yellow onion,

cut into 2 inch pieces

1

jalapeno,

seeded and cut into 2 inch pieces

1

lime,

juiced

1

large clove garlic,

smashed and chopped

1/2

teaspoon

cumin

1/4

teaspoon

cayenne

1/2

teaspoon

sea salt

1/4

cup

loosely packed, chopped cilantro leaves
Instructions
Place the onion, jalapeno pepper, lime juice, garlic, cumin, cayenne pepper and sea salt in a food processor, and process about 15-30 seconds until well blended.

Place the diced avocado in a large bowl and pour the ingredients from the food processor over the top. Stir thoroughly, then gently mash the avocado with a potato masher. You want to soften the avocado slightly and make the guacamole creamy, while leaving most of the avocado chunks intact.
Nutrition
Calories:
170
kcal
|
Carbohydrates:
11
g
|
Protein:
2
g
|
Fat:
14
g
|
Saturated Fat:
2
g
|
Sodium:
201
mg
|
Potassium:
512
mg
|
Fiber:
7
g
|
Sugar:
1
g
|
Vitamin A:
4.1
%
|
Vitamin C:
20.5
%
|
Calcium:
1.8
%
|
Iron:
4.1
%