There are a plenty of energy bite recipes floating around—and even carrot cake bites. No surprise there, because they're absolutely delicious! So why reinvent the wheel? Because I wanted a go-to recipe that would: 1) be healthy enough to eat daily and use key, super-nutritious ingredients, 2) be vegan and WFPBNO compliant, 3) be budget friendly, and 4) include some fun variations. These easy No-Bake Carrot Cake Bites check all the boxes!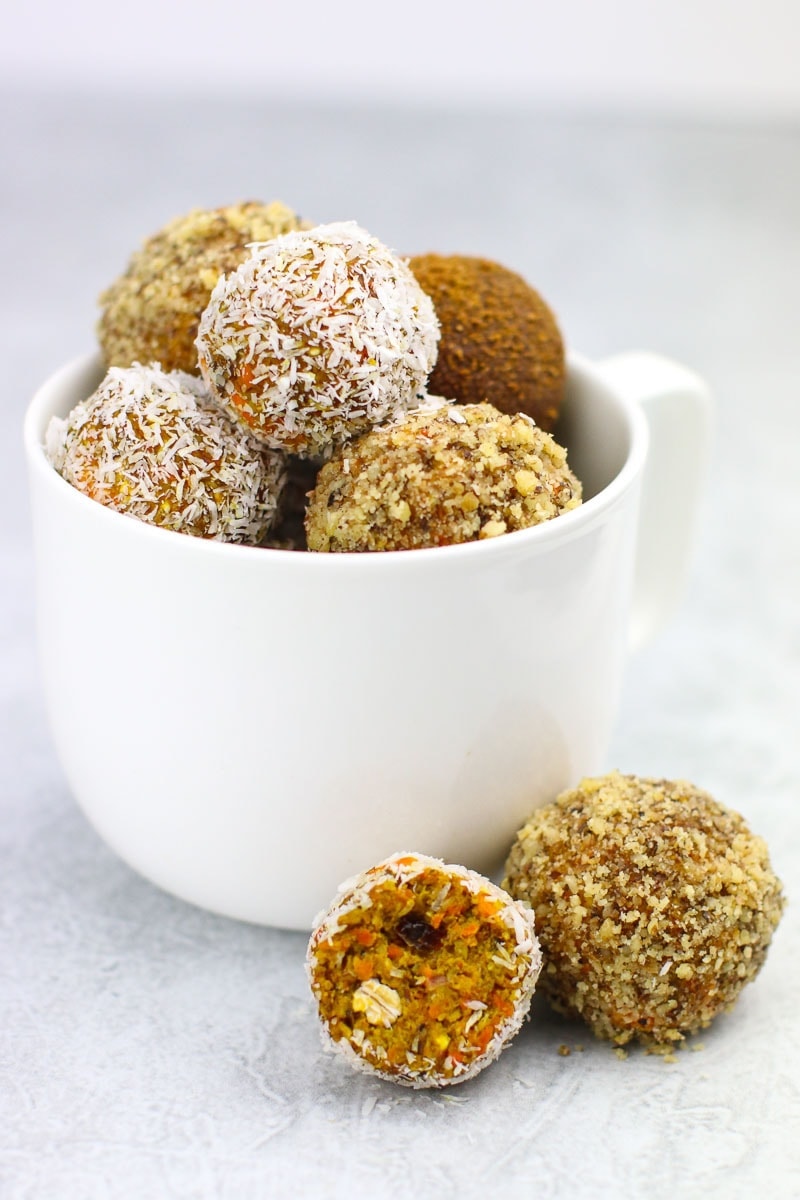 1. Packed with Super Nutritious Ingredients
Hemant and I follow Dr. Michael Greger's (author of How Not to Die) 'daily dozen' eating recommendations, so including super-nutritious ingredients like flax, walnuts and turmeric is important to us. We often just stir these into our oatmeal.

But for mornings when we don't manage to find the time to make oatmeal (too often, lately)—or when Hemant's about to run out the door without breakfast—I think these carrot cake bites are going to be a lifesaver.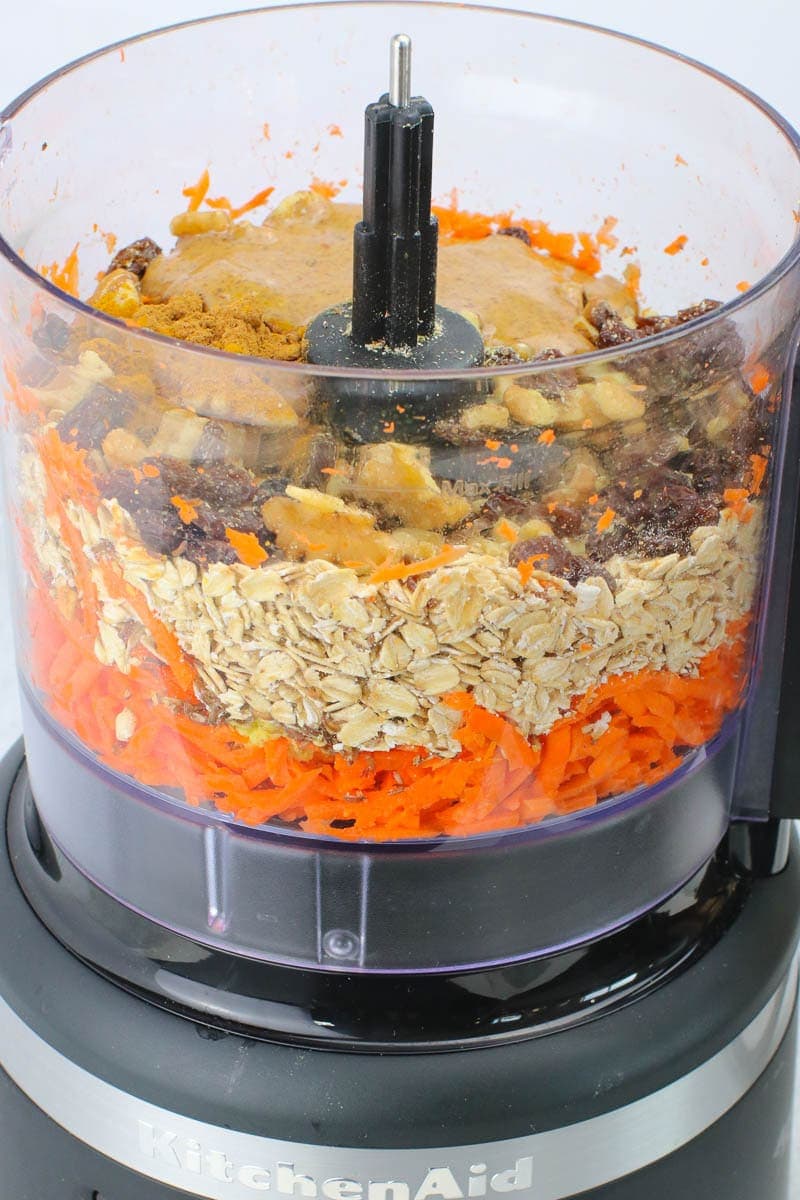 2. WFPBNO Compliant
These no-bake carrot cake bites are 100% vegan and WFPBNO compliant. They're oil free, flour free and gluten free. They have no added sugars, and other than ½ teaspoon of vanilla, no processed ingredients, either. (I'm sure you could skip the vanilla, if you'd like.)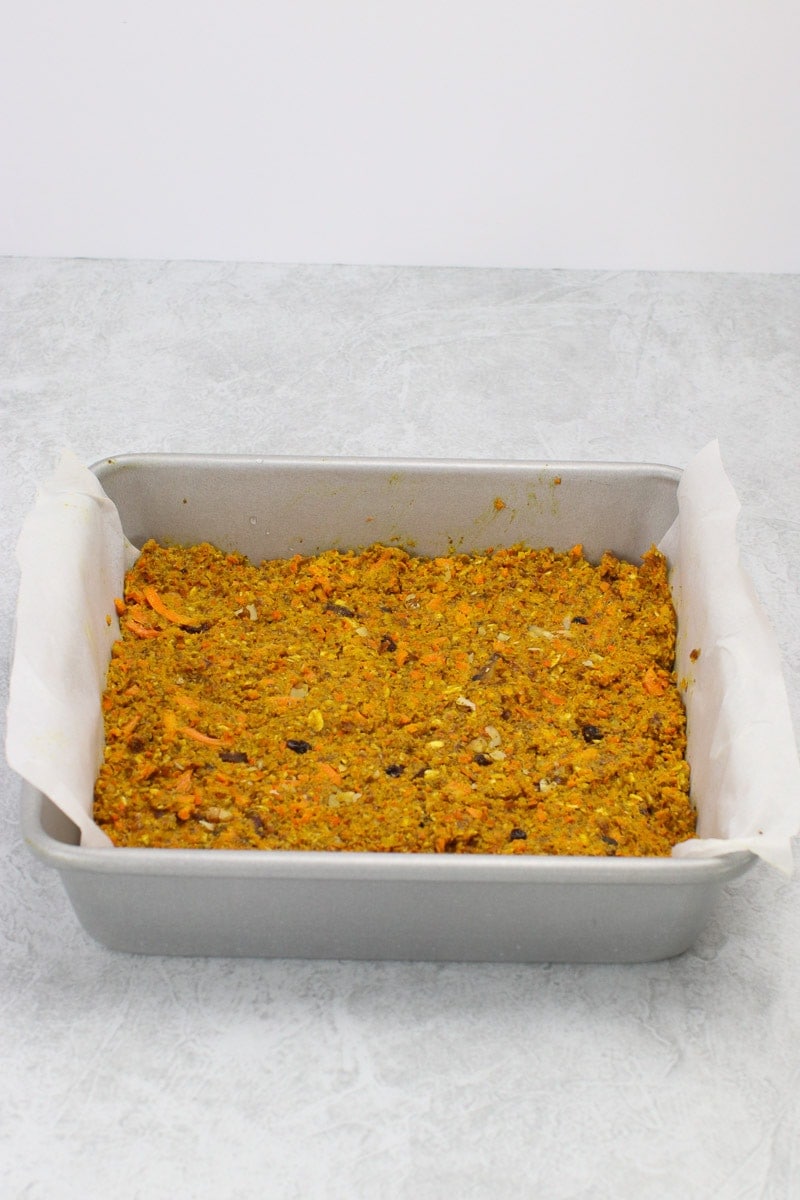 3. Budget Friendly
Since I plan to make this recipe a lot (and hope you will too.) I wanted something easy on the budget. For example, Medjool dates are on the expensive side, at least where I live, so I use a combination of dates and raisins to keep the cost lower. (I saw one recipe that called for 14 Medjool dates. That's a whole lot of dough--and sugar.) Also, you can decrease the walnuts and increase the flax more cost savings.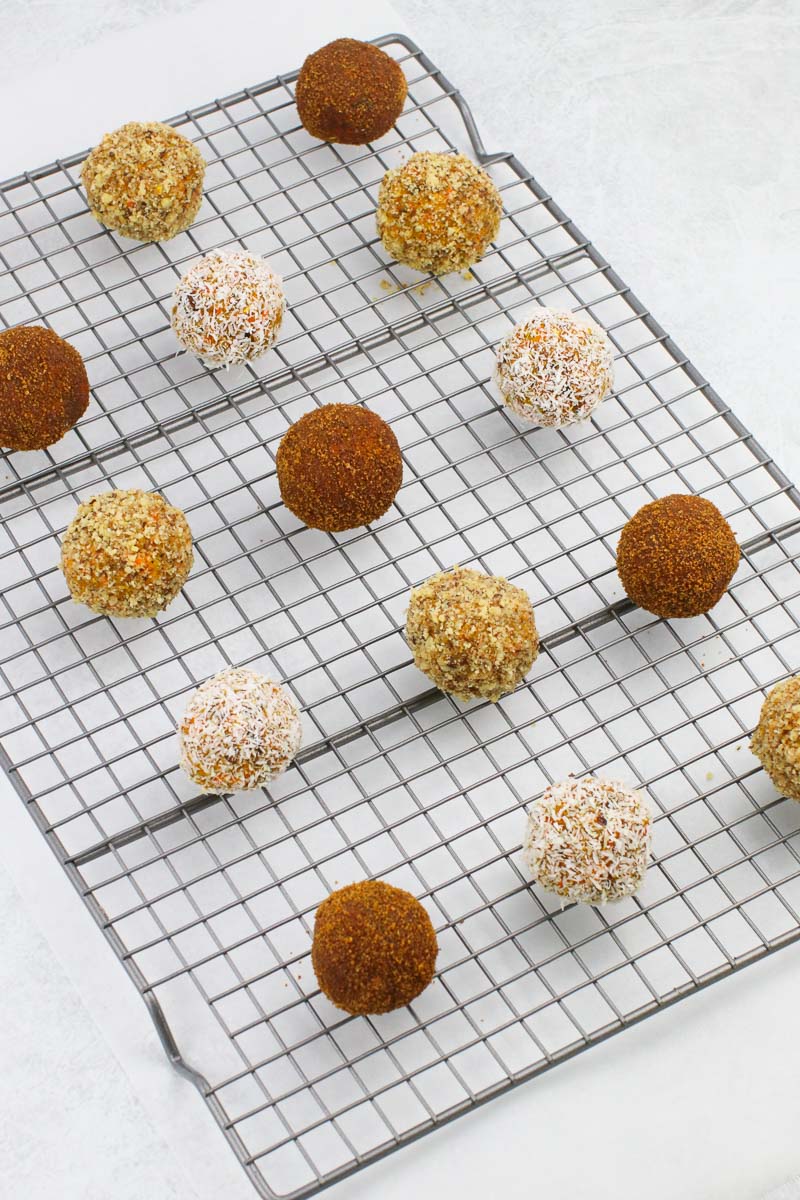 4. Fun Carrot Cake Bites Variations
These carrot bake bites are healthy enough to eat every day. Of course I realize, on occasion, you might want to you want to indulge yourself a bit. For those days, I created a 'donut hole' variation that amps up the sweetness with a bit of coconut sugar and cinnamon to create a sweeter, almost syrupy bite. My husband likes this version best, of course, and I have to admit, it's really, really good.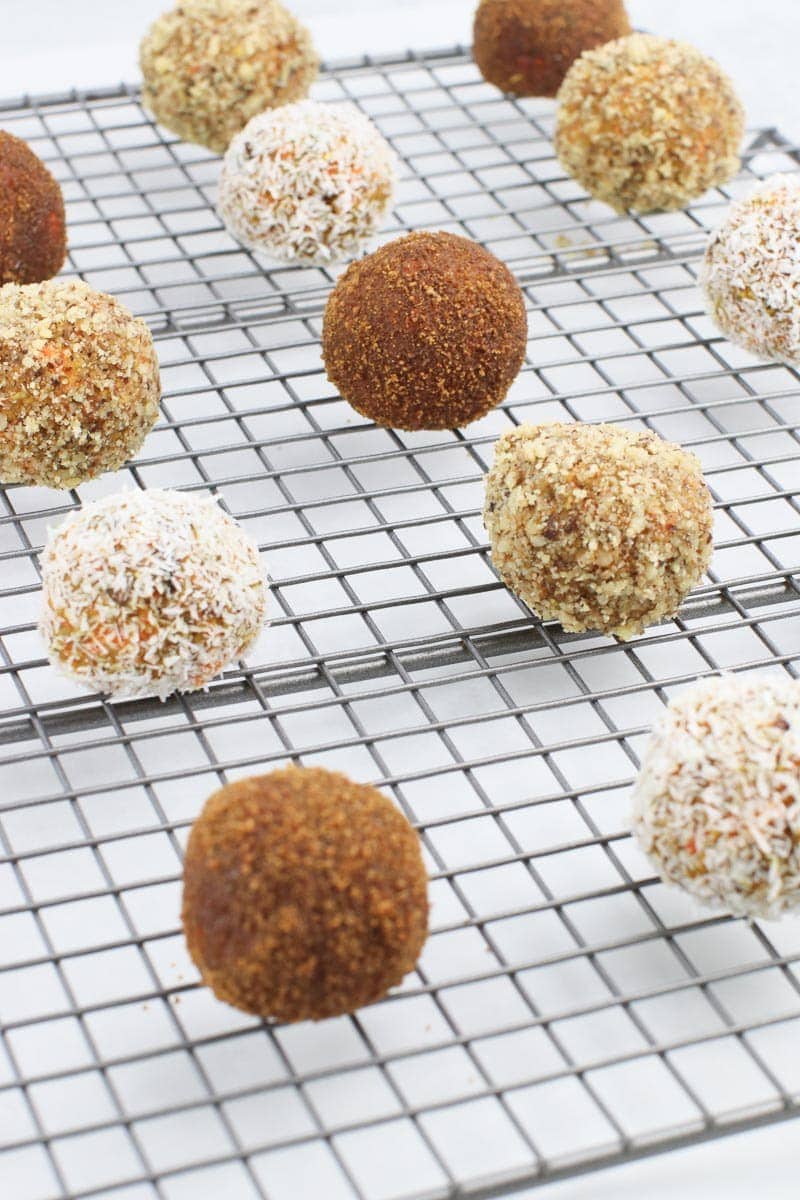 I also offer different variations for coating your bites (coconut or walnuts) and various methods for creating balls vs. bars, depending on how much time you have and how portable your snacks need to be.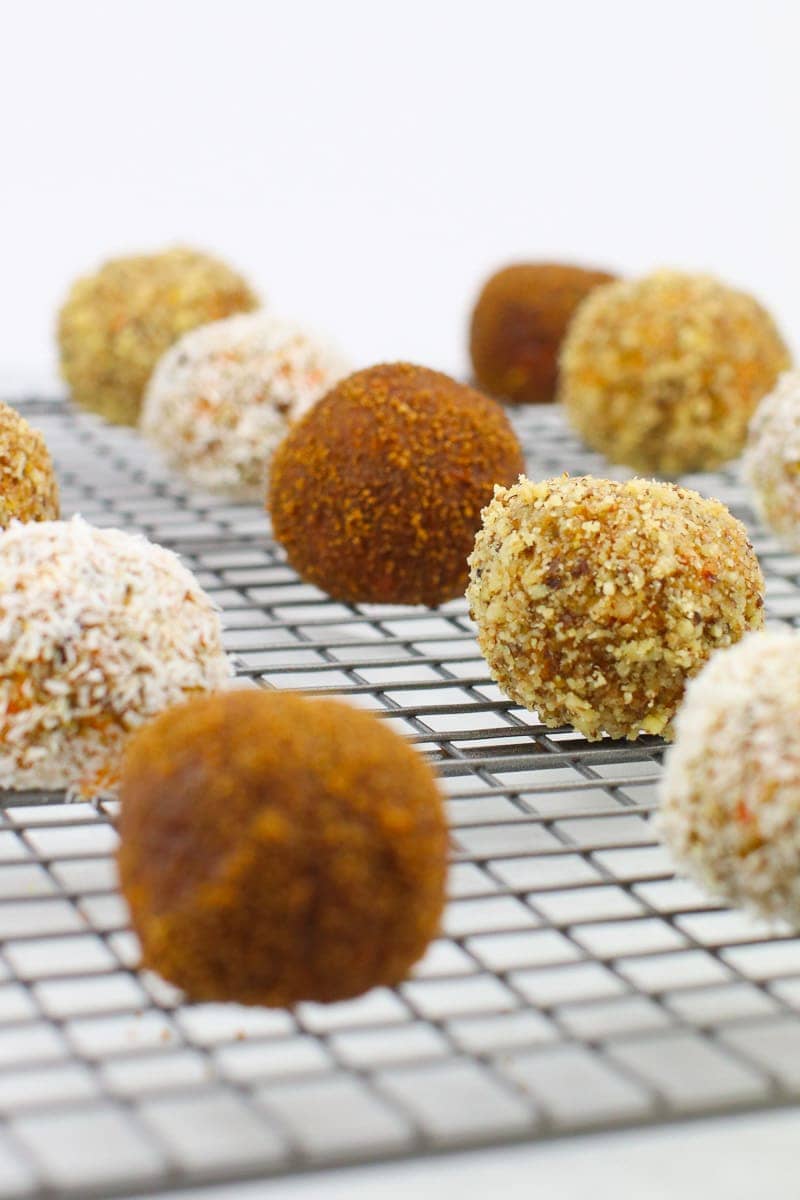 These delectable, portable, no-bake carrot cake bites are super nutritious and easy to make. Keep them on hand for an instant breakfast, healthy snack--or in case of a hunger emergency.
If you love nutrition-packed whole food plant-based recipes, you might also like:
📖 Recipe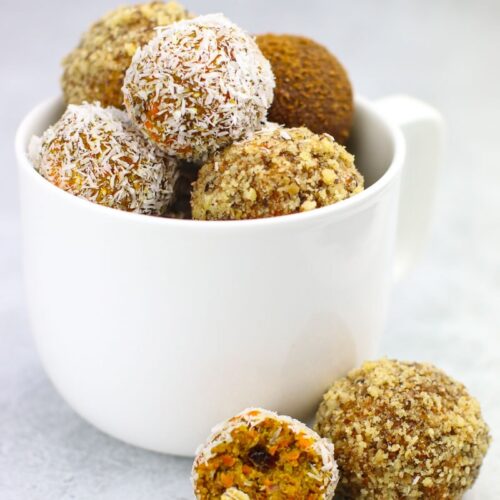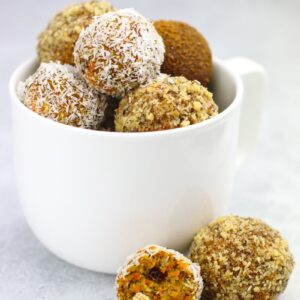 No-Bake Carrot Cake Bites
Delectable, portable, no-bake carrot cake bites are super nutritious and easy to make. Keep them on hand for an instant breakfast, healthy snack--or in case of a hunger emergency.
Print
Save
Saved!
Pin
Rate
Ingredients
2

large carrots

grated (about 1 ½ cups)

¼

cup

roughly chopped Medjool dates

softened (about 3 large dates)

¼

cup

coarsely ground flax seed

(or more-see notes)

1

cup

rolled oats

¼

cup

plain

unsweetened natural style almond butter

½

cup

raisins

½

cup

walnut pieces

1 ½

teaspoon

pumpkin pie spice

or make your own - see notes

½

teaspoon

vanilla extract

Optional: 1 teaspoon fresh ginger

finely grated

Optional: 1 teaspoon turmeric powder

(or more)

½

cup

unsweetened shredded coconut

to roll the bites in

Variations: For a sweeter, donut-hole type bite, roll in a mixture of coconut sugar and cinnamon, then dredge in shredded coconut or ground walnuts. For extra crunch, roll the bites in ground walnuts.
Instructions
Grate the carrots using the grating/shredding blade of your food processor or a box grater. If using ginger, grate it by hand with the fine section of a box grater or a micro-planer.

Soften the chopped dates by placing them in a small dish with a tablespoon of water and microwaving on high for 30 seconds.

Add all ingredients (except the shredded coconut) to a food processor and pulse until well blended stopping occasionally to scrape down the sides. Add water (or you could use applesauce) a tablespoon at a time to thin the mixture. Continue to process until well blended and just slightly chunky.

Place in a bowl (or just leave in the food processor bowl) and cover. Allow to rest for 15-30 minutes in the refrigerator, or until the mixture is slightly firm.

To make the balls, scoop out a bit of mixture at time using a tablespoon or cookie scoop and roll into approximately 1-inch balls. (See notes for an alternative method.)

Dredge each ball in shredded coconut--or variation of your choice.
Notes
To make this recipe easier on the budget and get more flax into your diet, you can increase the flax to ½ cup and decrease the walnuts to ¼ cup.
I intentionally kept these bites not too sweet so they're healthy to eat every day. You can always add more dates if you want a sweeter bite--or roll in coconut sugar and cinnamon before dredging.
If you don't have pumpkin pie spice, sub 1 teaspoon cinnamon, ¼ teaspoon allspice and ¼ teaspoon nutmeg.
METHOD 2: Line an 8 x 8 pan with parchment paper longer than the pan (for easy removal). Spoon mixture into the pan, spread evenly with the back of a wooden spoon. Cover with parchment paper and press down gently to even out the mixture. Allow to rest for 15 minutes in the refrigerator. Using the ends of the parchment paper, lift the chilled mixture out in one piece. Place on a cutting board and slice into 16 or 20 pieces. Either top with coconut and enjoy as bars, or roll each piece into a round ball.
METHOD 2 is a bit of extra work, but I prefer it because pressing the mixture helps firm in up and it's easy to cut into even-sized bites. (Plus, I don't own a cookie scooper, and seem to have a mental block when it comes to making even-sized balls!)
Nutrition (approximate)
Serving:
1
bite
|
Calories:
101
kcal
|
Carbohydrates:
11
g
|
Protein:
2
g
|
Fat:
5
g
|
Saturated Fat:
2
g
|
Sodium:
10
mg
|
Potassium:
153
mg
|
Fiber:
2
g
|
Sugar:
2
g
|
Vitamin A:
1285
IU
|
Vitamin C:
0.7
mg
|
Calcium:
25
mg
|
Iron:
0.8
mg