This Vegan Oatmeal Cookies recipe—made with refined sugar free granola, bananas and dates—couldn't be simpler or healthier. A perfectly nutritious treat or breakfast on the go.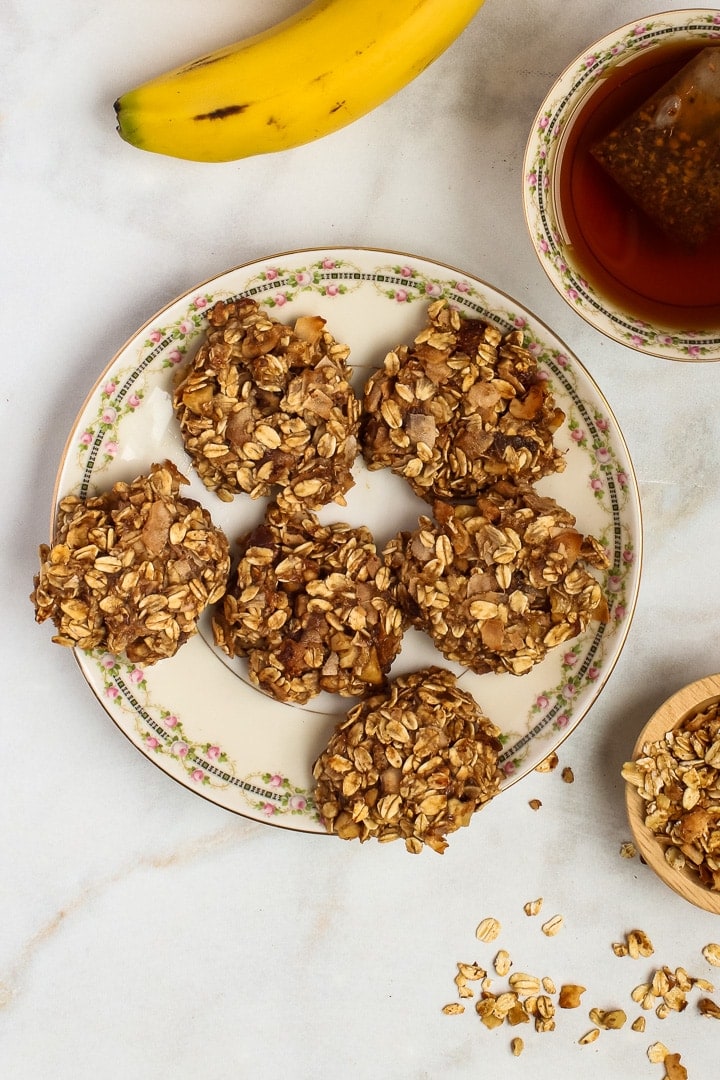 These aren't your grandma's oatmeal cookies! But this easy, healthy granola-based cookie is my new favorite 3-ingredient dessert. So healthy in fact, I LOVE these for breakfast. SO much better for you than the junk you find in processed breakfast bars.
Okay, we could debate whether or not granola is actually one ingredient or many. But since I always have some granola on hand—either homemade using my sugar free granola recipe, or the oil and refined sugar free granola we buy at our local co-op—I'm counting it as one. (See alternatives to granola for this recipe, below.)
How to Make Healthy Oatmeal Cookies
I'm not a huge dessert person (Hemant, on the other hand…). But when I do make desserts, I like them relatively healthy. Like my Healthy Brownies with Peppermint Frosting, Flourless Sweet Potato Brownies, Chocolate Mint Chia Powder Pudding and Cacao Smoothie for example.
You can make these oatmeal cookies, which are really just an easy banana cookie, with 100% unprocessed ingredients, so long as you make sure your granola fits the bill. Then we've got no flour, no refined sugars, no oil, and no honey or other animal products whatsoever.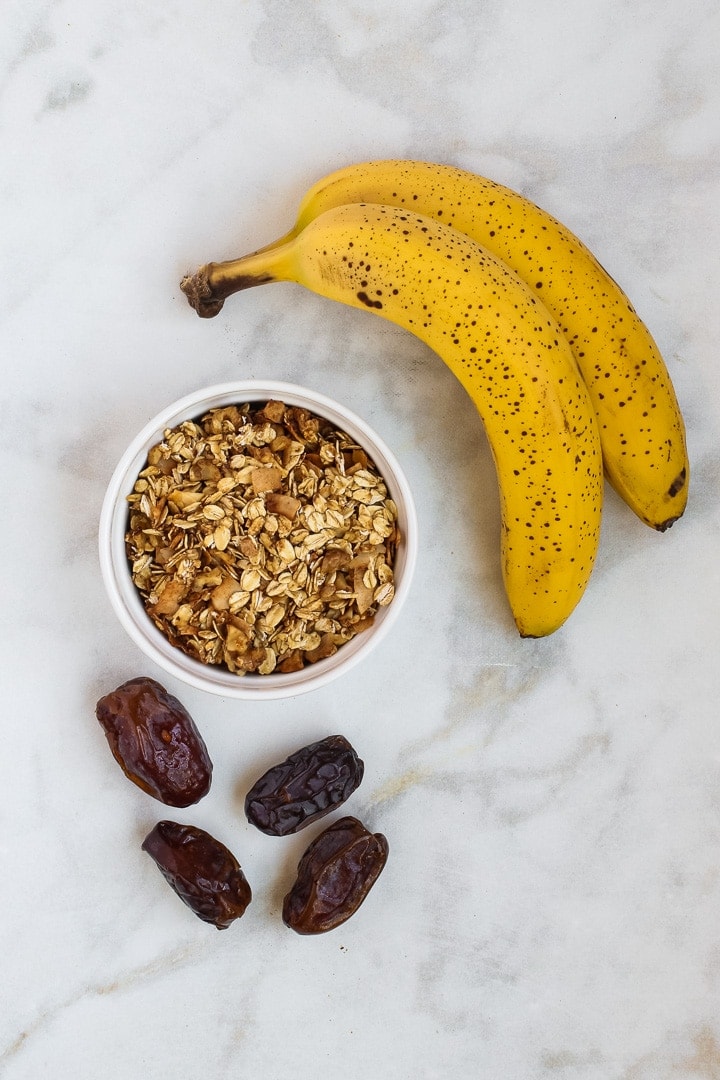 How to Make these Healthy Oatmeal Cookies
Assuming you've got your granola (or alternative dry ingredients) on hand, these cookies come together in no time with very little effort.
First, you mash up a couple of ripe bananas in a bowl. I like to use a potato masher, but you can use a big fork or even your hands.
Next, toss your dry ingredients and chopped dates into the bowl and mix well to combine everything.
Then, just scoop the mix into little balls (about 15 for this recipe) as evenly as you can get them, and place them on a parchment paper or silicone lined baking sheet. Flatten them out just a bit to help them cook evenly.
Finally, bake them at 350 degrees Fahrenheit for 16-20 minutes, let them cool, and eat them up.
Probably the hardest part about making these cookies is trying to keep your family from eating your ripe bananas! 🙂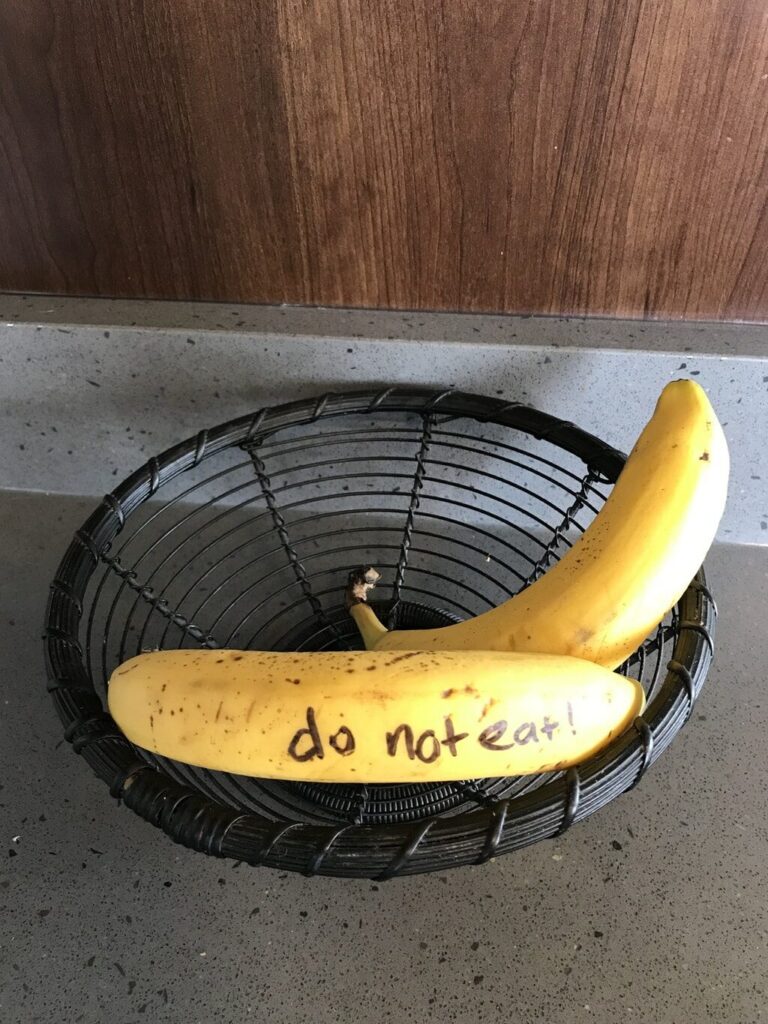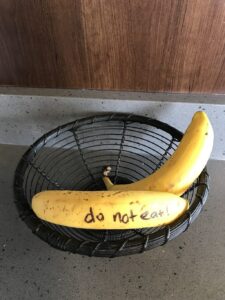 How to Make Easy Oatmeal-Date-Banana Cookies — Without Granola
If you can't find a whole food, plant-based and vegan granola in the store AND don't feel going through the extra step of making your own, you can still whip up these cookies by combining:
rolled oats + cinnamon (about 1 ½ cups)
+ ½ cup of other ingredients like:

nuts
coconut flakes (skip if you're a coconut hater)
dried fruit
optional added sweetener (like Swerve/erythritol, maple syrup or an extra date)
I really like using granola in this recipe. I find it makes the cookies a little 'toastier' since the granola is already baked and golden brown, and the cookies don't bake very long. But they'll still be really good with plain rolled oats and your favorite add-ins. And so, so simple.
How to Make Vegan Oatmeal Raisin Cookies
Some people worry that adding calorie dense foods like dried fruits or nuts to their diet will cause weight gain, or make it harder to lose weight. However, studies seem to indicate otherwise (video).
So if you like your oatmeal cookies with nuts (if you're not allergic) or raisins, I say go for it. Just make sure to buy raisins or other dried fruits that have no added oil or other additives. (Adding oil is a little trick manufacturers use to increase the weight and bulk of dried fruits.)
Enjoy!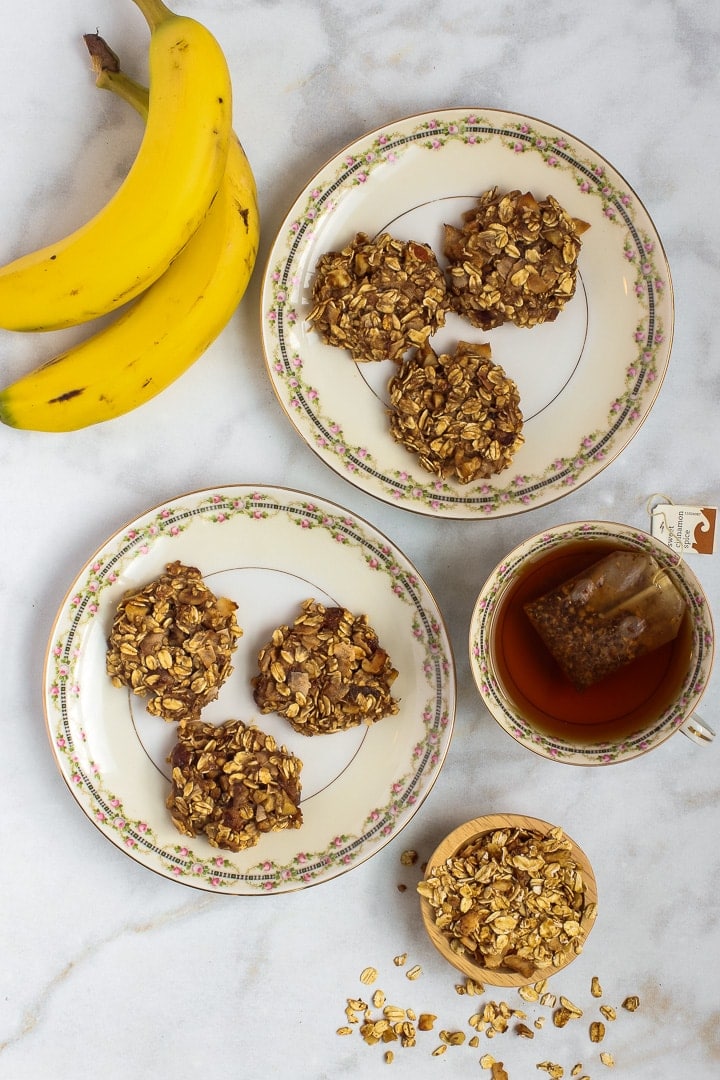 I LOVE hearing from you! It would make my day if you'd be so kind as to:
Rate this recipe and/or leave a comment if you make it. (Under the recipe picture or below the recipe.)
Thanks bunches and happy, whole-food cooking!
📖 Recipe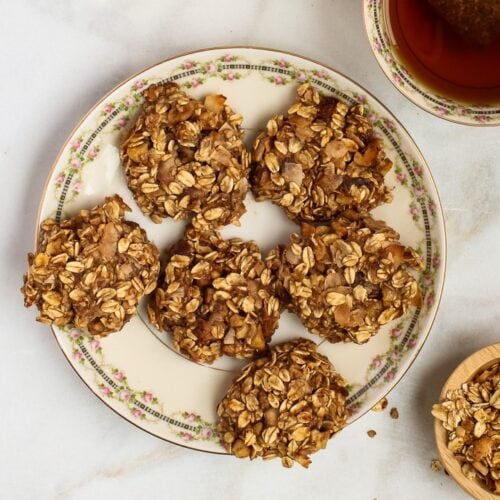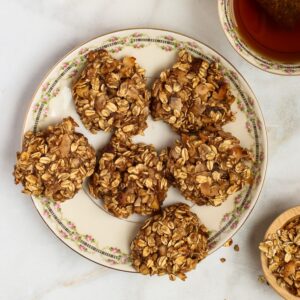 Vegan Oatmeal Cookies - Easy & Healthy
This Vegan Oatmeal Cookies recipe—made with sugar free granola, bananas and dates—couldn't be simpler or healthier. A perfectly nutritious treat or breakfast on the go.
Print
Save
Saved!
Pin
Rate
Ingredients
2

large ripe bananas

(1 cup mashed)

2

cups

vegan sugar free granola (or your favorite granola)

(naturally sweetened & oil free; certified gluten free if desired. Or sub 1 ½ cups rolled oats +½ teaspoon cinnamon + ¼ cups unsweetened coconut flakes + ¼ cups chopped nuts + sweetener. See notes.)

½

cup

chopped Medjool dates

(about 4 dates)

Optional add-ins: ¼ cup raisins, chocolate chips or chopped nuts.
Instructions
Preheat oven to 350 degrees Fahrenheit. Line a baking sheet with parchment paper.

In a large mixing bowl, mash the banana using your hands, a large fork or a potato masher. Add the granola and chopped dates to the bowl and mix until well incorporated.

Spoon into approximately 15 balls, and place evenly on the baking sheet. Push down a little on each ball to flatten.

Bake for 16-20 minutes, or until the bottoms are slightly brown and the cookies slide off the parchment paper easily.

Let the cookies cool before eating. (They stick together best once cooled.)
Notes
Granola: Use your favorite whole food plant-based no oil compliant granola. I can find it in the bulk section of my local co-op. Or if you can't find any at the store, you can make your own using this Sugar Free Granola recipe. Or you an simply use 1 ½c cups unbaked oats + add ins like ½ teaspoon cinnamon + 1/cup nuts + ¼ cup unsweetened coconut flakes + an extra date or 2 tablespoons of date sugar. Just make sure you've got 2 cups of ingredients total. I've found that using granola results in a cookie that's bit crispier & toastier, but this simple version is still good.
Nutrition (approximate)
Serving:
1
g
|
Calories:
81.98
kcal
|
Carbohydrates:
13.57
g
|
Protein:
1.79
g
|
Fat:
2.86
g
|
Saturated Fat:
1.05
g
|
Sodium:
1.34
mg
|
Potassium:
178.27
mg
|
Fiber:
2.07
g
|
Sugar:
5.43
g
|
Vitamin A:
17.37
IU
|
Vitamin C:
1.56
mg
|
Calcium:
16.61
mg
|
Iron:
0.08
mg