I don't bake much, but I've been on a bit of a quest to come up with vegan desserts that are EXTRA healthy. (Like my Skinny Chocolate Mint Chia Pudding and Skinny Pumpkin Spice Pudding.) So healthy that—dare I say it—they're even good for you. This Healthy Brownies with Peppermint Frosting recipe is so chock full of high-fiber goodness, you could eat them for breakfast!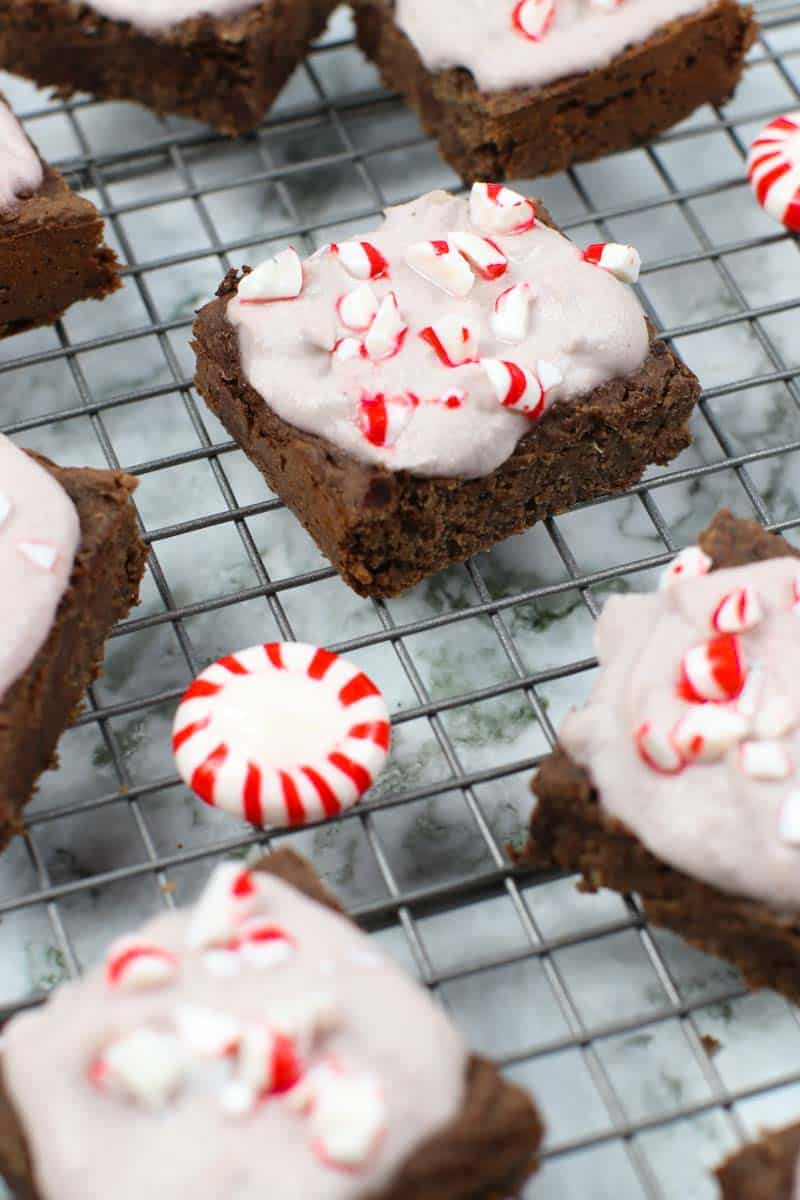 How to Make Brownies without Oil
The internet—especially Pinterest—is full of gorgeous vegan desserts. I've never been much of a baker (these brownies are far from beautiful!), but I started experimenting with simple desserts when I first went vegan, probably because I was so worried I'd feel deprived. (I realize now how silly that was.) But I soon discovered many of those desserts were loaded with saturated fat, usually from coconut oil.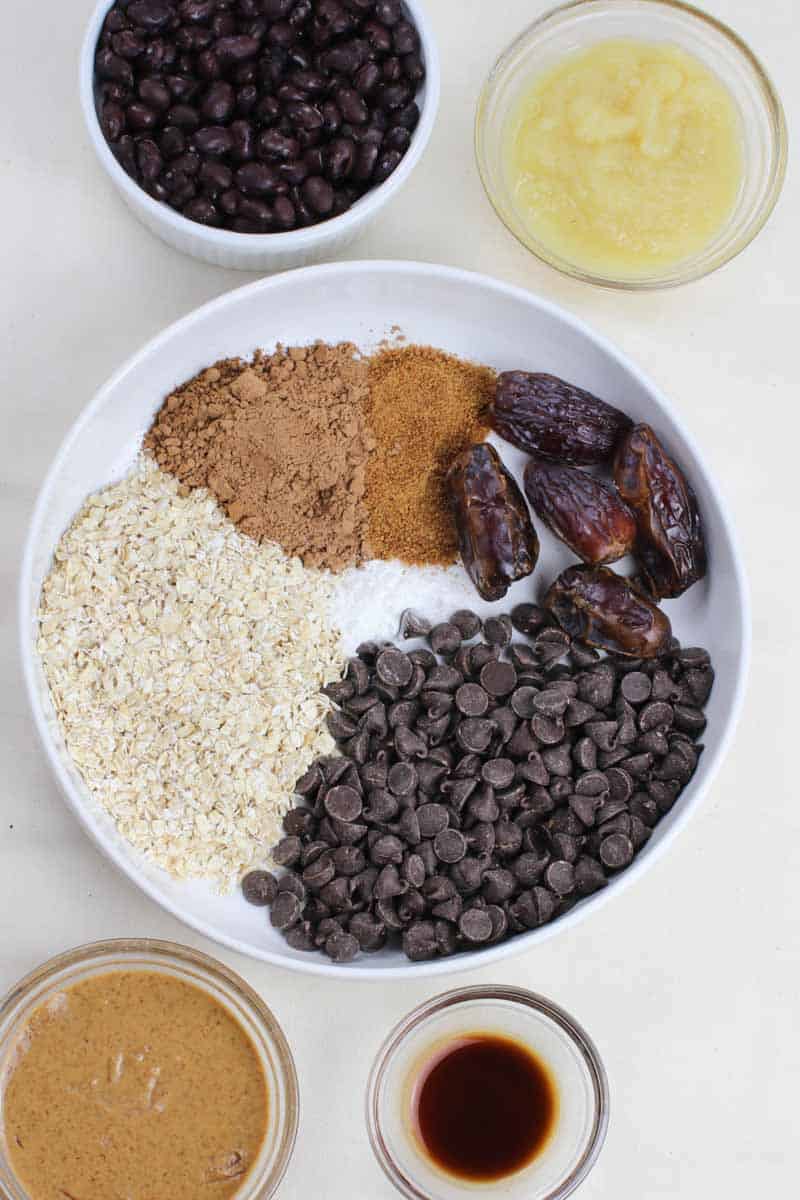 Before you write to me and tell me that coconut oil is good for you, I'd encourage you to check out some studies on NutritionFacts.org. Saturated fat from plants may be 'better' than saturated fat from animal sources, but it can still raise your bad (LDL) cholesterol. Coconut oil is loaded with saturated fat. When I realized this, I ran into my pantry and threw out a large, new and quite expensive jar of the stuff.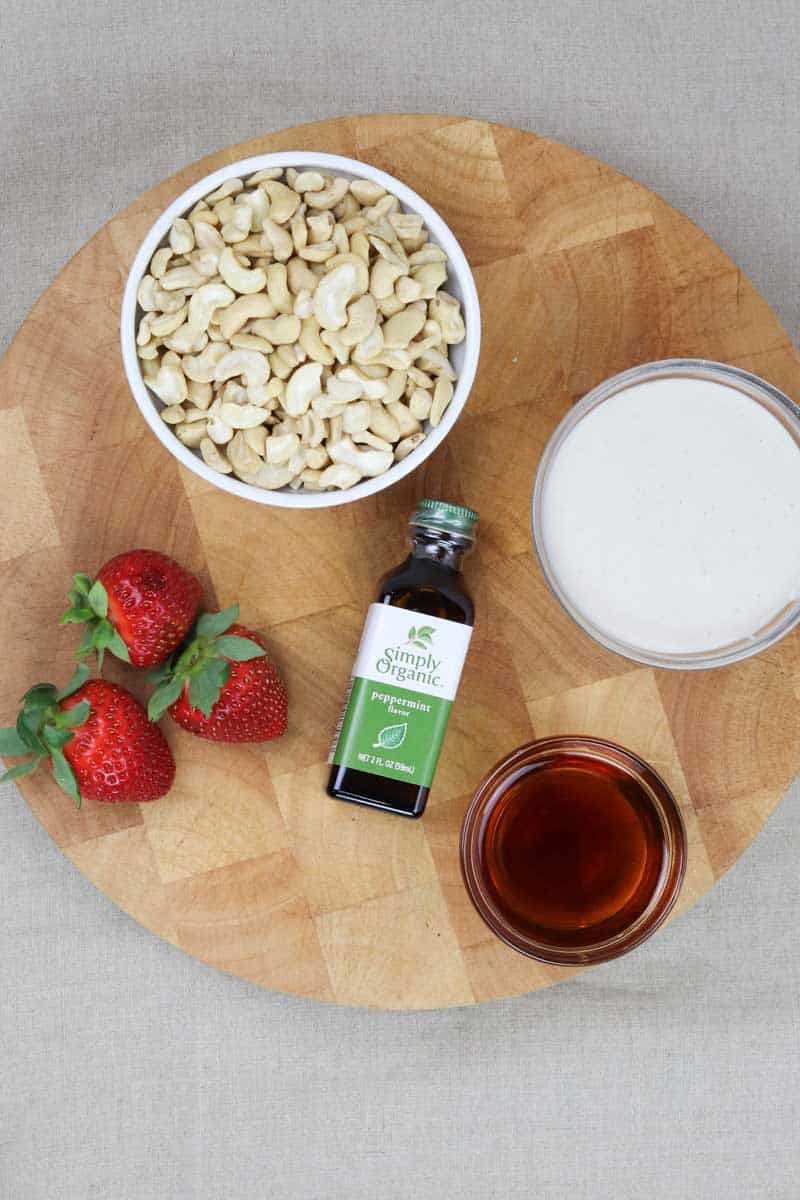 But the great news is, you don't need it! You can make vegan, whole-food, plant-based desserts like these Healthy Brownies with Peppermint Frosting with no oil whatsoever. And they taste great. (Really! I promise!)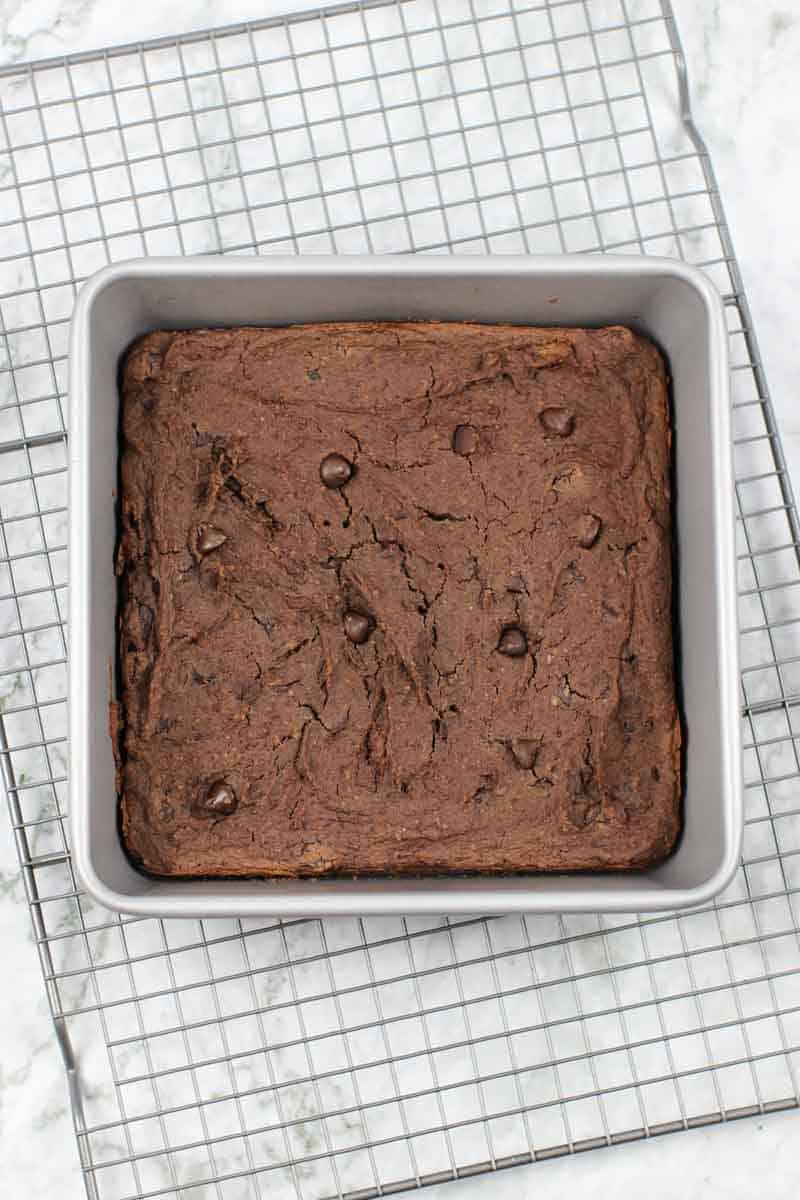 Black Bean Brownie Ingredients
So, what makes these brownies SO healthy? They're made with wholesome ingredients like black beans, oats, dates, almond butter and applesauce. (Almond butter has only .7 grams of saturated fat per tablespoon compared to 12 grams for coconut oil!) And the peppermint frosting is made with cashews, strawberries and non-dairy yogurt. With me so far?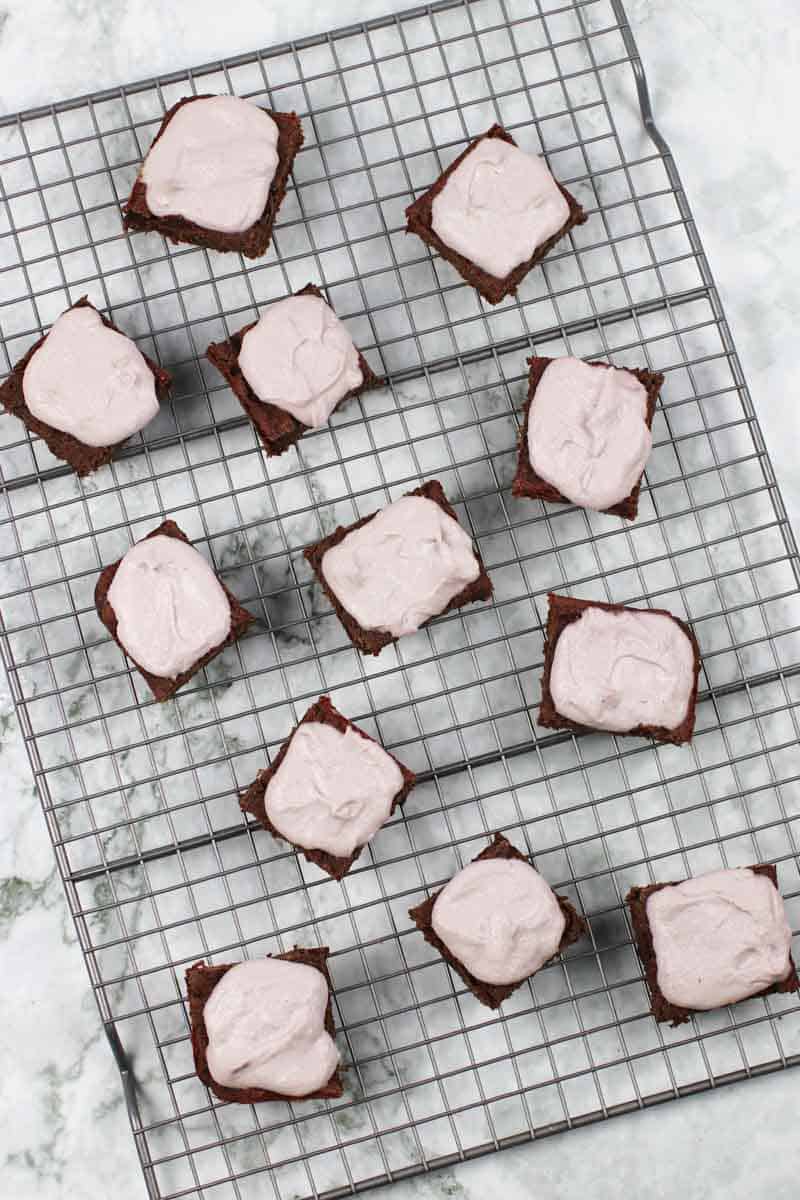 If you skip the optional peppermint candies (they're pretty, but I actually prefer them without), there's just a bit of added, unrefined sugar in this recipe—1 tablespoon of coconut sugar in the brownies, which is optional, and 1 tablespoon of maple syrup for the frosting. The rest of the sweetness comes from 4-5 dates and chocolate chips. (You can find these vegan baking chips at Whole Foods and on Amazon.)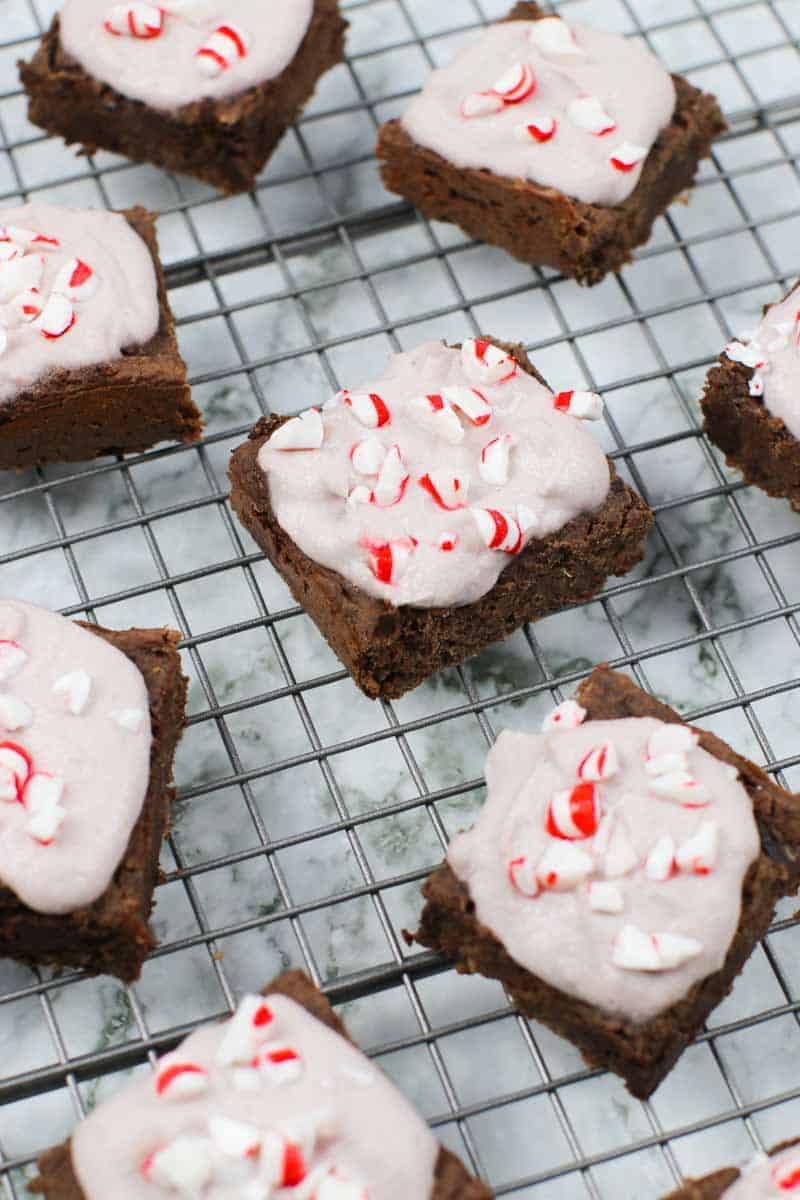 The true test of these Healthy Brownies with Peppermint Frosting—or any healthy dessert I make—is the Hemant test. My husband has a major sweet tooth! I'll confess, there have been iterations of this recipe he didn't care for, but this one gets a resounding double thumbs up. And he's not even a big fan of chocolate. (I'm the chocoholic in the house.)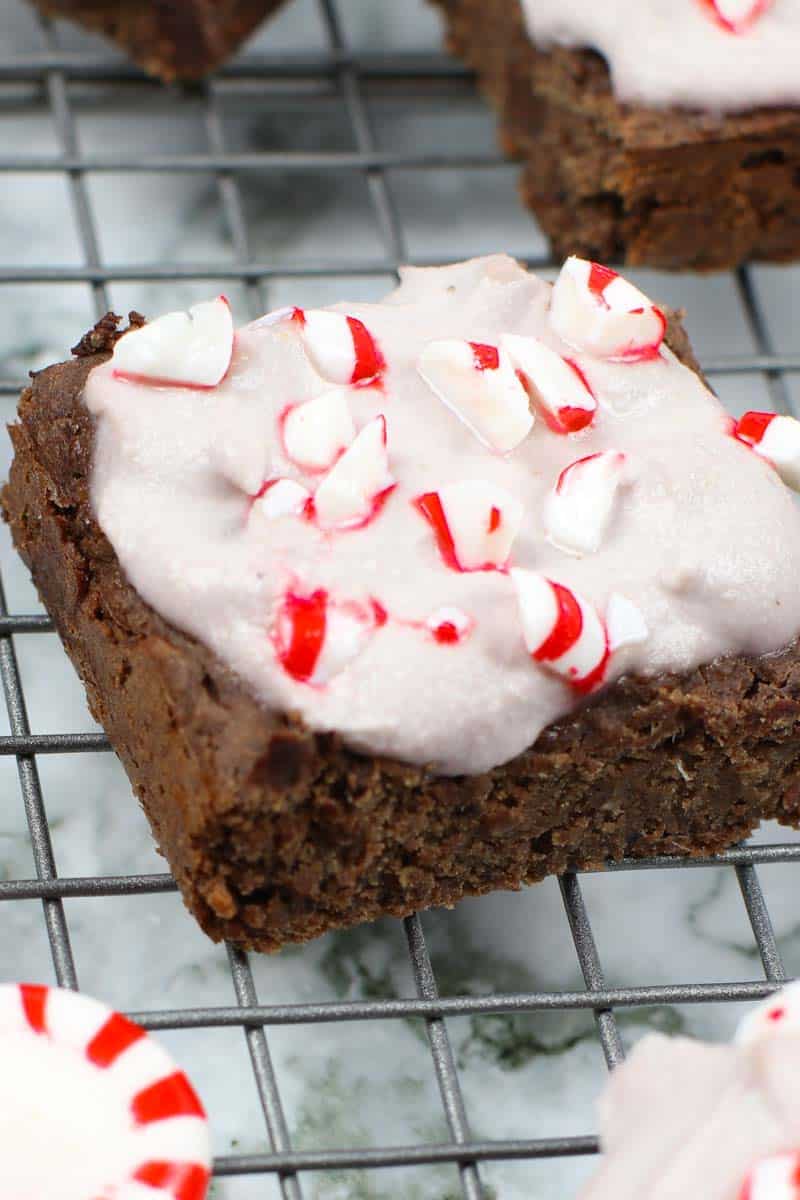 Over the holidays (or any time), these Healthy Brownies with Peppermint Frosting are a nice sweet treat you can spring on your unsuspecting friends and family. Just don't reveal the ingredients until after they devour them.
📖 Recipe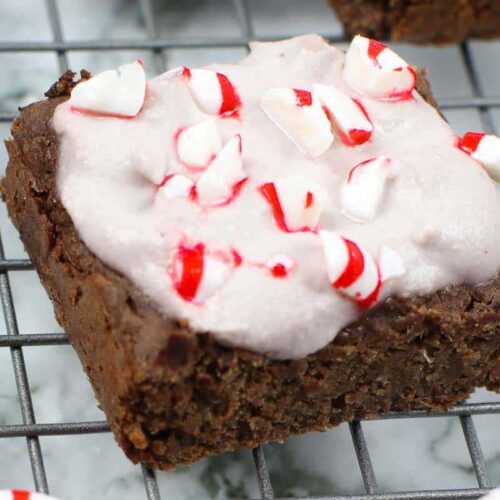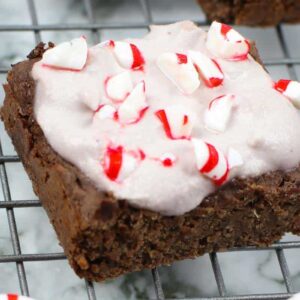 Healthy Brownies with Peppermint Frosting
Delicious, fudgy Healthy Brownies with Peppermint Frosting are so chock full of good-for-you ingredients, you could eat them for breakfast! No oil, gluten, refined sugar, flour—or guilt.
Print
Save
Saved!
Pin
Rate
Ingredients
Brownies
1 15-

oz

can black beans

drained and well rinsed

½

cup

quick cooking rolled oats

⅓

cup

chopped Medjool dates

(about 4-5)

⅓

cup

unsweetened almond butter

⅓

cup

unsweetened applesauce

2

tablespoons

cocoa powder

2

teaspoons

pure vanilla extract

1

tablespoon

erythritol

(such as Swerve brand. Or use another compliant sweetener like date sugar or maple sugar, or add 1-2 extra dates)

½

teaspoon

baking powder

¼

teaspoon

salt

⅔

cup

semi-sweet baking chips

(vegan & refined-sugar-free. If you can't find chips, just crush a vegan dark chocolate bar.)
Peppermint Frosting
¾

cups

raw cashews

soaked in hot water 1 hour or 6-8 hours at room temperature

¼

cup

vanilla yogurt

(I like cashew yogurt for this recipe)

1

tablespoon

maple syrup

2-3

drops of pure peppermint extract.

(Or ½-1 teaspoon of peppermint flavor. Do not use if oil free.)

2-3

strawberries
Instructions
To make the brownies:
Preheat oven to 350°. Use a non-stick 8" x 8" baking pan or line with parchment paper.

To soften the dates, place them in a small dish with 1 tablespoon of water in the microwave and heat on high for 30 seconds.

To a large food processor, add the dates (and any liquid), beans, oats, cocoa powder, applesauce, almond butter, coconut sugar, vanilla extract, baking powder and salt. Blend well until completely mixed, stopping to scrape down sides as needed. You want a creamy mixture, with no chewy chunks of oats or beans.

Stir in the chocolate chips, but DO NOT BLEND. (I stir them right in the food processor, just be careful not to get brownie mix in the whole in the center!)

Spread the brownie mix evenly in the pan and place in the oven. Cook, uncovered, 18-22 minutes or until a toothpick placed in the center comes out clean. (If the toothpick hits a chocolate chip, it will come out coated with melted chocolate! Check a different spot.) If they're a bit soft after cooling, they will firm up over time or place them in the fridge.
To make the frosting:
Place the cashews, yogurt, maple syrup, peppermint extract (or flavor) and strawberries in a high speed blender. Blend until smooth and creamy, stopping occasionally to scrape down the sides of the blender as needed. This can take several minutes.

You can serve as is, but I recommend placing the frosting in fridge for about 1 hour to firm up.

Spread a generous layer of frosting over brownies, ideally, just before eating. Store any extra frosting or frosted brownies in the fridge. See notes.

Optional: If desired, top with crushed peppermint candies or candy canes JUST BEFORE EATING - SEE NOTES. (Do not use if you want to keep the recipe refined-sugar free.)
Notes
I like to frost these brownies as I eat them, rather than frosting the entire batch at once. The cashew frosting is pretty moist, so the frosted brownies tend to get a bit soggy over time.
ALSO, PLEASE NOTE: The candy topping should be added JUST BEFORE EATING, as it will start melting into the cashew frosting after about 10-15 minutes. (The moister your frosting, the faster the candy melts!)
The frosting will get firmer after refrigeration. I make the frosting first, then keep it in the fridge while I'm making the brownies.
The frosting can be frozen and will become firmer after freezing. I like to make a double batch of frosting and store half in the freezer.
Nutrition (approximate)
Calories:
260
kcal
|
Carbohydrates:
26
g
|
Protein:
7
g
|
Fat:
14
g
|
Saturated Fat:
3
g
|
Sodium:
203
mg
|
Potassium:
415
mg
|
Fiber:
5
g
|
Sugar:
10
g
|
Vitamin A:
10
IU
|
Vitamin C:
2.3
mg
|
Calcium:
72
mg
|
Iron:
2.9
mg