Vegan Pizza Rolls with Spinach & Cheese are the perfect garlicky, cheesy appetizer. Portable enough for a grab-n-go lunch, too! Serve with your favorite pizza sauce or marinara sauce for dipping.
I'm still trying to master a great, thin-crust Neapolitan-style pizza out of my own kitchen. Until that day arrives (it may never arrive), these Vegan Pizza Rolls with Spinach & Cheese have become a favorite garlicky, cheesy pizza fix at Chez Shah. They're so easy to eat, they're great for game-day or movie-night get togethers, too. And they're just the right size to pack for lunch. Just warm them a bit in the microwave—or not. And don't forget the dipping sauce!
Customize Your Spinach Pizza Rolls
I like to dip these vegan pizza rolls in pizza sauce or marinara sauce. For an extra dose of vegan cheesiness, I think they'd taste amazing dipped in red sauce PLUS some gently warmed Vegan Easy Cheezy Sauce. Tangy-saucy, double-cheesy, yum!
I also love these rolls with a few tablespoons of Easy Vegan Oil Free Pesto added to my spinach filling. (I usually keep some in the freezer for adding to sauces and other recipes.)
I haven't tested this yet, but the next time I make these I'm going to sub about 1 ½ cups of my Vegan Almond Ricotta Cheese for the tofu. I've been using it in other baked recipes lately—like this Vegan Zucchini Lasagna—and so far, it has turned out great every time.
Other ingredients I haven't personally tested but believe would work great in these rolls would be artichokes or sautéed mushrooms, especially if combined with the spinach. (Maybe even the smoky Mushroom Bacon from my Vegan Carbonara recipe?) Just keep the overall filling amount about the same, and be careful not to add extra moisture, otherwise the dough will not bake properly.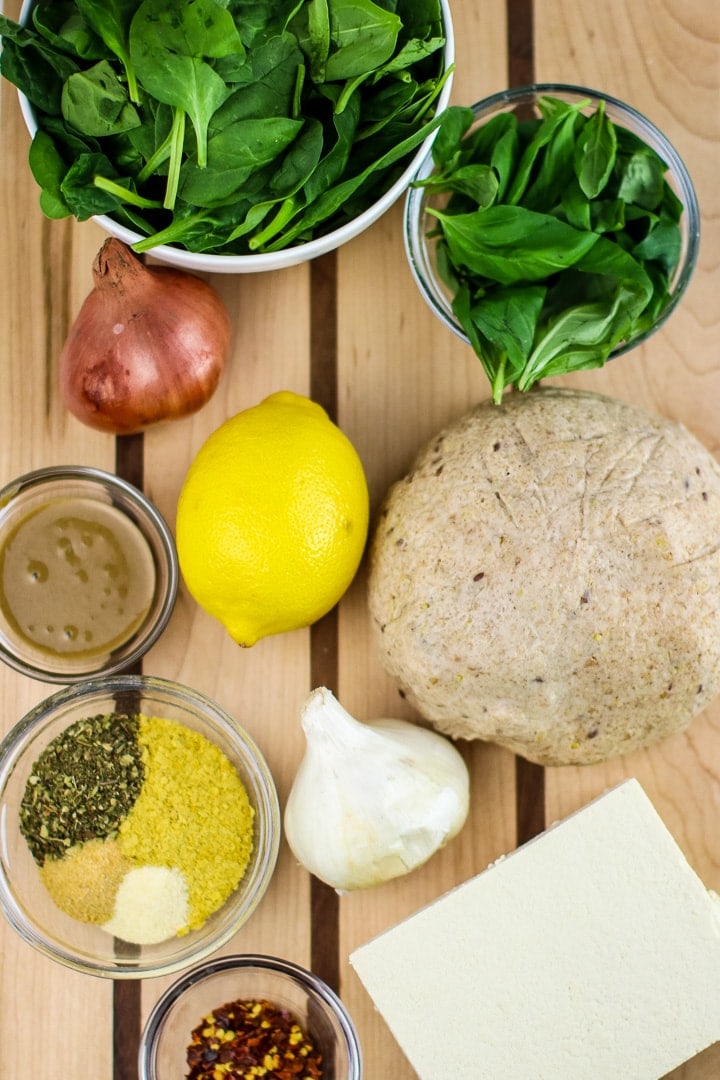 How to Make Vegan Pizza Rolls: Step by Step
There are a few steps involved in making these pizza rolls, but it goes pretty fast.
First, make (or buy) your pizza dough. For this recipe, I used a store-bought multi-grain dough I had been using for years. I didn't realize it had any oil in it until after I had created this recipe. (I simply missed it when I read the ingredient label--my bad!) I now realize just how hard it is to find pre-made oil-free pizza dough. Trust me, I've been searching. If you know where to find one, please let me know! I did find this
So, for an oil free dough, that leaves us to make our own. I'm still working on a recipe I really love (and I'll update this post ASAP when I get done). But in the meantime, I recommend using your favorite pizza dough recipe or making this recipe from Genius Kitchen, subbing plant milk for the dairy.
Once you've got your dough prepared, move on to the next steps:
Probably the trickiest part of this recipe is making nice, firm rolls. You can make big, cinnamon-bun size pizza rolls like I did here. We just tore them apart with our hands for dipping. Or, you can cut your roll into smaller sections to create more servings and a smaller, 2-bite snack. You just want to be sure that the rolls you make fit into your pan, with the rolls touching each other but not squished together too tightly. (I've included some excessively detailed instructions and measurements int he recipe notes!)
Also, when you cut your rolls, they'll flatten out a little from the pressure from the knife. I found that after cutting each segment, I had to unroll and re-roll each segment a little to get a nice round, uniform shape.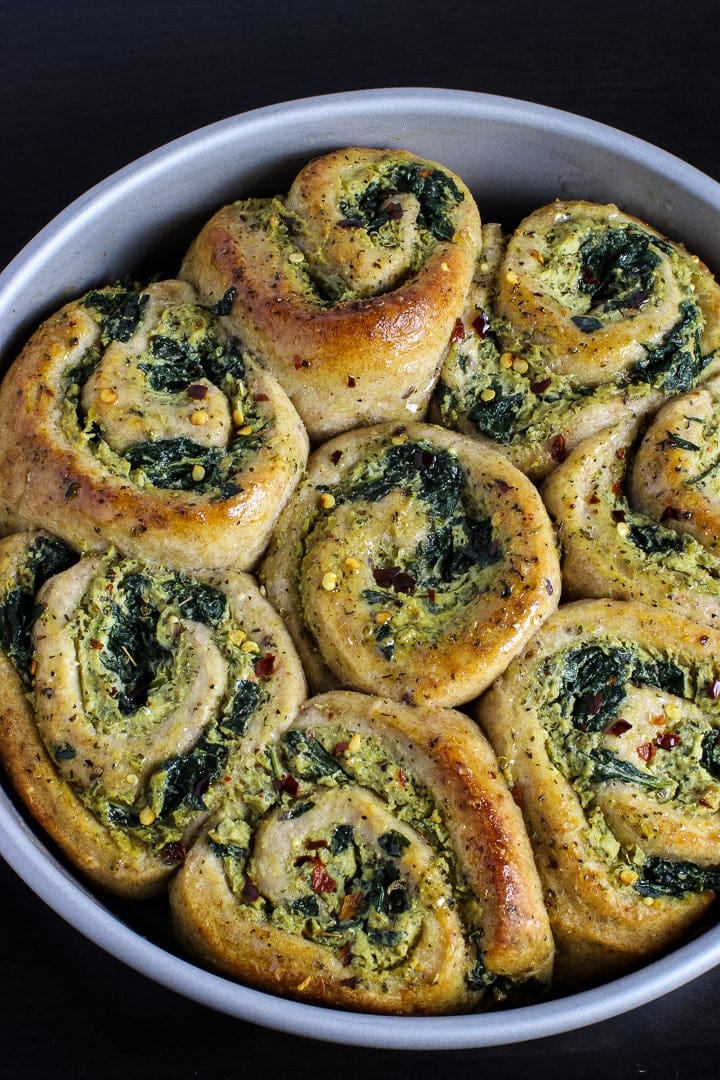 Finally, you arrange your rolls in the pan and back to cheesy, garlicky, golden-brown perfection!
These vegan spinach & cheese pizza rolls are amazing piping-hot, right out of the oven. But even when they've cooled down to room temp, they're still delicious. Imagine a spinachy-garlicky-creamy piece of garlic bread. How bad can that be?!
I'll definitely be making these pizza rolls for upcoming holiday parties. They're so appetizing and tasty, I'm confident these cheesy, garlicky little pizza pinwheels will go fast. They look and smell fantastic, and with a side of pizza sauce for dipping, I think they're gonna be irresistible.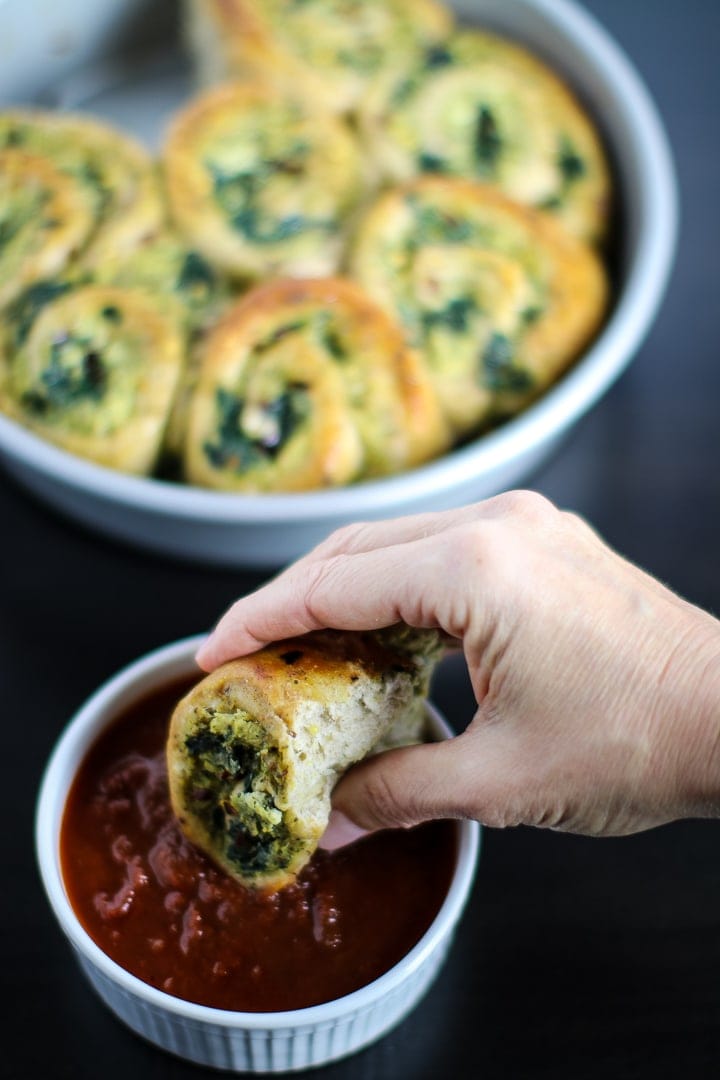 This whole food, plant-based recipe was inspired by Spinach & Artichoke Rolls by Rabbit and Wolves.
If you like this recipe, you might also like my Vegan Italian Stuffed Mushrooms, Vegan Zucchini Lasagna, Roasted Eggplant Tomato Stacks, Oil Free Za'atar Sweet Potato Fries, Mini Taco Cups and Roasted Tomato Jam Crostini.
I LOVE hearing from you! It would make my day if you'd be so kind as to:
Rate this recipe and/or leave a comment if you make it. (Under the recipe picture or below the recipe.)
Thanks bunches and happy, whole-food cooking!
📖 Recipe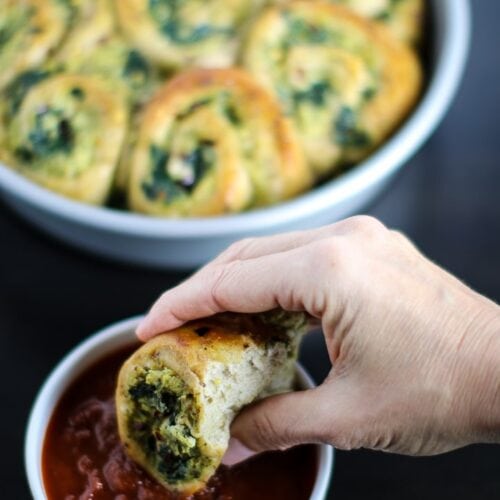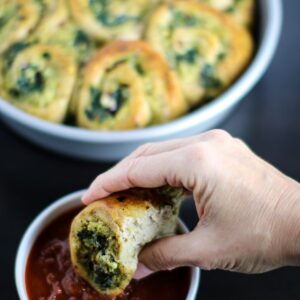 Vegan Spinach & Cheese Pizza Rolls
Vegan Spinach & Cheese Pizza Rolls are the perfect garlicky, cheesy appetizer. Great for lunch, too! Serve with your favorite pizza sauce for dipping.
Print
Save
Saved!
Pin
Rate
Ingredients
1 14

ounce

package extra firm tofu

(pressed for 10 minutes or squeezed by hand to release water)

½

cup

fresh basil leaves

⅓

cup

nutritional yeast

1

tablespoon

tahini

(or almond butter, or omit for lower fat option)

2

teaspoons

Italian seasoning

(+more for top)

1

tablespoon

lemon juice

(about ½ lemon)

½

teaspoon

garlic powder

½

teaspoon

onion powder

Optional: 2-4 cloves garlic

(to add to tofu ricotta, for extra garlicky pizza rolls)

Sea salt

to taste

2

cloves

garlic

finely diced

2

tablespoons

finely diced shallots

(about 1 small shallot)

4

packed cups baby spinach

chopped

22

ounces

fresh pizza dough

(See notes for oil-free recipe link. Sub plant milk for the dairy, and use GF flour if desired.)

1

teaspoon

crushed red pepper flakes and Italian seasoning

for topping
For dipping: pizza sauce or marinara sauce
Instructions
Make your pizza dougn, or take the pizza dough out ball of the refrigerator and any packaging if using store-bought, and allow to come to room temperature, at least 15 minutes. (Check directions on the packaging and follow them if different.)

Preheat oven to 400 degrees.

Set out a non-stick 9-inch round or square baking dish or pan. (Line with parchment paper if not non-stick.)

To make 'basil tofu ricotta': In a food processor, combine the tofu, basil, nutritional yeast, tahini, Italian seasoning, lemon juice, garlic powder and onion powder. (Add optional garlic cloves, if using.) Process until completely blended and creamy, stopping to scrape down the sides as needed, about 30 seconds to 1 minute. Add sea salt to taste, and pulse to blend in.

Heat 1 tablespoon of water in a saute pan over medium high heat. Add the shallots and garlic, and saute 2-3 minutes, or until soft. Add the spinach and a pinch of salt, and saute until well cooked and no longer releasing liquid. Drain any liquid from the spinach.

On a floured surface, roll out your pizza dough into a large rectangle about ¼ thick, either 15 ¾ inches long (for a 9 inch x 9 inch square pan) or 16 inches long (for an 9 inch round pan.) (See notes.)

Spread the tofu mixture evenly over the dough. Drop spoonfuls of spinach, spread out evenly over the tofu mixture.

Roll the dough up lengthwise into a log. Using a very sharp knife, cut into sections (about 8 pieces, 2" wide for a round pan or 9 pieces, 1 ¾ wide for a square pan. See notes.) If the sections flatten as you cut them, unroll each one a bit and re-roll to get a nice round shape.

Place the sections in the baking dish/pan, so that the edges touch. You can push them down just a little if needed. They will expand a bit as they cook, so they just need to touch, but not be crowded. If desired, brush with a bit of oil (skip if oil free) and top with Italian seasonings and crushed red pepper flakes.

Bake for 25-30 minutes or until the dough is cooked through and brown on top. To test, slide small, sharp knife between two rolls in the center of the pan and spread apart a bit to see if dough is cooked.

Serve with pizza sauce or marinara sauce for dipping.
Notes
You can make this oil free pizza dough recipe vegan by using plant milk rather than dairy. Also, skip the artificial sweetener (Splenda, etc), or use a little erythritol.
You can probably get away with a little more or less pizza dough, but I'd recommend at least 18 ounces.
For even thickness, I like to use a rolling pin to roll out my dough. I shape it by hand into a small rectangle first, about half the finished size. Then I use the rolling pin to finish.
Tips for getting even-sized sections. I use a tape measure and follow these directions. This will produce large cinnamon-bun sized rolls. (Or, you can probably just wing it and they should turn out fine as long as the sections are at least 1 ½inches.)

For a 9 inch round pan: Roll out dough to 16 inches wide. After you roll into a log, divide the long roll in half first, then divide each half in half again. You'll now have 4 even pieces. Divide each of these segments into half for a total of 8. •
For a 9 inch square pan: Roll out dough to 15 ¾ inches wide. Find and mark the center of the roll. Cut a 1 ¾ piece out of the center, so that you have 2 equal size sections on either side. Cut the 2 remaining sections in half, and then in half again. You'll now have a total of 9, 1 ¾ size pieces. •
For more/smaller rolls: I'd recommend cutting into sections no smaller than about 1 ½ inches and fitting them into a round pan.
Nutrition (approximate)
Calories:
218
kcal
|
Carbohydrates:
36
g
|
Protein:
10
g
|
Fat:
4
g
|
Sodium:
367
mg
|
Potassium:
151
mg
|
Fiber:
3
g
|
Vitamin A:
210
IU
|
Vitamin C:
1.1
mg
|
Calcium:
31
mg
|
Iron:
1.1
mg