I can't think of much I get more jazzed about than a really great dish composed of a few simple components. These elegant little Roasted Eggplant Tomato Stacks have only 5 ingredients! But the flavors and textures marry so well here, you'd never guess it.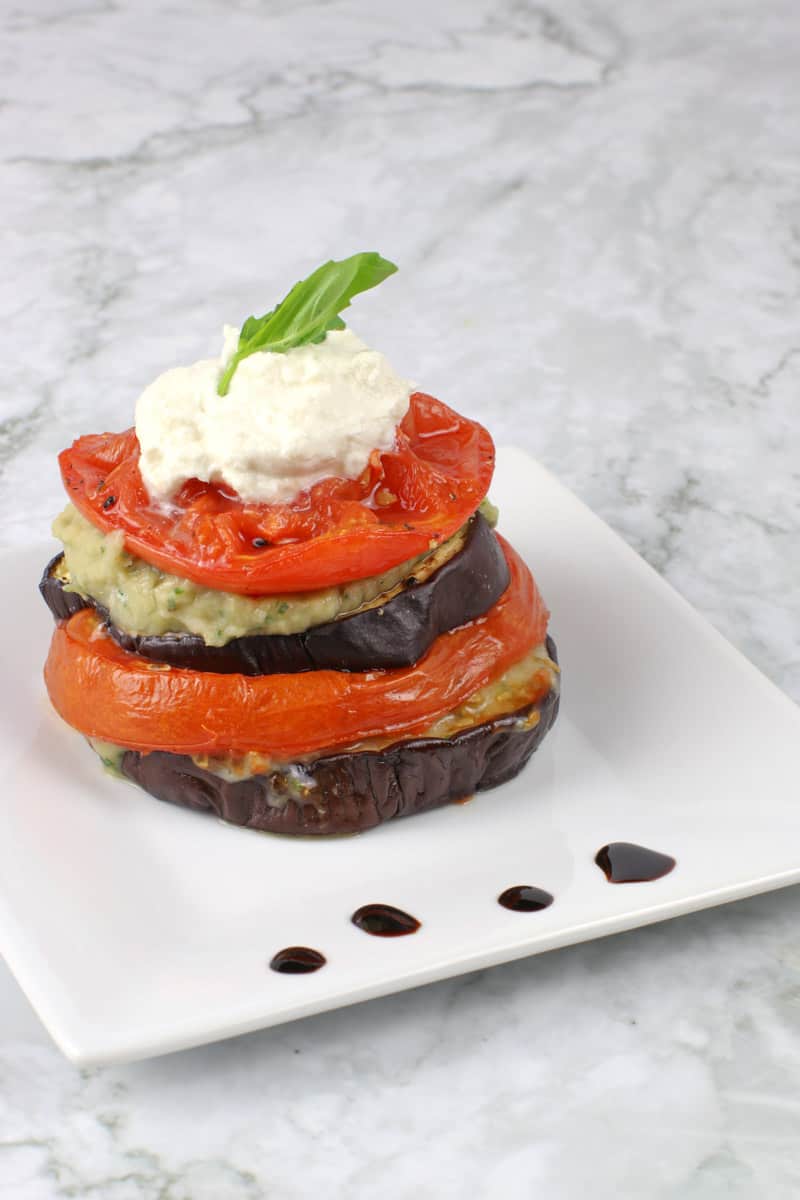 Why I Love Roasted Eggplant Tomato Stacks
For me, one of life's simplest pleasures is preparing and eating food that relies on little more than fresh ingredients, where those ingredients are allowed to shine. So often in cooking as in life, less truly is more.
Of course, when the ingredients are as spare as in this roasted eggplant tomato stacks recipe, 'less' doesn't apply to quality. The key here is to buy the freshest, highest quality components you can find.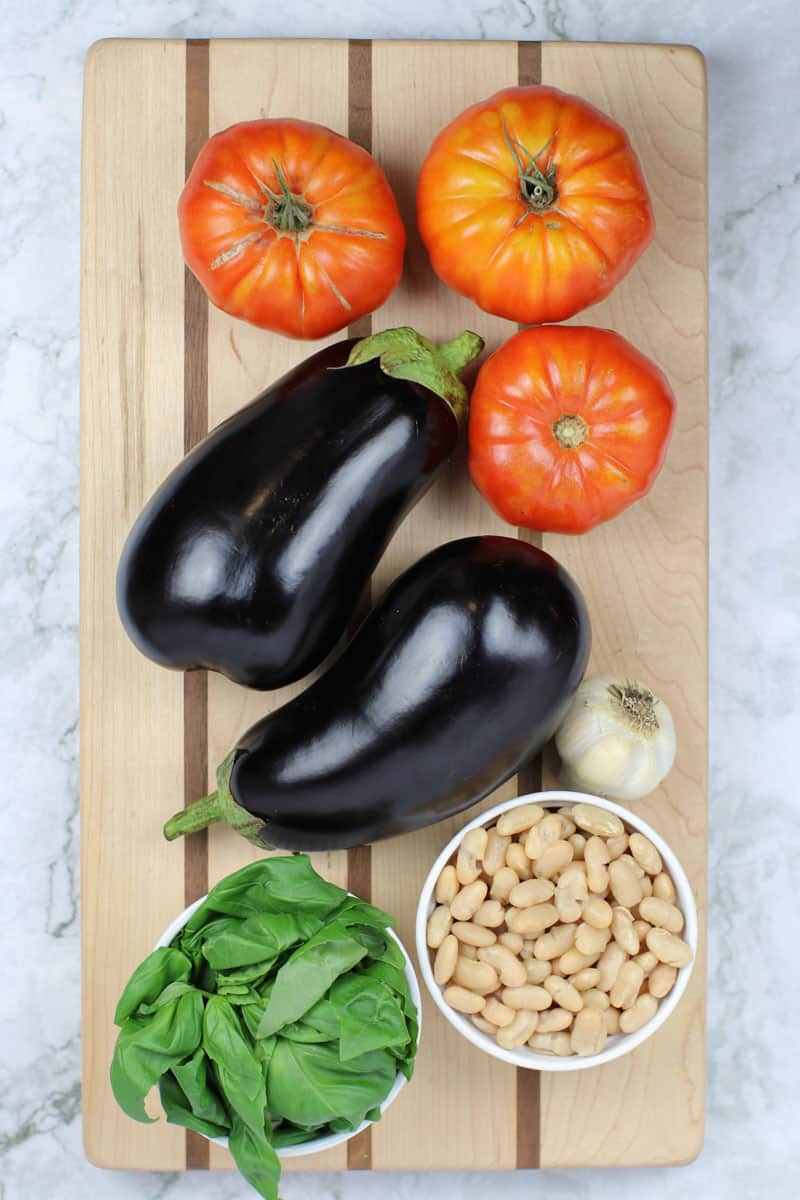 I was lucky enough to find some gorgeous, plump heirloom tomatoes for my stacks. These ruby beauties were so bursting with flavor, it was all I could do not to just pop the slices into my mouth while I cooked.
The eggplant selection was above average on the day I did my shopping, too. I don't care to salt my eggplant before roasting (to draw out bitterness), but if you can get your hands on fresh ones (bright, dark purple skins; firm; no brown seeds inside) there's no need to.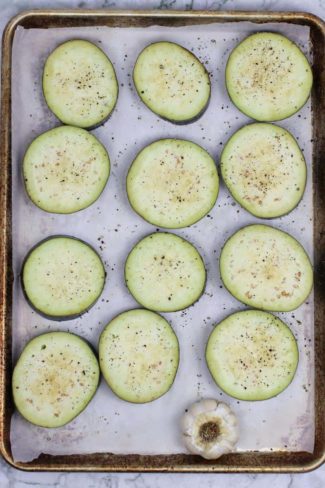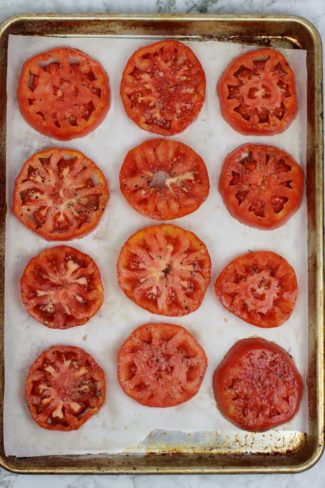 How to Make Roasted Eggplant Tomato Stacks
Aside from a handful of fresh ingredients, this roasted eggplant tomato stacks dish comes together with just a bit of technique to help elevate it to more than the sum of its parts.
First, we roast our eggplant, tomatoes and an entire bulb of garlic. There's nothing quite like roasting veggies to deepen and intensify their flavor. And from a culinary point of view, is there anything quite as magical as a whole roasted head of garlic? I mean, it goes into the oven practically inedible, and comes out this rich, creamy, earthy stuff you just wanna smear all over everything.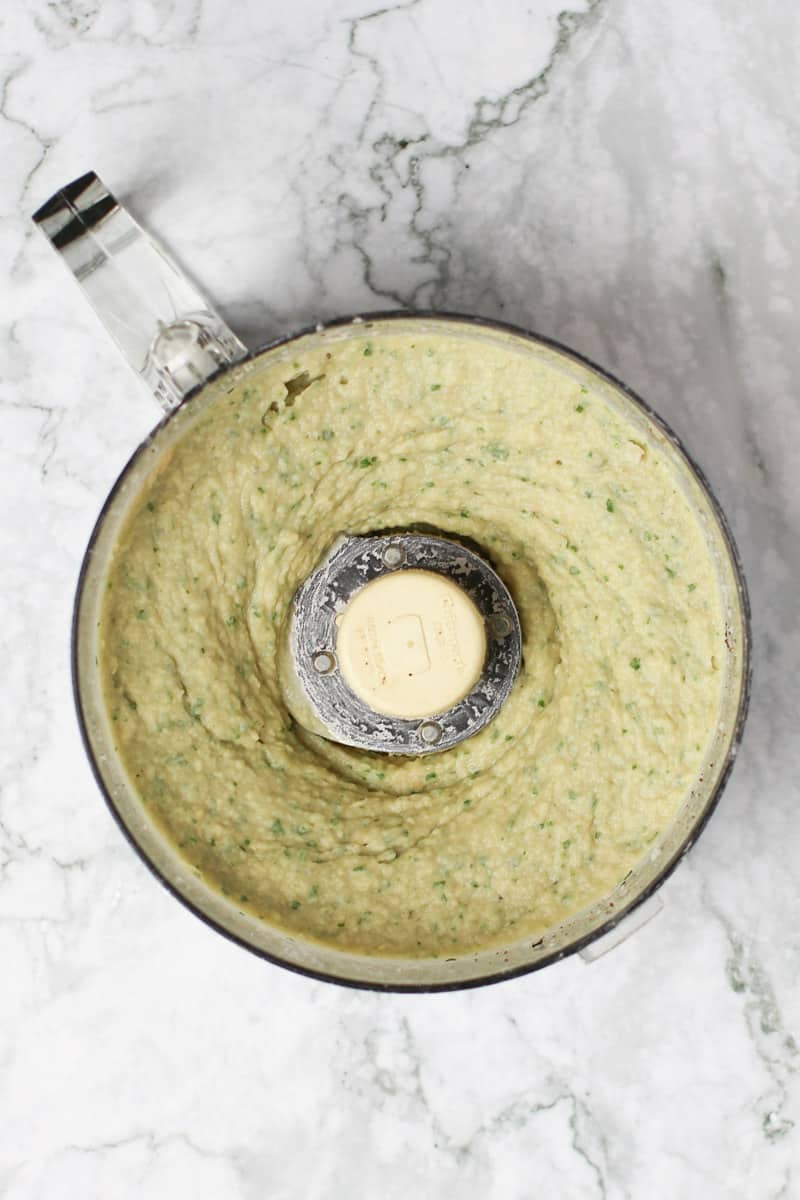 Next, we blend up our roasted garlic with fresh basil in a 'vehicle' of white beans, creating a soft, creamy filling to complement our roasted veggie slices. In a non-vegan version of this dish, this would be the mozzarella layer.
I suppose you could substitute vegan cheese here, but for the love of Pete, why would you? This white bean mixture is a whole lot healthier, and the fresh basil/roasted garlic flavor really is to die for.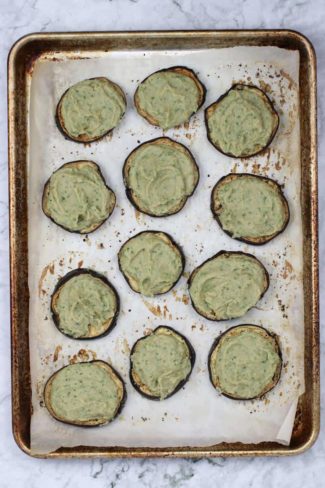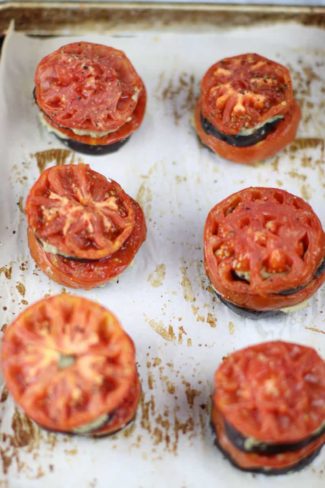 Then, we just stack everything up. Voila! Finis! Of course, if you'd like to embellish your roasted eggplant tomato stacks—and I certainly think it's worth the effort—a drizzle of savory-sweet reduced balsamic vinegar, a dollop of creamy, tangy almond ricotta, and/or a sprinkle of fresh basil will elevate this already tasty dish to delicious, palette-pleasing heights.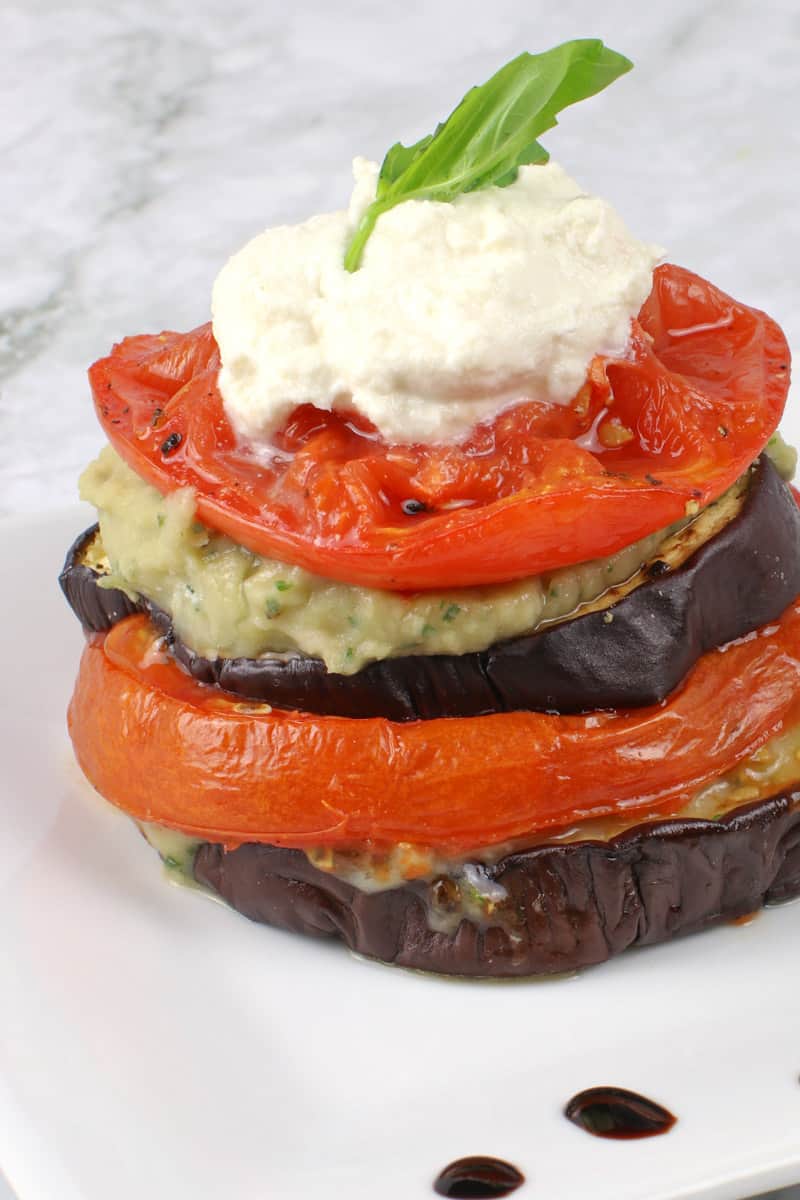 Enjoy these roasted eggplant tomato stacks as an elegant starter or light supper, or add a side of creamy polenta (regular organic or gluten-free) and you've got yourself a simple, yet lovely dinner.
If you like this whole food plan-based recipe, you might also like:
📖 Recipe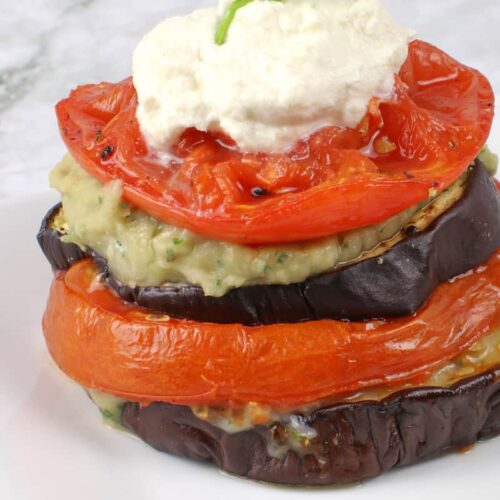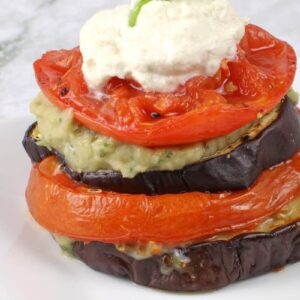 Roasted Eggplant Tomato Stacks
Roasted Eggplant Tomato Stacks are vegan, simple, elegant--and made with just 5 ingredients! Enjoy them as an elegant starter or with a side of creamy polenta for a lovely dinner.
Print
Save
Saved!
Pin
Rate
Ingredients
2

medium eggplants

cut into 12, ½-inch thick discs

3-4

large tomatoes

cut into 12, ½ inch-thick discs (about the same width as the eggplants, see notes)

2 15

ounce

cans white cannellini beans

drained and rinsed (about 3 ½ cups)

½

cup

fresh basil leaves

plus more for garnish, if desired

1

garlic bulb

Sea salt & freshly ground pepper

Optional: Top with almond ricotta

and chopped basil and drizzle with reduced balsamic (see instructions in Roasted Tomato Jam Crostini recipe.)

Optional: Drizzle with reduced balsamic vinegar

(see instructions in Roasted Tomato Jam Crostini recipe)

Optional: Serve with creamy polenta
Instructions
Preheat oven to 400 degrees. Line two large baking sheets with parchment paper.

Chop about ¼ inch off the narrow end of the garlic bulb to expose the bottoms of the cloves, and peel off the papery outer skin. Set aside.

Slice the eggplant into 12, ½-inch slices (see notes). Season each side with sea salt and freshly ground pepper. Spread out evenly over one of the baking sheets. Place the garlic head, chopped side down, on the same baking sheet. Place into the oven, and roast at 400 degrees for 20 minutes.

Prepare the tomatoes the same way you did the eggplant (see notes). Place the seasoned tomato slices on the second baking sheet.

After 20 minutes, remove the eggplant and garlic from the oven, and turn everything over. Place the eggplant/garlic back in the oven, Place the tomatoes on another oven rack, and cook everything for 15 minutes, or until the eggplant is browned on both sides and tender. (If the eggplant is only brown on one side, flip it once more and cook until both sides are browned. ) When the vegetables are cooked, remove them from the oven and allow them to cool slightly on the baking sheets until you can handle them.

Squeeze the garlic cloves out of their skins. Place the roasted garlic, cannellini beans and basil in a food processor, and process until creamy. Season with sea salt and freshly ground black pepper to taste.

Spoon some of the bean mixture onto each slice of eggplant (you can do this right on the baking sheet), evenly covering the top of each slice. When all of the eggplant slices are tipped with the bean mixture, use a spatula to gently lift a tomato slice onto the top of each eggplant slice. Some of the stacks will be a little narrower than others. Place 6 of the narrower stacks on top of 6 of the wider ones. You'll now have 6 stacks total, with 2 layers of bean mixture each.

Place the stacks back in the oven, and heat at 400 degrees for 5-10 minutes, or until hot.
Notes
For best results when stacking, choose tomatoes about the same width or slightly smaller than your eggplant. The eggplant will shrink after roasting.
I was only able to get 3-4 slices out of the heirloom tomatoes pictured here because of their wide, short shape. If you're unsure, play it safe and buy more tomato than you think you'll need.
You'll probably end up with some leftover eggplant and tomato. (I did.) I cubed the leftover eggplant, chopped the tomato, and saved it to use later in spaghetti sauce.
Nutrition (approximate)
Calories:
161
kcal
|
Carbohydrates:
32
g
|
Protein:
8
g
|
Sodium:
15
mg
|
Potassium:
1123
mg
|
Fiber:
10
g
|
Sugar:
10
g
|
Vitamin A:
1555
IU
|
Vitamin C:
27.1
mg
|
Calcium:
93
mg
|
Iron:
3.3
mg