A 20-minute creamy, 'cheesy,' 'eggy' Vegan Carbonara pasta with smoky mushroom 'bacon.' Nut free, low fat, quick & easy.
If you've been following my recipes for a while, you know I'm in love with chickpea sauces. First, there was my Chickpea Cheese Sauce. Next came 5-Minute Vegan Alfredo Sauce. They're low in fat, high in fiber, nut and oil free, and SO darn quick and easy to whip up. What's not to love about that?! This Vegan Carbonara pasta with smoky mushroom bacon is the latest iteration—and I'd say it's the crème de la crème of all my chickpea pasta sauces.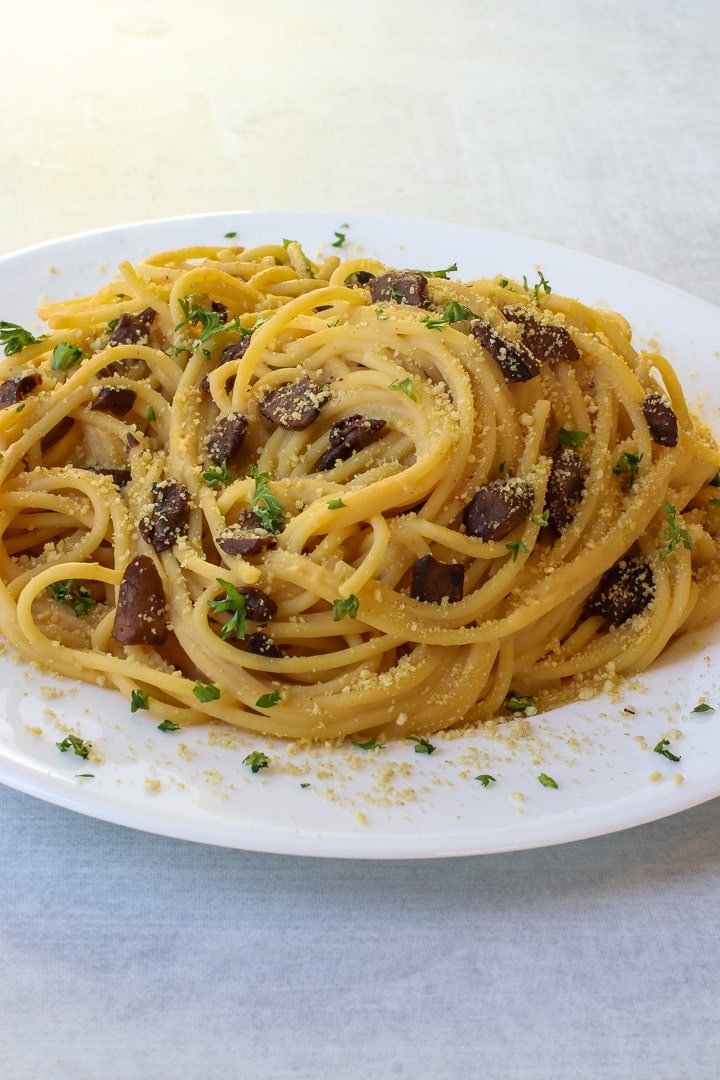 What I love about this vegan pasta recipe
Like a mom with 3 favorite kids, I adore all of my creamy chickpea sauces. But this one really has it all going on. The Italians who invented carbonara weren't messing around. They knew exactly what they were doing with this flavor combo.
I first ate pasta carbonara while on a business trip. I ordered something else, but when the waiter found out it was my first trip to New York City, he said, "No, you'll have this." At 23 years old without a lot of world experience, I just kind of nodded, dumfounded. And back then, I thought that carbonara tasted fantastico.
Today, I'd just tell that guy to stick it. I mean, whatta a lotta nerve! Even if he was right. 🙂 And today, the eggs, Parmesan cheese and pancetta in that pasta carbonara wouldn't appeal to me at all. If I didn't die of a heart attack right on the spot, that is. (Okay, I get that's a big exaggeration, but I do think of food like that as 'heart attack on a plate.')
That's why I'm so thrilled to create much healthier versions of these unhealthy favorites. And to share them with you!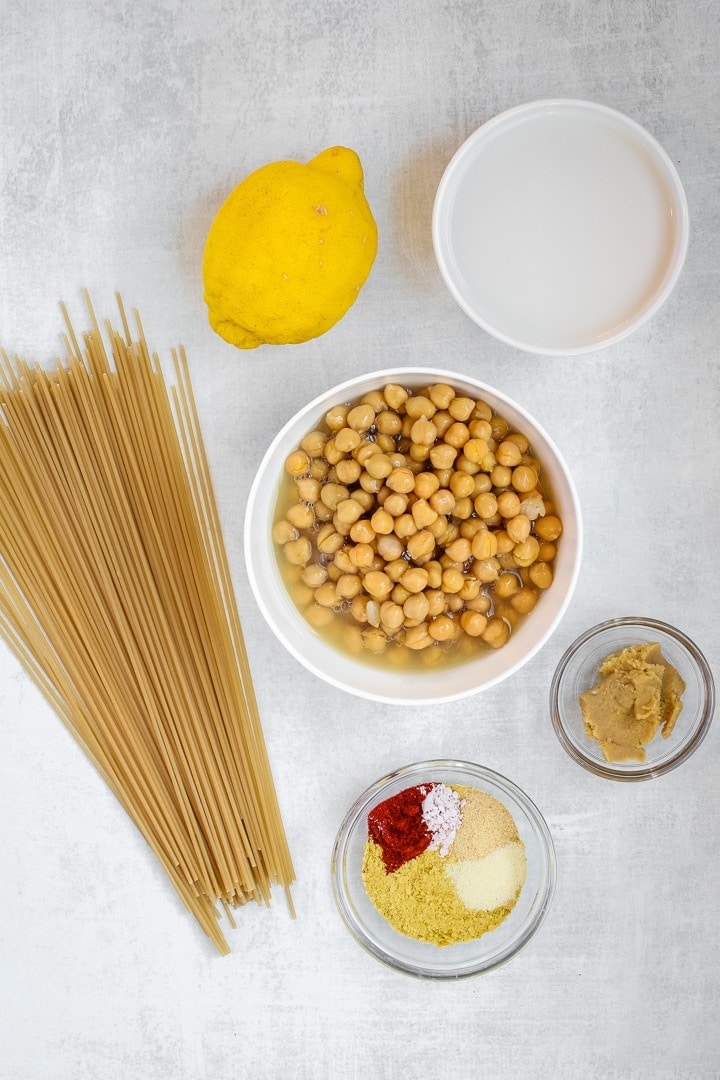 What makes this Vegan Pasta Carbonara so healthy?
In this whole food, plant-based pasta carbonara recipe, we keep the classic flavors, but get them from healthier ingredients.
First, we don't need no stinkin' eggs. Instead, we use a bit of somewhat stinky kala namak, or Indian black salt. I say stinky because it smells and tastes like sulfur, which gives dishes an eggy flavor. I use only a little because it's high in sodium, but you can add a bit more if you like. Just watch your sodium intake overall.
The sauce also gets as nice, cheesy-umami flavor from nutritional yeast and some mellow white miso paste. I know—some of you can't eat nutritional yeast or don't care for it. In that case, I'd recommend my 5-Minute Vegan Alfredo Sauce instead. Or you could try leaving it out if you like. And if you can't eat or find miso, I have a recommended for that too. See the recipe.)
If you can eat nuts, I HIGHLY recommend sprinkling some Vegan Parmesan on this pasta. It completely 'next levels' this dish.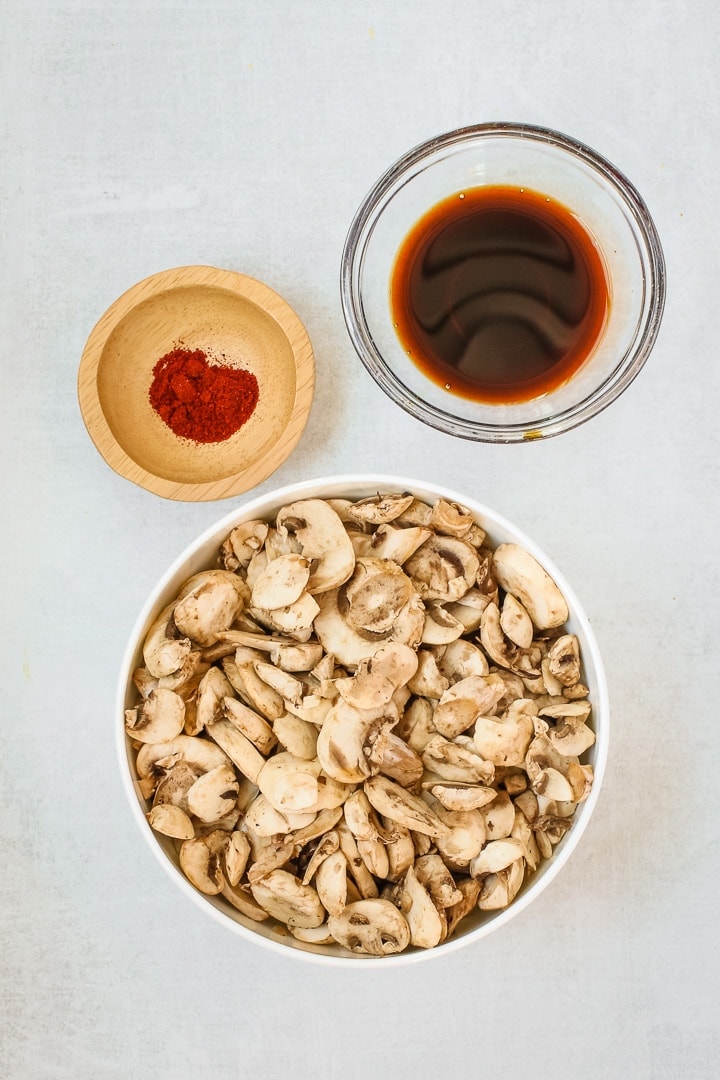 Third, classic carbonaras usually include bacon or pancetta (an Italian bacon). For that smoky flavor and those chewy little bits, I added some mushroom bacon. But if you're not a mushrooms fan, you could try this tempeh bacon recipe (use low sodium soy or tamari) or this coconut bacon recipe instead.
Fourth, we're skipping the refined white flour and egg pastas here. Instead, I recommend a healthier brown rice, chickpea or whole wheat pasta. Or even a lentil pasta! There are so many good choices these days, and where I live they've been pretty easy to find.
So to sum it up, we're getting all of the creamy, eggy, cheesy goodness you'd expect from a carbonara sauce—plus smoky bacon!—in a pasta dish that's healthy, vegan and whole food plant-based compliant.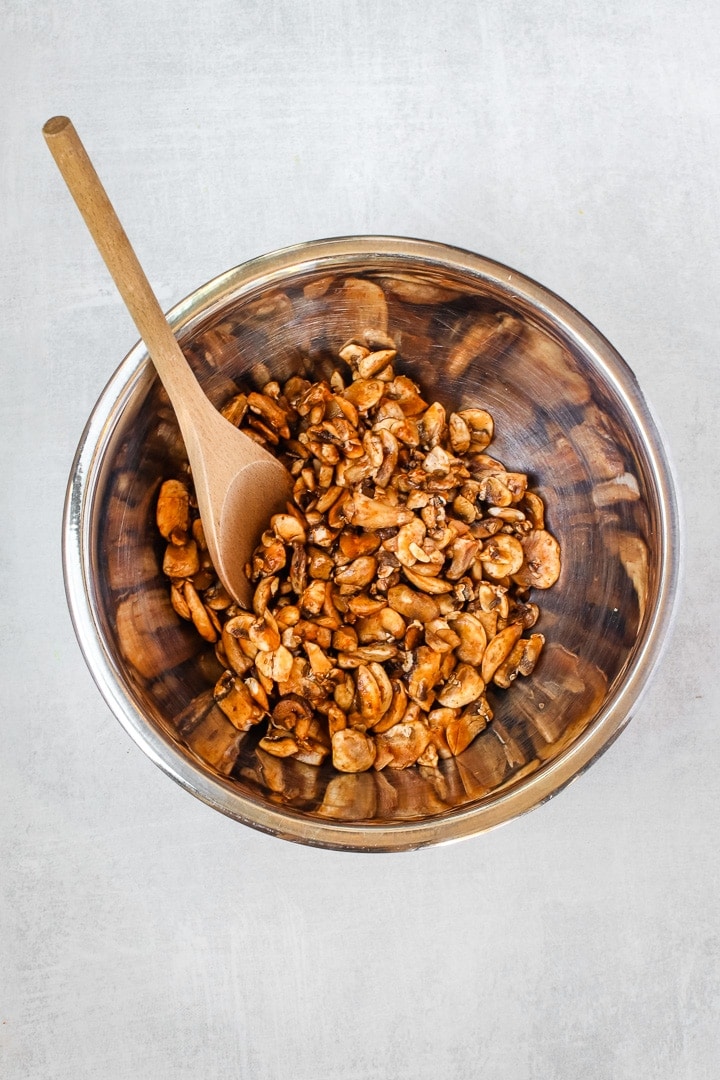 How to make vegan carbonara with chickpeas
The steps for this recipe are SO simple. First, I like to get my pasta water boiling and make the bacon. I tend to buy pre-sliced mushrooms for this recipe, so all I have to do is chop those up a little so they look like little bacon pieces.
You whisk a few marinade ingredients together in a mixing bowl and toss in the mushrooms. (You could let them sit and marinate for more flavor, but I just give them a good toss. They turn out great.) Then you saute them for about 10 minutes until they're nice and browned.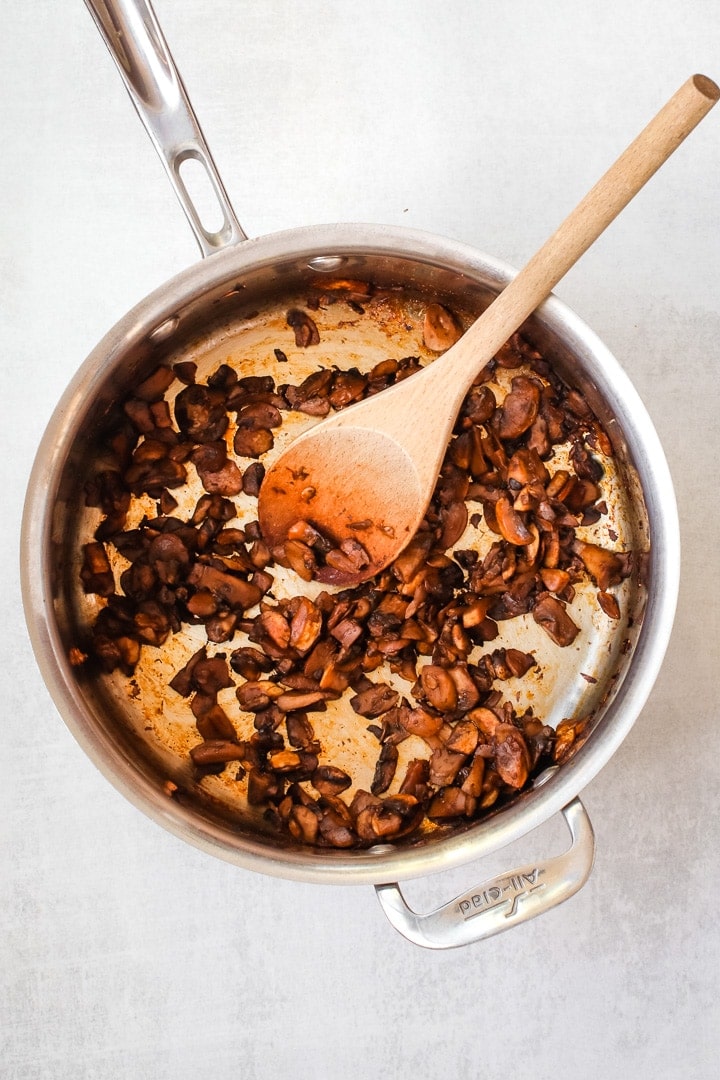 While my mushrooms are sauteeing, I add my pasta to boiling water (both take about 10 minutes), and work on my sauce. One of the best parts about a chickpea sauce aside from being healthy is that it's incredibly easy to make.
You simply toss a handful of ingredients in a blender and hit a button! I like to cook the sauce a little—it improves the flavor—but really, we're just heating it enough to mix with the pasta and mushrooms to serve hot.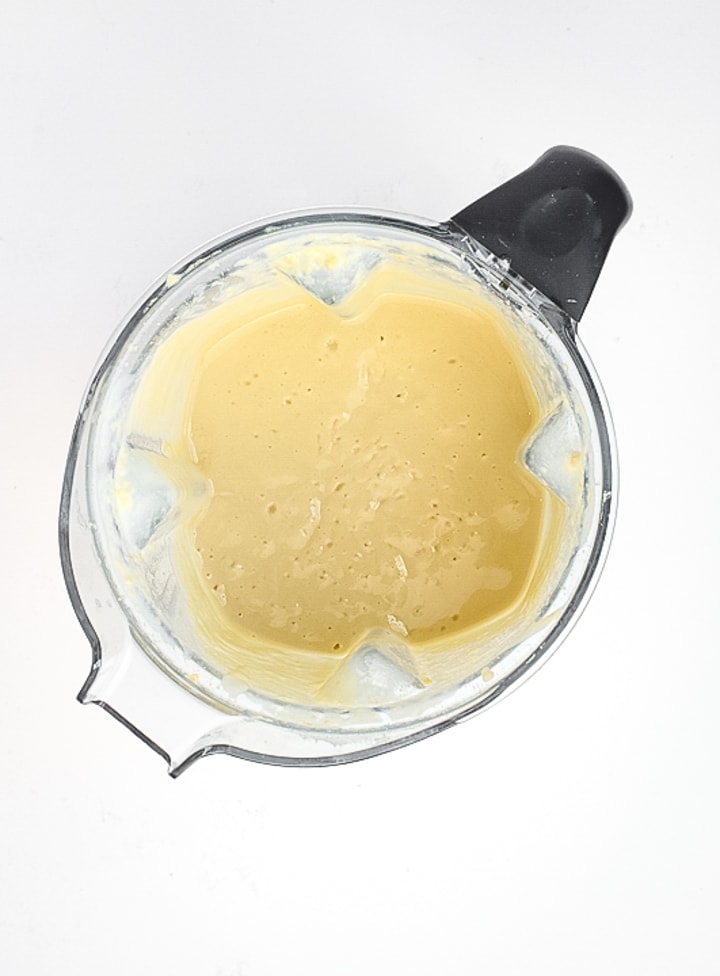 That's it—cook the pasta, saute up some bacon bits, blend up a quick sauce. You can pull this entire dish together in 20 minutes.
And the taste—it's as fantastic as that New York City carbonara, all those many years ago. Even better, in fact. Because eating this pasta just feels better.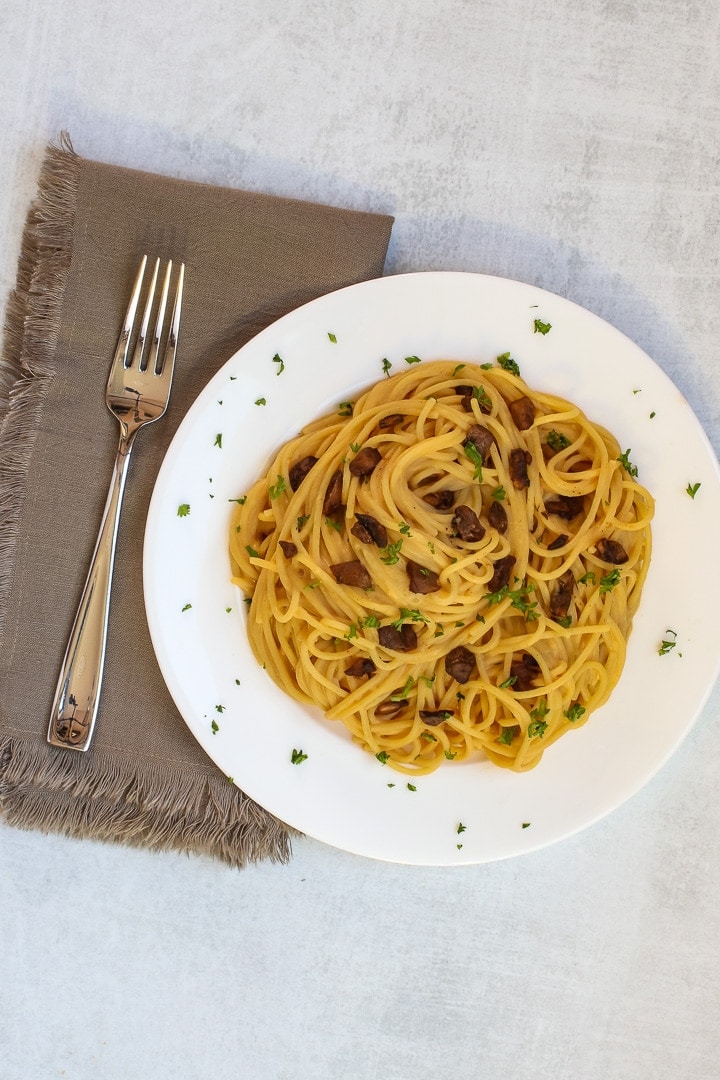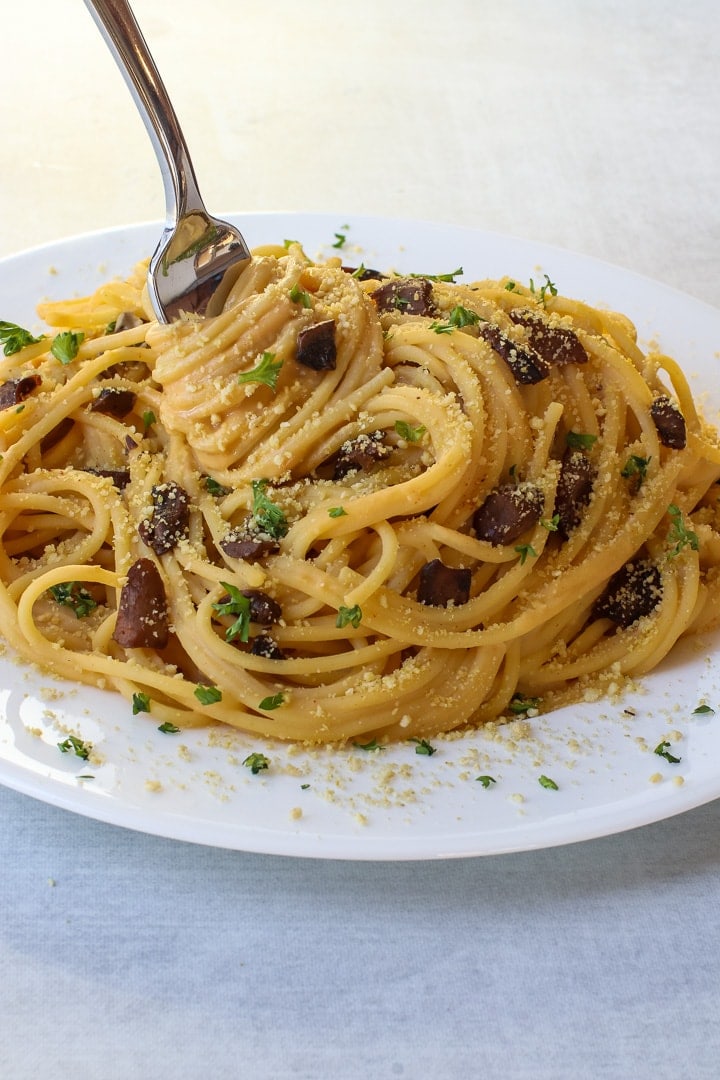 If you like this whole food plant-based recipe, you might also like my Chickpea Cheese Sauce, 5-Minute Vegan Alfredo Sauce, Easy Vegan Oil Free Pesto, Vegan Mushroom Walnut Bolognese, and Oil Free Vegan Mayonnaise. Check out this collection of over 30 Healthy Vegan Pasta Recipes!
I LOVE hearing from you! It would make my day if you'd be so kind as to:
Rate this recipe and/or leave a comment. (Under the recipe picture or below the recipe.)
Thanks and happy, whole-food cooking!
📖 Recipe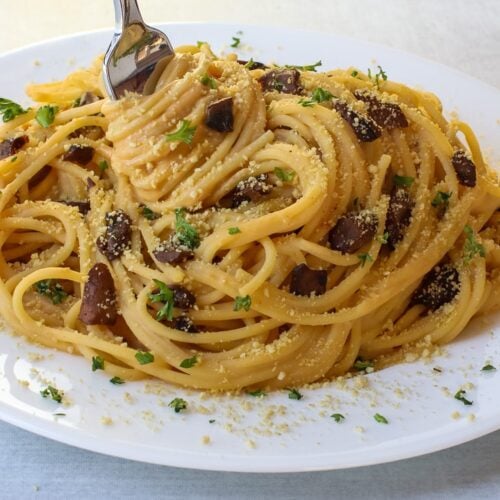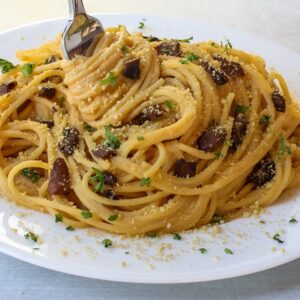 Vegan Carbonara
A creamy, 'cheesy,' 'eggy' vegan carbonara pasta with smoky mushroom 'bacon.' Nut free, low fat, and quick & easy.
Print
Save
Saved!
Pin
Rate
Ingredients
Instructions
Start the pasta water and prep all your ingredients.

Whisk all of the mushroom bacon ingredients--except the mushrooms--together in a medium mixing bowl. Add the mushrooms and toss well to combine.

Add the mushrooms to a dry saute pan, and saute on medium high heat for 8-10 minutes, or until well browned and caramelized. Add as little water as possible if things start to stick.

While the mushrooms are sauteeing, cook the pasta according to package directions and drain. (Reserve some pasta water to thin the sauce after cooking, if desired.)

Place the carbanara sauce ingredients in a blender, and process on high speed until thoroughly blended, about 20-30 seconds. Add a little of the reserved chickpea liquid ('aquafaba') to thin the sauce if needed. Taste and adjust seasoning as desired.

Gently cook the sauce for a few minutes to combine the flavors. Add the cooked pasta and mushroom bacon, and toss to combine. If the sauce gets thick, thin with a little reserved chickpea liquid or pasta water.

Serve with minced parsley and vegan parmesan, if desired.
Notes
I highly recommend using a mellow white miso paste in this recipe (and many others!) if you can find it and you're not allergic to soy. Miso is a safe salt and is great for adding texture and flavor to oil free recipes.
You can make this sauce taste more eggy by adding more kala namak, but this is a salt and therefore high in sodium, so use this ingredient cautiously.
To make it fast: I like to have everything going at once to make this a quick meal--my pasta cooking, my mushrooms sautéing and my sauce in the blender.
You can marinate the mushrooms longer for a more intense flavor if desired. But they taste great with this quick version.
This sauce barely needs to cook--in fact, we're really just heating it through to serve hot.
If the sauce gets thick while you're heating it--or when you're eating leftovers, you can thin it with a little chickpea liquid, reserved pasta water or just tap water.
This sauce will keep in the fridge for about 3-5 days. I haven't tried freezing it yet.
Nutrition (approximate)
Calories:
356
kcal
|
Carbohydrates:
63
g
|
Protein:
20
g
|
Fat:
4
g
|
Saturated Fat:
1
g
|
Sodium:
364
mg
|
Potassium:
629
mg
|
Fiber:
9
g
|
Sugar:
5
g
|
Vitamin A:
229
IU
|
Vitamin C:
4
mg
|
Calcium:
92
mg
|
Iron:
3
mg