These 30+ healthy, vegan pasta recipes make it easy to eat plant-based and satisfy your family and friends too. All recipes are WFPB-No Oil—or easily made so.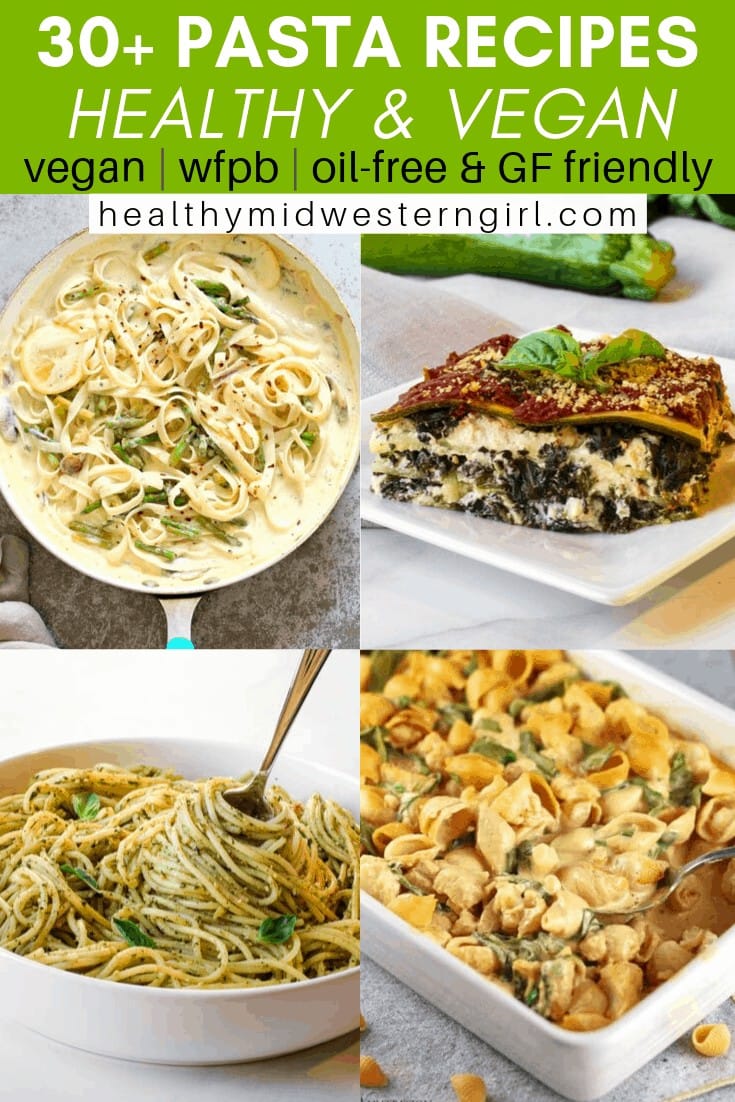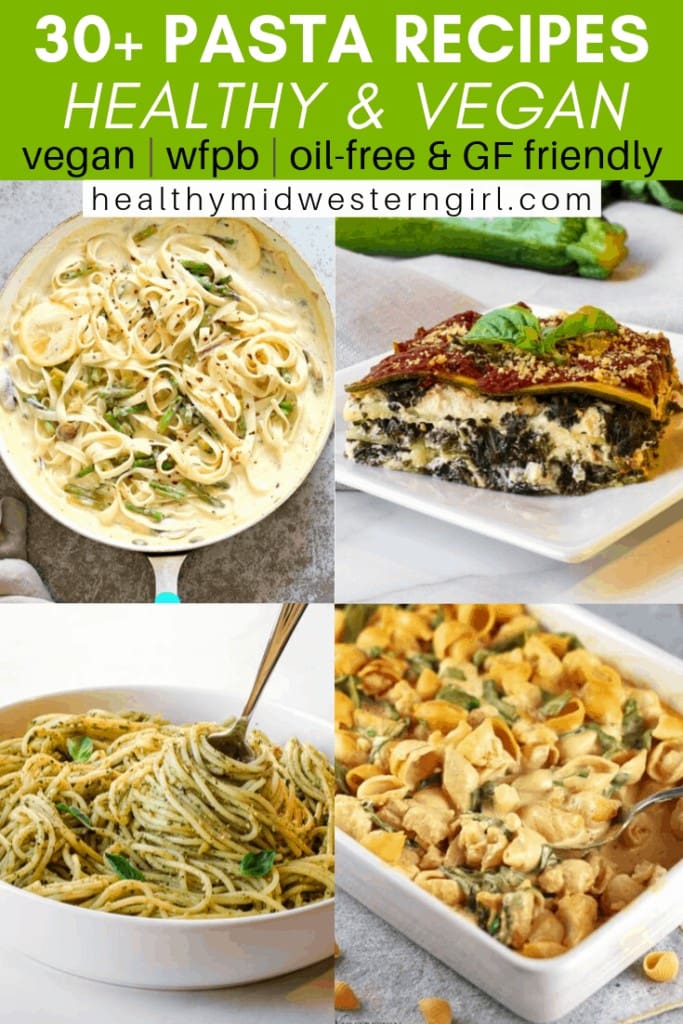 Whenever I'm surfing my plant-based social media groups, there's always someone posting a question about easy meals to help them transition, what to make for the meat eaters in the family, or how to feel full with this way of eating. One simple solution to these dilemmas is pasta!
Why? Because pasta is an easy meal almost everyone is familiar with. You can whip it up in no time. You can make it a million different ways. And it's comforting and satisfying. So here's my hand-picked collection of amazing pasta dishes—both mine and some from other vegan bloggers who graciously agreed to share their recipes.
Bookmark this page, and you've got a free, WFPB & vegan pasta recipes cookbook at your fingertips!
Are Vegan Pasta Recipes 'Whole Foods?'
Usually not, as even the healthiest pastas are minimally processed. That said, there are several pastas out there that are WFPB compliant like chickpea pasta, lentil pasta, brown rice pasta and whole wheat pasta. Many are gluten free, too. (See some recommended brands at the bottom of the page.) Or, you can always use spiralized or sliced veggie noodles to create a 100% whole food dish.
Back in our early plant-based days, I made pasta dishes much as I had in the past—mostly noodles, some sauce, maybe a few veggies tossed in. But over time, I started adding more and more whole food ingredients like: chopped chickpeas or nuts, spinach or kale, zucchini, squash peppers, eggplant—whatever I have in the fridge gets diced up and thrown in the sauce while the pasta's cooking. These days I rarely use more than about 2 ounces of pasta per serving.
I know, my pasta recipe pics are mostly noodles. If I take pictures the way I actually eat, it's hard to recognize it as a pasta dish! I like my pasta with LOTS of veggies mixed into the sauce or a big salad on the side.
Is Pasta Vegan?
Another question I frequently see on social media is people looking for vegan pasta. Great news: Most pasta is already vegan! Fresh pastas—the kind you find in the refrigerated section—are usually made with egg, as are some dried egg noodles. But unless the package specifically mentions eggs or dairy by-products (like whey), most are entirely plant-based.
Okay, Gimme the Recipes Already!
I hope you enjoy this collection of easy, healthy pasta dishes that make serving up satisfying plant-based meals so very simple. All of the recipes below are WFPB compliant or can easily be made so, but please don't hesitate to send me a message if you have questions about how to make something compliant.) Buon appetito!
Tomato-Based Pasta Recipes
Mushroom Walnut Bolognese - Healthy Midwestern Girl
Easy Instant Pot Tomato Sauce - Healthy Midwestern Girl
Vegan Spaghetti and Meatballs - Veg Annie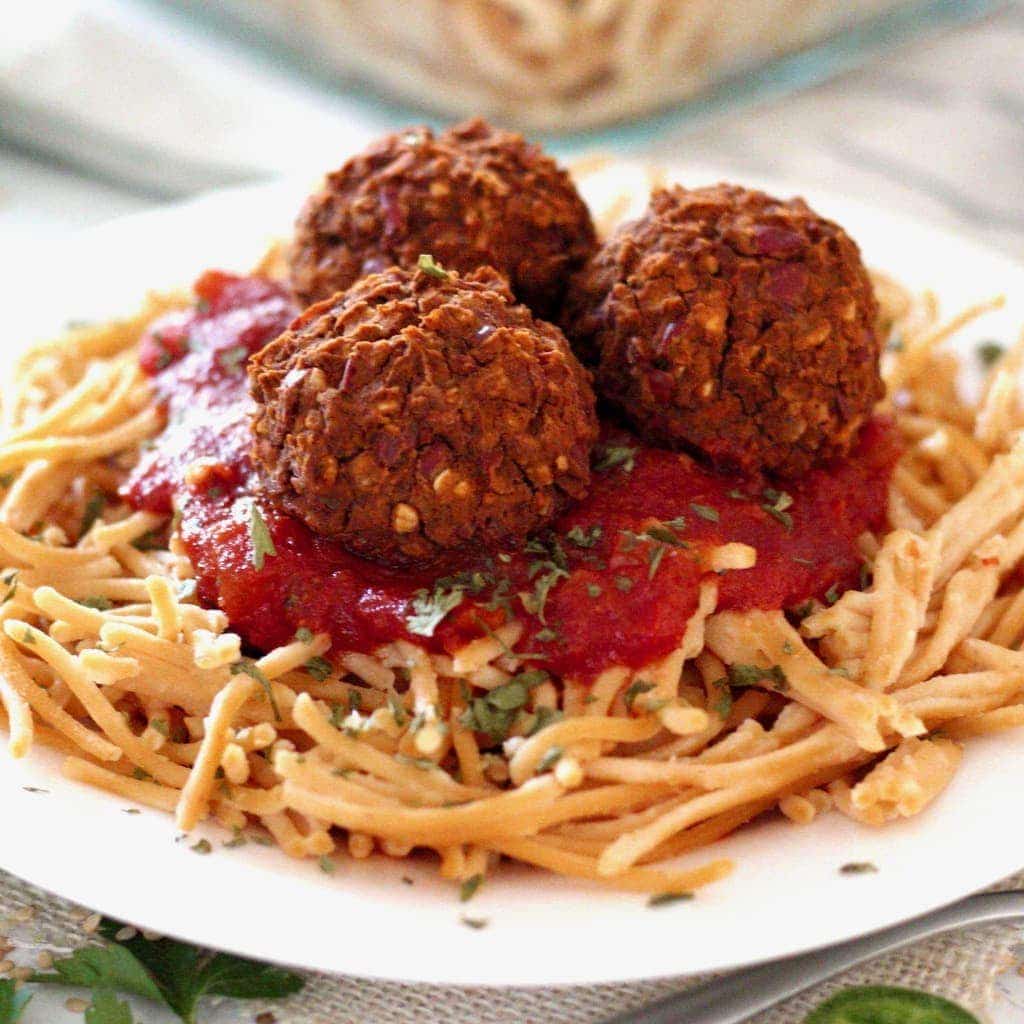 Eggplant and Olive Caponata Pasta - Eggplant and Olive
Vegan Bolognese - Watch Learn Eat
Creamy Pasta Recipes
Vegan Carbonara - Healthy Midwestern Girl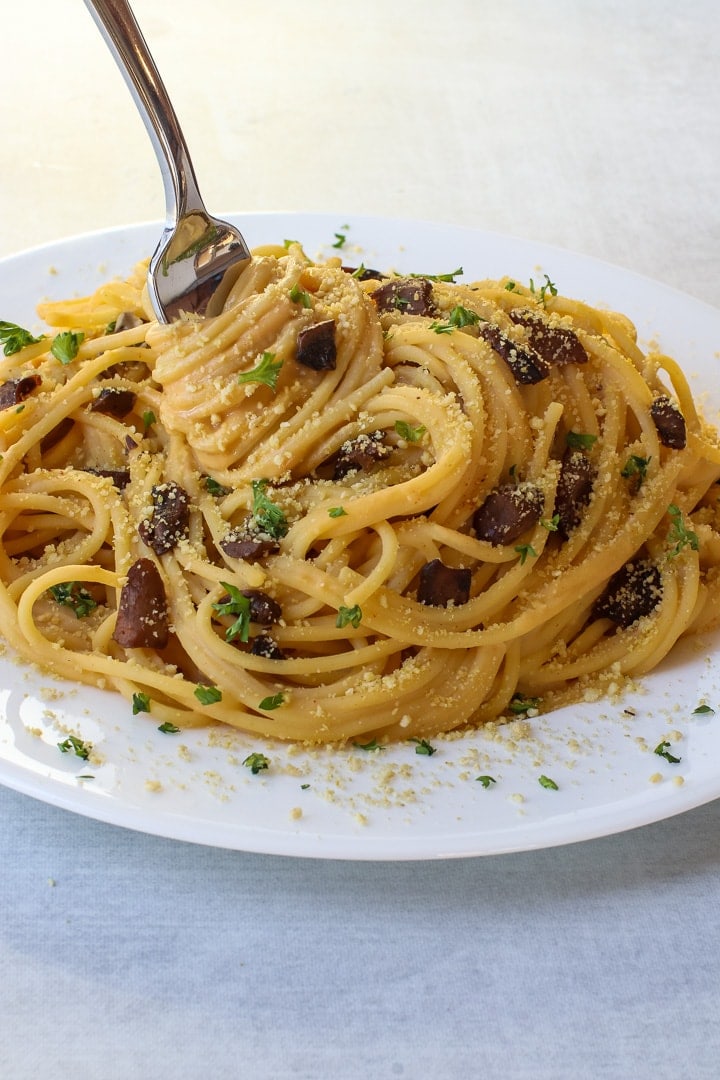 Lemon Asparagus Pasta - Vegan Richa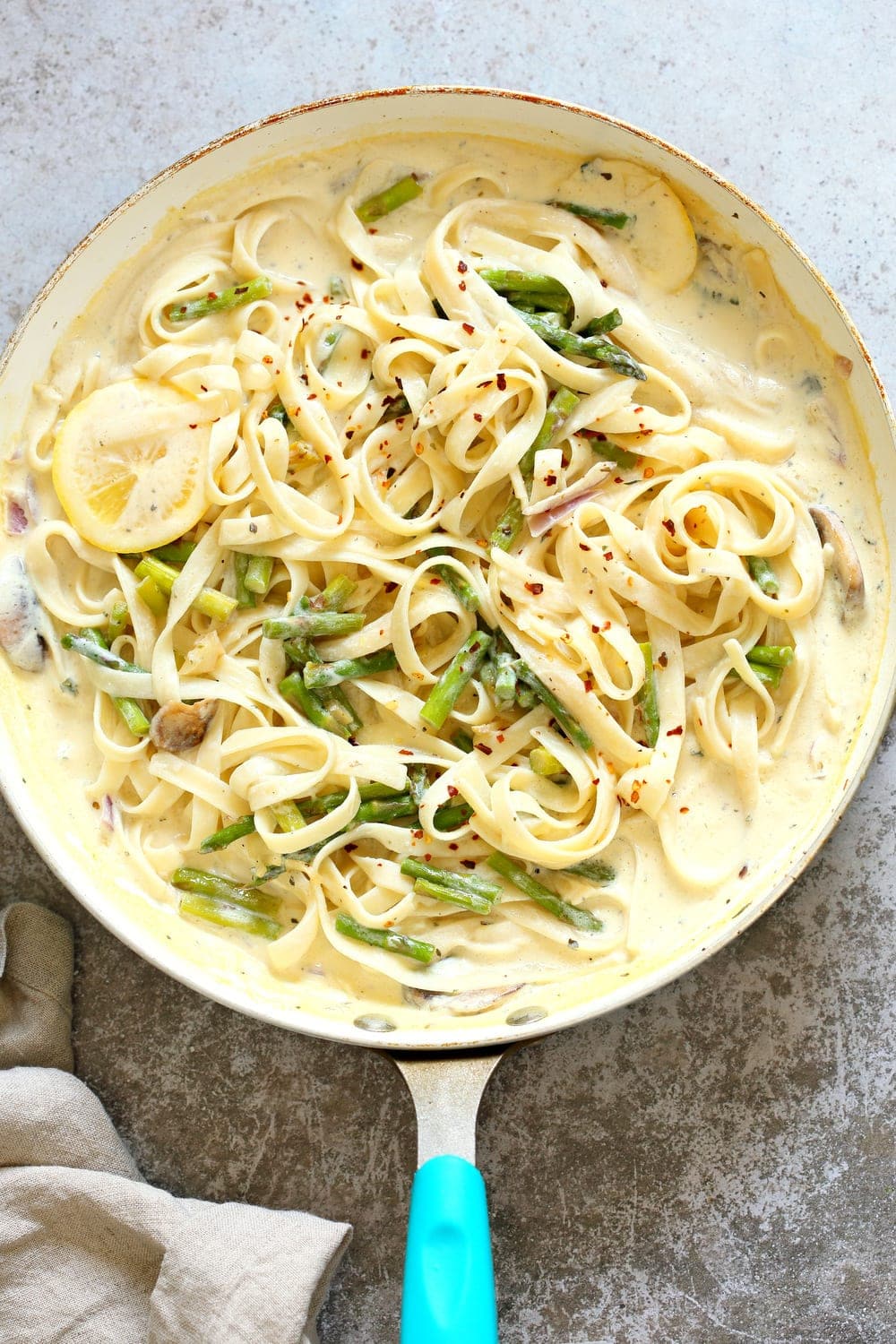 Creamy Vegan Roasted Red Peper Pasta - Choosing Chia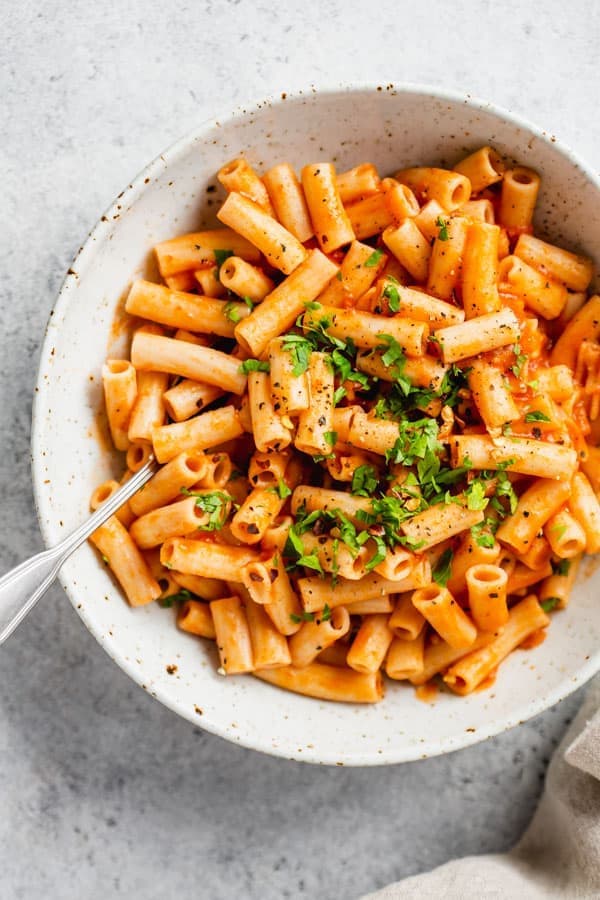 Vegan Pasta with Tomato Alfredo Sauce - Veatcookbake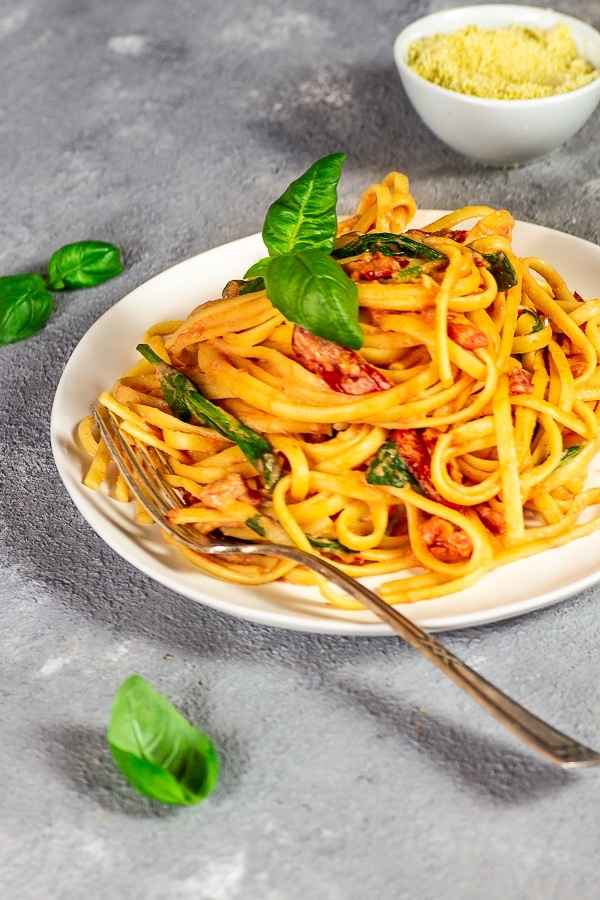 5-Minute Vegan Alfredo Sauce - Healthy Midwestern Girl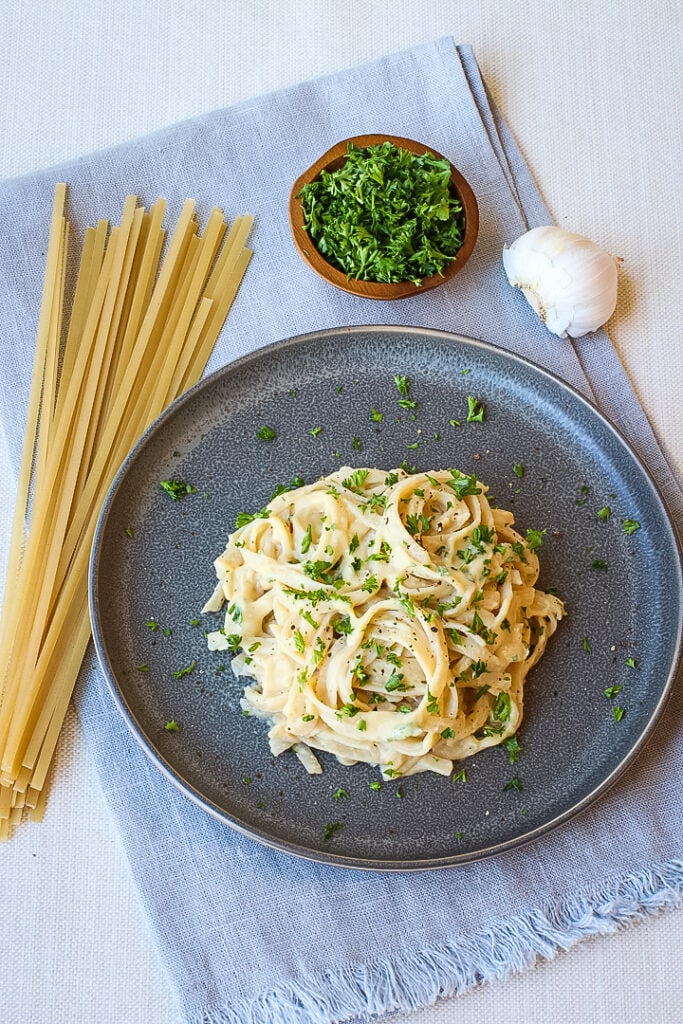 Vegan Pumpkin Pasta - Healthy Midwestern Girl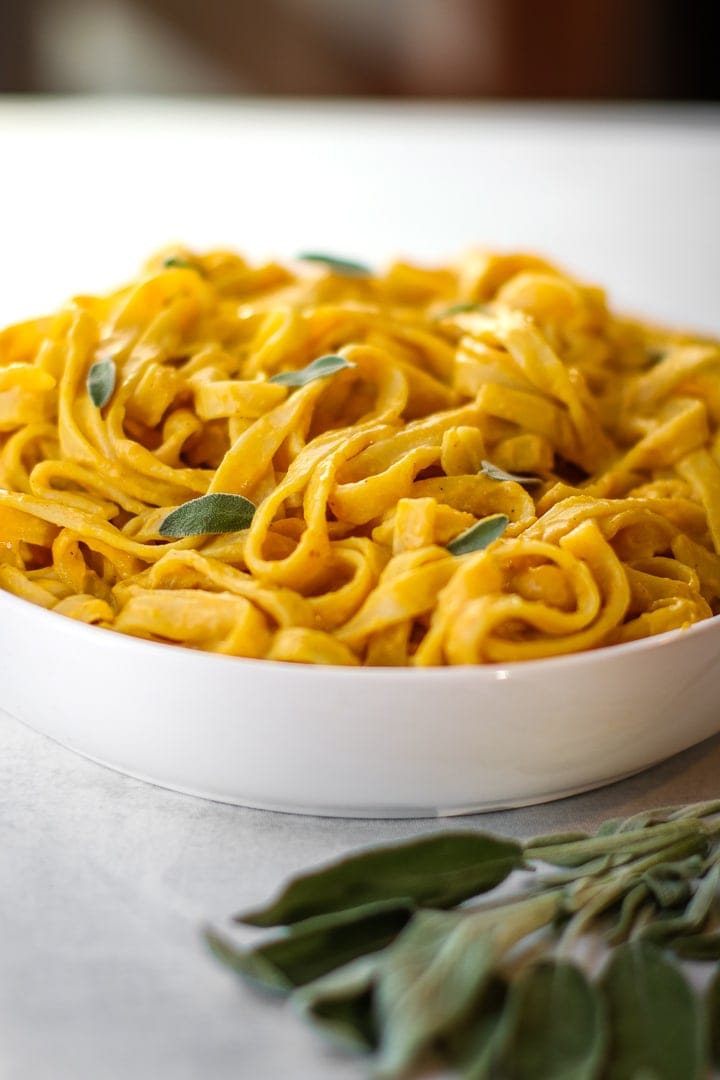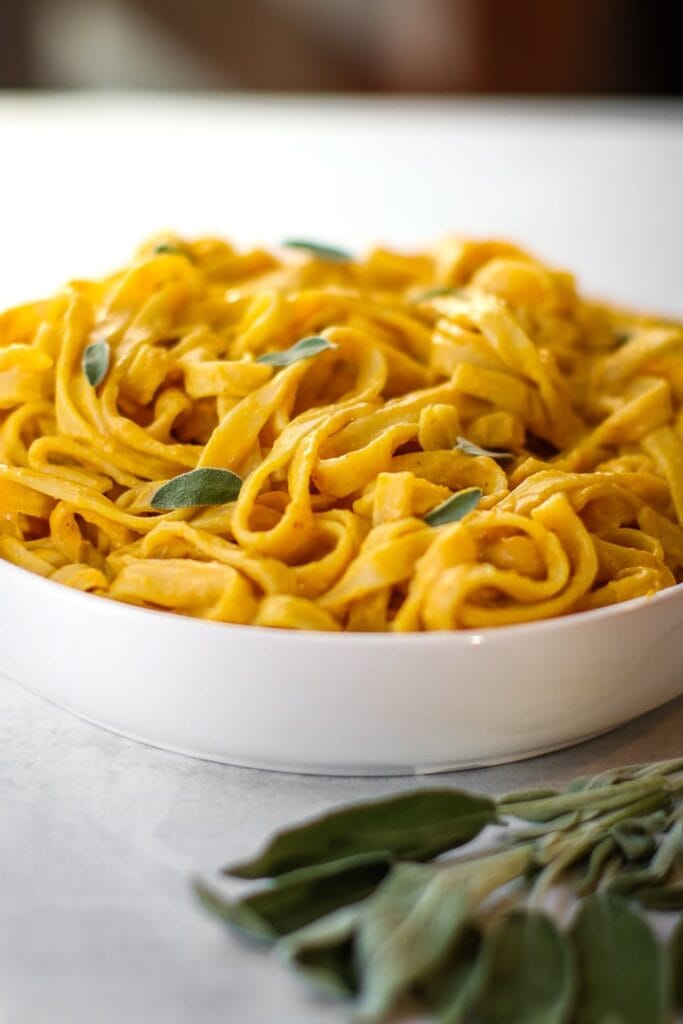 Roasted Garlic Butter Pasta - Eatplant Based
Vegan Pimento Cream Sauce - The Vegan 8
Green & Pesto Sauce Pastas
Easy Vegan Oil Free Pesto - Healthy Midwestern Girl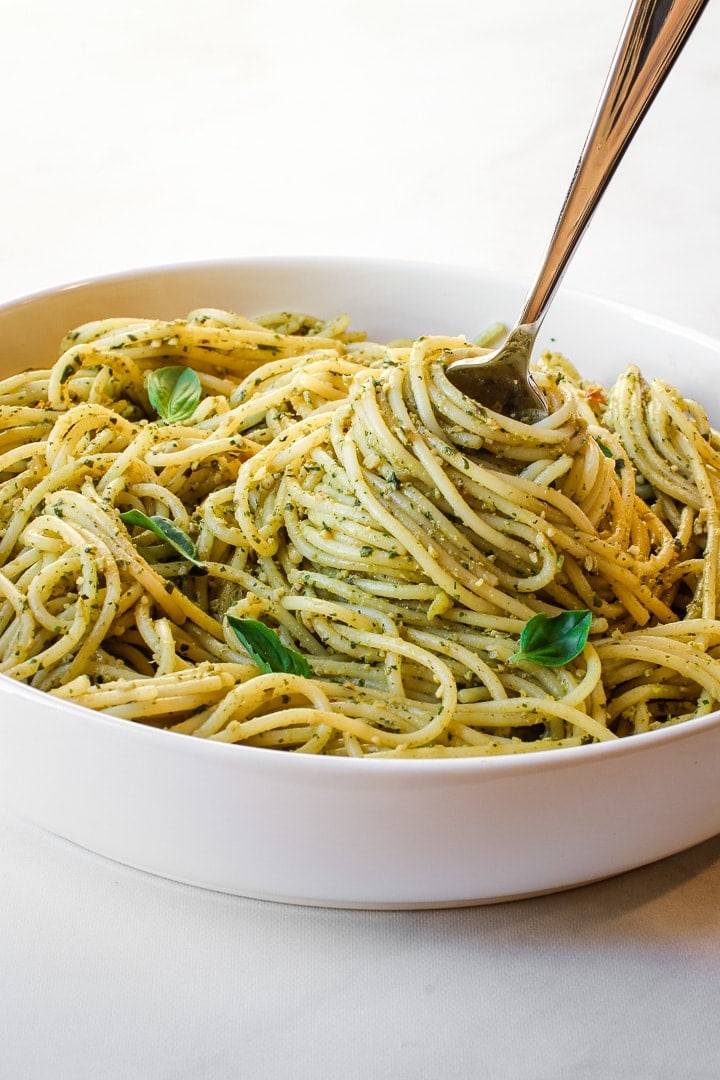 Green Pasta - Delicious Plants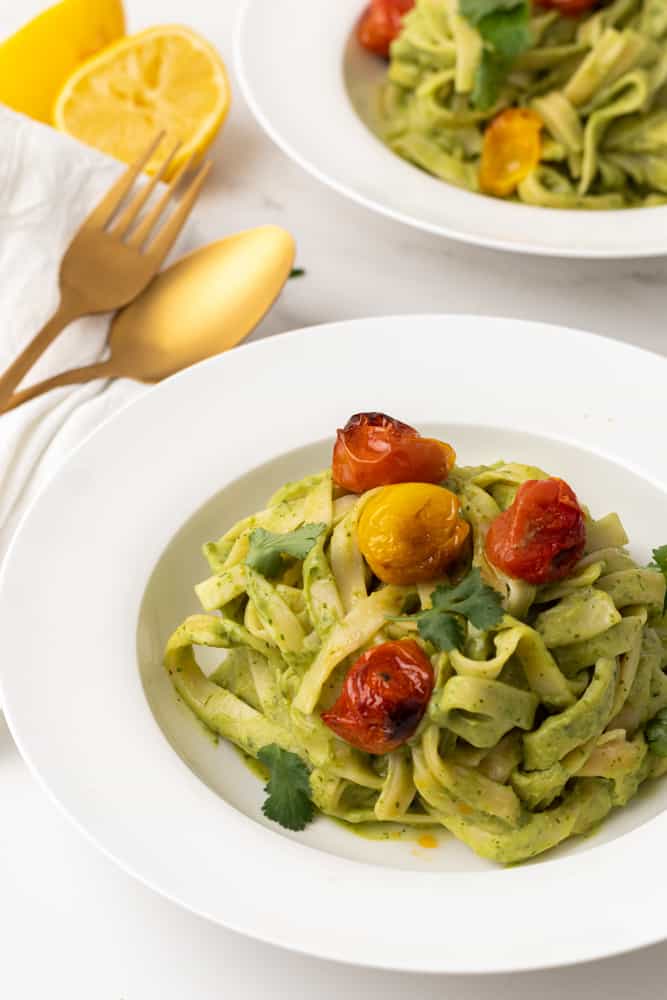 Kale Stem Creamy Pasta - Healthy Slow Cooking
Vegan Mac and Cheese
Chickpea Mac and Cheese - Healthy Midwestern Girl
Buffalo Cauliflower Mac and Cheese - VNutrition and Wellness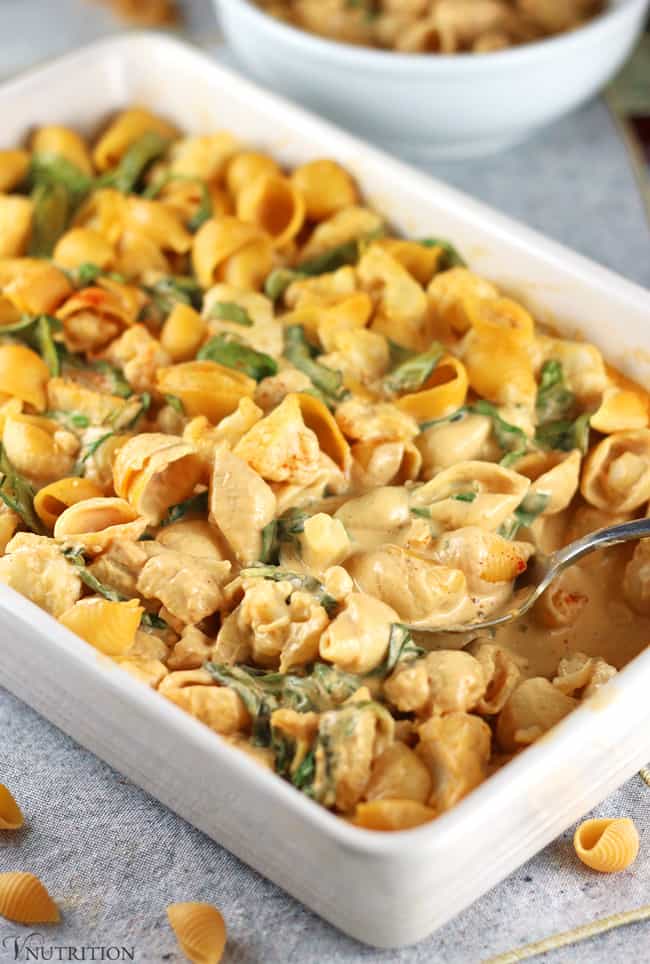 Butternut Squash Mac and Cheese - Veggie Inspired
One-Pot Vegan Mac and Cheese - Strength and Sunshine
Pasta Salads
Vegan Italian Veggie Pasta Salad - Veggie Society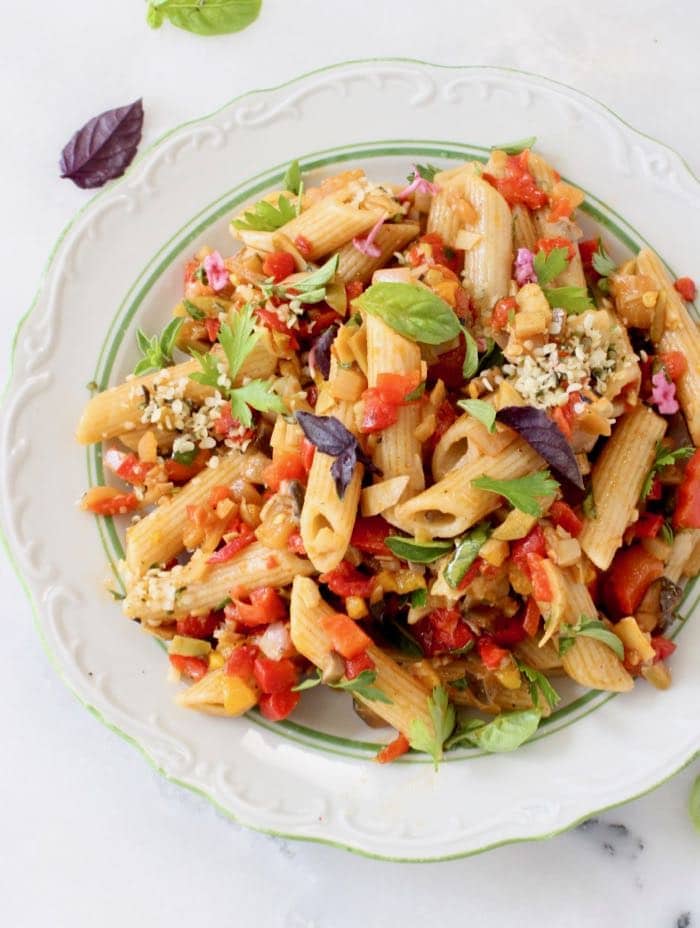 Bow Tie Pasta Salad - Contentedness Cooking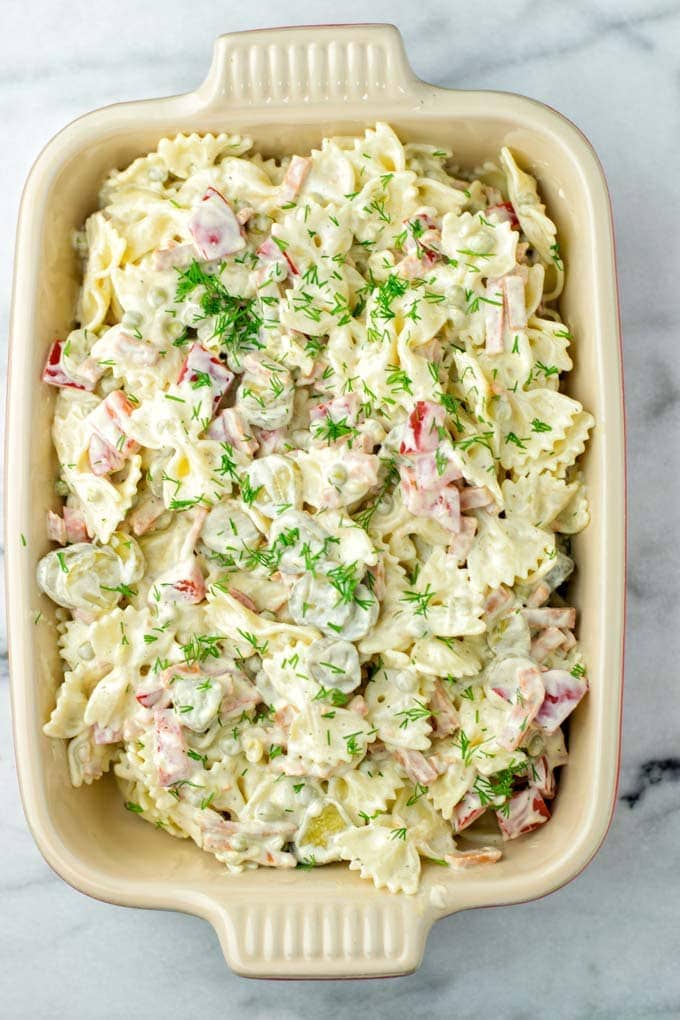 Eat Your Greens Pasta Salad - Healthy Midwestern Girl
Vegan Rainbow Pasta Salad - Rhian's Recipes
Mayo Free Radish Mint Pasta Salad - Very Vegan Gal
Pasta Salad with Parsley-Dill Pesto - My Quiet Kitchen
Pasta Soups
Vegan Gnocchi (or Pasta) Soup - Healthy Midwestern Girl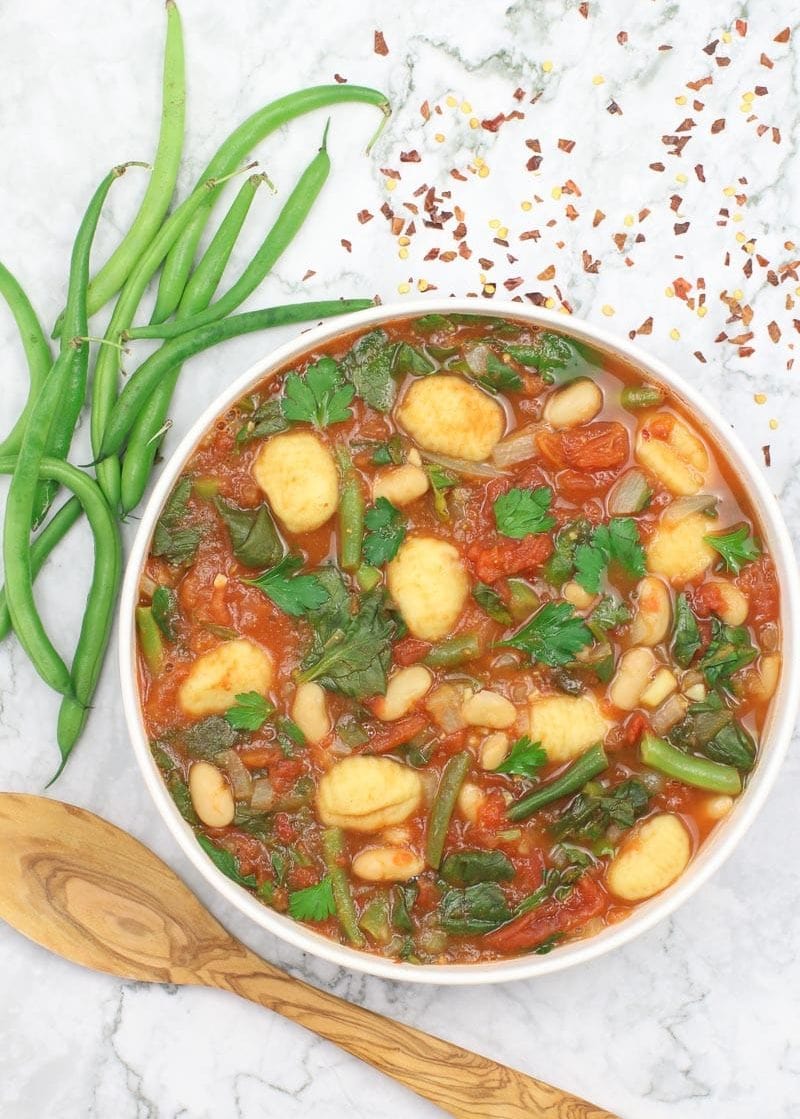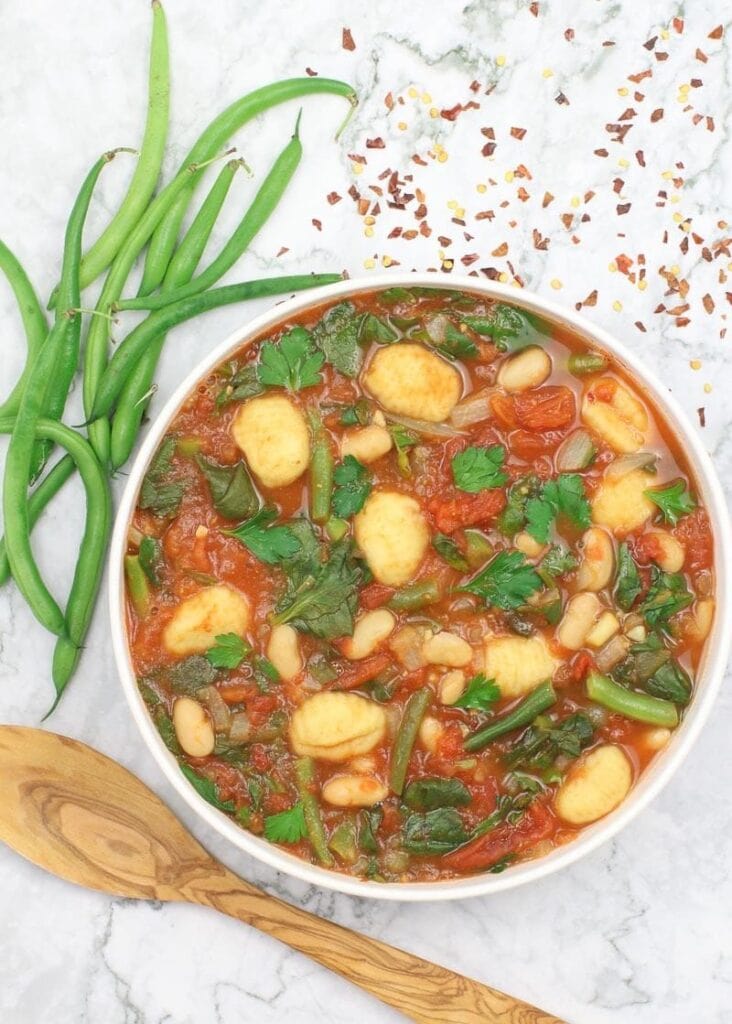 Vegan Pasta e Faglioli - Watch Learn Eat
Vegetarian Lasagna Soup - Food and Spice
No-Noodle 'Pasta' Dishes
Vegan Zucchini Lasagna - Healthy Midwestern Girl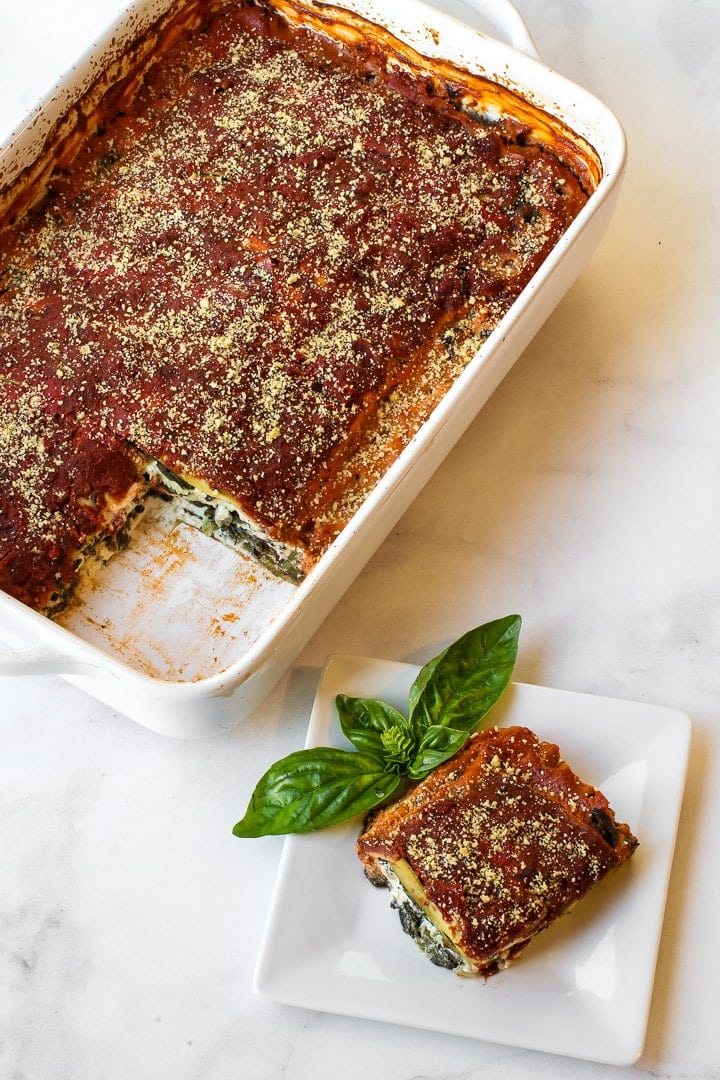 Sweet Potato Noodles with Vegan Alfredo Sauce - This Healthy Kitchen
Basil Alfredo Zoodles - Rainbow Nourishments
Pasta Toppings
Vegan Parmesan (2 Ways) - Healthy Midwestern Girl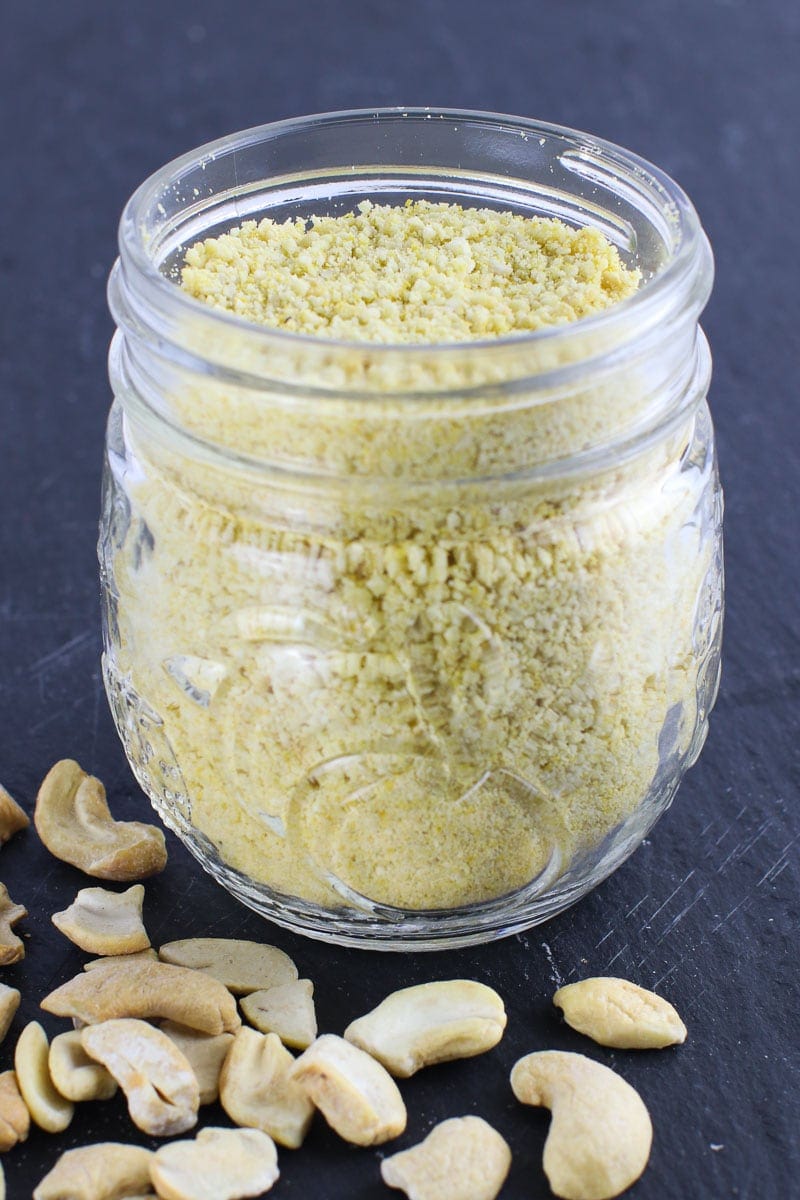 Vegan Almond Ricotta Cheese - Healthy Midwestern Girl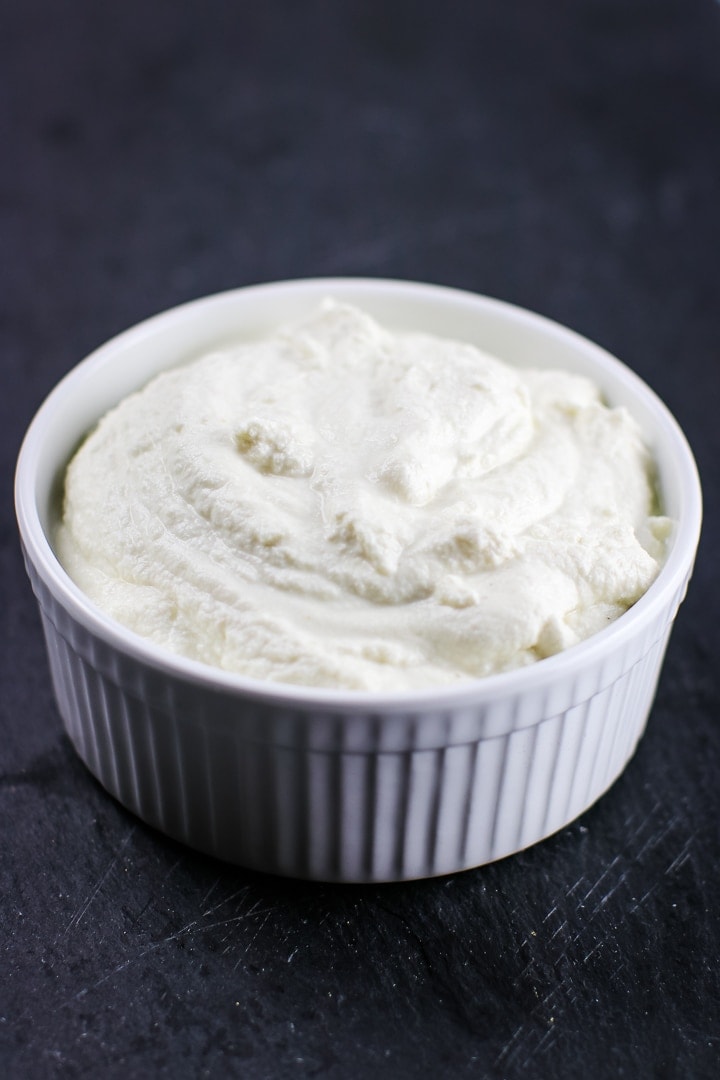 I LOVE hearing from you! It would make my day if you'd be so kind as to:
Rate this recipe and/or leave a comment if you make it. (Under the recipe picture or below the recipe.)
Thanks bunches and happy, whole-food cooking!
A Few WFPB Pastas