An easy Instant Pot tomato sauce with no dicing, no sauteeing—and just 5 ingredients. (See recipe for stovetop instructions, too.)
One of the easiest, go-to vegan/vegetarian dinners on the planet is jarred tomato sauce over pasta. I've made this more times than I care to count. It's no substitute for a rich, flavorful Sunday pasta sauce made from scratch—like my rich & hearty Mushroom Walnut Bolognese. But I get it, we don't always have that kind of time. This Easy Instant Pot Tomato Sauce is the best of both worlds.
This instant pot pasta sauce is almost as fast an easy as jarred sauce—almost. And it's infinitely more delicious, with a flavor that says 'cooked from scratch and simmered for hours.' It's amazing in recipes like my Easiest Vegan Eggplant Parmesan, for example.
Plus you're in control of the ingredients, which is not always true with jarred sauces.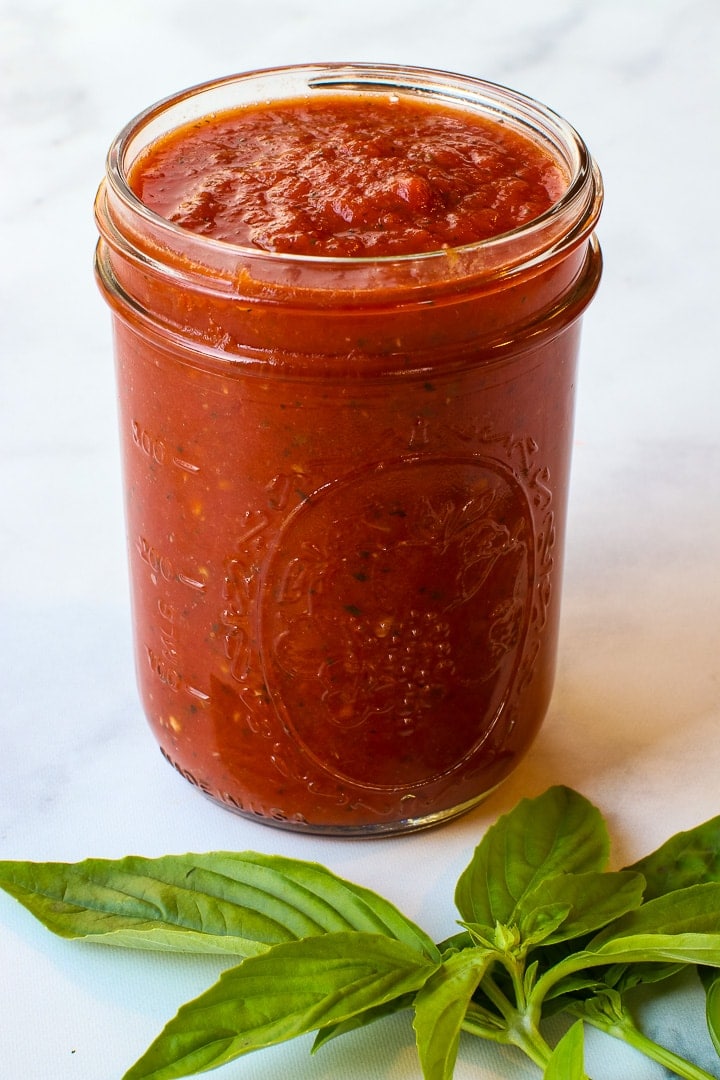 How to make easy Italian tomato sauce from scratch in the Instant Pot
To keep this recipe as simple as possible, there's: 1) no sauteeing—making this recipe easier and more hands-off than most, 2) no dicing—just a little peeling, smashing and quick chopping, 3) and only 5 ingredients. (Ok, yes, I'm counting Italian seasonings as 1 ingredient. If you don't have any, I'm betting after you make this sauce, you're going to want to keep some on hand.)
Rather than dicing our onion and garlic, we cook them in big chunks. Then, I like to remove the onion pieces and mash up the garlic. Of course, if you prefer to keep the onion in there go ahead. It's your sauce!
How to prevent tomato sauce from burning in the Instant Pot
To make sure you don't get a burn error, it's important to pile the ingredients on top of your tomatoes, especially the thick tomato paste. This way, there's plenty of liquid on the bottom of the pot to keep the other ingredients from burning or sticking to the bottom.
Once you get your ingredients in the pot, this sauce cooks pretty quickly—just 25 minutes at manual pressure (high) with a 10-minute natural pressure release.
When everything's cooked, you simply remove the onion (or not!) and blend it all together. If you have an immersion blender, it's super simple to blend up your tomato sauce right in the Instant Pot. Otherwise, a regular blender or food processor are fine. Pulse a little or blend a lot, depending on the consistency you want.
You can even do this by hand with a potato masher and or large fork, as long as you're okay with a chunkier marinara sauce.
How to customize your pasta sauce
This Instant Pot spaghetti sauce turned out thicker and richer than I imagined, with a lovely simmered-for-hours flavor. Of course, with only 5 ingredients, it's a very basic sauce. I'm sure some of you are gonna want to fancy it up a bit, which is very easy to do.
Like your pasta sauce with a little heat? Toss in some crushed red pepper flakes. Just go easy, as pressure cooking intensifies spices. Love fresh basil? Toss some in. I like to add dried bay leaf, since I always have one on hand. For a 'cheesy' version, you could toss in a little nooch (nutritional yeast) or Vegan Parmesan.
I love cooking my tomato sauce with red wine, but I wouldn't recommend that here since we're not sauteeing, and I doubt the alcohol would cook off properly during pressure cooking. But a small splash of balsamic or sherry vinegar could be a nice touch.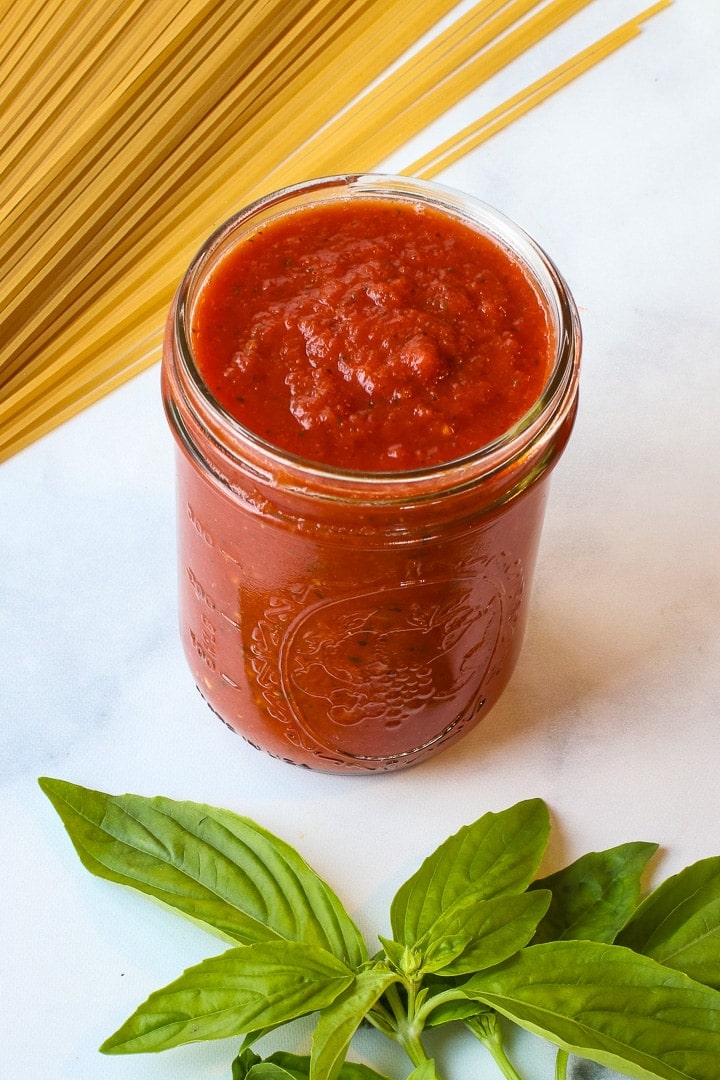 Make your own sugar free marinara sauce
One of the best things about this homemade sauce is that it has no added salt, oil or sugar. It can be very hard to find those in a jar sauce. I've had some luck buying oil free and lower sodium sauces, but finding sugar free (no sugar added) sauce can be challenge. So making your own sauce is a great solution to control what goes in. Just make sure to choose a tomato paste without added sugars.
Why tomato sauce is good for you
Tomato sauce is good for us because it contains the cancer fighting red pigment, Lycopene. And like some other vegetables, tomatoes are even healthier for us when cooked. In fact, cooked tomatoes provide 4x more lycopene than raw tomatoes.
So tomato sauce is good for us, but a lot of ingredients that get added to jarred sauce aren't. As long as you avoid added sodium, sugar or oils, tomato sauce is an excellent addition to a healthy, whole-food plant based diet.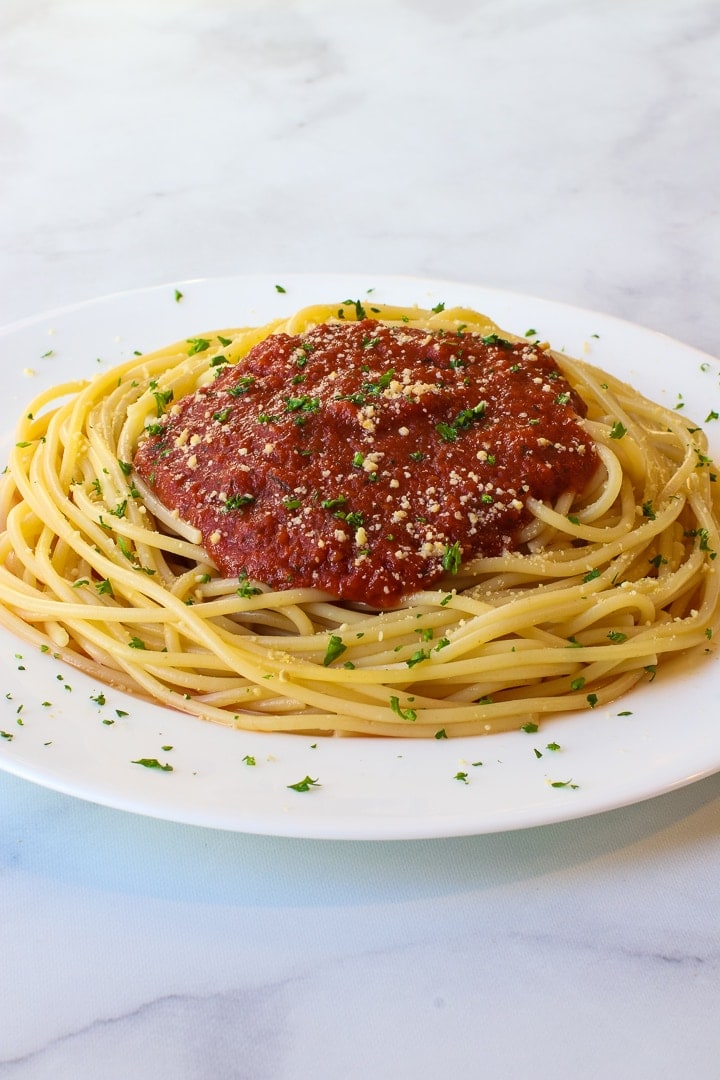 I like to eat this tomato sauce over a WFPB compliant pasta like a chickpea or brown rice pasta. It's also versatile enough to be equally delicious over a whole grain like farro, brown rice or amaranth. I'd love to hear what YOU do with this sauce!
If you like this whole food plant-based recipe, you might also like my Vegan Mushroom Walnut Bolognese, Vegan Carbonara, Chickpea Cheese Sauce, 5-Minute Vegan Alfredo Sauce, and Easy Vegan Oil Free Pesto. Check out this collection of over 30 Healthy Vegan Pasta Recipes!
I LOVE hearing from you! It would make my day if you'd be so kind as to:
Rate this recipe and/or leave a comment. (Under the recipe picture or below the recipe.)
Thanks and happy, whole-food cooking!
📖 Recipe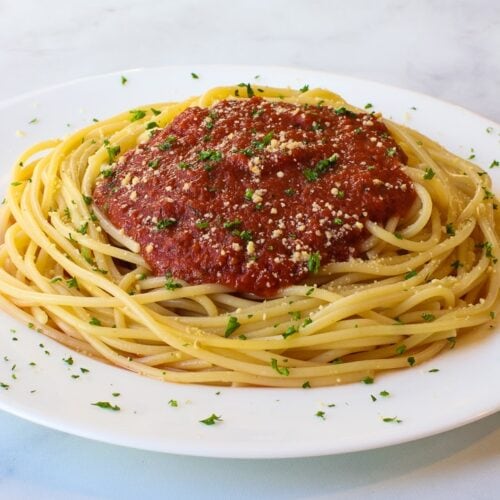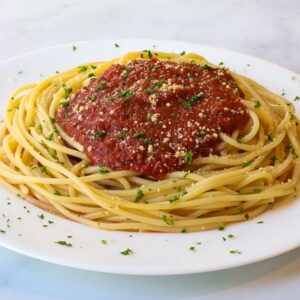 Instant Pot Tomato Sauce
An easy Instant Pot tomato sauce with no dicing, no sauteeing—and just 5 ingredients.
Print
Save
Saved!
Pin
Rate
Ingredients
28

ounce

can whole San Marzano tomatoes and their liquid

4-6

cloves

garlic

peeled & smashed

1

yellow onion

peeled & quartered

2

teaspoons

salt free Italian seasonings mix

mine had oregano, basil, thyme, fennel, etc.

2

tablespoons

tomato paste

(choose a brand with no added sugar)

Optional:

Sea salt to taste. Bay leaf, crushed red pepper flakes, Vegan Parmesan Cheese or nutritional yeast, balsamic vinegar, fresh basil.
Instructions
Pour the tomatoes and their liquid into the Instant Pot. Place the other ingredients on top of the tomatoes, keeping them off the bottom of the pot as much as possible (especially the tomato paste). Press the garlic and herbs down into the liquid a little to moisten, but they should still be visible. Don't stir! (You want to avoid a 'burn' error. See notes.)

Secure the lid on the Instant Pot and make sure the vent is set to sealed/closed. Set to Manual Pressure (high), 25 minutes. When the pot beeps (after 25 minuteuse the Natural Pressure Release method, allowing the pressure to release for 10 minutes. Then, carefully open the vent, and remove the lid.

Remove the onion pieces and discard. Blend or mash the sauce using an immersion or regular blender, or food processor, or by hand with a potato masher and/or large fork. Blend to your desired consistency--either chunky or smooth.
Instructions for Stove Top
Prepare the ingredients according to the directions above. Place them in a large pot, stir them together, and simmer, covered, on medium low heat for at least 30 minutes. Howver, I recommend 45-60 for a fuller-flavored sauce.
Notes
Makes 3 cups of sauce.
Keep in the refrigerator for 5-7 days, or freeze for up to 3 months.
This hasn't happened to me (yet!) but in researching Instant Pot recipes, I learned you can get a burn error if thicker ingredients touch the bottom of the pot. In this recipe, placing the ingredients on top of the tomatoes helps prevent this.
Nutrition (approximate)
Calories:
44
kcal
|
Carbohydrates:
10
g
|
Protein:
2
g
|
Fat:
1
g
|
Saturated Fat:
1
g
|
Sodium:
164
mg
|
Potassium:
364
mg
|
Fiber:
3
g
|
Sugar:
5
g
|
Vitamin A:
283
IU
|
Vitamin C:
11
mg
|
Calcium:
49
mg
|
Iron:
2
mg