A rich, intensely flavored Vegan Mushroom Gravy made with dried porcini mushrooms and red wine, with just 1 gram of fat per serving.
Sauces don't have to be full of fat or unhealthy ingredients to be full of flavor. If you're willing to put in a little time—and the right ingredients—you can build intensity and richness, and still keep things completely healthy and plant-based. Like my Vegan Mushroom Walnut Bolognese Sauce, and now this Vegan Porcini Mushroom Gravy.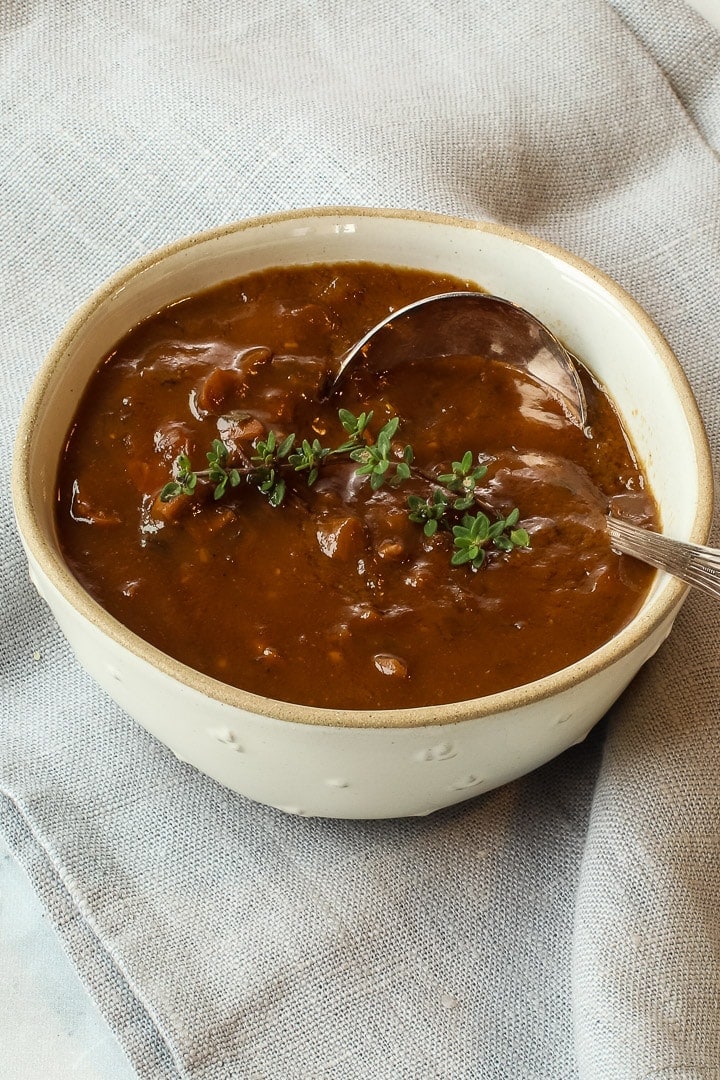 Why I Love this Vegan Mushroom Sauce
I love this rich, glistening mushroom sauce because it's so flavorful that it immediately elevates whatever you eat it with. It takes just a little over half an hour to make, but those mashed potatoes, lentil patties or pasta are going to be transformed into a gourmet meal once they're smothered with this sauce.
If you didn't tell them, I'm sure no one will have a clue this gravy is vegan or that it's made with no added oils or fats, either. And that makes is a great choice for the holidays or entertaining. I like to use the holidays as an excuse to experiment with a new 'foodie' recipe. If you do too, I highly recommend giving this one a go.
Check out some of my other holiday favorites: Vegan Cheesy Potato Casserole, Vegan Sweet Potato Casserole, Healthy Twice-Baked Potatoes, Almond Ricotta, Easy Vegan Collard Greens, Instant Pot Collard Greens, Shaved Brussels Sprouts with Oil Free Citrus Dressing , Healthy Brownies with Peppermint FrostingandHealthy Apple Crisp-4 Ingredients.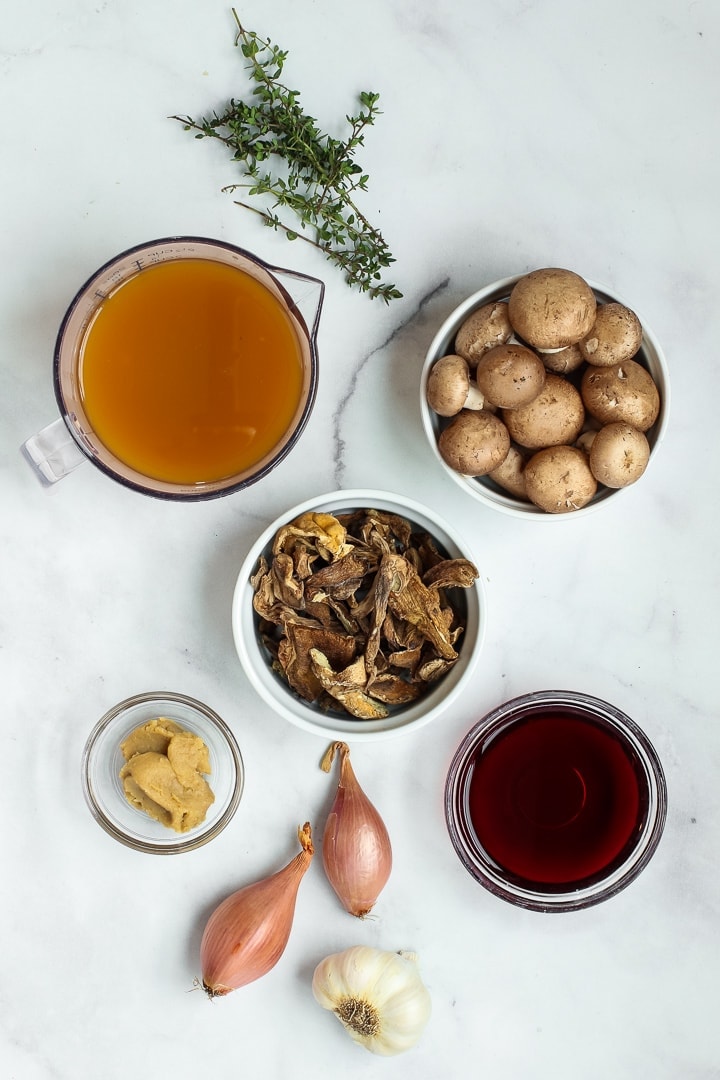 How to Make This Vegan Mushroom Gravy Recipe
Like most of my recipes with several steps, all of them are pretty simple. First, you need to rehydrate those dried porcinis in some hot (but not boiling) water. Not only will this make them soft enough to eat, you'll get a lovely, intensely flavored leftover mushroom liquid to use in your gravy. (More on the health benefits of porcini mushrooms.)
Once they're soft (about 15 minutes) you need to remove them from that precious liquid, chop them into a small dice, and set aside. Then, carefully spoon the reserved liquid into another bowl, leaving the sediment (little bits of dirt and other unappetizing stuff) at the bottom of the original bowl. Or, if you have coffee filters on hand, you can use that to strain out the solids.
As with any good sauce, the rest is pretty much an exercise in sauteeing and reducing. You saute shallots first, making sure to get them well browned and caramelized. The browner (without burning) the more intense the flavor. Since we're cooking with broth here anyway, I like to use some to keep things from sticking. But don't overdo it or things won't brown. Use as much liquid as necessary, but as little as possible. I always add my garlic later, so it doesn't burn.
(If you're adding optional fresh mushroom slices, you'll do that now. Saute those until well browned.)
Then you deglaze with acid—either the red wine, or if you don't cook with wine, a little sherry or balsamic vinegar—and add your simmering broth. This gets reduced down for about 15 minutes at a rolling simmer.
A note about veggie broth: I recommend making your own stock from scraps if you can. I like to save my scraps, put them in a 1-gallon freezer bag, then cover them with about 8 cups of water and simmer 45 minutes. If you do buy packaged broth, make sure it doesn't have added sugars or oils. For this recipe, I like this vegan, low sodium, oil free powdered broth mix.
And, I highly recommend tasting store-bought broth before you cook with it. If you don't like the taste of the broth, you may not like the finished product either!
After all this simmering, we add our luscious porcini broth, a little thickener/healthy salt (more on that below) and our fresh thyme, and simmer a bit more.
Finally, and you can certainly skip this step, I like to save some of my red wine until the end. I love the taste of wine in sauces and how it almost magically kicks any sauce up a notch. Just let it simmer a minute or so to allow the alcohol to cook off, and you're good to go.
How to Make Healthy Vegan Gravy—with No Oil or Vegan Butter
Most gravies incorporate some type of thickener. Traditionally, you'd start with a fat like hot, melted butter or oil, and mix in flour to create a roux. This recipe contains no added fats, but no worries—you're not going to miss it.
To avoid any added oils (vegan butter is mostly oil), in this recipe we combine the porcini liquid, a couple tablespoons of miso paste, and 1 tablespoon of flour or other thickener. By placing it in a small bowl (or, I like to use my measuring cup so it's easy to pour) and whisking it vigorously, you dissolve the solids and get a slightly thick liquid for your gravy.
Do I have to use miso? No, but I like the healthy salt (video) and texture it adds, so I recommend it. Do I have to use flour? No, if you want to avoid flour or powdered starches completely, you could use a spoonful of mashed potatoes—or even nothing at all.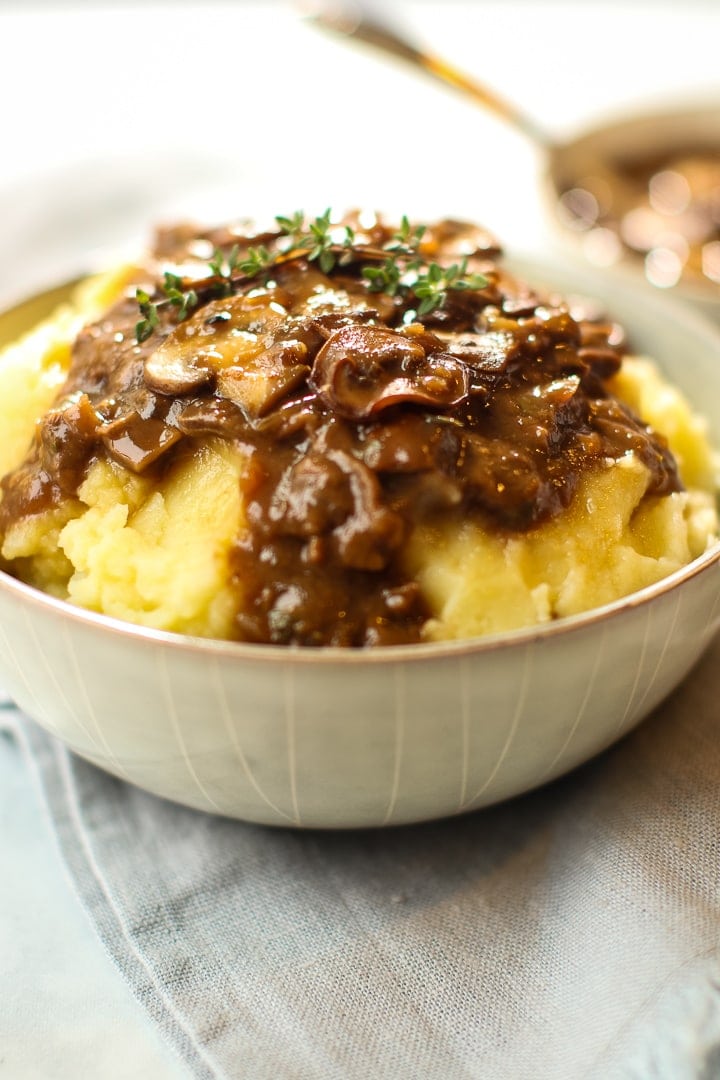 You don't absolutely have to use a thickener to get a sauce to thicken. Instead, you can skip any or all of these thickeners and simply reduce your gravy longer. This will take a bit more time, and you'll end up with a bit less gravy unless you increase the ingredients. Or, you can just go with a slightly thinner sauce.
I don't think you're going to miss the fat here whatsoever. The red wine and dried porcinis lend so much flavor to this mushroom gravy, I doubt anyone will even notice. They'll be too busy asking for seconds.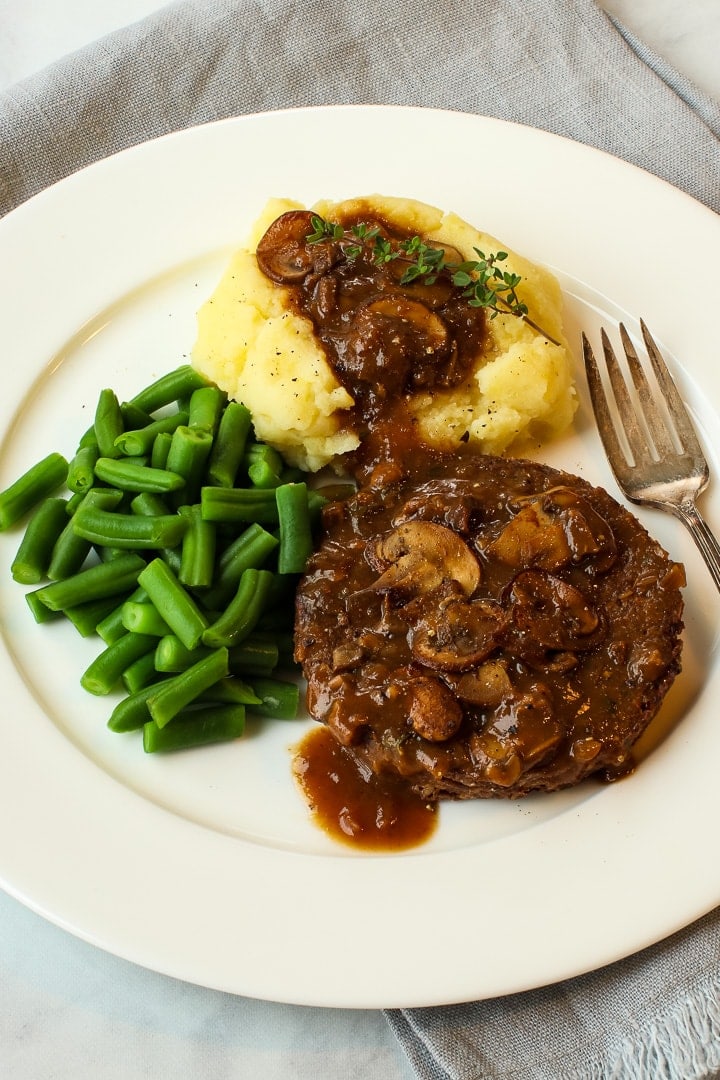 I LOVE hearing from you! It would make my day if you'd be so kind as to:
Rate this recipe and/or leave a comment if you make it. (Under the recipe picture or below the recipe.)
Thanks bunches and happy, whole-food cooking!

📖 Recipe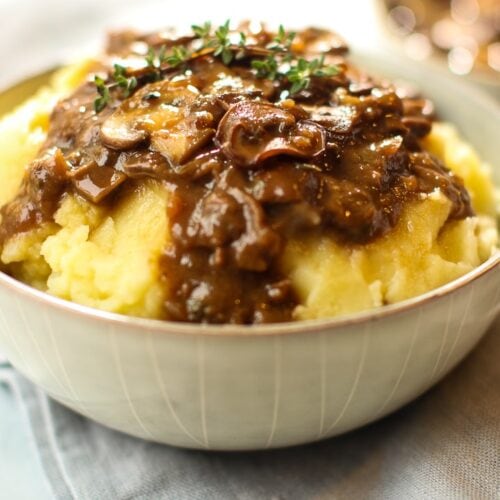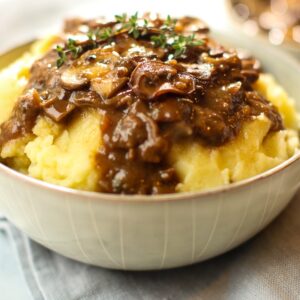 Vegan Mushroom Gravy
A rich, intensely flavored Vegan Mushroom Gravy made with dried porcini mushrooms and red wine, with just 1 gram of fat per ⅓ cup serving.
Print
Save
Saved!
Pin
Rate
Ingredients
1

ounce

dried porcini mushrooms

⅓

cup

shallots

finely minced (about 2 shallots)

2

cloves

garlic

finely minced

2

cups

low sodium vegetable stock or broth

(I like homemade best)

¾

cup

dry red wine

divided into ½ cup + ¼ cup. Or substitute 2 tablespoons sherry or balsamic vinegar + ¾ cup extra broth

2

teaspoons

fresh thyme leaves

2

tablespoons

white miso paste

soy or chickpea miso, see notes

1

tablespoon

whole wheat flour

or other thickener like cornstarch, GF flour, mashed potato, etc.

Sea salt and freshly ground black pepper

to taste

Optional: 4 ounces cremini mushrooms

thinly sliced

Optional: 2-3 tablespoons +/- plain, unsweetened plant milk

see notes
Instructions
Place the dried porcini mushroom in a small bowl and cover with 1 cup of hot (not boiling) water. Let sit 15 minutes.

Heat a little water or broth in a medium sauce pan on medium high heat, and saute the shallots until well browned and caramelized, about 5 minutes. Add more broth or water a little at a time as needed to keep things from sticking. Reduce the heat to medium, add garlic, and saute 2 more minutes.

If using the optional sliced mushrooms, add them to the pan now with a little more water or broth and saute them on medium high heat about 5-8 minutes or until well browned.

Add the ½ cup of the wine (or the vinegar) to the pan, and deglaze (loosen up any brown bits) from the pan. Add the vegetable broth to the pan and simmer on medium high heat until the gravy reduces and begins to thicken, about 15 minutes.

While the gravy is reducing, remove the porcini mushrooms from the bowl, reserving the liquid. Give them a gentler squeeze to release excess liquid. Chop the porcinis into a small dice and set aside.

Using a large spoon or small ladle, remove the reserved liquid 1 spoonful at a time into another small bowl or measuring cup, being careful to leave the sediment at the bottom of the bowl behind. (Or strain using a coffee filter.) Add the miso and flour to the reserved liquid, and whisk together until the miso and flour are dissolved.

When the gravy is finished reducing, add the diced diced porcinis, reserved liquid/miso/flour mixture and thyme to the pan, and simmer on medium low heat 5 more minutes.

Add the final ¼ cup of red wine, and simmer 1-2 minutes to allow the alcohol to cook off. (See notes.)
Notes
Servings. Makes about 2 cups. Serving size (for nutritional information) is ⅓ cup--or ⅙th of recipe. (Actual results may vary, based on how much you reduce your gravy.)
Sodium: most of the sodium in this recipe comes from the miso, a healthier 'green light' source of sodium.
The miso paste acts as a healthy salt and thickener in this recipe. If you're allergic to soy, you may be able to find chickpea, brown rice or another type of miso.
To thicken your gravy, if you don't want to add flour, simply reduce the gravy longer until it reaches the desired consistency.
About Shallots. I kept the shallots in the background so that this gravy has mass appeal (including kids), but it you love onions and what more of a mushroom-onion type of gravy, by all means double or triple the amount in the recipe. Just keep the dice small.
Cooking with wine is completely optional, but it lends a rich, acidic note to sauces that frankly takes them to the next level. In this recipe, I like to add some wine at the very end of cooking to enhance the wine flavor, but you can simply add it with the rest of the wine earlier in the recipe if you prefer.
For a mellower flavor, add a splash or 2 of plant milk just before serving. This gravy has quite an intense mushroom flavor, and the milk will tone that down some if needed.
To make your gravy perfectly smooth, process in a blender or use an immersion blender
To make your gravy richer and creamier, soak some cashews in hot water for 15 minutes, drain, add to a blender with just enough liquid to get it to blend, then stir some of this 'cashew cream' into the gravy.
Nutrition (approximate)
Calories:
69.28
kcal
|
Carbohydrates:
8.21
g
|
Protein:
2.98
g
|
Fat:
0.9
g
|
Saturated Fat:
0.22
g
|
Sodium:
235.79
mg
|
Potassium:
152.03
mg
|
Fiber:
1.07
g
|
Sugar:
0.62
g
|
Vitamin A:
31.67
IU
|
Vitamin C:
1.54
mg
|
Calcium:
10.89
mg
|
Iron:
0.55
mg