Quick and Easy Vegan Collard Greens are simple enough for a weeknight meal, but pack enough flavor to serve to guests or as a holiday side dish.
By now, we all know that dark leafy greens are especially good for us. I try to work them into several meals a week, if not daily. (Daily is best!) But I'll admit I've been guilty of getting stuck in the spinach/kale rut lately. It's so easy to toss them into a healing Spinach Soup, a Holiday Bread Pudding , Spinach Salad, or even a delicious 'Cheesy' Spinach Pizza Roll recipe.
It's so easy to grab a big package of pre-washed greens and slip it into stews, lentils, burritos—pretty much whatever we're eating. So today, we're getting out of the rut with some Quick, Easy Vegan Collard Greens!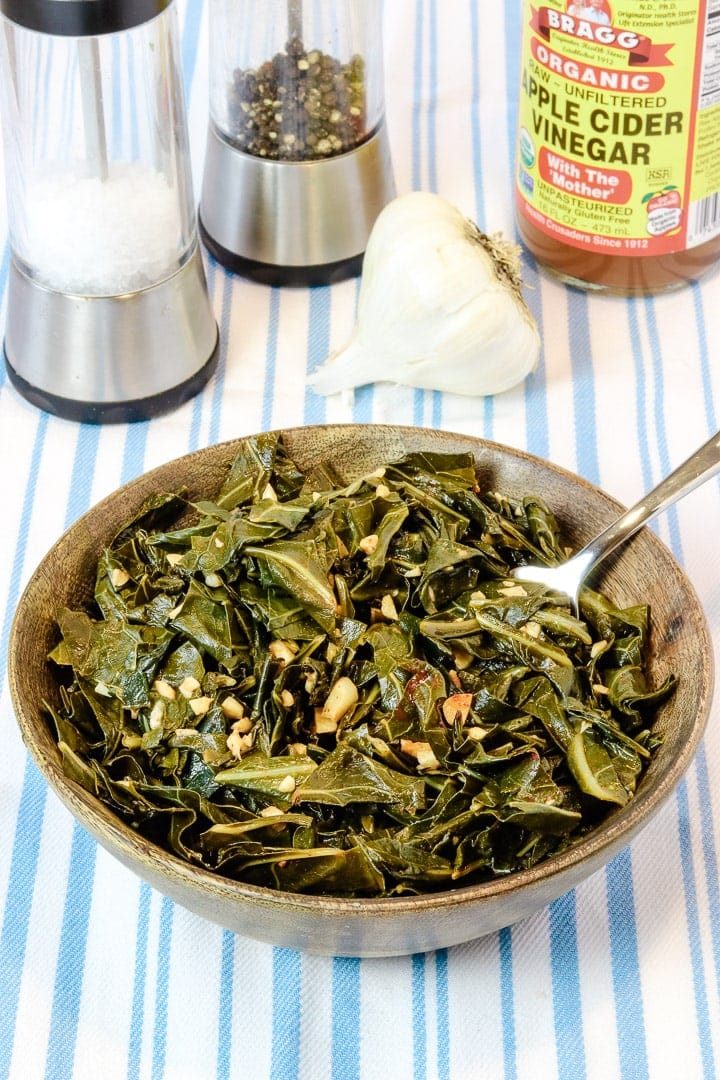 How to Make Collard Greens
(Click here for the Instant Pot recipe.)
I call this recipe 'quick & easy vegan collard greens' because they not only cook up fast, if you follow the step-by-step instructions here for trimming and cutting your greens, prep time is a snap.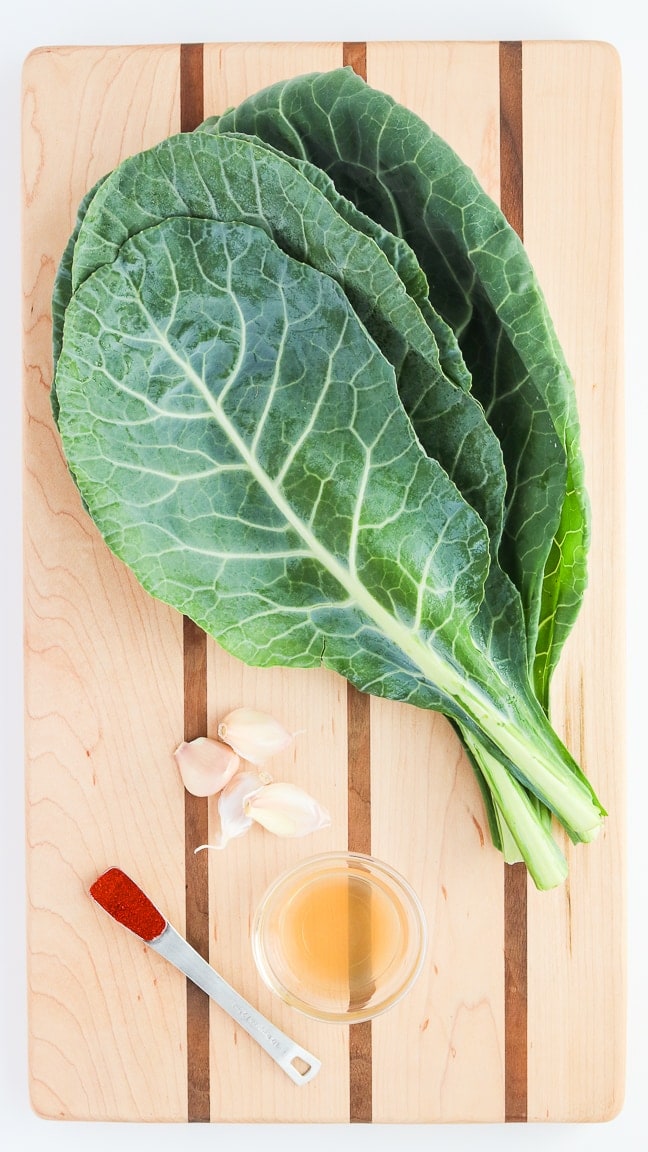 First, stack leaves on top of each other and chop off all of the ends. Then, one leaf at a time, run the sharp tip of your knife lengthwise down the center of each leaf along the stem. Do the same thing on the other side. (Cut as much or as little of the stem out as you like.) You'll be left with two matching halves.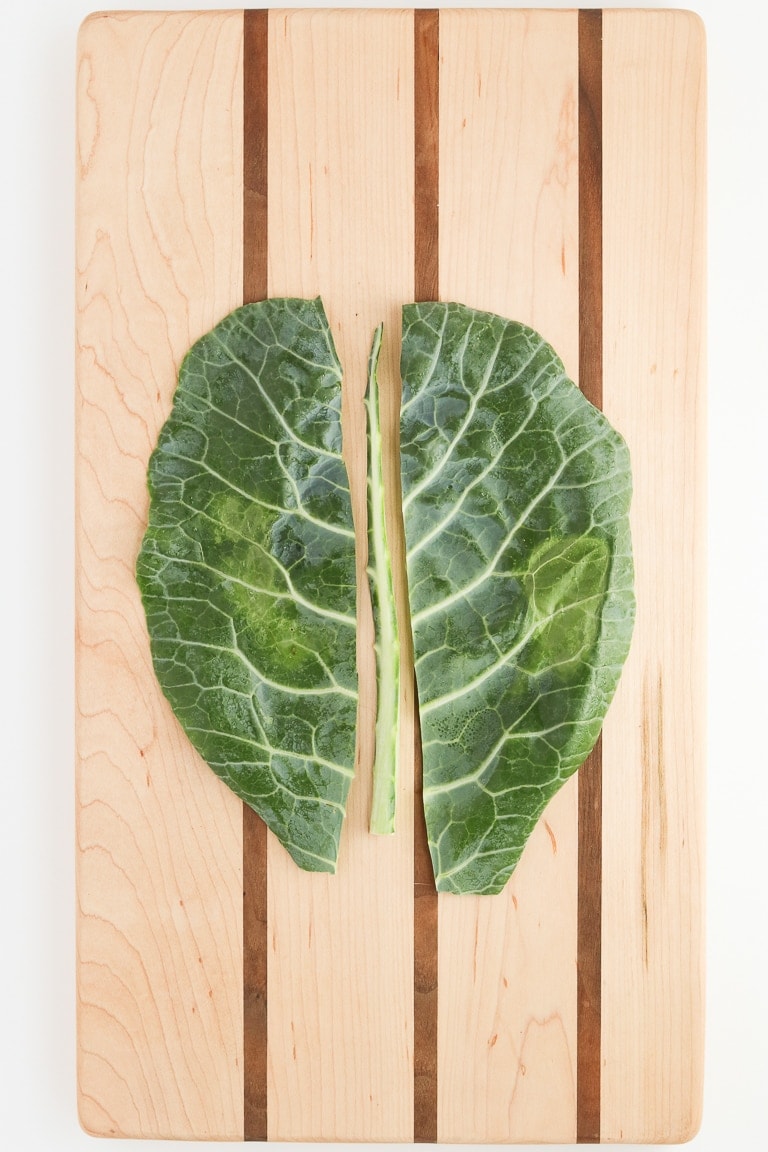 Second, flip and stack your leaf halves on top of each other in even piles of three or four.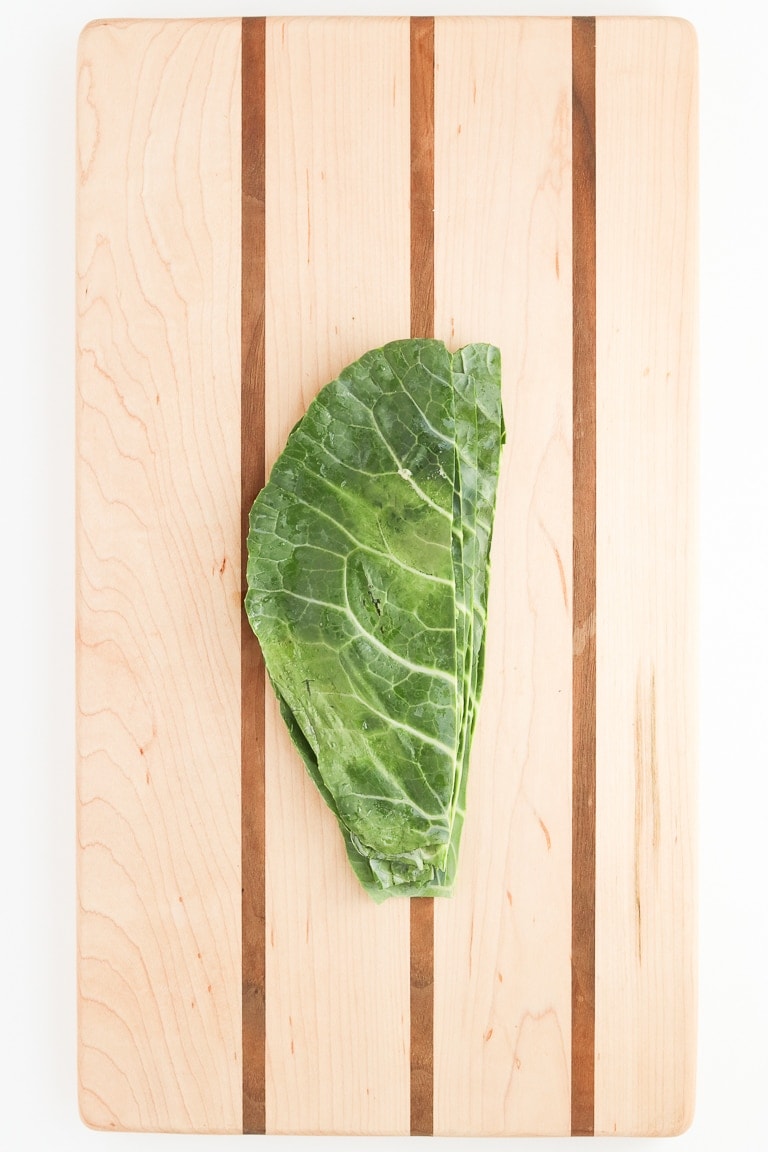 Third, roll the leaves lengthwise like a cigar, and make ½ inch cuts across the width to create ribbons. That's how to make collard greens, the easy way! After washing my collard greens, I can usually cut 2 bunches in about 5 minutes.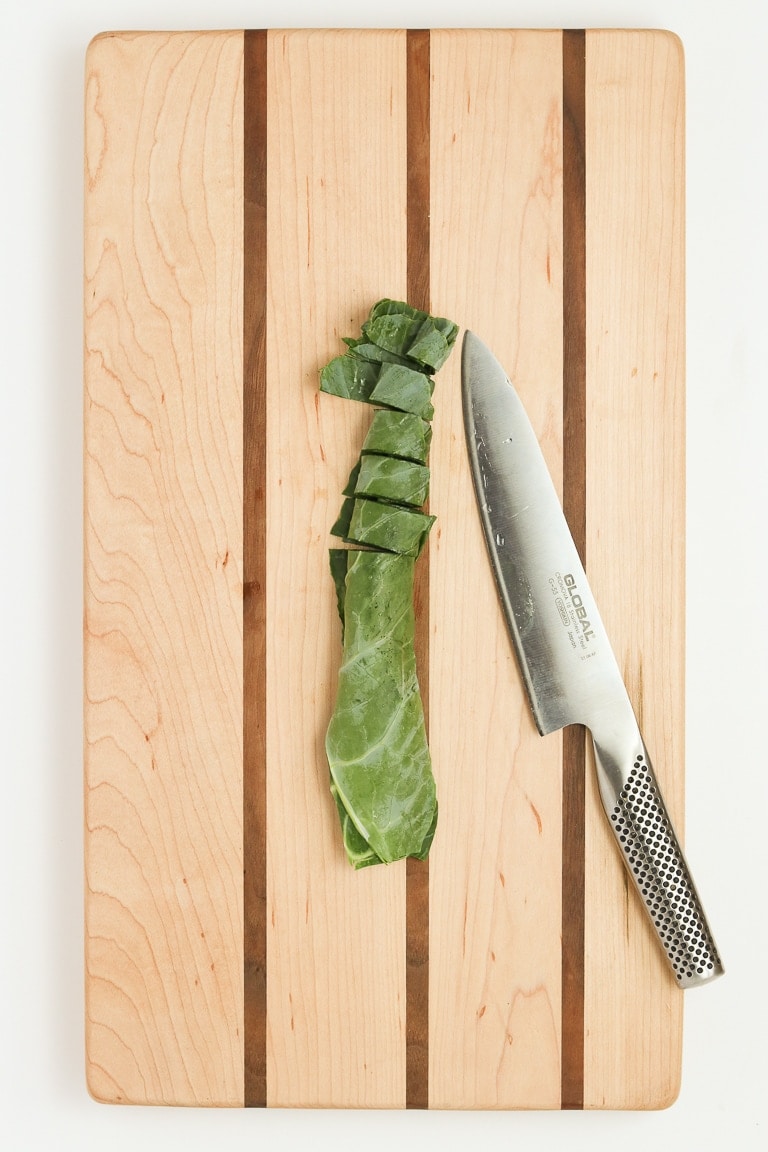 Of course, it helps to have a good quality, very sharp knife! I recently took a cooking class at Sur la Table, which was not only fun, but we got to experiment with all kinds of knives and gadgets. (Pretty smart marketing on their part!) I left with a new set of Japanese Global Knives (pictured above).
I'm kind of a minimalist and don't like to clutter my kitchen with things that have limited use or I'll rarely use. But especially for us vegans—with all of the fruit and veggie prep we do--there's simply no substitute for a set of sharp, good quality knives.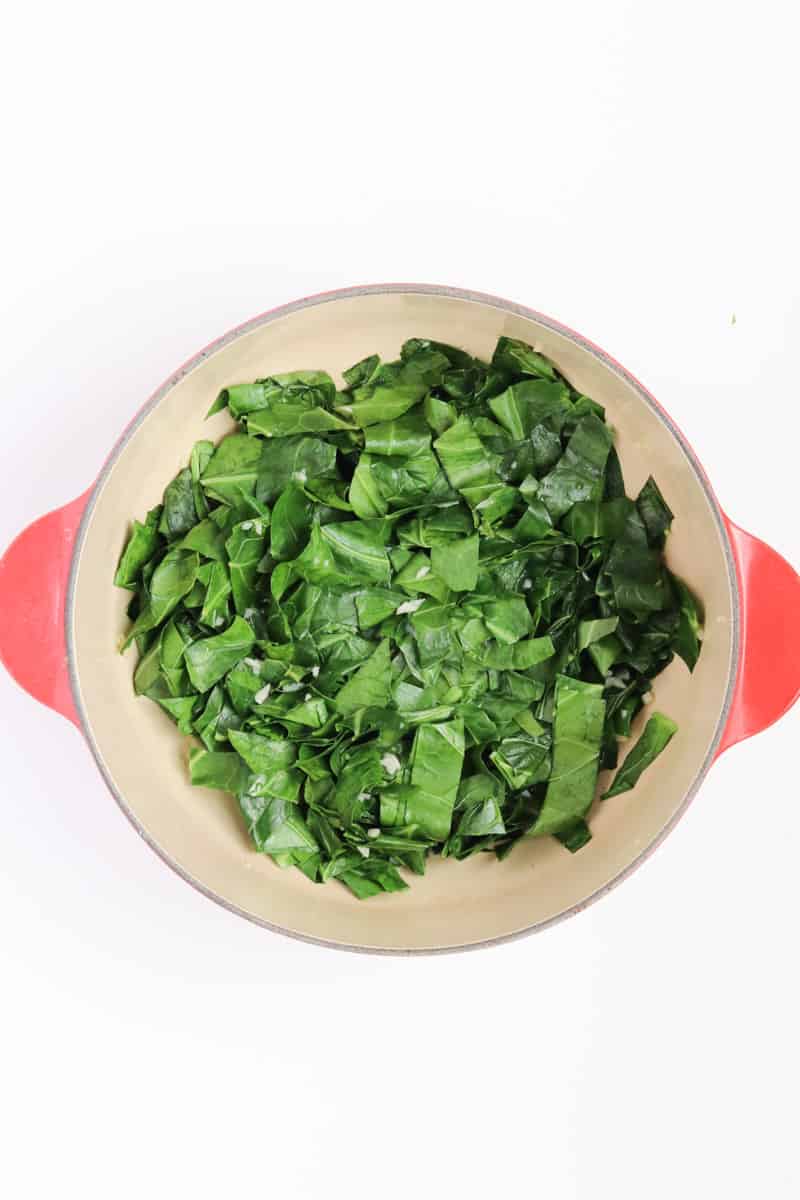 Vegan & Vegetarian Collard Greens with Apple Cider Vinegar
But back to our quick and easy vegan collard greens! This recipe comes together in about 20 minutes, and it's fairly foolproof, so if you're focused on pulling something more elaborate together for the same meal, you don't have to fuss much with this one.
That said, the simple addition of apple cider vinegar at the end, along with the smoked paprika and garlic, really give this recipe an extra pop of flavor. These greens are simple enough to whip up for a weeknight meal, but have enough panache to serve to guests or as a holiday side dish—again, to break up other richer dishes on the plate. I've served these quick, easy vegan collard greens at elegant dinner parties and they were a big hit.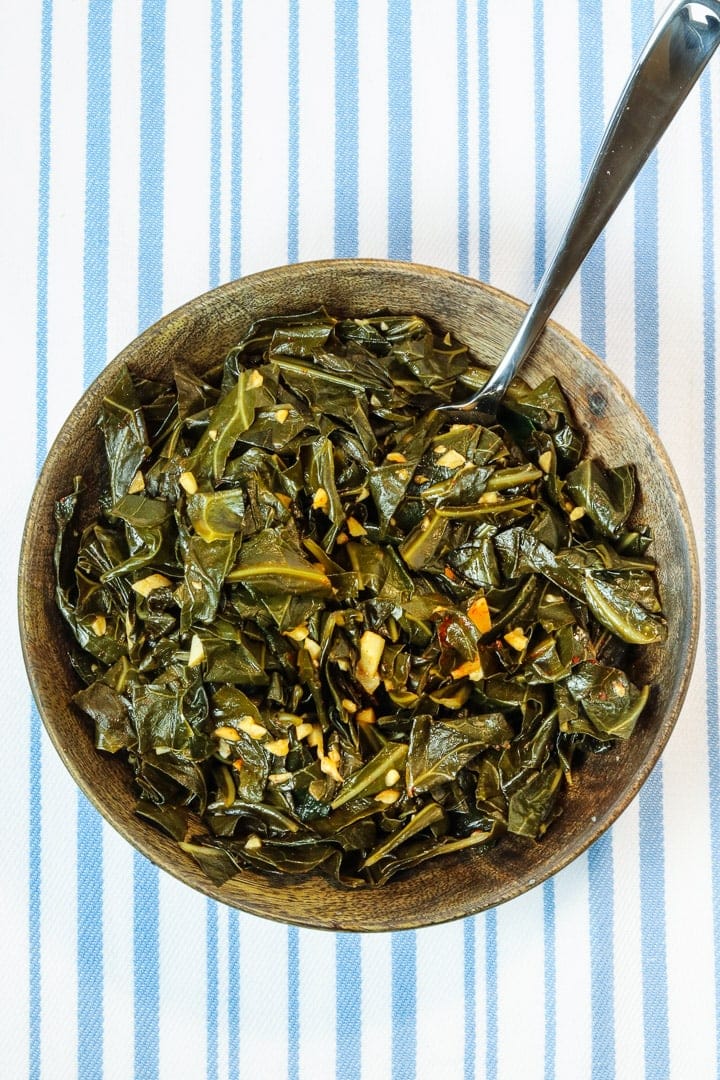 What to Serve with Collard Greens
Collard greens are also right at home on any soul food menu or at a Mardis Gras celebration. In fact, this recipe was featured alongside jambalya, gumbo and other New Orleans style favorites in this vegan Mardis Gras menu put together by Food Revolution Network. Check it out!
These Southern style collard greens have a nice smoky flavor, plus a hint of tanginess from a splash (or more!) of apple cider vinegar. I've been cooking this simple, comfort food recipe for years—well before I became vegan. It's a perfect complement to richer main dishes (like my Healthy Twice-Baked Potatoes!) The acid in the greens cuts through the fat and switches things up for your palette.
Whether you're looking for a way out of the spinach/kale rut, a simple comfort food recipe, or a smoky, tangy flavorful side to complement an elegant entree, these greens can do it all.
I LOVE hearing from you! It would make my day if you'd be so kind as to:
Rate this recipe and/or leave a comment if you make it. (Under the recipe picture or below the recipe.)
Thanks bunches and happy, whole-food cooking!
More popular recipes:
📖 Recipe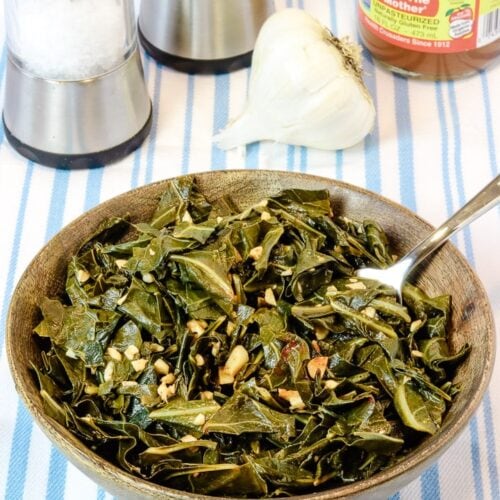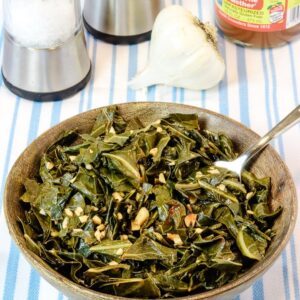 Quick and Easy Vegan Collard Greens
Quick and Easy Vegan Collard Greens are simple enough for a weeknight meal, but pack enough flavor to serve to guests or as a holiday side dish.
Print
Save
Saved!
Pin
Rate
Ingredients
2

pounds

bunches collard greens

ribs removed (see above) and cut into ½ ribbons (about 2 lbs)

4

cloves

garlic

smashed and diced

1-2

tablespoons

apple cider vinegar

to taste

½

teaspoon

smoked paprika

Sea salt and freshly ground black pepper

to taste
Instructions
In a large sauce pan or Dutch oven, heat 1-2 tablespoons of water over medium heat. Saute garlic 2-3 minutes.

Add collard greens and stir. Add water a tablespoon or two at a time, and cook, covered, over medium heat for 12-15 minutes or until no longer bright green/bitter. (I typically use about ½ cup of water throughout the cooking. See notes.)

When finished cooking, turn off heat. Add the vinegar and smoked paprika, stir well, and allow to rest, covered, 1-2 minutes.

Check seasonings. Add sea salt and freshly ground black pepper to taste before serving.
Notes
When sautéing with water rather than oil, use a little at a time--just enough to keep things from sticking. If things do get too brown in the pan, you can 'deglaze' any browned ares with a bit of water or any acid (like vinegar) to loosen things.
Nutrition (approximate)
Calories:
52
kcal
|
Carbohydrates:
9
g
|
Protein:
5
g
|
Fat:
1
g
|
Saturated Fat:
1
g
|
Sodium:
26
mg
|
Potassium:
330
mg
|
Fiber:
6
g
|
Sugar:
1
g
|
Vitamin A:
7670
IU
|
Vitamin C:
54
mg
|
Calcium:
354
mg
|
Iron:
0.8
mg