Strawberry Walnut Salad with oil-free strawberry balsamic vinaigrette is a super nutritious dish that bursts with sweet, tangy & savory flavors.
I envy people who love salads, I really do. I feel like I should love salad (Hemant sure does!), but I'm usually kind of lukewarm on them. I tend to prefer my veggies cooked. And although I adore spinach, I've never been a big spinach salad fan either. (Am I the only one who notices that weird mouth feel raw spinach has?) Until now that is. This Strawberry Walnut Salad is so flipping delicious, I could eat it all the time. In fact, I'm going to eat this All. The. Time.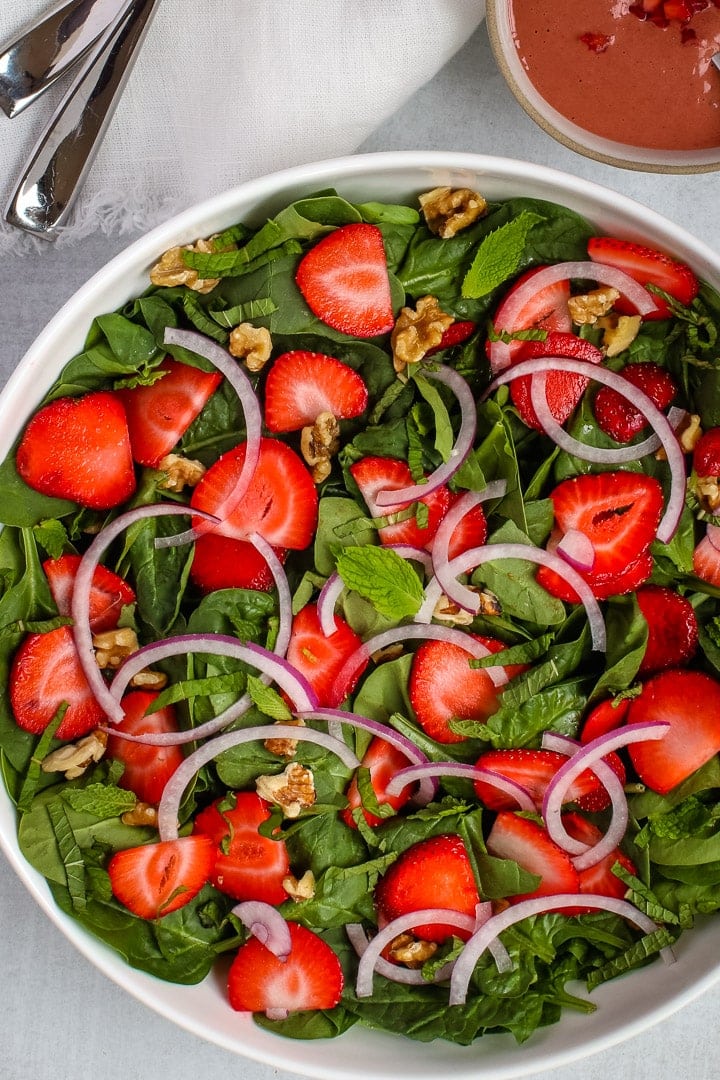 Why I Love This Strawberry Walnut Salad (with Spinach—or not)
I started playing around with fruity oil-free dressings when I created my Brussels Sprouts Salad with Oil-Free Citrus Vinaigrette, and my Shaved Brussels Sprouts Salad with Berries with oil-free strawberry vinaigrette. These dressings are not only oil free, they get much of their flavor from healthy fruit. Pour them over a fruit and veggie salad, and you've got a sweet-savory-tangy flavor combo that's gonna make your taste buds do the cha-cha.
The strawberry balsamic vinaigrette I created for this salad is a bit richer and creamier, with more depth of flavor than my earlier dressings. Which really helps it stand up to the spinach in this recipe—or whatever dark leafy green you choose.
(I love spinach as the base for this salad, because I really love spinach. But you could easily substitute another green, which is why I named it simply Strawberry Walnut Salad.)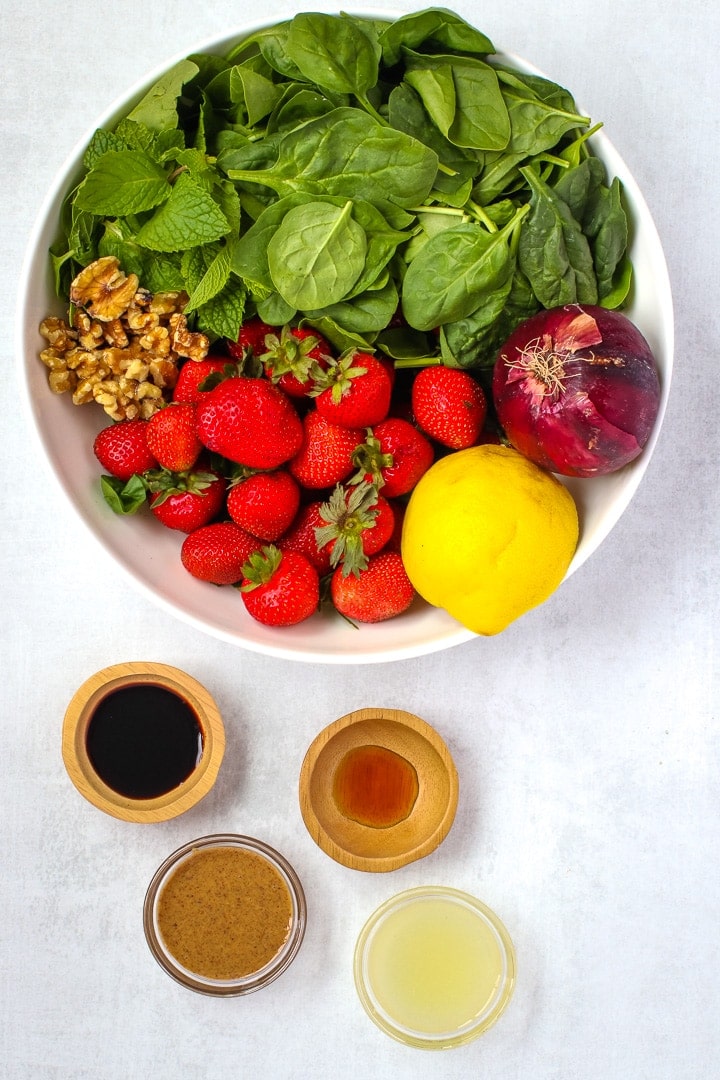 How to Make This Sweet, Savory & Tangy Salad
This is just about one of the easiest salads with homemade dressing I can imagine. Yet it packs enough punch to become a favorite go-to for parties and picnics. (Seriously, I can't wait for my next pot luck!)
This is how we do it:
First, pick a leafy green. Spinach, baby kale or any dark leafy green would be a great choice. And of course, pre-washed is a great time saver. Cut off any large stems, and chop it only if you feel like it. I didn't chop my baby spinach, and it was perfect.
Next, whip up your dressing. Just toss 5 ingredients—strawberries, balsamic vinegar, lemon juice, almond butter and maple syrup into a food processor or blender, and give it a whirl.
Third, slice up your strawberries and red onion, mince your fresh mint (maybe save some small leaves for garnish) and chop up your walnuts (if you've got big pieces.) Then decide how you want to assemble your salad.
I usually like to toss my greens, dressing and about ½ of my salad ingredients together, then arrange the rest of the ingredients and any garnish on top. I think this looks really pretty. The recipe gives these instructions, and what's pictured here. But you be you, and toss your salad any way you like it.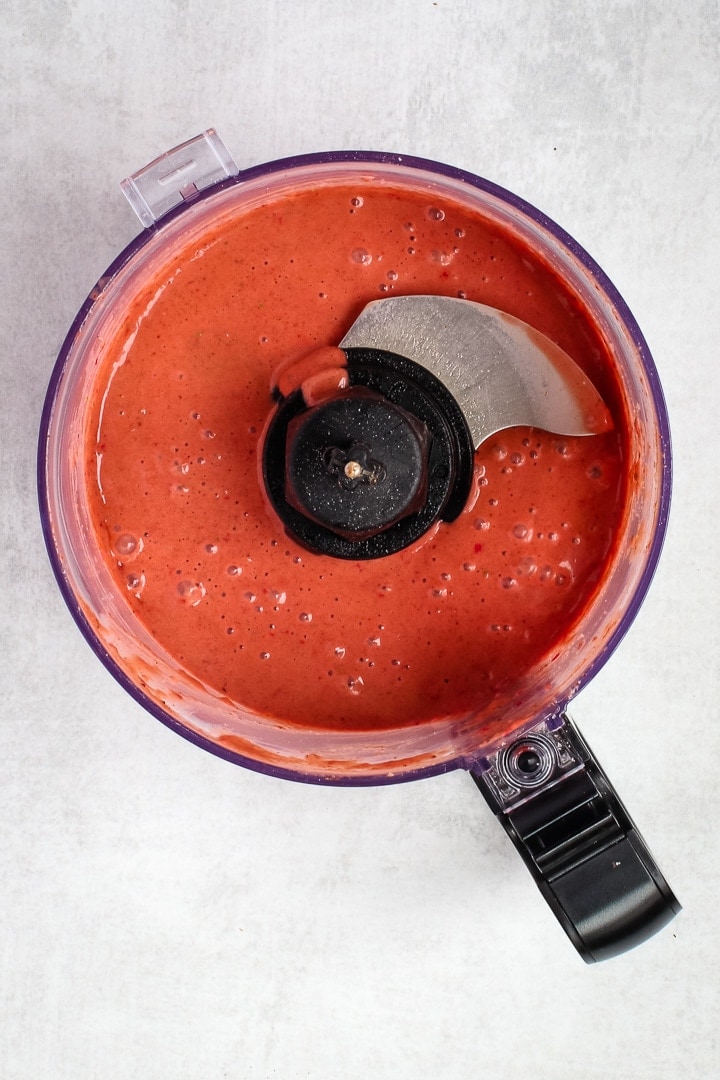 Berries, Walnut & Greens: A Nutrition-Packed Combo
This strawberry walnut salad tastes so fabulous, it's hard to believe you're eating something that's also fabulously nutritious. So, what makes this salad so very good for you?
First, it's got berries. Dr. Michael Greger of Nutritionfacts.org recommends we get at least one serving of berries every day. Berries have at least 10x the antioxidants as other fruits and veggies, and 50x more than animal-based foods. Plus, they've been shown to prevent and even reverse all kinds of diseases. (Read more about berries.)
Second, it's got dark leafy greens. Dr. Greger also recommends at least one serving of these nutrition powerhouse foods a day. They're high in calcium, folate and the best plant-based source of nitrates. Like berries, they're highly effective at preventing and reversing chronic illnesses. (Read more about greens.)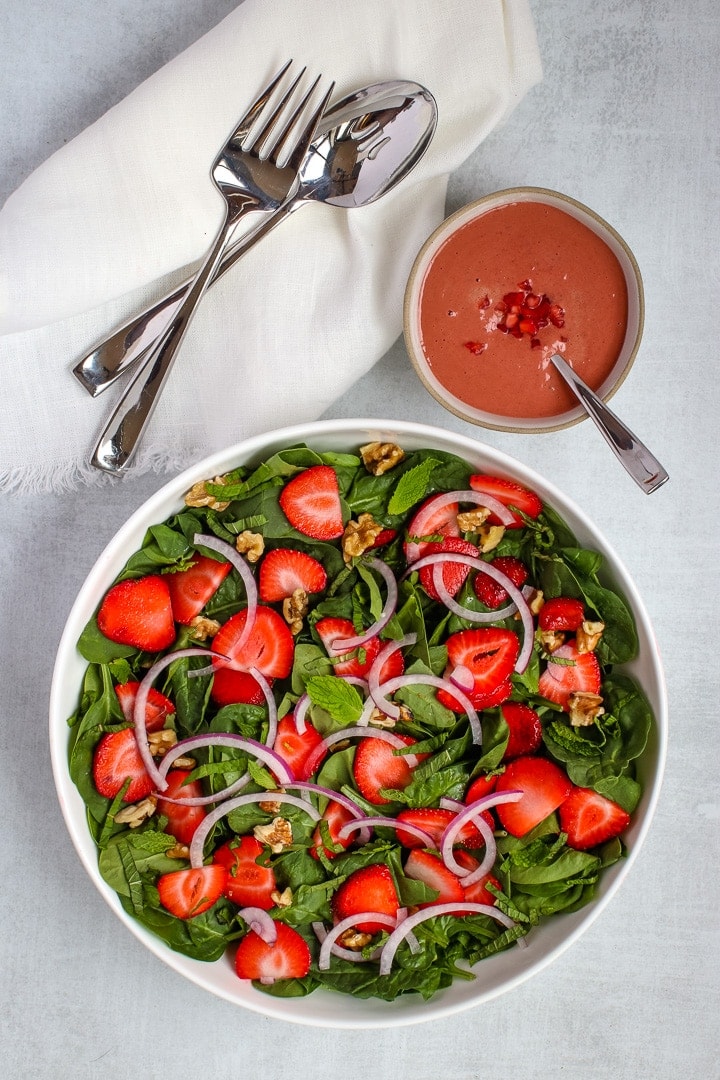 Third, it's got healthy walnuts. There's a lot of confusion out there about fats and oils. Healthy, whole food fats are good for us, oils are not. Walnuts are a great source of healthy omega-3 fat (a good kind), and consuming a little fat with our fruits and veggies actually helps us to better absorb their nutrients.
Walnuts in particular also have a host of other health benefits, including decreasing inflammation, promoting gut health, and reducing the risk of some cancers. (Read more about the health benefits of walnuts.)
Not too many ingredients, just 15 minutes, super nutritious, and so tasty you'll want to make it all the time. What more could anyone want in a salad?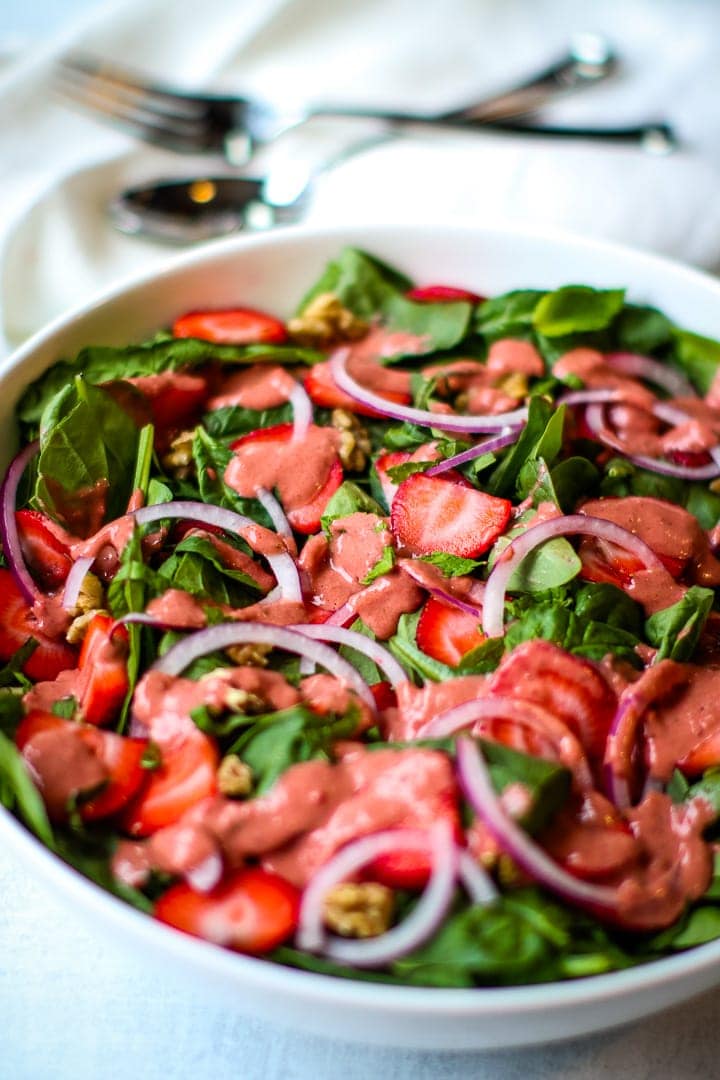 If you like this healthy, whole food plant-based recipe, you might also like my Shaved Brussels Sprouts Salad with Berries, Vegan Broccoli Salad with Smoky Almonds and Raisins, Vegan Wedge Salad with Ranch Dressing, Warm Kale Salad with Roasted Vegetables and Citrus Dressing, Simple Chickpea Salad with Lemon Aquafaba Dressing, and Brussels Salad with Cranberries and Oil-Free Citrus Vinaigrette.
I LOVE hearing from you! It would make my day if you'd be so kind as to:
Rate this recipe and/or leave a comment. (Under the recipe picture or below the recipe.)
Thanks and happy, whole-food cooking!
📖 Recipe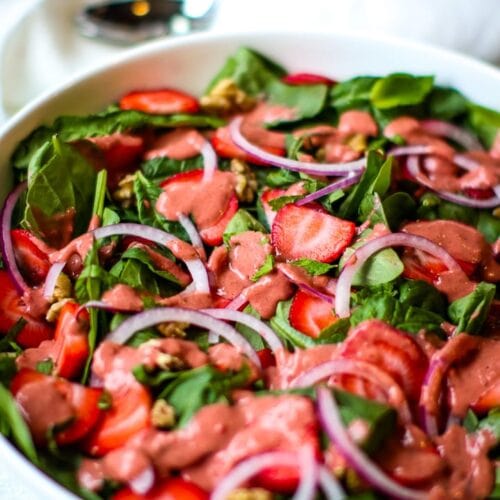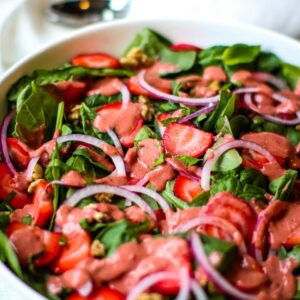 Strawberry Walnut Salad
Strawberry Walnut Salad with oil-free strawberry balsamic vinaigrette is a super nutritious dish that bursts with sweet, tangy & savory flavors.
Print
Save
Saved!
Pin
Rate
Equipment
Food processor or blender
Ingredients
Oil-Free Strawberry Balsamic Vinaigrette (makes about 1 cup)
1

heaping cup

diced strawberries

2

tablespoons

balsamic vinegar

2

tablespoons

lemon juice

2

teaspoons

almond butter

(sub tahini or seed butter for nut free)

1

teaspoon

maple syrup

Sea salt & freshly ground black pepper

to taste
Strawberry Walnut Salad
10

cups

baby spinach leaves (loosely packed)

or other dark leafy greens like spring greens, baby kale, etc.

1

cup

sliced strawberries

½

red onion

thinly sliced

¼

cup

fresh mint leaves

ribboned (reserve some whole leaves for garnish if desired)

¼

cup

chopped walnuts

(omit or sub pepitas or sunflower seeds for nut free)
Instructions
To make the oil free strawberry balsamic vinaigrette:
Add all of the vinaigrette ingredients to a food processor or blender, and process until well blended.
To make the salad:
Place the spinach leaves (or other greens) in a large bowl, add the chopped mint leaves and half the red onion slices, and toss together. Pour the vinaigrette over the salad and toss well to coat.

Add half of the strawberries, and toss gently--just enough to combine.

To assemble, place the tossed greens, berries, onions and mint on a platter or individual dishes. Top with the remaining strawberry & onion slices, and the chopped walnuts. Garnish with reserved whole mint leaves if desired.
Notes
I like my salads lightly dressed. But if you prefer more dressing, increase the recipe by 50% or even double it.
To make it nut free: omit the almond butter or sub tahini, omit the walnuts or sub sunflower seeds or pepitas.
To make it free of added sugars: omit the maple syrup or add 2 teaspoons of date paste.
Nutrition (approximate)
Calories:
75
kcal
|
Carbohydrates:
8
g
|
Protein:
3
g
|
Fat:
4
g
|
Saturated Fat:
1
g
|
Sodium:
42
mg
|
Potassium:
380
mg
|
Fiber:
2
g
|
Sugar:
4
g
|
Vitamin A:
4768
IU
|
Vitamin C:
31
mg
|
Calcium:
71
mg
|
Iron:
2
mg