It's Spring and the farmers markets are open. This time of year always gets me in the mood to work an abundance of gorgeous veggies into my meals. But along with a little more sun and welcome warmer weather, Spring in Wisconsin still means plenty of chilly, drizzly days too. This Warm Kale Salad with Roasted Vegetables and Citrus Dressing is exactly what I'm craving right now.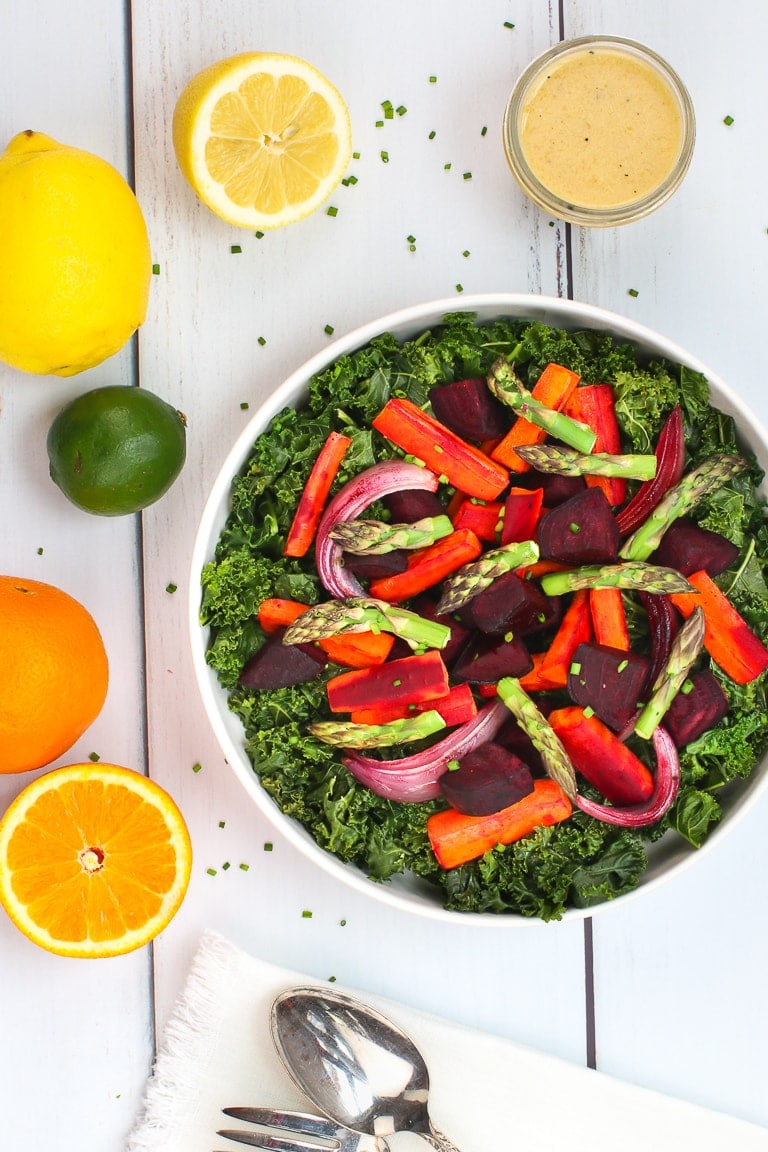 How to Make Warm Kale Salad with Roasted Vegetables & Citrus Dressing
Like so many of my recipes, this warm kale salad involves a few steps, all of which are quite simple.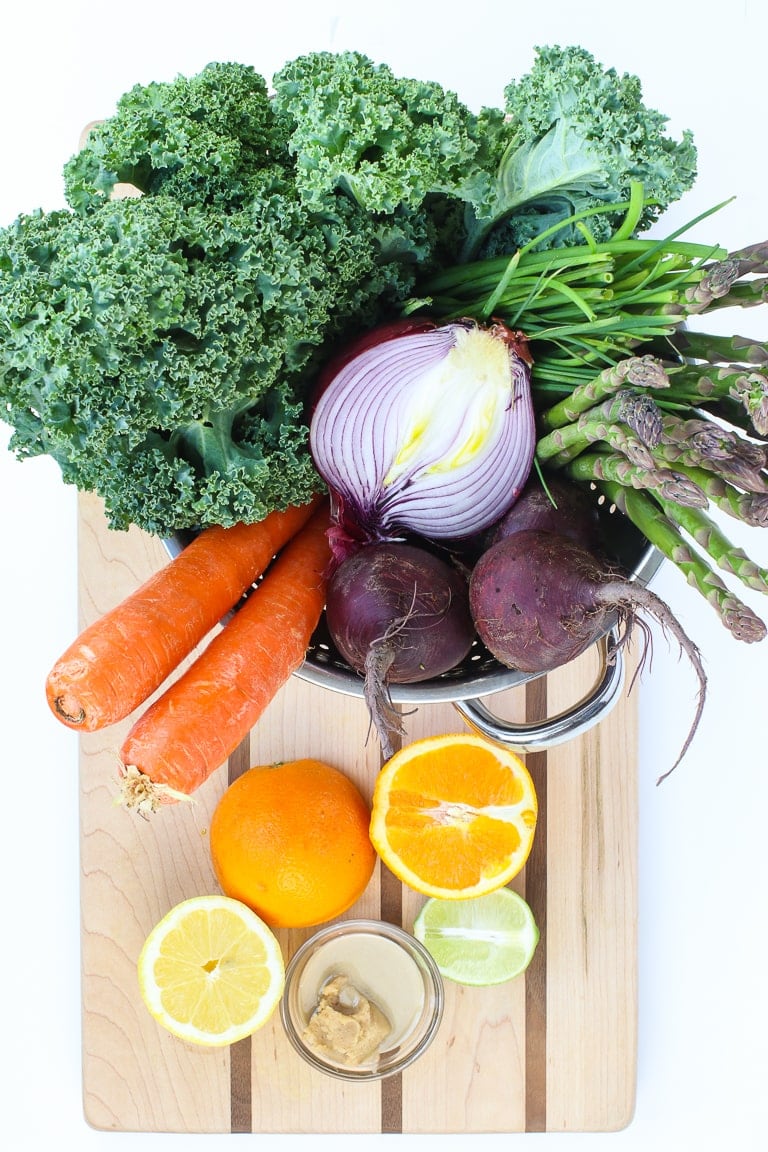 First, get your veggies roasting in the oven. The carrots and beets take the longest, so they go in first. Don't worry that the beet's juice turns the other veggies a bit magenta. That's just part of the fun!
I like to cut my red onion into big pieces and roast it with the other root veggies, but you could slice them thinner and cook them with the asparagus too. Whatever you like.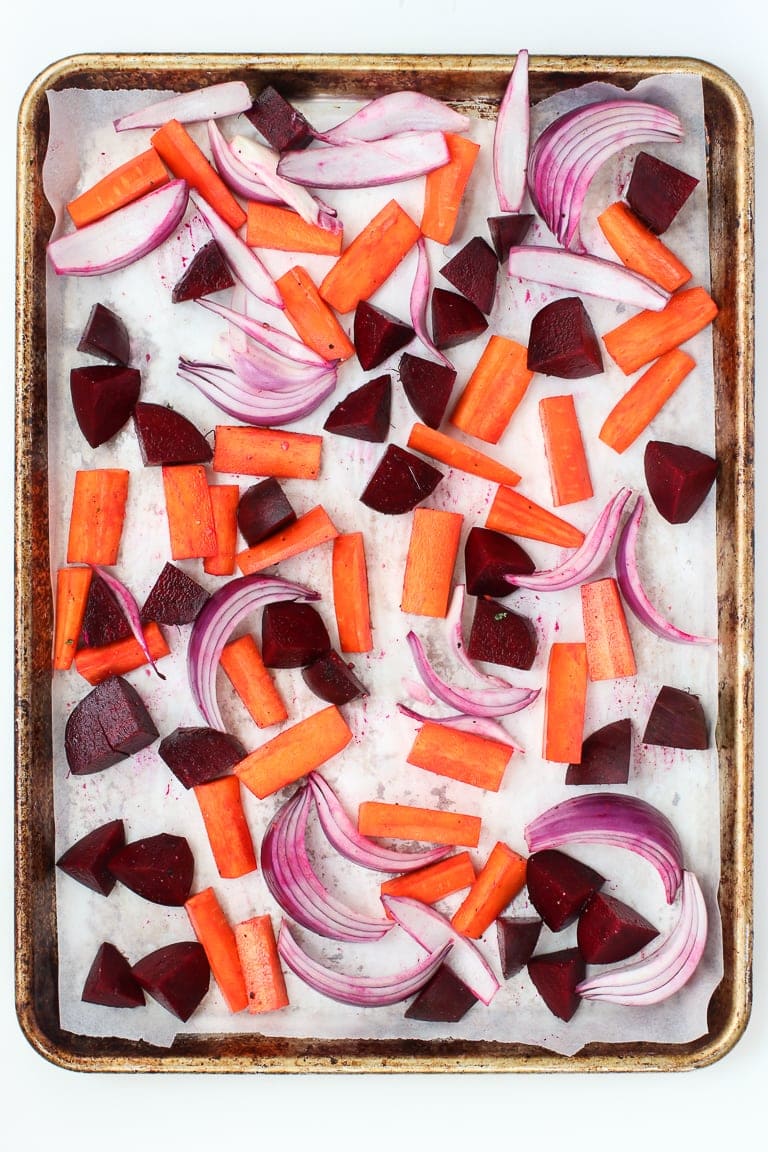 Second, while your veggies are roasting, wilt your kale in a pot with a bit of water and salt. I like to saute it until just tender but still a nice, dark green color. This should only take about 10 minutes.
Next, squeeze your citrus—lime, lemon and orange—into a bowl, add some miso, tahini and a pinch of black pepper, whisk it all together, and your dressing is good to go. No need to chill it in the fridge—this entire dish is best served at room temperature.
Finally, top it all off with some fresh chives if you like and call it dinner.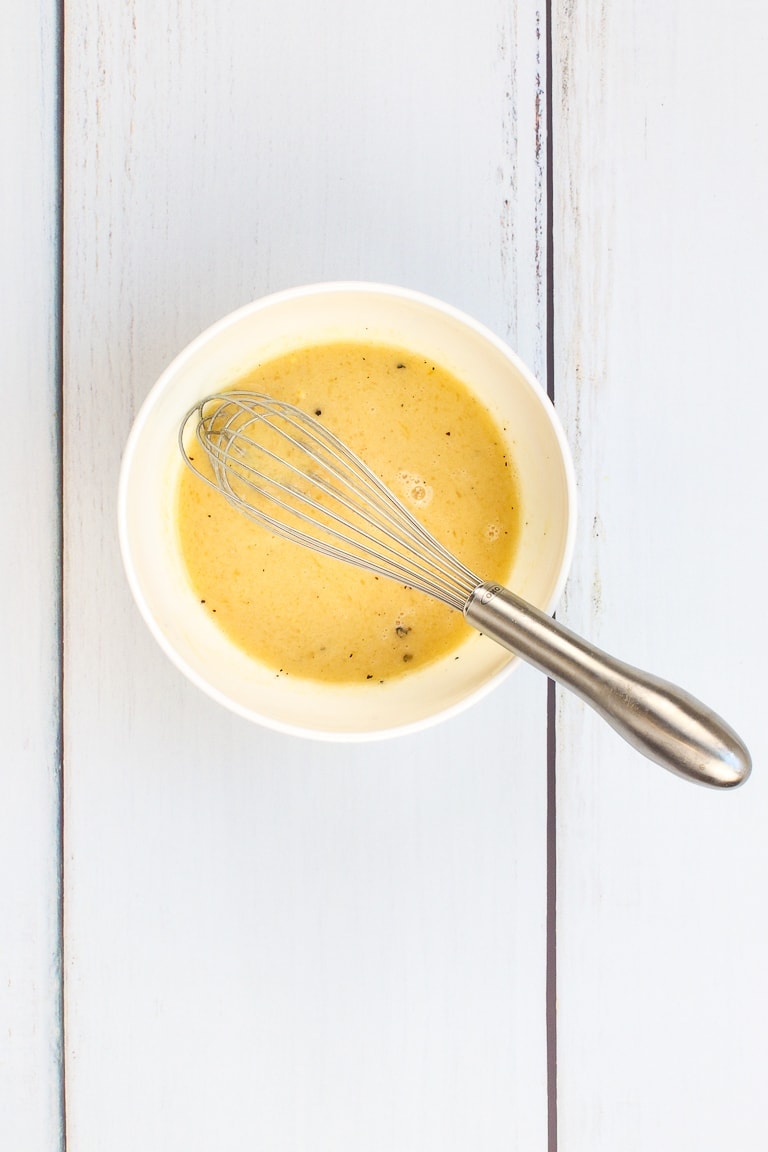 Why I Love This Warm Kale Salad
This warm kale salad is hearty enough to take center stage as your dinner entrée. You could always toss in some grain or beans if you like. But the kale, carrots, beets and asparagus in this dish are more than satisfying enough to work as an all-veggie meal.
I adore the earthy sweetness of this salad. The sugars in this warm kale salad—from the carrots, beets and a little orange juice in the dressing—are subtle and all natural. Just enough sweetness to complement the earthiness from roasting the veggies and from the kale.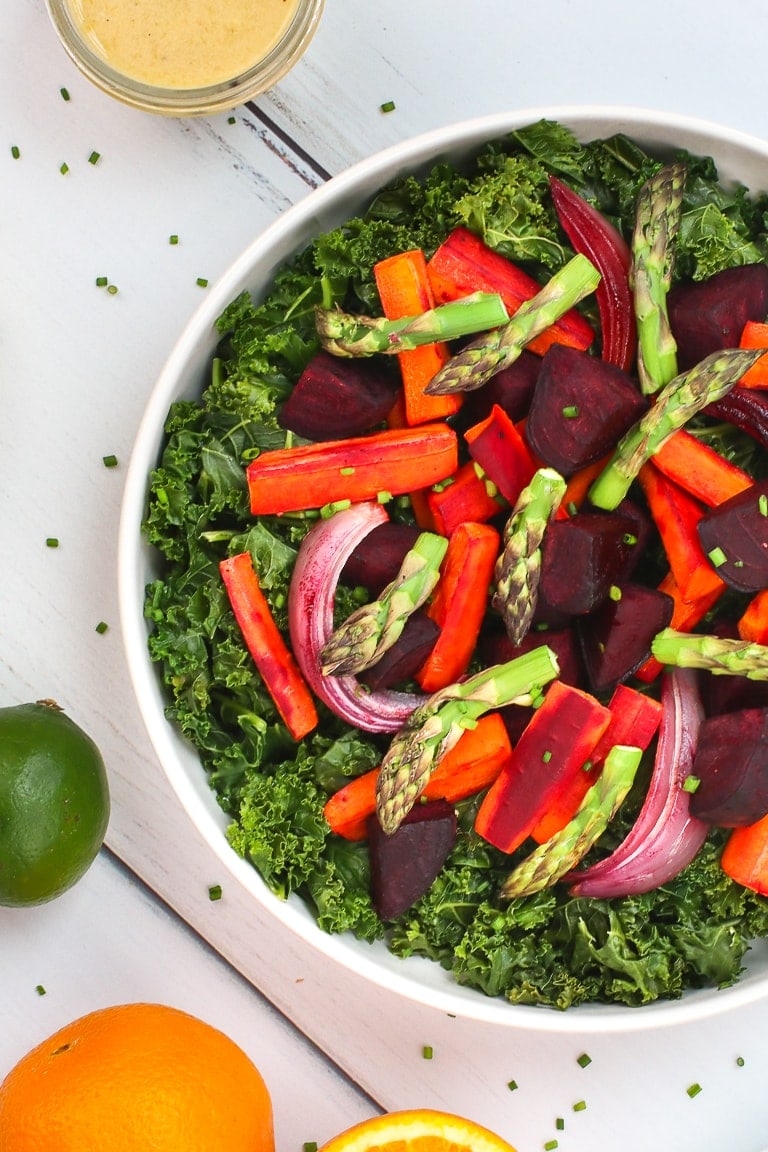 When you eat this salad, you're putting a ton of good nutrition into your body. For instance, kale and beets are nitrate rich vegetables, which can boost athletic performance and brain function. And like fasting, nitrate rich vegetables help slow our metabolic rate, which in turn can improve longevity and cut our risk of premature death. Pretty cool, yes?
Finally, the oil-free citrus dressing is SO simple and SO delicious, it helps make this one of the best kale salad recipes I've ever tried. Maybe I'm biased, but still.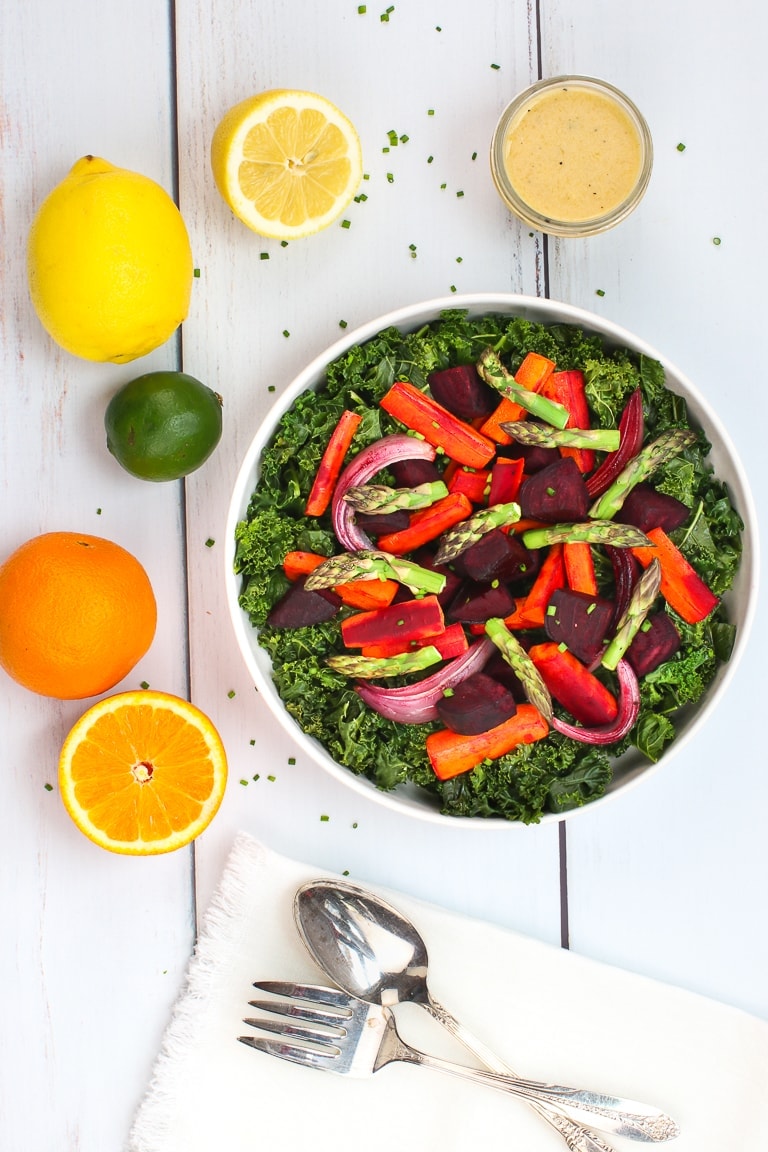 They say, 'Love your body and it will love you back.' Your body's gonna love you for this healthy, nutrition-packed warm kale salad. And your taste buds will be pretty happy, too.
If you like this whole food, plant-based recipe, you might also like: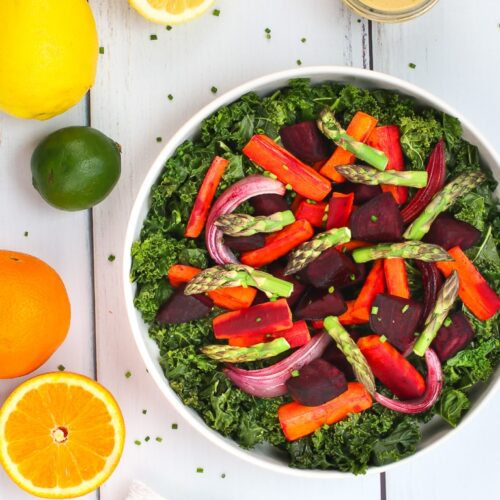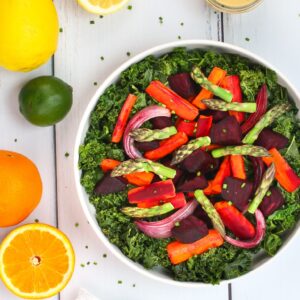 Warm Kale Salad with Roasted Vegetables & Citrus Dressing
This warm kale salad is hearty and satisfying enough to take center stage as a dinner entree. Earthy, subtly sweet, and finished with a delicious oil free citrus dressing.
Print
Pin
Rate
Ingredients
1

bunch kale

or spinach if preferred. Not baby kale

2

medium carrots

2-inch pieces

1

bunch beets

1-inch diced (about 3-4 beets)

1

bunch asparagus

2-inch pieces

½

red onion

cut into 1-inch crescents-see notes

Sea salt & freshly ground pepper

to taste
Citrus Tahini Dressing
¼

cup

orange juice

about 1 orange

2

tablespoons

lemon juice

about ½ lemon

1

tablespoon

lime juice

about ½ lime

1

tablespoon

mellow white miso paste

1

tablespoon

tahini

Freshly ground black pepper

Optional: ¼ cup Chives for garnish
Instructions
Preheat the oven to 400 degrees Fahrenheit. Position the racks in the mddle of the oven, about 4 inches apart.

Line 2 baking sheets with parchment paper.

Place the carrots, beets and onions on one sheet pan, and sprinkle with salt and pepper. (Don't overcrowd the sheetpan.) Roast them on the lower oven rack for 20 minutes, or until just tender. Turn them over halfway through cooking, after 10 minutes.

Place the asparagus on the other sheet pan, and sprinkle with salt and pepper. When the other vegetables have cooked for 20 minutes, and add the asparagus on the top rack and roast everything for another 10 minutes or until tender. After 30 minutes, all of the vegetables should be cooked, but al dente. Cook a little longer if needed.

While the vegetables are roasting, place the kale in a large pan or Dutch oven with about a tablespoon of water, and saute the kale is until wilted and tender, about 10 minutes.

To make the dressing, add the orange juice, lemon juice, lime juice, miso paste and tahini in a medium bowl and whisk together until completely blended. Season with freshly ground black pepper.

Drain any excess water from the sauteed kale and toss the kale in the bowl with the dressing. (Reserve a little dressing to drizzle over the top if desired.) Add to a large platter or individual serving plates. Place the roasted vegetables on top of the bed of kale, and garnish with chives if desired. Serve at room temperature.
Notes
if desired you can slice the onions thin and cook with the asparagus rather than the carrots and beets. I liked big pieces of onion, but it works well either way.
Nutrition (approximate)
Calories:
74
kcal
|
Carbohydrates:
11
g
|
Protein:
2
g
|
Fat:
2
g
|
Sodium:
203
mg
|
Potassium:
311
mg
|
Fiber:
2
g
|
Sugar:
5
g
|
Vitamin A:
6580
IU
|
Vitamin C:
32.9
mg
|
Calcium:
43
mg
|
Iron:
0.8
mg