A cauliflower 'potato' salad that's high in flavor and nutrients, and low in fat. Only 60 calories when made with silken tofu-based mayo.
I'm not gonna lie. I L-O-V-E, LOOOOOVE potatoes. While you'll never find me bashing carbs, unfortunately potatoes aren't particularly rich in phytonutrients. This is not the case for cauliflower though, which is a more nutritious cruciferous veggie. Toss some steamed cauliflower with some oil-free vegan mayo and you've got this delicious, guilt-free Cauliflower 'Potato' Salad.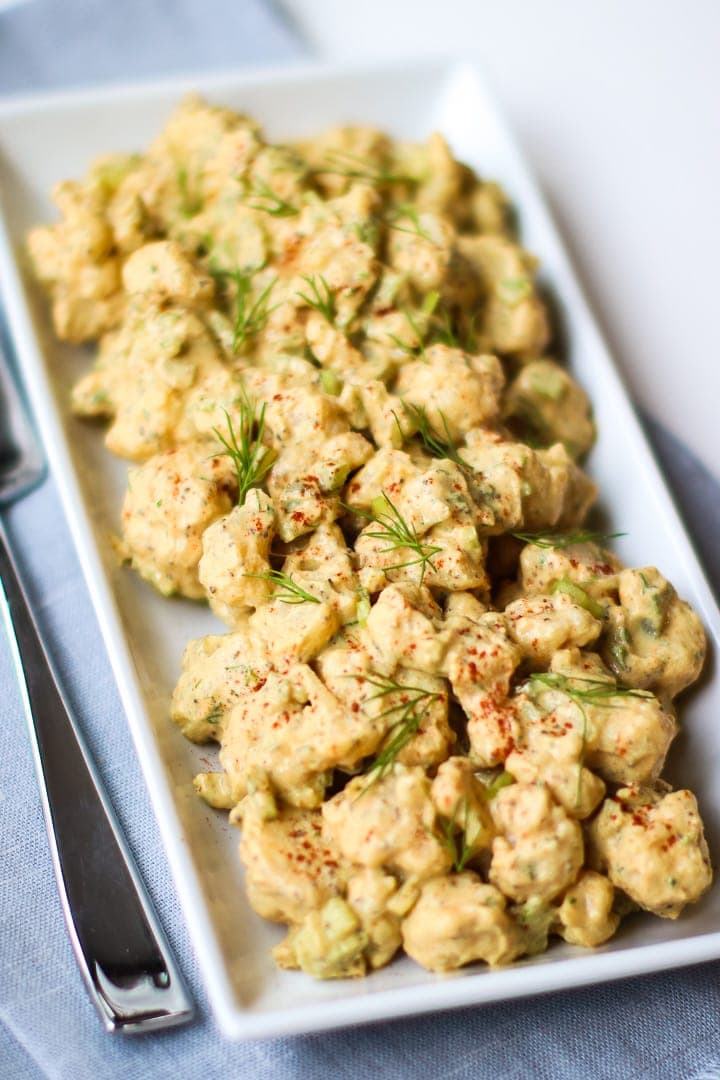 Why I Love this Cauliflower Potato Salad
This cauliflower potato salad is quite similar to my Creamy Potato Salad recipe. They've both got that creamy, unami, 'eggy/smoky' goodness that makes them tastes so much like the real deal. I tend to rotate back and forth between these dishes. But cauliflower offers us some distinct health benefits, so this recipe is worth checking out.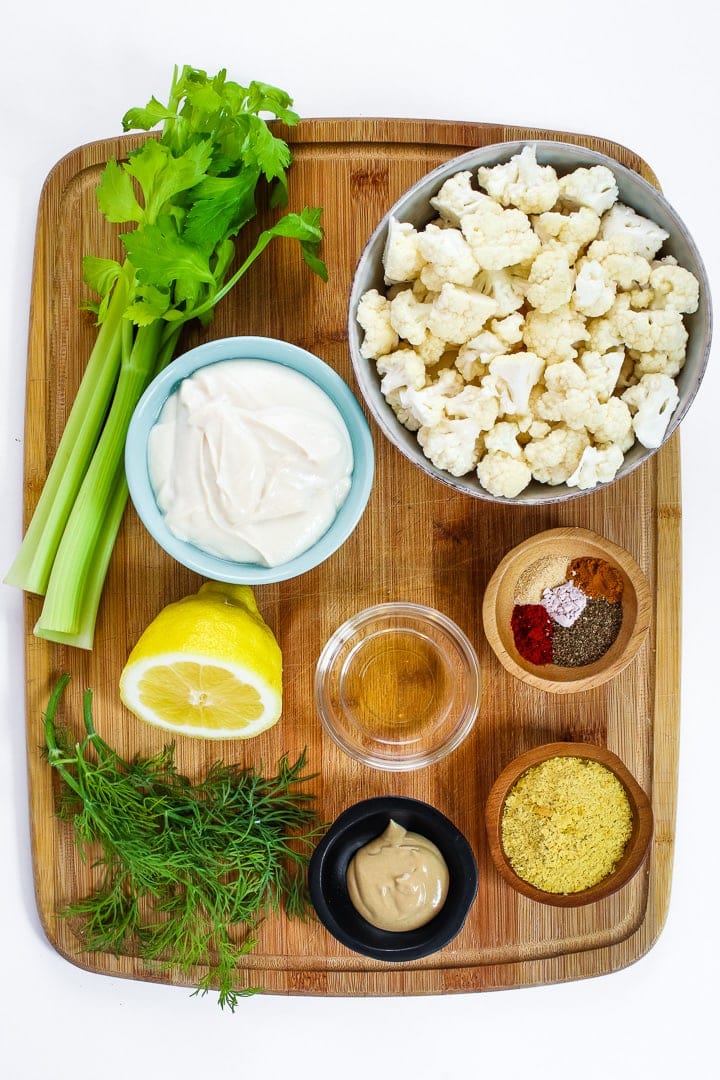 And if you make this salad with my oil-free tofu mayo, it's also very low in fat. This means you can eat a generous bowl of the stuff without worrying too much about overindulging. For me, that's a good thing, because I tend to go a little overboard with potato salad. What can I say—it's a childhood memory/comfort food kinda thing.
Why Cauliflower?
In the U.S., we tend to eat far more potatoes than most other vegetables. Of the dismal 5% of the average American's diet dedicated to vegetables, white potatoes make up ⅔ of that number. Worse yet, half of the potatoes we eat are chips! (Watch this video for more information calculating your 'healthy eating score.')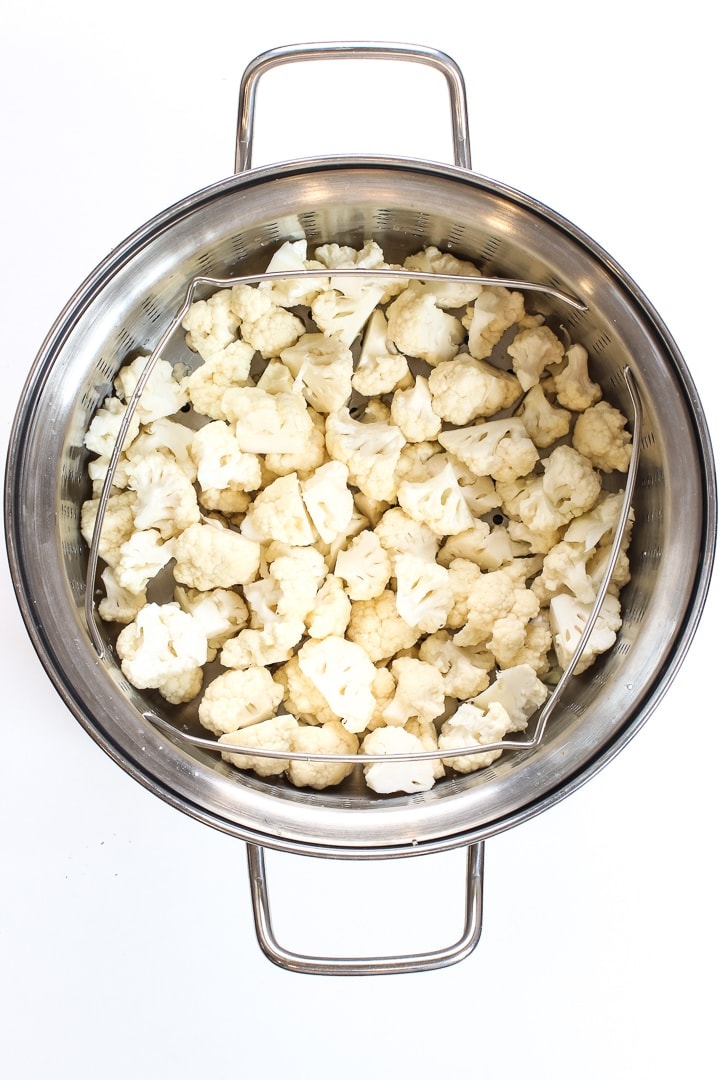 But because potatoes contain relatively few phytonutrients, they don't rank among the really healthy veggies. Does this mean we should never indulge in the occasional potato. Of course not! But to optimize nutrition, it's pretty handy to have healthier alternatives for our favorite potato dishes.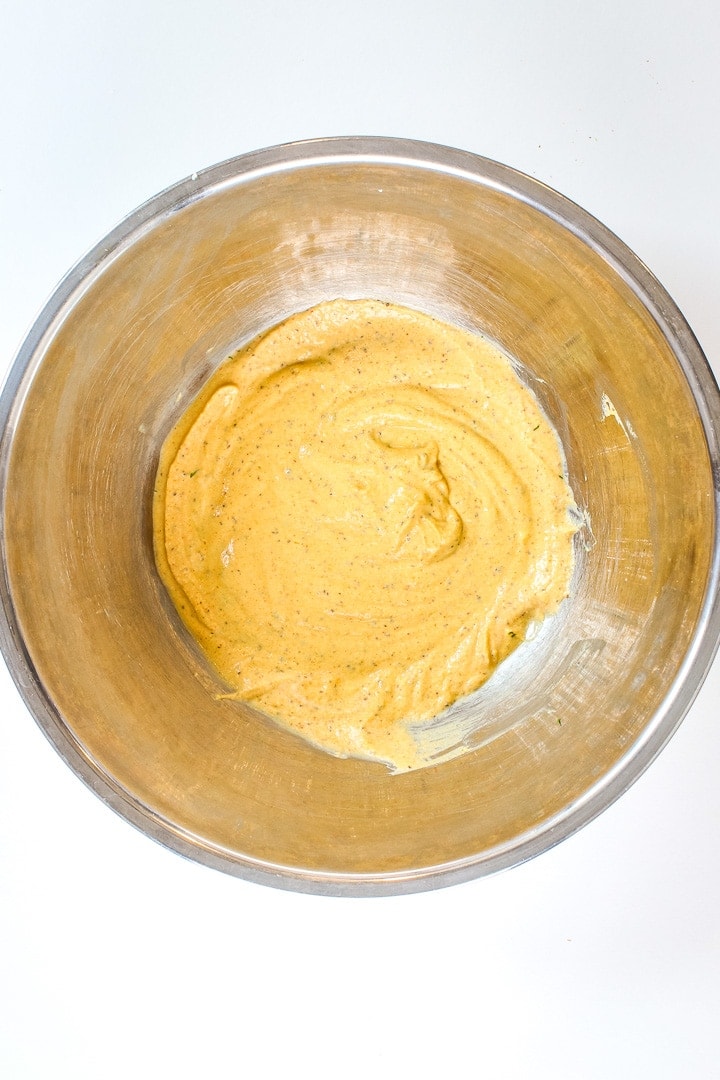 This mock potato salad recipe is made with healthier, cruciferous cauliflower. Cruciferous vegetables are SO healthy that Dr. Greger of NutritionFacts.org recommends we eat at least one serving of cruciferous vegetables every day. (Same goes for leafy greens.)
Make this cauliflower 'potato' salad, and you can have your potato salad and eat it too, so to speak.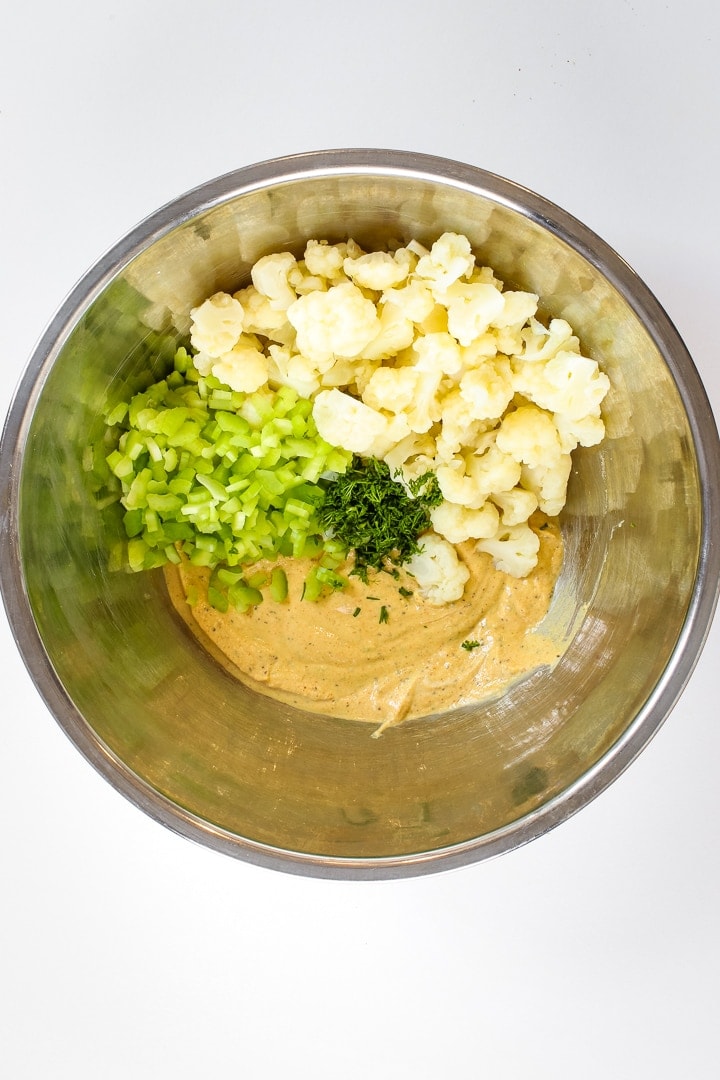 How to Make Cauliflower Potato Salad – Low Fat or Healthy Fat
Not only is it nutritious, this recipe's a great choice if you want a satisfying creamy salad, but need to restrict your calories. When you make this dish with my tofu-based oil free mayo recipe, it only has about 1 gram of fat and 60 calories per serving—making it a weight watcher's dream come true.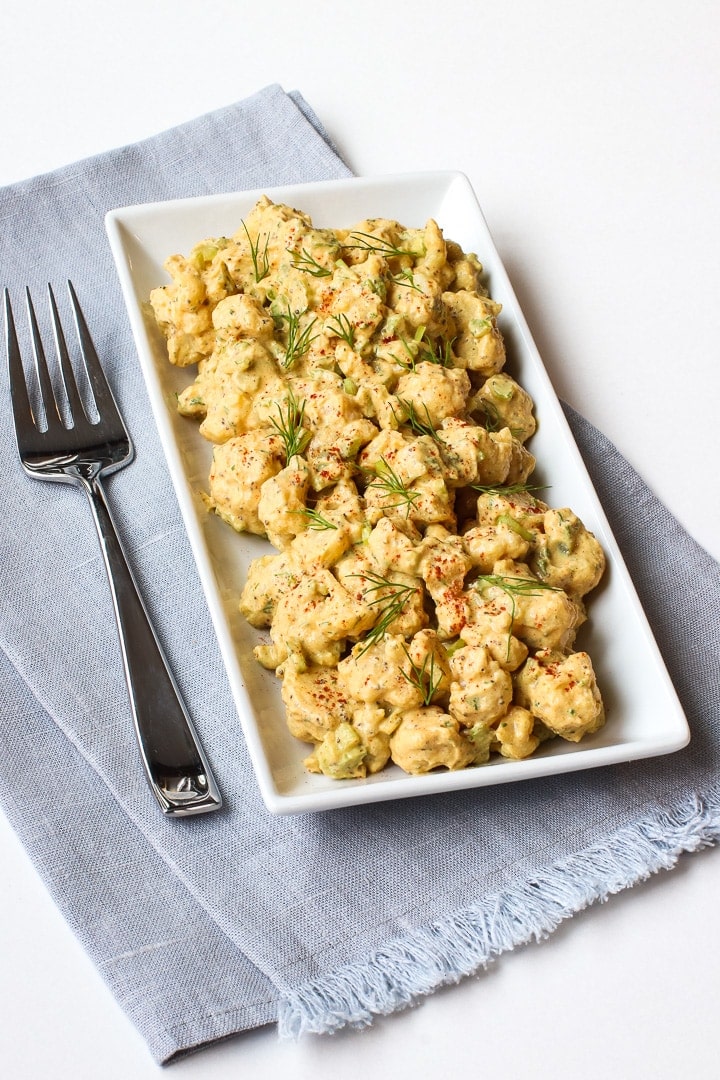 Of course, if you're not on a strict low fat diet and don't mind consuming some nuts, the cashew mayo version is still quite healthy, and absolutely delish.
Either way, you get all of the creamy, yummy, umami goodness of 'real' potato salad—but so much healthier.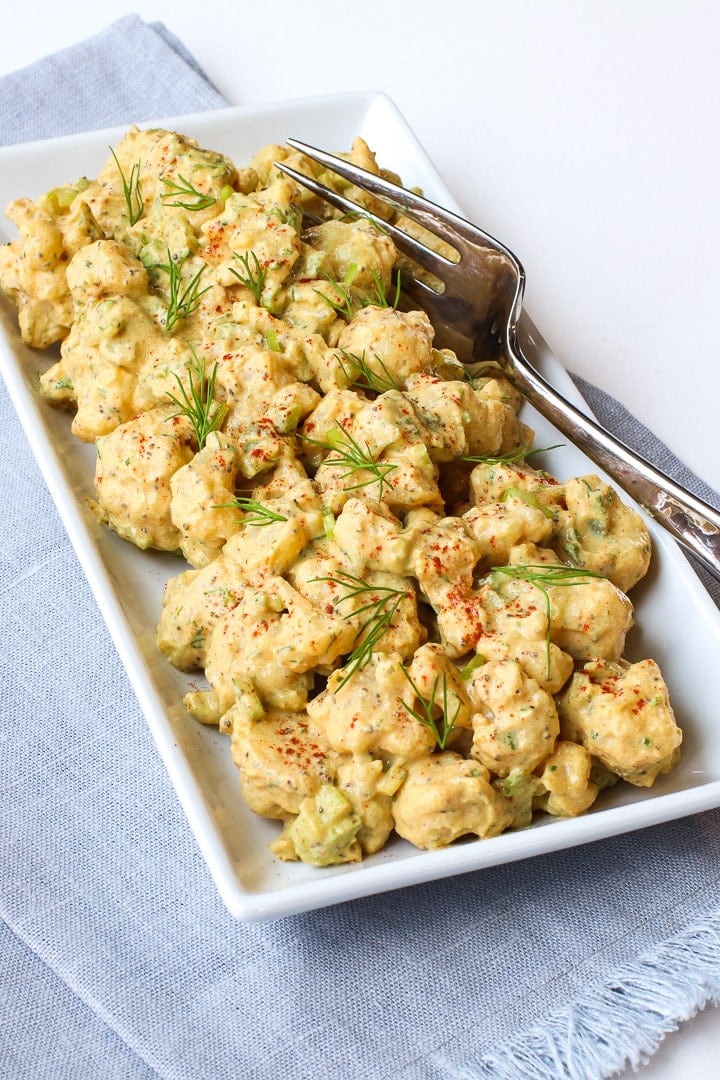 If you like this healthy vegan, whole food plant-based recipe, you might also like my creamy potato salad, broccoli salad with smoky almonds & raisins, wedge salad with ranch dressing, vegan egg salad and purple cabbage slaw.
I LOVE hearing from you! It would make my day if you'd be so kind as to:
Rate this recipe and/or leave a comment. (Under the recipe picture or below the recipe.)
Thanks and happy, whole-food cooking!
📖 Recipe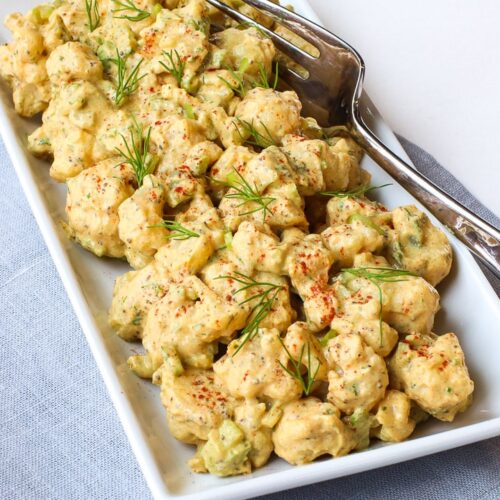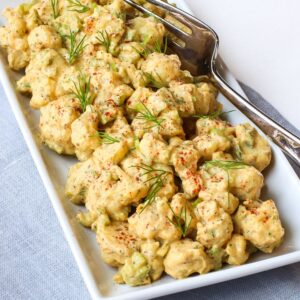 Cauliflower 'Potato' Salad
A cauliflower 'potato' salad that's low in fat, calories & starch but high on flavor. Vegan, WFPB & gluten free. Only 60 calories with silken tofu-based oil free mayo.
Print
Save
Saved!
Pin
Rate
Ingredients
1

large head

cauliflower, cut into florets

(about 2 ½ pounds)

1

cup

celery

finely diced, about 3 ribs

¾

cup

vegan oil-free mayonnaise

(use firm or extra firm Silken tofu for low calorie version, see notes. Or use store bought vegan mayo.)

¼

cup

fresh dill, chopped

(plus more for serving)

3

tablespoons

nutritional yeast

1

tablespoon

lemon juice

(plus more for serving)

1

tablespoon

apple cider vinegar

1

tablespoon

Dijon mustard

½

teaspoon

onion powder

½

teaspoon

smoked paprika

(plus more for serving if desired)

¼

teaspoon

turmeric

(for yellow color)

Sea salt & freshly ground black pepper, to taste
Optional
½

teaspoon

celery seed

¼

teaspoon

kala namak (black salt)

in addition to the kala namak in the oil free mayo
Instructions
Bring a pot of water with a steamer basked to a boil. Add the cauliflower florets, and steam until just soft, about 5 minutes.

In a large bowl, combine the mayonnaise, dill, nutritional yeast, lemon juice, apple cider vinegar, Dijon mustard, onion powder, smoked paprika, turmeric, and celery seed (if using). Whisk until well blended and creamy. Season with sea salt, to taste. Set aside.

When the cauliflower florets are cooked, drain them in a colandar and rinse gently with cold water.

When the cauliflower florets are cooled, add them to the bowl with the dressing and gently fold the dressing into the cauliflower until well coated. Don't over stir, or the salad may get mushy.

Finish with a squeeze of fresh lemon juice, and garnish with the dill.

Optional: sprinkle with a little smoked paprika before serving.
Notes
Nutritional information is approximate and is shown with vegan oil free mayonnaise made with tofu.
If you make this cauliflower potato salad using my oil free mayo recipe, the best bet is to make the mayo first, then the dressing. You will use some of the same ingredients for both. But I chose to keep the mayo recipe separate because a) some people might use store bought or another mayo recipe, and b) a package of tofu is makes a whole mayo recipe, but more than is needed for this recipe. Hope that makes sense!
Nutrition (approximate)
Serving:
0.5
g
|
Calories:
57
kcal
|
Carbohydrates:
8
g
|
Protein:
5
g
|
Fat:
1
g
|
Saturated Fat:
1
g
|
Sodium:
145
mg
|
Potassium:
445
mg
|
Fiber:
3
g
|
Sugar:
3
g
|
Vitamin A:
118
IU
|
Vitamin C:
53
mg
|
Calcium:
31
mg
|
Iron:
2
mg