A healthy vegan broccoli salad with sweet & savory flavors, and a creamy cashew (or low fat tofu) dressing. Whole food plant-based, oil free & gluten free.
Summer means cookouts and picnics and boat loads of veggie salads. This Vegan Broccoli Salad with Smoky Almonds & Raisins is inspired by the iconic potluck classic, but without the unhealthy bacon—and where I come from, the shredded cheese. No worries, this salad packs enough flavor and color to get everyone digging in.
(You might also like my Creamy Vegan Potato Salad and Cauliflower 'Potato' Salad for your next picnic.)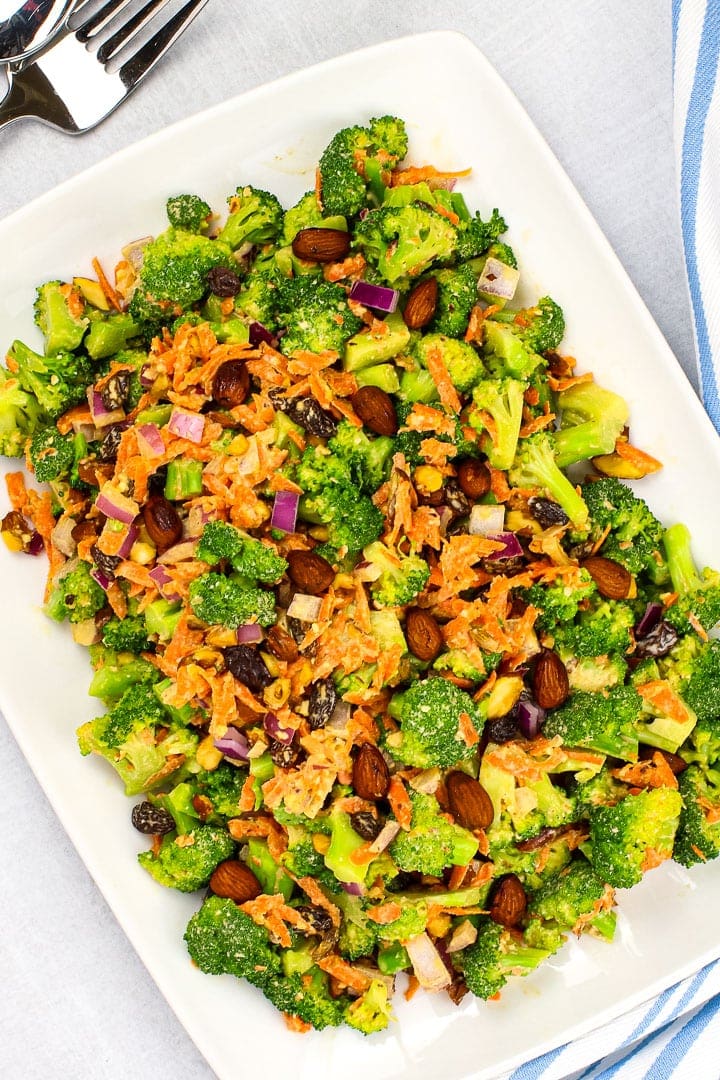 How to make vegan broccoli salad
To make this vegan and oh so healthy broccoli salad, we swap out the unhealthy ingredients and replace them with healthier ones.
First, a traditional broccoli salad has bacon. But we make our vegan version with smoky almonds instead. You still get a little hit of bacon's sweet-smokiness, without the cancer causing agents.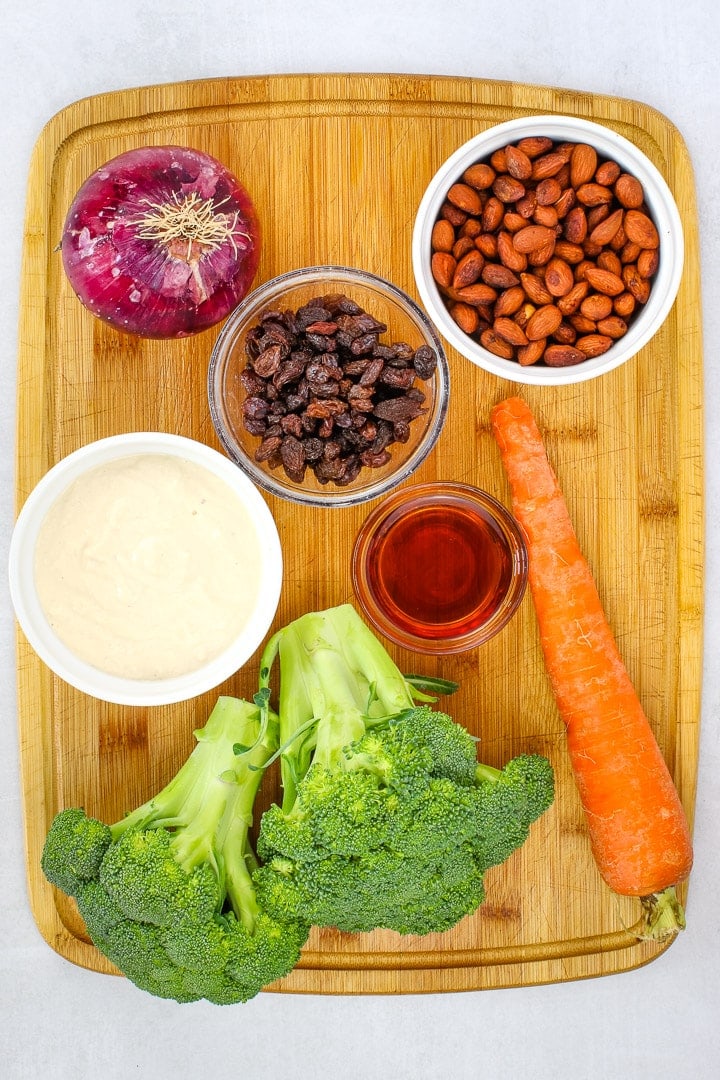 Next, we swap out the shredded cheddar cheese (which is the way Wisconsinites make this salad, obviously) and use shredded carrots instead. I don't think I need to mention why this is a better choice! Not only are carrots packed with nutrition, they add to the dish's gorgeous colors. (Remember, we eat with our eyes first!)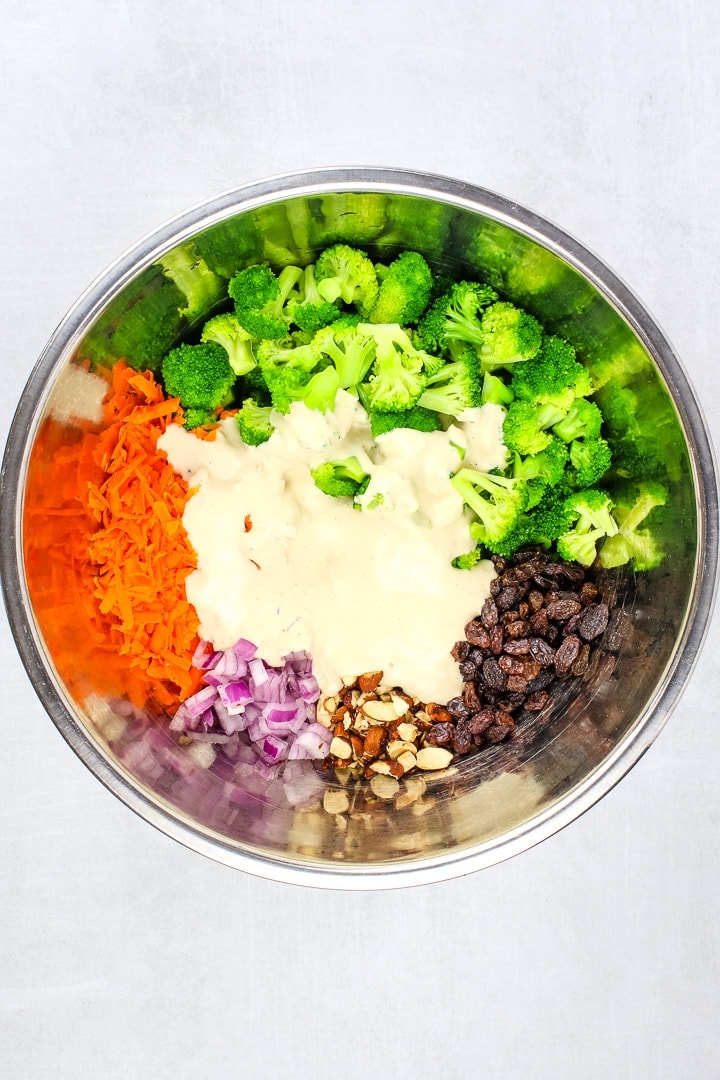 Finally, we decide which dressing to use. I like this vegan broccoli salad best with a sweet and creamy cashew dressing. The recipe includes directions for starting with my cashew mayo recipe as a base, and adding some maple syrup and rice vinegar to create the dressing.
Just like in my vegan ranch dressing, for a lower fat version, the tofu version is also excellent. (I used that version to calculate the nutritional information, see the recipe.)
So while the recipe calls for cashew or tofu 'mayo', this is technically an oil free, no mayo vegan broccoli salad.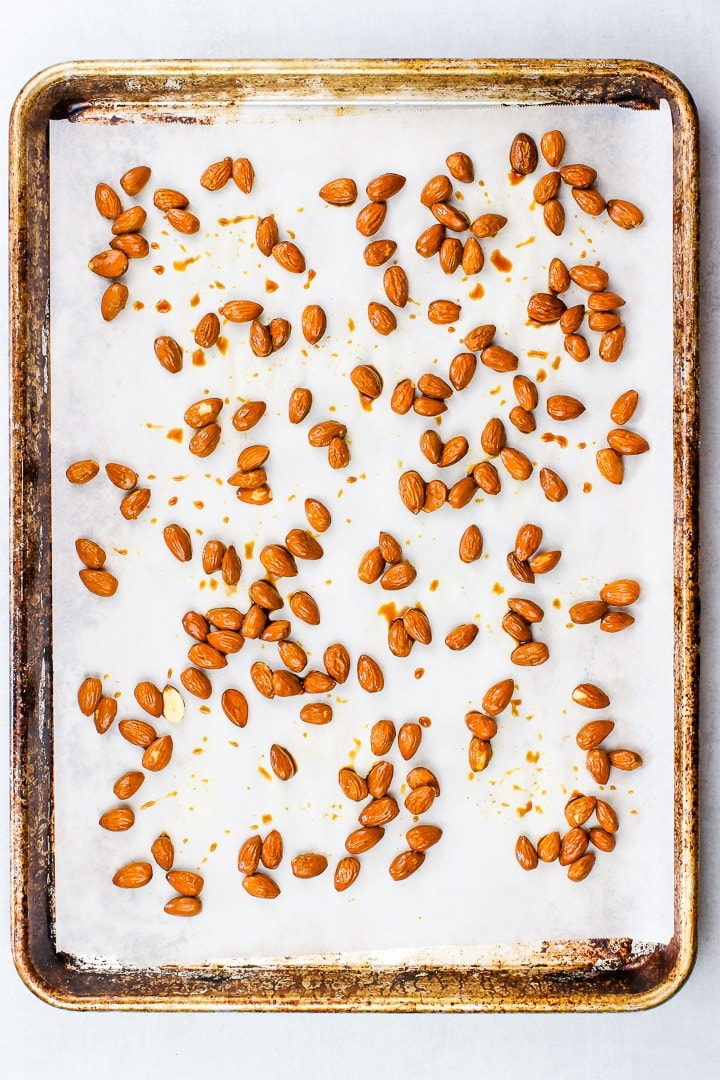 How to blanch broccoli
I like to blanch the broccoli—the easy way. You don't have to do this of course; you can certainly leave your broccoli raw if you like. But blanching eliminates the bitterness in raw broccoli, and gives the salad its appealing, bright green color.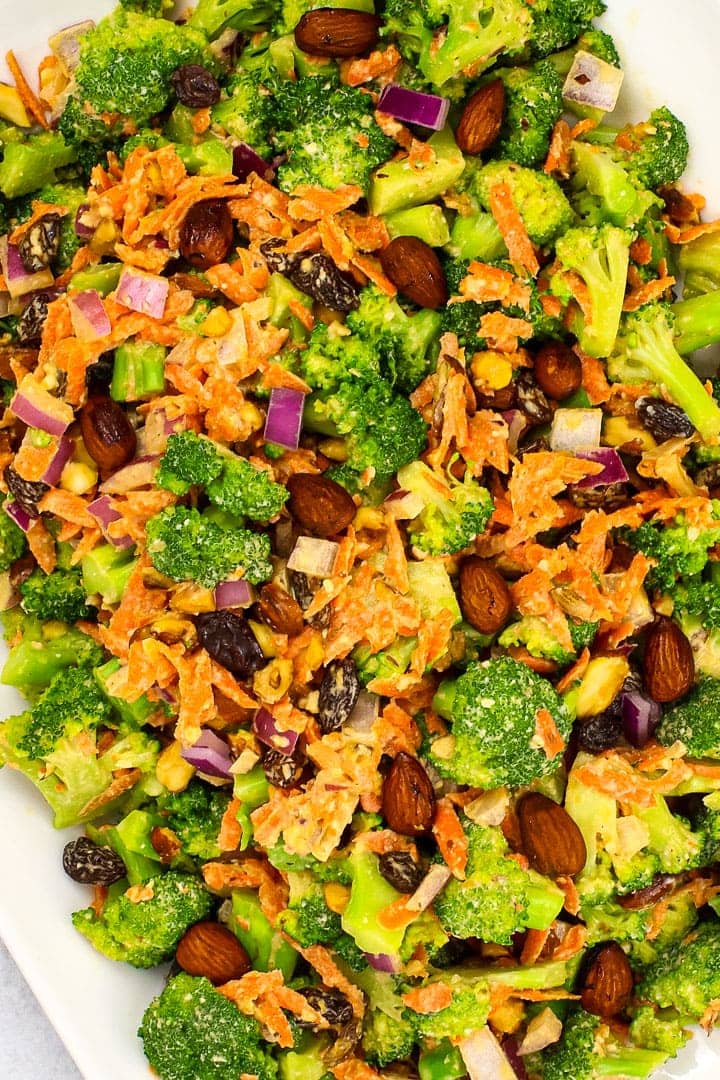 Most broccoli blanching 'how to' directions will tell you to boil for a minute or two and then place in a large bowl of ice water to stop the cooking. That's works well, but I prefer to quickly drain my blanched broccoli in a colander under very cold running water. No need for the extra bowl or ice, and it works just as well here, in my opinion.
(If you're concerned that slightly cooking the broccoli will lessen its nutritional value, check out this article to learn the 'hack and hold' method for cutting and cooking broccoli.)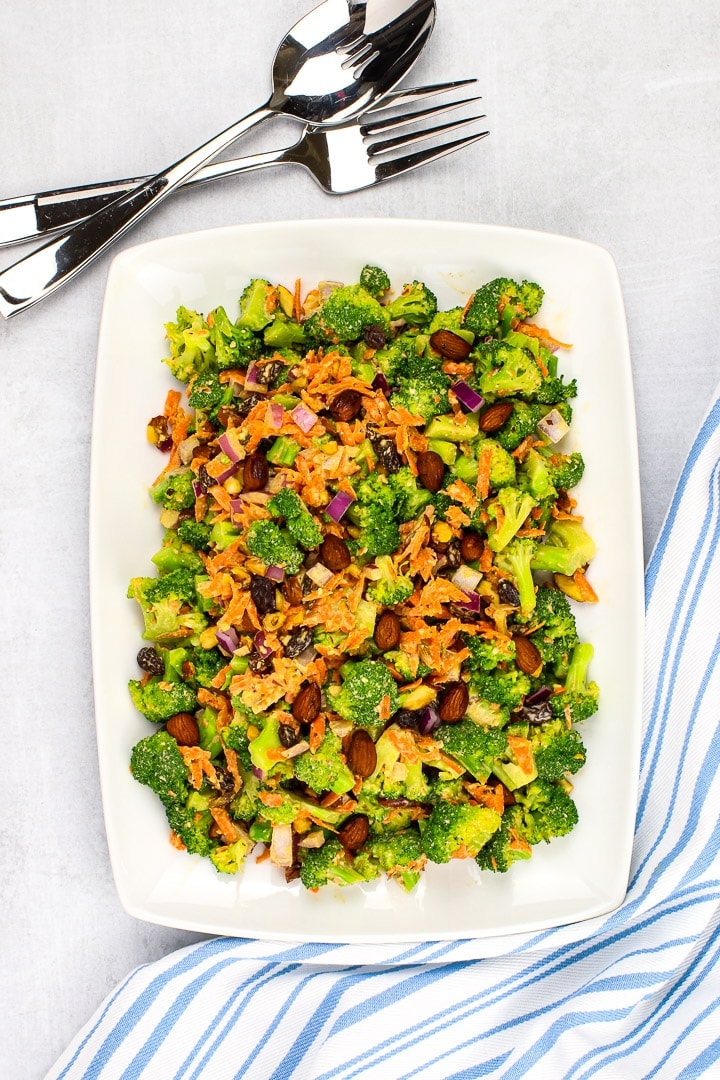 Healthy broccoli salad
Not only is this recipe vegan, it's a truly healthy broccoli salad. It has none of the cholesterol of the traditional bacon/egg/cheese version. But it bursts with gorgeous colors and those sweet, creamy, tangy flavors you'd expect in a great broccoli salad recipe.
This dish is completely oil free (unless you use store bought mayo). And in fact, if needed it can be made very low in calories and even plant-based fats—and completely nut free as well—by using the tofu mayo version and eliminating the almonds.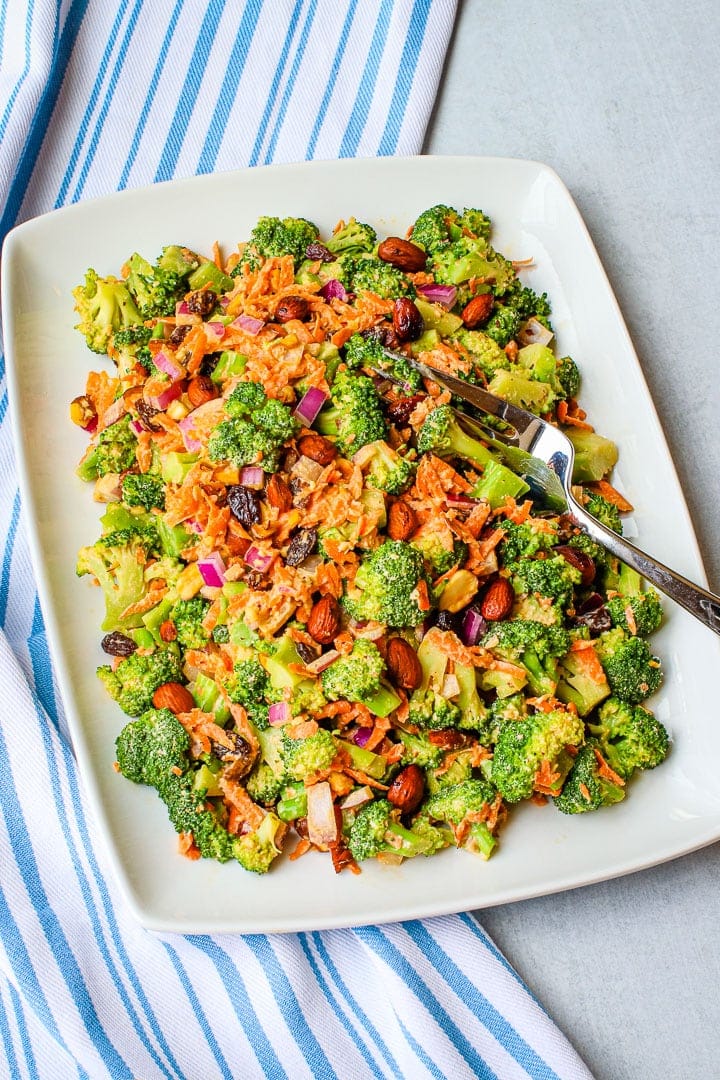 You can also reduce or eliminate the maple syrup and/or use dates to make this salad even lower in sugar and higher in fiber, if desired.
Enjoy! I hope you'll join me in making this recipe a whole lot this summer.
If you like this whole food, plant-based recipe, you might also like:
📖 Recipe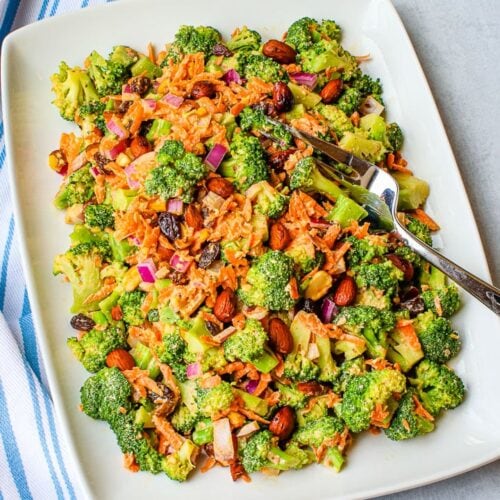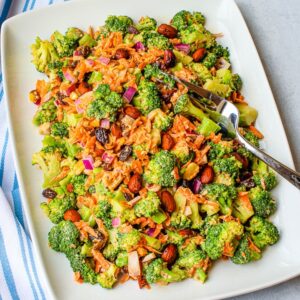 Vegan Broccoli Salad with Smoky Almonds & Raisins
A healthy Vegan Broccoli Salad with sweet & savory flavors, and a creamy oil-free cashew (or low fat tofu) dressing. Whole food plant-based, gluten-free.
Print
Save
Saved!
Pin
Rate
Equipment
Blender or food processor
Ingredients
Instructions
To blanch the broccoli, bring water to boil in a large pot. Add the broccoli florets and cook just until they turn bright green, no longer than 1-2 minutes. Drain immediately in a colander and rinse with cold water to stop the cooking.
To make the dressing
Add the oil free mayo ingredients to a food processor or blender (a high speed blender is best for the cashew version.) Add the maple syrup and rice vinegar, and process until creamy. (If using store-bought mayo, just whisk the ingredients together in a bowl.)
To make the smoky almonds
Preheat the oven to 350 degrees Fahrenheit and place a rack in the center of the oven. Line a baking sheet with parchment paper.

In a medium bowl, whisk together the tamari, apple cider vinegar, maple syrup and liquid smoke. Add the raw almonds and toss together. Remove the almonds (leave any excess marinade in the bowl) and spread them out on the baking sheet.

Place on a rack in the center of the oven and roast at 350 degrees for 10-15 minutes, turning them over halfway through cooking.

When the almonds are cooked, chop half and leave the rest whole (if desired).
To assemble the salad
In a large mixing bowl, add all of the ingredients (except the whole almondand toss together until everything is coated with the dressing. Place in a serving dish and sprinkle the whole almonds on top.
Notes
Nutrition information shown is approximate and is for the tofu-based mayonnaise.
If making tofu mayonnaise, I recommend using extra firm Silken tofu for this recipe.
Tips for making this recipe:
For efficiency, make the dressing and blanch the broccoli while the almonds are roasting.
To save time - you can skip blanching the broccoli, buy prepped produce if you can find it (broccoli florets, shredded carrots, diced onion, etc.) use store bought mayo (may not be oil-free) and use store-bought roasted almonds.
To reduce calories: use tofu based mayo recipe, reduce/eliminate the almonds, reduce/eliminate the maple syrup.
Nutrition (approximate)
Calories:
264
kcal
|
Carbohydrates:
26
g
|
Protein:
11
g
|
Fat:
15
g
|
Saturated Fat:
1
g
|
Polyunsaturated Fat:
4
g
|
Monounsaturated Fat:
9
g
|
Trans Fat:
0.01
g
|
Sodium:
80
mg
|
Potassium:
827
mg
|
Fiber:
9
g
|
Sugar:
7
g
|
Vitamin A:
3620
IU
|
Vitamin C:
138
mg
|
Calcium:
165
mg
|
Iron:
2
mg