Vegan Sweet Potato Casserole is a decadent holiday side dish, featuring a bright and creamy almond ricotta-citrus filling, and a crunchy granola topping.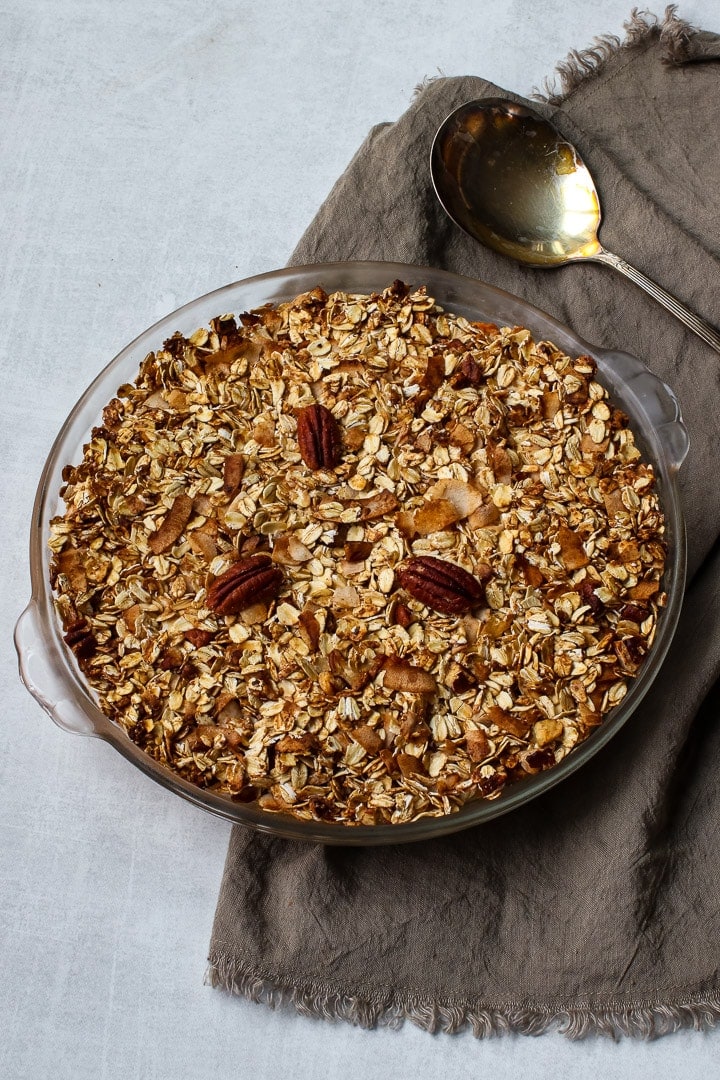 Plant-based eaters are no strangers to the almighty sweet potato, but when the holidays roll around, it seems that once or twice a year, practically everyone jumps on the bandwagon. Which is fortunate, because I know there's always going to be at least one dish I that's easy veganize for my omnivore guests. (Last year, my Whiskey Maple Glazed Sweet Potatoes did the trick nicely.)
Of course, what we do to these lovely orange tubers around the holidays isn't always all that healthy. While this sweet potato recipe is definitely decadent, with its rich and creamy almond ricotta and citrus filling, it's a healthy, whole food plant-based version of decadence I think we can embrace with arms—and mouths—wide open.
Check out some of my other holiday favorites: Balsamic Maple Glazed Brussels Sprouts, Vegan Porcini Mushroom Gravy, Vegan Cheesy Potato Casserole, Healthy Twice-Baked Potatoes, Almond Ricotta, Easy Vegan Collard Greens, Instant Pot Collard Greens, Shaved Brussels Sprouts with Oil Free Citrus Dressing, Healthy Apple Crisp-4 Ingredients, and Healthy Brownies with Peppermint Frosting.
Why I Love This Sweet Potato Casserole
This dish is what some might call a vegan sweet potato soufflé. It's light and fluffy, with help of a modified vegan almond ricotta cheese. Just like I did with my Vegan Cannolis recipe, I created a sweet, citrusy version of my almond ricotta that works perfectly with the riced sweet potatoes in this recipe. The almonds make things rich and creamy, while the citrus adds a hint of brightness to help offset all that richness.
Sorry if you're into mini marshmallows, but we skip that tradition here and go with a healthier, homemade sugar-free granola topping instead. For me, the filling is already plenty sweet, so I didn't want to add too much sweetener to the topping. The result is a sweet potato casserole that's still a side dish and not a dessert!
On the other hand, if you want to go all out and make an even more decadent topping, I have suggestions in the recipe. There's also an alternative for a simpler, 3-ingredint topping if you've got too many dishes on your 'to-cook' list and need to pare things down.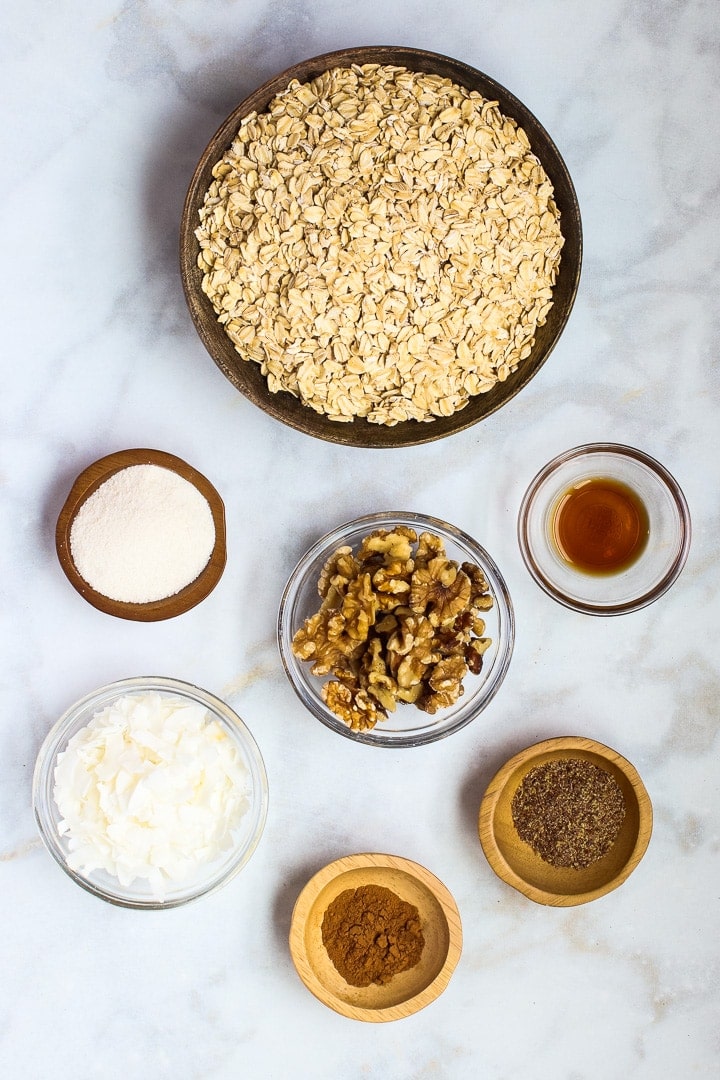 How to Make this Vegan Sweet Potato Recipe
First—and this is important—you need to soak your almonds in boiling water overnight. You want them smooth and creamy—not gritty and grainy. It's difficult to blend the almonds if you skip this step. I'll admit I have had success boiling them for 15 minutes and then letting them sit in the hot water for an hour, but I have a pretty powerful Vitamix blender. Not sure I'd attempt this without one.
Next, boil your sweet potatoes for 8 minutes, drain them, and then rice them. Can you mash them with a potato masher instead? Of course. But I highly recommend a potato ricer if you make potatoes on a regular basis. It's an absolute game changer, in my book. No lumps, just smooth, creamy silky potatoes every time. If you don't have a ricer, you might want to use a hand mixer to get the filling super smooth and creamy.
Then, blend up the rest of your filling ingredients. (Don't forget to zest the orange and lemon before you squeeze them. I HATE it when I do this!) It can take a little time and patience to get the almonds smooth and creamy in the blender. Just stop to scrape down the sides frequently and keep going until you get there. You don't want little chewy bits of almonds in your casserole.
Stir the filling ingredients together in a mixing bowl, spread the mixture out evenly over your pie or baking dish, and the filling is ready.
To make the topping, you simply whip up a quick 'flax egg' (to help everything stick together) and stir everything together in a mixing bowl. Then, spread the topping over the casserole and bake until heated through. Pretty simple, right?
The holidays can be stressful enough without worrying what you're going to bring, what you're going to serve to your omni guests or how to stick to you WFPB diet. I hope this recipe helps you keep it healthy and delicious, and a little less stressful. You got this.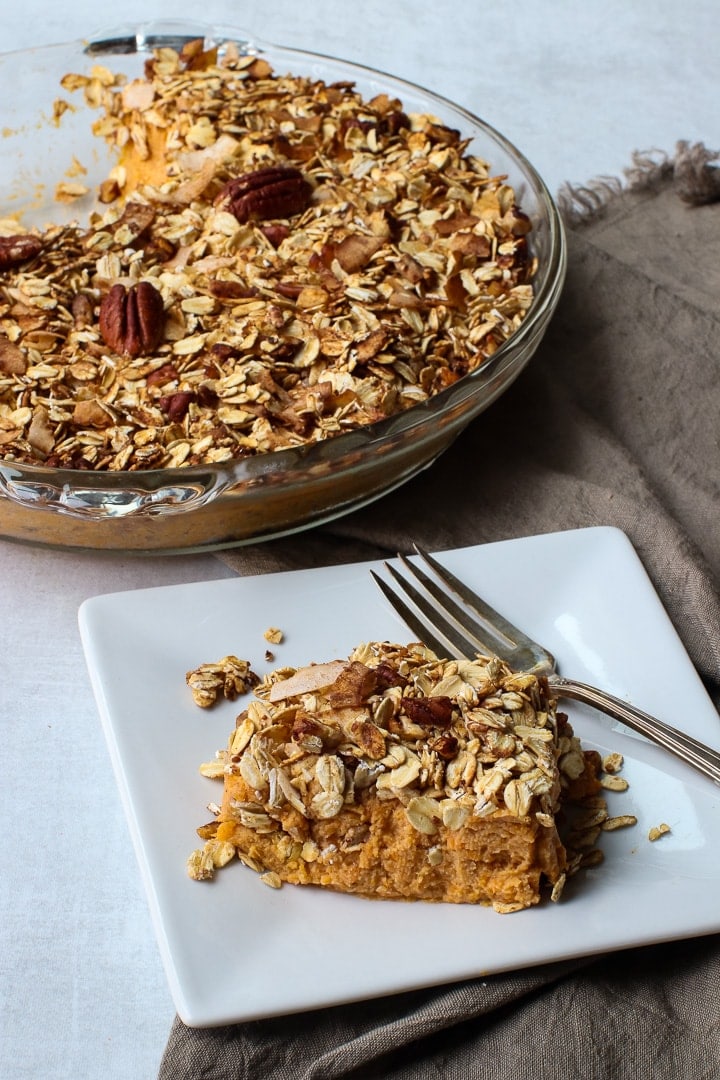 I LOVE hearing from you! It would make my day if you'd be so kind as to:
Rate this recipe and/or leave a comment if you make it. (Under the recipe picture or below the recipe.)
Thanks bunches and happy, whole-food cooking!
If you like this healthy vegan recipe, you might also like my Whiskey Maple Glazed Sweet Potatoes, Kale Mushroom Bread Pudding, Chickpea Mac 'n Cheese, Brussels Sprouts with Berries Salad and other Vegan Holiday Recipes.
📖 Recipe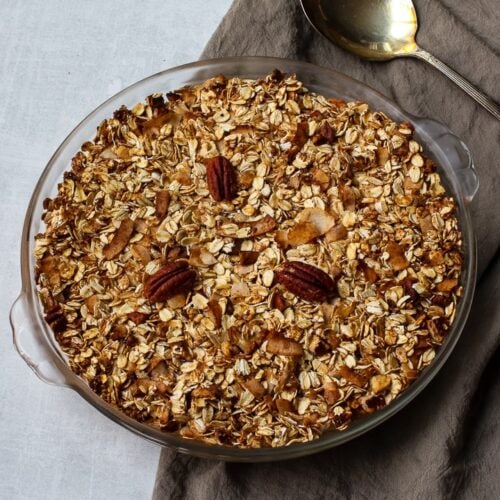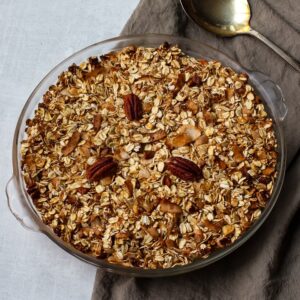 Vegan Sweet Potato Casserole
Vegan Sweet Potato Casserole is a decadent Holiday side dish, featuring a bright and creamy almond ricotta-citrus filling, and a crunchy granola topping.
Print
Save
Saved!
Pin
Rate
Ingredients
For the Filling

1

pound

sweet potatoes

peeled and cut into 2-inch pieces (about 3 medium sweet potatoes)

1

cup

blanched slivered almonds

covered with boiling water and SOAKED OVERNIGHT

¾

cup

plain

non-dairy yogurt (I used cashew yogurt)

¼

cup

juice from one orange

ZEST RESERVED-about 1 tablespoon

2

tablespoons

juice from one lemon

ZEST RESERVED-about 1 teaspoon

3

Medjool dates

chopped and softened 1 teaspoon vanilla

1

teaspoon

ground cinnamon

½

teaspoon

ground nutmeg

For the Granola Topping

See notes

1 ½

cups

rolled oats

certified gluten-free if desired

¼

cup

chopped pecans or walnuts

omit for nut-free, or sub raw sunflower or pepita seeds

¼

cup

unsweetened coconut flakes

or sub 2 tablespoons shredded.

¼

cup

maple syrup or date syrup

½

teaspoon

cinnamon

or more to taste

½

tablespoon

ground flax seed + 1 ½ tablespoon warm water

to make a 'flax egg'

¼

teaspoon

pure vanilla extract

Optional: 1-2 tablespoons of date paste or maple syrup

for a sweeter, moister topping

Optional: Pinch of sea salt
Instructions
Preheat the oven to 350 degrees Fahrenheit
To Make the Filling
Boil the peeled and diced sweet potatoes for 8 minutes or until tender, then drain. Rice or mash the sweet potatoes in a large mixing bowl.

In a blender, combine the soaked almonds, non-dairy yogurt, orange juice, lemon juice, softened dates, 1 teaspoon vanilla, 1 teaspoon cinnamon, and ½ teaspoon nutmeg. Process until well combined, stopping to scrape down the sides of the blender as needed.

Add the ingredients from the blender, plus the orange and lemon zest, to the riced/mashed sweet potatoes, and stir to combine. Spread the mixture out evenly in a 9" pie plate or shallow baking dish.
To Make the Topping (See notes)
In a small bowl, add ½ tablespoon of grond flax seed and 1 ½ tablespoon warm water, and let sit for 10-15 minutes.

In a medium mixing bowl, combine the rolled oats, chopped pecans (if using), coconut flakes, erythritol (or sweetener of choice), and cinnamon. Toss together.

Add the vanilla and flax egg to the dry ingredients, and stir together.
Assemble and Bake
Spread the topping evenly over the sweet potato dish and place on center rack of oven. Bake uncovered at 350 degress for 25-30 minutes, or until heated through. If the topping begins to get too brown, cover with foil for the rest of the cooking time.
Notes
For a simpler, 3-ingredient topping: combine 1 ½ cups of rolled oats + ½+ teaspoon cinnamon + ¼ of maple syrup or date paste. For a creamy filling: make sure to soak the almonds overnight, OR if you have a powerful blender, you can boil for 15 minutes and let soak in the hot water for 1 hour. I highly recommend a potato ricer, but you can use a masher. You might want to use a hand mixer to get the sweet potato filling smooth and creamy.
Nutrition (approximate)
Calories:
280.62
kcal
|
Carbohydrates:
34.58
g
|
Protein:
7.71
g
|
Fat:
14.03
g
|
Saturated Fat:
2.63
g
|
Sodium:
44.88
mg
|
Potassium:
482.89
mg
|
Fiber:
6.58
g
|
Sugar:
10.46
g
|
Vitamin A:
8119.95
IU
|
Vitamin C:
6.69
mg
|
Calcium:
100.68
mg
|
Iron:
1.89
mg