Possibly the easiest healthy apple crisp recipe ever! It's vegan, refined sugar free, gluten free, oil free. And this toasty, comforting dessert—or breakfast—is chock full of whole food plant-based goodness.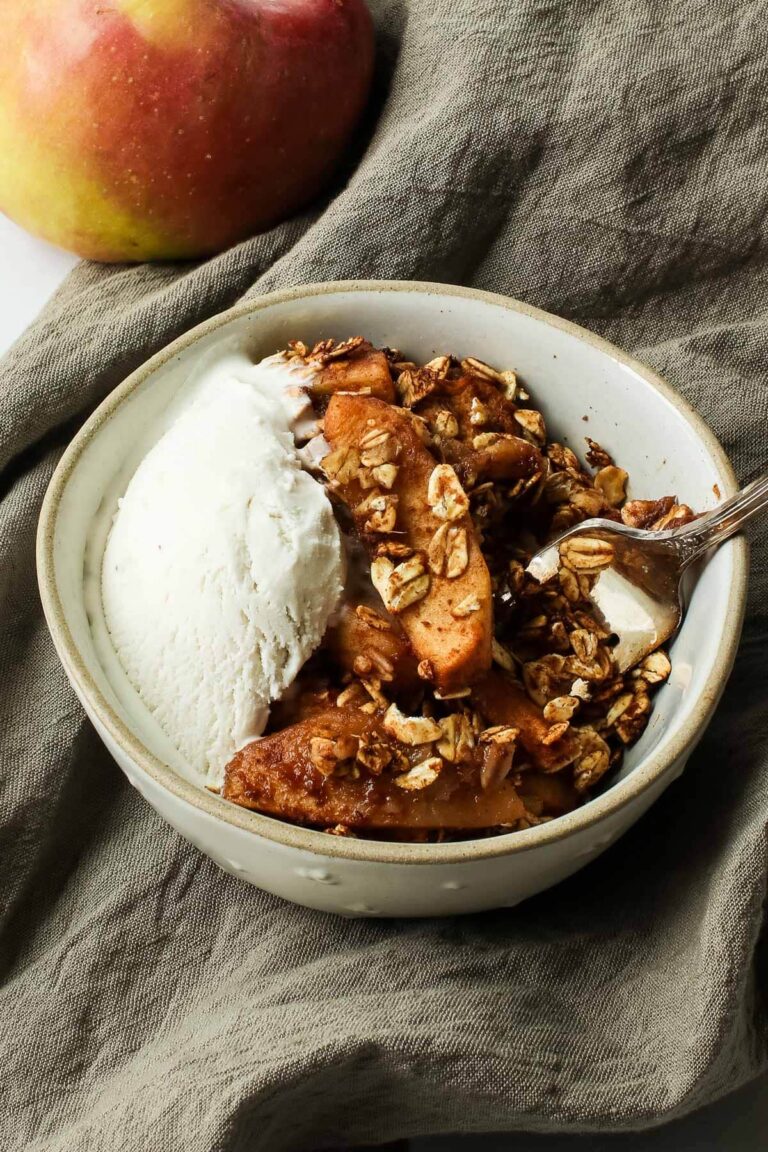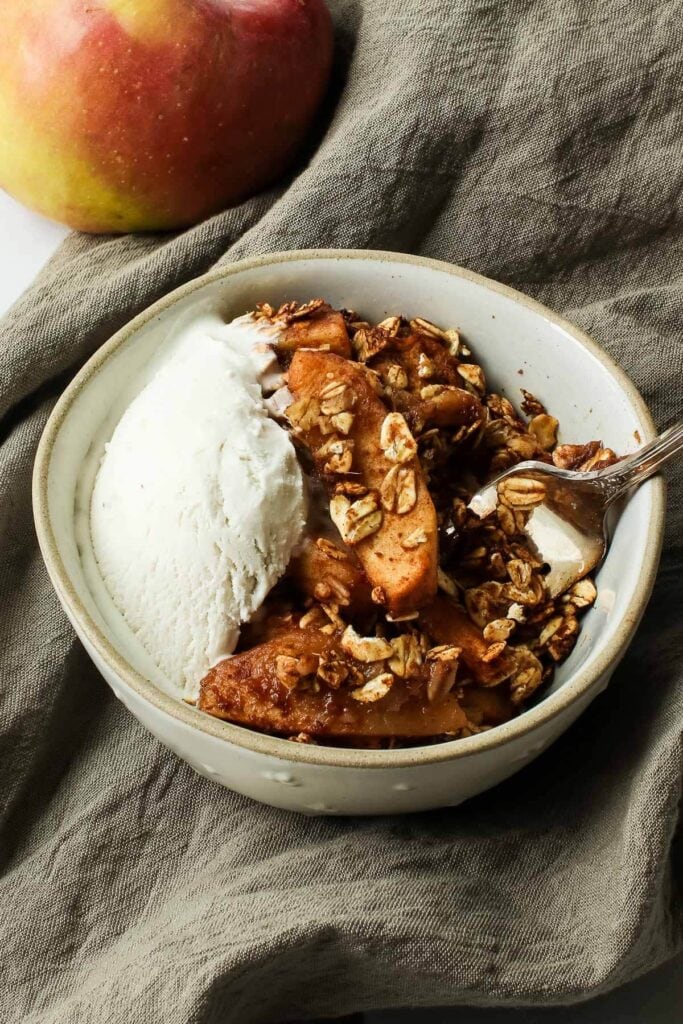 Why I Love an Easy Apple Crisp Recipe
Y'all know how I like my desserts: simple and healthy. Simple, because once I've finally wrangled the 'what's for dinner' question, the last thing I want to think about is making dessert. Healthy, 'cause that's how we roll. (Most of the time, anyway.)
This recipe really couldn't be simpler, with just 4 super healthy ingredients: apples (video), oats, Ceylon cinnamon and dates (video) Sure, you can jazz it up if you like (I have some suggestions for you in the recipe). It's perfect for the holidays, or just as an easy-to-pull-together weeknight treat.
Just pause that Netflix show, jump in the kitchen for 15 minutes, and by the time your next episode is over, you'll have this wonderful, warming dessert in your bowl. (Which is exactly what we do at Chez Shah.)
How to Make This Healthy Apple Crisp
Like most of my desserts—including my vegan molasses ginger cookies, my sweet potato brownies with peanut butter, my 3-ingredient vegan oatmeal cookies or my chocolate chia powder pudding—this really is a very simple recipe.
Maybe other than making the date paste if you've never tried that. All you need is a food processor and a little patience. Lacking those, you might be able to find it in the store or even buy it online.
Otherwise, it comes together just like any apple crisp recipe—but a whole lot healthier than most I'd guess. Plus, the ingredient list is so simple, I don't even have to write it down before I head to the store. In fact, you can remember it like this: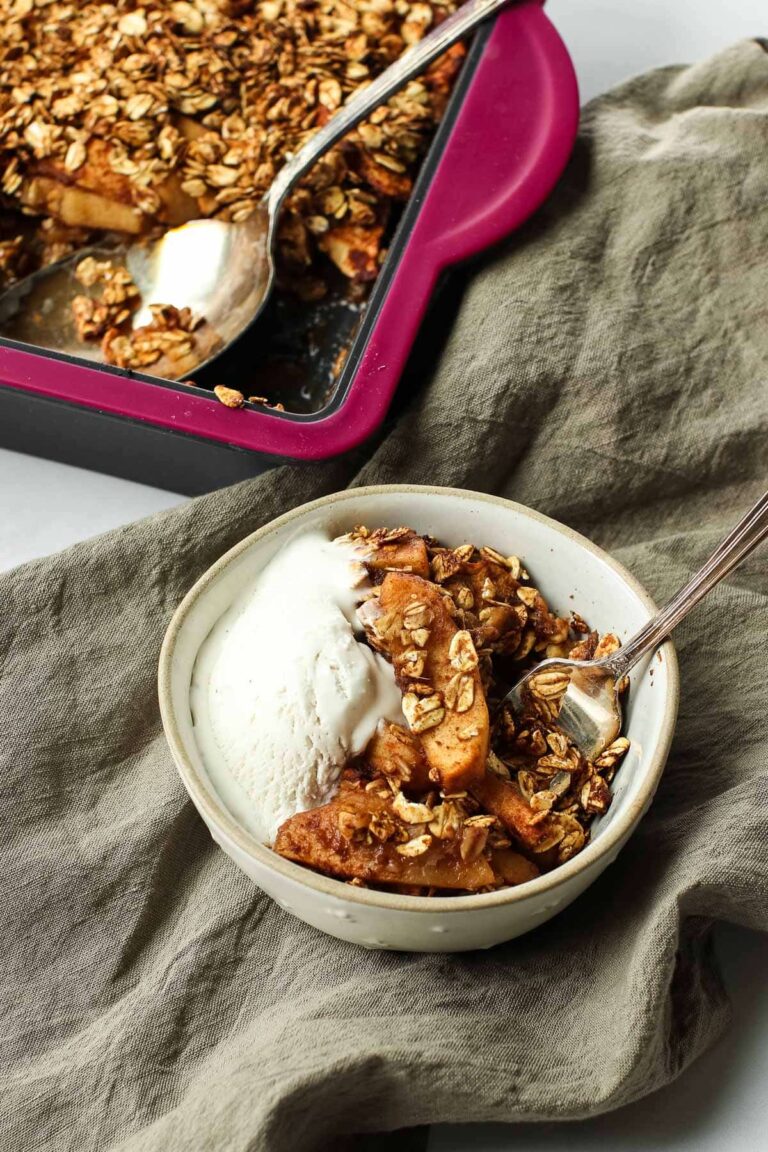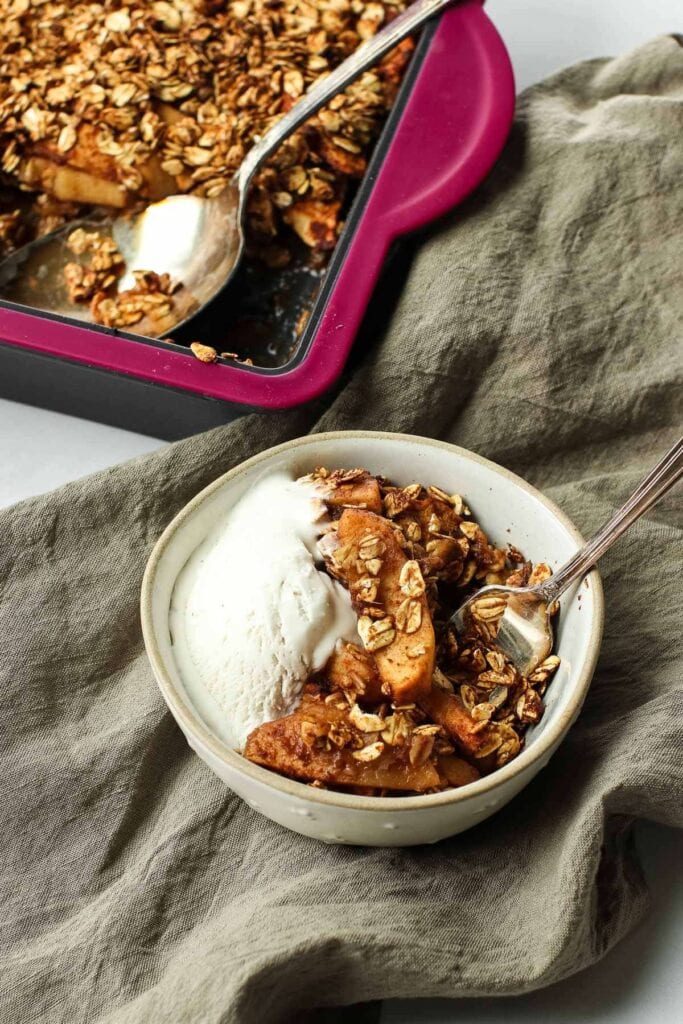 Step-by-Step Guide to Making this Vegan Apple Crisp
(See full recipe at the bottom of the page)
First, make the date paste. Soften the dates in the microwave then process into a paste in the food processor.
Second, prep the apples. Peel them (or not) then cut into ¼" slices.
Third, make the filling. Combine the apple slices, some of the date paste and cinnamon in a bowl.
Fourth, make your topping. Combine the oats, some of the date paste and cinnamon in a bowl.
Finally, put it all together. Spread the apples in the bottom of your baking dish and the topping on top, and bake to cinnamony, toasty perfection!
Expert Tips for Making this Recipe
Pick the right apples. Most crisp varieties (Fuji, Gala, Cortland, Granny Smith) will work well here. I would not use Golden Delicious or a similar apple, as they're just too soft and sweet. Peel the apples or not—either way it's great. Click here for help choosing the right apple for baking.
Be patient making date paste. Softening the dates helps them break down in the food processor. It takes a little time and patience to form the paste. Stop and stir, scrape down the sides, and add a little water as needed. Don't worry about little bits of date skin; they'll blend right into the apple crisp.
Adjust the sweetness. Follow the directions exactly or go with a little less date paste if desired. I've made this sugar free apple crisp with as little as 2 tablespoons of date paste in both the filling and topping, and it's still sweet.
Tweak the topping. I like my crisp with mostly apples and just a bit of topping. But if you like lots of topping, up those ingredients by 50% or even double. Chopped walnuts are amazing here, so if you like those, add them.
To speed things up: 1) soften the dates in the microwave, 2) use an apple corer/slicer if you have one (don't forget to peel the apples first if like them peeled and cut each slice in half) 3) skip peeling the apples, 4) buy sliced apples or store-bought date paste, 5) use a silicone baking dish; clean up will be a breeze.
To make gluten-free apple crisp: Choose both certified gluten free oats and cinnamon. Spices can sometimes be tainted or mixed with flour, so be sure to go with certified if needed.
Granola Apple Crisp
The oat topping is probably one of the healthiest and easiest variations you can make. But if you want to take this dessert to the next level, you can top it with granola by using my sugar free granola recipe--or just use your favorite variety.
If you do, I recommend not baking the granola first if possible, if it's already baked, cover for part of the baking time to make sure the topping doesn't burn.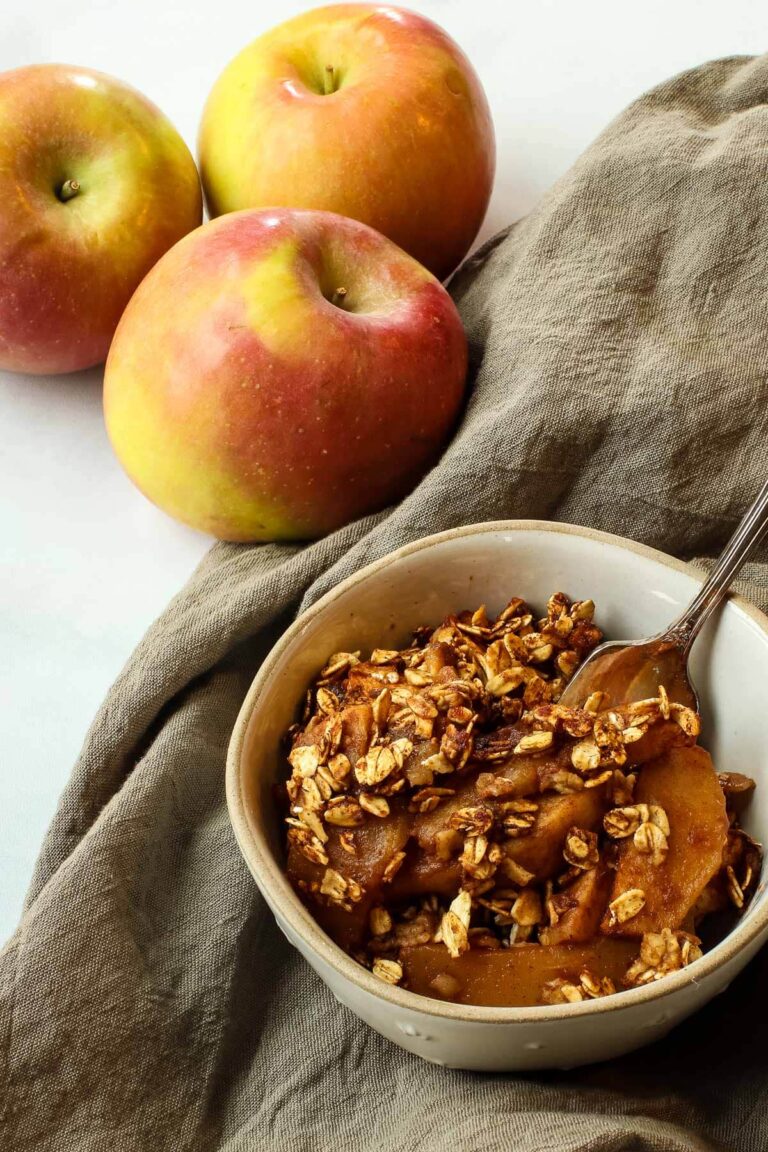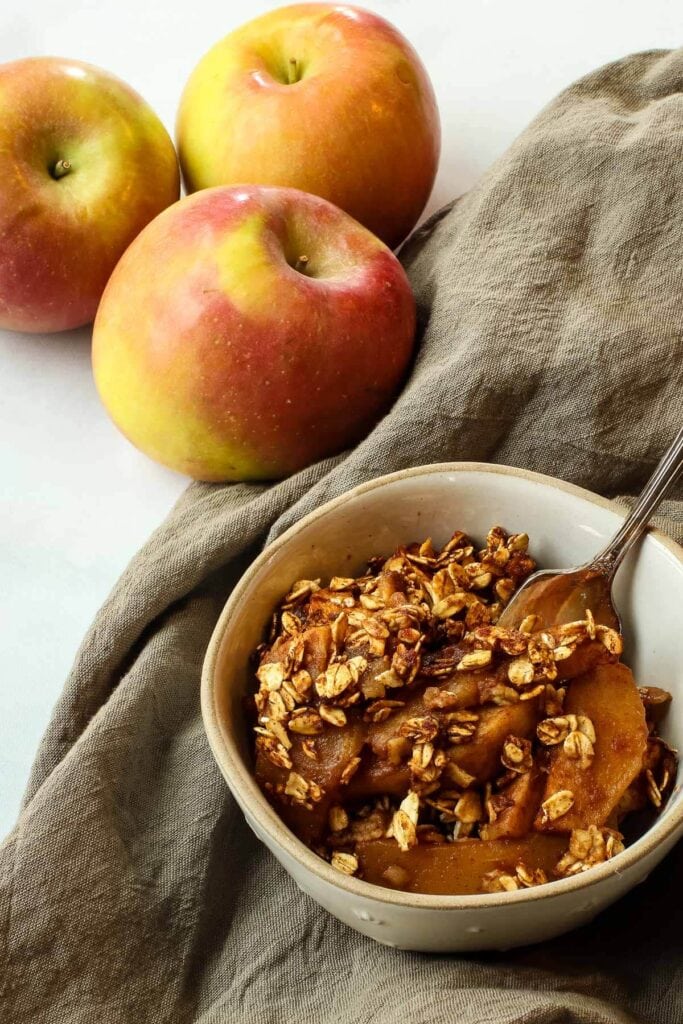 At Chez Shah, we like to this dessert with chopped walnuts added in, extra cinnamon and a scoop of vanilla nice cream. I don't have a nice cream recipe for you yet, but I'm working on it.
-Elizabeth xo
Check out some of my other holiday favorites: Vegan Cheesy Potato Casserole, Vegan Porcini Mushroom Gravy, Vegan Sweet Potato Casserole, Healthy Twice-Baked Potatoes, Almond Ricotta, Easy Vegan Collard Greens, Instant Pot Collard Greens, Shaved Brussels Sprouts with Oil Free Citrus Dressing and Healthy Brownies with Peppermint Frosting.
I LOVE hearing from you! Connect with me on: Facebook, Instagram, Pinterest, or drop me a note in the comments.
📖 Recipe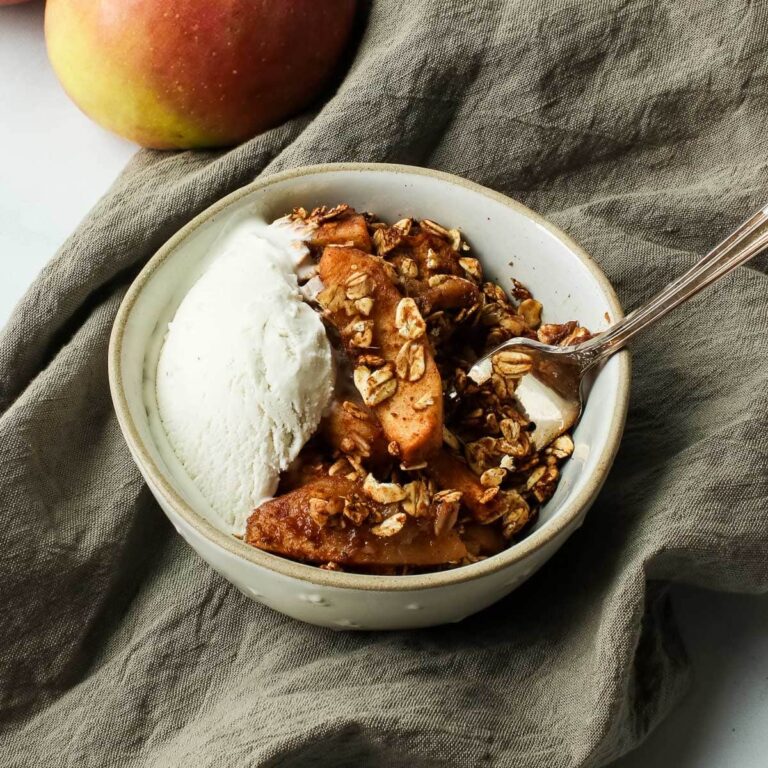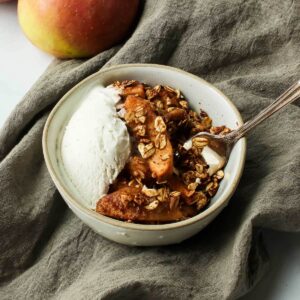 Healthy Apple Crisp - 4 Ingredients
Possibly the easiest healthy apple crisp recipe ever! It's vegan, refined sugar free, gluten free, oil free. And this toasty, comforting dessert—or breakfast—is chock full of whole food plant-based goodness.
Print
Save
Saved!
Pin
Rate
Ingredients
2

pounds

apples, peeled or unpeeled

Fuji, Gala, Granny Smith, or other crisp variety. About 6 medium

1

cup

rolled oats

not instant. Certified gluten free if desired

½

cup

chopped Medjool dates

about 6 dates (see notes)

3

teaspoons

Ceylon cinnamon

divided into 2 tsps and 1 tsp. Certified gluten free if desired.

Optional filling add-ins: ½ teaspoon nutmeg or cardamom + 1 teaspoon pure vanilla extract

Optional topping add-ins: ¼ cup finely chopped walnuts

Optional topping substitution: 1 cup of my sugar free granola recipe
Instructions
Place a rack in the center of the oven and pre-heat to 350 degrees Fahrenheit. Line an 8" x 8" baking dish with parchment paper, or use a non-stick dish.
To Make the Date Paste
Place the chopped dates and 2 tablespoons of water in a microwave safe bowl, cover, and microwave on high for 30 seconds. Stir, cover and microwave on high 30 more seconds.

Place the softened dates in a food processor. Start processing on low, and increase to higher speed as the dates begin to break down. Add water a little at a time and stop to scrape down the sides as needed to create a smooth paste. This will take several minutes. (See notes.)
To Make the Filling
Core the apples and cut each one into 8 sections. Then cut each section in half for 16 slices per apple, about ¼ inch thick.

Place in a medium mixing bowl, add ½ the date paste (or at least 2 tablespoons) and 2 teaspoons of cinnamon. Toss well to coat all of the apple slices with the cinnamon and date paste
To Make the Topping
In a small mixing bowl, add combine the oats, ½ the date paste (or at least 2 tablespoons) and 1 teaspoon of cinnamon. Toss well to combine.
To Make the Apple Crisp
Pour the filling mixture into a parchment paper lined or non-stick 8" x 8" baking dish. Spread the topping evenly over the apples.

Place on a rack positioned in the center of the oven, and bake at 350 degrees Fahrenheit for 55-60 minutes, or until the apples are fork tender and the dish is hot and bubbly. Check the apple crisp after about 45 minutes. If you notice the topping getting too dark, cover with foil and continute to bake covered.
Notes
Tips for making date paste. I like to soften the dates first so they're easier to break down in the food processor. The microwave is quick, but you can simmer them in a bit of water on the stove it you prefer. 5-10 minutes should be enough, or until they're very soft. It takes several minutes for the dates to get creamy and form a paste in the food processor. Stop and stir often, scraping down the sides and adding a little water at a time as needed. Don't worry if there are some little bits of date skin remaining. They'll blend right into the apple crisp.
Adjusting the sweetness. You can follow the directions exactly or use a little less date paste if desired. I've made this with as little as 2 tablespoons of date paste in both the filling and topping, and it's still sweet. However, depending on the size of your food processor it might be hard to make less date paste, so you'll have a little left over.
About the topping. I like my apple crisp with mostly apples and just a bit of topping. But if you prefer more topping you could increase the topping ingredients by 50% or more. The basic oats-cinnamon-date version is great, but my favorite simple topping is to add ¼ cup of chopped walnuts! If you want a fancier topping, my sugar free granola recipe works great on this apple crisp.
About the apples. Most crisp varieties (Fuji, Gala, Cortland, Granny Smith) will work well here. I would not use Golden Delicious or a similar apple, as they're just too soft and sweet. I've made this recipe with both peeled and unpeeled apples, and while I think I prefer the texture with unpeeled fruit, both were great.
To speed things up: 1) soften the dates in the microwave, 2) use an apple corer/slicer if you have one (don't forget to peel the apples first if like them peeled, then cut each slice in half) 3) skip peeling the apples, 4) buy sliced apples or store-bought date paste, 5) use a silicone baking dish--no need for parchment paper and clean up is a breeze.
About the cinnamon. Ceylon cinnamon is considered to be safer that cassia cinnamon. (See more here.)
Nutrition (approximate)
Calories:
166
kcal
|
Carbohydrates:
40
g
|
Protein:
2
g
|
Fat:
1
g
|
Saturated Fat:
1
g
|
Sodium:
3
mg
|
Potassium:
296
mg
|
Fiber:
6
g
|
Sugar:
24
g
|
Vitamin A:
100
IU
|
Vitamin C:
7
mg
|
Calcium:
34
mg
|
Iron:
1
mg