Earlier this week, I brought you a really light and healthy holiday dish--my Vegan Brussels Sprouts Salad. But it just wouldn't be the holidays without indulging in some decadent side dishes, too. Of course, even at the holidays, we can make our sides whole food and plant based—like this Whiskey Maple Glazed Sweet Potatoes recipe.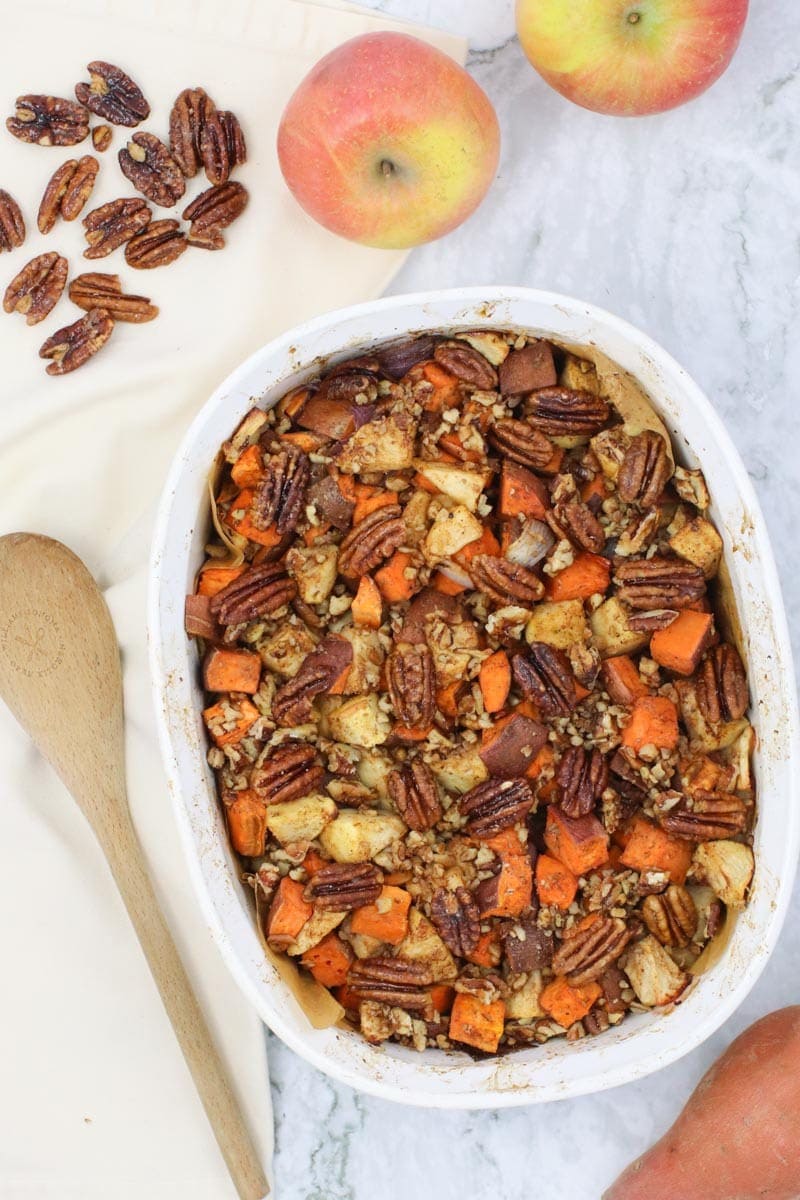 It's not the holidays without glazed sweet potatoes!
In my entire adult life, I can't recall a holiday season EVER when I didn't make some kind of sweet potatoes (or yams). They're such a classic! Yes, sometimes there were marshmallows involved. Yes, some of these dishes were so rich and sweet, they competed with the pumpkin pie. Most of those recipes were creamy dishes like this Vegan Sweet Potato Casserole.
Check out some of my other holiday favorites: Vegan Porcini Mushroom Gravy, Healthy Twice-Baked Potatoes, Almond Ricotta, Easy Vegan Collard Greens, Instant Pot Collard Greens, Shaved Brussels Sprouts with Oil Free Citrus Dressing and Healthy Brownies with Peppermint Frosting.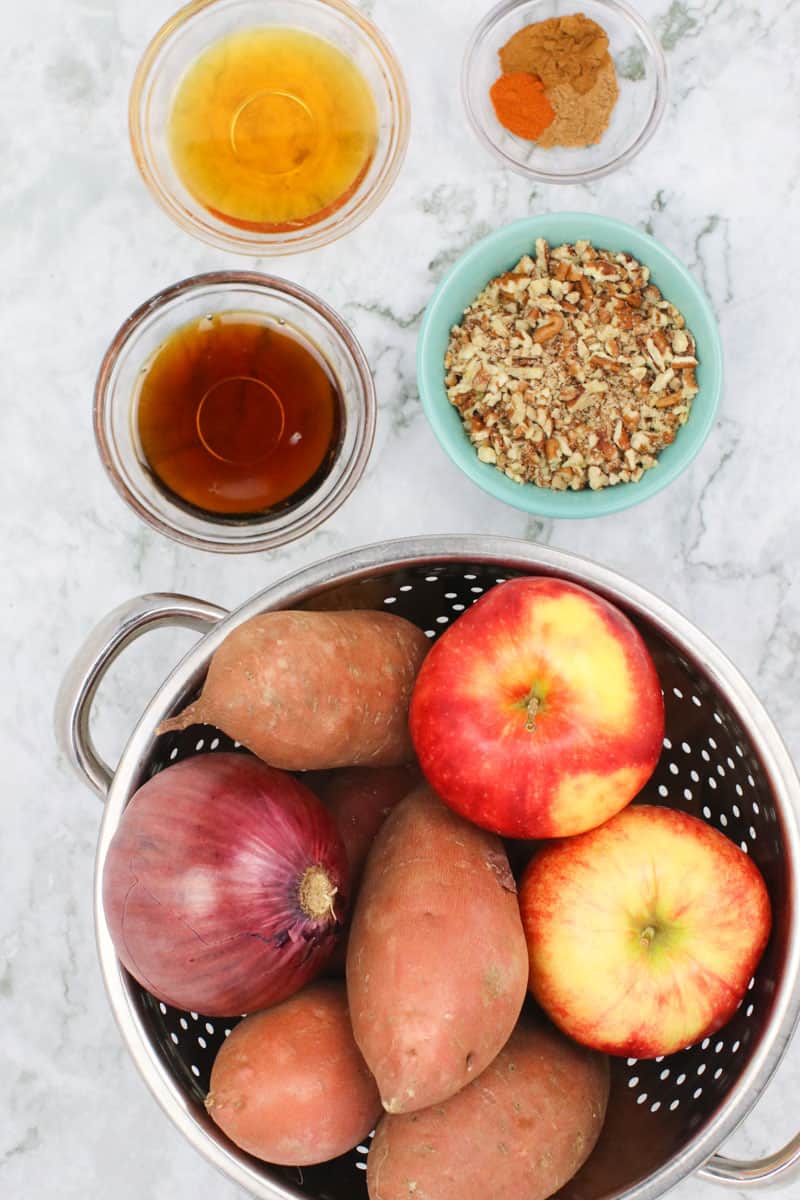 These vegan/WFPB Whiskey Maple Glazed Sweet Potatoes are no less luscious in their own healthier, vegan way. And I was surprised at how much I enjoyed them since they're made with whiskey--which, much as I've tried, I simply can't stand the taste of. On the other hand, whiskey and maple syrup are completely in my husband's wheelhouse.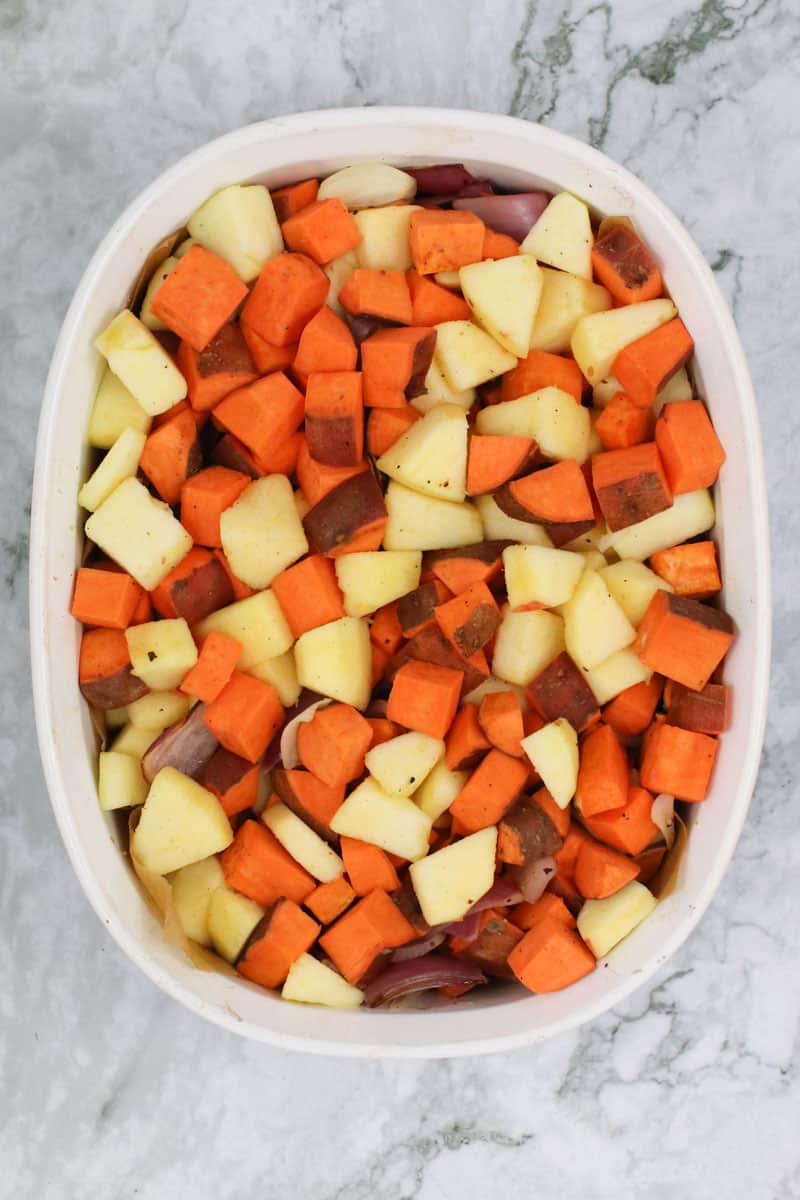 Whatever nastiness I detect when sipping the brown, boozy stuff disappears here, so that all that remains is a wonderful rich flavor it imparts to this dish. Along with a few warming spices—including just a touch of heat from some cayenne pepper—it adds a much-appreciated layer of complexity to what's basically a simple side of baked sweet potatoes, apples and onions. Of course, the roasted pecan topping doesn't hurt, either.
Whiskey Maple Glazed Sweet Potatoes: a healthier holiday
This whiskey maple glazed sweet potatoes dish is sweeter than I'd typically want in an everyday meal. But all of the sugar is unrefined, and about half comes from the maple syrup, so you've got some options here.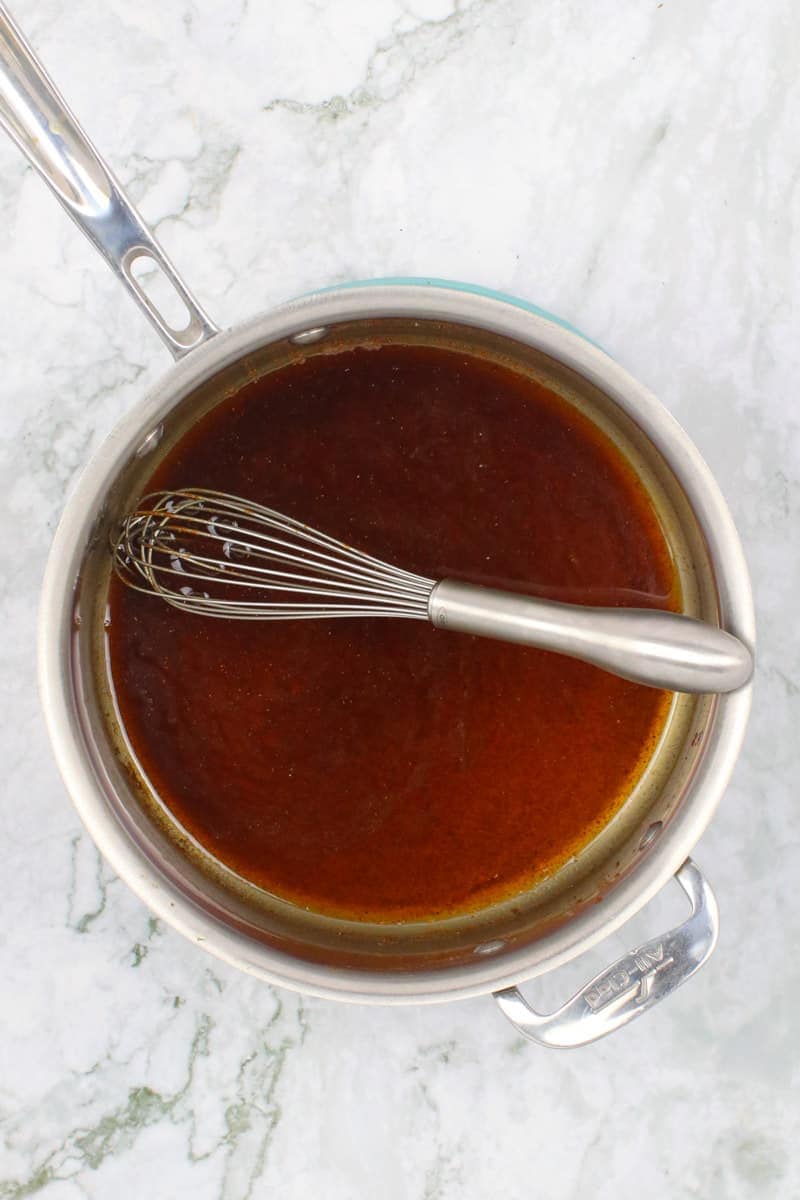 You can use the full ½ cup of maple syrup the recipe calls for (about 3 teaspoons per serving), or simply pare it down to ¼ cup (about 1 ½ teaspoons per serving) and all will still work out fine. And while I haven't tested other sweeteners in this dish, with a little experimentation, you could probably substitute an even healthier sweetener if you choose.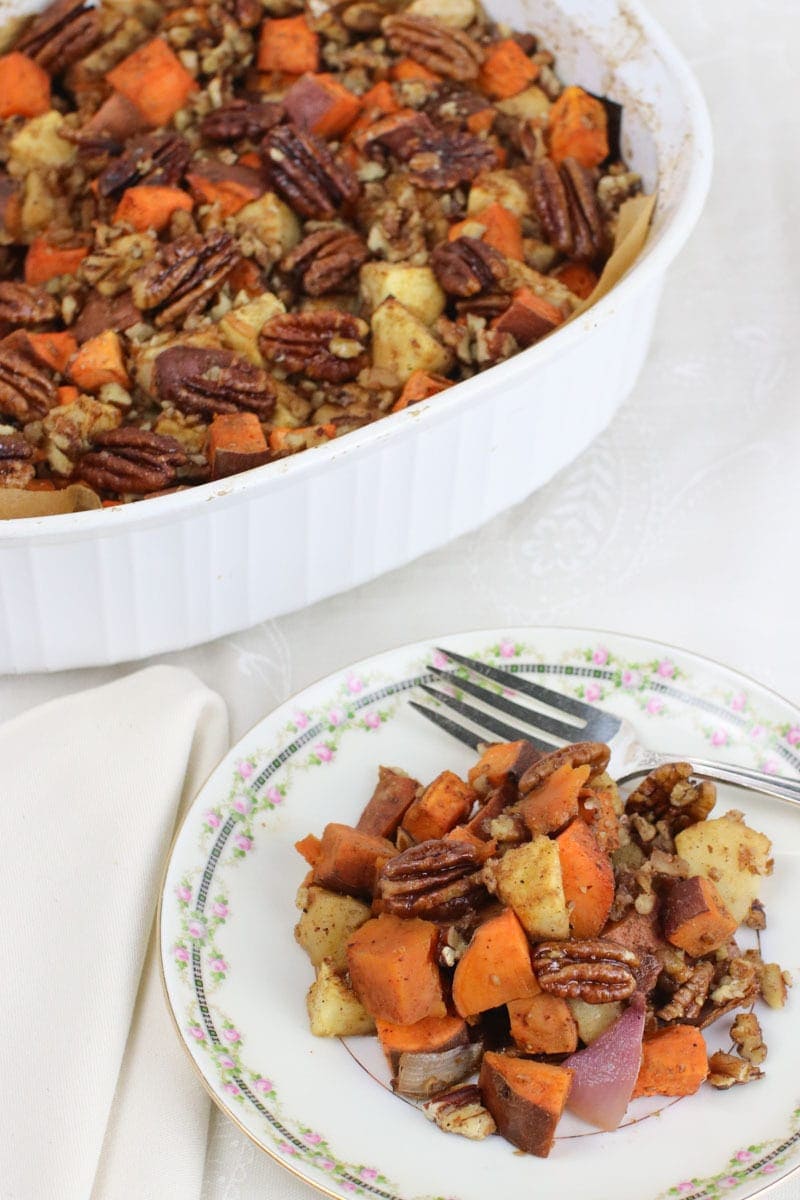 Whatever you decide, we're still in the 'pretty darn healthy zone' here for a holiday dish. Unlike those over-the-top sweet potato ghosts of holidays past (guilty as charged!), this side dish has no oil or butter (not even vegan butter), no eggs or cream (obviously)--and sorry marshmallow fans, no white fluffy candy topping. But you won't even miss all that junk!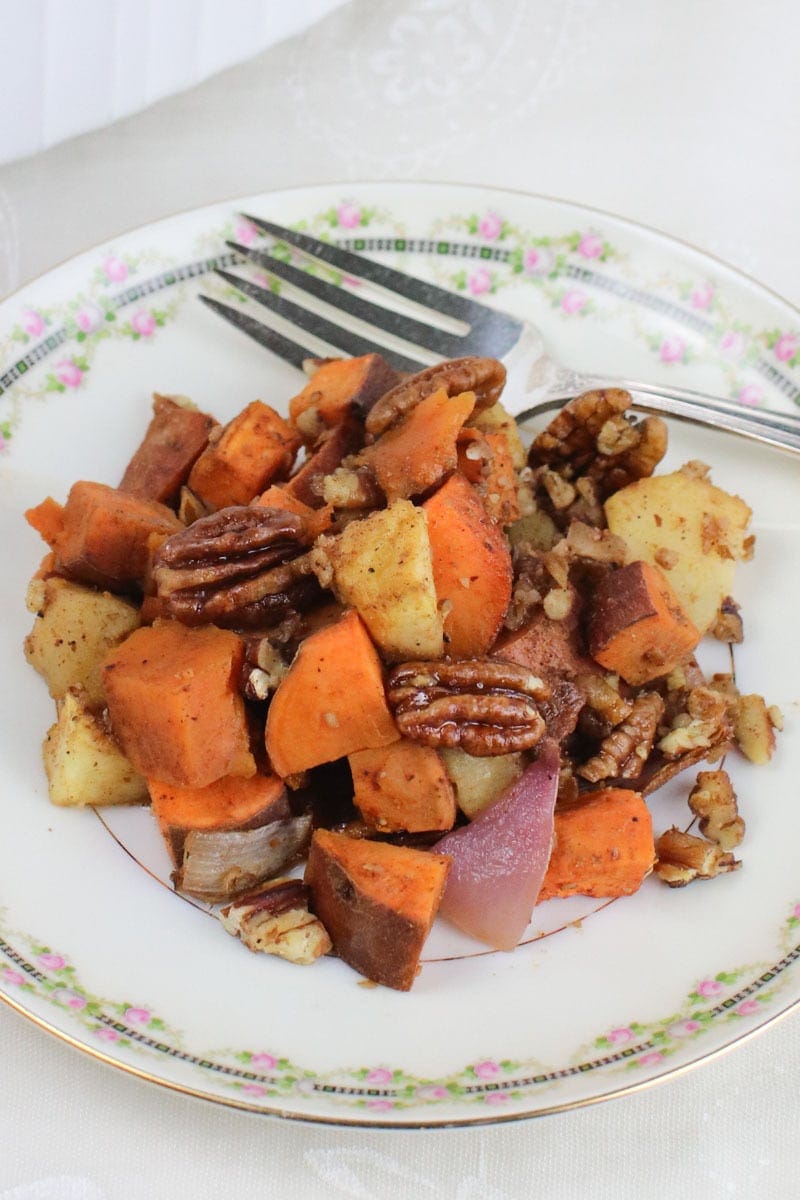 I have a feeling these whiskey maple glazed sweet potatoes are absolutely going to be another one of those vegan dishes that gets even omnivores clamoring for seconds. Just like the Brussels sprouts salad, they were a big hit at our house.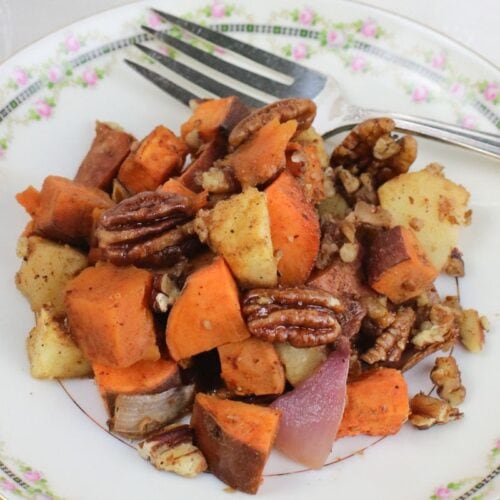 Whiskey Maple Glazed Sweet Potatoes
Whiskey Maple Glazed Sweet Potatoes are a healthier, vegan version of a holiday classic. Oil and refined-sugar free.
Print
Pin
Rate
Ingredients
3

pounds

sweet potatoes

peeled and ½-inch diced (about 3-4 large or 5-6 small, peeled or unpeeled)

3

cups

tart apples

peeled and ¾-inch diced (about 2 medium)

1

cup

red onion

sliced into ¼-inch wedges (about ½ medium)

½

cup

maple syrup

(or ¼ cup if you prefer less sweetness. Sub thinned date paste if desired.)

¾

teaspoon

cinnamon

½

teaspoon

ground nutmeg

¼

+/- teaspoon cayenne pepper

¼

cup

good quality whiskey

(or sub 1 tablespoon sherry vinegar)

½

cup

pecans

chopped (plus more whole pecans for garnish, if desired)

Sea salt and freshly ground black pepper

to taste
Instructions
Heat a large pot of water to boiling. Boil the cubed sweet potatoes for about 5 minutes, or until they are beginning to get tender, but are not cooked through. Drain and set aside.

While the potatoes are boiling, position a rack in the middle of the oven and preheat to 375 degrees. Line a 2 quart baking dish with parchment paper.

In a medium mixing bowl, toss the pre-boiled sweet potatoes, diced apples and red onion together with sea salt and freshly ground black pepper. Spread the food out evenly in the baking dish, and bake for 10 minutes.

While the sweet potatoes are baking, in a sauce pan over medium-low heat, whisk together the maple syrup, cinnamon, nutmeg and cayenne pepper until it begins to gently simmer. Add the whiskey and continue to gently simmer another 5 minutes until slightly reduced, whisking occasionally.

Remove the dish from the oven, and gently toss everything, bringing the food from the bottom to the top. Sprinkle the chopped pecans evenly over the top, then drizzle the maple-whiskey glaze evenly over the top.

Return to the oven and bake another 10-15 minutes, or until the apples and sweet potatoes are fork tender but not mushy.

Optional: If desired, toast about ½ cup of whole pecans in a dry pan over medium heat for about 5 minutes or until crispy for garnish.
Nutrition (approximate)
Calories:
295
kcal
|
Carbohydrates:
57
g
|
Protein:
3
g
|
Fat:
4
g
|
Sodium:
96
mg
|
Potassium:
723
mg
|
Fiber:
7
g
|
Sugar:
25
g
|
Vitamin A:
24155
IU
|
Vitamin C:
7.8
mg
|
Calcium:
87
mg
|
Iron:
1.3
mg