Making vegan desserts really isn't all that hard. But making delicious, drool-worthy desserts that are vegan, whole-food, plant-based, oil-free, with a gluten-free option--I'd say that's a challenge. That's why I'm extra excited about these Baked Tortilla Vegan Cannolis.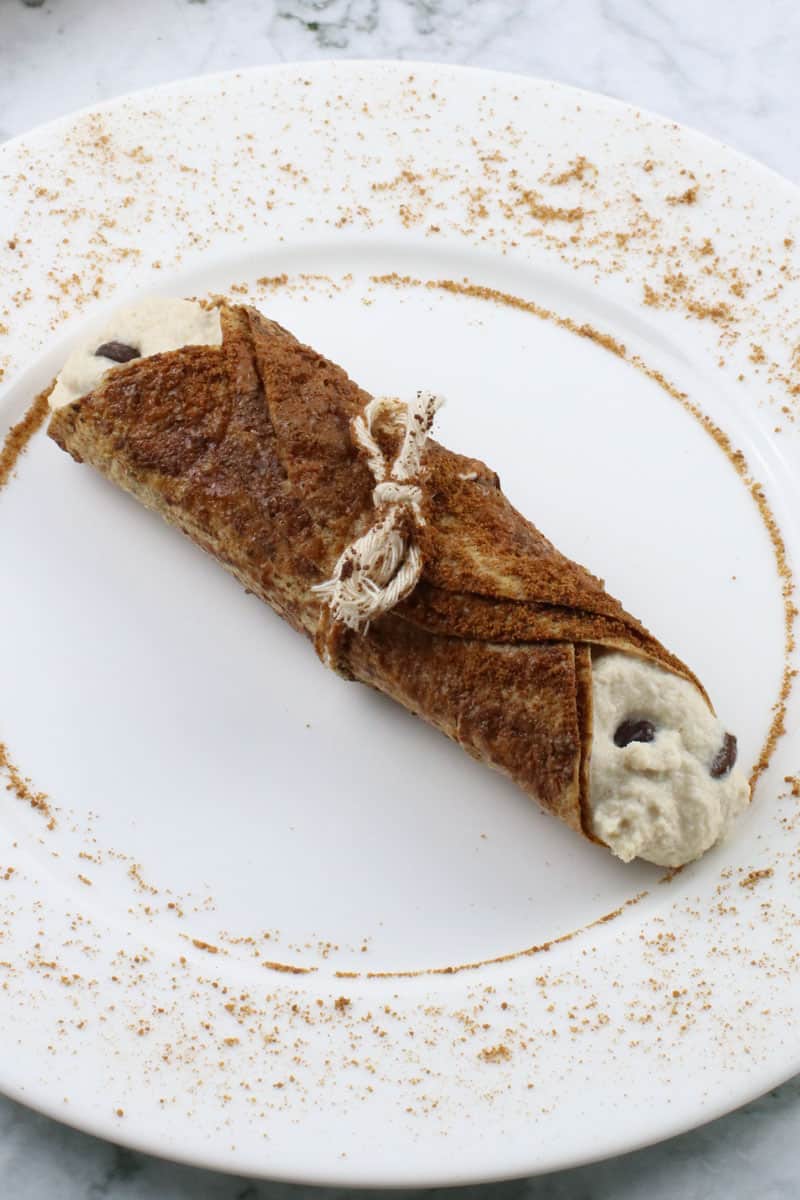 Why I Love these Vegan Cannolis
A few weeks back, my cousin Jen--one uber-talented cook and baker--posted a gorgeous photo of a German-cake-log-dessert-thingy on social media that had me drooling. Of course, when she informed me it was mostly eggs and cream, that dried up my drool in a hurry. Even if we didn't live 1000 miles apart, a dessert like that isn't something I could even begin to enjoy anymore, even if I weren't vegan.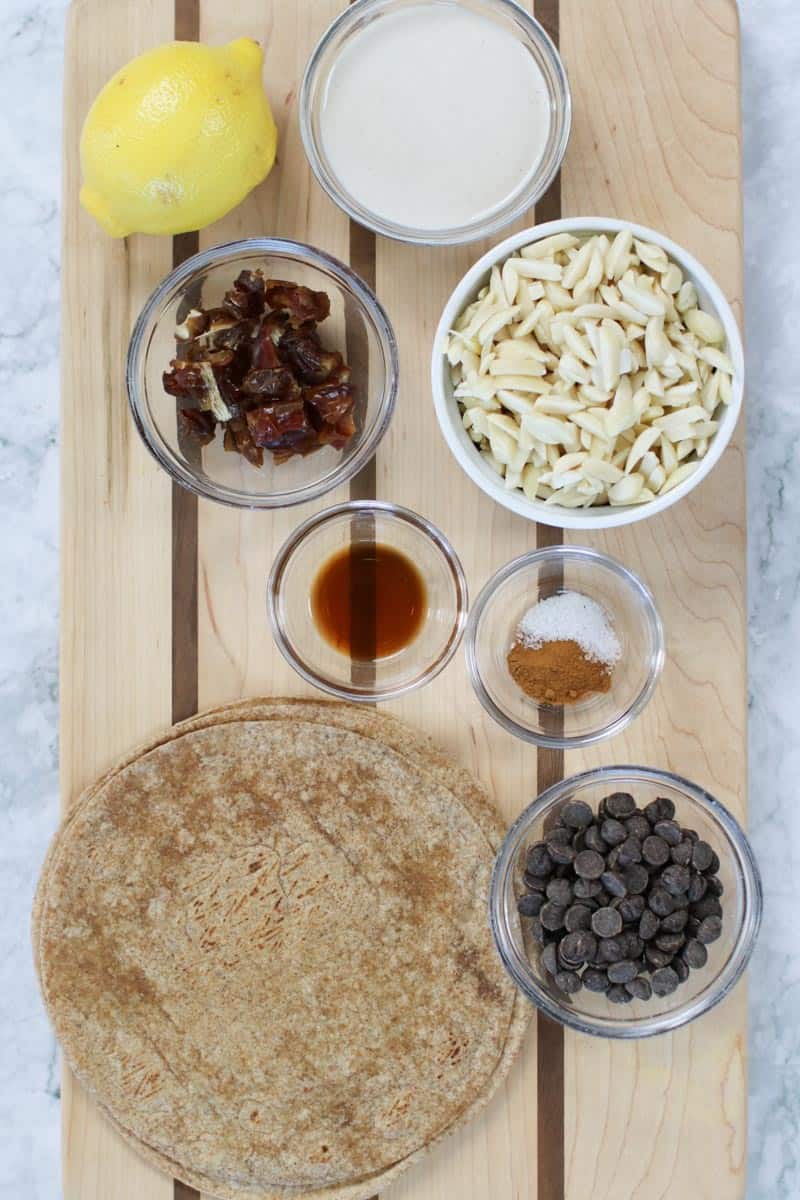 But it did get me thinking (and dreaming!) about some kinda pastry rolled up around some kinda sweet creamy filling. And voila, these delish--and pretty darn healthy--baked tortilla vegan cannolis were born. These vegan cannolis are not only fun to make, they're crispy and creamy, sweet and tangy, and positively addictive!
How to Make Baked Tortilla Vegan Cannolis
The filling in these vegan cannolis is a sweet version of my almond ricotta--a recipe I'm so in love with, one version simply wasn't enough! This vegan cannoli filling has a fresh, slightly lemony tang and gets its restrained, yet sweet-tooth-satisfying sweetness from Medjool dates. Stirring in a handful of vegan chocolate chips doesn't hurt, either.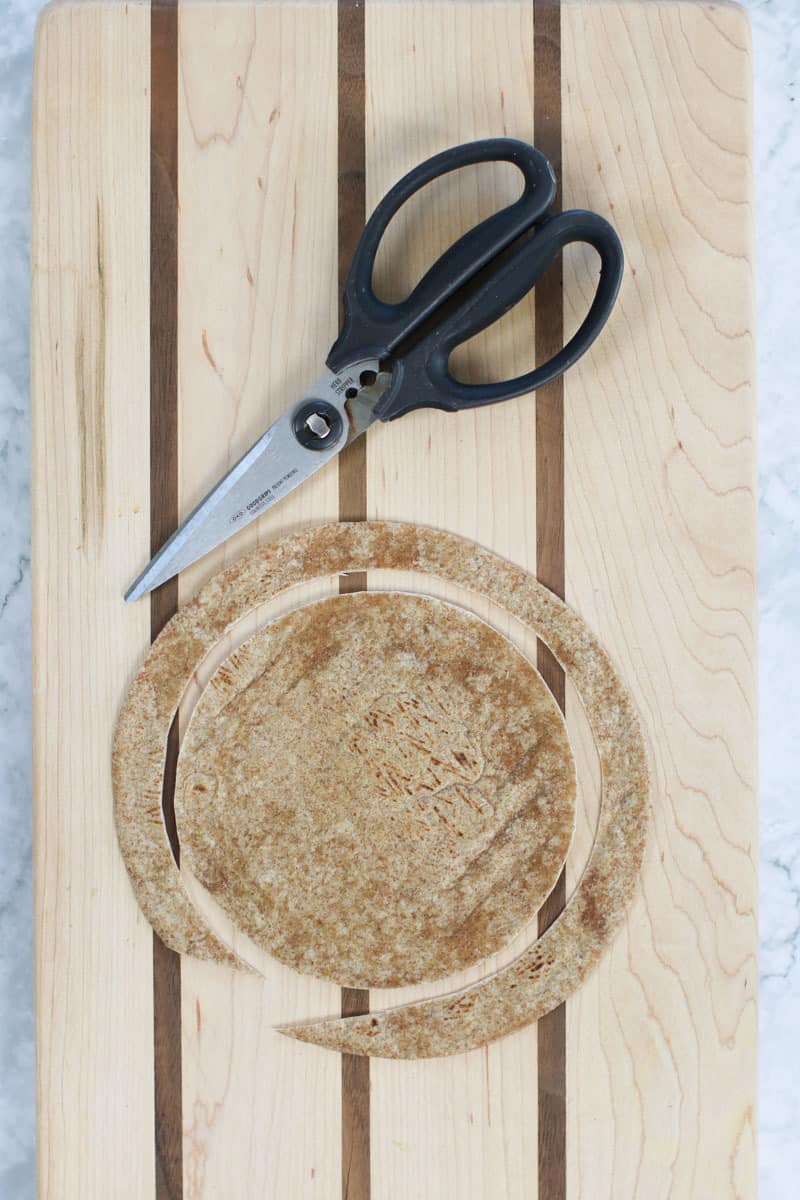 But the real artistry and intrigue in this the out-of-the-box recipe are the baked tortilla cannoli shells. I tried making these shells several different ways, but I'm in love with this version. These shells are made from thin, whole wheat tortillas, rolled in a bit of coconut sugar and cinnamon, and then baked to light and crispy perfection.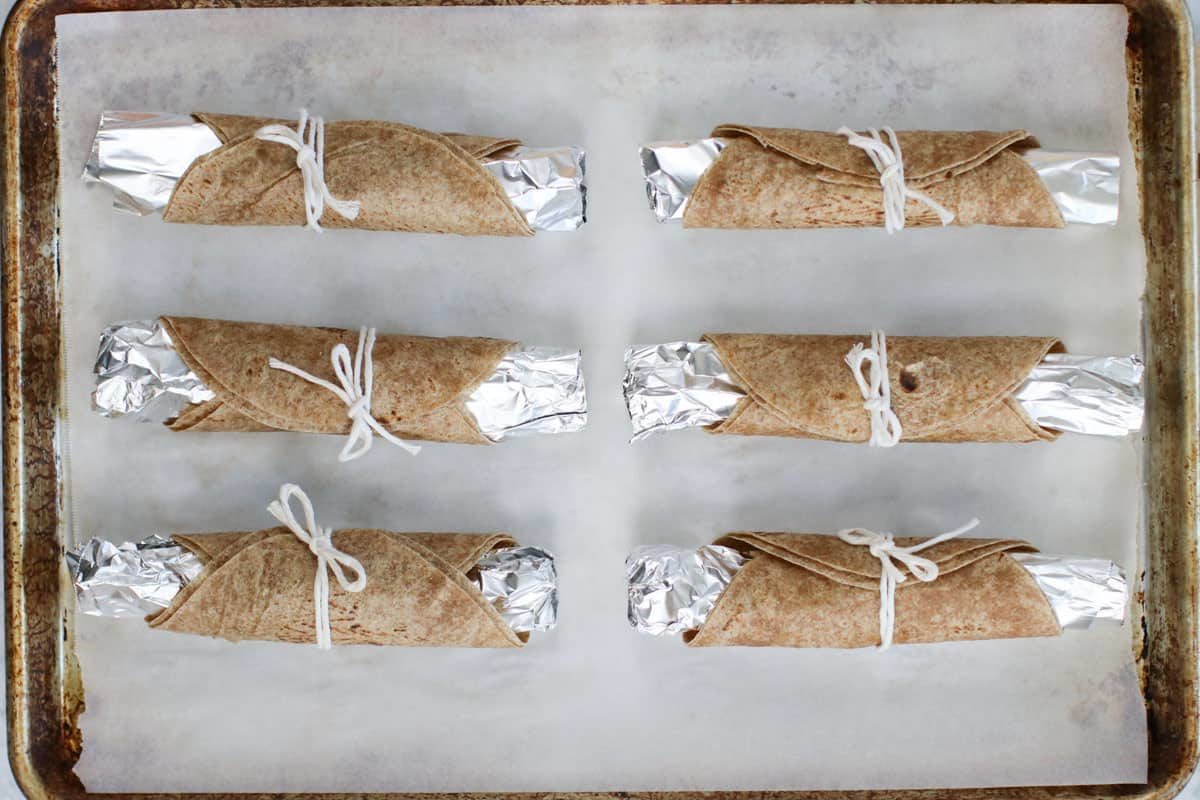 You can use pretty much any type of tortilla to make these, including gluten-free, except maybe corn tortillas as the flavor wouldn't be quite right. I'd also stick with 6 inch tortillas (cut larger ones down to size if needed), unless you want a really big cannoli and plan to increase the filling recipe by about 25% as well.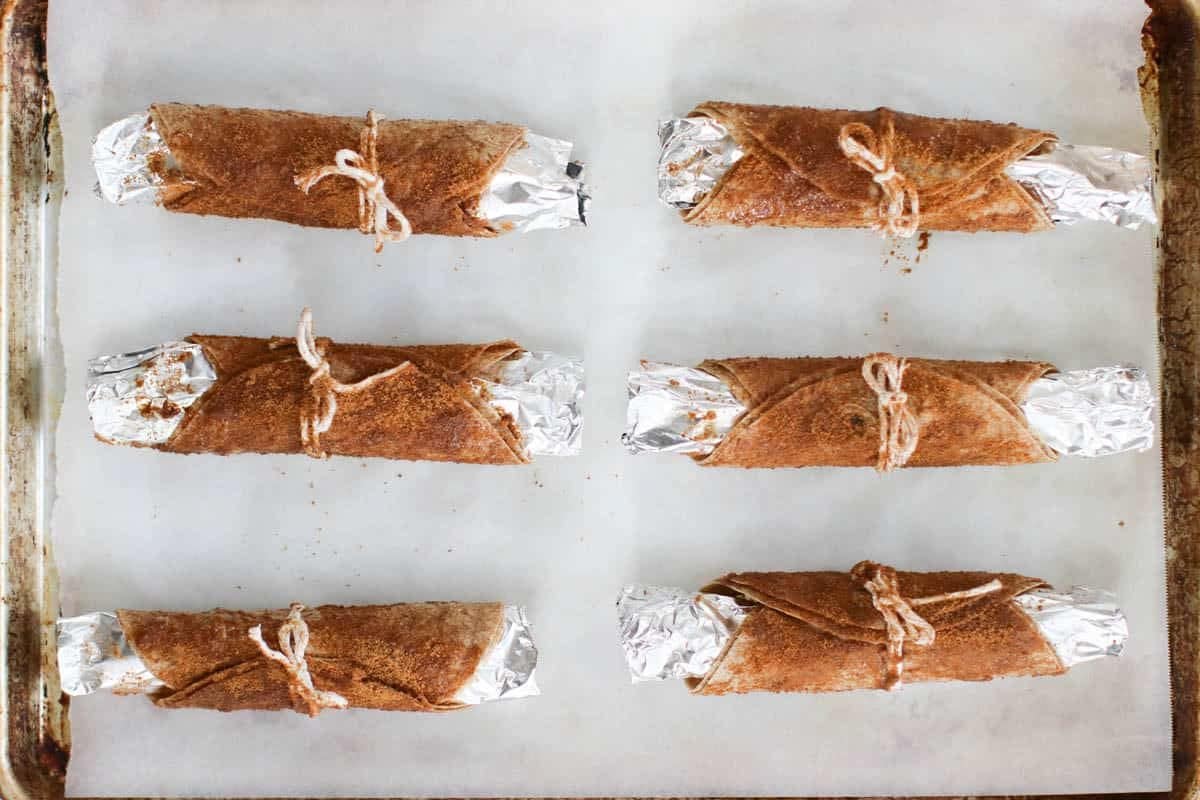 There's a bit of fussing to remove the shells from your homemade 'foil forms,' but the final result is so worth it. (Did you know that Cannolis are an ancient dessert, and the shells were originally wrapped around a sugar cane. Read more about the origins of the Cannoli here.)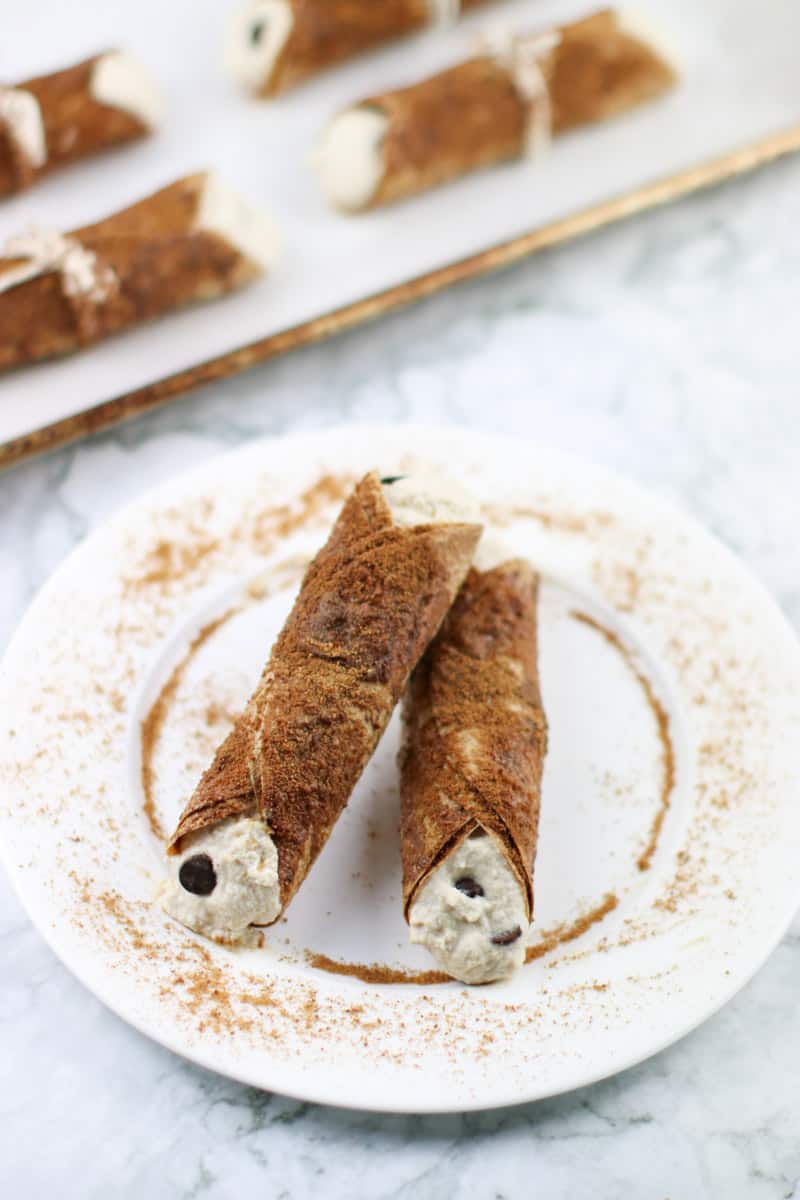 Baked tortilla vegan cannolis are fun to make, even more fun to eat, and about as healthy as a truly lush dessert gets.
📖 Recipe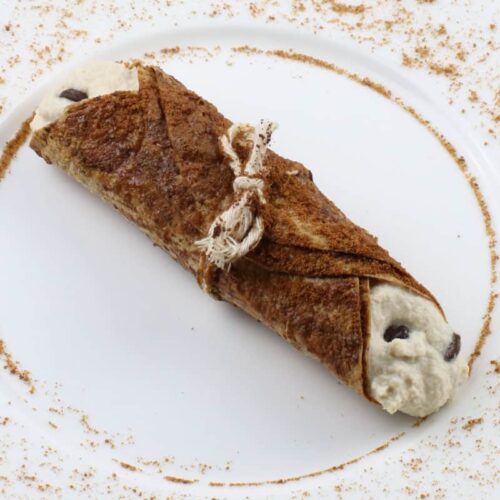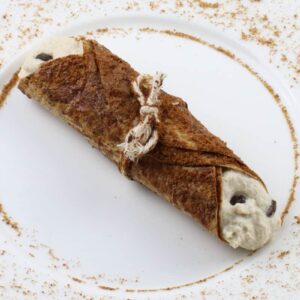 Baked Tortilla Vegan Cannolis
Baked Tortilla Vegan Cannolis are fun to make, even more fun to eat, and about as healthy as dessert gets.
Print
Save
Saved!
Pin
Rate
Ingredients
For the filling:
2

cups

blanched

slivered almonds (covered with boiling water and soaked overnight - see notes)

¾

cup

plain, non-dairy yogurt

(I like cashew yogurt)

½

cup

water

3

dates

chopped and softened (see notes)

1

teaspoon

vanilla

¼

teaspoon

salt

¼

teaspoon

cinnamon

1

tablespoon

lemon zest + 2 tablespoons lemon juice

(about 1 lemon)

⅓

cup

vegan chocolate chips

(DON'T BLEND!)
For the shells:
1

tablespoon

ground flaxseed

+ 3 tablespoons water to make a flax egg

6 6-

inch

whole wheat tortillas

or GF if desired (thin tortillas work best. If you can't find 6" tortillas, trim larger ones down to size-see notes)

¼

cup

date sugar

Or use another compliant sweetener like maple sugar.)

1

teaspoon

cinnamon
Instructions
For the filling:
In a high speed blender, add the yogurt, water, dates, vanilla, salt, cinnamon, lemon juice and lemon zest. Blend a few seconds to combine. You can add the almonds directly to the blender, or process them in a food processor first, and then add them to the blender. It's easier on the blender and ensures a creamy result, but if you have a very good professional grade blender, you can skip this step. Blend until creamy and there are no longer any chewy bits of nuts.

Place in a medium bowl and stir in the chocolate chips. Let chill in the refrigerator for 30 minutes or more.
For the shells:
Preheat the oven to 350 degrees.

Line a baking sheet with parchment paper.

Make a flax egg by stirring 1 tablespoon ground flaxseed + 3 tablespoons water together in a small bowl. Let sit for at least 15 minutes.

If you don't own cannoli forms, loosely roll up 8 pieces of aluminum foil into cylinders about 8 inches long by 1 ¼ inches in diameter. (See notes) Roll the tortillas loosely around each piece of foil and secure with kitchen string or a toothpick (woven through like a straight pin - see notes). Make sure the tortilla is loose enough that it can slide back and forth so it's easier to remove the foil after baking. Each cooked shell should be about 1 ½ inches in diameter. (If bigger, you'll probably run out of filling!)

Mix the date sugar and cinnamon together in a shallow dish. Brush the tops and sides of each tortilla with a light coating of flax egg, and gently roll in the erythritol/cinnamon mixture. DON'T COAT THE BOTTOMS--they will burn!

Place the tortilla rolls on the baking sheet, spreading them out evenly. Gently place into the oven, making sure they don't roll over so that the uncoated part of the shells are in contact with the baking sheet.

Bake for 20 minutes. Allow to cool before removing the foil from the shells.

To remove the foil, firmly but carefully grasp the center of each shell and wiggle the foil loose. Be careful, as the shells will be crisp and delicate. You may have to crush the foil a bit to get it loose. My shells were quite thin, but I was able to get the foil out of each one with no breakage.
To assemble:
Scoop the filling into a pastry bag with a wide tip or a plastic bag. (I used a 1 gallon Ziploc bag.) Make sure the opening is pretty big, about 1 inch, so the chips and filling come out easily. Pipe the filling into the shells from both ends.
Notes
Note: this recipe was originally made with erythritol, which has since come into question as an acceptable WFPB sweetener. Please use date sugar or another granulated sweetener of your choice.
• Pour 4 cups of boiling water over the almonds and let sit at least 6 hours or overnight. I don't recommend shortcuts here, as almonds can be hard on your blender and you may not get a creamy ricotta.
• It's easier to blend dates if you first soften them by chopping them up and placing them in a small bowl with about 2 teaspoons of water, and microwaving on high for 30 seconds.
• I could only find 8 inch whole wheat tortillas, so I pressed a 6" wide bowl into each flat tortilla to make a mark and cut out the circle with kitchen sheers. We lightly salted and baked the leftover strips (350 degrees for 20 minutes) and ate them with soup! If you choose thicker or GF tortillas, check you may need to adjust your baking time to get crisp shells.
• I found it's best to keep the foil loose and almost hollow inside. This way, you can crush them somewhat if needed to remove them from the baked cannoli shells. It's also good if the foil is longer than the shell, so you have an end to grab onto when removing.
• I chose string because my tortillas were very thin and I thought they might tear if pierced with a toothpick, but I think it would work fine on thicker tortillas.
Nutrition (approximate)
Calories:
303
kcal
|
Carbohydrates:
25
g
|
Protein:
9
g
|
Fat:
20
g
|
Saturated Fat:
3
g
|
Cholesterol:
2
mg
|
Sodium:
187
mg
|
Potassium:
258
mg
|
Fiber:
4
g
|
Sugar:
11
g
|
Vitamin A:
25
IU
|
Vitamin C:
1.1
mg
|
Calcium:
139
mg
|
Iron:
1.9
mg