I know I'm not alone on this, but tacos may be one of my all time favorite things to eat. There are so many ways you can do them, they just never, ever get old at our house. Or even when we eat out, since it's not too hard to find vegan tacos. So imagine my delight when I first bit into these spicy, saucy Cauliflower Tacos with Romesco Sauce. My new all time favorite taco!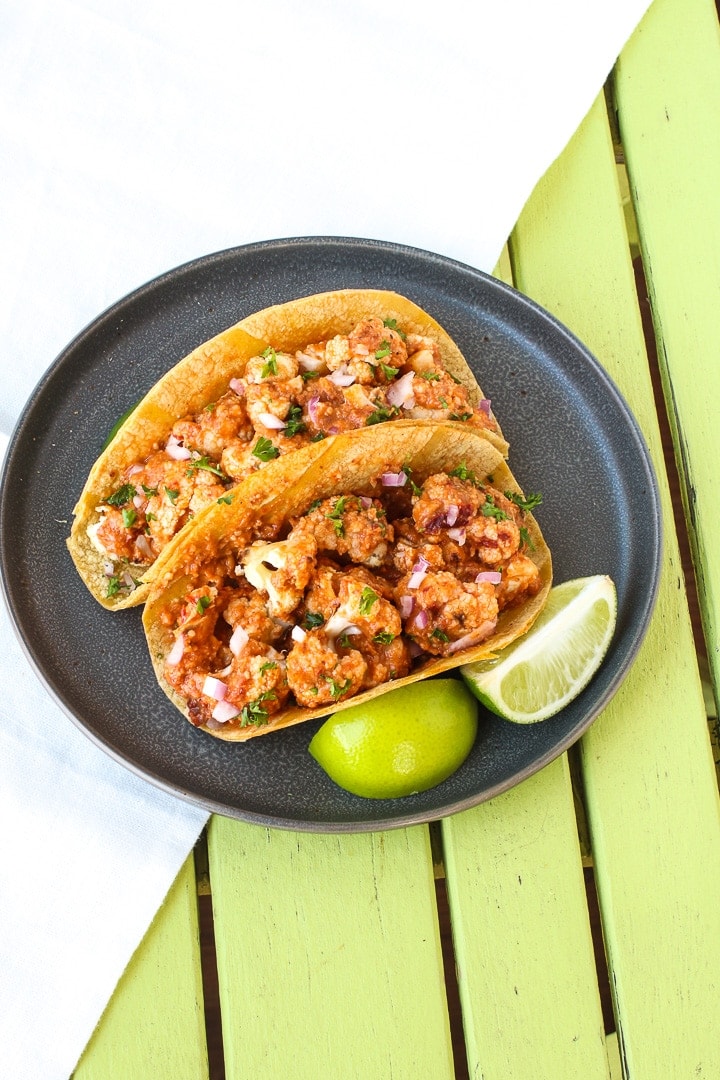 Why I love a good plant-based taco
First, it's easy to make tacos that are plant based. Most traditional tacos have some kind of animal protein, then veggies, salsa, guacamole—what have you—on top. So to veganize them, it's just a matter of replacing the main filling ingredient with a plant-based one.
Second, there are as many ways to do plant-based tacos as your imagination allows. I've enjoyed some really delicious Korean tacos, Asian tacos, and in the case of these cauliflower tacos with romesco sauce, now Spanish tacos.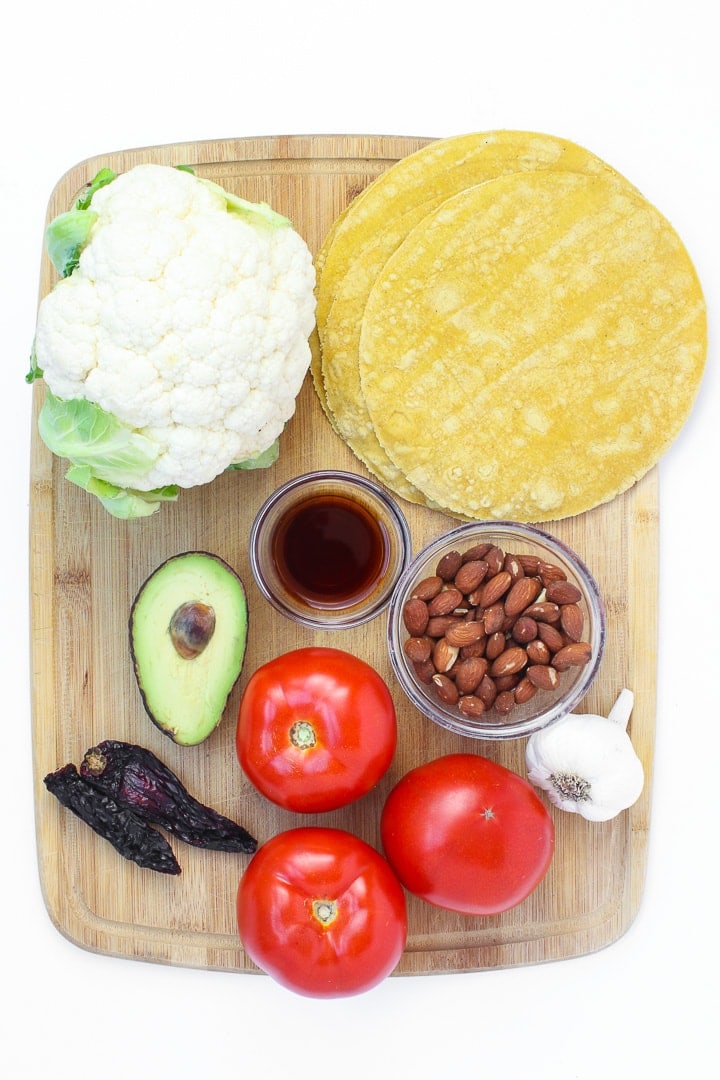 I'd call these tacos 'Spanish-influenced' because Romesco sauce originates from Catalan, Spain, where it was developed as a sauce for fish and seafood. (If you haven't been to Spain, but have always wanted to—go! It's glorious. I especially recommend Barcelona.)
How to make cauliflower tacos in the oven
Aside from it's amazing flavor, the beauty of this dish is that it's an easy, convenient sheet-pan dinner. Almost all of the ingredients for this recipe roast in the oven together on 2 sheet pans.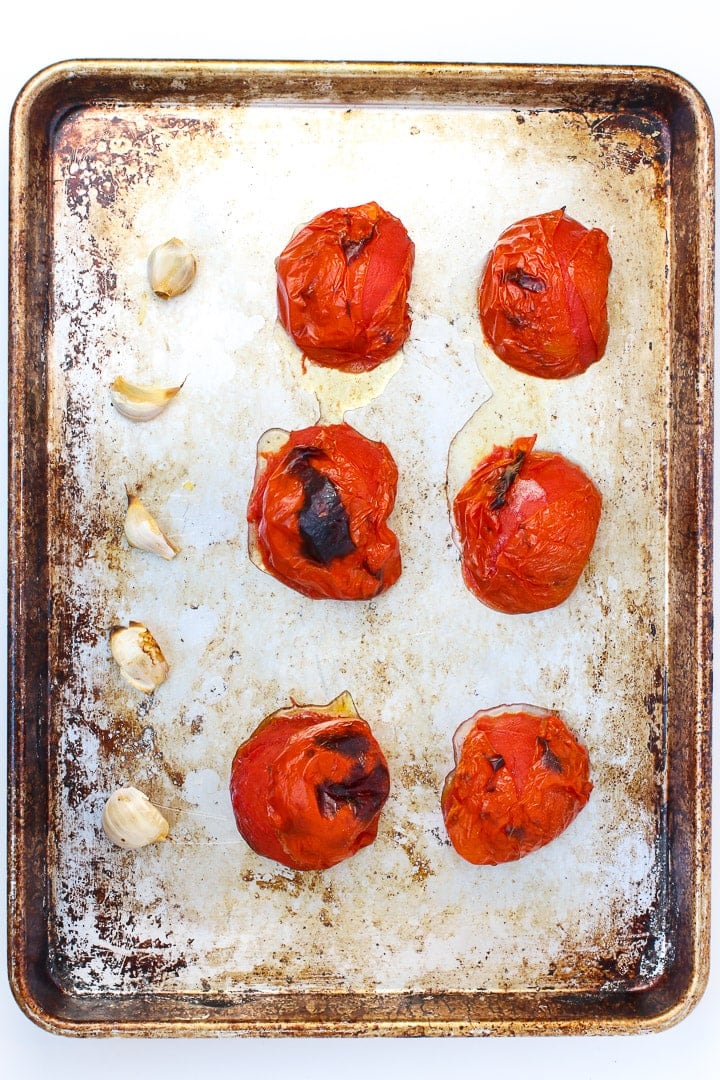 Your cauliflower florets go on 1 sheet pan, and your romesco sauce tomatoes and garlic go on the second one. Everything's done in about 25 minutes.
Then, a few extra ingredients (toasted almonds, sherry vinegar, rehydrated peppers, and optionally, half an avocado) get blended up with the tomatoes and garlic to make a thick and chunky romesco sauce you can make as spicy or mild as you like.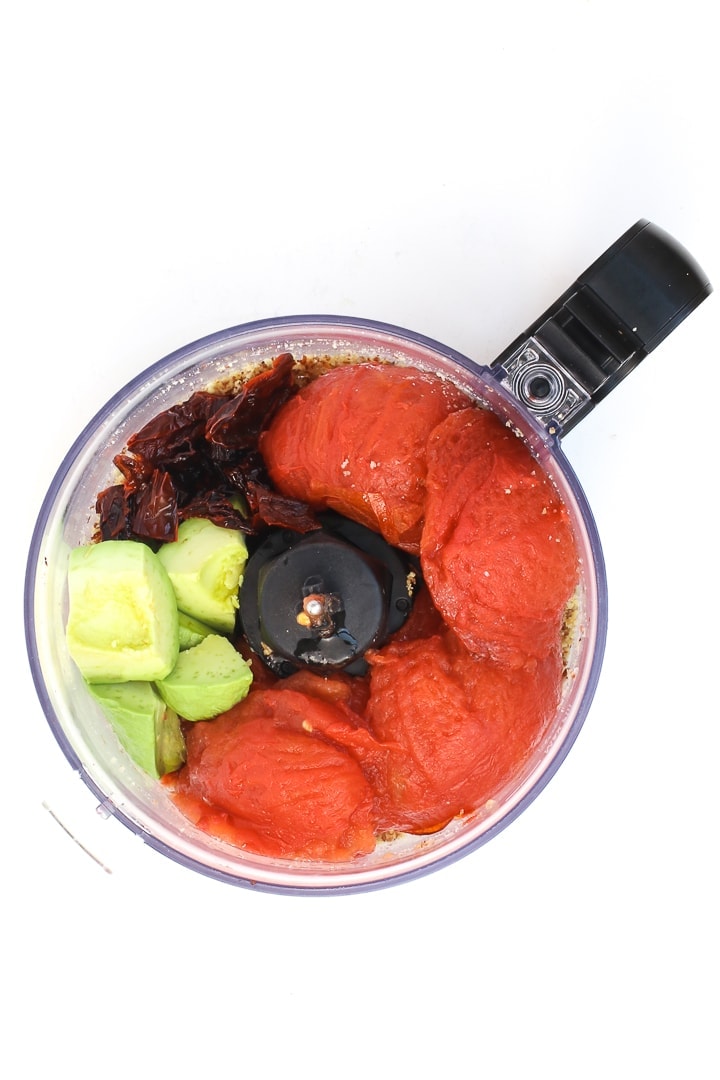 What to eat with cauliflower tacos with romesco sauce
There's really no wrong answer as to what to eat with these cauliflower tacos with romesco sauce. I personally prefer these in a corn tortilla. And, I'd stick with toppings that can hold their own on in this saucy taco. (Shredded iceberg lettuce, for example, is far too wimpy.)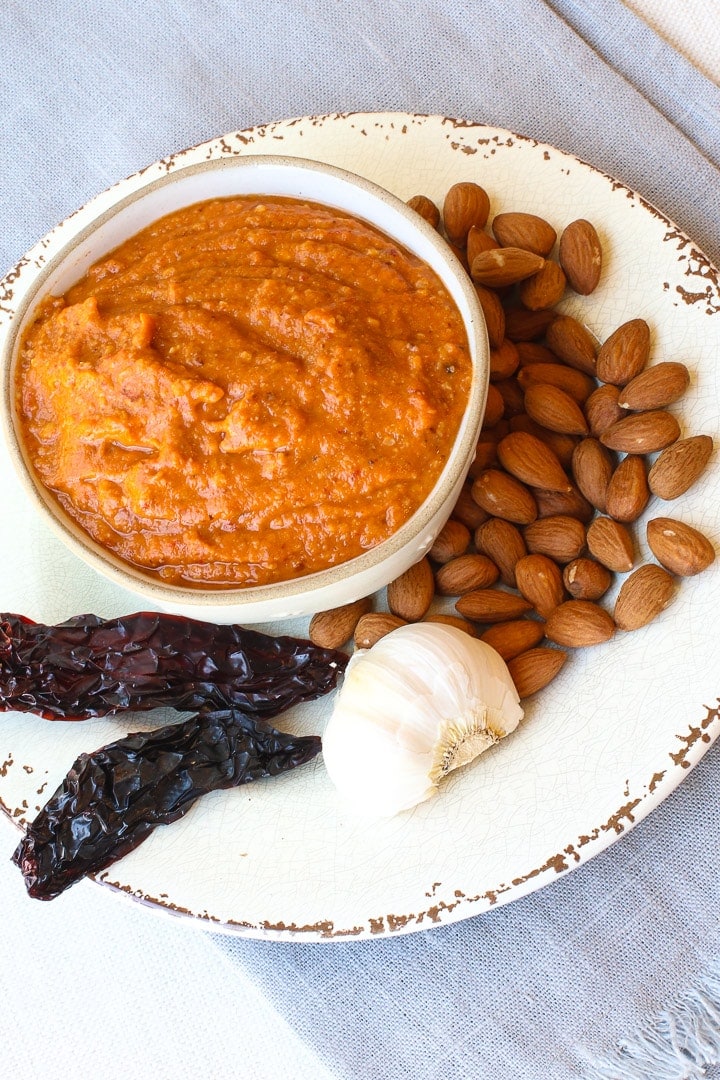 I like to top my cauliflower tacos with romesco sauce with diced red onion, some hearty lettuce or cabbage, roughly chopped cilantro, shredded carrots and so on. A good slaw--like my Purple Cabbage Slaw--would also be AH-MA-ZING here.
The only thing I'd definitely avoid would be any ingredient that would add more fat. With its almonds and optional avocado, this romesco sauce is already plenty rich. (To reduce the fat even further, check the recipe notes.) I'd go with bright, crisp topping that counter the richness, rather than add to it.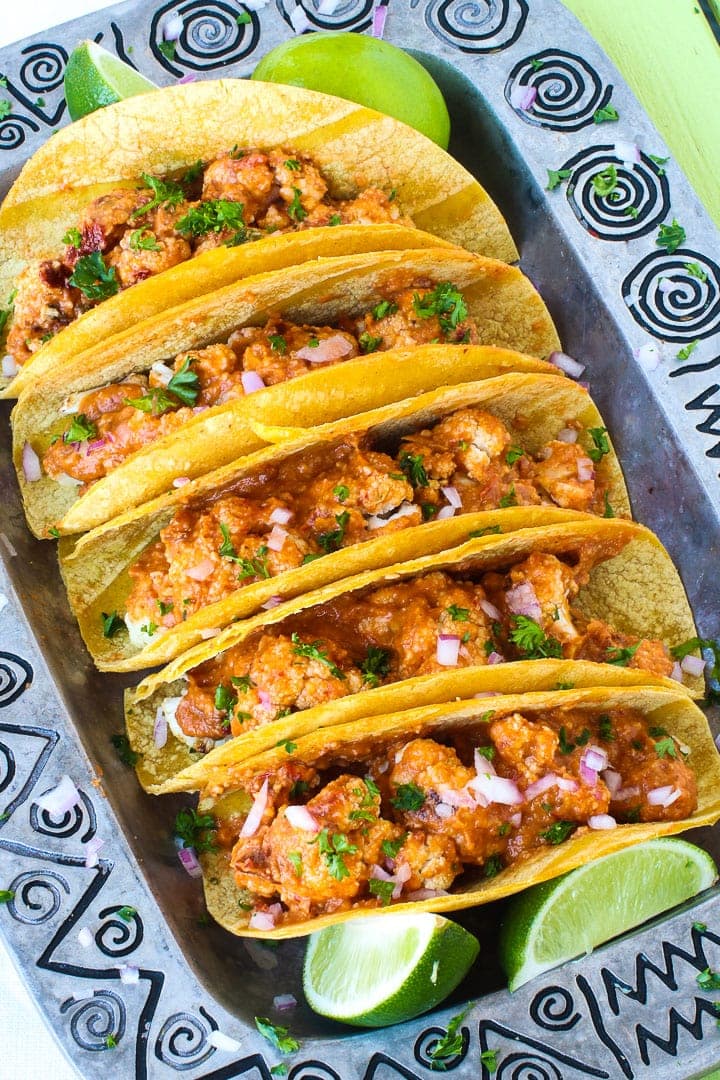 If you're a taco lover like me, I hope you get a chance to make these beauties. They will not disappoint, and I wouldn't be bit surprised if they became your new, all-time favorite taco.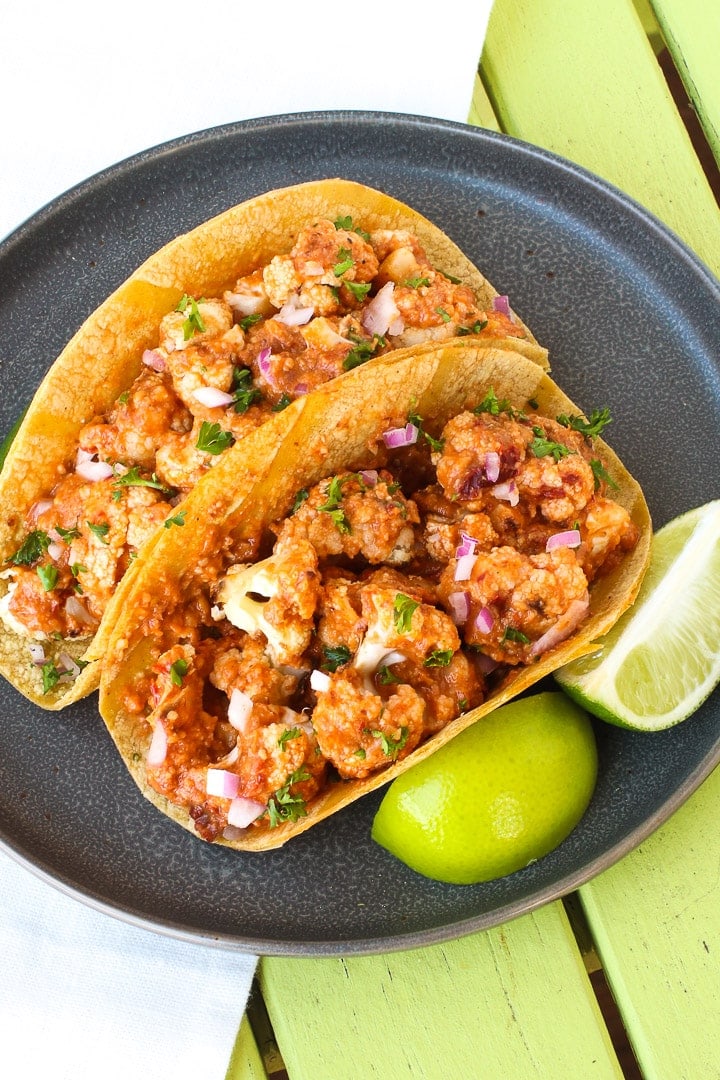 Inspired by the Cauliflower Tacos with Romesco Sauce Hemant and I love to eat on date nights at our local Bartaco restaurant. The food is delicious, and they always do a great job making sure our meals are vegan and oil-free/oil-minimal.
If you like this whole food plant-based recipe, you might also like:
📖 Recipe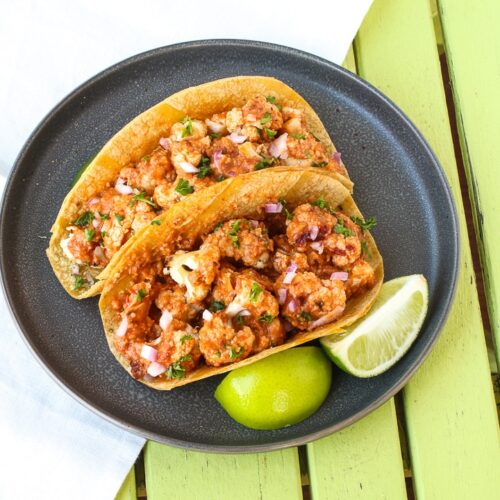 Cauliflower Tacos with Romesco Sauce
Spicy, saucy Cauliflower Tacos with Romesco Sauce is an easy sheet pant meal--destined become your all-time favorite taco. Vegan, WFPB, GF.
Print
Save
Saved!
Pin
Rate
Ingredients
1

large head cauliflower

cut into bite-sized florets and dried well

3

medium plum tomatoes

cut in half (or 4 Roma tomatoes)

4-6

cloves

garlic

whole and unpeeled

½

cup

unsalted roasted almonds

or, sub chickpeas for a low fat/nut-free option. See notes

1-2

dried red peppers

rehydrated in boiling hot water for 15 minute, seeded and roughly chopped (nora or ancho. For substitutions, see notes)

2

tablespoons

sherry vinegar

Optional

¼ to ½ avocado

see notes

Sea salt & freshly ground black pepper to taste

8 to

tortillas

heated (I like oil free corn tortillas for these tacos)
Instructions
Preheat the oven to 400 degrees Fahrenheit. Get out 2 sheet pans, and line one with parchment paper. Position one oven rack about 4-5 inches from top, and the second rack about 4-5 inches below the top rack.

Toss the cauliflower in a little sea salt, and spread out evenly over the baking sheet with the parchment paper. Place the tomatoes (cut side dowand the garlic cloves on the second baking sheet with no parchment paper.

Place the tomatoes and garlic in the oven on the top rack, and place the cauliflower on the second rack. (Offset the baking sheets so the cauliflower doesn't burn.) Roast for 15 minutes.

If using dried peppers, while the vegetables are roasting, rehydrate them in boiling hot water. When softened, remove the seeds and roughly chop.

After 15 minutes, remove the cauliflower from the oven, and set to broil-high. Center the tomatoes under the flame, and broil for 3-5 minutes until the skin is charred and loosened. While the tomatoes are charring, turn over the cauliflower. Remove the charred tomatoes and garlic from the oven, set the oven back to 400 degrees, and place the cauliflower back in the oven. Continue to roast for another 5 minutes or until the cauliflower is tender but al dente.

When the tomatoes and garlic have cooled slightly, remove the tomato skins and peel the skins off the garlic.

In a food processor, add the garlic cloves and almonds. Pulse well until finely ground. Add the tomatoes, peppers and sherry vinegar, and process until well blended but still chunky. Add the avocado (if using), and blend just long enough to combine, but don't over blend. (Over blended avocado can develop and unappetizing texture.)

In a mixing bowl, toss together the roasted cauliflower florets with the romesco sauce--or if desired, serve the sauce on the side.

Serve in heated tortillas with diced onion, lettuce or cabbage, chopped cilantro, shredded carrots--or whatever you like on your tacos!
Notes
About the peppers. Nora pepper are a traditional romesco ingredient, but can be hard to find. I like to use ancho (chipotle) peppers for this taco recipe. However you could also use jarred roasted red pepper, canned chipotles in adobo sauce or roast a fresh red bell pepper alongside your tomatoes.
Dried ancho peppers can be hot, so may want to wear rubber gloves and be careful not to touch your nose, mouth or eyes after handling. To decrease the heat, remove the seeds before placing in the food processor.
About the almonds. This recipe calls for roasted almonds. If you can't find unsalted roasted almonds, you can roast whole, raw almonds by cooking them for 10-15 minutes, either in the oven at 350 degrees, or in a dry pan on the stove top.
Almonds add fat and are problematic for people with nut allergies. I have not personally attempted this, but I believe you could get good results substituting chickpeas for some or all of the nuts. Rolled oats may be another good option.
About the avocado. Traditional romesco sauce is made with oil. I like to use some avocado to keep this oil free. It's delicious and rich, but again, if you wan't to reduce the fat, don't go with this option. The sauce will be delicious without it. You can also reduce the nuts if desired if you go with this option.
About the texture. Romesco sauce should be fairly think and chunky, not runny or watery. But tomatoes can really vary in water content, so you could get a runny sauce. If so, try adding a little more nuts, some rolled oats, or just pouring it into a pan and cooking off some of the water before serving. (I use the 3rd option.)
Nutrition (approximate)
Calories:
339
kcal
|
Carbohydrates:
46
g
|
Protein:
12
g
|
Fat:
13
g
|
Saturated Fat:
2
g
|
Sodium:
460
mg
|
Potassium:
770
mg
|
Fiber:
8
g
|
Sugar:
8
g
|
Vitamin A:
385
IU
|
Vitamin C:
76.6
mg
|
Calcium:
153
mg
|
Iron:
3.4
mg