Do you know anyone who doesn't love tacos? I surely do not. That's why I love serving all kinds of tacos at casual get-togethers. But they can be a tad messy if you're not sitting down to eat. That's when these vegan Mini Taco Cups can come in so dang handy.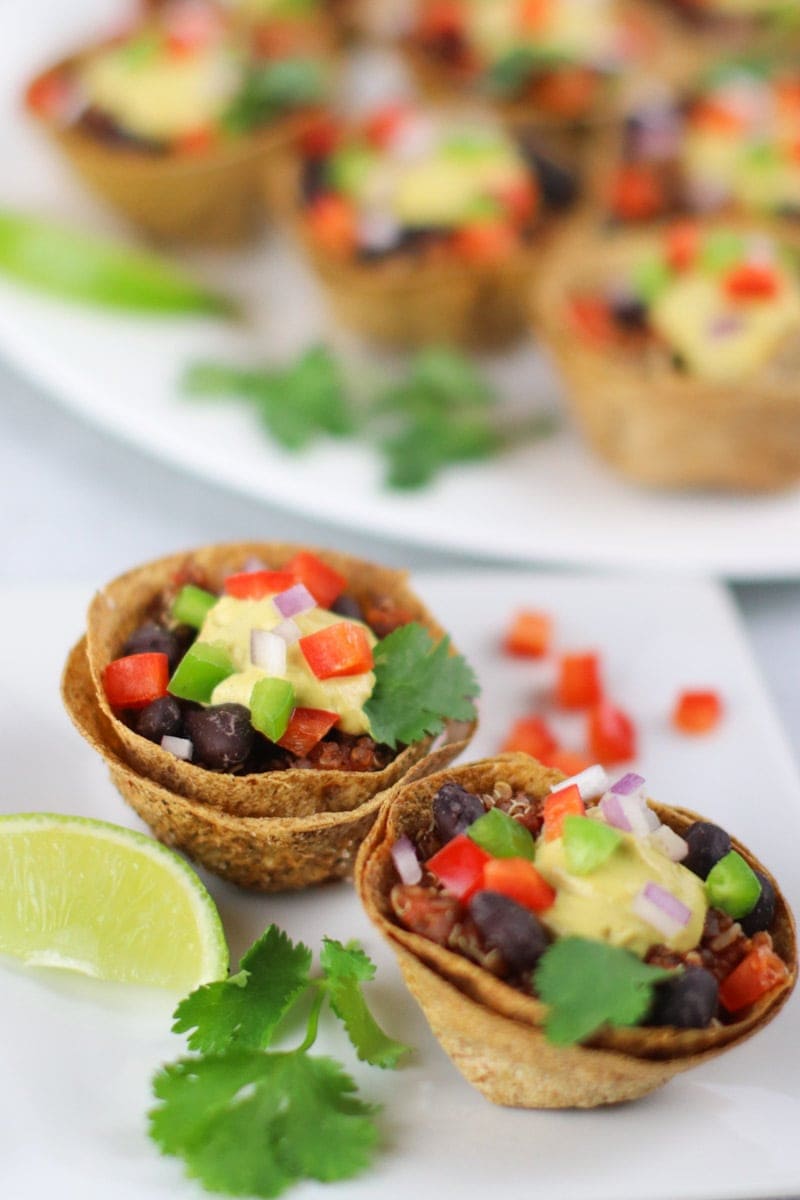 Choose your own mini taco cup adventure
First, like most minis, they're pretty damn adorable. Can't you just hear their tiny little voices screaming 'pick me! pick me!' from the buffet table?
Second, you can make about a thousand different variations of these mini tacos by mixing up the toppings. Black beans—or olives? Taco 'meat' – or refried beans? (Or both!) Homemade queso sauce or guacamole—or shredded vegan cheese? (Okay, you know how I feel about fake vegan cheese, but hey, it's your party and you can Daiya if you wanna.)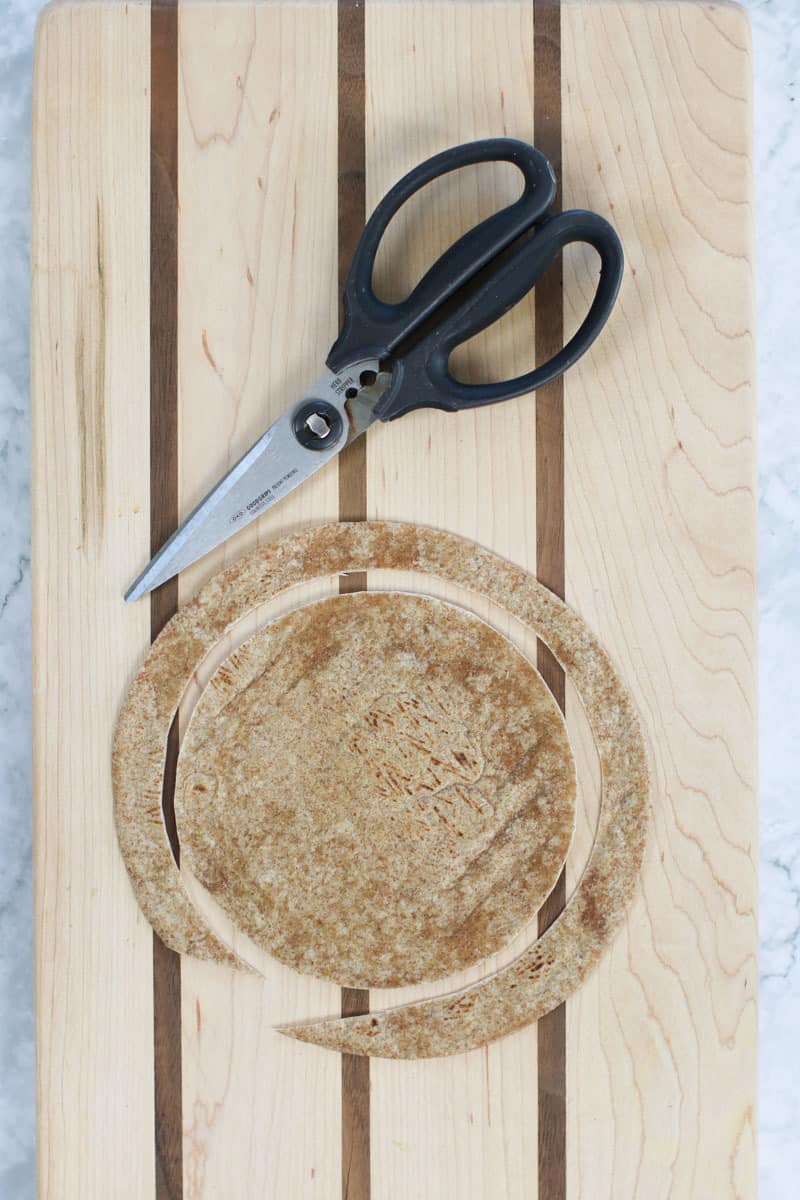 Finally, in a pinch--or if you love to 'assemble' but hate to cook—you could even buy all your mini taco cup toppings at the store. (See my list of optional substitutions in the recipe notes.) But whatever you do, don't skip the beans!
If you've heard of the Hispanic Paradox, you know why. Studies show that despite income and healthcare disparities, Hispanics in the U.S. live longer than Caucasians. Turns out beans play a significant role in longevity. (Read more about the Hispanic Paradox.)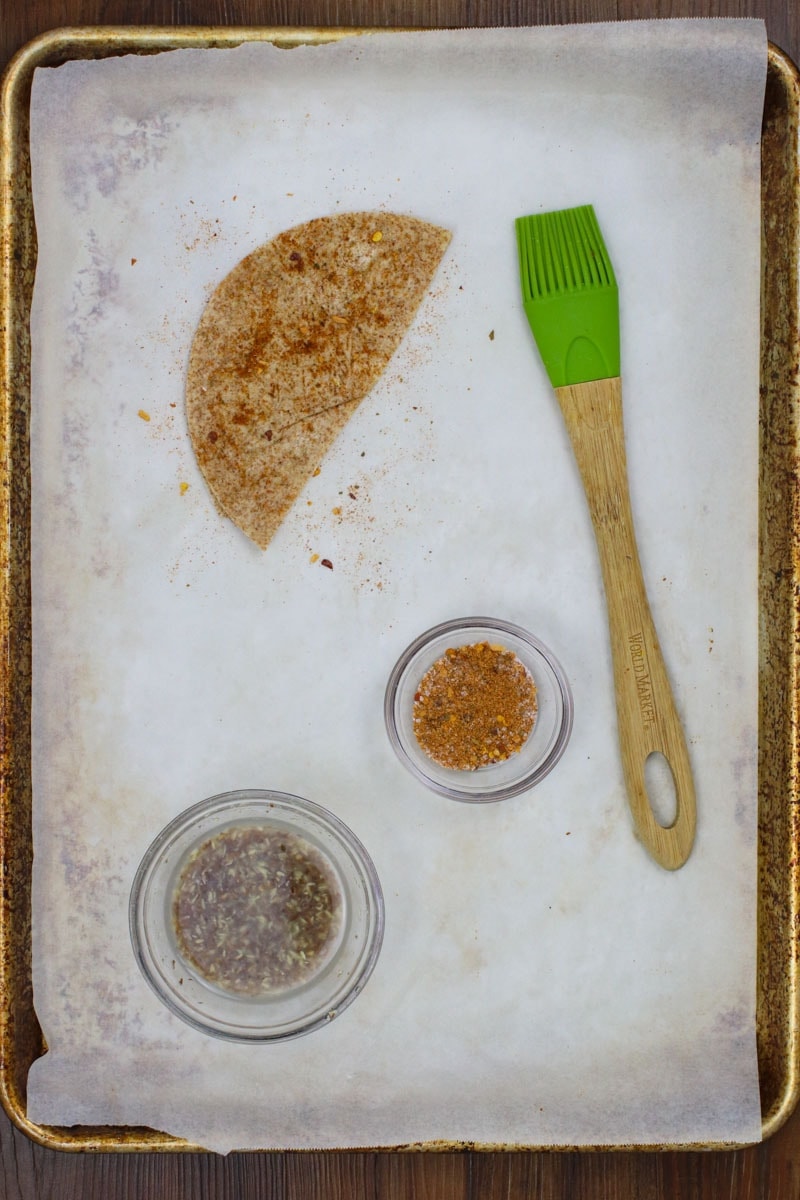 Buy (or make) the right tortillas
Getting these little mini taco beauties to come out right is really all about the cups. A nice, thin tortilla works best here, and trust me, I tried a bunch. Some don't work AT ALL in this no-oil recipe. (Again, see the recipe notes for tortillas I tried and failed.)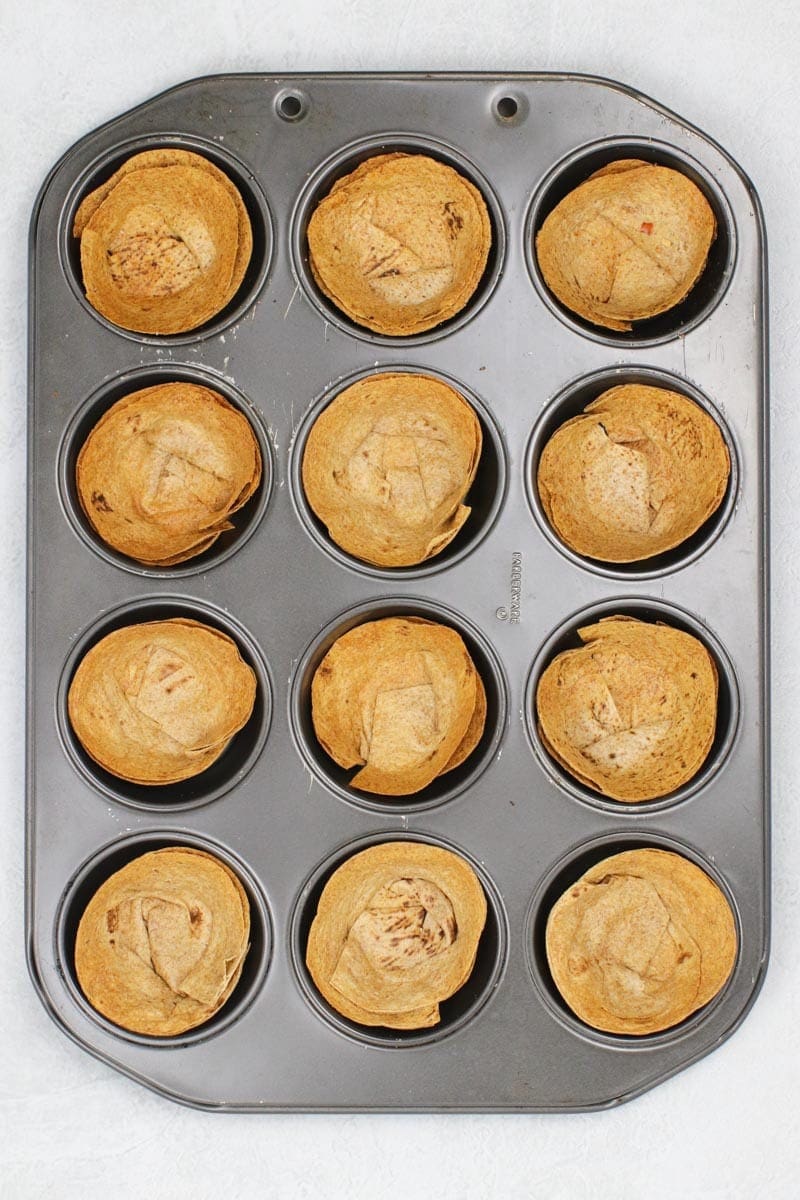 But even without adding oil, you should be able to get your shells crispy by 1) choosing (or making) the right tortillas, 2) coating them lightly with a mixture of sea salt and taco seasoning and 2) baking them for the right amount of time.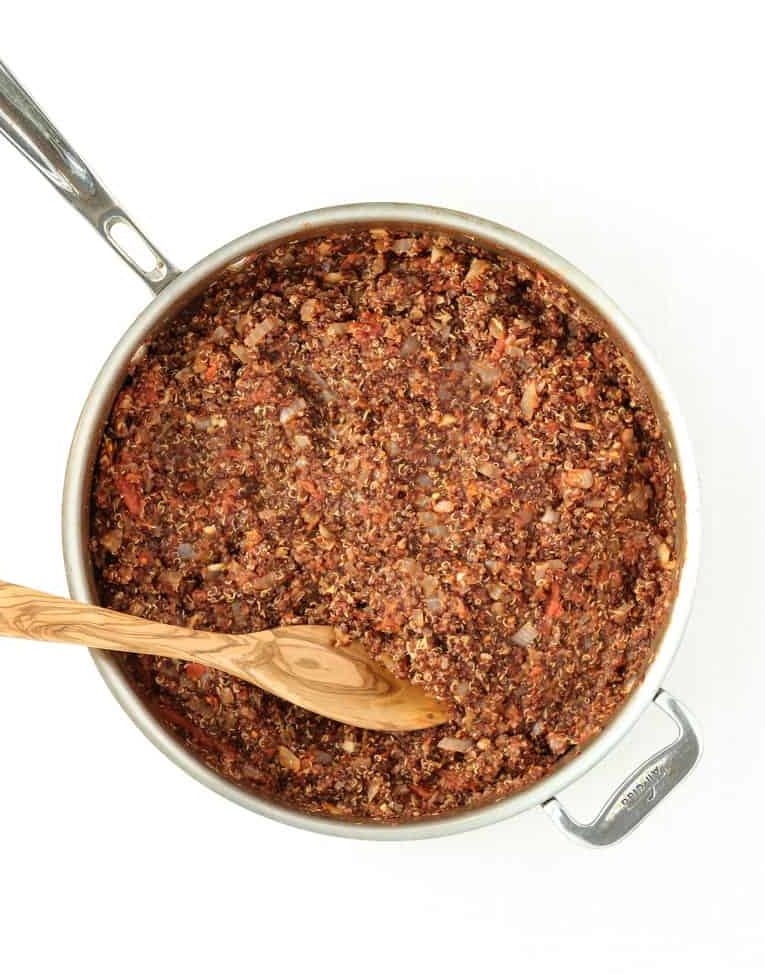 Once your mini taco cups are out of the oven and cooled—now that's when the fun really starts. Think of these empty shells as your artist's palette, and let your creativity flow!
You can follow the topping suggestions below or make up your own. Just shoot for a nice balanced mix of spicy, creamy, crunchy, rich, acidic—you get the idea.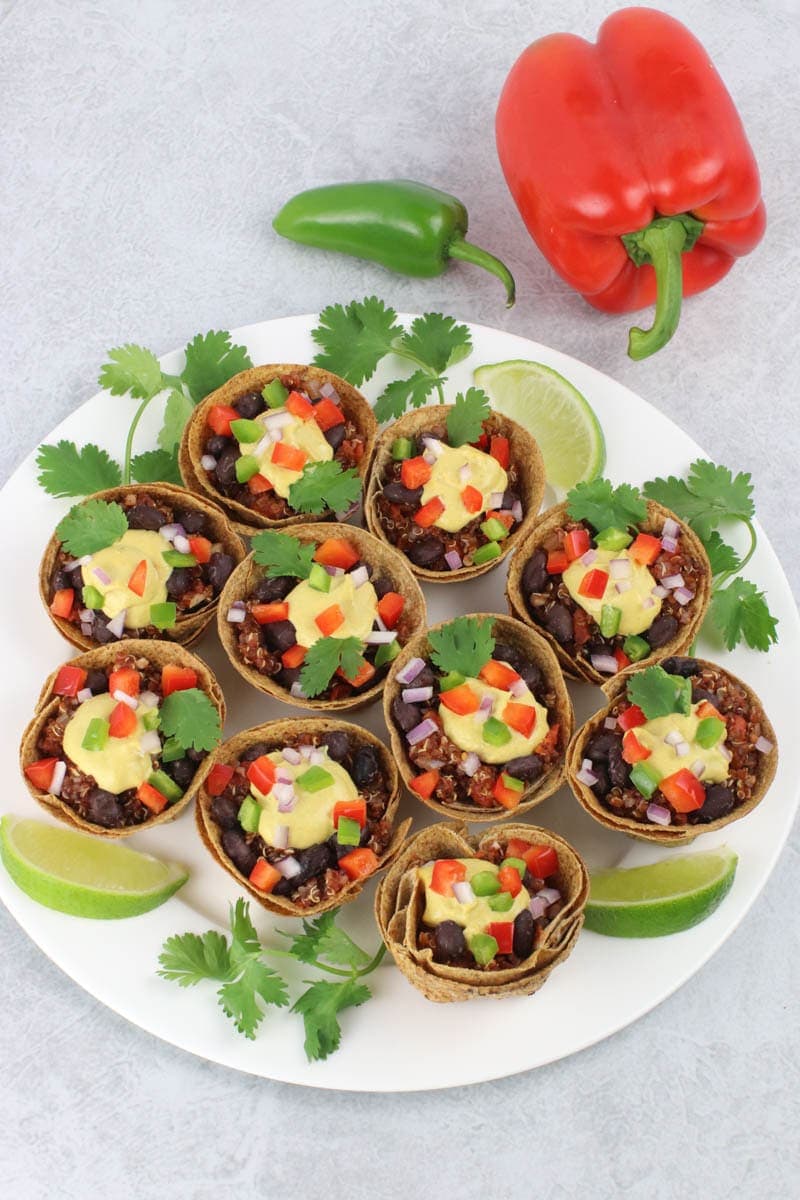 Oh—and don't forget color! The more colorful you make your mini taco cups are, the faster they're going to leap right off the platter onto your guests' plates.
Then, everyone's gonna want your recipe.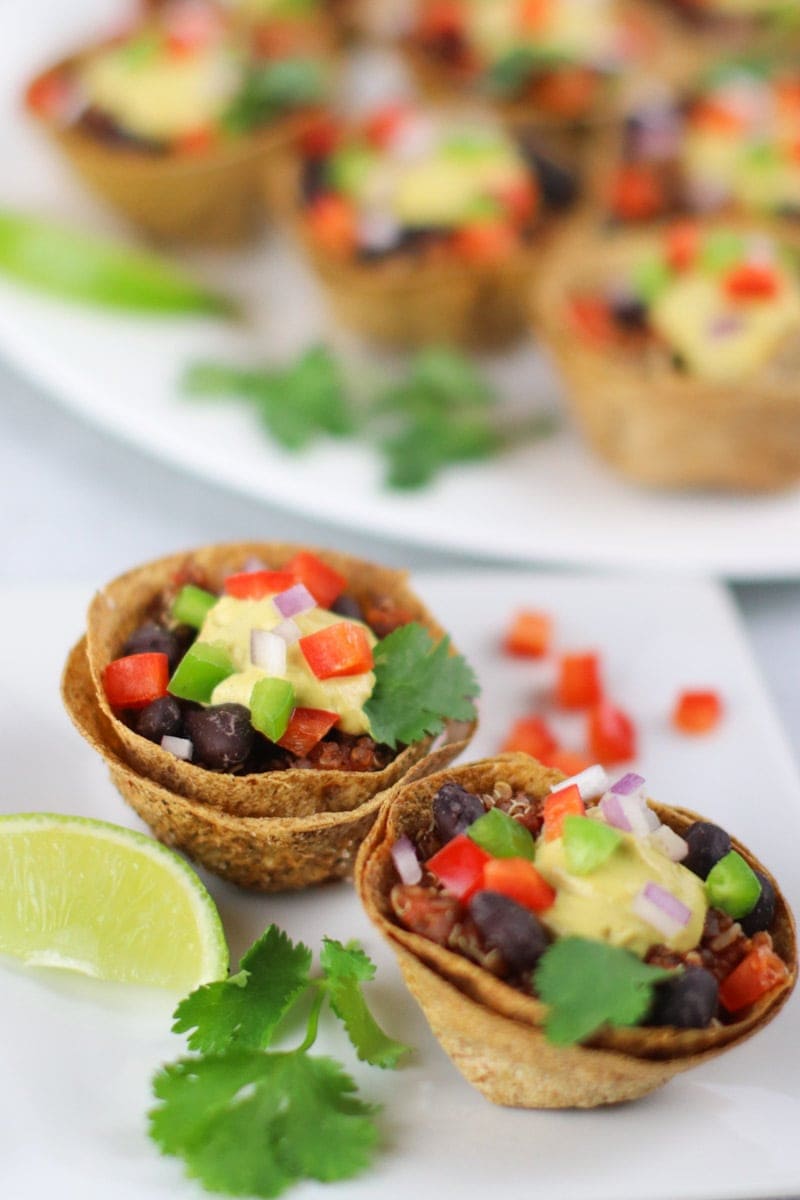 📖 Recipe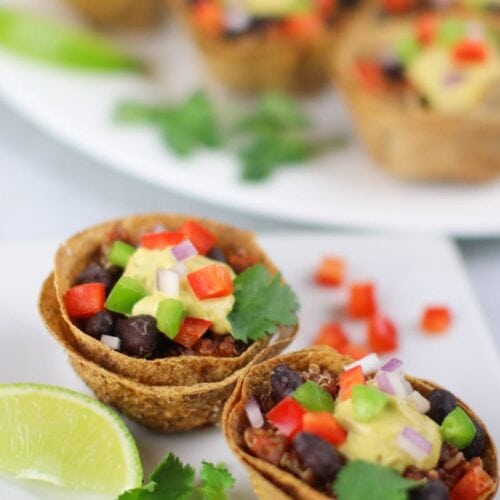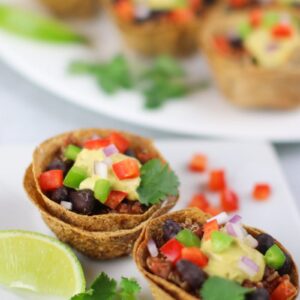 Mini Taco Cups
Mini Taco Cups are a healthy, vegan/WFPB party appetizer. A taco-licious crowd-pleaser that's easy to make and fun to eat.
Print
Save
Saved!
Pin
Rate
Ingredients
For the mini taco cups
6 - 6

inch

whole wheat tortillas

(or cut down to size, see notes. GF or oil-free/homemade if desired)

1

flax egg

(1 tablespoon ground flax + t tablespoons of water, allowed to sit for 15 minutes)

Taco 'salt'

1 teaspoons salt + 1 teaspoon taco seasoning
For the toppings
1

cup

Easy Cheezy Sauce

(about ½ a recipe. For the queso variation, make the thick version of the sauce using ¾ cups of stock. Then add ½ cup of salsa. See notes)

¼

can black beans

1

large jalapeno pepper

finely diced

½

red pepper

finely diced

¼

red onion

finely diced

Optional: Cilantro for garnish
Instructions
To make the taco cups
Preheat the oven to 350 degrees Fahrenheit. Get out a muffin pan.

If your tortillas are larger than 6 inches, cut them down to size. (I used a 6 inch bowl. Save the scraps to bake up as chips.) Then, cut each 6 inch tortilla in half.

Brush one side of each half very lightly with flax egg and sprinkle with taco salt. (This not only adds flavor, it helps make the cups crispy.)

Fold each half into a cone shape (with the salt on the outside) and tuck the bottom under to create a flat bottom. Push the tortilla cup into the muffin pan, firmly pressing the bottom section and side seam so that they form a cup.

Bake for 15 minutes, or until the sides and bottom are firm, crisp and no longer flexible. (Note-your baking time might vary depending on they type/thickness of your tortilla.)
To assemble
Fill each cup with red quinoa taco 'meat' (make sure to drain any liquid first) to about ⅔ full. Top with black beans, a dollop of thickened vegan queso cheeze sauce (see notes), and finely diced red pepper, jalapeno and red onion. Or, substitute other toppings of your choice. Garnish with cilantro if desired.
Notes
About the Tortillas

GF/OIL-FREE: You can easily find store-bought tortillas that are Gluten Free or made with little oil (about ½ tsp. per tortilla), however it's very hard to find oil-free tortillas. (Let me know if you find some!) To make your own 100% oil-free tortillas: mix 2 cups whole wheat flour, and 1 teaspoon each of baking powder and salt, with 1 cup of water. Mix completely, knead until soft, roll out very thin on a floured surface, cut into 6" rounds, then cook on medium-high heat for about 30 seconds to 1 minute on each side.
'TORTILLAS' THAT DIDN'T WORK: I tried both cassava and corn tortillas for this recipe, but they didn't work well. Because we're not adding any oil, you need a thin tortilla that will be light and crispy when you bite into it after baking, and these tended to create a too-dense, too-chewy texture. I also tried brown rice wrappers. They're great for wrapping, but refuse to be molded into cups! And wonton wrappers would probably be perfect--IF they didn't contain egg, but they all seem to. 🙁

About the cheese sauce: When you first make the Easy Cheezy Sauce, it will be a bit thin and runny. It will thin after a couple of hours or overnight in the fridge. However, if you need to thicken it fast, you can cook it over low heat in a skillet, stirring continuously, until it thickens. This takes 5-10 minutes.
Optional Toppings:

Refried beans (add or sub for taco meat)
Guacamole or chopped avocado (add or sub for queso)
Vegan shredded cheese and/or sour cream (sub for queso)
Green onion (sub for red onion)
Chopped tomatoes (sub for red pepper)
Sliced black olives (add or sub for black beans)
Nutrition (approximate)
Calories:
89
kcal
|
Carbohydrates:
10
g
|
Protein:
3
g
|
Fat:
4
g
|
Saturated Fat:
1
g
|
Sodium:
135
mg
|
Potassium:
74
mg
|
Fiber:
2
g
|
Sugar:
1
g
|
Vitamin A:
170
IU
|
Vitamin C:
8
mg
|
Calcium:
30
mg
|
Iron:
0.9
mg