Everything you've always wondered about cacao smoothies.
A couple of months back, I had oral surgery and couldn't eat solid food for days. That's when I decided to delve deep into the wondrous world of cacao smoothies. I hadn't had a chocolate shake since becoming vegan. And I figured if I was going to feel like crap, I might as well indulge myself a little.
I just kept throwing stuff in the blender to see what I liked. And honestly, there's not much I didn't like about these cacao smoothies. So I've included plenty of variations to choose from. Low fat, cocoa vs cacao, vanilla or no vanilla, banana or sweet potato (or both)—it's totally up to you!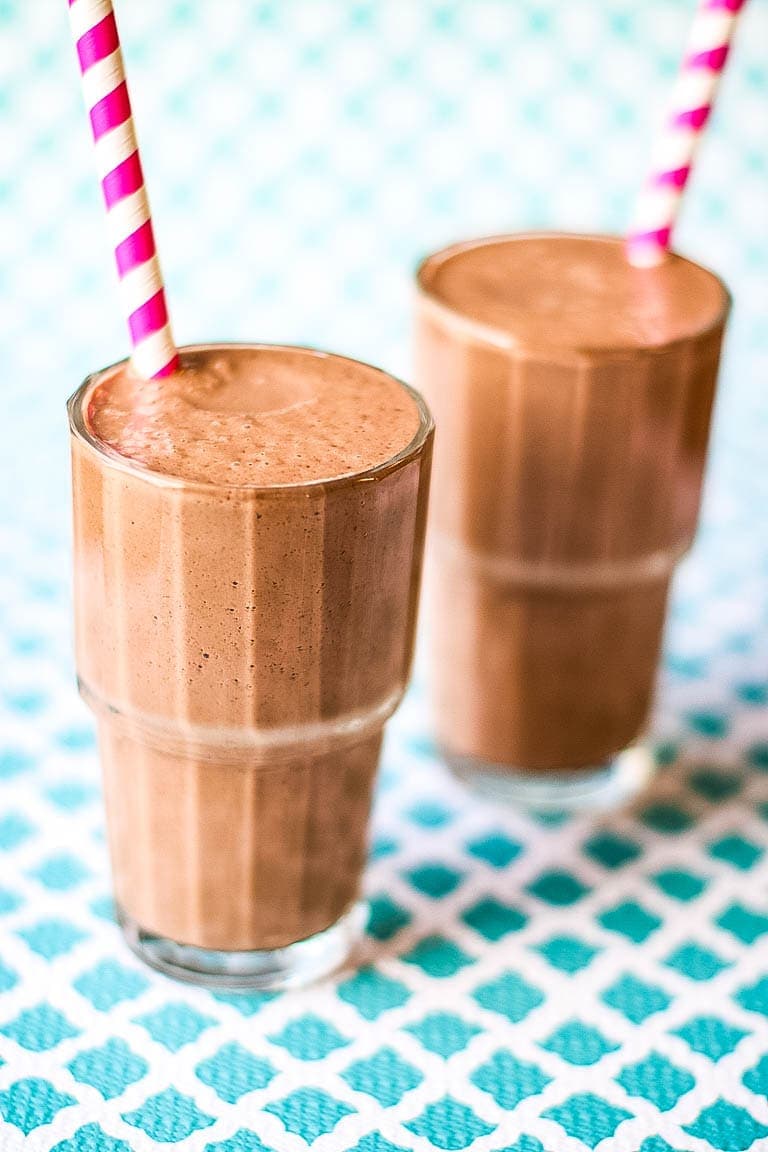 Cacao benefits
Cacao is considered a bit of a superfood because it's rich with antioxidants. Antioxidants prevent damage in our bodies from free radicals and help us ward off diseases like cancer. Cacao is also particularly high in magnesium.
If you've read articles extolling the virtues of chocolate (e.g., helping improve depression, blood pressure, circulation, etc.), those benefits come from the cacao in chocolate, not the fat or sugar, which are not so healthy.
Cacao versus cocoa
Cacao and cocoa are basically the same thing, with the exception of how they're processed. Cacao is raw and cold-pressed, while cocoa is processed (cooked) at higher temperatures. So, like many other foods, raw cacao may retain more of its antioxidant properties than cocoa.
That said, cocao is also more expensive. So if budget is an issue, or you can't find cacao (you can buy this brand online or I found it locally), it's fine to use cocoa instead. Just make sure it doesn't have added ingredients like sugar.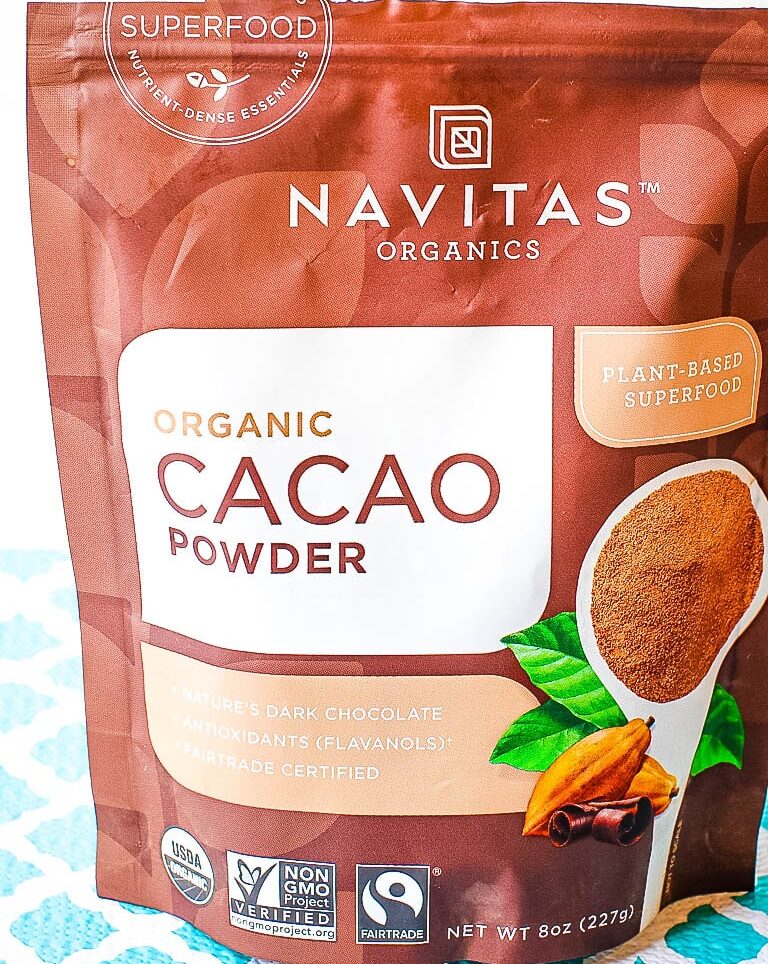 Are cacao smoothies healthy?
Other than the cacao, most of the other ingredients in this smoothie—plant milk, dried fruit and nut butter—are considered foods we should limit on a whole food plant-based diet. So while I enjoy a cacao smoothie on occasion as a treat, I'd recommend limiting them like I would any other dessert.
How to make a cacao smoothie
One of my favorite parts about this cacao smoothie is how simple it is to make. You basically just dump everything in a blender and process. In fact, my Vitamix has a smoothie setting, so I just choose that, make sure the lid's on tight, and wait.
Because I like to use sweet potatoes in my cacao smoothie, a little cooking is required. (It takes about 8 minutes to boil a diced sweet potato.) And your cacao smoothie with be thicker and creamier if you start with frozen banana and/or sweet potato, which takes a little bit of planning. So now, I just keep frozen bananas and sweet potatoes in the freezer, so we can whip up a smoothie whenever we want one.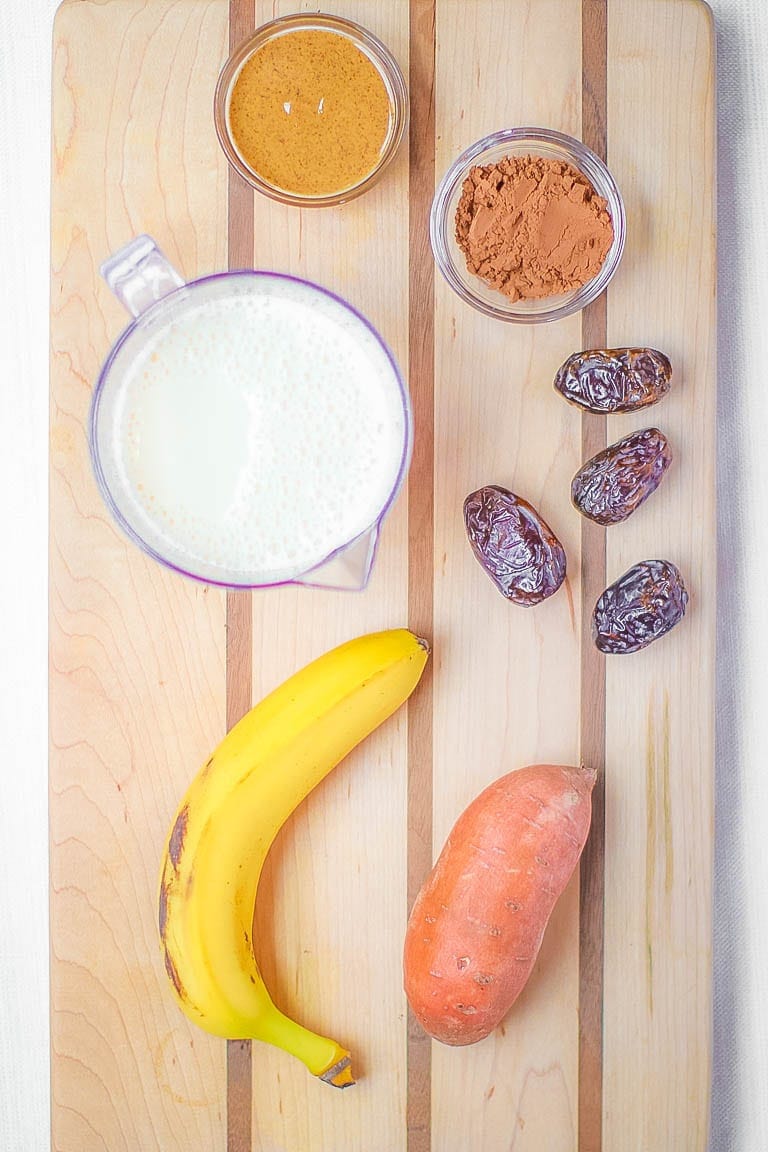 How to make a cacao smoothie without banana
A lot of people make their chocolate smoothies with banana alone, but I find you can really taste the banana. I wanted to create a recipe where the chocolate flavor would dominate—and also that didn't rely so much on bananas, because Hemant eats them almost every day for breakfast.
I personally love this cacao smoothie with just the sweet potato—and no banana at all. I find that I still get a nice thick smoothie, and I don't really taste the sweet potato. But for the official recipe, I went half and half. I think this variation is likely to please most palates.
Cacao smoothie with almond milk
I usually make this smoothie with soy milk or oat milk, because that's what I tend to have on hand. I know a lot of people drink almond milk these days, so that's what I note in the recipe. But really, any plant milk is fine here.
And, it's your choice whether you use plain or vanilla plant milk. I've tried both and don't notice much difference. Again, I'd just go with whatever I have on hand. However, you can add a drop of pure vanilla extract if you like for a hint of vanilla flavor.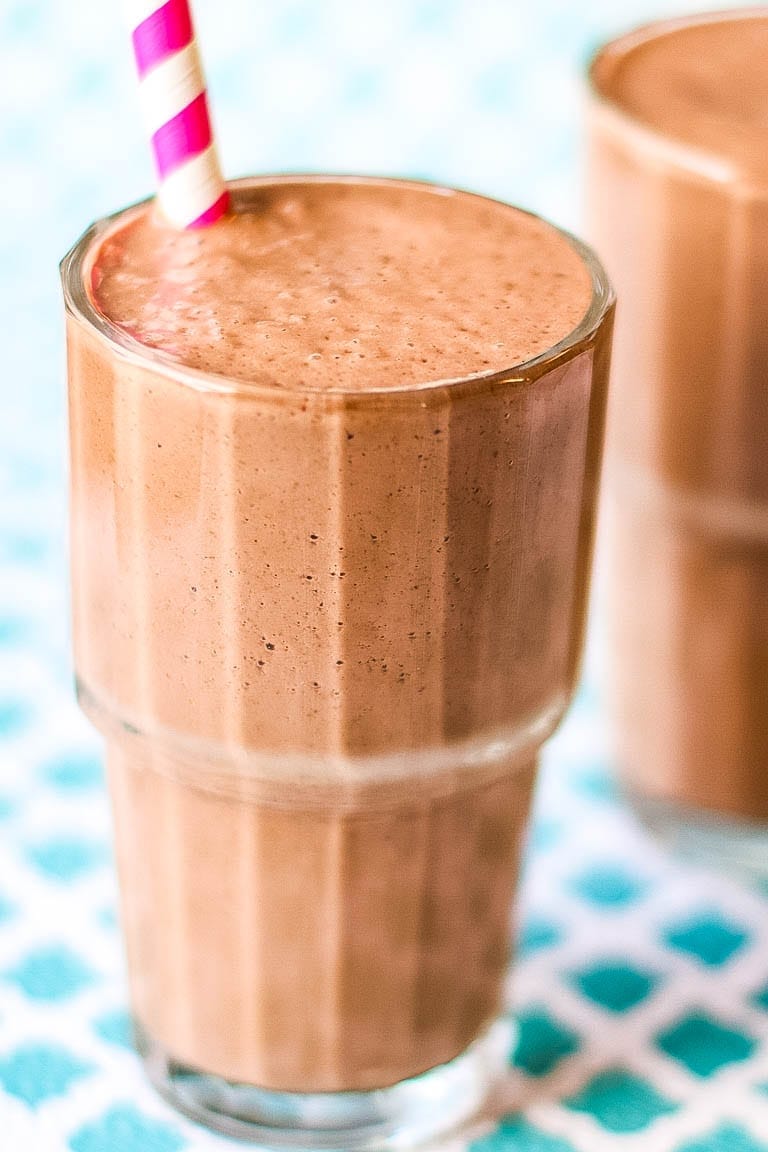 Cacao smoothie without nut butter
I've made this variation too, when I wanted a lower fat smoothie. I just upped the ice and the sweet potato a little to keep it thick. It was delicious—though definitely not as rich. More like a thick, cold glass of chocolate milk.
But if you like nut butter and don't mind the fat, almond butter and peanut butter both work well. The peanut butter's flavor is more pronounced, while the almond butter is subtler, letting the other ingredients shine through.
Cacao smoothie with water
Of course, you don't have to use plant milk at all! Since plant milk is a food we limit on a whole food plant-based diet (and I probably already drink more than I should!), I'll sometimes just make this cacao smoothie with water. I usually increase the ice a little to thicken it, use a little more banana or sweet potato, and use about half as much water as I would plant milk, but it works fine.
Can you tell I've been making a whole lot of cacao smoothies?
If you like this whole food plant-based diet recipe, you might also like: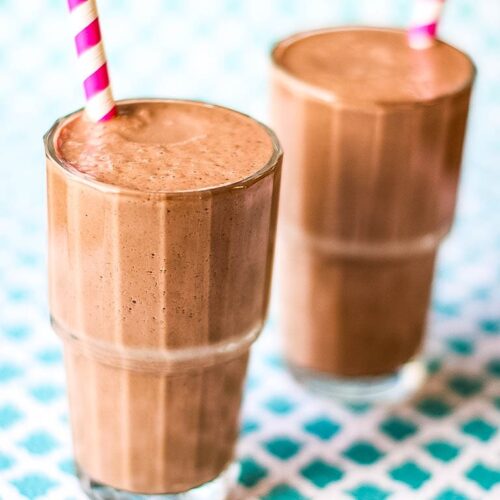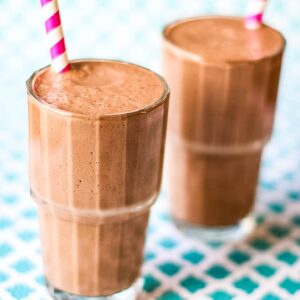 Cacao Smoothie
A thick & creamy Cacao Smoothie (chocolate shake), with plenty of options to make it YOUR way. A healthy, whole food plant-based treat! WFPB, Vegan, GF.
Print
Pin
Rate
Ingredients
1

banana

cut into 2 (or more) pieces (preferably frozen. See notes)

½

cup

cooked sweet potato

1-inch pieces (preferably frozen. See notes)

2

cups

plain or vanilla almond milk

or other plant milk

3-4

Medjool dates pitted

chopped and softened (see notes)

2

tablespoons

unsweetened natural style almond butter

or sub peanut butter

2

tablespoons

cacao powder

or sub cocoa powder

1

cup

ice cubes

or more, for a thicker smoothie

Optional: ½ teaspoon pure vanilla extract

if not using vanilla plant milk

Optional add ins: 1 tablespoon chopped mint leaves OR ½ teaspoon cinnamon
Instructions
Add all of the ingredients to a blender and process 1-2 minutes, or until your smoothie is thick and creamy.
Notes
You can use all sweet potatoes or all bananas if you like. I personally love this smoothie with just sweet potato. If you're worried about tasting them, a little peanut butter completely masks the taste, but I don't really notice them, even with just the almond butter. 
I like to soften my dates before adding them to my blender to help release their sugars and make them easier to process. Just add the chopped dates to a small bowl with about 1 tablespoon of water and microwave on high for 30 seconds.
Nutrition (approximate)
Calories:
325
kcal
|
Carbohydrates:
54
g
|
Protein:
7
g
|
Fat:
12
g
|
Saturated Fat:
1
g
|
Sodium:
346
mg
|
Potassium:
769
mg
|
Fiber:
9
g
|
Sugar:
33
g
|
Vitamin A:
4810
IU
|
Vitamin C:
5.9
mg
|
Calcium:
395
mg
|
Iron:
1.9
mg