(Plus some interesting facts about green smoothies)
By now, we all know how important it is to eat enough dark leafy green veggies. Even when we try our best to eat healthfully, it's not hard to get caught short on the recommended daily servings. I mean, how many things can you do—like perfect clockwork—every single day. This Super Green Smoothie with Ginger can be a great way to stay on track.
How to make a super green smoothie
To me, a great green smoothie should have just enough fruit to balance the bitterness of the greens. Add a little kick with fresh ginger and the brightness of a lemon, and you've got a delicious way to get some powerful nutrients into your body.
Keep the ingredients simple
To keep things simple, there shouldn't be too many ingredients. But there also shouldn't be too few, unless you're one of those people who gets excited at the prospect of drinking liquefied kale, for example.
This recipe has more than the 3 ingredients of my Hot Pink Smoothie, but you should still be able to make it in about 5 minutes. Plus, each ingredient here not only delivers health benefits, it adds to the flavor.
Skip the measuring
To make this recipe fast and easy, there really aren't any precise measurements you need to follow. Okay, for those of you who are sticklers for precision, I've include the approximate volumes for a handful of spinach or a 1-inch knob of ginger. But really, feel free to be a little random here in the quest for speed and simplicity. The only thing I'd be a little careful with is the water. Too much, and it will be watery; too little and it won't blend.

Do a little prep
If you know you're going to make a lot of these green smoothies, a little prep can make things go even… well, more smoothly. For example, you could chop up some apples in advance and keep them in the fridge. You could peel a whole bunch of ginger, process it in the food processor, and freeze it. (Or buy frozen minced ginger at the store.)
And I know some people who swear by tossing the entire lemon into their smoothies. I think this can get a little bitter, but you do get more fiber that way, so feel free to try it. Just make sure to quarter it first.
Don't stress if it's foamy
Any smoothie that contains insoluble fiber from ingredients like the apple in this recipe will develop some foam. So the more insoluble fiber in your smoothie, the foamier it will probably be.
But insoluble fiber is so important in out diets, as it provides much needed food for our microbiome. So sure, you could scrape the foam off the top or use a lower fiber fruit like banana or melon, but I say just embrace the foam. Your gut flora will thank you.
Q. Hey, why is this green smoothie foamy? A. It's from the healthy, insoluble fiber. Drink it! It's food for your microbiome.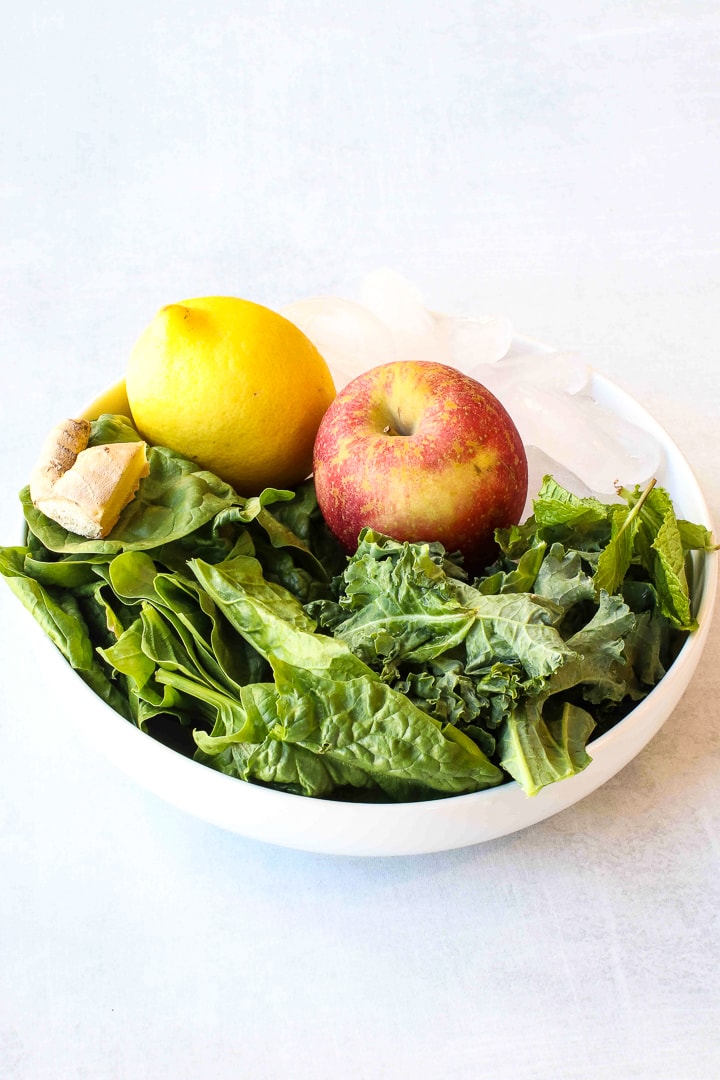 Are green smoothies healthy?
Those of us who follow a whole food plant-based diet may wonder if green smoothies are healthy—or any smoothies for that matter. After all, blending is processing, so they're technically no longer whole foods.
Luckily, there's some good research that tells us, yes, smoothies can be healthy. First, pretty much anything that gets us to eat enough fruits and vegetables—especially dark leafy greens—is a good deal if we wouldn't manage to get that nutrition otherwise.
Even more than chewing, when it comes to breaking down cell walls to release nutrients, blending up smoothies is a good thing. That's because blending fruits and vegetables significantly improves the bioavailability of their nutrients.
But the worry about smoothies is that they don't allow as many unchewed, undigested food particles to make it to your colon. So there's not as much food for your microbiome—which is the fundamental reason why whole foods are preferable to processed.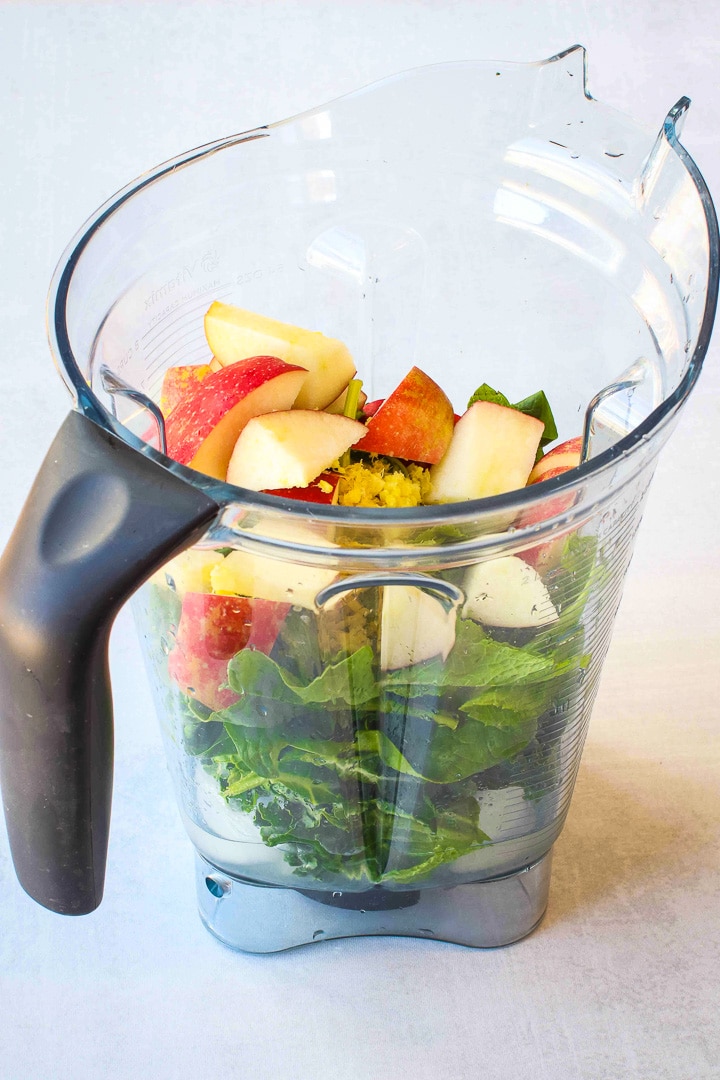 Do green smoothies help you lose weight?
There's a lot of hype around using smoothies for cleanses or diets. However, green smoothie studies show that if we're not careful, smoothies can be detrimental to our weight loss efforts.
Why? Because we're able to consume them so quickly, we may end up feeling less satisfied and eating more calories overall. The solution is to drink your smoothie slowly—about as slowly as you would if it were a bowl of soup and had to eat it with a spoon. If you can manage that, smoothies can indeed help you lose weight—so long as they help you reduce your overall calorie intake.
How to freeze spinach & kale
To make my smoothies on a budget, I like to buy giant bags of spinach, kale or a power greens blend at Costco. When you research 'how to freeze spinach' or other greens online, everyone will pretty much say you need to blanch them first.
That may be true for the 'best results.' But I'm too lazy to blanch and drain a big bag of greens after my grocery trip, so I just take out what I'm going to use for the week, and freeze the rest in a tightly sealed Ziploc bag. (Squeeze out as much air as you can.) I go through greens pretty fast, so they're never in the freezer more than a couple of weeks, and for smoothies or cooking, they're just fine IMO.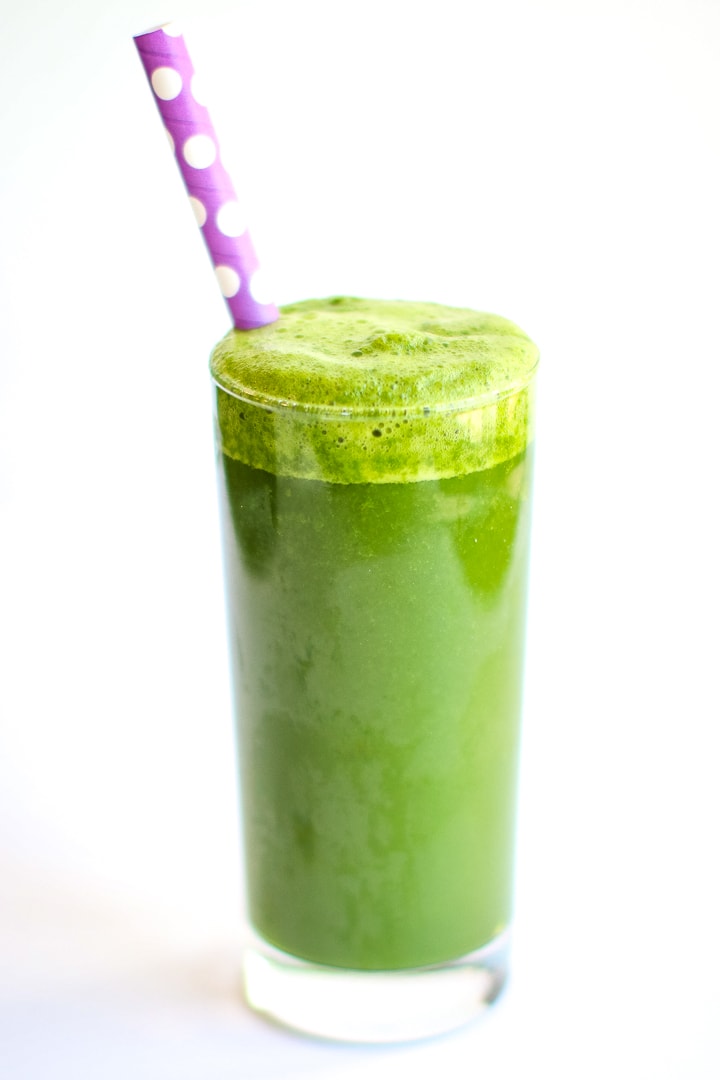 Super green smoothies—the final word
To sum it all up, green smoothies can be a great way to get more fruits and veggies in our diets. They can be a healthy part of a whole food diet—even though they're technically processed. And they can help you lose weight if you drink them s-l-o-w-l-y and they help you cut your overall calories. Just swap the apple for another if you're concerned about your blood sugar.
If you like this whole food plant-based recipe, you might also like: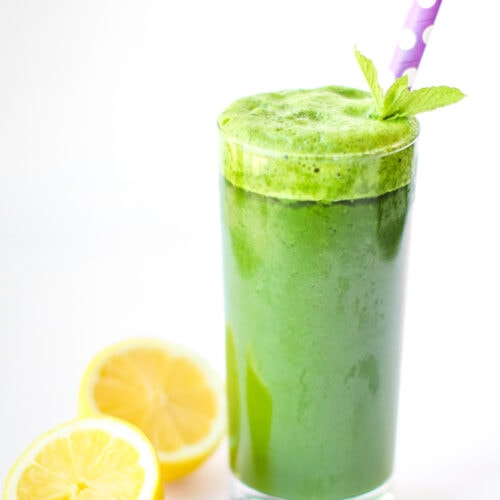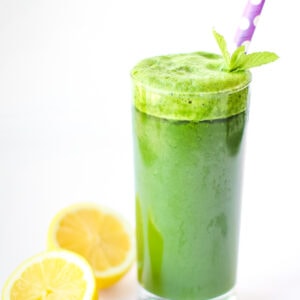 Super Green Smoothie with Ginger
An easy, healthy green smoothie with added kick from fresh ginger and brightness from lemon.
Print
Pin
Rate
Ingredients
1

handful

fresh spinach

(about 1 cup)

1

handful

fresh kale

(about 1 cup)

1

apple

cored and quartered (or sub 1 banana or mango, see notes)

1

lemon

juiced & zested (about ¼ cup)

1

inch

knob ginger

minced (about 1 tablespoon)

½

cup

cold water

(preferably filtered)

½

cup

ice

Optional: small handful fresh mint leaves

(about ¼ cup + more for garnish if desired )
Instructions
Place all of the ingredients in a blender, and process on high for 1-2 minutes or until smooth. Don't worry if it's foamy--that's from the healthy, insoluble fiber from the apple. It's good food for your microbiome!
Notes
Apples in smoothies can spike blood sugar. If that's a concern for you, substitute another fruit like banana or mango. I personally have mild blood sugar issues and never have problems drinking this smoothie, but please do what's right for you and adapt this recipe to your dietary needs.   
Nutrition (approximate)
Calories:
77
kcal
|
Carbohydrates:
20
g
|
Protein:
2
g
|
Fat:
1
g
|
Saturated Fat:
1
g
|
Sodium:
21
mg
|
Potassium:
337
mg
|
Fiber:
4
g
|
Sugar:
11
g
|
Vitamin A:
3105
IU
|
Vitamin C:
56.8
mg
|
Calcium:
59
mg
|
Iron:
1.1
mg