Whether you're feeding your own brood or have a crowd to please, this omnivore- and kid-friendly quinoa taco meat is the perfect menu option. Just 5 ingredients + 30 minutes!
This Quinoa Taco Meat recipe is for all you SUPER WOMEN (and you dudes, too)—who also happen to be vegan or vegetarian. The ones who always volunteer to host the team dinner, have the one house in the neighborhood all the kids hang out at, and who never give up trying to make healthy, meatless meals for your families. Vegans and non-vegans alike will love this meal that's quick, simple and easy on the budget.
(This post has been updated.)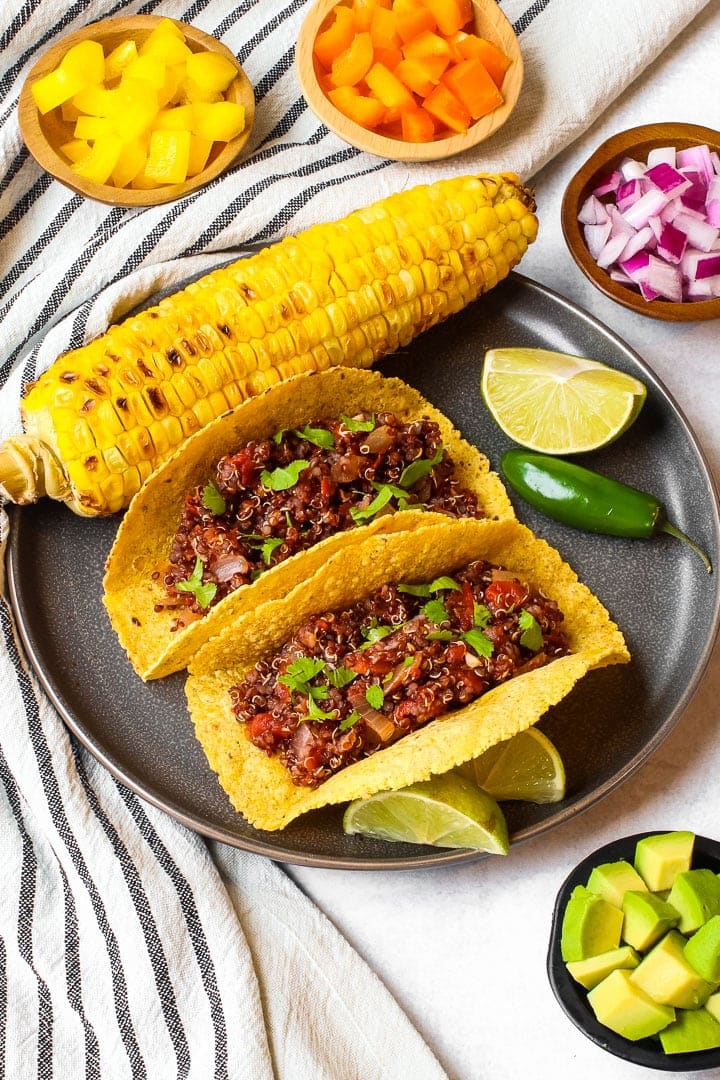 How to Make Quinoa Taco Meat
When my son was growing up, we ate tacos just about every other week. I mean, who doesn't love tacos? This healthy quinoa taco meat is vegan, and as easy to make as any 'regular' taco recipe—but SO much healthier. If you can boil water (or use a rice cooker) and know what to do with a skillet, you can make this recipe!
First you cook up your quinoa. I usually do it in the rice cooker, but a pot will do. And while you can use any kind of quinoa for this recipe, I always use red quinoa. Regular light colored quinoa can turn a little pink, which isn't that appealing. (Since people already think we vegans are kind of weird, I like to avoid pink food if I can.) I find red quinoa is just the right color to simulate taco meat.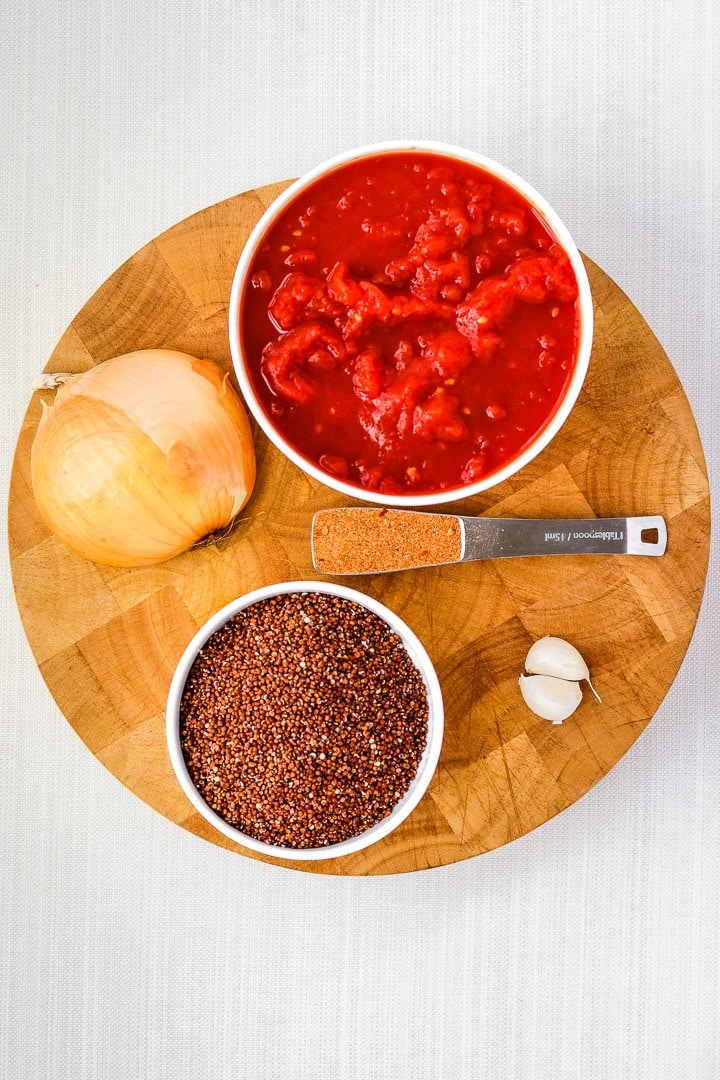 Next, you chop up your canned whole tomatoes. I like whole San Marzano tomatoes because of their amazing flavor (see the recipe notes.) But if you wanna save time, go ahead and used canned diced tomatoes.
I like to just pour the tomatoes into a bowl and give 'em a good mash with my potato masher, then I break up any bigger pieces while they're cooking. But a quick pulse in the food processor works just as well. Be careful not to over process, or you'll lose those yummy tomato chunks. Which is fine if your diners won't appreciate those.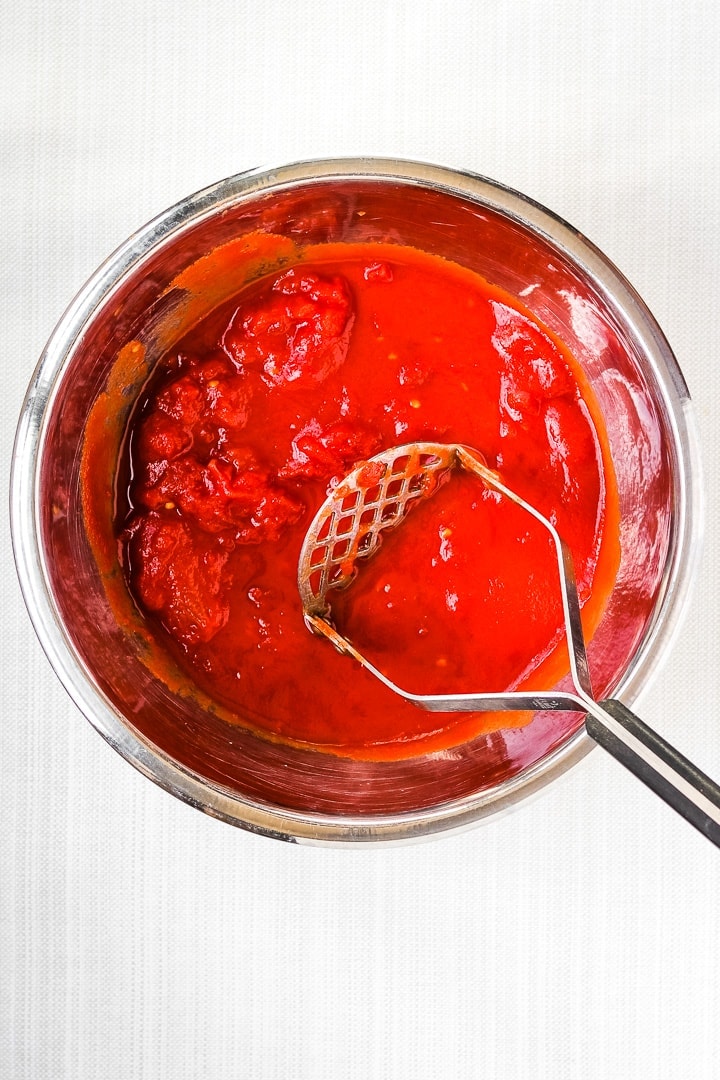 Finally, you simply saute your onion and garlic, then simmer all of your ingredients together—just like 'regular' ground beef tacos.
That's it! This recipe can easily come together in half an hour or even faster if you start your other ingredients while the quinoa is cooking. (See the recipe notes below.)
If you have a big crowd to feed, it's simple to double or triple this recipe to feed them all. Just serve these tacos up with shells and your favorite fixings, and you're good to go.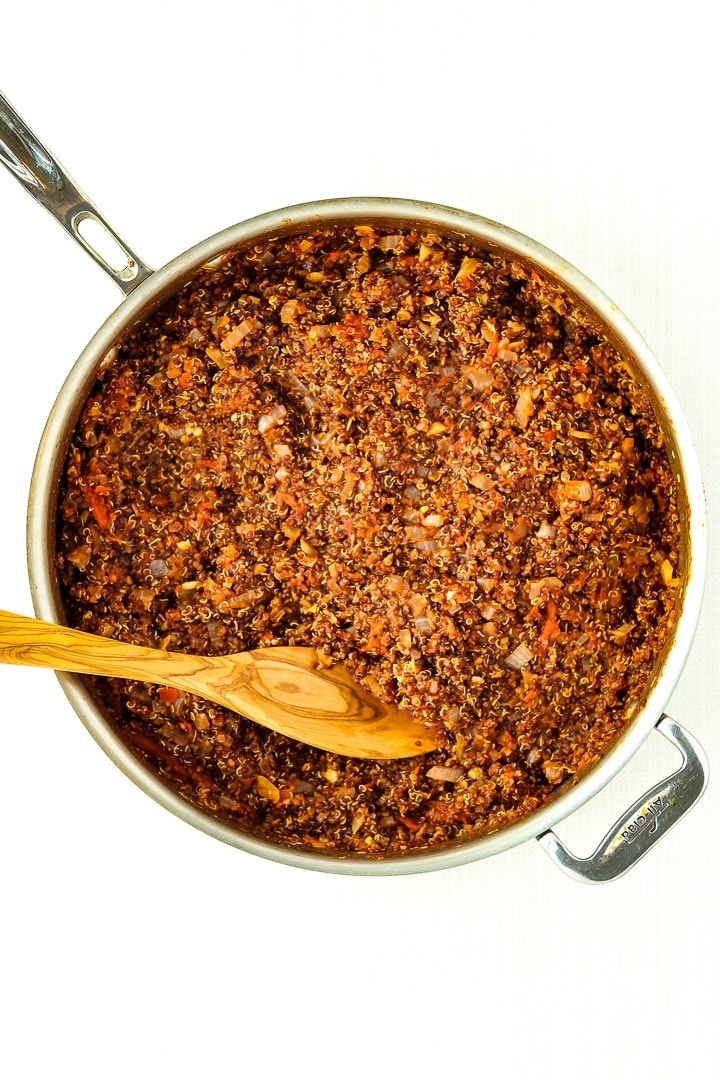 How to make Vegan Tacos for a Crowd
These quinoa tacos aren't just for kids—grown-ups love them too. In fact, they're a great suggestion when your non-vegan friends or co-workers want to throw you a casual party, but can't figure out what in the heck vegans eat! When I take these tacos to potlucks, non-vegans always ask me for this recipe.
Besides, most taco toppings are already vegan. Just set up your taco buffet with accoutrements like salad mix or shredded cabbage, diced tomatoes, black beans, guacamole, sliced black olives, diced onions, hot & mild salsas, Pico de Gallo, diced jalapenos—the list is practically endless!—and you've got a delicious, satisfying party menu everyone can enjoy. Just make sure someone brings the shells or tortillas!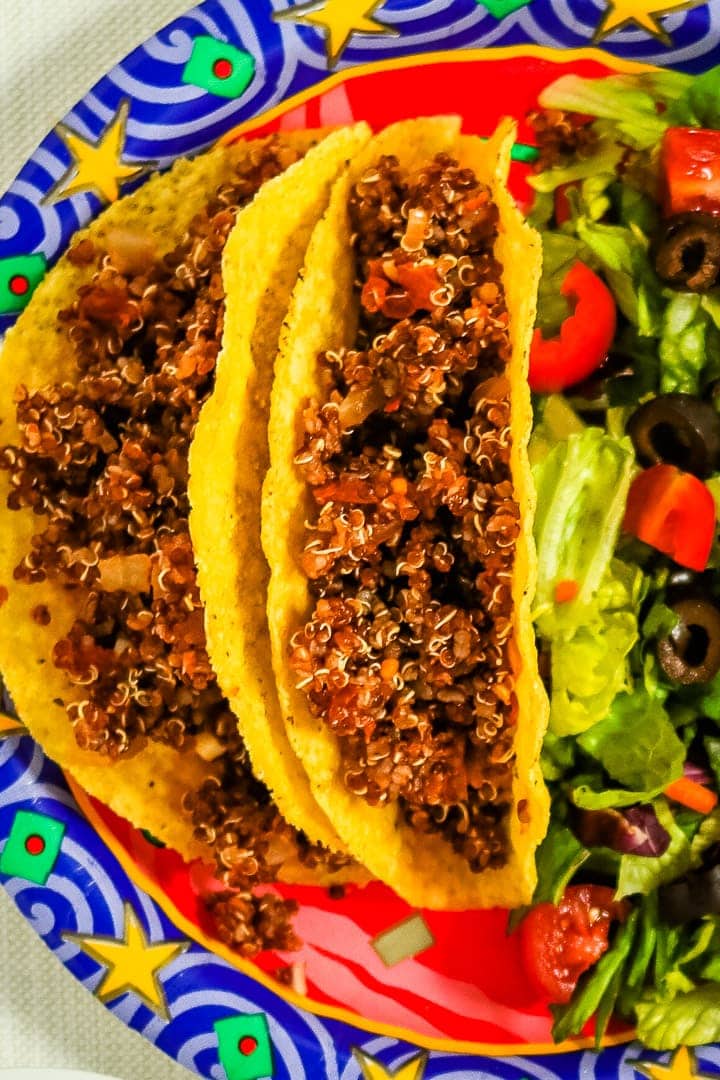 About the only traditional taco toppings I can think of that aren't vegan are sour cream and cheese. Plain, vegan yogurt (soy, almond, etc.) is a good stand in for sour cream. And if you're like me and love 'cheese' on your tacos, but don't care for most store-bought vegan cheeses—try my Vegan Easy Cheezy Sauce. It takes just 5 minutes (with a high speed blender). To make queso sauce, just stir in or blend in your favorite salsa.
How About a Quinoa Taco Salad?
Next to tacos, my favorite way to eat up this quinoa taco meat is piled on a ginormous taco salad. It's perfect when you want a meal that's both hearty and light. Some fresh veggies, creamy avocado on a bed of crisp greens with a squeeze of fresh lime and a side of salsa—that's what I call the perfect lunch.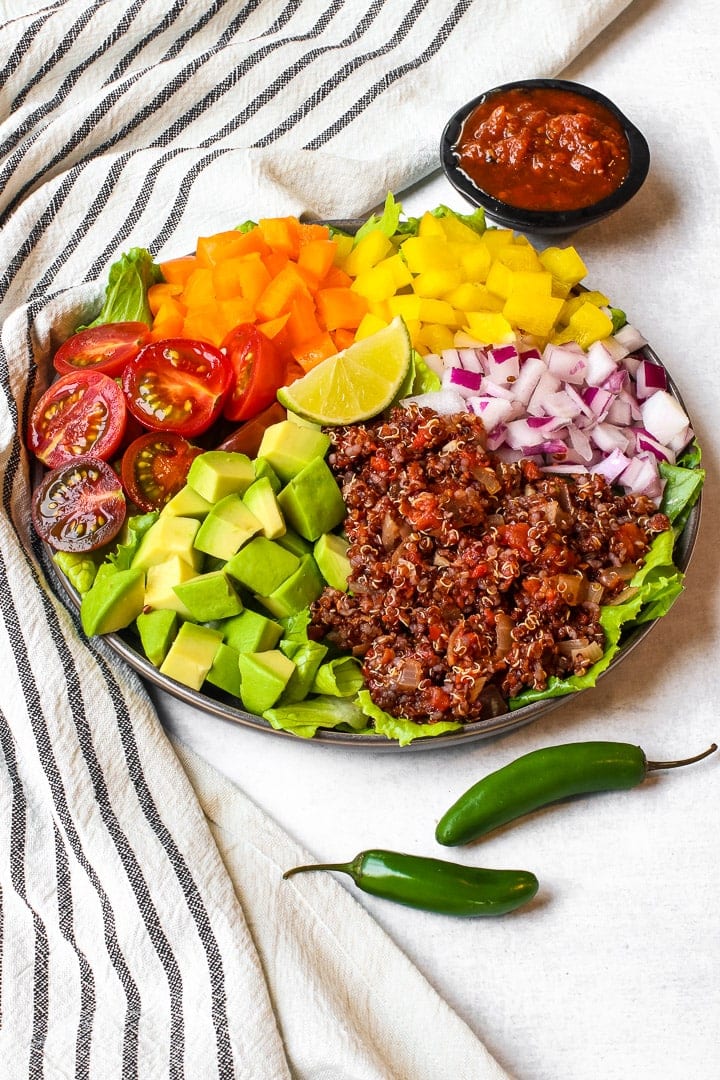 Planning your kid's birthday party? Hosting the entire soccer team? ANOTHER potluck at work? No worries, you got this!
If you like this healthy vegan recipe, you might also like my smoky vegan rice and beans, cauliflower tacos with romesco sauce, healthy vegan chile relleno, and mini taco cups.
I LOVE hearing from you! It would make my day if you'd be so kind as to:
Rate this recipe and/or leave a comment. (Under the recipe picture or below the recipe.)
Thanks and happy, whole-food cooking!
📖 Recipe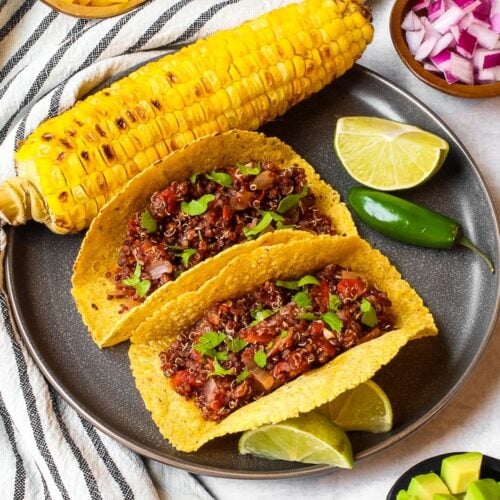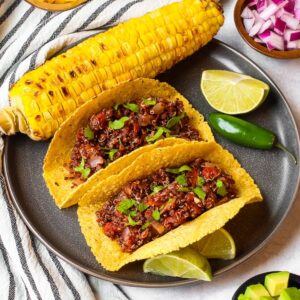 Quinoa Taco Meat
Whether you've got your own brood to feed or an entire crowd, quinoa tacos are the perfect menu option. Vegans and non-vegans alike love this recipe that's quick, simple and easy on the budget.
Print
Save
Saved!
Pin
Rate
Ingredients
Taco Filling
1

cup

uncooked red quinoa, rinsed and cooked

(about 3 cups cooked, see notes)

½

med yellow onion, finely diced

(see notes)

2

cloves

of garlic, smashed and minced

(see notes)

1 28

ounce

can whole San Marzano tomatoes and liquid,

chopped/mashed (see notes)

1

tablespoon

Taco Seasoning

(see notes)

Sea salt, to taste

Optional: Serve with

Vegan Easy Cheeze Sauce

Optional: Serve with

Inside Out Guacamole
Instructions
Cook 1 cup red quinoa with 2 cups of water either in a pot on the stove (bring to a boil then simmer uncovered), or I like to cook in on the white rice setting of my rice cooker. One cup will be ready in about 15 minutes.

While the quinoa is cooking, prepare your toppings.

When quinoa is cooked, heat 1 tablespoon of water in a skillet over medium heat. Add the onion, and sauté 5 minutes. Add garlic and sauté 2 minutes. Add water a little at a time if things begin to stick. Add the tomatoes and their liquid, quinoa and taco seasoning, stir well and simmer, uncovered, about 10 or until most of liquid has been absorbed and cooked off.

While the taco "meat" is simmering, preheat the oven to 425 degrees. Heat the taco shells in the oven for 2-3 minutes.

Assemble your tacos or build your taco bar buffet. Serve with the toppings above--or substitute whatever you and your family likes best.
Notes
I like red quinoa because regular white quinoa can come out looking a little pink. Red is the perfect color for simulating ground beef taco meat.
If you're serving small kids who won't tolerate bits of onion or garlic in their food, you can process them to a pulp in a food processor, sub ½ teaspoon each of onion and garlic powder, or simply omit them.
You can find taco seasoning at most stores. Or to make your own, combine: ½ tablespoon chili powder, 1 teaspoon ground cumin, ⅛ teaspoon oregano, ⅛ teaspoon onion powder, 1 pinch of cayenne, garlic powder and sea salt.
The easiest/least messy way I've found to "chop" canned whole tomatoes is to empty the tomatoes and liquid into a large bowl and break them up them into small pieces with a potato masher. A food processor works too as long as you don't over process (if you like tomato chunks rather than sauce.)
I prefer whole canned tomatoes because the diced ones contain a chemical (to keep them from dissolving), which alters the flavor. Also, I find there's no match for the flavor of San Marzano tomatoes, so I always use them.
To make it fast: Cook your quinoa ahead of time. Or start sautéing your onions, garlic, tomatoes and seasoning while the quinoa is cooking. Just turn off the pan if the quinoa isn't ready quite yet, then simmer everything together per the instructions.
If you're planning to serve almond yogurt or cheese sauce made with cashews at an event, it would be a good idea to check to see if anyone has a tree nut allergy, since the nuts in these foods are completely disguised.
Nutrition (approximate)
Serving:
2
tacos
|
Calories:
154
kcal
|
Carbohydrates:
30
g
|
Protein:
6
g
|
Fat:
2
g
|
Saturated Fat:
1
g
|
Sodium:
216
mg
|
Potassium:
574
mg
|
Fiber:
5
g
|
Sugar:
7
g
|
Vitamin A:
334
IU
|
Vitamin C:
14
mg
|
Calcium:
64
mg
|
Iron:
3
mg