Plus, 10 Creative Ways to Use It!
If you haven't learned how to make dairy free (vegan) Parmesan cheese yet, you're in luck. Today I'm going to share two of my favorite vegan Parmesan cheese recipes (one made with cashews and another made with roasted walnuts and roasted garlic), along with 10 of the ways I like to use it. And boy, do I like to eat vegan Parmesan. In fact, 'like' is not nearly strong enough, as I'm practically addicted to the stuff. But hey, admitting you have a problem is the first step, right?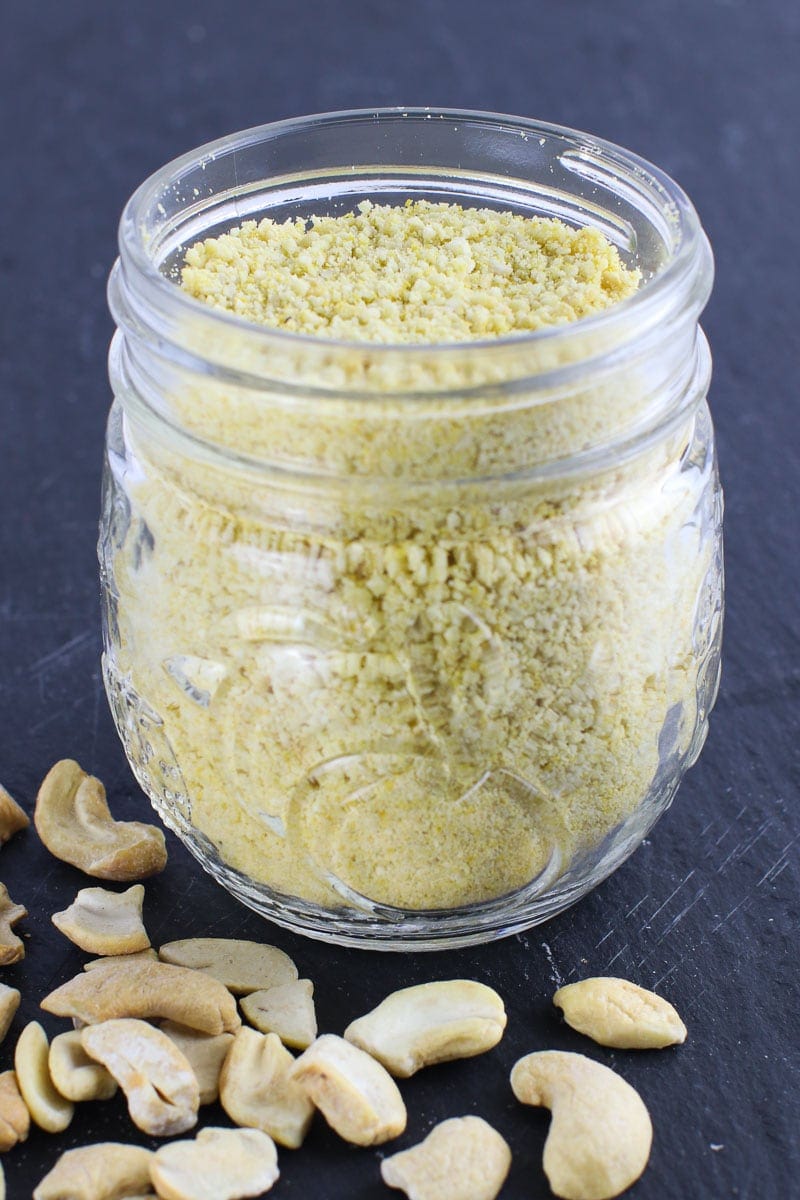 I've always loved the salty, garlicky, umami taste of Parmesan, so after going vegan, one of the very first things I learned was how to make vegan Parmesan cheese. I keep this dairy free Parmesan cheese on hand ALWAYS, because it's incredibly versatile and lasts pretty much forever in your pantry. (Okay, I'm sure not forever, but please don't ask me how long it really lasts because I can't keep a batch around more than about 2 weeks.)
Once you know how to make vegan Parmesan cheese, you can use it so many ways, in so many dishes. Just make sure the salty, garlicky, umami flavor profile works with whatever you add it to. And even if you've already been making it for years, here are 10 of my favorite ways to enjoy it.
10 ways I like to use vegan parmesan cheese
1. Sprinkle it on pasta. Like I did on my Vegan Mushroom Walnut Bolognese Sauce. This one's obvious, but this list would be incomplete without it. Enough said.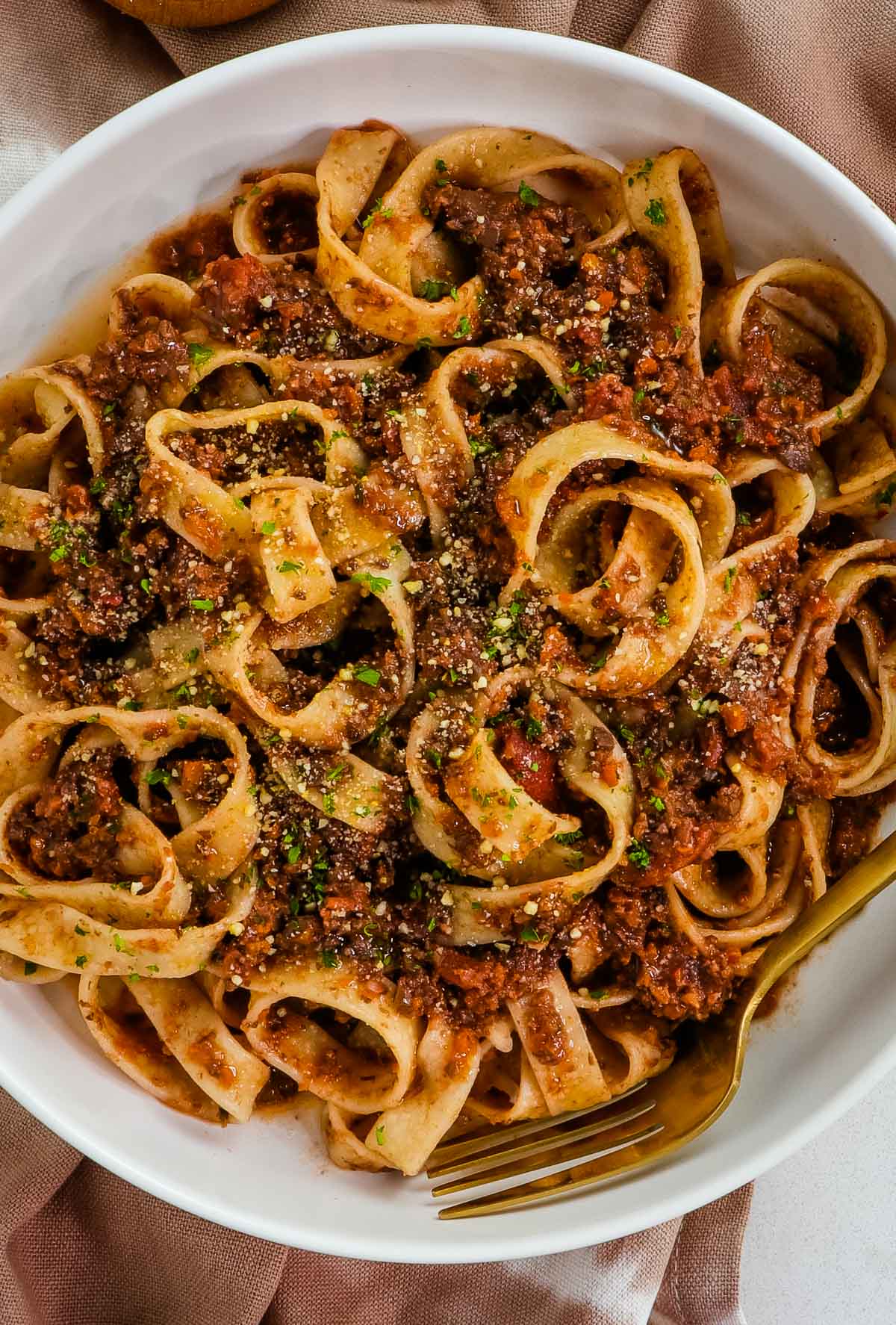 2. Bag it up and take it to your favorite pizza place. Order a veggie pizza with no cheese (you may need to repeat, 'NO cheese--at all—not even mozzarella' a few times). Then, when your hot, cheeseless 'za arrives, whip the bag of homemade dairy free Parmesan out of your purse and sprinkle it liberally over the top of your pie. Who cares what the folks at the next table think! Seriously, I've done this plenty of times.
3. Sprinkle it on steamed veggies/baked potato and call it dinner. Toss in some fresh herbs if you've got 'em. This simple, no-recipe recipe is great when the week (and dinner) gets away from you.
4. Blend it up for an instant vegan mac 'n cheese sauce. Just add it to a blender with some hot broth or plant milk, and process until creamy. You should have no problem with not soaking the cashews if you have a high speed blender. You could even use it to whip up a quick cheddar sauce, the one in my Vegan Portobello Mushroom Burger with Cheddar Sauce recipe.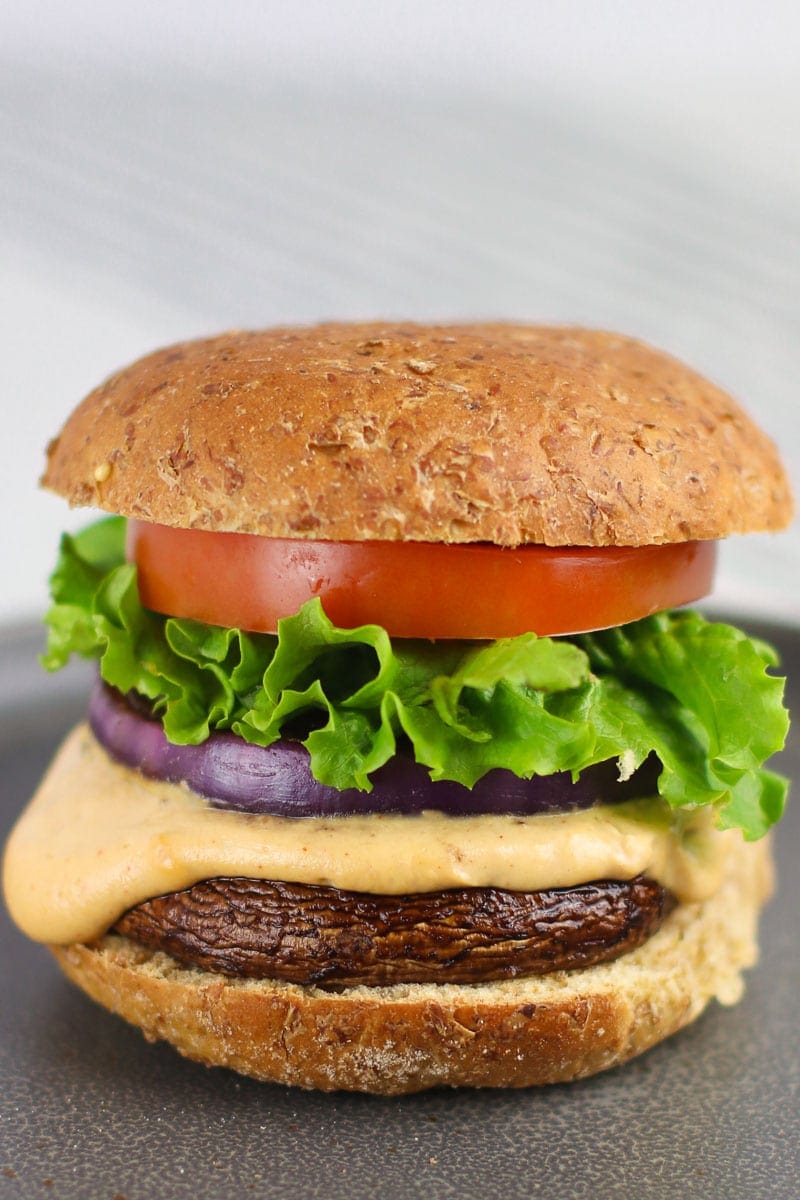 5. Or, make an even healthier veggie/bean & cheese sauce. Blend it up with a little hot broth or plant milk, plus some white cannellini beans or cooked cauliflower. Eat it on pasta, drizzle over veggies, or use it to make mashed potatoes. This is basically what I did in my Healthy Twice-Baked Potatoes.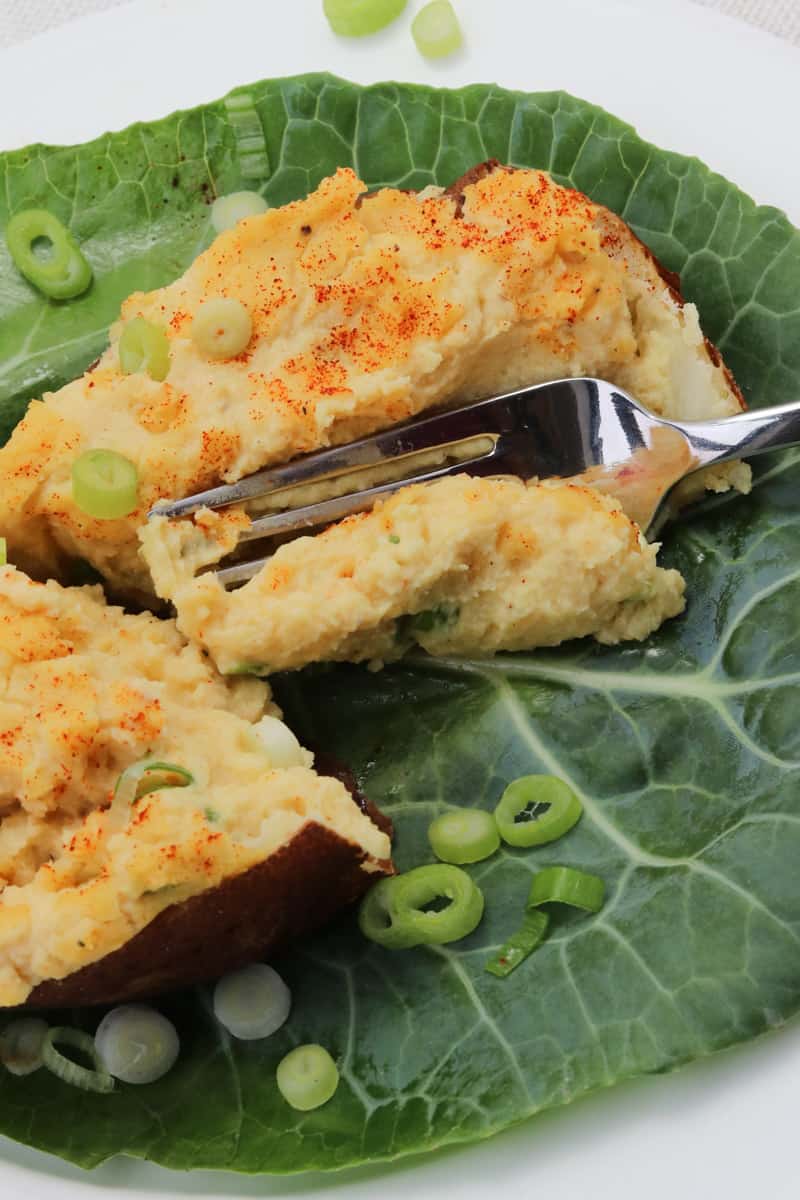 6. Stir it into a tofu scramble or a vegan quiche. Cheese and eggs are natural complements, so vegan dishes that replicate eggs are just begging for this Parmesan cheese. (Please, please—lemme have some dairy free Parmesan cheese!)
7. Mix it with bread crumbs for a crunchy topping. Vegan Parmesan + bread crumbs = a luscious, golden-brown topping for casseroles, stuffed peppers or mushrooms, creamy party dips (like spinach & artichoke) or vegan mac & cheese—especially if you pop it under the broiler for a few minutes. Or go big and do just the cheese--no breadcrumbs.
8. Use it to thicken and season soups. It's especially good with tomato-based soups like my Easy Vegan Gnocchi Soup, and would work well with most soups that highlight tangy greens like spinach or escarole. You can add it to blended soups (at the blendy part of the recipe), or just sprinkle it in at the end if you don't mind the little nut-bits in your soup. (I don't.)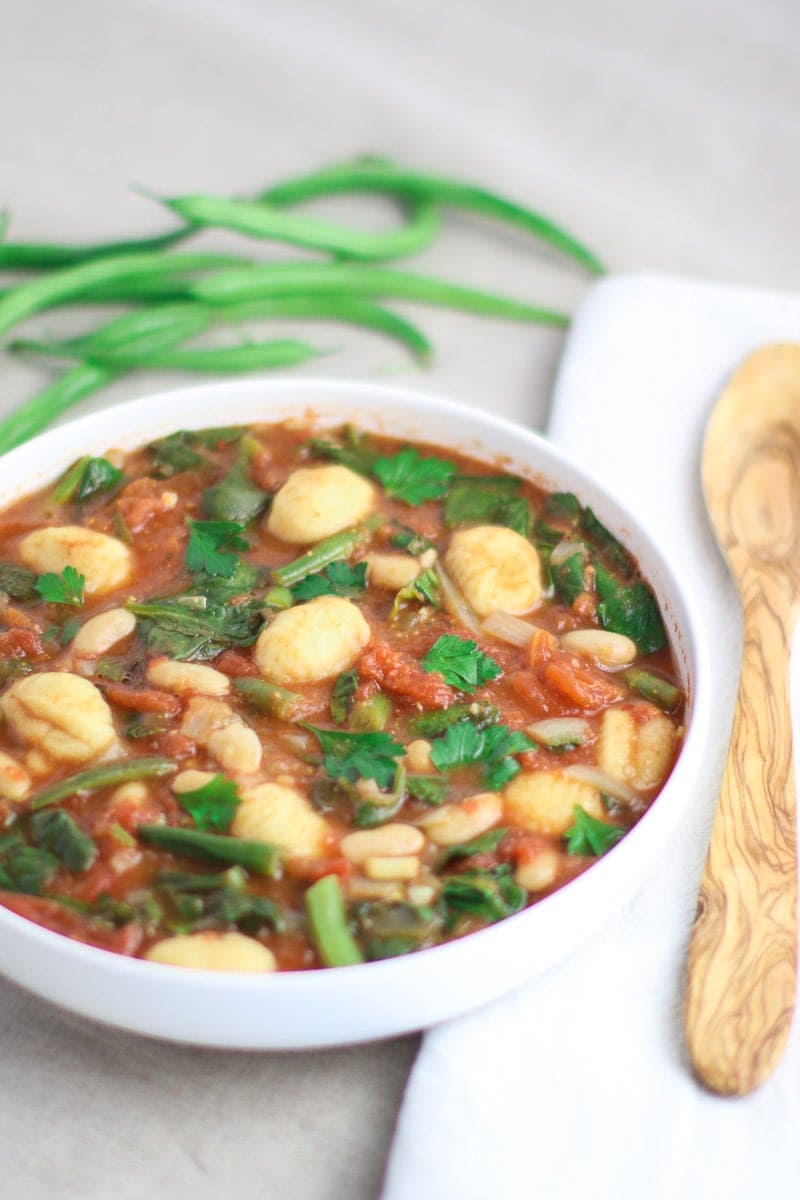 9. Crust something in vegan Parm. Start with pressed tofu slices or veggies (tomato, eggplant, asparagus—any veggie that bakes well), dip in 'flax egg' or aquafaba (rather than oil), bread in vegan Parmesan (maybe add some dried herbs), then bake on a parchment paper-lined baking sheet. You'll get a nice, cheesy-nutty-crusty coating, with no oil whatsoever. Just healthy nut-fat.
10. Lick it. Just lick it straight out of the palm of your hand. Okay, maybe this isn't the most civilized choice—but did I mention this stuff is like crack? A lot of people get cravings for something sweet (like my husband!), but for me, sometimes I gotta have salt. Just a wee handful of vegan Parmesan, and I'm good for the night.
Do you have a favorite way to eat dairy free Parmesan cheese? If so, I'd love to hear about it!
Want more vegan Parmesan inspiration? Check out this collection of recipes using vegan Parm from your favorite vegan food bloggers.
📖 Recipe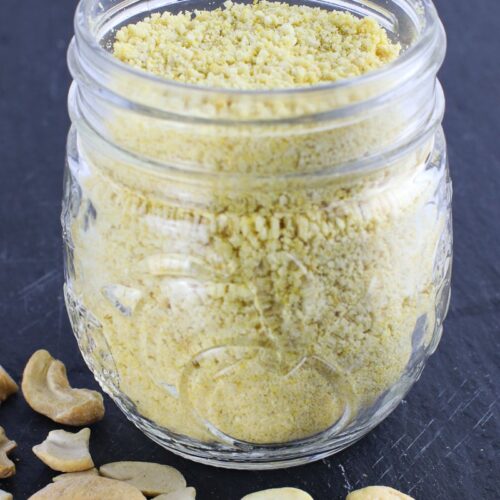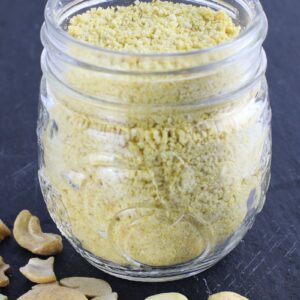 Dairy Free Parmesan Cheese with Cashews or Roasted Walnuts
A vegan Parmesan cheese made with cashews is deliciously addictive, and versatile enough to use in so many dishes.
Print
Save
Saved!
Pin
Rate
Ingredients
1

cup

raw cashew pieces

or use roasted walnuts

¼

cup

nutritional yeast

or more to taste

½

teaspoon

garlic powder

(try roasted garlic powder if using walnuts)

sea salt, to taste
Instructions
Place all ingredients in a food processor and pulse several times until finely ground.
Nutrition (approximate)
Serving:
1
tablespoon
|
Calories:
47
kcal
|
Carbohydrates:
3
g
|
Protein:
2
g
|
Fat:
4
g
|
Saturated Fat:
1
g
|
Sodium:
1
mg
|
Potassium:
67
mg
|
Fiber:
1
g
|
Sugar:
1
g
|
Calcium:
3
mg
|
Iron:
1
mg