Beer cheese soup is iconic in Wisconsin. You'll find it on pub menus all around the state. I suppose the German immigrants who settled here figured, I've got beer. I've got cheese. How bad can they be together in a soup? This Wisconsin Vegan Beer Cheese Soup is my happier-cow twist on the German classic.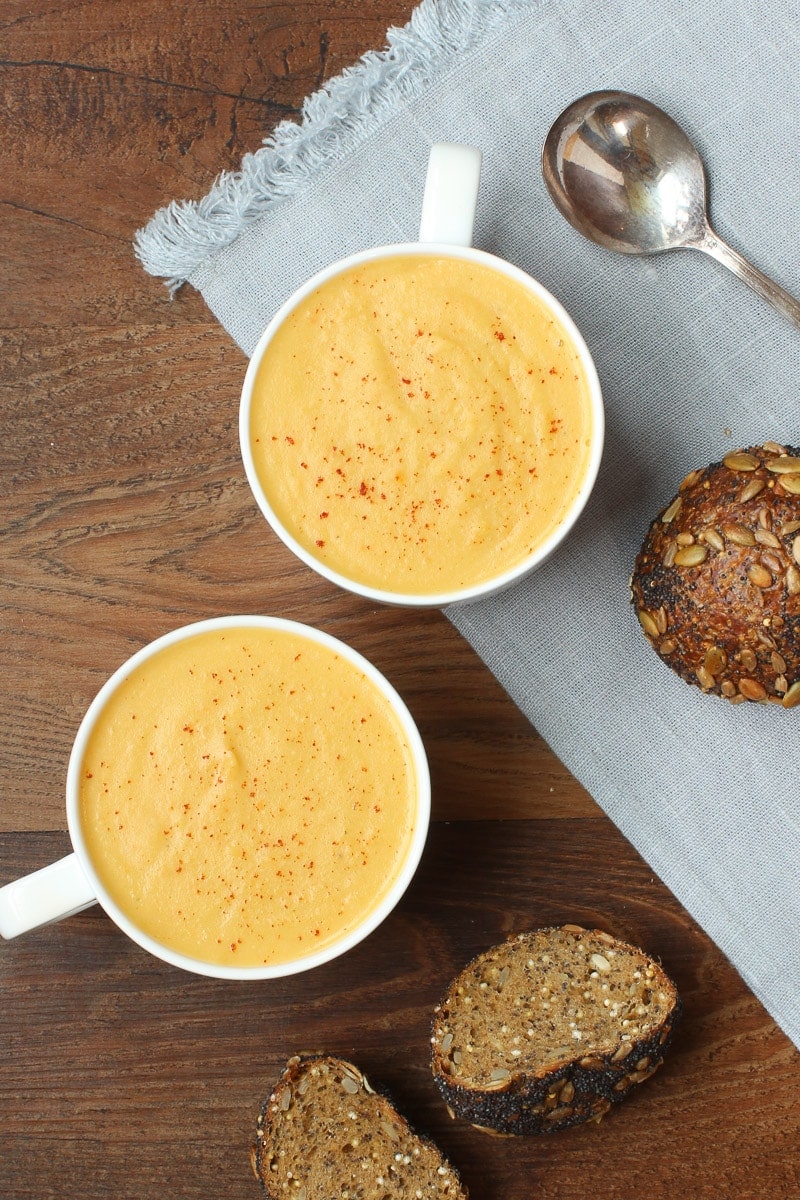 Why I Love Vegan Beer Cheese Soup
First, I love hearty soups. From my broccoli cheddar to my vegan chicken and dumplings, nothing warms your soul like a hot bowl of soup or stew on a chilly day.
For me, Wisconsin vegan beer cheese soup is right up there with vegan mac 'n cheese as a plant-based comfort food that brings me back to my childhood. It's 'cheesy,' creamy—and it really sticks to your ribs, as folks around are fond of saying.
Plus, it's made with Vegan Cheddar Cheese Sauce, which gives you one more yummy way to enjoy this amazingly addictive recipe.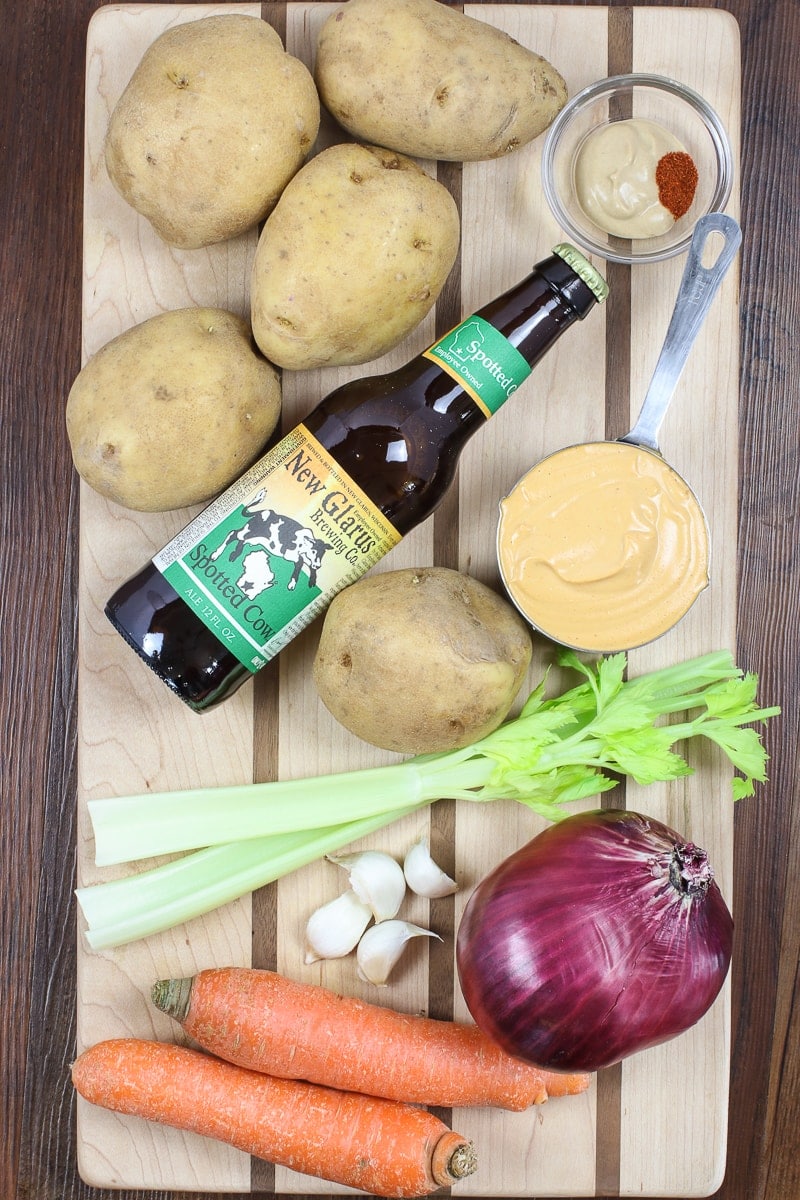 While it doesn't top the list of the healthiest whole food plant-based recipes (it's a bit high in fat and low in fiber), I'll always come back to comfort food faves like this hearty soup from time to time. You may just want to enjoy it with a nice salad.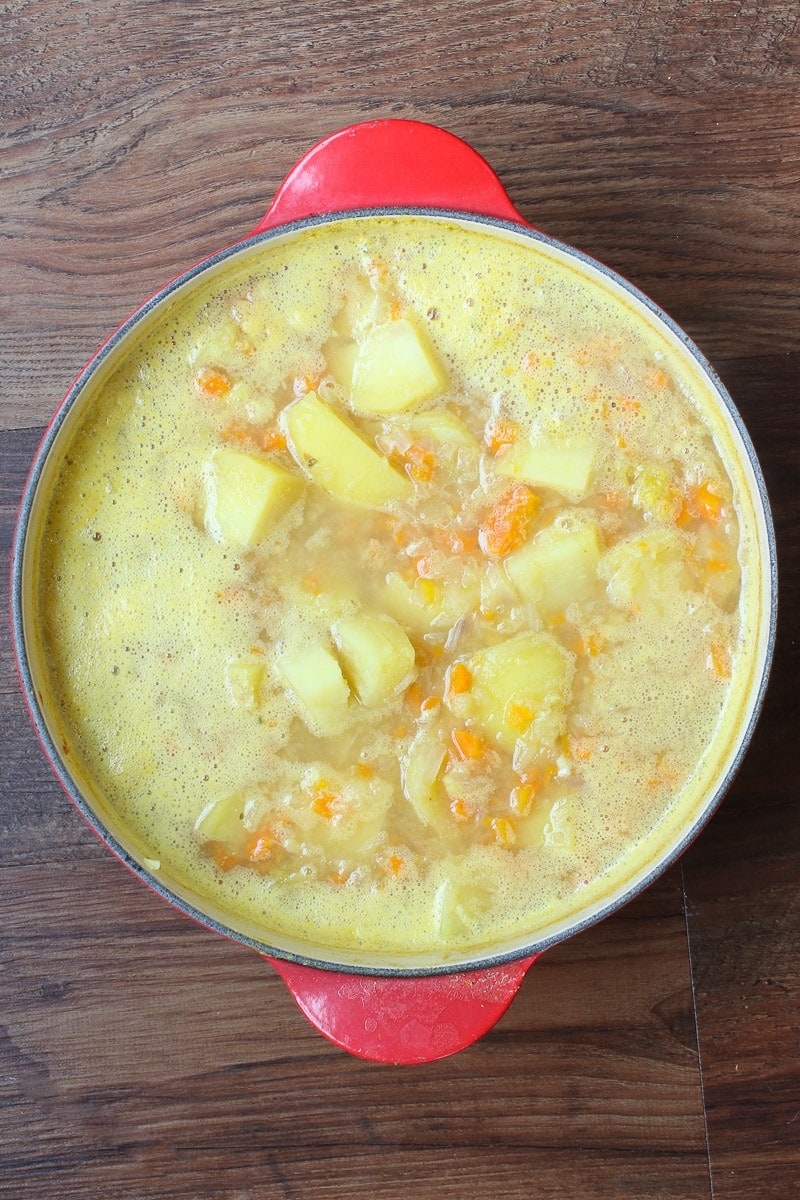 How to Make Vegan Beer Cheese Soup
Okay, so this is not your traditional beer cheese soup. That would begin by making a roux with flour and butter, then adding milk to create the base. To work a little more nutrition and substance into this vegan beer cheese soup, we use potatoes as the thickener. So this recipe is actually a bit of a 'potato cheese soup/beer cheese soup' hybrid. But you're good with that, right?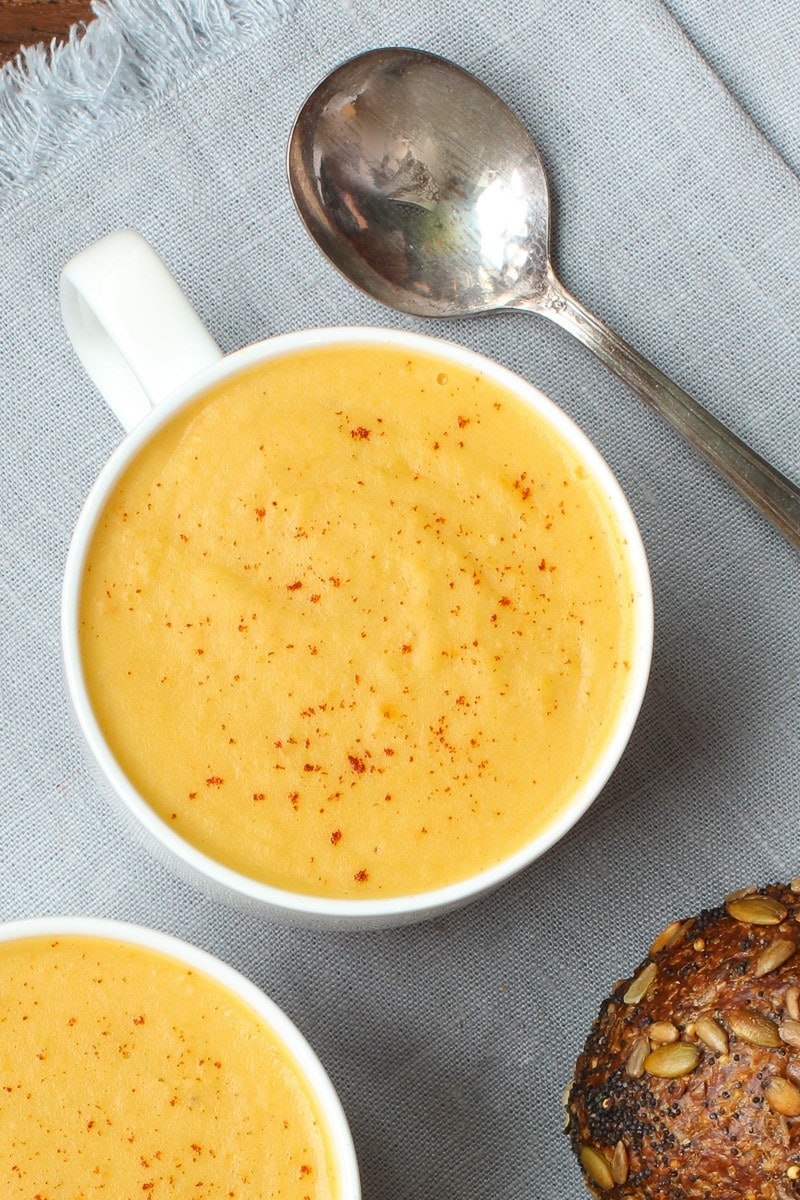 Of course, when making this vegan beer cheese soup, it's important to choose the right beer. It may be tempting, but I wouldn't use a dark beer like Guinness or an IPA as they'd tend to overpower the soup. I recommend a lighter amber ale or farmhouse/American cream ale here.
And of course, you're going to want a beer that's vegan. To find out if your beer is vegan, you can check the website barnirvore.com. It's a great resource for researching vegan spirits, wine and beer.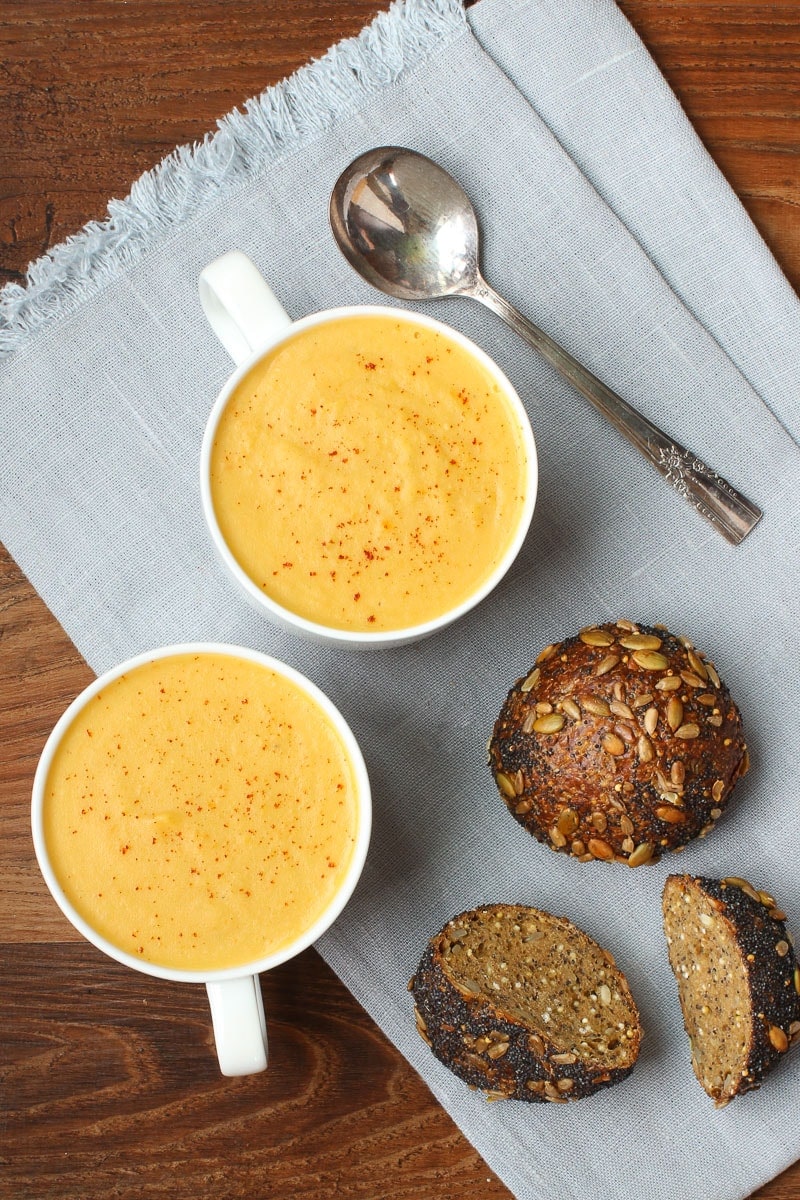 For my Wisconsin vegan beer cheese soup, I chose a popular local beer called called Spotted Cow by New Glarus Brewing Company. Their website describes it as a 'naturally cloudy farmhouse ale.' This brewery makes some excellent beers, all of which are vegan. But you can only get it here in Wisconsin, so you'll have to travel here to try one if you're out of state. I recommend coming in the summer. 🙂
If you like this whole food plant-based recipe, you might also like:
📖 Recipe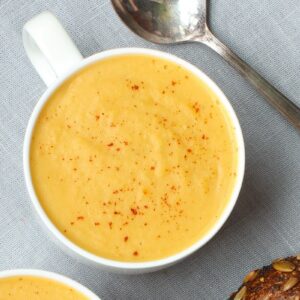 Wisconsin Vegan Beer Cheese Soup
Wisconsin Vegan Beer Cheese Soup is creamy, hearty, 'cheesy' and totally comforting. Just 30 minutes and 1 pot. WFPB, oil-free, gluten-free.
Print
Save
Saved!
Pin
Rate
Ingredients
1

medium red onion

peeled and chopped into 2-inch pieces

4

garlic cloves peeled

smashed

2

carrots

peeled and chopped into 2-inch pieces

2

celery ribs

chopped into 2-inch pieces

2

pounds

Yukon gold potatoes

peeled and chopped into 1-inch pieces

⅛

teaspoon

cayenne pepper

1

tablespoon

Dijon mustard

4

cups

low sodium vegetable broth

1 12

ounce

bottle vegan beer

American cream ale or farmhouse ale. GF if desired-see notes

½

cup

water

Sea salt to taste
Instructions
Soak your cashews in hot water for the cheddar sauce. (15 minutes)

Place onion, garlic, carrots and celery in a food processor, and pulse until finely diced. (I do 2 batches: first the onions and garlic, then the celery and carrots. Or, you can just dice by hand.)

In a large pot or Dutch oven, saute the onion, garlic, celery and carrots with about a tablespoon of water on medium high heat until soft, about 5 minutes. Add water a little at a time if things begin to stick.

Add the Dijon mustard and cayenne pepper and stir. Add the potatoes, and stir to heat for about a minute.

Add the broth, beer and water, increase the heat to high, and bring to boil. Once boiling, reduce the heat to medium low, and cook at a rolling simmer, covered, with lid slightly askew to release some steam. Cook for about 10 minutes, or until the potatoes are tender.

While the soup is cooking, make the cheddar sauce. (Pour the sauce into another container if you plan to use the blender to process your soup.)

When the potatoes are tender, turn off the heat. Ladle about ⅓ of the soup at a time into a blender, and process on high until smooth. Don't over blend. Remove the blended portion into a bowl and repeat until all of the soup is blended.

Wipe out any chunks of veggies from the pot and pour the blended soup back in. Place the pot back on the stove on low heat. Add the cheddar sauce and stir to blend in completely. Add sea salt, to taste. Heat to desired temperature and serve.

Garnish with a pinch of smoked paprika, if desired
Notes
It may be tempting, but don't use a dark beer like Guinness or an IPA, as they tend to overpower the soup. I recommend a lighter amber ale or a farmhouse/American cream ale.
To find out if a beer is vegan, you can check the website barnirvore.com
Nutrition (approximate)
Calories:
300
kcal
|
Carbohydrates:
31
g
|
Protein:
11
g
|
Fat:
14
g
|
Saturated Fat:
2
g
|
Sodium:
409
mg
|
Potassium:
912
mg
|
Fiber:
5
g
|
Sugar:
4
g
|
Vitamin A:
2790
IU
|
Vitamin C:
16.5
mg
|
Calcium:
63
mg
|
Iron:
6.4
mg