Best Damn Vegan Chili is one of the most popular recipes on this blog, and some of you have asked me for the Instant Pot version. Trouble was, I didn't own an Instant Pot—until now! (I know, some of you are probably thinking, "Aw isn't that cute? Elizabeth FINALLY got her first Instant Pot!") So here it is: my Best Damn Instant Pot Vegan Chili recipe.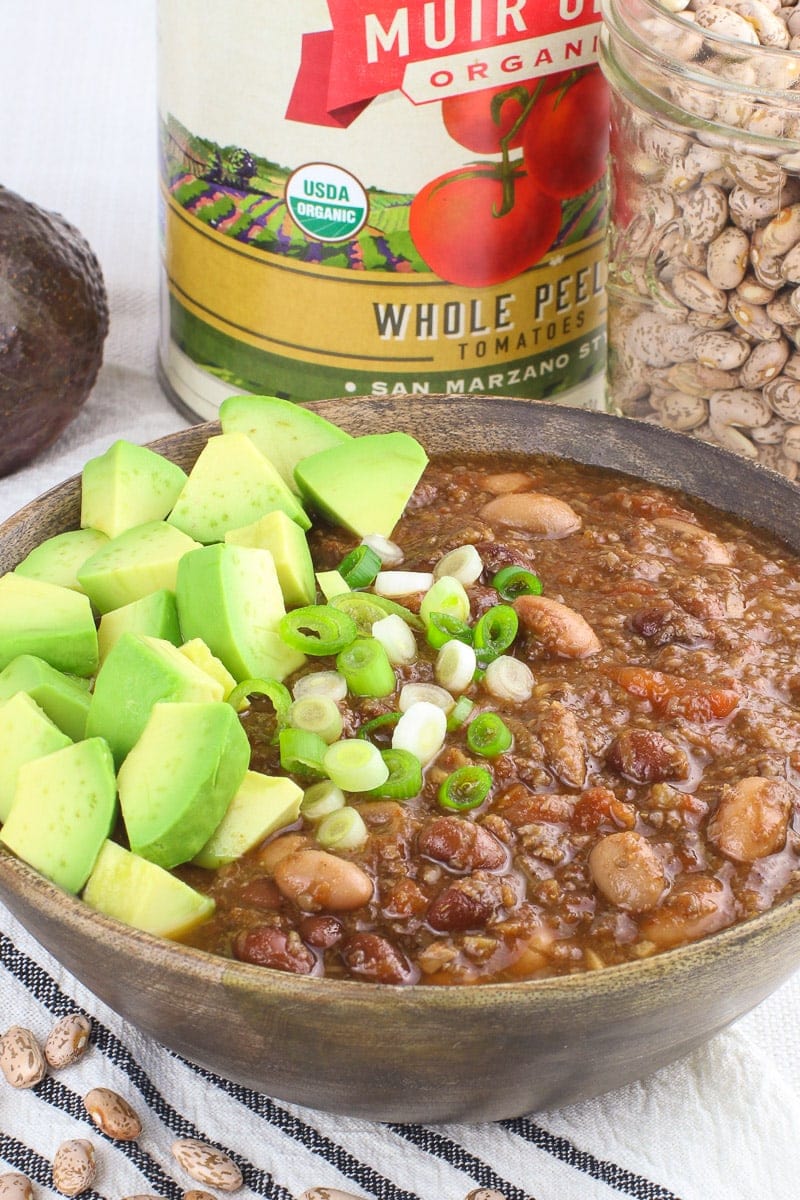 Why I Love This Instant Pot Vegan Chili
And the result? We LOVE it! While I'm not retiring my Dutch oven anytime soon, I think the flavors of this best damn Instant Pot vegan chili are a bit more married and intense from the pressure cooking. In fact, it came out just a bit spicier than the stove-top version, so if you don't care for heat, you could cut back on the cayenne a bit.
Overall, this best damn Instant Pot vegan chili recipe is almost exactly the same as the original version. I mean why mess with a good thing, right?! It's the same rich, hearty, 'meaty' vegan mushroom chili that has made this such a popular recipe.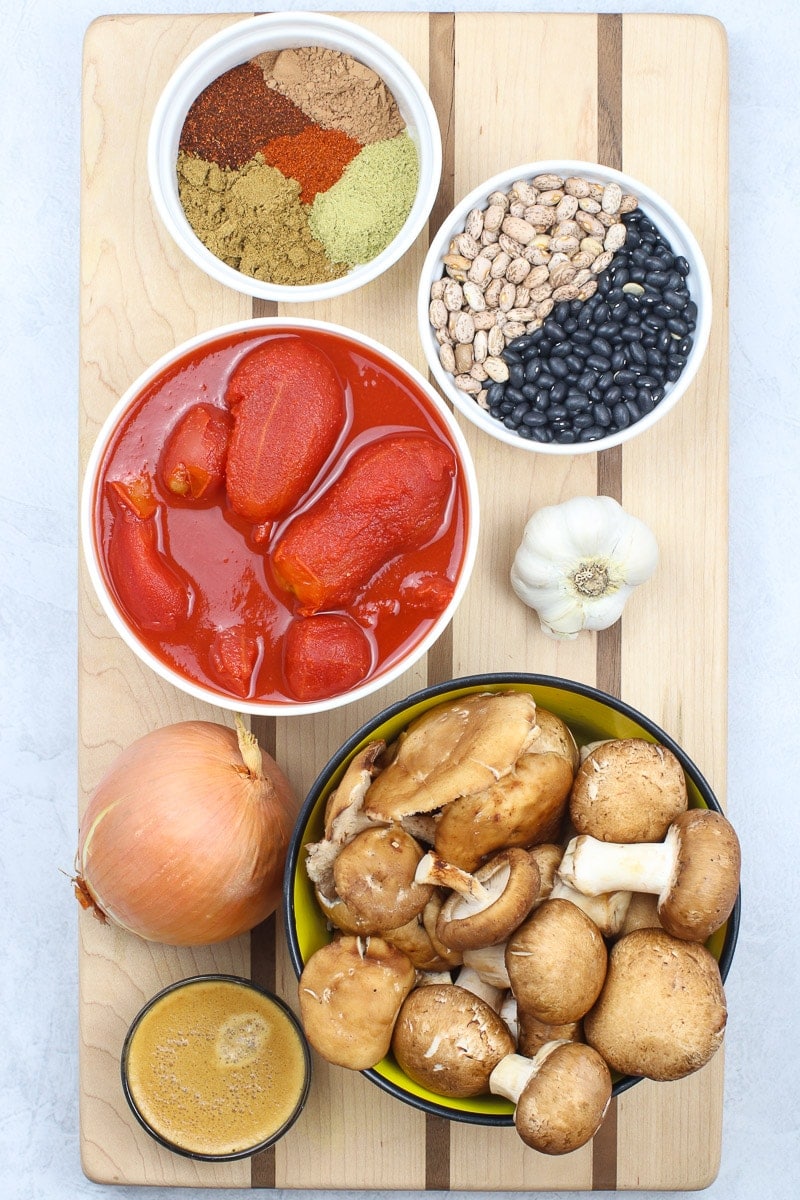 How to Make the Best Damn Instant Pot Vegan Chili
This best damn Instant Pot vegan chili recipe comes together in about the same time as the original, with similar cooking steps. You finely chop up your mushrooms and saute them thoroughly. You smash or process whole tomatoes. But for this chili, we use dried beans (soaked overnight), which cook in a fraction of the time in the Instant Pot that they would on the stove. Woo-hoo!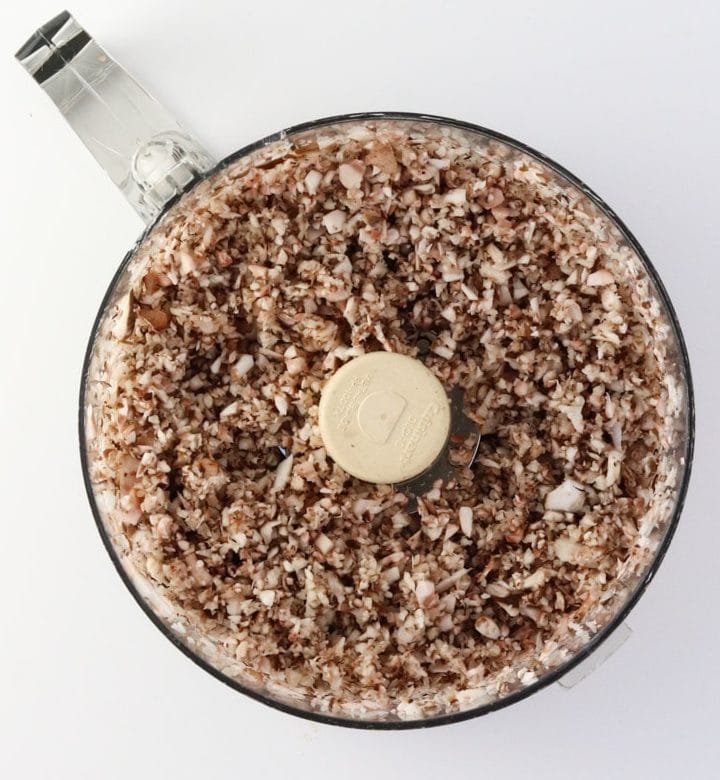 Canned beans are perfectly fine, of course. I use them frequently since we eat beans and chickpeas on a daily basis. But I can definitely discern an improved flavor and texture in dried beans I cook at home. For those of you watching your sodium, it's obviously easier to control that too.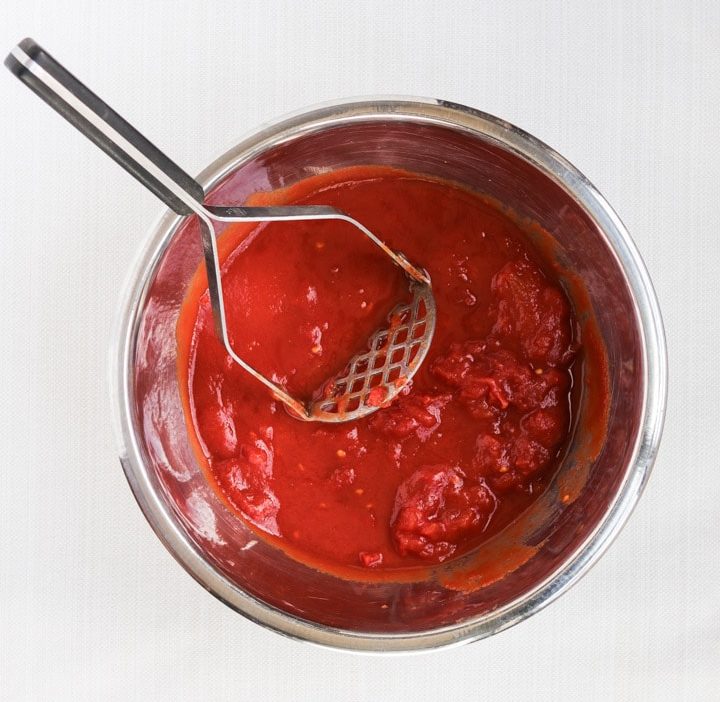 Plus, dried beans are super cheap and easy to store, so I tend to keep them on hand in abundance. The Bean Institute recommends storing dried beans for a year or less for best cooking results. (Yes, there's a Bean Institute!)
Old beans cook slower or in some cases won't soften at all, which can wreak havoc in executing a recipe. I've seen plenty of comments online where folks complained that their beans didn't cook and their dinner was ruined.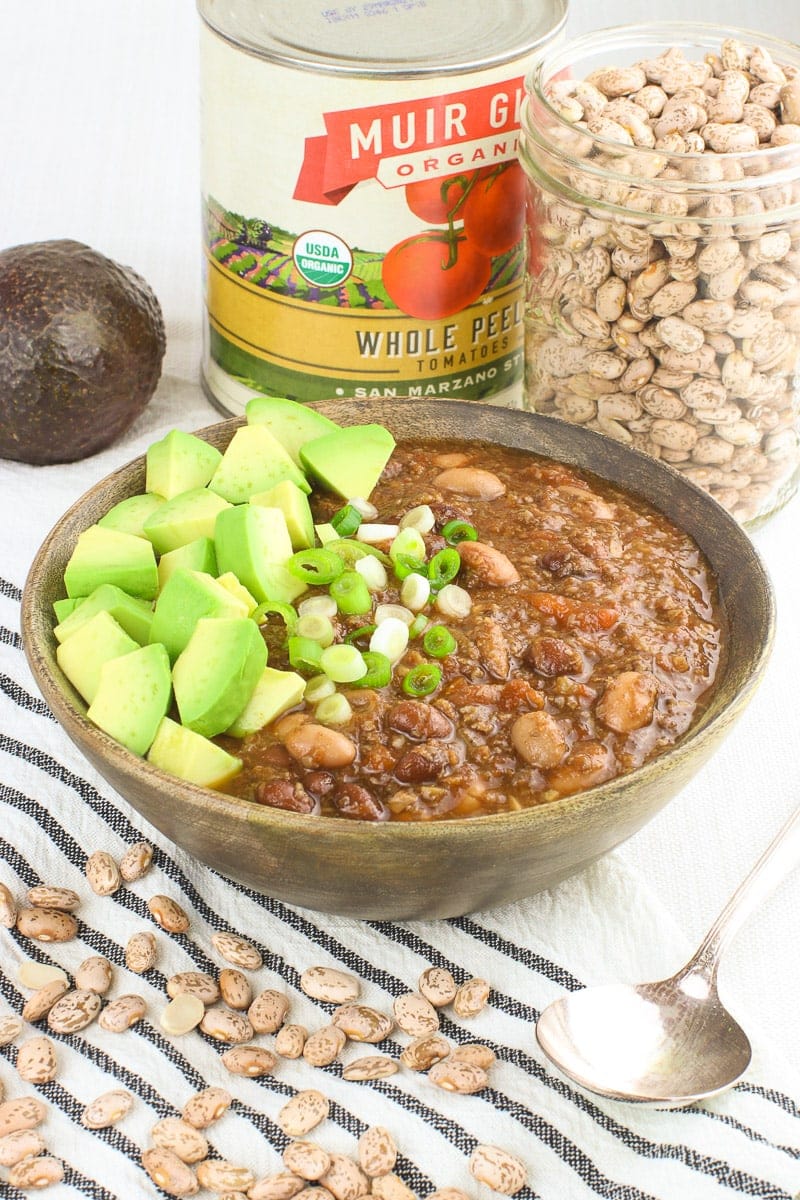 What's My Take on the Instant Pot?
I'm at home and in the kitchen most of the time, so simmering or slow cooking vs. pressure cooking isn't that big a deal for me. But I know it is for some of you, especially if you're on the run a lot.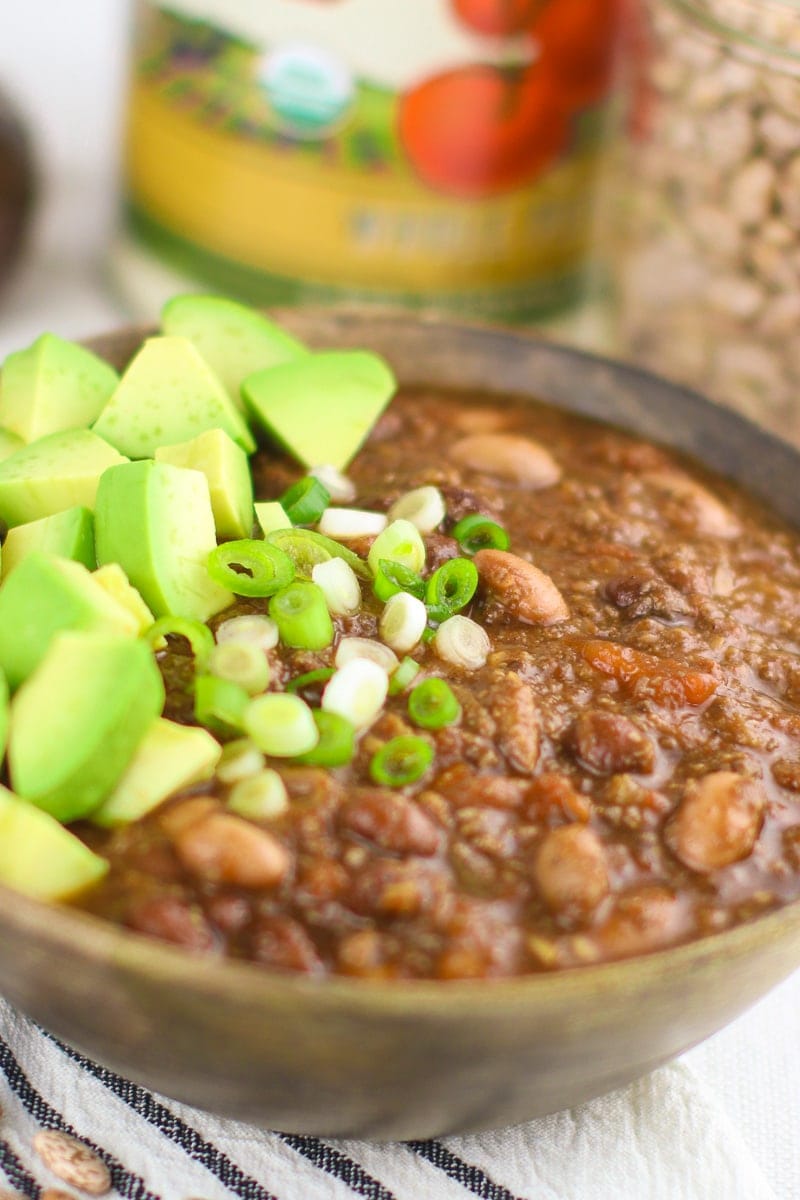 And I'll admit now that I've joined the Instant Pot craze, I'm kind of excited to play around with this behemoth gadget and share some fun new recipes with you all. I don't have much storage space at present, so knowing I'll gain half a shelf when I donate my rice cooker and slow cooker is pretty appealing too. I just wish it had a 'toast' button.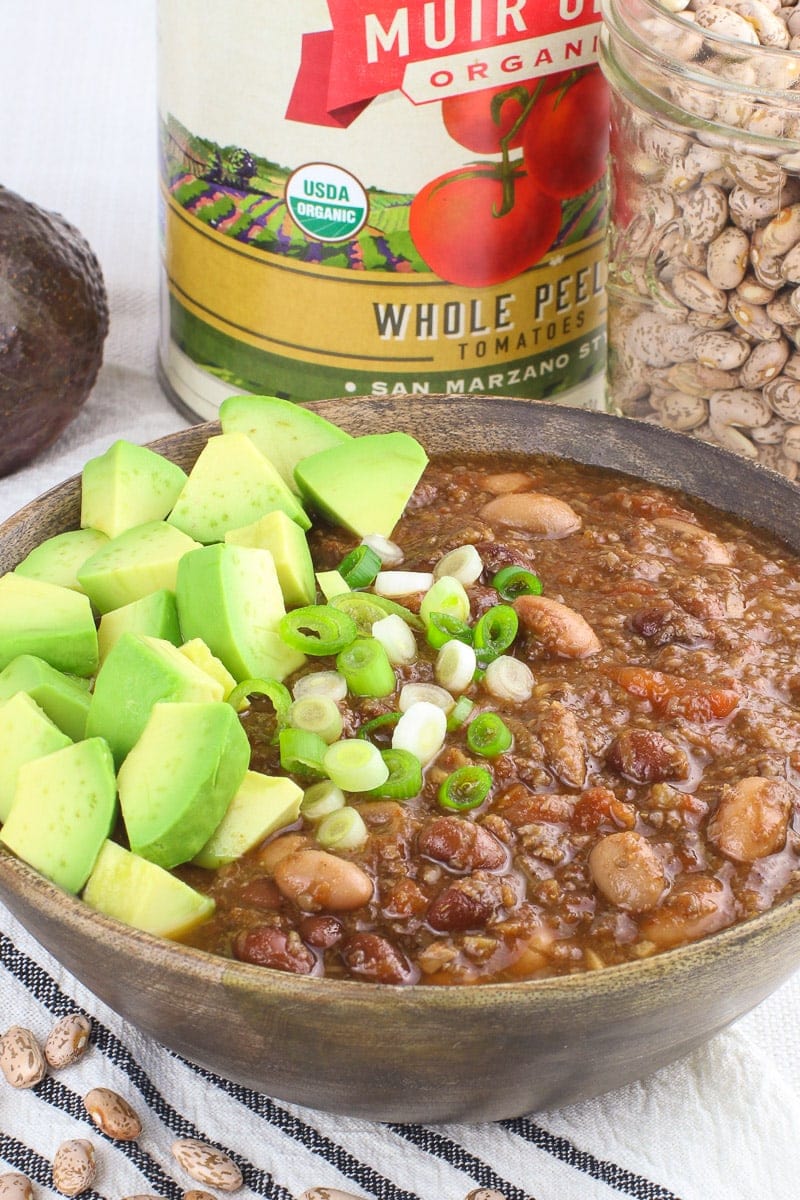 If you like this whole food plant-based recipe, you might also like:
📖 Recipe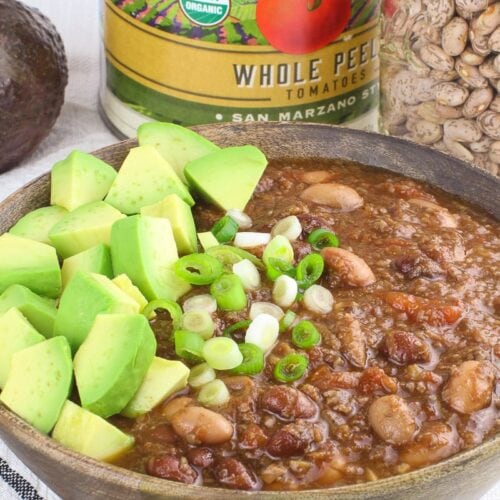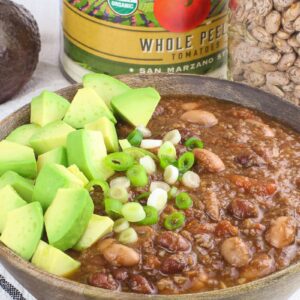 Best Damn Instant Pot Vegan Chili
This Best Damn Instant Pot Vegan Chili recipe has a balanced blend of spices, a just-right beans-to-chili ratio and a rich, 'meaty' texture.
Print
Save
Saved!
Pin
Rate
Ingredients
1

pound

cremini mushrooms

cleaned and finely diced (see notes)

½

pound

shitake mushrooms

cleaned and finely diced (see notes)

1

yellow onion

diced

6

cloves

garlic

minced

1

tablespoon

ground cumin

1

tablespoon

ancho chili powder

1

tablespoon

ground fennel

1

tablespoon

unsweetened cocoa powder

Optional: ¼ to ½ teaspoon cayenne pepper

(for heat)

1 28

ounce

can

whole San Marzano tomatoes, chopped, with liquid reserved (see notes)

¾

cup

dried pinto beans

soaked 8-10 hours (see notes)

¾

cup

dried black beans

soaked 8-10 hours (see notes)

¼

cup

strong coffee or espresso

(brewed coffee, NOT coffee grounds. The secret ingredient!)

2 ½

cups

water

Sea salt to taste
Instructions
Brush the mushrooms clean with a dry towel. Place mushrooms in a food processor in batches, about ¼ at a time, and pulse several times to grind. You want them finely diced, but not mushy. (See notes.)

Use the Saute feature of your Instant Pot, use the Adjust button to set the heat to More (high). Heat about a tablespoon of water, then add the onion and a pinch of salt and saute for 5 minutes. Add the garlic and saute for 2 minutes. Add water a little at a time if things begin to stick.

Add the mushrooms and saute until browned and most of the liquid has evaporated, about 10-12 minutes.

Add the cumin, chili powder, fennel, cayenne pepper and cocoa powder. Stir to combine.

Deglaze (loosen and scrape up any brown bits) with the coffee. Add the smashed tomatoes and their liquid, beans, and water.

Turn off the Saute setting.

Close the Instant Pot lid, and make sure the steam release handle is in the Sealing position.

Cook on Manual (or Pressure Cook) mode for 30 minutes.

Allow the Instant Pot to do a Natural Release for 10 minutes. After 10 minutes, do a Quick Release--carefully move the steam release handle to the Venting position to release the additional steam until the float valve drops down. Press Cancel and open the lid.

The chili will thicken a bit as it rests. But if desired, you can thicken it more by sautéing a few minutes on medium heat. Add sea salt to taste and serve.
Notes
Shitake mushrooms can be expensive, but add a rich, earthy flavor. It's fine to use a smaller amount shitakes or substitute them completely with cremini or white button mushrooms. Just make sure you have about 1 ½ pounds total.
Shitake mushrooms have a tough section on the end of their stem. I snip those off with kitchen shears.
To soak beans, cover them with about 2 inches of water and set them out on the counter. After 8-10 hours, drain and rinse them.
If some large pieces of mushrooms remain, don't keep pulsing. You want them finely ground but not mushy. Remove any large pieces and set them aside. Transfer the ground mushrooms from the food processor to a bowl. Then, add any large pieces back to the processor with the next batch and repeat until all of the mushrooms are finely ground.
Chopping whole tomatoes can make a mess! To avoid this, empty the whole can into a large bowl and break them up them with a potato masher, or place them in the food processor and process on low for about 15 seconds. I prefer to use whole tomatoes, as canned diced tomatoes contain a chemical (to keep them from dissolving), which alters the flavor. Also, I find there's no match for the flavor of San Marzanos.
Nutrition (approximate)
Serving:
1
cup
|
Calories:
142
kcal
|
Carbohydrates:
27
g
|
Protein:
8
g
|
Fat:
1
g
|
Sodium:
178
mg
|
Potassium:
926
mg
|
Fiber:
7
g
|
Sugar:
5
g
|
Vitamin A:
480
IU
|
Vitamin C:
12.5
mg
|
Calcium:
96
mg
|
Iron:
3.6
mg