A quick & easy savory tomato chia jam that's healthy and delicious. Amazing on burgers and sandwiches, or as an elegant canapé topper.
Along with Summer comes an abundance of fresh, locally grown tomatoes (the only ones that actually taste good). From the gardens of friends and family, farm stands or local farmers markets, they're absolutely everywhere. And then suddenly, they're gone until next summer. Since there's really no such thing as too many fresh tomatoes, the key is finding plenty of creative ways to use them. One of my favs is this super-simple Tomato Chia Jam. (Especially paired with a smear of homemade almond ricotta.)
How to make tomato jam with chia seeds
Hats off to those of you into canning. (Never say never, but I don't see myself pursuing this anytime soon.) And I'm not sure why I would, when I can make this heathy, low sugar, preservative free homemade jam in less than half an hour. The secret is our seedy little friend, chia.
You can make this savory chia jam with tomatoes—or chia fruit jam—simply by reducing down your tomatoes or fruit long enough to cook off most of the liquid, adding chia seeds, and allowing the jam to cool and set.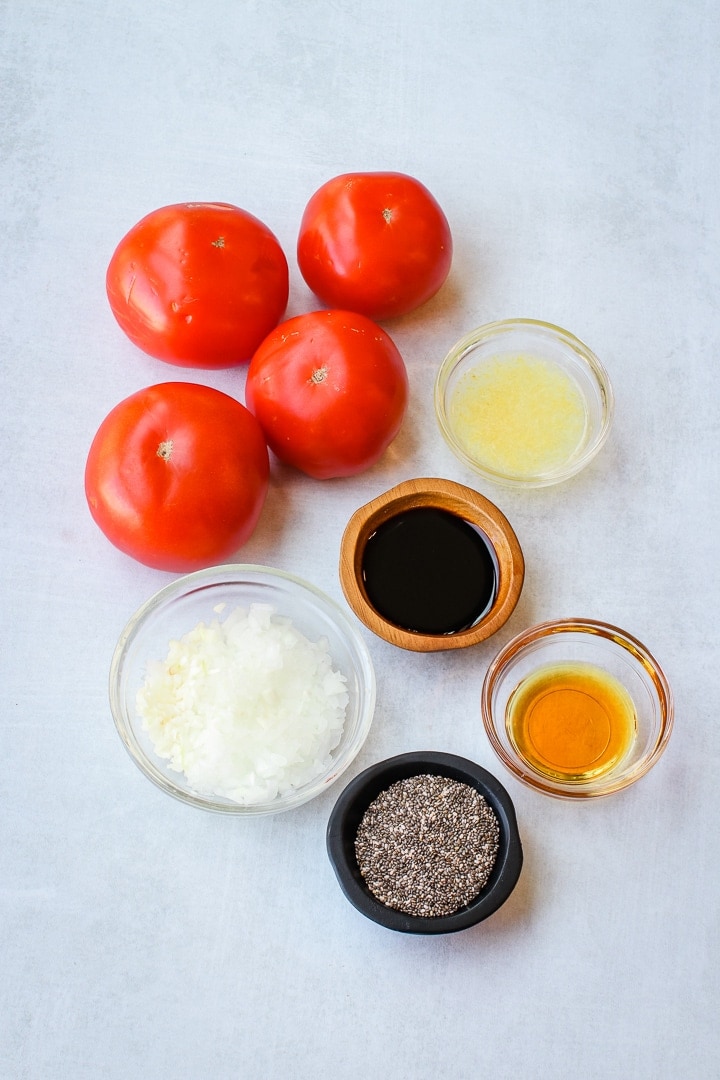 You don't absolutely have to peel the tomatoes, but I recommend it. The texture won't be as appealing with bits of tomato skin floating around in the jam. But even with peeling the tomatoes and the longer cooking time, the entire recipe can be finished and in the fridge in about 25 minutes.
Chia seed safety
This recipe uses less chia seed and takes a bit longer than some chia jam recipes I've seen. I recommend using 2 tablespoons of seeds, leaving some liquid for the chia seeds to absorb, and allowing the jam to set in the fridge for several hours or overnight.
Not only do I prefer the texture and seed-tomato ratio of the overnight version, according to some sources, it may be risky to consume dry or partially hydrated chia seeds as they can block the esophagus. So I'd rather use fewer seeds and let everything sit until the chia seeds have absorbed enough liquid to finish 'swelling.' (In my experience, this can be anywhere from about half an hour to 2 hours.)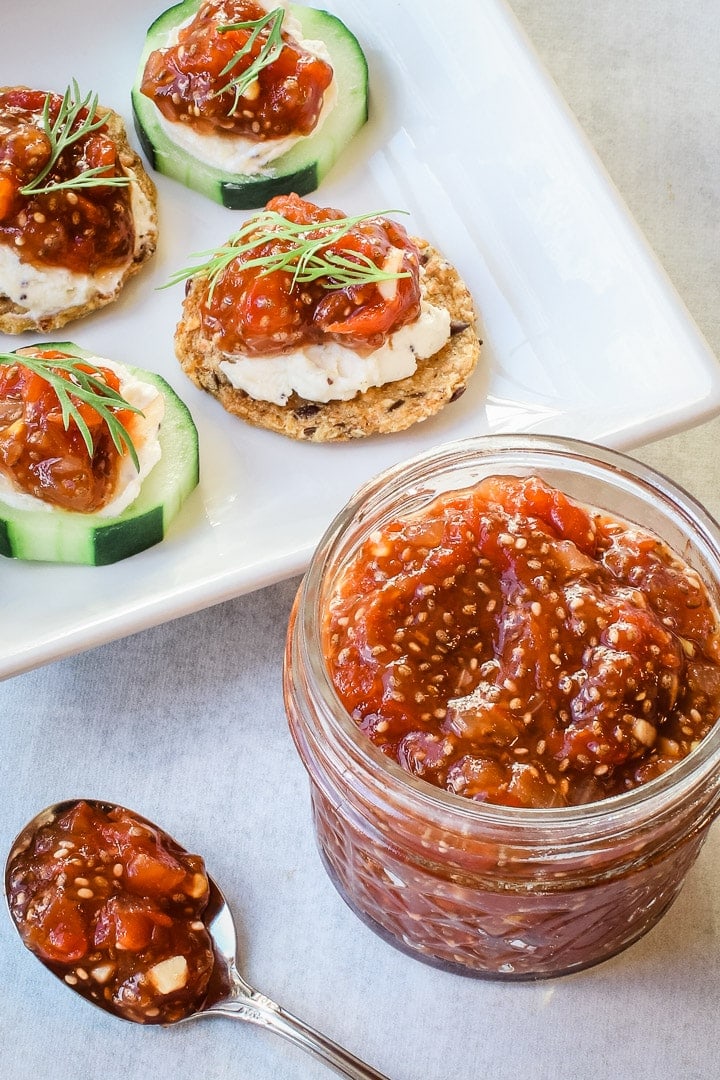 Is chia jam healthy?
Unlike many traditional jams, this tomato chia jam has no refined sugars, no pectin and no preservatives. Plus, not only do chia seeds thicken the jam, they're also considered healthy in their own right—they're high in fiber and omega-3 fatty acids, for example. (Read more about the health benefits of chia seeds.)
Chia seed texture
While not everyone might appreciate the gel-ly seedy texture of chia seeds in dishes like pudding, they seem perfectly at home in a jam. However, if you don't care for that texture, simply blend your chia seeds into chia powder using a blender or clean coffee grinder. Then, just substitute the chia powder for the chia seeds and follow the recipe according to the instructions.
There are also weight loss benefits associated with chia powder vs. chia seeds. (Read more about that here.)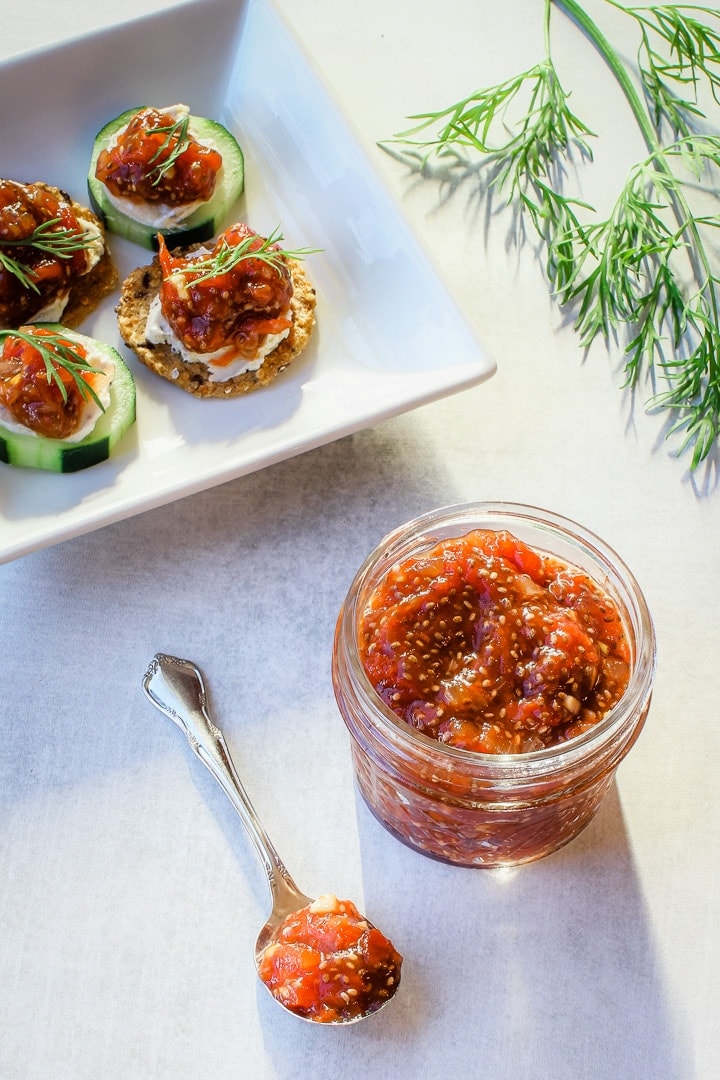 How long will chia jam keep?
Okay, so unlike regular preserves, you're not going to put a jar of this in you pantry or cellar and forget about it for a couple of years. You can store your tomato chia jam in an airtight container in the refrigerator for about 7-10 days, or chia jam will keep in the freezer for about 3 months. That might not be long enough to get you from one tomato season till the next, but where I live, it can keep me in fresh tomato jam well into December.
If you like this healthy vegan, whole food plant-based recipe, you might also like:
More popular recipes:
📖 Recipe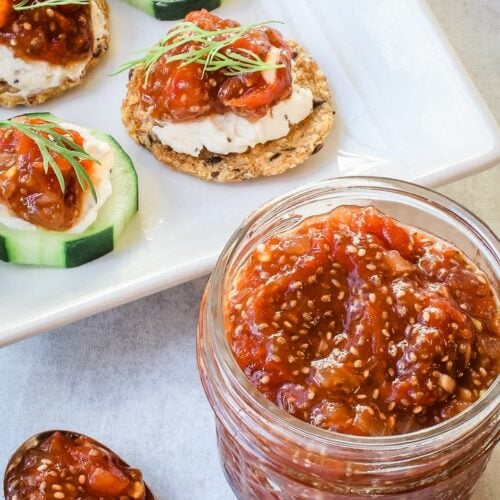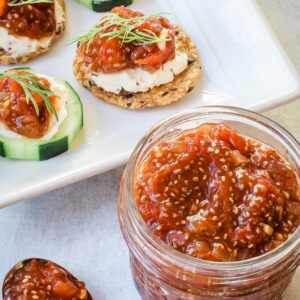 Tomato Chia Jam
A quick & easy savory tomato jam that's healthy and delicious. Amazing on burgers and sandwiches, or as an elegant canapé topper. WFPB, oil free, refined sugar free, gluten free.
Print
Save
Saved!
Pin
Rate
Servings:
24
Tablespoons (approx.)
Ingredients
2

cups

tomatoes

cooked peeled and chopped tomatoes (about 1.5 lbs of fresh tomatoes, see notes )

1

shallot

finely diced (or ¼ white onion)

2

cloves

garlic

smashed and minced

½

lemon

juiced & zested (about 1 tablespoon)

2

tablespoons

good quality balsamic vinegar

1

tablespoon

pure maple syrup

or 2 tablespoons of date paste

2

tablespoons

chia seeds

or chia powder, see notes

Optional: Pinch or two of cayenne for heat

Optional: fresh basil or dill for serving
Instructions
To peel whole fresh tomatoes, set the oven to broil/high and place the tomatoes in a line on the a baking sheet. Place the tomatoes in the oven directly under the flames, and broil just until the skins split, about 5 minutes. (Or use boiling water on the stovetop, see notes.) When cooled enough to handle, skin and chop the tomatoes.

Over medium heat, in a large saute pan, saute the shallot and garlic until just soft, about 2-3 minutes. Add the tomatoes, lemon juice and zest, balsamic vinegar and maple syrup, cook on medium heat about 10-15 minutes (or more if your tomatoes are very watery), until most of the liquid has cooked off. (Leave a little for the chia seeds to absorb.)

Stir in the chia seeds (and cayenne, if using) and remove from heat.

Allow to cool, them place in the refrigerator to chill and thicken for several hours overnight. (See notes for faster option.)
Notes
To remove the skins on the stovetop, place the tomatoes in a large pan of boiling water and heat just until the skins split, about 30 seconds or so. If doubling the recipe (or more), do the tomatoes in batches of about 4-5 each.
I like the broiler method because I can peel my tomatoes before a pot of water will boil! But if you're going to double this recipe or more, the boiling water method would be faster.
Tips
To make it faster:
You could substitute canned whole peeled tomatoes or skip peeling the tomatoes. But I like the fresh tomatoes without their skins best.
Rather than leave it in the fridge to set, you can add more chia seeds (a little at a time) and it will thicken soon after cooking. But be careful to make sure the chia seeds have fully swelled or they could present a choking hazard. I prefer the seeds-to-jam ratio achieved by following the recipe, so I like to use the several hours/overnight method.
Nutrition (approximate)
Calories:
12
kcal
|
Carbohydrates:
2
g
|
Protein:
1
g
|
Fat:
1
g
|
Saturated Fat:
1
g
|
Sodium:
1
mg
|
Potassium:
43
mg
|
Fiber:
1
g
|
Sugar:
1
g
|
Vitamin A:
105
IU
|
Vitamin C:
3.1
mg
|
Calcium:
9
mg
|
Iron:
0.1
mg