A new twist on classic shepherd's pie, this simple recipe using frozen mixed veggies and frozen hash browns may be the fastest, easiest vegetarian and vegan version ever. It's healthy/ low calorie comfort food--ready in about 20 minutes!
I love shepherd's pie. But I hated how long it took to make! No matter how I tried to vary recipes, they always seemed to take about an hour, give or take. So I set out to speed up the process. A LOT. If you're a fan of quick and easy recipes that taste amazing, this may just be the best vegan shepherd's pie you've ever made.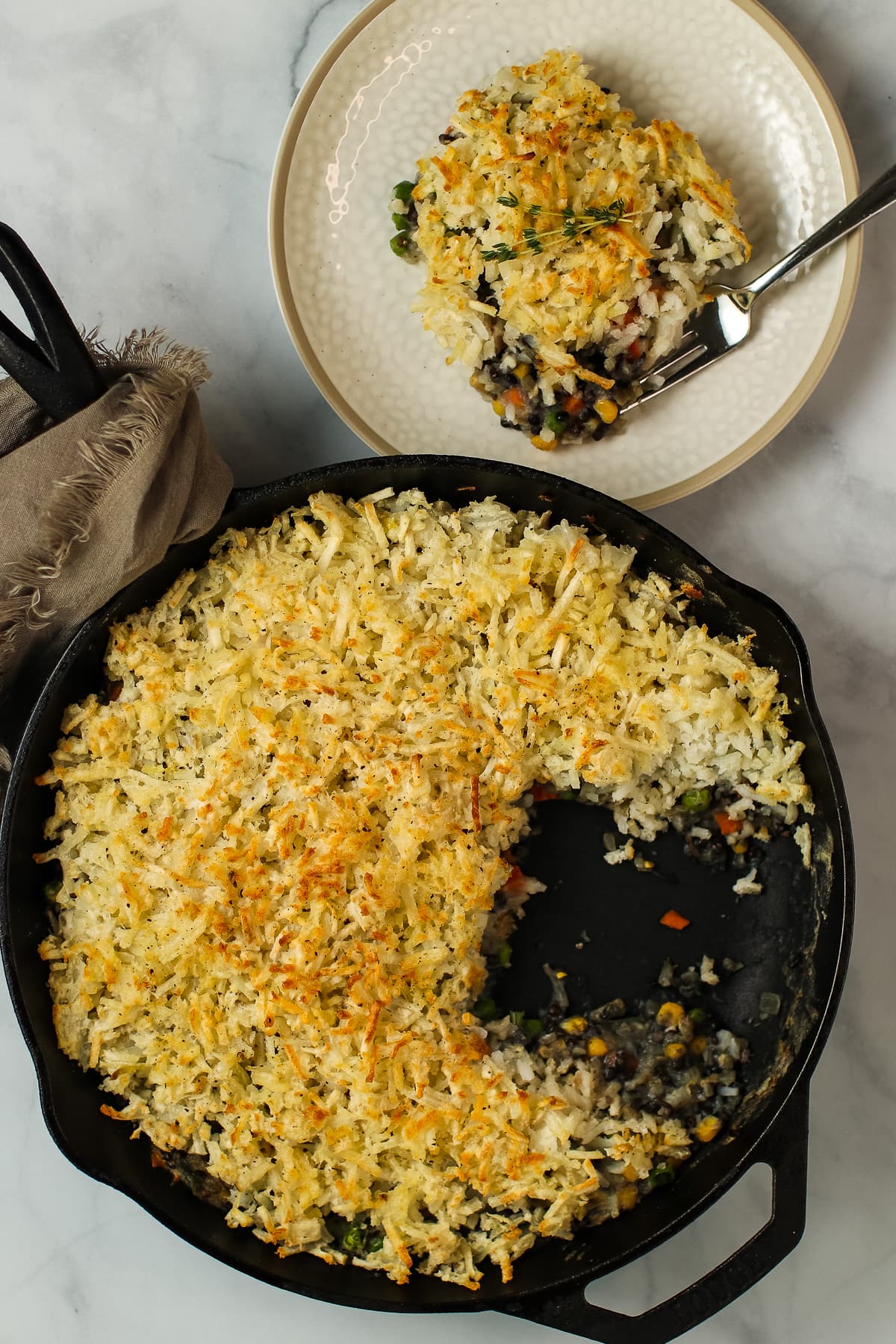 How do you make vegan lentil shepherd's pie—fast?
First, there are only seven ingredients. Yay! Second, there's little chopping here—or even none at all. (And no potato masher, either.) I love this recipe with onion, garlic and fresh herbs (thyme). But you can use dried and make it even faster.
Third, you use frozen hash brown potatoes and frozen mixed veggies (thawed), and canned lentils. Worried it won't taste as good as fresh? Well don't—it's absolutely delicious. Not only do these prepared ingredients this speed things up, this recipe will become your go-to when you're overdue for a trip to the grocery store. Keep the ingredients on hand, and you can whip this up when your fridge is practically bare.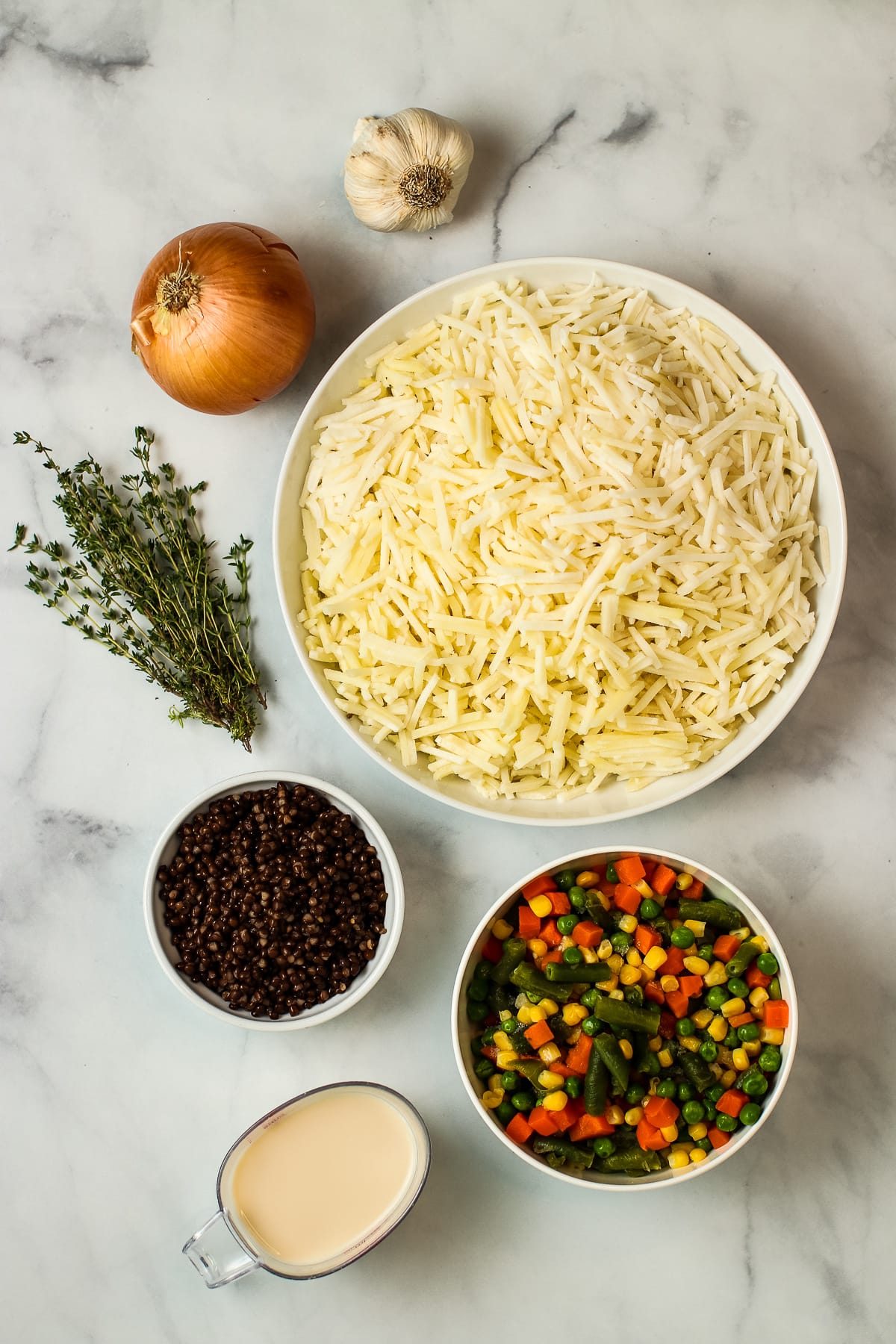 Ingredients: hash brown potatoes, mixed vegetables, lentils, onion, garlic, thyme, plant milk.
Ingredients (Only 7!)
Frozen hash brown potatoes
Frozen mixed vegetables
Canned (or cooked) lentils
Onion
Garlic
Thyme
Unsweetened plant milk
Equipment
Oven-proof, large skillet (or broiler-proof baking dish)
Blender (or immersion blender, or food processor)
Large microwave-safe bowl
How to Make the Recipe
Start with thawed hash brown potatoes and mixed vegetables
Cook the hash brown potatoes in the microwave
At the same time, saute the onion, garlic, vegetables, lentils and thyme in an oven-proof skillet
Blend up a quick potato-plant milk 'slurry,' and stir it into the veggies
Top with hash brown potatoes and broil
Here's how to do it, with step by step instructions:
(Please make sure to read the full recipe at the bottom of the page!)
Helpful Tips
(Please also see the notes section of the recipe at the bottom of the page.)
To make this recipe in 20 minutes, you'll need to multi task. For example, the hash browns are cooking in the microwave at the same time that the onions and garlic are sauteeing on the stove.
Remember to thaw the potatoes and vegetables. If you forget, you can thaw each of them (separately) under running water in a colander. You'll need to gently squeeze (especially the hash browns) to remove excess moisture. But it's SO much faster if you remember to leave them in the refrigerator overnight to thaw.
To make it faster, it's fine to substitute powdered onion and garlic, and dried thyme, but fresh is definitely better.
Don't burn the topping. Watch it carefully in the broiler so it doesn't burn, especially the first couple of times you make the recipe. Rotate if necessary, lower the rack and /or temperature to LOW, or cover with foil if needed.
Keep a towel or oven mitt on the hot pan handle when you remove it from the oven. This may seem obvious, but I can't tell you how many times I've forgotten that a skillet was previously in the oven—or a family member had no idea—and hands were burned. Ouch.
Can I make this shepherd's pie with mashed potatoes?
Yes, I believe so. Most recipes do, so I'm sure there is some good guidance out there. But I haven't tested this yet, so I can't provide precise instructions at this writing. I'll be sure to update you once I've nailed it down.
I used hash browns because there's zero prep. You just cook them up in the microwave. And the top gets crispy while the under side of the potatoes stay soft and creamy. Yum!
But if you prefer the tradition version with that creamy layer of mashed potatoes, I believe you can still get it done quick by using instant mashed potatoes or left over mashed potatoes. See the recipe notes for the proper slurry consistency and mashed potato topping thoughts.
Substitutions and Variations
Hash Brown Potatoes.

Sweet potato hash browns. My local grocery store usually has them on hand in the freezer section.
Instant mashed potatoes or leftover mashed potatoes. Either of these will give you a more traditional shepherd's pie, but will still keeping the cooking time short. Mashed sweet potatoes would be great, too.
Less potatoes. I TRIED making this dish with less potatoes, I really did! But because you use some in the slurry, I didn't feel like a single pound of hash browns was enough to sufficiently top the pan. But if you prefer more veggies and less potatoes, it will still cook up beautifully with just a pound of hash browns.
Garlic, onion and fresh thyme. I love fresh aromatics and herbs, so I included them in the recipe. But for an even FASTER dish—if you can imagine that!—you can substitute powdered garlic and onion, and use dried herbs.
Lentils. I used canned black lentils in this recipe, but any hearty lentil variety like French green lentils or brown lentils will work. I'd avoid softer red lentils, or yellow lentils for example, as they will likely get too mushy in the cooking. You can also use packaged, cooked lentils (like the ones they sell at Trader Joe's) or leftover cooked lentils rather than canned. You could also ditch the lentils entirely and saute up some sliced mushrooms with the garlic and onion if that's your jam.
Mixed veggie/lentil filling ingredients. This dish is simple and flavorful as it is. But if you like, add a few traditional shepherd's pie ingredients like tomato paste or vegan Worcestershire sauce.
Plant milk. I used unsweetened soy milk, but you could use any unsweetened plant milk like almond milk or oat milk, or use vegetable broth if you prefer not to cook with plant milk at all.
For a slightly cheesy flavor, add a couple tablespoons of nutritional yeast to the slurry. (If it gets too thick to pour out of the blender, add a little more plant milk.
Is this shepherd's pie recipe healthy?
Most definitely. It's made without vegan butter or olive oil. And of course, unlike traditional shepherd's pie (made with lamb) or cottage pie (made with ground beef), this dish features hearty, healthy lentils instead of animal products.
I usually make this recipe on the busiest of weeknights—or when my fridge is all but empty—but I could see this shepherd's pie as a tasty vegan / vegetarian Christmas or Thanksgiving dish.
Happy plant-based cooking!
-Elizabeth xo
I LOVE hearing from you! Connect with me on Facebook, Instagram or Pinterest, or drop me a note in the comments.
If you like this recipe, you might also enjoy: Mexican Breakfast Casserole with hash browns, One-skillet Spanish Rice and Beans, Healthy Twice-Baked Potatoes, or my favorite Wisconsin Vegan Beer Cheese Soup!
📖 Recipe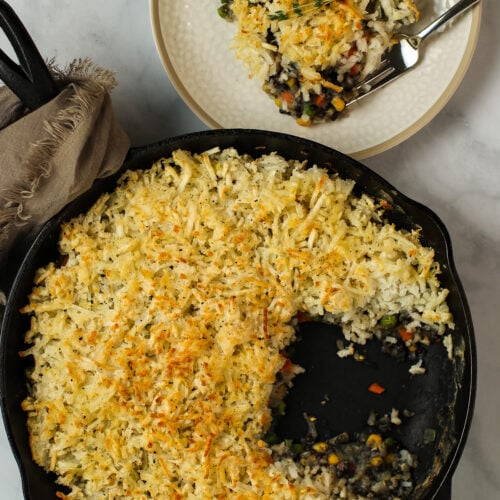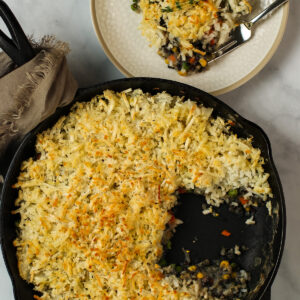 Easy Lentil Shepherd's Pie (Using Frozen Mixed Veggies and Hash Browns)
A new twist on classic shepherd's pie, this may be the fastest, easiest vegetarian and vegan version ever. It's healthy comfort food in a hurry.
Print
Save
Saved!
Pin
Rate
Equipment
broiler proof skillet (or baking dish)
blender (or immersion blender, or food processor)
Ingredients
2

pounds

frozen hash brown potatoes

thawed (look for potatoes with no added ingredients. see notes)

1

yellow onion

finely diced

2

garlic cloves

finely minced

1

pound

frozen mixed vegetables (corn, peas, carrots, etc.)

thawed (see notes)

1

15 ounce can

low sodium, firm lentils (like black, brown or green)

drained and rinsed

2

tablespoon

fresh thyme (leaves only)

or 3 teaspoons dried

1

cup

unsweetened plant milk
Instructions
Place the top rack of your oven about 6-7 inches from the broiler, and turn broiler on to HIGH.

Place the thawed hash browns in a microwave safe bowl. Toss with salt and pepper to taste. Cover tightly and cook in the microwave on high for 6-8 minutes--until heated through--removing from the microwave to stir about halfway through.

While the hash browns are cooking, sauté the onion and garlic with 2 tablespoons of water, in a large, broiler-proof skillet, on medium high heat, until browned and fragrant, about 5 minutes. Add more water little at a time if things begin to stick.

Add the thawed mixed vegetables, lentils, and thyme to the pan, reduce to medium heat, and stir to heat through, about 2-3 minutes.

Make a 'slurry'. When the potatoes are finished cooking, add one cup of the hash browns to a blender with 1 cup of plant milk, and blend on high for 10 seconds. DO NOT OVERBLEND or the mixture will become paste-like. The slurry should be just thin enough to pour out of the blender.

Add the slurry to the pan with the hot vegetable and lentil mixture, and stir gently until combined. DON'T HEAT MORE THAN A MINUTE or the slurry will get too thick. Remove the skillet from the heat, and use a spoon and or your hands to spread the remaining hash brown potatoes over the top in an even layer.

Place the skillet in the oven, and broil on HIGH for 8-10 minutes or until the hash browns reach the desired crispness. Check after about 5 minutes or so tome sure the topping isn't burning. IF IT'S GETTING TOO DARK, lower the rack in theooven OR the broiler temperature to LOW if it's getting done too fast, or cover with foil.
Notes
To Save Time.
To make this recipe in 20 minutes, you'll need to multi-task! The hash browns will be cooking in the microwave, while the onion and garlic are satueeing, etc.
You can make this EVEN FASTER if you skip the fresh onion, garlic and thyme and substitute 2-3 teaspoons onion powder, ¼ teaspoon garlic powder and 3 teaspoons dried thyme. But I recommend using fresh for the very best result.
Hash Browns/Potatoes.
Look for organic hash browns with no added ingredients noted on the label.
It's best to thaw them overnight in the fridge. You can also thaw them under warm running water in a colander; just be sure to gently squeeze out the excess liquid.
You can substitute sweet potato hash browns, or for a more traditional recipe, use instant mashed potatoes like Bob's Red Mill or left over mashed potatoes. I have not tested using mashed potatoes yet. When you mix potatoes and plant milk for the slurry, you want it to be thick, but still thin enough to pour out of the blender. I believe about 2 inches of potato topping will give you a good result with this recipe. (I'll update once I've thoroughly tested.)
Mixed Vegetables.
I used a blend of peas, carrots, green beans and corn, but any combination of small-diced mixed vegetables will work.
It's best to thaw them overnight in the fridge. You can also thaw them under cold water in a colander; just be sure to gently squeeze out the excess liquid.
Lentils.
This recipe works well with firm lentils. I used black, but brown or green would also work.
Look for low sodium lentils, and make sure to drain and rinse well. This will remove much of the sodium in canned lentils.
You can also used pre-cooked lentils from stores like Trader Joe's, or leftover cooked lentils.
If you don't have a broiler proof skillet...
You can start the recipe in a regular skillet, and then transfer the vegetable and lentil mixture to a broiler proof casserole dish before topping with hash brown potatoes. In this case, you'll need to increase the cooking time, because the baking dish will not as hot as the skillet would be. I recommend cooking on LOW BROIL and increasing the cooking time by 5-10 minutes, or until hot all the way through.
See the post (above) for a helpful list of suggested variations and substitutions.
Nutrition (approximate)
Calories:
195
kcal
|
Carbohydrates:
40
g
|
Protein:
7
g
|
Fat:
2
g
|
Saturated Fat:
1
g
|
Polyunsaturated Fat:
1
g
|
Monounsaturated Fat:
1
g
|
Sodium:
85
mg
|
Potassium:
672
mg
|
Fiber:
6
g
|
Sugar:
1
g
|
Vitamin A:
3923
IU
|
Vitamin C:
22
mg
|
Calcium:
90
mg
|
Iron:
2
mg