I've had countless disappointing pizza experiences since walking away from cheese. Plain tomato sauce and veggies pizza can be just okay. Manufactured cheese tastes like plastic to me. And even if I can find cheese-free pesto pizza, it's usually loaded with oil. This Roasted Squash Vegan White Pizza is the first vegan, whole-foods, plant-based, oil-free 'za I've loved enough to put on the blog. And boy, do we love it!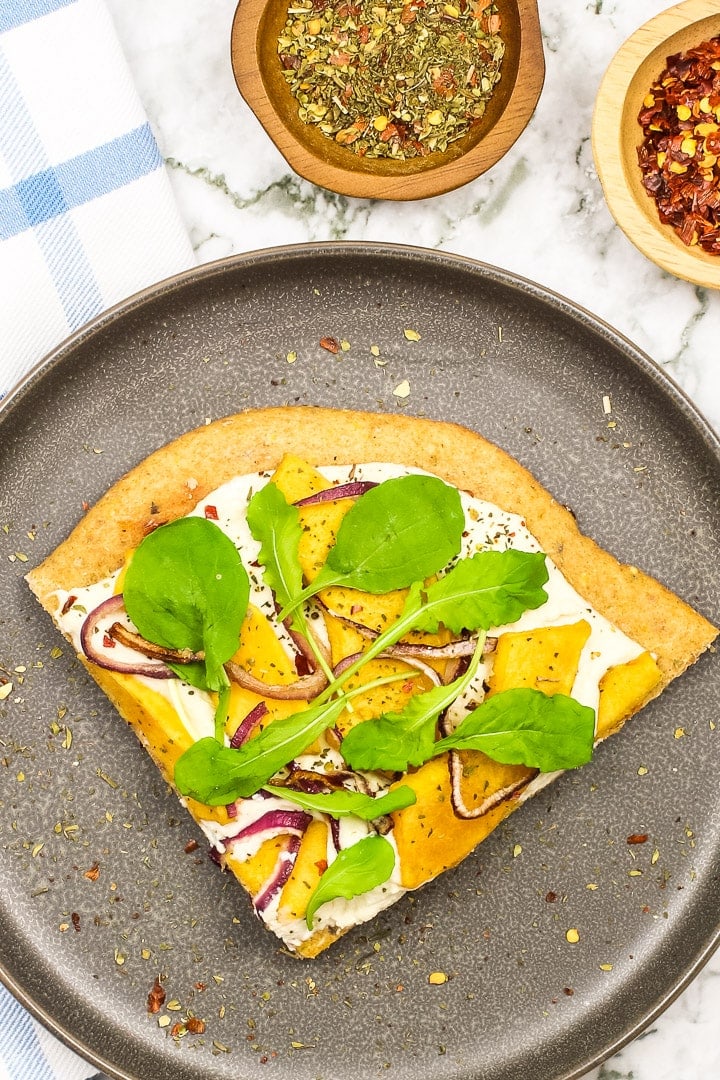 When I published my Spinach & Cheese Pizza Rolls post, I lamented the fact that I've yet to create an amazing Neapolitan style thin-crust pizza. While that may never happen, this Roasted Squash Vegan White Pizza comes close. The crust is more crispy than chewy, but it's still amazing! I'll take it!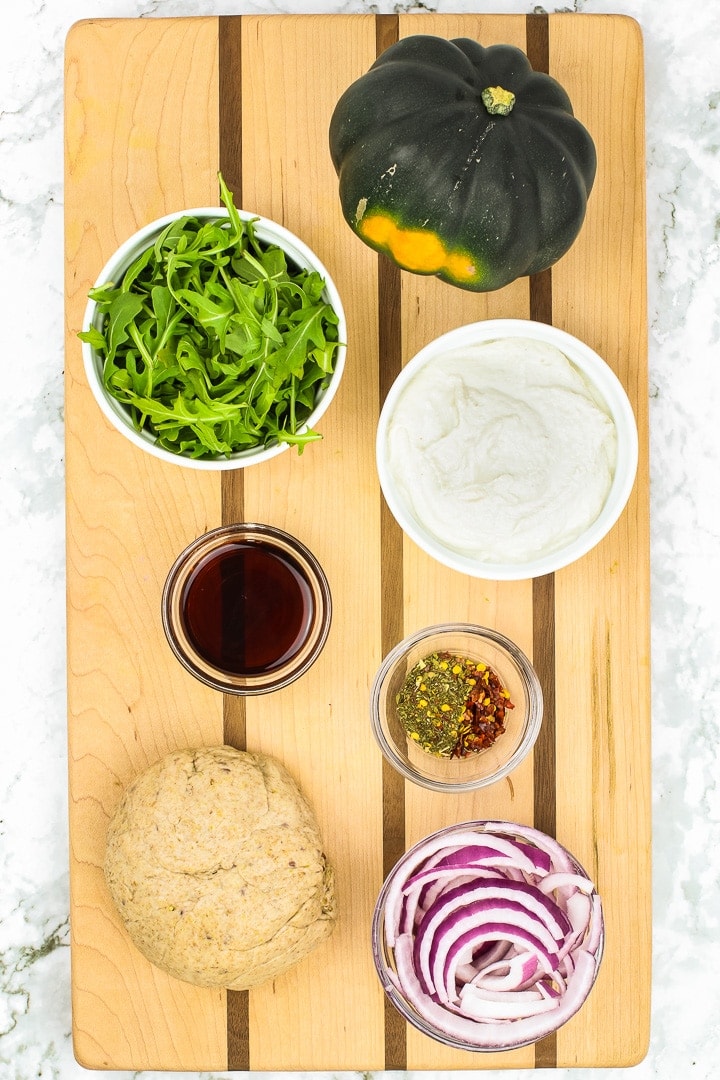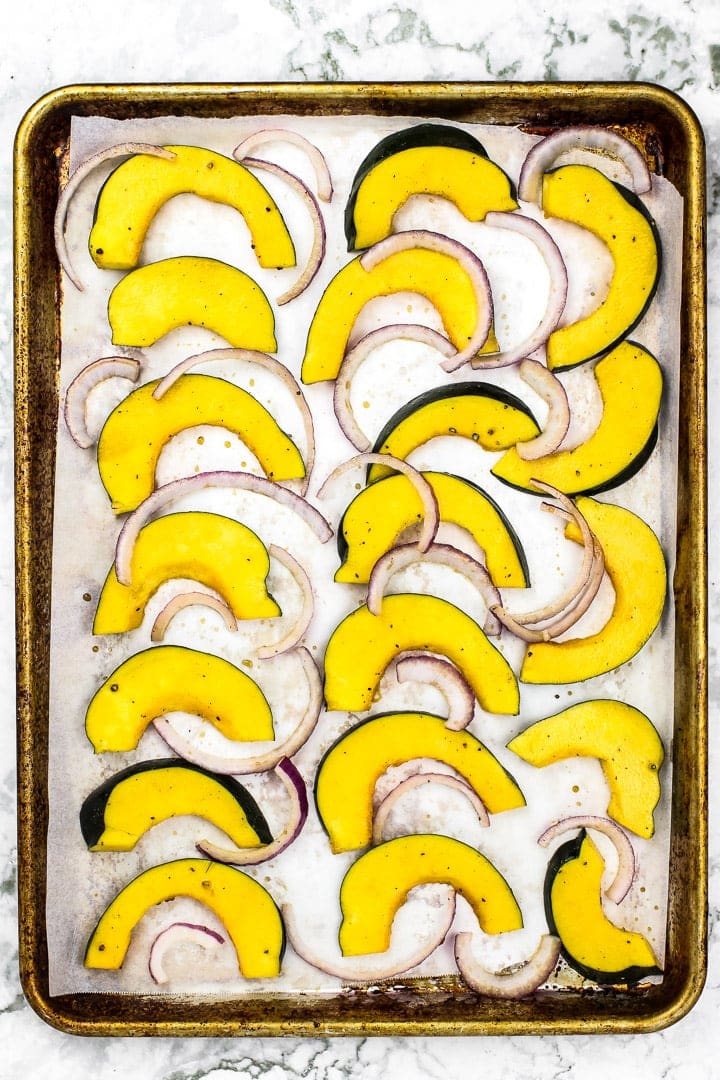 My new trick is to roll out the pizza dough really thin with my rolling pin. I'm sure I'm violating some sacred pizza-dough-throwing tradition here, but I'm loving this technique because it's SO easy to get a golden brown, cracker-thin crust. Now, I don't get filled up on 'bread' anymore when I eat my homemade pizza!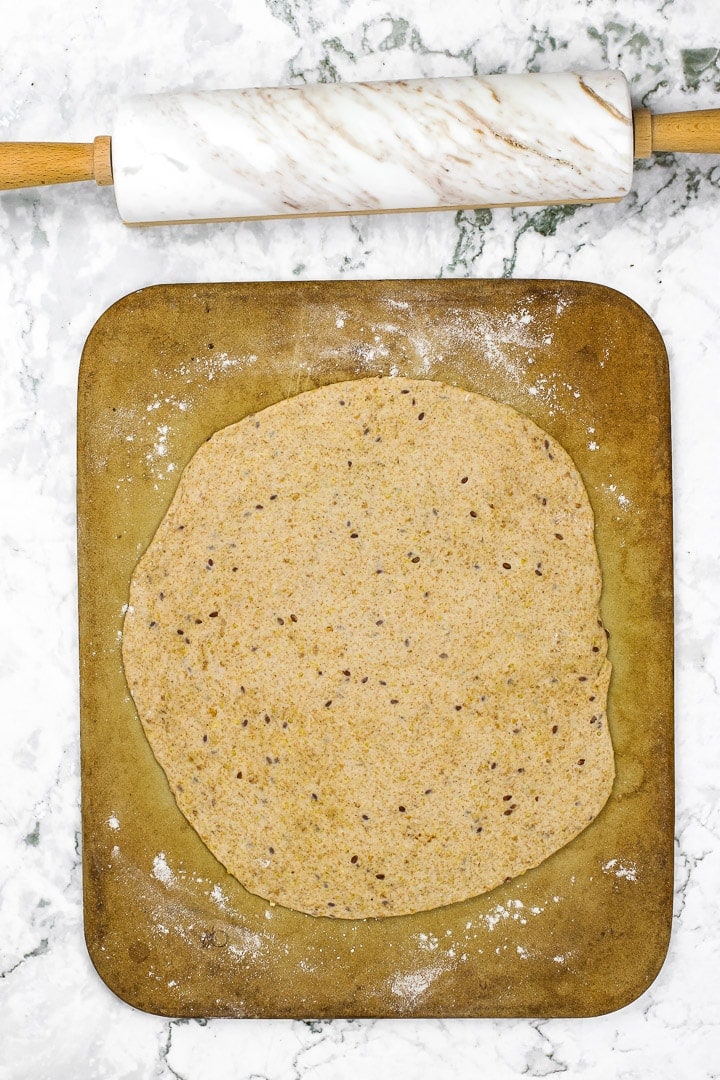 What I love about this Roasted Squash Vegan White Pizza
The slight sweetness of the squash, maple syrup and balsamic are complemented by the creamy almond ricotta and countered by the spicy red pepper flakes, earthy Italian seasoning and crispy crust. Can you taste it yet?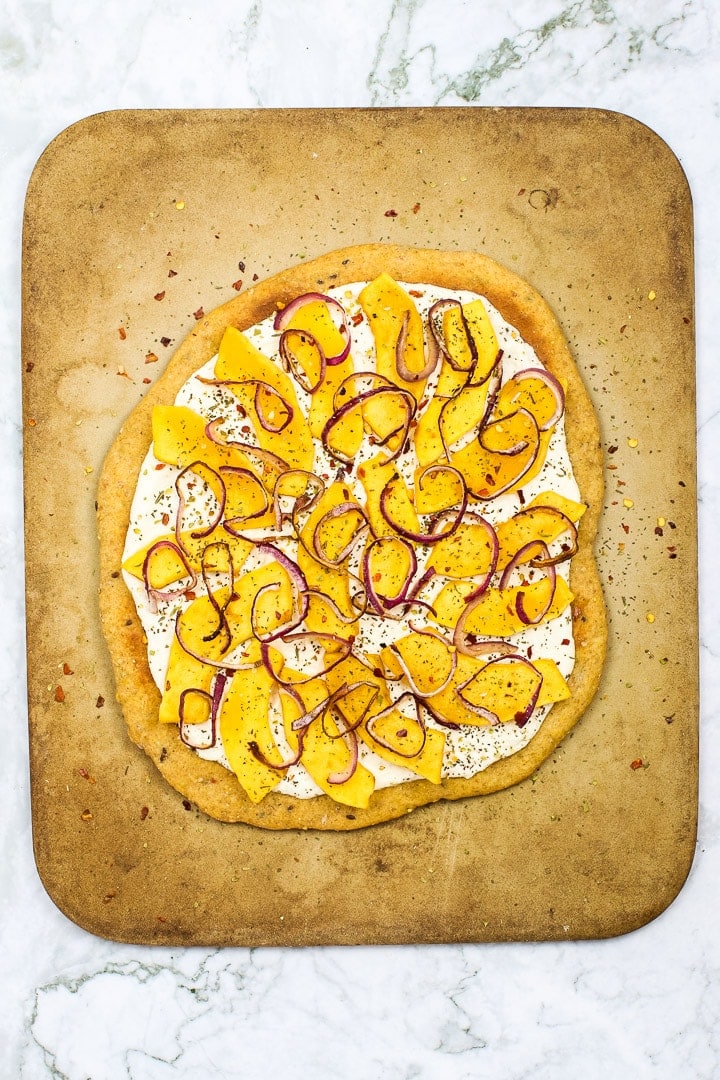 This is not your classic, piping-hot-out-of-the-oven pizza, because you cook the crust and toppings separately, then assemble at the end. You can pop your Roasted Squash Vegan White Pizza back in the oven to warm it up a bit if you care to (do this before adding the arugula), but the almond ricotta doesn't seem to benefit from prolonged, high-temperature cooking. So I recommend simply serving at room temperature or just slightly warm.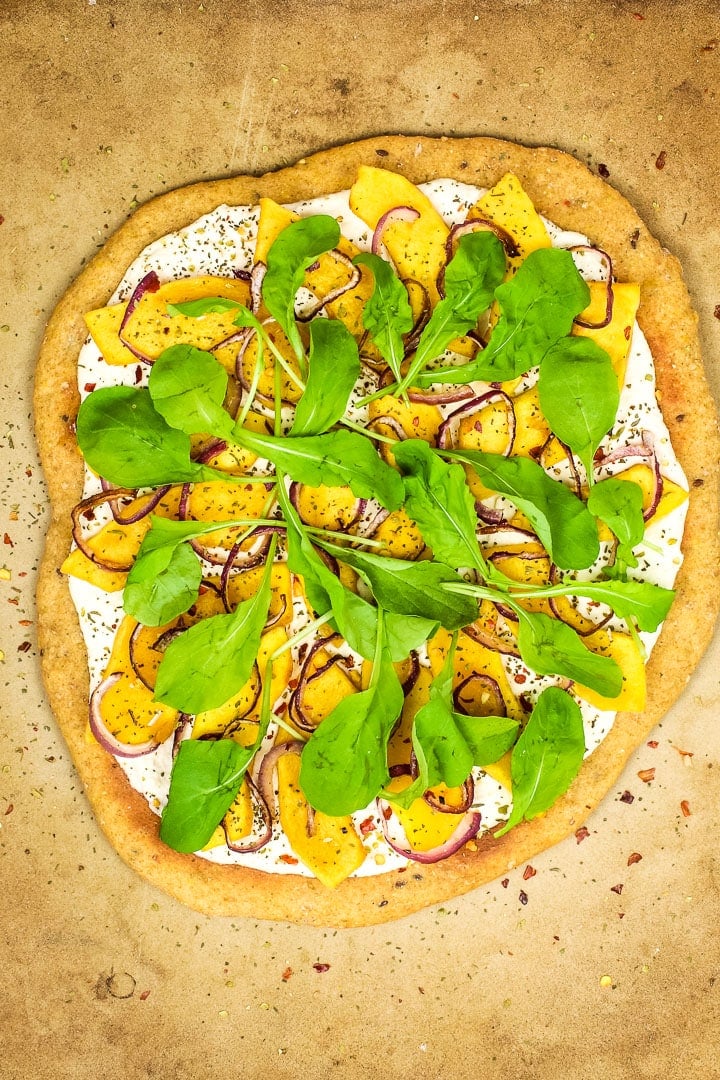 In fact, this pizza is almost better the next day, and it's excellent even when it's cold. It's great to take as leftovers for lunch, even if you can't re-heat it.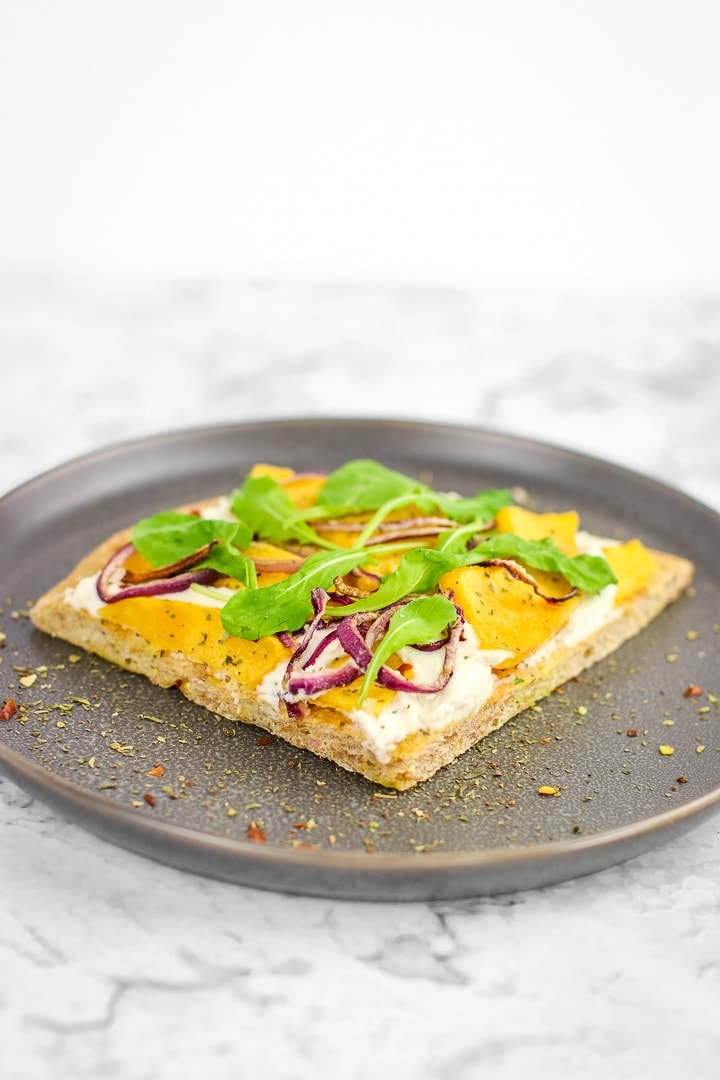 This recipe was inspired by Giada de Laurentis' Roasted Acorn Squash and Gorgonzola Pizza and veganized by yours truly. I made her version many times before going vegan, and it was always a big hit.
If you like this recipe, you may enjoy:
Scallion Cashew Cheese Quesadillas
📖 Recipe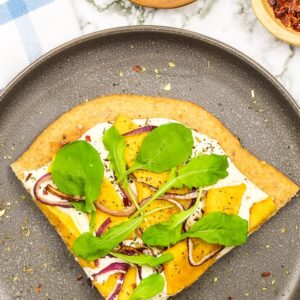 Roasted Squash Vegan White Pizza
Slightly sweet squash, maple syrup and balsamic are complemented by creamy almond ricotta and countered by spicy red pepper flakes and a crispy, golden brown crust.
Print
Save
Saved!
Pin
Rate
Ingredients
⅓

recipe Almond Ricotta

ALMONDS SOAKED OVERNIGHT - see notes

12

ounce

fresh multi-grain pizza crust dough

(GF if desired)

1 ½

cups

of acorn squash

seeded and peeled, cut into ¼-inch thick pieces (about a 1-pound whole squash - see notes)

½

small red onion

thinly sliced

2

tablespoons

maple syrup

1

teaspoon

balsamic vinegar

½

teaspoon

crushed red pepper flakes

or more

1

teaspoon

Italian seasoning

Sea salt and freshly ground black pepper

to taste

1

cup

baby arugula

for topping
Instructions
Make the almond ricotta, and leave it out at room temperature. (See recipe for instructions.)

Preheat the oven to 400 degrees Fahrenheit. Place one rack on bottom position and another near the top. Line two baking sheets with parchment paper - one for the squash, and one for the pizza crust. Or, use a pizza stone lined with parchment paper for the crust.

In a medium bowl, toss the squash and red onion in the maple syrup, balsamic vinegar, crushed red pepper flakes, and a pinch of sea salt and freshly ground pepper. Spread the squash and onions evenly over the baking sheet.

On a lightly floured surface, roll out the pizza dough into a very thin 1/16 -inch thick crust, about 11 or 12 inches in diameter. I recommend using a rolling pin to get it even and thin. Don't be too worried about the shape! Place the crust on the parchment paper lined baking sheet or pizza stone. (If it's hard to handle, fold it into halves or even quarters, and unfold on the baking sheet.)

Place the squash in the oven on the upper rack and the pizza crust on the lower rack. Cook both for 10 minutes.

After 10 minutes, remove the pizza crust and the squash from oven, and flip them both over. (If the pizza c crust puffs up, just gently press it flat again.) Return the crust and squash to their original positions in the oven and bake the crust for another 10 minutes or until golden brown and crispy. Remove the pizza crust, but allow the squash to cook for another 5 minutes, or until fork tender.

Remove the cooked pizza crust from the baking sheet and place on a cool surface (wood cutting board, cool pizza stone, etc.) and allow it to cool a little. Spread a layer of almond ricotta evenly over the crust.

When the squash is cooked and tender, remove if from the oven and spread it evenly over the pizza. Sprinkle with Italian seasonings, red pepper flakes, and salt and pepper to taste. (If desired, you can place the pizza back in the oven at 300 F degrees for a few minutes gently warm, but I typically serve it as is--see notes.)

Top with arugula and serve.
Notes
SQUASH - You can either peel the squash before you roast it, or after it cooks. I've done it both ways, and I prefer to pre-peel. I simply cut the squash down into quarters, seed it, peel off as much of the skin as I can get, slice it, then peel off any remaining skin. It's possible to peel after cooking, but the skin doesn't always come off cleanly, and it's easy to damage the slices. You can use a small paring knife if needed to get the cooked skins off.
Or, by far the simplest (if not the prettiest or cheapest!) is to buy cubed/peeled squash at the market. It saves a lot of time in this recipe. Just make sure to cut any pieces thicker than ¼ inch down to size.
ALMOND RICOTTA - It's important to pour boiling water over the almonds and soak over night , otherwise it won't be as smooth and creamy. Almond ricotta freezes well, so you can make it in advance and freeze, or make and entire batch and freeze the portion not used for this recipe.
It's okay to warm up the pizza a bit before topping with arugula, but I don't recommend heating for long periods or and high temperatures. I think the ricotta tastes better and has better texture when unheated or gently heated.
Nutrition (approximate)
Calories:
335
kcal
|
Carbohydrates:
42
g
|
Protein:
10
g
|
Fat:
14
g
|
Saturated Fat:
1
g
|
Sodium:
306
mg
|
Potassium:
162
mg
|
Fiber:
1
g
|
Sugar:
5
g
|
Vitamin A:
255
IU
|
Vitamin C:
5
mg
|
Calcium:
83
mg
|
Iron:
2
mg